29 Jun 2022
Local Blitz is a digital marketing and SEO company with offices in San Diego, and...
29 Jun 2022 11:53pm GMT
Cyber Security Today, the use of blockchain technology and cryptocurrencies is rapidly growing, with the...
29 Jun 2022 10:08pm GMT
28 Jun 2022
Continuous fermentation is an open operating system with continuous addition and discharge of the solution...
28 Jun 2022 10:28pm GMT
17 Jun 2022
Rencontre avec Clément Soupart qui a réuni passion pour le vélo et boulot. 🚲 🎙️ Je fais du vélo depuis 25 ans et de la radio depuis 15 ans. Un jour je me suis dit « Je vais créer une émission radio où on parle de vélo. » Les Socquettes en titane étaient nées.😊📻 Les Socquettes en titane, […]
Cet article Vélo, radio, dodo est apparu en premier sur bxl.blog.
17 Jun 2022 3:02pm GMT
04 May 2022
Rencontrer Arno c'était souvent repartir avec un souvenir inoubliable. Racontez-nous vos souvenirs et anecdotes dans les commentaires de cet article. Pour vous mettre en appétit, voici deux anecdotes vécues par la rédaction : Baudouin : à la charnière des années 80/90, j'assistais à un concert en plein air place de la Monnaie. Entre deux chansons, […]
Cet article Racontez-nous vos anecdotes avec Arno est apparu en premier sur bxl.blog.
04 May 2022 1:59pm GMT
26 Apr 2022
En lisant ces mots de Conner Rousseau dans l'interview donnée au magazine flamand Humo, j'avais envie d'écrire mais quel Connar… Puis, en y réfléchissant, il n'y a pas de raison d'être fâché sur le président de Vooruit (ex-SP.A). Non, ce n'est pas le sentiment qui doit prévaloir face à cette saillie du président des socialistes […]
Cet article Conner Rousseau n'aime pas Bruxelles est apparu en premier sur bxl.blog.
26 Apr 2022 8:52am GMT
24 Nov 2011
"Mountains have a way of dealing with overconfidence." Hermann Buhl (1924-1957). via CF
24 Nov 2011 1:09pm GMT
09 Nov 2011
Another November, another Fedora. 16 came out, so it was time to update mach again.
And today I thought, is there any reason mach isn't 1.0 yet ? Am I going to do anything more to this piece of code before I want to call it that ?
And the answer is, no. It's the first Python application I've written, and I'm not particularly proud of the code, but I'm happy I've made good use of it for so long, and that it helped push packaging approaches forward and sparked ideas for the Fedora build system.
Since I didn't like the original code for mach2 (there was a version 1 which was Makefile-based), I started a rewrite with unit tests, better code layout, decent classes for abstracting distro-specific stuff, and so on.
The experience of how mock was created based off mach2 was a slightly sour one however, so I wasn't really motivated to finish the mach3 rewrite. Sometimes that's the drawback of open source - sure, forking is specifically allowed, so don't whine about it when it happens. But when it's done gratuitously, with no serious attempt at collaborating, it doesn't feel like it's in the spirit of open source.
Anyway, that was a long time ago. mach2 as it is today, is done. It really only needs updating for newer versions. As long as it works for me, it's unlikely I will continue mach3, but who knows?
Enjoy the release!
09 Nov 2011 10:56pm GMT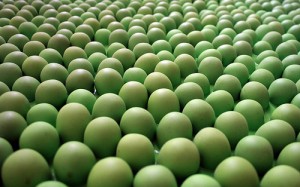 (Source: www.esa.org)
In biology, it is proven that consanguinity between members belonging to the same group (example: people living in the same closed area or animals from the same breed) may affect their resistance to certain diseases or reduce certain physical characteristics. It's important to keep some level of diversity. The latest Juniper story made me remember the talk about "monoculture" presented at BlackHat Europe 2011.
A few days ago, some parts of the Internet were affected by a bug in Juniper routers BGP update code. If you have a look at the market of the core-routers, it is dominated by two manufacturers: Cisco & Juniper. Routers operated by major ISPs are crucial to maintain the Internet reliable. If most of those devices are coming from a unique manufacturer (or a very limited number of them), you increase the risks to face big issues if they are affected by a bug or a security flaw.
Now, speaking about devices or applications in general (the core-routers were just an example) and from a business point of view, monoculture is positive:
You can negotiate better prices (more items you buy, more discount you receive),
You can easily negotiate with other resellers,
You find plenty of engineers with the enough knowledge or external consultants,
Your engineers don't need multiple skills and certifications,
Plenty of on-line resources may help you,
You get some nice goodies from the manufacturers.
But, putting the layer-8 (the "political layer") aside, monoculture has side effects:
Big players offer a very large attack surface to hackers (They will select the most deployed targets),
Manufacturers don't have time to re-invent the wheel and different products may re-use the same (vulnerable) piece of code,
Big players might be slower to react to vulnerabilities,
Big players might be less motivated for changes,
Your vision of the market is restricted.
Like in biology, monoculture can generate catastrophic situations in case of a successful attack or major bug. I don't say that big players do a bad job (otherwise they could never reach such part of the market). Just don't behave like a lemming. Choose the solution which match your requirements and not just because "it's a big name".
Do you remember the French movie "Les Rivières Pourpre" ("The Crimson Rivers") with the closed society of Guernon?
09 Nov 2011 1:44pm GMT
Flynn has to spend 10 days at the hospital due to a kidney & blood infection :_( (Taken with Instagram at AZ Sint-Lucas)
09 Nov 2011 12:18pm GMT
Isabelle Canivet et moi-même avons investi beaucoup de temps, d'énergie, de confrontation d'expérience et de réflexion pour réaliser cette compilation à l'attention des chefs de projet web, responsables marketing et communication. Il s'agit d'un document d'une quarantaine de pages au...
09 Nov 2011 10:30am GMT
06 Nov 2011
I know I'm very late, but I really wanted to talk about this year Google Summer of Code.
For the third year in a row, I was a mentor. And this year I have a huge deception to share. I'm really sad. This week, I'v received the GSoC 2011 t-shirt. They sent me the wrong size. XXXL. I can use it as a sleeping bag with my girlfriend. I'm really disappointed.
Hopefully, GSoC is not only about receiving a t-shirt. It is also about mentoring a student.
Nearly two years ago, I started working on a complete refactoring of GTG. The code was a mess, with a lot of duplicate everywhere, with two bugs appearing while you were trying to solve one, etc.
I abstracted the structure we were using in several places and started to write a library to handle those "Acyclical Directed Graphs". As usual, it appeared that development was taking longer than expected. Weeks turned into months. Then, when it started to look good, I discovered that I forgot one critical point: thread-awareness. I felt hopeless.
Because I didn't had the motivation to do that heavy work, I proposed it as a Summer of Code project to a very motivated student: Izidor Matušov[1].
Words doesn't do any justice to the excellent work that Izidor did this summer. He's simply awesome. Some students are goods because they have previous experience. Izidor kicks asses. He learns so quickly, he's so assertive. The work was even harder than what we anticipated. But he managed to achieve everything, including feeding me with cookies at the Desktop Summit, where we met and had an awesome hacking week.
As much as I'm deceipted about the t-shirt, I'm delighted about the work achieved this summer. Izidor now knows GTG nearly as much as I do. He's taking initiatives, like organizing an online GTG hackfest on November 26th[2] and he's a bug-answering machine.
Dear Google, GNOME foundation and Lanedo[3], I would like to thank you. Thanks to your support:

I received a worthless piece of clothes that travelled half of the world in order to clean my cat's dirtiness.
GTG 0.2.9 should be released before the end of the year
GTG gained a new co-maintainer
I gained a new friend. And it probably worth everything else.
Congratulations, co-maintainer Izidor. And welcome to the community!
Notes
[1] Yes, I'm able to write his name correctly, thanks to my wonderful keyboard layout
[2] #GTG, on Gimpnet, during the whole day
[3] Lanedo paid for the travel, the accommodations and, as you can see on the picture, the clothes during the Desktop Summit
06 Nov 2011 6:23pm GMT
05 Nov 2011
Part 1 : Introduction
Part 2 : Home is Desktop
Part 3 : There's no tray icon in GNOME !
Part 4 : Kill The Double Click

When I started installing the best desktop possible for Marie and Jean, we were still in the GNOME 2.X era. GNOME 3 solved my previous concerns. No in the way I envisioned it, but solved them anyway. No more desktop icons, no more tray icons.
But now that I'm introducing Marie and Jean to GNOME 3, I still have some concerns. And one of that main concern is the infamous double-click!
Do you remember? Jean is a very brilliant mind, even though he never used a computer during his whole life. As a reasoning scientist, he was trying to find the logic behind my teaching.
During one of our first lesson, "Using the mouse", the conversation went like this:
- How do I know if I have to click or double click?
- Well, you double-click on icon and simple click on links and buttons.
- How do I know what is a button or an icon?
- …

Since that time, I've tried many times to find a logic behind single or double clicking. There is not. You have to learn it by experience. And it is totally, utterly pointless.
I also realized that a single click was something really hard for Jean. Achieving to click on a given point without moving the mouse is really hard for older people. Then, ask them to click twice, with a completely arbitrary speed, without moving the mouse, not to quickly, not to slowly. Impossible.
Marie, on her side, was double-clicking everywhere. And, surprisingly, it works most of the time.
So, why do we have double-click in some places? Because we want to be able to select an item without "activating" it. How often does it happen? Never for Jean. Very rarely for Marie.
To summarize, we are making the most frequent action very hard to nearly impossible in order to allow a very rare action?
I tried to disable completely the double-clicking in Nautilus.
Do you know what?
It works. Even for me. I had chronic pain in my hand and disabling double-click was a relief. I explained to Marie to never double-click anymore. She's still double-clicking from time to time but everything works even better than before. Jean was eventually able to launch a file from within Nautilus.
Selection of one or multiple file with single mouse click
What about selection of files? I explained to Marie to draw a square with the mouse. And, yes, she found that absolutely intuitive. The only drawback I found so far was the inconsistency with lists, where double-clicking is still required. Marie called me one day because she tried to play a specific song in Rhythmbox. It wasn't working. I realize that she had to double-click on the song. "But you told me to never double click anymore!". Sorry Marie.
I'm myself incredibly frustrated by any system that requires double-click. Why do we still have double-click by default in GNOME3?


Part 1 : Introduction
Part 2 : Home is Desktop
Part 3 : There's no tray icon in GNOME !
Part 4 : Kill The Double Click


Picture by Dave Dugdale
05 Nov 2011 12:17pm GMT
03 Nov 2011
Billet sponsorisé Le nuage électronique est le nouveau paradigme dominant sur Internet. Mais comment choisir la meilleure solution qui correspond réellement à vos besoins en terme de sauvegarde des données? Top 10 Cloud Storage est un site utile et malin pour trouver le bon service. L'équipe du site passe en revue les différents acteurs et [...]
03 Nov 2011 9:05pm GMT
28 Oct 2011
Si vous deviez me décrire en deux mots, nul doute que fourbe et profiteur vous viendraient spontanément à la bouche. Paresseux, parasite et inutile suivraient de près. Et j'en suis fier. J'en ai même fait mon mode de vie.
Ma technique est simple mais éprouvée. Je croise un inconnu dans la rue à l'air affable. Tenez, prenez ce jeune homme à l'allure dynamique. Il s'appelle Jean, c'est ma prochaine victime. Il ne se doute encore de rien mais j'irai dormir dans le lit de sa femme tout en vidant son frigo.
Au premier abord, je fais le numéro du sympa-sociable, les circonstances m'ont conduit dans la rue, où j'ère sans but précis, mais je ne me plains pas, je ne quémande rien, au contraire, je refuse tout geste de pitié trop ostentatoire. J'ai ma fierté.
Lorsque Jean se propose de m'emmener manger à la maison, juste pour la soirée, je fais d'abord mine de ne pas être intéressé. Mais mes yeux acquiescent et Jean, en rigolant, insiste, me forçant presqu'à le suivre. Inutile de vous dire que c'est ce que j'attendais mais la victime doit croire qu'elle a l'initiative, c'est primordial.
Martine, la femme de Jean, n'est que moyennement contente de cet imprévu. Qu'à cela ne tienne, je fais mon charmeur, je séduis tout en ayant l'air de ne pas vouloir déranger. Je fais également un peu le pitre pour la dérider.
Et ça marche. Avant la fin de la soirée, elle discutera avec moi plus qu'avec Jean lui-même, ce dernier étant parfaitement inconscient du destin de proie que je lui réserve. De manière indirecte, je fais comprendre que je n'ai nul part où aller. Jean et Martine n'ont pas le cœur de me renvoyer seul dans le froid de la nuit. Ils se proposent donc de m'héberger, juste pour une nuit. Tandis que je m'installe confortablement sur le sofa, j'entends Martine descendre l'escalier. Elle est en déshabillé, prête à aller au lit.
- « Bonne nuit ! » me lance-t-elle avec un sourire innocent avant de remonter dare-dare dans sa chambre.
Je ricane. Je n'ai même pas eu besoin de répondre. Une seule soirée me suffit. Homme ou femme, nul ne me résiste. Je suis comme ça moi.
Bien entendu, le « seulement pour une nuit » se prolongera. Je commencerai doucement à faire comprendre mes goûts précis, envoyant Jean au supermarché afin de m'acheter ce que je souhaite. Lorsqu'elle rentre du travail, Martine a à peine un regard pour Jean. Elle se rue à l'intérieur pour voir comment je vais. Pendant ce temps-là, je me prélasse sur le canapé, je me balade un peu. Avec mon air faussement négligent, j'ai pris soin de casser quelques bibelots auxquels ils tenaient beaucoup, par pure cruauté.
Lorsque Jean partit quelques jours dans sa famille à l'étranger, je n'hésitai pas: je me glissai une nuit dans le lit de Martine, sans même lui demander, sans même m'annoncer. Elle prit un air faussement surpris mais je sais qu'elle n'attendait que cela. Elles sont toutes les mêmes. Jean nous a surpris en rentrant plus tôt. Cela ne lui a pas plu. Il m'a dit qu'il m'avait sorti de la rue, qu'il n'acceptait pas cela.
Par méchanceté, j'ai répondu en déféquant sur la moquette du salon. Il a pu tout nettoyer. Il n'était vraiment pas content mais Martine a fini par le convaincre de me garder et d'exercer le moindre de mes désirs.
Il faut dire qu'ils sont vraiment bien mes deux esclaves. Je dors dans leur lit, ils me nourrissent, nettoient sans que je n'aie besoin de faire attention à rien. Quoi que je fasse, ils me regardent avec un air attendri et me trouvent adorable. Même au milieu de la nuit, il suffit que je me mette à miauler pour qu'ils s'enquièrent immédiatement de mes besoins.
Des esclaves aussi dociles, c'est rare. Je vais les garder encore quelques temps.
28 Oct 2011 4:59pm GMT
27 Oct 2011
View the story « My first steps in San Francisco » on Storify]
27 Oct 2011 10:55pm GMT
21 Oct 2011
Les Golden Blog (GBA) Awards 2011 auront lieu le 16 novembre 2011 dans les salons de la Marie de Paris. C'est la première cérémonie faite pour les blogueurs et réalisée par des blogueurs. Les GBA récompensent les meilleurs blogs du Web 2.0 français et consacrent un mode d'expression qui a depuis longtemps dépassé le stade [...]
21 Oct 2011 9:20am GMT
18 Oct 2011
Avertissement au lecteur : ce billet, bien qu'appuyé sur des données factuelles, contient de l'ironie. Vous le prendrez comme un clin d'oeil, alimentant la réflexion autour de la rédaction et du référencement. Voici donc 5 moyens de plaire aux moteurs : 1. Être professoral...
18 Oct 2011 6:36pm GMT
16 Oct 2011
Avec cet article, j'inaugure une série de blog posts qui vous raconteront notre expérience américaine. Je rassure par la même occasion les gens qui étaient inquiets dans les commentaires de mon dernier billet : je continuerai à bloguer, et je continuerai à le faire dans la langue de Molière ! J'ai également remis mon Tumblr [...]
16 Oct 2011 8:57pm GMT
12 Oct 2011
Paru dans le dernier numéro d'Inside Digital Media, l'article ci-dessous (obtenu via des sources secrètes, comme vous vous en doutez), signé Olivier De Keyser (@olietree sur Twitter) a déjà fait couler beaucoup de clics dans la blogosphère belge. Qu'en pensez-vous ? Personnellement, je l'ai lu en diagonale et je reviendrai dessus dans quelques heures pour [...]
12 Oct 2011 9:04am GMT
06 Oct 2011
Le programme de ma formation "Faire évoluer un site web" évolue. Le voici ! Les 24 et 25 octobre prochains à Bruxelles, au cours de deux journées de formation, vous apprendrez à : 1. Identifier les champs d'amélioration de la qualité Le succès d'un site web repose sur une...
06 Oct 2011 11:25am GMT
Ce matin, 6h30. Ced est levé depuis une demi-heure et moi rendormie profondément. Le meilleur sommeil c'est celui du matin. -MAMAAAAAAAAN -Humpffffgggrrrbbbbrrrrrçavatupeuxvenirici Le loustic s'installe sur l'oreiller de son papa, fout sa couverture (son doudou en chef) près de ses pieds et commence à gigoter les orteils dedans, tout en tirant très fort sur sa [...]
06 Oct 2011 8:54am GMT
26 Sep 2011
Revenons quelques années en arrière… En avril 2009, j'ai co-fondé One Million Dollars (1MD) avec trois camarades d'Emakina. Après quelques années passées dans la société Web n°1 en Belgique et malgré tout ce que nous y avons appris et les personnes formidables que nous y avons rencontrées, nous avions tous les quatre besoin d'un nouveau [...]
26 Sep 2011 3:50pm GMT
19 Sep 2011
Volkswagen nous a encore pondu une énième campagne de pub, mais cette fois je dois dire que je la trouve assez sympathique. Il s'agit de se remémorer tous les souvenirs que les gens ont avec la Golf. C'est vrai qu'en 37 ans, il a dû s'en passer des trucs. Et sur le site Golf Story, vous [...]
19 Sep 2011 6:52pm GMT
20h30 ou 21h, heure du dodo. Allez allez, pour être en forme demain, tu dois être fatigué, tu as fait beaucoup de choses à l'école aujourd'hui…. y a pas école demain donc tu peux te lever tard. Une histoire, raconter la journée qui est passée, une deuxième histoire, raconter les beaux rêves qu'on voudrait faire, [...]
19 Sep 2011 11:52am GMT
19 Jul 2011
Discipline : Cours de Eveil scientifique
Niveau : Enseignement fondamental
Description : Outil pour les 5-8ans sur les 5 sens. Un livre-conte pour chaque enfants et un carnet d'animation pour l'instituteur/trice. Plus d'infos sur le site www.latitudejunior.be En attache, les fiches d'animation
Objectifs : Décourir les sens de manière différente
Année : 3e année
19 Jul 2011 10:00pm GMT
Discipline : Cours de Eveil scientifique
Niveau : Enseignement fondamental
Description : Outil pour les 5-8ans sur les 5 sens. Un livre-conte pour chaque enfants et un carnet d'animation pour l'instituteur/trice.
Plus d'infos sur le site www.latitudejunior.be
En attache, les fiches d'animation
Objectifs : Découvrir les sens de manière différente
Année : 1e année
19 Jul 2011 10:00pm GMT
17 Jul 2011
Discipline : Cours de Menuiserie
Niveau : Enseignement secondaire
Description : être capable d'utiliser une corroyeuse en respectant les régles de sécurité.
Objectifs : utiliser une degauchisseuse et une raboteuse
Année : 1e année
17 Jul 2011 10:00pm GMT
01 Jul 2010
Photos d'une petite sortie à Puurs
01 Jul 2010 12:11pm GMT
19 Jan 2010
IE6, IE7, IE8 ne supportent pas la gestion de plus de 31 CSS dans une page web...
19 Jan 2010 4:58pm GMT
06 Oct 2007
Suite à mon appel pour la création d'un logo pour la campagne L'accessibilité du Web, ça sert à tous, je fais le point. [1] Le souhait que j'avais exprimé, très vague j'en conviens [2] un logo sobre, qui ne soit pas orienté handicap, qui puisse aussi être utilisé en version papier et même,...
06 Oct 2007 10:11am GMT
04 Oct 2007
Le billet de Mateusz Kukulka : Les blogueurs soutiennent les pacifistes birmans Des blogueurs dans le monde entier préparent une action symbolique pour supporter la révolution pacifique en Birmanie. Le site : Free Burma! Pour ceux qui aiment lire : Birmane de Christophe...
04 Oct 2007 9:54am GMT
25 Sep 2007
Ce n'est plus un secret, le mois de novembre 2007 sera marqué par un évènement incontournable pour tous ceux qui s'intéressent à la qualité des sites Web Accessibilité, qualité et design : comment concilier ces trois approches dans une optique de production de sites web, avec les...
25 Sep 2007 3:22pm GMT