06 May 2016
Early Friday morning, SpaceX successfully landed its Falcon 9 rocket on a drone ship at sea for the second time. The company has recovered the post-launch vehicle a total of three times, two of which involved the rocket landing on a floating drone ship in the Atlantic Ocean. Before the launch, the landing was deemed unlikely as the rocket would be "subject to extreme velocities and re-entry heating" in its attempt to launch a Japanese communications satellite into a geostationary transfer orbit high above Earth. Elon Musk tweeted: "Rocket reentry is a lot faster and hotter than last time, so odds of making it are maybe even, but we should learn a lot either way." As a result of the successful mission, Musk followed up with, "May need to increase size of rocket storage hangar." The first successful launch was in December, when the rocket landed at a ground-based spaceport in Cape Canaveral, Florida. The second landing occurred in April on a floating drone ship in the Atlantic Ocean.
Read more of this story at Slashdot.
06 May 2016 7:00am GMT
300 million of us slurped it for free. Anyone left willing to pay US$119/£99.99?
Microsoft has announced that the free all-you-can-eat Windows 10 upgrade buffet will close forever on July 29, and that after that you'll have to pay for all the fun of its latest operating system.…
06 May 2016 6:56am GMT
In the middle of the night, amid fire and smoke, a second rocket appeared on a boat.
06 May 2016 6:41am GMT
Reg readers share their tales of spontaneous OS upgrades
At the end of April, Microsoft's Windows 10 nagware interrupted a live TV weather broadcast to urge meteorologist Metinka Slater to upgrade her computer.…
06 May 2016 6:03am GMT
New submitter Keys of Cars quotes a report from Gizmag: Smartwatches may be handy, but their tiny touchscreens can easily be obscured by your fingers as you're using them on the device. As a result, we've seen various attempts to move the control surface. One of the latest, Carnegie Mellon University's SkinTrack system, moves it onto your hand and lower arm. The strap of the smartwatch features multiple electrodes, which detects a ring that is worn on your "control finger" (on your non smartwatch-wearing arm) that emits a high-frequency electrical signal. When your finger, specifically the ring, approaches and/or touches the arm with the watch, the high-frequency electrical signal is propagated through the skin. It will work even if your skin is covered with clothing! The system is reportedly 99% accurate, and can locate touches with a mean error of 7.6mm. SkinTrack was used to control games, scroll through lists, zoom in and out of maps, draw pictures, and operate an onscreen number pad.
Read more of this story at Slashdot.
06 May 2016 3:30am GMT
Falcon 9 stage will be coming back faster and with less fuel to maneuver.
06 May 2016 3:00am GMT
Patrick O'Neill quotes a report from The Daily Dot: The FBI team that brought down Silk Road has a new home. After headline-grabbing investigations, arrests, and prosecutions on some of America's highest-profile cybercriminals, five of U.S. law enforcement's most prized cybercrime aces have all left government service for greener pastures -- a titan consulting firm called Berkeley Research Group (BRG). BRG's newly hired gang of five includes former federal prosecutor Thomas Brown, as well as former FBI agents Christopher Tarbell, Thomas Kiernan, and Ilhwan Yum -- names that punctuated many of the biggest cybercrime stories of the last decade including Silk Road, LulzSec, Liberty Reserve, as well as the hacks of Citibank, PNC Bank, and the Rove Digital botnet; and the prosecution of Samarth Agrawal for stealing crucial code for high-frequency trading from the multinational, multibillion dollar bank Societe Generale. "Private industry provides a lot of opportunity," NYPD intelligence chief Thomas Galati told Congress earlier this year. "So I think the best people out there are working for private companies, and not for the government."
Read more of this story at Slashdot.
06 May 2016 1:50am GMT
Patch aims to alleviate issues with unpacking downloads
Microsoft has a released a fix to address problems with its Windows Server Update Services (WSUS) tool. For those not in the know, WSUS is a component of Windows Server that lets IT administrators push particular updates to users' PCs.…
06 May 2016 12:40am GMT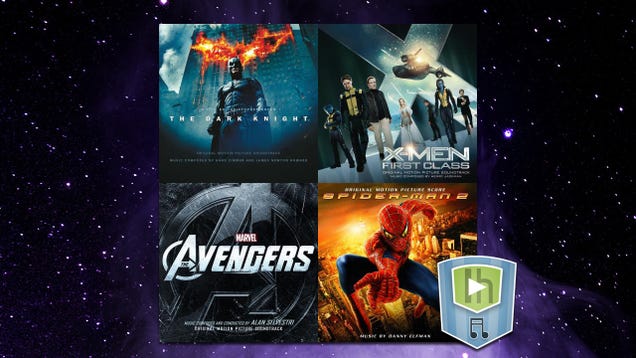 Superhero movies may be hit or miss sometimes, but even mediocre movies often come with outstanding soundtracks. The best scores become ingrained in us. This playlist features some of the best superhero music of the last decade and a half.
06 May 2016 12:00am GMT
05 May 2016
Latest Microsoft security report confirms: There's a lot of malware out there.
05 May 2016 11:59pm GMT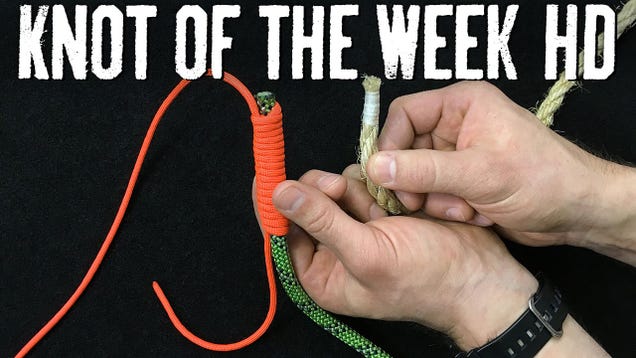 Natural fiber rope frays pretty easily, and you can't just melt the ends like with nylon rope. If you want to stop the fraying, some waxed dental floss and a little knot know-how will do the trick.
05 May 2016 11:00pm GMT
Microsoft had been planning to introduce a unique 3D Touch feature with a flagship Windows phone back in 2014. While the device was canceled, the work behind Microsoft's Kinect-like gestures lives on. In a new Microsoft Research video, the software maker is revealing some of the features it was working on under the guise of "pre-touch sensing for mobile interaction." This is exactly the kind of cool stuff that could've given Windows Phone a very interesting edge. Unlike Apple's 3D touch, which is a completely pointless gimmick, the examples in the Microsoft video seem quite useful, and do actually streamline a number of mobile UI interactions. I hope this isn't shelved permanently.
05 May 2016 10:39pm GMT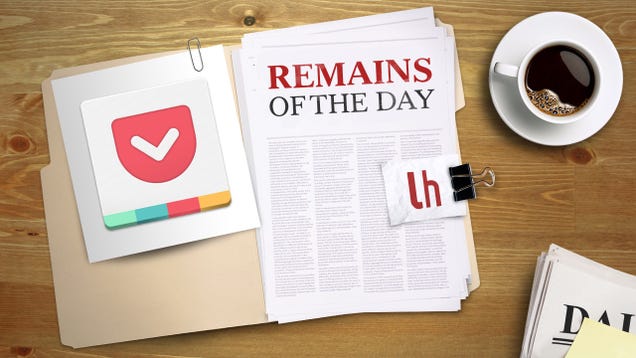 Pocket wants to have a little social network to call its own. The read-it-later app is adding more features to its 'Recommended' feed where you can follow what other people are reading. Now you can like and repost things, if you want another place to like and repost things.
05 May 2016 10:30pm GMT
04 May 2016
Two weeks shy of Google detailing the next big revision of Android at its annual developer conference, the current Android version is still struggling to make its way out to devices. Android 6.0 Marshmallow is currently running on just 7.5 percent of active Android devices that have access to the Google Play Store. The rest of the field is dominated by 2014's Android Lollipop at 35.6 percent, 2013's KitKat at 32.5 percent, and 2012's Jelly Bean at 20.1 percent. 2011's Ice Cream Sandwich still clings on to a stubborn 2 percent and the immortal Android Gingerbread (version 2.3!) accounts for 2.2 percent of Android smartphones. Using an iPhone 6S since it came out has made me appreciate more and more just how much better Android is than iOS - but it's all for naught if Google doesn't get off its bum and fixes this long-running problem. Now that Android at 6.x is definitively better than iOS, it's way, way, way, way beyond time for Google to drop everything they're doing and somehow find a way to forcefully and resolutely address this deficit. If the latest version of Android is the best (i.e., the least crappy) mobile operating system out there, but nobody is running it, is it really the best mobile operating system?
04 May 2016 9:39am GMT
Apple CEO Tim Cook insisted last week that everything was great with his company despite its first quarterly revenue decline since 2003. He and Apple's chief financial officer used the word "optimistic" 10 times during a conference call with analysts. Then the company's share price pessimistically fell for eight consecutive market days -- something that hasn't happened to Apple in nearly 18 years. Declaring victory didn't work the first time, so Cook made a trip to Jim Cramer's therapy couch on Monday to try to soothe investors. It's unfair to compare Apple's numbers to the 2014 debut of the iPhone 6, which was a tough act to follow, Cook said. He added: Everything is great. Look at how much money we're making. The smartphone market has plenty of room to run. Customers love us so much. Then Cook attended a gala at the Metropolitan Museum of Art. Here's what Cook didn't say: 1) Apple has been misjudging its own business, and that makes it tough to believe what executives say; and 2) The company failed to prepare investors for an inevitable slowdown in growth -- even if that slowdown proves temporary. If one duty of public company executives is to underpromise and overdeliver, Apple has flopped in that job. A lot of people will just mockingly file away articles like this under the "Apple is doomed!" moniker, but what these people don't understand is that most of the stock market isn't about whether or not Apple is doomed or not - it's all about meeting expectations. You can suffer a massive loss, but if the loss is less than what you and the market predicted, your shares would go up. You could be doing incredibly well like Apple, but if you underdeliver, your shares will go down. And this article makes a strong case Cook failed at underpromising.
04 May 2016 9:39am GMT
30 Apr 2016
Now with more UI
30 Apr 2016 9:18am GMT
09 Apr 2016
Thanks to the folks over at Scaleway, TalkingArch, its blog, its torrent tracker and its support e-mail are all now hosted on real ARM hardware in France. This server provides more disk space and processing power than the previous virtualized environment at a lower monthly cost. The transfer speed is also faster, and the connection [...]
09 Apr 2016 4:09am GMT
24 Mar 2016
The release of pacman-5.0 brought support for transactional hooks. These will allow us to (e.g.) run font cache updates a single time during an update rather than after each font package installation. This will both speed up the update process, but also reduce packaging burden for the Developers and Trusted Users.
In order for the use of hooks to be started, we require all users to have updated to at least pacman-5.0.1 before 2016-04-23. Pacman-5.0.1 was released on 2016-02-23, so this will have given everyone two months to update their system.
24 Mar 2016 11:50am GMT
28 Jun 2015
Just a short hint for all fans of chess programs. PicoChess 0.43 has been released.
28 Jun 2015 11:02pm GMT
20 May 2012
On Sunday, May 20th 2012, people in a narrow strip from Japan to the western United States will be able to see an annular solar eclipse, the first in 18 years. The moon will cover as much as 94% of the sun. An Annular Solar Eclipse is different from a Total Solar Eclipse, when the […]
20 May 2012 9:51pm GMT
09 Nov 2011
In the last year the number of World of Warcraft subscribers has fallen in the from 12 million to 10.3 million...
09 Nov 2011 11:55am GMT
http://gkppondokmelati.org defaced by Arakloverz
09 Nov 2011 7:01am GMT
http://www.gentapublishing.com defaced by Arakloverz
09 Nov 2011 6:42am GMT
http://gagap.net defaced by Arakloverz
09 Nov 2011 6:42am GMT
Via YouTube user DarkSydeGeoff, we came across a Battlefield 3 exploit that allows friends to boost enormous amounts of experience in hardcore matches...
09 Nov 2011 1:43am GMT
13 May 2011
Some words about history of Planet Sun. For round about six years Planet Sun has been an aggregation of public weblogs written by employees of Sun Microsystems. Though it never was a product or publication of Sun Microsystems itself. The website was powered by Planet and run by David Edmondson. On 01 Mar 2010 David […]
13 May 2011 12:36am GMT