21 Feb 2017
Money transfer company TransferWise has launched a new service that allows users to send money internationally through Facebook's Messenger, as competition in the digital payments landscape intensifies. From a report on Reuters: The London-based startup said on Tuesday that it had developed a Facebook Messenger "chatbot", or an automated program that can help users communicate with businesses and carry out tasks such as online purchases. TransferWise's chatbot enables customers to send money to friends and family to and from the United States, Britain, Canada, Australia and Europe from Facebook Messenger. It can also be used to set up exchange rate alerts. Facebook already allows its users to send money domestically in the United States via its Messenger app, but has not yet launched similar services internationally. TransferWise said its service will be the first to enable international money transfers entirely within Messenger.
Read more of this story at Slashdot.
21 Feb 2017 4:00pm GMT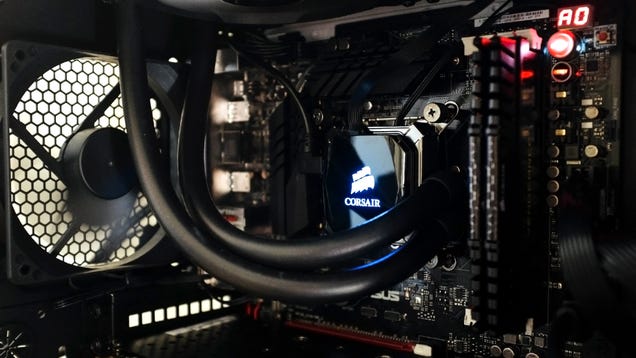 When you're buying a new gadget, you want the fastest, most powerful one you can get for your money. Benchmarks can help you figure out what devices have the most power, but sometimes they're just a distraction.

21 Feb 2017 4:00pm GMT
Company knocks $350 million off its purchase price.
21 Feb 2017 3:45pm GMT
The Concourse Chill With the "Journalists Are Heroes" Thing | Jezebel Angelina Jolie Has Only One Thing to Say About Brad Pitt During Her Press Tour | Gizmodo Disney Develops a Method for Wirelessly Powering an Entire Room | The Root Y'all's President Is a Lazy Thot |
21 Feb 2017 3:35pm GMT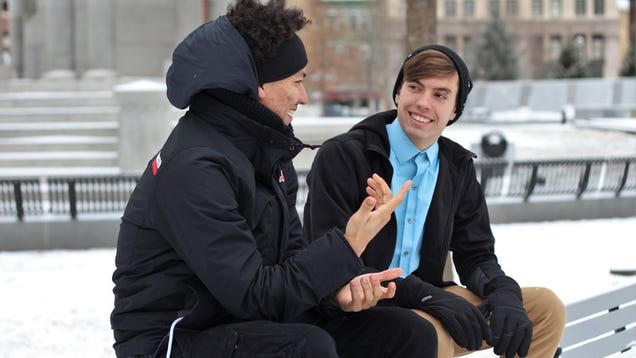 21 Feb 2017 3:30pm GMT
Bloomberg has a report today in which it underscores a growing trend among millennials in China who are looking for part-time jobs. From the article: Hopping from one short-term stint to another isn't the sort of aspiration an earlier generation had in China, where the middle-class dream has long been university degrees followed by a stable job -- preferably one backed by the government. In a 2016 poll of 13,000 college students, 48 percent said they didn't want to enter the traditional labor market. Hardly any of these part-time jobs pay well, but it doesn't matter to millennials. The report adds: "The money is little," Zhang Chen, a 21-year-old accounting student said of the short gig that pays about 240 yuan ($35). "But I want a more interesting life." Chen was lined up for the work through DouMi, a startup that focuses exclusively on part-time positions and blends elements of a temp agency with an internet jobs board and marketing service. For around 130 yuan a day, DouMi users can sort crates of milk at a supermarket or hand out pamphlets on frozen sidewalks. Those considered "beautiful women," and between the ages of 18 and 28, can make four times as much plus tips by working as live-streaming models to keep mostly-male viewers entertained. Many of the roles run for mere days or weeks at a time, a flexibility that suits those juggling social lives and university studies. "Every month we have between 300,000 and 400,000 jobs," said Chief Executive Officer Zhao Shiyong.
Read more of this story at Slashdot.
21 Feb 2017 3:20pm GMT
The tally of "planets" under the proposed definition would be 110-and rising.
21 Feb 2017 3:12pm GMT
An anonymous reader shares a report: Global digital security firm Gemalto on Tuesday announced it will make available its on-demand connectivity and eSIM technology for Microsoft's Windows 10 devices. The eSIM is designed to be remotely provisioned by mobile network operators with subscription information and is globally interoperable across all carriers, device makers and technology providers implementing the specification. Gemalto's On-Demand Connectivity solution gives service providers the capability to deliver a seamless customer experience for connecting consumer and industrial devices. "eSIM technology remains an important investment for Microsoft as we look to create even more mobile computing opportunities," said Roanne Sones, General Manager (Strategy and Ecosystem), Microsoft.
Read more of this story at Slashdot.
21 Feb 2017 2:40pm GMT
Yes, Blizzard was still supporting XP and Vista for the likes of WoW and StarCraft 2.
21 Feb 2017 2:19pm GMT
European Union data protection watchdogs said on Monday they were still concerned about the privacy settings of Microsoft's Windows 10 operating system despite the U.S. company announcing changes to the installation process. The watchdogs, a group made up of the EU's 28 authorities responsible for enforcing data protection law, wrote to Microsoft last year expressing concerns about the default installation settings of Windows 10 and users' apparent lack of control over the company's processing of their data. Remember Scroogled? Good times.
21 Feb 2017 12:33pm GMT
20 Feb 2017
When Max Karlsson found out that he was going to be in charge of Sweden's official Twitter account this week, he was looking forward to sharing some of his photography, or riffing about music and technology - nothing too different from how hundreds of others have used the handle since Sweden opened it up to ordinary users in 2011. "My thought was to speak about the interests and values that I have," Karlsson, 22, said in a phone interview Monday evening. "And then Trump hit." I find it fascinating that the official Twitter account for Sweden changes hands every week between Swedish citizens. In this particular case, it gives an ordinary Swede the opportunity to use facts to dispel a bunch of nonsense from the most powerful man in the world, who is apparently incapable of separating fact from Fox News-infused fiction.
20 Feb 2017 11:13pm GMT
In September 1885, a bunch of librarians spent four days holed up in scenic Lake George, just over 200 miles north of New York City. In the presence of such library-world luminaries as Melvil Dewey - the well-organized chap whose Dewey Decimal System keeps shelves orderly to this day - they discussed a range of issues, from the significance of the term "bookworm" to the question of whether libraries ought to have a separate reference-room for ladies. They then turned their attention to another crucial issue: handwriting. As libraries acquired more books, card catalogs needed to expand fast in order to keep track of them. Though the newly invented typewriter was beginning to take hold, it took time and effort to teach the art of "machine writing." Librarians still had to handwrite their catalog cards. And this was causing problems. Fascinating story - and funny how I was taught something very close to Library Hand cursive script (the one from A Library Primer listed in the article) when I was a kid.
20 Feb 2017 11:06pm GMT
19 Oct 2016
Well, it's hanging on in there, but why didn't it conquer the world?
Analysis Does European Commissioner for Competition Margrethe Vestager's team pay close attention to the tech news? If not, perhaps they should.…
19 Oct 2016 10:24am GMT
17 Oct 2016
Linus Torvalds teaches devs a lesson with early rc1 release
Google may have killed off its modular smartphone Project Ara idea, but some of the code that would have made it happen looks like coming to the Linux Kernel.…
17 Oct 2016 6:58am GMT
Your weekly Windows entertainment large and small
This week's worldwide BSOD roundup starts with what looks to your writer like a virtualisation launch bug. Submitter Alexander tells us it came from Peterborough Station, in Cambridgeshire.…
17 Oct 2016 6:28am GMT
21 May 2016
Die Copy Trader ist die einfache und innovative Art und Weise , Geld online mit Forex Trading zu verdienen. Es ist ein gültiges und weithin bewährte System , gefolgt von vielen kleinen Investoren auf der ganzen Welt. Leider ist in Italien, sind sie so gut wie unbekannt diese Spiegel Handelssysteme oder Programme, mit denen Sie […]
21 May 2016 4:05pm GMT
28 Jun 2015
Just a short hint for all fans of chess programs. PicoChess 0.43 has been released.
28 Jun 2015 11:02pm GMT
20 May 2012
On Sunday, May 20th 2012, people in a narrow strip from Japan to the western United States will be able to see an annular solar eclipse, the first in 18 years. The moon will cover as much as 94% of the sun. An Annular Solar Eclipse is different from a Total Solar Eclipse, when the […]
20 May 2012 9:51pm GMT
09 Nov 2011
In the last year the number of World of Warcraft subscribers has fallen in the from 12 million to 10.3 million...
09 Nov 2011 11:55am GMT
Via YouTube user DarkSydeGeoff, we came across a Battlefield 3 exploit that allows friends to boost enormous amounts of experience in hardcore matches...
09 Nov 2011 1:43am GMT
06 Nov 2011
Tyrs is a microblogging client, supporting Twitter and Status.net (identi.ca), it's based on console using the NCurses module from Python. The release of the 0.5.0 version is a good excuse to introduce Tyrs. Tyrs aims to get a good interaction with a fairly intuitive interface that can provide support ncurses. Tyrs tries also not to [...]
06 Nov 2011 9:43pm GMT
05 Nov 2011
After one year of managing a network of 10 servers with Cfengine I'm currently building two clusters of 50 servers with Puppet (which I'm using for the first time), and have various notes to share. With my experience I had a feeling Cfengine just isn't right for this project, and didn't consider it seriously. These servers are all running Debian GNU/Linux and Puppet felt natural because of the good Debian integration, and the number of users whom also produced a lot of resources. Chef was out of the picture soon because of the scary architecture; CouchDB, Solr and RabbitMQ... coming from Cfengine this seemed like a bad joke. You probably need to hire a Ruby developer when it breaks. Puppet is somewhat better in this regard.

Puppet master needs Ruby, and has a built-in file server using WEBrick. My first disappointment with Puppet was WEBrick. Though PuppetLabs claim you can scale it up to 20 servers, that proved way off, the built-in server has problems serving as little as 5 agents/servers, and you get to see many dropped connections and failed catalog transfers. I was forced to switch to Mongrel and Nginx as frontend very early in the project, on both clusters. This method works much better (even though Apache+Passenger is the recommended method now from PuppetLabs), and it's not a huge complication compared to WEBrick (and Cfengine which doesn't make you jump through any hoops). Part of the reason for this failure is my pull interval, which is 5 minutes with a random sleep time of up to 3 minutes to avoid harmonics (which is still a high occurrence with these intervals and WEBrick fails miserably). In production a customer can not wait on 30/45 minute pull intervals to get his IP address whitelisted for a service, or some other mundane task, it must happen within 10 minutes... but I'll come to these kind of unrealistic ideas a little later.

Unlike the Cfengine article I have no bootstrapping notes, and no code/modules to share. By default the fresh started puppet agent will look for a host called "puppet" and pull in what ever you defined to bootstrap servers in your manifests. As for modules, I wrote a ton of code and though I'd like to share it, my employer owns it. But unlike Cfengine v3 there's a lot of resources out there for Puppet which can teach you everything you need to know, so I don't feel obligated to even ask.

Interesting enough, published modules would not help you get your job done. You will have to write your own, and your team members will have to learn how to use your modules, which also means writing a lot of documentation. Maybe my biggest disappointment is getting disillusioned by most Puppet advocates and DevOps prophets. I found articles and modules most of them write, and experiences they share have nothing to do with the real world. It's like they host servers in a magical land where everything is done in one way and all servers are identical. Hosting big websites and their apps is a much, much different affair.

Every customer does things differently, and I had to write custom modules for each of them. Just between these two clusters a module managing Apache is different, and you can abstract your code a lot but you reach a point where you simply can't push it any more. Or if you can, you create a mess that is unusable by your team members, and I'm trying to make their jobs better not make them miserable. One customer uses an Isilon NAS, the other has a content distribution network, one uses Nginx as a frontend, other has chrooted web servers, one writes logs to a NFS, other to a Syslog cluster... Now imagine this on a scale with 2,000 customers and 3 times the servers and most of the published infrastructure design guidelines become laughable. Instead you find your self implementing custom solutions, and inventing your own rules, best that you can...

I'm ultimately here to tell you that the projects are in a better state then they would be with the usual cluster management policy. My best moment was an e-mail from a team member saying "I read the code, I now understand it [Puppet]. This is fucking awesome!". I knew at that moment I managed to build something good (or good enough), despite the shortcomings I found, and with nothing more than using PuppetLabs resources. Actually, that is not completely honest. Because I did buy and read the book Pro Puppet which contains an excellent chapter on using Git for collaboration on modules between sysadmins and developers, with proper implementation of development, testing and production (Puppet)environments.
05 Nov 2011 11:17pm GMT
Creating json is now ten times easier.
05 Nov 2011 3:10am GMT
13 May 2011
Some words about history of Planet Sun. For round about six years Planet Sun has been an aggregation of public weblogs written by employees of Sun Microsystems. Though it never was a product or publication of Sun Microsystems itself. The website was powered by Planet and run by David Edmondson. On 01 Mar 2010 David […]
13 May 2011 12:36am GMT