22 Oct 2016
Fudge Factor 3000 writes: Google has quietly changed its privacy policy to allow it to associate web tracking, which is supposed to remain anonymous, with personally identifiable user data. This completely reneges its promise to keep a wall between ad tracking and personally identifiable user data, further eroding one's anonymity on the internet. Google's priorities are clear. All they care about is monetizing user information to rake in the big dollars from ad revenue. Think twice before you purchase the premium priced Google Pixel. Google is getting added value from you as its product without giving you part of the revenue it is generating through tracking through lower prices. The crossed-out section in its privacy policy, which discusses the separation of information as mentioned above, has been followed with this statement: "Depending on your account settings, your activity on other sites and apps may be associated with your personal information in order to improve Google's services and the ads delivered by Google." ProPublica reports: "The change is enabled by default for new Google accounts. Existing users were prompted to opt-in to the change this summer. The practical result of the change is that the DoubleClick ads that follow people around on the web may now be customized to them based on your name and other information Google knows about you. It also means that Google could now, if it wished to, build a complete portrait of a user by name, based on everything they write in email, every website they visit and the searches they conduct. The move is a sea change for Google and a further blow to the online ad industry's longstanding contention that web tracking is mostly anonymous. In recent years, Facebook, offline data brokers and others have increasingly sought to combine their troves of web tracking data with people's real names. But until this summer, Google held the line." You can choose to opt in or out of the personalized ads here.
Read more of this story at Slashdot.
22 Oct 2016 1:30pm GMT
Moon or Mars? SLS or private rockets? The next president will face big questions.
22 Oct 2016 1:00pm GMT
An anonymous reader quotes a report from TorrentFreak: Pirate services obtain content by capturing and restreaming feeds obtained from official sources, often from something as humble as a regular subscriber account. These streams can then be redistributed by thousands of other sites and services, many of which are easily found using a simple search. Dedicated anti-piracy companies track down these streams and send takedown notices to the hosts carrying them. Sometimes this means that streams go down quickly but in other cases hosts can take a while to respond or may not comply at all. Networking company Cisco thinks it has found a solution to these problems. The company's claims center around its Streaming Piracy Prevention (SPP) platform, a system that aims to take down illicit streams in real-time. Perhaps most interestingly, Cisco says SPP functions without needing to send takedown notices to companies hosting illicit streams. "Traditional takedown mechanisms such as sending legal notices (commonly referred to as 'DMCA notices') are ineffective where pirate services have put in place infrastructure capable of delivering video at tens and even hundreds of gigabits per second, as in essence there is nobody to send a notice to," the company explains. "Escalation to infrastructure providers works to an extent, but the process is often slow as the pirate services will likely provide the largest revenue source for many of the platform providers in question." To overcome these problems Cisco says it has partnered with Friend MTS (FMTS), a UK-based company specializing in content-protection. Among its services, FMTS offers Distribution iD, which allows content providers to pinpoint which of their downstream distributors' platforms are a current source of content leaks. "Robust and unique watermarks are embedded into each distributor feed for identification. The code is invisible to the viewer but can be recovered by our specialist detector software," FMTS explains. "Once infringing content has been located, the service automatically extracts the watermark for accurate distributor identification." According to Cisco, FMTS feeds the SPP service with pirate video streams it finds online. These are tracked back to the source of the leak (such as a particular distributor or specific pay TV subscriber account) which can then be shut-down in real time.
Read more of this story at Slashdot.
22 Oct 2016 10:00am GMT
When Google bought the advertising network DoubleClick in 2007, Google founder Sergey Brin said that privacy would be the company's "number one priority when we contemplate new kinds of advertising products." And, for nearly a decade, Google did in fact keep DoubleClick's massive database of web-browsing records separate by default from the names and other personally identifiable information Google has collected from Gmail and its other login accounts. But this summer, Google quietly erased that last privacy line in the sand - literally crossing out the lines in its privacy policy that promised to keep the two pots of data separate by default. In its place, Google substituted new language that says browsing habits "may be" combined with what the company learns from the use Gmail and other tools. The web, by definition, isn't private. The web is like a busy shopping street; you wouldn't shout your secrets for everyone to hear there either. The sooner people accept this fact, the better they'll be for it. Note that I'm not saying I'm happy about this fact - I'm just saying it is what it is. There's nothing any of us can do about it, until authorities or regulators start stepping in. That being said, Google published a statement about this, stating this change is opt-in. Our advertising system was designed before the smartphone revolution. It offered user controls and determined ads' relevance, but only on a per-device basis. This past June we updated our ads system, and the associated user controls, to match the way people use Google today: across many different devices. Before we launched this update, we tested it around the world with the goal of understanding how to provide users with clear choice and transparency. As a result, it is 100% optional - if users do not opt-in to these changes, their Google experience will remain unchanged. Equally important: we provided prominent user notifications about this change in easy-to-understand language as well as simple tools that let users control or delete their data. Users can access all of their account controls by visiting My Account and we're pleased that more than a billion have done so in its first year alone. You can opt-out in the Activity Controls section of your Google account settings.
22 Oct 2016 9:21am GMT
stevegee58 writes: Russians have been noticing that their GPS doesn't work in Moscow near the Kremlin. Everyone from taxi drivers to Pokemon Go players suddenly notice that they're transported 18 miles away at the airport when they near the Kremlin. While this may be an annoyance to the public it seems like a reasonable countermeasure to potential terrorist threats. Is it only a matter of time before other vulnerable sites such as the White House or the Capitol in Washington start doing the same? "A programmer for Russian internet firm Yandex, Grigory Bakunov, said Thursday his research showed a system for blocking GPS was located inside the Kremlin, the heavily guarded official residence of Russian President Vladimir Putin," reports Yahoo. "The first anomaly was recorded in June, according to Russian media reports, which have also suggested that the GPS interference comes and goes in a pattern. Putin's spokesman Dmitry Peskov said Thursday he did not know why the malfunction was occurring and admitted experiencing the problem himself when driving recently. Peskov redirected questions to Russia's Federal Guards Service, which is responsible for protecting the Kremlin and senior Russian officials."
Read more of this story at Slashdot.
22 Oct 2016 7:00am GMT
21 Oct 2016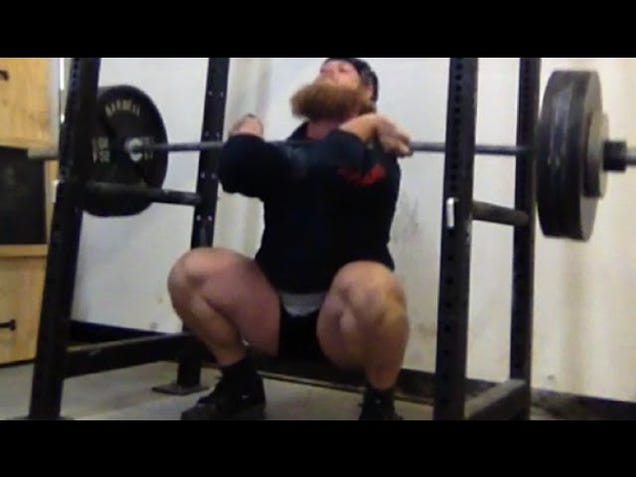 The front squat is a great exercise, but it's less forgiving than squats if you're not mobile or healthy enough in places like your shoulders. Don't miss out on the benefits though-focus on the basics, like your hand, elbow, and bar placement, and take it slow. This video explains how.

21 Oct 2016 11:00pm GMT
Behold the wonder of the HTC-manufactured, Google-designed Android flagship.
21 Oct 2016 10:57pm GMT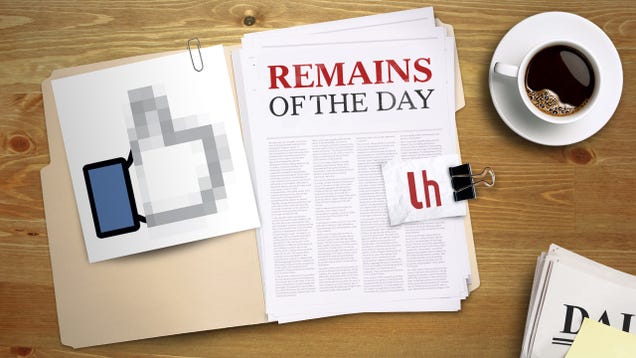 Facebook has decided that they will allow images or posts that would otherwise violate their community standards when the subject matter is deemed newsworthy. This comes after Facebook has faced criticism for removing posts relevant to the news.
21 Oct 2016 10:30pm GMT
Deadspin Team USA Was The Overwhelmed Newcomer At The Kabaddi World Cup | The Slot Sarah Palin Got Me Like 😂 | Gizmodo Today's Brutal DDoS Attack Is the Beginning of a Bleak Future | Jezebel Donald Trump Would Like the Trump University Trial to Not Include His Personal Conduct, Please |
21 Oct 2016 10:18pm GMT
"We'd like to publicly apologize to Donald for ruining Comic-Con for him forever."
21 Oct 2016 10:08pm GMT
20 Oct 2016
Nintendo just unveiled its new gaming console - it's called the Nintendo Switch, and it allows you to play both on your TV and while on the go, with the same console and controllers. The introduction video shows very well what the console can do, and I have to admit - it looks pretty awesome. As both a console and a portable device, the Nintendo Switch will use cartridges known as Game Cards. The portability is one of the system's most important features; Nintendo's trailer showed people using the Switch in handheld mode on a plane, in a car and on a city rooftop. Nintendo said that people can bring multiple Switch units into the same place for "local multiplayer face-to-face competition." No information on pricing yet, but it should be available March 2017. It's powered by Nvidia hardware, but that's about all we know about its capabilities. I'm quite curious to see if the device takes a performance hit once you undock it and use it on the go.
20 Oct 2016 2:36pm GMT
iMore's Rene Ritchie, linked by Daring Fireball's John Gruber: So, everyone who'd been criticizing Apple and iPhone design immediately called Google out for aping it? Not so much. Except, every Pixel review did call Google out for this. Surely they drew the line at Google's 2016 flagship missing optical image stabilization - not just in the regular-size, but in the Plus XL model as well - stereo speakers, and water resistance - things that were pointed to last year as indicators Apple was falling behind? Turns out, not deal-breakers either. Except, every Pixel review did call Google out for this. Here's a quick cut/paste image job I did yesterday, highlighting how Pixel reviews did, in fact, call out Google and the Pixel for the things Ritchie claims they are not calling them out for. It's almost like the Pixel is being graded on a curve. When you're as deeply enveloped in the Apple bubble as people like Rene Ritchie and John Gruber, reality inside the bubble starts folding in on itself. You sit deep inside your bubble, and when you look outwards, the curves and bends of the bubble's surface twist and turn reality outside of the bubble into ever more grotesque and malformed versions of it. Ever since the unveiling of the Pixel up to and including the reviews published yesterday, everybody in the technology media has been pointing out the exact same things Ritchie claims are not being pointed out. The amount of mental gymnastics and selective perception one must undertake - one could call such exercises flat-out lies - to claim that the major technology media is "against Apple" or "grading [the Pixel] on a curve" is so humongous that I honestly didn't think it was realistically and humanly possible. And I say this as someone who once got a flood of really nasty and angry emails because OSNews had not yet separated the FreeBSD category and its icon from the generic BSD category, so FreeBSD and Dragonfly BSD people alike were furious at me for putting a Dragonfly BSD story in the generic BSD category because it had a FreeBSD icon. I've been around the block when it comes to the kind of reality-warping, deeply idiotic bullshit the technology world can conjure up over absolutely nothing. When I was 17, I went on a trip to Rome, the most beautiful city in the world. As I stood atop the dome of St. Peter's Basilica, looking down upon the countless tourists swarming St. Peter's Square, I realised how easy it would be to lose touch with the people down there if you spent most of your time up here. The bubble is no different. Read more on this exclusive OSNews article...
20 Oct 2016 10:08am GMT
19 Oct 2016
Well, it's hanging on in there, but why didn't it conquer the world?
Analysis Does European Commissioner for Competition Margrethe Vestager's team pay close attention to the tech news? If not, perhaps they should.…
19 Oct 2016 10:24am GMT
17 Oct 2016
Linus Torvalds teaches devs a lesson with early rc1 release
Google may have killed off its modular smartphone Project Ara idea, but some of the code that would have made it happen looks like coming to the Linux Kernel.…
17 Oct 2016 6:58am GMT
Your weekly Windows entertainment large and small
This week's worldwide BSOD roundup starts with what looks to your writer like a virtualisation launch bug. Submitter Alexander tells us it came from Peterborough Station, in Cambridgeshire.…
17 Oct 2016 6:28am GMT
21 May 2016
Die Copy Trader ist die einfache und innovative Art und Weise , Geld online mit Forex Trading zu verdienen. Es ist ein gültiges und weithin bewährte System , gefolgt von vielen kleinen Investoren auf der ganzen Welt. Leider ist in Italien, sind sie so gut wie unbekannt diese Spiegel Handelssysteme oder Programme, mit denen Sie […]
21 May 2016 4:05pm GMT
28 Jun 2015
Just a short hint for all fans of chess programs. PicoChess 0.43 has been released.
28 Jun 2015 11:02pm GMT
20 May 2012
On Sunday, May 20th 2012, people in a narrow strip from Japan to the western United States will be able to see an annular solar eclipse, the first in 18 years. The moon will cover as much as 94% of the sun. An Annular Solar Eclipse is different from a Total Solar Eclipse, when the […]
20 May 2012 9:51pm GMT
09 Nov 2011
In the last year the number of World of Warcraft subscribers has fallen in the from 12 million to 10.3 million...
09 Nov 2011 11:55am GMT
Via YouTube user DarkSydeGeoff, we came across a Battlefield 3 exploit that allows friends to boost enormous amounts of experience in hardcore matches...
09 Nov 2011 1:43am GMT
06 Nov 2011
Tyrs is a microblogging client, supporting Twitter and Status.net (identi.ca), it's based on console using the NCurses module from Python. The release of the 0.5.0 version is a good excuse to introduce Tyrs. Tyrs aims to get a good interaction with a fairly intuitive interface that can provide support ncurses. Tyrs tries also not to [...]
06 Nov 2011 9:43pm GMT
05 Nov 2011
After one year of managing a network of 10 servers with Cfengine I'm currently building two clusters of 50 servers with Puppet (which I'm using for the first time), and have various notes to share. With my experience I had a feeling Cfengine just isn't right for this project, and didn't consider it seriously. These servers are all running Debian GNU/Linux and Puppet felt natural because of the good Debian integration, and the number of users whom also produced a lot of resources. Chef was out of the picture soon because of the scary architecture; CouchDB, Solr and RabbitMQ... coming from Cfengine this seemed like a bad joke. You probably need to hire a Ruby developer when it breaks. Puppet is somewhat better in this regard.

Puppet master needs Ruby, and has a built-in file server using WEBrick. My first disappointment with Puppet was WEBrick. Though PuppetLabs claim you can scale it up to 20 servers, that proved way off, the built-in server has problems serving as little as 5 agents/servers, and you get to see many dropped connections and failed catalog transfers. I was forced to switch to Mongrel and Nginx as frontend very early in the project, on both clusters. This method works much better (even though Apache+Passenger is the recommended method now from PuppetLabs), and it's not a huge complication compared to WEBrick (and Cfengine which doesn't make you jump through any hoops). Part of the reason for this failure is my pull interval, which is 5 minutes with a random sleep time of up to 3 minutes to avoid harmonics (which is still a high occurrence with these intervals and WEBrick fails miserably). In production a customer can not wait on 30/45 minute pull intervals to get his IP address whitelisted for a service, or some other mundane task, it must happen within 10 minutes... but I'll come to these kind of unrealistic ideas a little later.

Unlike the Cfengine article I have no bootstrapping notes, and no code/modules to share. By default the fresh started puppet agent will look for a host called "puppet" and pull in what ever you defined to bootstrap servers in your manifests. As for modules, I wrote a ton of code and though I'd like to share it, my employer owns it. But unlike Cfengine v3 there's a lot of resources out there for Puppet which can teach you everything you need to know, so I don't feel obligated to even ask.

Interesting enough, published modules would not help you get your job done. You will have to write your own, and your team members will have to learn how to use your modules, which also means writing a lot of documentation. Maybe my biggest disappointment is getting disillusioned by most Puppet advocates and DevOps prophets. I found articles and modules most of them write, and experiences they share have nothing to do with the real world. It's like they host servers in a magical land where everything is done in one way and all servers are identical. Hosting big websites and their apps is a much, much different affair.

Every customer does things differently, and I had to write custom modules for each of them. Just between these two clusters a module managing Apache is different, and you can abstract your code a lot but you reach a point where you simply can't push it any more. Or if you can, you create a mess that is unusable by your team members, and I'm trying to make their jobs better not make them miserable. One customer uses an Isilon NAS, the other has a content distribution network, one uses Nginx as a frontend, other has chrooted web servers, one writes logs to a NFS, other to a Syslog cluster... Now imagine this on a scale with 2,000 customers and 3 times the servers and most of the published infrastructure design guidelines become laughable. Instead you find your self implementing custom solutions, and inventing your own rules, best that you can...

I'm ultimately here to tell you that the projects are in a better state then they would be with the usual cluster management policy. My best moment was an e-mail from a team member saying "I read the code, I now understand it [Puppet]. This is fucking awesome!". I knew at that moment I managed to build something good (or good enough), despite the shortcomings I found, and with nothing more than using PuppetLabs resources. Actually, that is not completely honest. Because I did buy and read the book Pro Puppet which contains an excellent chapter on using Git for collaboration on modules between sysadmins and developers, with proper implementation of development, testing and production (Puppet)environments.
05 Nov 2011 11:17pm GMT
Creating json is now ten times easier.
05 Nov 2011 3:10am GMT
13 May 2011
Some words about history of Planet Sun. For round about six years Planet Sun has been an aggregation of public weblogs written by employees of Sun Microsystems. Though it never was a product or publication of Sun Microsystems itself. The website was powered by Planet and run by David Edmondson. On 01 Mar 2010 David […]
13 May 2011 12:36am GMT