20 Mar 2018

Some problems with Code of Conducts
shiromarieke took her time and wrote an IMHO very good text about problems with Code of Conducts, which I wholeheartly recommend to read.
I'll just quote two sentences which I think are essential:
Quote 1: "This is not a rant - it is a call for action: Let's gather, let's build the structures we need to make all people feel safe and respected in our communities." - in that sense, if you have feedback, please share it with shiromarieke as suggested by her. I'm very thankful she is taking the time to discuss her critism and work on possible improvements! (I'll likely not discuss this online though I'll be happy to discuss offline.) I just wanted to share this link with the Debian communities, as I agree with many of shiromarieke's points and because I want to support effords to improve this, as I believe those efforts will benefit everyone (as diversity and a welcoming athmospehre benefits everyone).
Quote 2: "Although I don't believe CoC are a good solution to help fix problems I have and will always do my best to respect existing CoC of workplaces, events or other groups I am involved with and I am thankful for your attempt to make our places and communities safer." - me too.
20 Mar 2018 12:26pm GMT
A few weeks ago, I proposed a GSoC project on the topic of Firefox and Thunderbird plugins for Free Software Habits.
At first glance, this topic may seem innocent and mundane. After all, we all know what habits are, don't we? There are already plugins that help people avoid visiting Facebook too many times in one day, what difference will another one make?
Yet the success of companies like Facebook and those that prey on their users, like Cambridge Analytica (who are facing the prospect of a search warrant today), is down to habits: in other words, the things that users do over and over again without consciously thinking about it. That is exactly why this plugin is relevant.
Many students have expressed interest and I'm keen to find out if any other people may want to act as co-mentors (more information or email me).
One Facebook whistleblower recently spoke about his abhorrence of the dopamine-driven feedback loops that keep users under a spell.
The game changer
Can we use the transparency of free software to help users re-wire those feedback loops for the benefit of themselves and society at large? In other words, instead of letting their minds be hacked by Facebook and Cambridge Analytica, can we give users the power to hack themselves?
In his book The Power of Habit, Charles Duhigg lays bare the psychology and neuroscience behind habits. While reading the book, I frequently came across concepts that appeared immediately relevant to the habits of software engineers and also the field of computer security, even though neither of these topics is discussed in the book.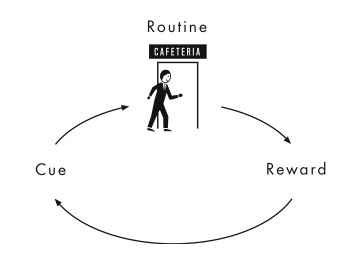 Most significantly, Duhigg finishes with an appendix on how to identify and re-wire your habits and he has made it available online. In other words, a quickstart guide to hack yourself: could Duhigg's formula help the proposed plugin succeed where others have failed?
If you could change one habit, you could change your life
The book starts with examples of people who changed a single habit and completely reinvented themselves. For example, an overweight alcoholic and smoker who became a super-fit marathon runner. In each case, they show how the person changed a single keystone habit and everything else fell into place. Wouldn't you like to have that power in your own life?
Wouldn't it be even better to share that opportunity with your friends and family?
One of the challenges we face in developing and promoting free software is that every day, with every new cloud service, the average person in the street, including our friends, families and co-workers, is ingesting habits carefully engineered for the benefit of somebody else. Do you feel that asking your friends and co-workers not to engage you in these services has become a game of whack-a-mole?
Providing a simple and concise solution, such as a plugin, can help people to find their keystone habits and then help them change them without stress or criticism. Many people want to do the right thing: if it can be made easier for them, with the right messages, at the right time, delivered in a positive manner, people feel good about taking back control. For example, if somebody has spent 15 minutes creating a Doodle poll and sending the link to 50 people, is there any easy way to communicate your concerns about Doodle? If a plugin could highlight an alternative before they invest their time in Doodle, won't they feel better?
If you would like to provide feedback or even help this project go ahead, you can subscribe here and post feedback to the thread or just email me.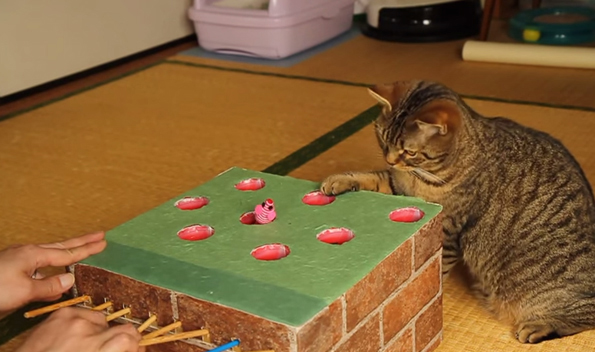 20 Mar 2018 12:15pm GMT
19 Mar 2018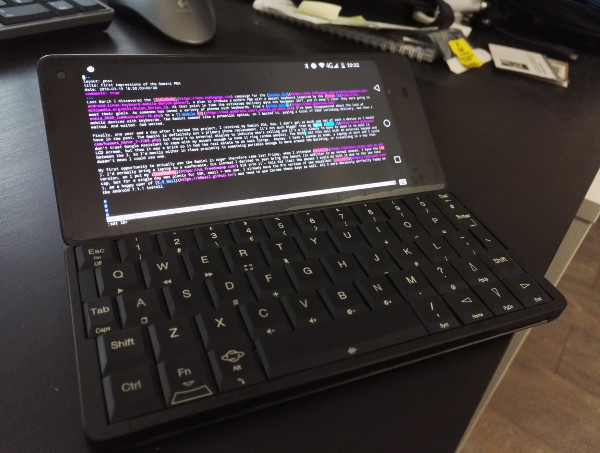 Last March I discovered the IndieGoGo campaign for the Gemini PDA, a plan to produce a modern PDA with a decent keyboard inspired by the Psion 5. At that point in time the estimated delivery date was November 2017, and it wasn't clear they were going to meet their goals. As someone has owned a variety of phones with keyboards, from a Nokia 9000i to a T-Mobile G1 I've been disappointed about the lack of mobile devices with keyboards. The Gemini seemed like a potential option, so I backed it, paying a total of $369 including delivery. And then I waited. And waited. And waited.
Finally, one year and a day after I backed the project, I received my Gemini PDA. Now, I don't get as much use out of such a device as I would have in the past. The Gemini is definitely not a primary phone replacement. It's not much bigger than my aging Honor 7 but there's no external display to indicate who's calling and it's a bit clunky to have to open it to dial (I don't trust Google Assistant to cope with my accent enough to have it ring random people). The 9000i did this well with an external keypad and LCD screen, but then it was a brick so it had the real estate to do such things. Anyway. I have a laptop at home, a laptop at work and I cycle between the 2. So I'm mostly either in close proximity to something portable enough to move around the building, or travelling in a way that doesn't mean I could use one.
My first opportunity to actually use the Gemini in anger therefore came last Friday, when I attended BelFOSS. I'd normally bring a laptop to a conference, but instead I decided to just bring the Gemini (in addition to my normal phone). I have the LTE version, so I put my FreedomPop SIM into it - this did limit the amount I could do with it due to the low data cap, but for a single day was plenty for SSH, email + web use. I already have the Pro version of the excellent JuiceSSH, am a happy user of K-9 Mail and tend to use Chrome these days as well. All 3 were obviously perfectly happy on the Android 7.1.1 install.
Aside: Why am I not running Debian on the device? Planet do have an image available form their Linux Support page, but it's running on top of the crufty 3.18 Android kernel and isn't yet a first class citizen - it's not clear the LTE will work outside Android easily and I've no hope of ARM opening up the Mali-T880 drivers. I've got plans to play around with improving the support, but for the moment I want to actually use the device a bit until I find sufficient time to be able to make progress.
So how did the day go? On the whole, a success. Battery life was great - I'd brought a USB battery pack expecting to need to boost the charge at some point, but I last charged it on Thursday night and at the time of writing it's still claiming 25% battery left. LTE worked just fine; I had a 4G signal for most of the day with occasional drops down to 3G but no noticeable issues. The keyboard worked just fine; much better than my usual combo of a Nexus 7 + foldable Bluetooth keyboard. Some of the symbols aren't where you'd expect, but that's understandable on a scaled down keyboard. Screen resolution is great. I haven't used the USB-C ports other than to charge and backup so far, but I like the fact there are 2 provided (even if you need a custom cable to get HDMI rather than it following the proper standard). The device feels nice and solid in your hand - the case is mostly metal plates that remove to give access to the SIM slot and (non-removable but user replaceable) battery. The hinge mechanism seems robust; I haven't been worried about breaking it at any point since I got the device.
What about problems? I can't deny there are a few. I ended up with a Mediatek X25 instead of an X27 - that matches what was initial promised, but there had been claims of an upgrade. Unfortunately issues at the factory meant that the initial production run got the older CPU. Later backers are support to get the upgrade. As someone who took the early risk this does leave a slightly bitter taste but I doubt I'll actually notice any significant performance difference. The keys on the keyboard are a little lop sided in places. This seems to be just a cosmetic thing and I haven't noticed any issues in typing. The lack of first class Debian support is disappointing, but I believe will be resolved in time (by the community if not Planet). The camera isn't as good as my phone, but then it's a front facing webcam style thing and it's at least as good as my laptop at that.
Bottom line: Would I buy it again? At $369, absolutely. At the current $599? Probably not - I'm simply not on the move enough to need this on a regular basis, so I'd find it hard to justify. Maybe the 2nd gen, assuming it gets a bit more polish on the execution and proper mainline Linux support. Don't get me wrong, I think the 1st gen is lovely and I've had lots of envious people admiring it, I just think it's ended up priced a bit high for what it is. For the same money I'd be tempted by the GPD Pocket instead.
19 Mar 2018 8:41pm GMT