26 Jun 2019
This first month of GSoC was a great learning experience for me, when speaking to my colleagues of how Summer of Code is being important to my professional life, I always respond that I'm finally learning to code and the basic of C++.
Yes, maybe this is strange, I'm a second year undergraduate Computer Science student, have two year experience with C++. I should have learn to code by now right? Well, at least on my Campus you don't learn to code applications or how to build stable, clean code. You learn to solve problems, and that's something I got pretty good at, but when it came to code, well, I'm learning that now and I'm liking it a lot.
Let's walk through what I implemented the last month on the Okular side. It's been a while since Adobe implemented support for JavaScript in their PDF, unfortunately the support for this JavaScript is pretty limited in most readers which aren't Adobe Reader. I'll skip the technical details, these can be found at my status report page on https://community.kde.org/GSoC/2019/StatusReports/Jo%C3%A3oNetto.
Before my patches were applied in Poppler and Okular, we only could see a gray rectangle above any animations or buttons. These animations could not be played, and it would only stay still when opened.
Now, Okular can display all the animations produced by the Beamer and Animate package, which are LaTeX packages. Also, it's the first time these are supported on a Linux Platform.
And this was what I've done in the first month. Seems like not a lot of things, but I learned a lot, and I think this has been the most valuable thing to me.
26 Jun 2019 12:47pm GMT

GNOME Usage is a new GNOME application to visualize system resources such as memory consumption and disk space. It has been developed by Petr Stetka, a high school intern in our Red Hat office in Brno. Petr is an outstanding coder for such a young fellow and has done a great job with Usage!
Usage is powered by libgtop, the same library used by GNOME System Monitor. One is not a replacement for the other, they complement our user experience by offering two different use cases: Usage is for the everyday user that wants to check which application is eating their resources, and System Monitor is for the expert that knows a bit of operating system internals and wants more technical information being displayed. Besides, Usage has a bit of Baobab too. It contains a Storage panel that allows for a quick analysis of disk space.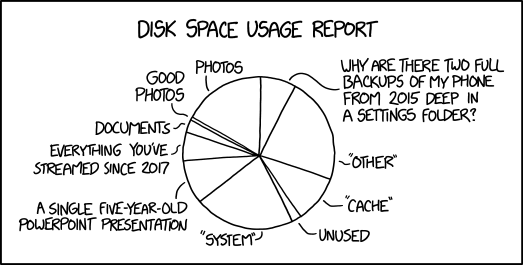 The Storage panel has been recently rewritten both in the backend and user interface. It is much faster at listing the filesystem tree and much nicer to interact with.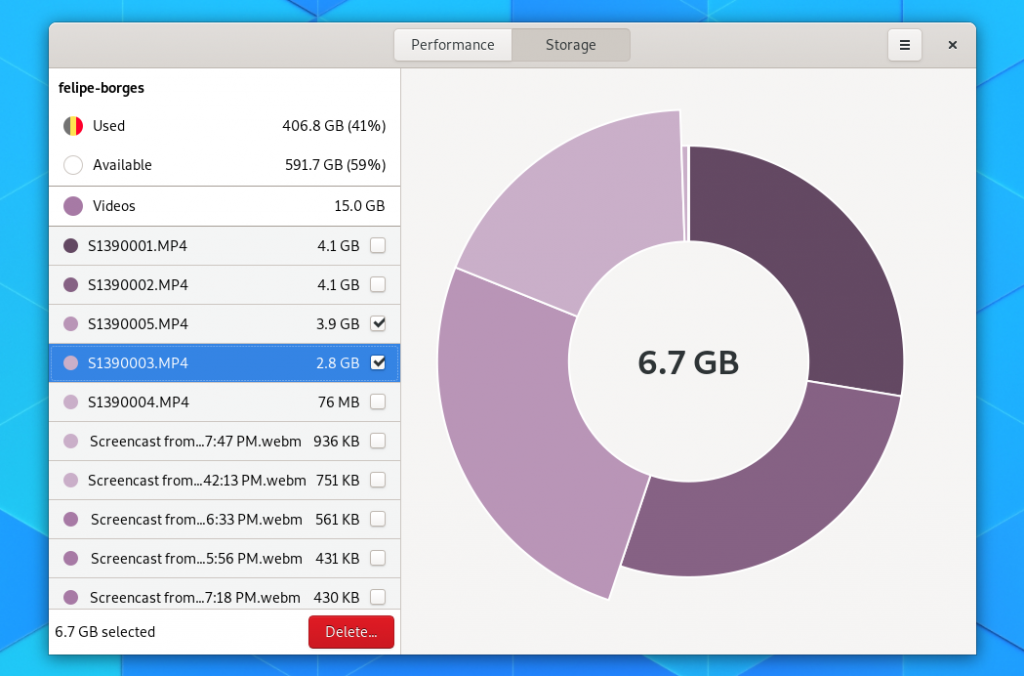 The screenshot above shows how it looks like in my Videos folder. Selecting a file in the sidebar makes the slice in the pie chart pop. The filesystem tree is presented in a DzlStackList, so getting back to the parent folder is smooth and pleasant.
Each file type gets a different color, and these are consistent. Directories are indicated by a bigger ball in the list. Clicking an item opens the corresponding file. Selecting its checkbox allows for batch deletion. Very intuitive!
GNOME Usage is available in the Fedora repositories. Before you ask, there isn't a Flatpak because libgtop needs access to the processes running in the host. I plan to work on introducing a Usage daemon that will enable Usage to be Flatpaked AND would allow us to provide historical performance data instead of just real time.
All in all, there's more coming to Usage soon. Peter is now moving into other opportunities and continuing his studies, so I will continue his work in Usage. If you are interested in contributing to the project, you can reach me out on IRC #usage. Stay tuned!
26 Jun 2019 11:23am GMT
Friends, consider the recursive Fibonacci function, expressed most lovelily in Haskell:

fib 0 = 0
fib 1 = 1
fib n = fib (n-1) + fib (n-2)

Computing elements of the Fibonacci sequence ("Fibonacci numbers") is a common microbenchmark. Microbenchmarks are like a Suzuki exercises for learning violin: not written to be good tunes (good programs), but rather to help you improve a skill.
The fib microbenchmark teaches language implementors to improve recursive function call performance.
I'm writing this article because after adding native code generation to Guile, I wanted to check how Guile was doing relative to other language implementations. The results are mixed. We can start with the most favorable of the comparisons: Guile present versus Guile of the past.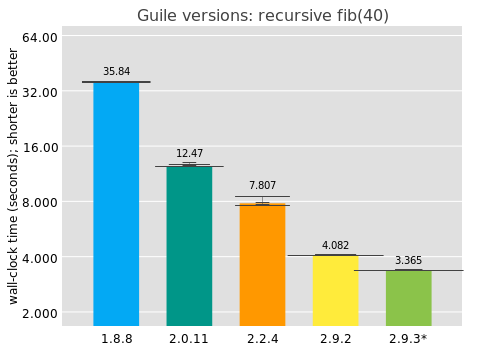 I collected these numbers on my i7-7500U CPU @ 2.70GHz 2-core laptop, with no particular performance tuning, running each benchmark 10 times, waiting 2 seconds between measurements. The bar value indicates the median elapsed time, and above each bar is an overlayed histogram of all results for that scenario. Note that the y axis is on a log scale. The 2.9.3* version corresponds to unreleased Guile from git.
Good news: Guile has been getting significantly faster over time! Over decades, true, but I'm pleased.
where are we? static edition
How good are Guile's numbers on an absolute level? It's hard to say because there's no absolute performance oracle out there. However there are relative performance oracles, so we can try out perhaps some other language implementations.
First up would be the industrial C compilers, GCC and LLVM. We can throw in a few more "static" language implementations as well: compilers that completely translate to machine code ahead-of-time, with no type feedback, and a minimal run-time.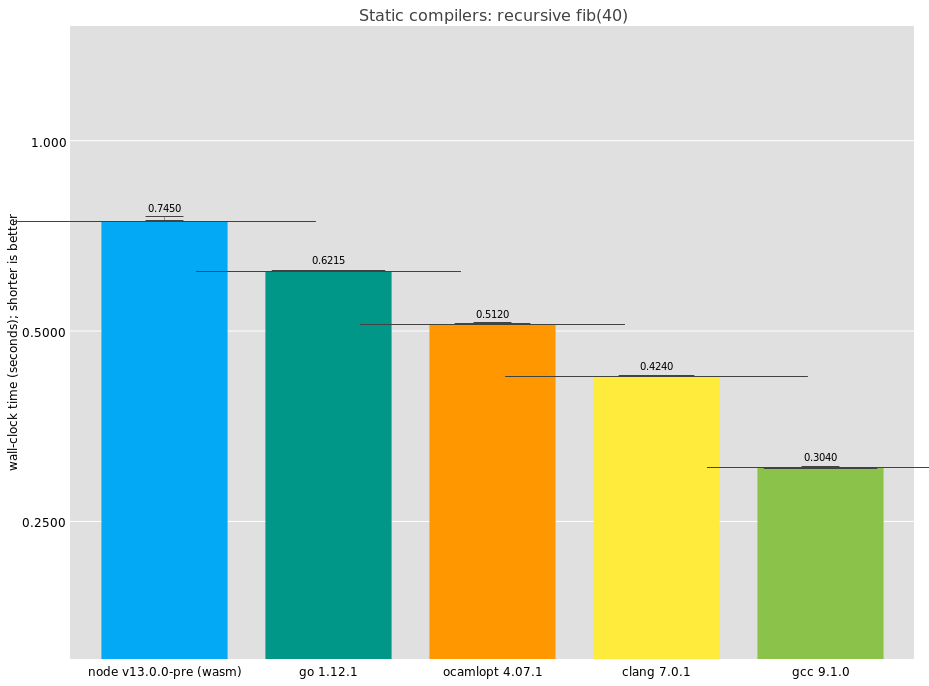 Here we see that GCC is doing best on this benchmark, completing in an impressive 0.304 seconds. It's interesting that the result differs so much from clang. I had a look at the disassembly for GCC and I see:

fib:
    push   %r12
    mov    %rdi,%rax
    push   %rbp
    mov    %rdi,%rbp
    push   %rbx
    cmp    $0x1,%rdi
    jle    finish
    mov    %rdi,%rbx
    xor    %r12d,%r12d
again:
    lea    -0x1(%rbx),%rdi
    sub    $0x2,%rbx
    callq  fib
    add    %rax,%r12
    cmp    $0x1,%rbx
    jg     again
    and    $0x1,%ebp
    lea    0x0(%rbp,%r12,1),%rax
finish:
    pop    %rbx
    pop    %rbp
    pop    %r12
    retq   

It's not quite straightforward; what's the loop there for? It turns out that GCC inlines one of the recursive calls to fib. The microbenchmark is no longer measuring call performance, because GCC managed to reduce the number of calls. If I had to guess, I would say this optimization doesn't have a wide applicability and is just to game benchmarks. In that case, well played, GCC, well played.
LLVM's compiler (clang) looks more like what we'd expect:

fib:
   push   %r14
   push   %rbx
   push   %rax
   mov    %rdi,%rbx
   cmp    $0x2,%rdi
   jge    recurse
   mov    %rbx,%rax
   add    $0x8,%rsp
   pop    %rbx
   pop    %r14
   retq   
recurse:
   lea    -0x1(%rbx),%rdi
   callq  fib
   mov    %rax,%r14
   add    $0xfffffffffffffffe,%rbx
   mov    %rbx,%rdi
   callq  fib
   add    %r14,%rax
   add    $0x8,%rsp
   pop    %rbx
   pop    %r14
   retq   

I bolded the two recursive calls.
Incidentally, the fib as implemented by GCC and LLVM isn't quite the same program as Guile's version. If the result gets too big, GCC and LLVM will overflow, whereas in Guile we overflow into a bignum. Also in C, it's possible to "smash the stack" if you recurse too much; compilers and run-times attempt to mitigate this danger but it's not completely gone. In Guile you can recurse however much you want. Finally in Guile you can interrupt the process if you like; the compiled code is instrumented with safe-points that can be used to run profiling hooks, debugging, and so on. Needless to say, this is not part of C's mission.
Some of these additional features can be implemented with no significant performance cost (e.g., via guard pages). But it's fair to expect that they have some amount of overhead. More on that later.
The other compilers are OCaml's ocamlopt, coming in with a very respectable result; Go, also doing well; and V8 WebAssembly via Node. As you know, you can compile C to WebAssembly, and then V8 will compile that to machine code. In practice it's just as static as any other compiler, but the generated assembly is a bit more involved:


fib_tramp:
    jmp    fib

fib:
    push   %rbp
    mov    %rsp,%rbp
    pushq  $0xa
    push   %rsi
    sub    $0x10,%rsp
    mov    %rsi,%rbx
    mov    0x2f(%rbx),%rdx
    mov    %rax,-0x18(%rbp)
    cmp    %rsp,(%rdx)
    jae    stack_check
post_stack_check:
    cmp    $0x2,%eax
    jl     return_n
    lea    -0x2(%rax),%edx
    mov    %rbx,%rsi
    mov    %rax,%r10
    mov    %rdx,%rax
    mov    %r10,%rdx
    callq  fib_tramp
    mov    -0x18(%rbp),%rbx
    sub    $0x1,%ebx
    mov    %rax,-0x20(%rbp)
    mov    -0x10(%rbp),%rsi
    mov    %rax,%r10
    mov    %rbx,%rax
    mov    %r10,%rbx
    callq  fib_tramp
return:
    mov    -0x20(%rbp),%rbx
    add    %ebx,%eax
    mov    %rbp,%rsp
    pop    %rbp
    retq   
return_n:
    jmp    return
stack_check:
    callq  WasmStackGuard
    mov    -0x10(%rbp),%rbx
    mov    -0x18(%rbp),%rax
    jmp    post_stack_check

Apparently fib compiles to a function of two arguments, the first passed in rsi, and the second in rax. (V8 uses a custom calling convention for its compiled WebAssembly.) The first synthesized argument is a handle onto run-time data structures for the current thread or isolate, and in the function prelude there's a check to see that the function has enough stack. V8 uses these stack checks also to handle interrupts, for when a web page is stuck in JavaScript.
Otherwise, it's a more or less normal function, with a bit more register/stack traffic than would be strictly needed, but pretty good.
do optimizations matter?
You've heard of Moore's Law -- though it doesn't apply any more, it roughly translated into hardware doubling in speed every 18 months. (Yes, I know it wasn't precisely that.) There is a corresponding rule of thumb for compiler land, Proebsting's Law: compiler optimizations make software twice as fast every 18 years. Zow!
The previous results with GCC and LLVM were with optimizations enabled (-O3). One way to measure Proebsting's Law would be to compare the results with -O0. Obviously in this case the program is small and we aren't expecting much work out of the optimizer, but it's interesting to see anyway: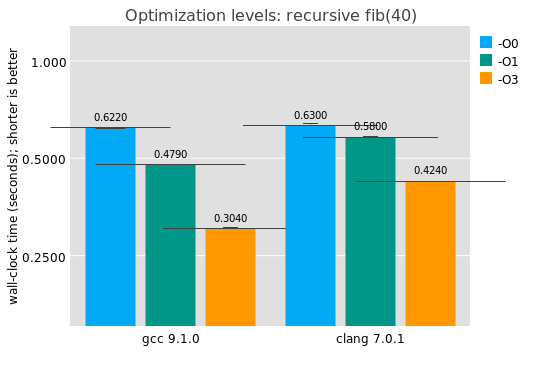 Answer: optimizations don't matter much for this benchark. This investigation does give a good baseline for compilers from high-level languages, like Guile: in the absence of clever trickery like the recursive inlining thing GCC does and in the absence of industrial-strength instruction selection, what's a good baseline target for a compiler? Here we see for this benchmark that it's somewhere between 420 and 620 milliseconds or so. Go gets there, and OCaml does even better.
how is time being spent, anyway?
Might we expect V8/WebAssembly to get there soon enough, or is the stack check that costly? How much time does one stack check take anyway? For that we'd have to determine the number of recursive calls for a given invocation.
Friends, it's not entirely clear to me why this is, but I instrumented a copy of fib, and I found that the number of calls in fib(n) was a more or less constant factor of the result of calling fib. That ratio converges to twice the golden ratio, which means that since fib(n+1) ~= φ * fib(n), then the number of calls in fib(n) is approximately 2 * fib(n+1). I scratched my head for a bit as to why this is and I gave up; the Lord works in mysterious ways.
Anyway for fib(40), that means that there are around 3.31e8 calls, absent GCC shenanigans. So that would indicate that each call for clang takes around 1.27 ns, which at turbo-boost speeds on this machine is 4.44 cycles. At maximum throughput (4 IPC), that would indicate 17.8 instructions per call, and indeed on the n > 2 path I count 17 instructions.
For WebAssembly I calculate 2.25 nanoseconds per call, or 7.9 cycles, or 31.5 (fused) instructions at max IPC. And indeed counting the extra jumps in the trampoline, I get 33 cycles on the recursive path. I count 4 instructions for the stack check itself, one to save the current isolate, and two to shuffle the current isolate into place for the recursive calls. But, compared to clang, V8 puts 6 words on the stack per call, as opposed to only 4 for LLVM. I think with better interprocedural register allocation for the isolate (i.e.: reserve a register for it), V8 could get a nice boost for call-heavy workloads.
where are we? dynamic edition
Guile doesn't aim to replace C; it's different. It has garbage collection, an integrated debugger, and a compiler that's available at run-time, it is dynamically typed. It's perhaps more fair to compare to languages that have some of these characteristics, so I ran these tests on versions of recursive fib written in a number of languages. Note that all of the numbers in this post include start-up time.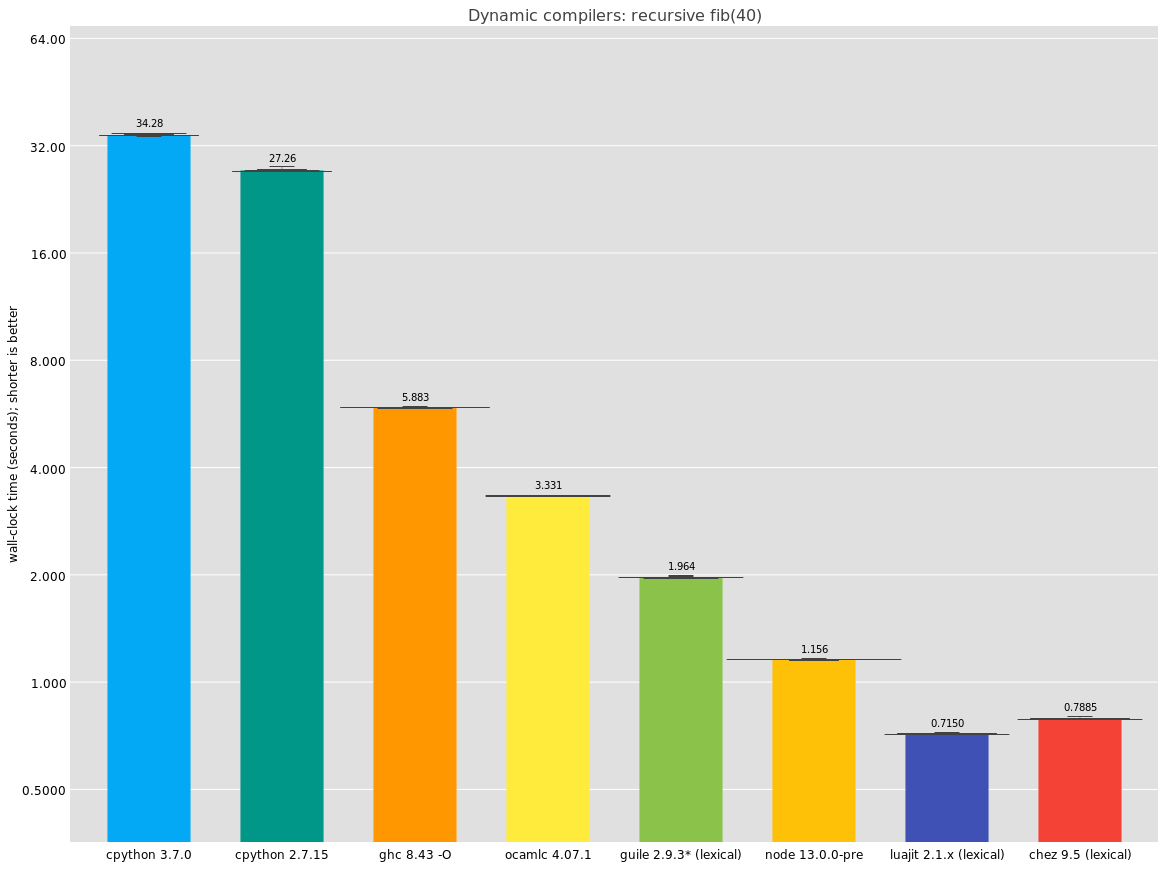 Here, the ocamlc line is the same as before, but using the bytecode compiler instead of the native compiler. It's a bit of an odd thing to include but it performs so well I just had to include it.
I think the real takeaway here is that Chez Scheme has fantastic performance. I have not been able to see the disassembly -- does it do the trick like GCC does? -- but the numbers are great, and I can see why Racket decided to rebase its implementation on top of it.
Interestingly, as far as I understand, Chez implements stack checks in the straightfoward way (an inline test-and-branch), not with a guard page, and instead of using the stack check as a generic ability to interrupt a computation in a timely manner as V8 does, Chez emits a separate interrupt check. I would like to be able to see Chez's disassembly but haven't gotten around to figuring out how yet.
Since I originally published this article, I added a LuaJIT entry as well. As you can see, LuaJIT performs as well as Chez in this benchmark.
Haskell's call performance is surprisingly bad here, beaten even by OCaml's bytecode compiler; is this the cost of laziness, or just a lacuna of the implementation? I do not know. I do know I have this mental image that Haskell is a good compiler but apparently if that's the standard, so is Guile :)
Finally, in this comparison section, I was not surprised by cpython's relatively poor performance; we know cpython is not fast. I think though that it just goes to show how little these microbenchmarks are worth when it comes to user experience; like many of you I use plenty of Python programs in my daily work and don't find them slow at all. Think of micro-benchmarks like x-ray diffraction; they can reveal the hidden substructure of DNA but they say nothing at all about the organism.
where to now?
Perhaps you noted that in the last graph, the Guile and Chez lines were labelled "(lexical)". That's because instead of running this program:

(define (fib n)
  (if (< n 2)
      n
      (+ (fib (- n 1)) (fib (- n 2)))))

They were running this, instead:

(define (fib n)
  (define (fib* n)
    (if (< n 2)
        n
        (+ (fib* (- n 1)) (fib* (- n 2)))))
  (fib* n))

The thing is, historically, Scheme programs have treated top-level definitions as being mutable. This is because you don't know the extent of the top-level scope -- there could always be someone else who comes and adds a new definition of fib, effectively mutating the existing definition in place.
This practice has its uses. It's useful to be able to go in to a long-running system and change a definition to fix a bug or add a feature. It's also a useful way of developing programs, to incrementally build the program bit by bit.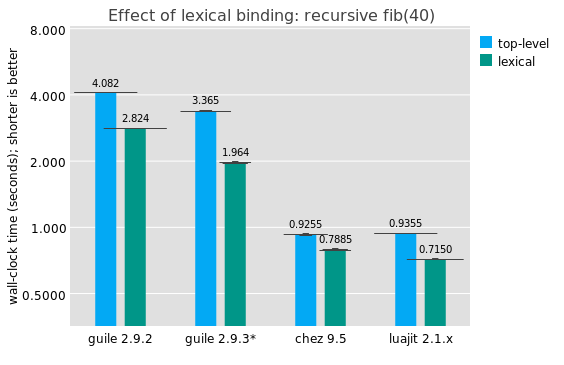 But, I would say that as someone who as written and maintained a lot of Scheme code, it's not a normal occurence to mutate a top-level binding on purpose, and it has a significant performance impact. If the compiler knows the target to a call, that unlocks a number of important optimizations: type check elision on the callee, more optimal closure representation, smaller stack frames, possible contification (turning calls into jumps), argument and return value count elision, representation specialization, and so on.
This overhead is especially egregious for calls inside modules. Scheme-the-language only gained modules relatively recently -- relative to the history of scheme -- and one of the aspects of modules is precisely to allow reasoning about top-level module-level bindings. This is why running Chez Scheme with the --program option is generally faster than --script (which I used for all of these tests): it opts in to the "newer" specification of what a top-level binding is.
In Guile we would probably like to move towards a more static way of treating top-level bindings, at least those within a single compilation unit. But we haven't done so yet. It's probably the most important single optimization we can make over the near term, though.
As an aside, it seems that LuaJIT also shows a similar performance differential for local function fib(n) versus just plain function fib(n).
It's true though that even absent lexical optimizations, top-level calls can be made more efficient in Guile. I am not sure if we can reach Chez with the current setup of having a template JIT, because we need two return addresses: one virtual (for bytecode) and one "native" (for JIT code). Register allocation is also something to improve but it turns out to not be so important for fib, as there are few live values and they need to spill for the recursive call. But, we can avoid some of the indirection on the call, probably using an inline cache associated with the callee; Chez has had this optimization since 1984!
what guile learned from fib
This exercise has been useful to speed up Guile's procedure calls, as you can see for the difference between the latest Guile 2.9.2 release and what hasn't been released yet (2.9.3).
To decide what improvements to make, I extracted the assembly that Guile generated for fib to a standalone file, and tweaked it in a number of ways to determine what the potential impact of different scenarios was. Some of the detritus from this investigation is here.
There were three big performance improvements. One was to avoid eagerly initializing the slots in a function's stack frame; this took a surprising amount of run-time. Fortunately the rest of the toolchain like the local variable inspector was already ready for this change.
Another thing that became clear from this investigation was that our stack frames were too large; there was too much memory traffic. I was able to improve this in the lexical-call by adding an optimization to elide useless closure bindings. Usually in Guile when you call a procedure, you pass the callee as the 0th parameter, then the arguments. This is so the procedure has access to its closure. For some "well-known" procedures -- procedures whose callers can be enumerated -- we optimize to pass a specialized representation of the closure instead ("closure optimization"). But for well-known procedures with no free variables, there's no closure, so we were just passing a throwaway value (#f). An unhappy combination of Guile's current calling convention being stack-based and a strange outcome from the slot allocator meant that frames were a couple words too big. Changing to allow a custom calling convention in this case sped up fib considerably.
Finally, and also significantly, Guile's JIT code generation used to manually handle calls and returns via manual stack management and indirect jumps, instead of using the platform calling convention and the C stack. This is to allow unlimited stack growth. However, it turns out that the indirect jumps at return sites were stalling the pipeline. Instead we switched to use call/return but keep our manual stack management; this allows the CPU to use its return address stack to predict return targets, speeding up code.
et voilà
Well, long article! Thanks for reading. There's more to do but I need to hit the publish button and pop this off my stack. Until next time, happy hacking!
26 Jun 2019 10:34am GMT
In my last Panfrost blog, I announced my internship goal: improve Panfrost to run GNOME3. GNOME is a popular Linux desktop making heavy use of OpenGL; to use GNOME with only free and open-source software on a machine with Mali graphics, Panfrost is necessary.
Two months ahead-of-schedule, here I am, drafting this blog post from GNOME on my laptop running Panfrost!
A tiled architecture
Bring-up of GNOME required improving the driver's robustness and performance, focused on Mali's tiled architecture. Typically found in mobile devices, tiling GPU architectures divide the screen into many small tiles, like a kitchen floor, rendering each tile separately. This allows for unique optimizations but also poses unique challenges.
One natural question is: how big should tiles be? If the tiles are too big, there's no point to tiling, but if the tiles are too small, the GPU will repeat unnecessary work. Mali offers a hybrid answer: allow lots of different sizes! Mali's technique of "hierarchical tiling" allows the GPU to use tiles as small as 16x16 pixels all the way up to 2048x2048 pixels. This "sliding scale" allows different types of content to be optimized in different ways. The tiling needs of a 3D game like SuperTuxKart are different from those of a user interface like GNOME Shell, so this technique gets us the best of both worlds!
Although primarily handled in hardware, hierarchical tiling is configured by the driver; I researched this configuration mechanism in order to understand it and improve our configuration with respect to performance and memory usage.
Tiled architectures additionally present an optimization opportunity: if the driver can figure out a priori which 16x16 tiles will definitely not change, those tiles can be culled from rendering entirely, saving both read and write bandwidth. As a conceptual example, if the GPU composites your entire desktop while you're writing an email, there's no need to re-render your web browser in the other window, since that hasn't changed. I implemented an initial version of this optimization in Panfrost, accumulating the scissor state across draws within a frame, rendering only to the largest bounding box of the scissors. This optimization is particularly helpful for desktop composition, ideally improving performance on workloads like GNOME, Sway, and Weston.
…Of course, theory aside, mostly what GNOME needed was a good, old-fashioned bugfixing spree, because the answer is always under your nose. Turns out what really broke the desktop was a trivial bug in the viewport specification code. Alas.
Scoreboarding
Looking forward to sophisticated workloads as this open driver matures, I researched job "scoreboarding". For some background, the Mali hardware divides a frame into many small "jobs". For instance, a "vertex job" executes a vertex shader; a "tiler job" executes tiling (sorting geometry job into tiles at varying hierarchy levels). Many of these jobs have to execute in a specific order; for instance, geometry has to be output by a vertex job before a tiler job can read that geometry. Previously, these relationships were hard-coded into the driver, which was okay for simple workloads but does not scale well.
I have since replaced this code with an elegant dependency management system, based on the hardware's scoreboarding. Instead of hard-coding relationships, the driver can now specify high level dependencies, and a generic algorithm (based on toplogical sorting) works out the order of submission and scoreboard flags necessary to actualize the given requirements. The new scoreboarding implementation has enabled new features, like rasterizer discard, to be implemented with ease.
With these improvements and more, several new features have landed in the driver, fixing hundreds of failing dEQP tests since my last blog post, bringing us nearer to conformance on OpenGL ES 2.0 and beyond.
Originally posted on Collabora's blog
26 Jun 2019 7:00am GMT
Over the past few weeks I have been working on the Snapshot Docker, and now it is finished already. -))
The idea of snapshots is to make copies of the current document and allow users to return to them at a later time. This is a part of my whole Google Summer of Code project, which aims to bring Krita a better undo/redo system. When fully implemented, it will fully replace the current mechanism that stores actions with one that stores different states. That is to say, Krita will create a snapshot of the document for every undoable step.
Snapshot Docker is not only a feature requested by artists but also a experimental implementation of the clone-replace mechanism. It has the following key parts:
Cloning the document, which is provided by KisDocument::lockAndCloneForSaving(), which is already implemented in master.

Replace the current document by another one, which is previously cloned.
Part (1) is already implemented so the work falls mainly on Part (2). My original approach is to replace the document and image pointers in KisView and KisCanvas, but it is not viable since other parts of the program have signal/slot connections on the KisDocument and KisImage, and directly replacing the two pointers will not only fail to work but also cause weird crashes. After discussing with Dmitry, we find out that it is probably better not to touch these two pointers, but to replace the content withinKisDocument and KisImage. It is therefore suggested that two member functions be made, namely KisDocument::copyFromDocument and KisImage::copyFromImage. These functions copies data from another document/image to the current one, avoiding the changes to the pointers inside the original instance. Eh, except for the nodes, since we have to reset and refresh the nodes in the image.
It is also important to notify other parts of Krita about the change in the document. One important thing is tell the layer docker about the changes in the nodes (they are completely different), which is done using the KisImage::sigLayersChangedAsync() signal. The current activated node is also stored and restored, by using the strategy of linearizing the layer tree using a queue, and then finding the corresponding node in the cloned image. Note that when restoring, we are unable to find layer by uuid, since they should change when copied to the current image (the comments in KisImage says the only situation where we should keep the uuids is for saving).
Another interesting thing is the palettes. Krita 4.2.0 allows documents to store their own, local palettes. The palette list is but a QList<KoColorSet *>, meaning that only creating a new QList of the same pointers will not work. This is because, the palettes are controlled by canvas resource manager, which takes the responsibility to delete them. Therefore, when taking snapshots, we had better take deep copies of the KoColorSets. And then another problem comes: the snapshots own their KoColorSets because they are not controlled by the resource manager in any way; but the KisDocument in the view does not. So we have to set up another flag, ownsPaletteList, to tell the document whether it should delete the palettes in the destructor.
And now the work has shifted to the refactoring of kritaflake, the library that mainly handles vector layers and shapes. I converted the whole KoShape hierarchy to implicit sharing where possible, but some tests are broken. I am now on Windows, where unit tests do not run. I will continue the development of flake as soon as I get access to my Linux laptop.
26 Jun 2019 3:32am GMT
25 Jun 2019
GSoC Month-1 was super fun and challenging.
In this month I was able to work with Libgit2-glib where Albfan mentored me on how to port functions from Libgit2 to Libgit2-glib.
Libgit2-glib now has functionality to compare two-buffers.
This feature I think can now benefit other projects also which requires diff from buffers, for example Builder for it's diff-view and gedit.
We are using this to polish our prototype and be able to draw diff-better like meld does. This is helping us making our testing really easy which took a lot of time before. Now we can edit and see in real-time how we are getting drawing. And this helped me in narrowing down corner cases much faster.
With, the project I was able to be more familiar with Gtk framework, and I did managed to made quite a pretty prototype for our ongoing testing.
With good mentorship of Alberto, I learnt a bit of gitlab-ci also, and we are now able to reduce the workload of checking code-styles. But now I feel like we have made something which is too harsh on my own code

Ah, it looks pretty

I think this can be great for other projects as well, and we will be starting this with Gitg.
Will love to hear suggestions for improvement and it being adopted by the community.
https://gitlab.gnome.org/albfan/diferencia
On our Split-view we are now able to draw really good diff indicating curve like meld does. And with real-time testing the algorithm to draw curves has improved a lot. This is almost ready to shift our gears towards Gitg port.
So, in summary:-
Gitg now recognize where it does not make sense for split-view ex. Images and Binaries.
We are able to create a nice diff-indicating curves which are almost ready to be ported with Gitg
Libgit2-glib can get you a diff for 2 buffers now.
Support for 3-way diff is starting to take shape.
Code-style checks automated at gitlab-ci
With GSoC, I was able to connect more with our community, and I am now participating with Carlos on his newcomers initiative.
It's fun, and I have tried to improve our newcomers wiki.
Verified the newcomers apps are being build or not, and it's great to see that every app can be easily build following instructions mentioned at our wiki

, A great win.
I was also able to work on Gnome-builder yay!, I did a small contribution there with the newcomers plugin for the newcomers-initiative and was able to get Gnome-sound recorder on the list.
In short, GSoC and Gnome gave me the most wonderful month till now, where it allowed me to not just contribute to my project but also to contribute to the overall interest and initiatives going around the community.
25 Jun 2019 8:38pm GMT
For the last 15 days I have been working on Krita. So far, it has been a great experience- I've learnt a lot, and the Krita team has been very helpful in aiding my grokking of everything. Here is a quick summary of what I've done the past two weeks, and what is next to come. Read more...
25 Jun 2019 6:42pm GMT
24 Jun 2019
So I hope everyone is enjoying Fedora Workstation 30, but we don't rest on our laurels here so I thought I share some of things we are working on for Fedora Workstation 31. This is not an exhaustive list, but some of the more major items we are working on.
Wayland - Our primary focus is still on finishing the Wayland transition and we feel we are getting close now, and thank you to the community for their help in testing and verifying Wayland over the last few years. The single biggest goal currently is fully removing our X Windowing System dependency, meaning that GNOME Shell should be able to run without needing XWayland. For those wondering why that has taken so much time, well it is simple; for 20 years developers could safely assume we where running atop of X. So refactoring everything needed to remove any code that makes the assumption that it is running on top of X.org has been a major effort. The work is mostly done now for the shell itself, but there are a few items left in regards to the GNOME Setting daemon where we need to expel the X dependency. Olivier Fourdan is working on removing those settings daemon bits as part of his work to improve the Wayland accessibility support. We are optimistic that can declare this work done within a GNOME release or two. So GNOME 3.34 or maybe 3.36. Once that work is complete an X server (XWayland) would only be started if you actually run a X application and when you shut that application down the X server will be shut down too.

Another change that Hans de Goede is working on at the moment is allowing X applications to be run as root under XWayland. In general running desktop apps as root isn't considered adviceable from a security point of view, but since it always worked under X we feel it should continue to be there for XWayland too. This should fix a few applications out there which only works when run as root currently. One last item Hans de Goede is looking at is improving SDLs Wayland support in regards to how it deals with scaling of lower resolution games. Thanks to the great effort by Valve and others we got a huge catalog of games available under Linux now and we want to ensure that those keep running and runs well. So we will work with the SDL devs to come up with a solution here, we just don't know the exact shape and and form the solution will take yet, so stay tuned.
Finally there is the NVidia binary driver support question. So you can run a native Wayland session on top of the binary driver and you had that ability for a very long time. Unfortunately there has been no support for the binary driver in XWayland and thus and X applications (which there are a lot of) would not be getting any HW accelerated 3D graphics support. Adam Jackson has worked on letting XWaylands load the binary NVidia x.org driver and we are now waiting on NVidia to review that work and hopefully be able to update their driver to support it.
Once we are done with this we expect X.org to go into hard maintenance mode fairly quickly. The reality is that X.org is basically maintained by us and thus once we stop paying attention to it there is unlikely to be any major new releases coming out and there might even be some bitrot setting in over time. We will keep an eye on it as we will want to ensure X.org stays supportable until the end of the RHEL8 lifecycle at a minimum, but let this be a friendly notice for everyone who rely the work we do maintaining the Linux graphics stack, get onto Wayland, that is where the future is.
PipeWire - Wim Taymans keeps improving the core features of Pipewire, as we work step by step to be ready to replace Jack and PulseAudio. He has recently been focusing on improving existing features like the desktop sharing portal together with Jonas Adahl and we are planning a hackfest for Wayland in the fall, current plan is to do it around the All Systems Go conference in Berlin, but due to some scheduling conflicts by some of our core stakeholders we might need to reschedule it to a little later in fall.
A new user for the desktop sharing portal is the new Miracast support that Benjamin Berg has been steadily working on. The Miracast support is shaping up and you can grab the Network Displays test client from his COPR repository while he is working to get the package into Fedora proper. We would appreciate further users testing and feedback as we know there are definitely devices out there where things do not work properly and identifying them is the first step to figuring out how to make our support in the desktop more robust. Eventually we want to make the GNOME integration even more seamless than the standalone app, but for early testing and polish it does the trick. If you are interested in contributing the code is hosted here on github.

Btw, you still need to set the enable Pipewire flag in Chrome to get the Pipewire support (chrome://flags). So I included a screenshot here to show you where to go in the browser and what the key is called:

Flatpak - Work on Flatpak in Fedora is continuing. Current focus is on improving the infrastructure for building Flatpaks from RPMS and automating what we can.This is pre-requisite work for eventually starting to ship some applications as Flatpaks by default and eventually shipping all applications as Flatpaks by default. We are also working on setting things up so that we can offer applications from flathub.io and quay.io out of the box and in accordance with Fedora rules for 3rd party software. We are also making progress on making a Red Hat UBI based runtime available. This means that as a 3rd party developer you can use that to build your applications on top of and be certain that it will be stay around and be supported by Red Hat for the lifetime of a given RHEL release, which means around 10 years. This frees you up as a developer to really update your application at your own pace as opposed to have to chase more short lived runtimes. It will also ensure that your application can be certified for RHEL which gives you access to all our workstation customers in addition to Fedora and all other distros.
Fedora Toolbox - Work is progressing on the Fedora Toolbox, our tool for making working with pet containers feel simple and straightforward. Debarshi Ray is currently looking on improvements to GNOME Terminal that will ensure that you get a more natural behaviour inside the terminal when interacting with pet containers, for instance ensuring that if you have a terminal open to a pet container and create a new tab that tab will also be inside the container inside of pointing at the host. We are also working on finding good ways to make the selection of containers more discoverable, so that you more easily can get access to a Red Hat UBI container or a Red Hat TensorFlow container for instance. There will probably be a bit of a slowdown in terms of new toolbox features soon though as we are going to rewrite it to make it more maintainable. The current implementation is a giant shell script, but the new version will most likely be written in Go (so that we can more easily integrate with the other container libraries and tools out there, mostly written in Go).

GNOME Classic - We have had Classic mode available in GNOME and Fedora for a long time, but we recently decided to give it a second look and try to improve the experience. So Allan Day reviewed the experience and we decided to make it a more pure GNOME 2 style experience by dropping the overview completely when you run classic mode.
We have also invested time and effort on improving the Classic mode workspace switcher to make life better for people who use a very workspace centric workflow. The goal of the improvements is to make the Classic mode workspace switcher more feature complete and also ensure that it can work with standard GNOME 3 in addition to Classic mode. We know this will greatly improve the experience for many of our users and at the same time hopefully let new people switch to Fedora and GNOME to get the advantage of all the other great improvements we are bringing to Linux and the Linux desktop.
Sysprof & performance - We have had a lot of focus in the community on improving GNOME Shell performance. Our particular focus has been on doing both some major re-architecting of some core subsystems that where needed to make some of the performance improvements you seen even possible. And lately Christian Hergert has been working on improving our tooling for profiling the desktop, so let our developers more easily see exactly where in the stack bottlenecks are and what is causing them. Be sure to read Christians blog for further details about sysprof and friends.
Fleet Commander - our tool for configuring large deployments of Fedora and RHEL desktops should have a release out very soon that can work with Active Directory as your LDAP server. We know a lot of RHEL and Fedora desktop users are part of bigger organizations where Linux users are a minority and thus Active Directory is being deployed in the organization. With this new release Fleet Commander can be run using Active Directory or FreeIPA as the directory server and thus a lot of organizations who previously could not easily deploy Fleet Commander can now take advantage of this powerful tool. Next step for Fleet Commander after that is finishing of some lose ends in terms of our Firefox support and also ensure that you can easily configure GNOME Shell extensions with Fleet Commander. We know a lot of our customers and users are deploying one or more GNOME Shell extensions for their desktop so we want to ensure Fleet Commander can help you do that efficiently across your whole fleet of systems.
Fingerprint support - We been working closely with our hardware partners to bring proper fingerprint reader support to Linux. Bastien Nocera worked on cleaning up the documentation of fprint and make sure there is good sample code and our hardware partners then worked with their suppliers to ensure they provided drivers conforming to the spec for hardware supplied to them. So there is a new drivers from Synaptics finger print readers coming out soon thanks to this effort. We are not stopping there though, Benjamin Berg is continuing the effort to improve the infrastructure for Linux fingerprint reader support, making sure we can support in-device storage of fingerprints for instance.

Gamemode - Christian Kellner has been contributing a bit to gamemode recently, working to make it more secure and also ensure that it can work well with games packaged as Flatpaks. So if you play Linux games, especially those from Ferral Interactive, and want to squeeze some extra performance from your system make sure to install gamemode on your Fedora system.
Dell Totem support - Red Hat has a lot of customers in the fields of animation and CAD/CAM systems. Due to this Benjamin Tissoires and Peter Hutterer been working with Dell on enabling their Totem input device for a while now. That works is now coming to a close with the Totem support shipping in the latest libinput version with the kernel side of things being merged some time ago. You can get the full details from Peters blog about Dell Totem.
Media codec support - So the OpenH264 2.0 release is out from Cisco now and Kalev Lember has been working to get the Fedora packages updated. This is a crucial release as it includes the support for Main and High profile that I mentioned in an earlier blog post. That work happened due to a collaboration between Cisco, Endless, Red Hat and Centricular with Jan Schmidt at Centricular doing the work implementing support for these two codecs. This work makes OpenH264 a lot more useful as it now supports playing back most files found in the wild and we been working to ensure it can be used for general playback in Firefox. At the same time Wim Taymans is working to fix some audio quality issues in the AAC implementation we ship so we should soon have both a fully working H264 decoder/encoder in Fedora and a fully functional AAC decoder/encoder. We are still trying to figure out what to do with MPEG2 video as we are ready to ship support for that too, but are still trying to figure out the details of implementation. Beyond that we don't have any further plans around codecs atm as we feel that with H264, MPEG2 video, AAC, mp3 and AC3 we have them most critical ones covered, alongside the growing family of great free codecs such as VP9, Opus and AV1. We might take a look at the status of things like Windows Media and DivX at some point, but it is not anywhere close to the top of our priority list currently.
24 Jun 2019 3:52pm GMT
21 Jun 2019
The obvious change to announce is the new website design. But there is much more to talk about. ### Website overhaul The old website, reachable primarily on the domain [subdiff.de][subdiff.de], was a pure blog built with Jekyll and the design was some random theme I picked up on GitHub. It was a quick thing to do back in the days when I needed a blog up fast for community interaction as a KWin and Plasma developer. But on the back burner my goal was already for quite some time to rebuild the website with a more custom and professional design. Additionally I wanted this website to not only be a blog but also a landing page with some general information about my work. The opportunity arose now and after several months of research and coding I finished the website rebuild. This all needed longer because it seemed to me like an ideal occasion to learn about modern web development techniques and so I didn't settle for the first plain solution I came across but invested some more time into selecting and learning a suitable technology stack. In the end I decided to use [Gridsome][gridsome], a static site generator leveraging [Vue.js][vue] for the frontend and [GraphQL][graphql] as data backend when generating the site. By that Gridsome is a prime example of the [JAMstack][jamstack], a most modern and very sensible way of building small to medium sized websites with only few selected dynamic elements through JavaScript APIs while keeping everything else static. After all that learning, decision taking and finally coding I'm now really happy with this solution and I definitely want to write in greater detail about it in the future. Feature-wise the current website provides what I think are the necessary basics and it could still be extended in several ways, but as for now I will stick to these basics and only look into new features when I get an urge to do it. ### Freelancer business Since January I work as a freelancer. This means in Germany that I basically had to start a company, so I did that. I called it *subdiff : software system*, and the brand is still the domain name you are currently browsing. I used it already before as this website's domain name and as an online nickname. It is derived from a mathematical concept and on the other side stands for a slogan I find sensible on a practical level in work and life: > Subtract the nonsense, differentiate what's left. ### Part of Valve's Open Source Group As a freelancer I am contracted by Valve to work on certain gaming-related XServer projects and improve KWin in this regard and for general desktop usage. In the XServer there are two main projects at the moment. The technical details of one of them are currently discussed on a work-in-progress patch series [on Gitlab][xserver-composite-accel-patch] but I want to write accessible articles about both projects here on the blog as well in the near future. In KWin I have several large projects I will look into, which would benefit KWin on X11 and Wayland alike. The most relevant one is [reworking the compositing pipeline][phab-comp-rework]. You can expect more info about this project and the other ones in KWin in future blog posts too. ### New code While there are some big projects in the pipeline I was also able to commit some major changes in the last few months to KWin and Plasma. The largest one was for sure [XWayland drag-and-drop support][xwl-dnd] in KWin. But in best case scenario the user won't even notice this feature because drag-and-drop between any relevant windows will just work from now on in our Wayland session. Inside KWin though the technical solution enabling this was built up from the ground. And in a way such that we should be able to later support something like middle-click-paste between XWayland and Wayland native windows easily. There were two other major initiatives by me that I was able to merge: the finalization of basing every display representation in KWin on the generic `AbstractOutput` class and in Plasma's display management library, daemon and settings panel to [save display-individual values][kscreen-patch] in a consistent way by introducing a new communication channel between these components. While the results of both enhancements are again supposed to be unnoticeable by the user but should improve the code structure and increase the overall stability there is more work lined up for display management which then will directly affect the interface. Take a look at [this task][display-further-work-task] to see what I have planned. So there is interesting work ahead. Luckily this week I am with my fellow KWin and Plasma developers at the Plasma and Usability sprint in Valencia to discuss and plan work on such projects. The sprint officially started yesterday and the first day already was very productive. We strive to keep up that momentum till the end of the sprint next week and I plan on writing an article about the sprint results afterwards. In the meantime you can follow [@kdecommunity][twitter-kdecommunity] on Twitter if you want to receive timely updates on our sprint while it's happening. ### Final remarks and prospect I try to keep the articles in this blog rather prosaic and technical but there are so many things moving forward and evolving right now that I want to spend a few paragraphs in the end on the opposite. In every aspect there is just immense *potential* when looking at our open source graphics stack consisting of KDE Plasma with KWin, at the moment still good old X but in the future Wayland, and the Linux graphics drivers below. While the advantages of free and open source software for the people were always obvious, how rapidly this type of software became the backbone of our global economy signifies that it is immensely valuable for companies alike. In this context the opportunities on how to make use of our software offerings and improve them are endless while the technical challenges we face when doing that are interesting. By this we can do our part such that the open source community will grow and foster. As a reader of these sentences you are already in a prime position to take part in this great journey as well by becoming an active member of the community through contributing. Maybe you already do this for example by coding, designing, researching, donating or just by giving us feedback on how our technology can become better. But if you are not yet, this is a great time to get involved and bring in your individual talents and motivation to build up something great together for ourselves and everybody. You can find out more on how to do that by visiting KDE's [Get Involved page][kde-involved] or join in on the ongoing discussion about KDE's [future goals][goals-blog]. [subdiff.de]: https://subdiff.de [gridsome]: https://gridsome.org [vue]: https://vuejs.org [graphql]: https://graphql.org [jamstack]: https://jamstack.org [xserver-composite-accel-patch]: https://gitlab.freedesktop.org/xorg/xserver/merge_requests/211 [phab-comp-rework]: https://phabricator.kde.org/T11071 [xwl-dnd]: https://phabricator.kde.org/R108:548978bfe1f714e51af6082933a512d28504f7e3 [kscreen-patch]: https://phabricator.kde.org/T10028 [display-further-work-task]: https://phabricator.kde.org/T11095 [twitter-kdecommunity]: https://twitter.com/kdecommunity [kde-involved]: https://community.kde.org/Get_Involved [goals-blog]: http://blog.lydiapintscher.de/2019/06/09/evolving-kde-lets-set-some-new-goals-for-kde/
21 Jun 2019 10:00am GMT