10 Oct 2021
While developing MiTubo I've recently felt the need of parsing HTML pages: the first problem I wanted to solve was implementing proper RSS feed detection when the user entered a website URL into MiTubo's search box, so that MiTubo would parse the site's HTML, look for <link rel="alternate"...> URLs in the HEAD section, and let the user subscribe to any video feeds found there.
A quick search in the internet did not provide a clear answer: I found a Qt HTML parser in (stalled) development, and a few other C++ or C parsers (among the latters, lexbor is the most inspiring), but all of them seem to take the approach of parsing the HTML file into a DOM tree, while I was hoping to find a lightweight SAX-like parser. Pretty much like Python's html.parser.
Anyway, I don't remember how it happened, but at a certain point I found myself looking at html.parser source code, and I was surprised to see how compact it was (apart, of course, for the long list of character references for the HTML entities!). Upon a closer look, it also appeared that the code was not making much use of Python's dynamic typing, so, I thought, maybe I could give it a try to rewrite that into a Qt class. And a few hours later QHtmlParser was born.
As this post's title suggests, the process of rewriting html.parser with Qt was quite straightforward, and the nice thing about it is that I didn't have to spend any time reading the HTML standard or trying to figure out how to implement the parser: I just had to translate Python code into C++ code, and thanks to the nice API of QString (which in many ways resembles Python's - or vice versa) this was not too hard. I even left most of the original code comments untouched, and reused quite a few tests from the test suite.
It was time well spent. :-)
If you think you might need an HTML parser for your Qt application, you are welcome to give it a try. It's not a library, just a set of files that you can import into your project; for the time being I only have a build file for QBS, but I'll happily accept contributions to make it easier to use QHtmlParser with projects built using other build systems. You can see here the changes I made in MiTubo to start using it and detect RSS feed in a webpage's HEAD.
That's all for now. And in case you missed the link before, you can find QHtmlParser here.
10 Oct 2021 7:57pm GMT
07 Aug 2021
I was a happy user of Del.icio.us for many years until the service closed. Then I moved my links to Google Bookmarks, which offered basically the same functionality (at least for my needs): link storage with title, tags and comments. I've carefully tagged and filed more than 2500 links since I started, and I've learnt to appreciate the usefulness of searching by tag to find again some precious information that was valuable to me in the past.
Google Bookmarks is a very old and simple service that "just works". Sometimes it looked as if Google had just forgotten about it and let it run for years without anybody noticing… until now. It's closing on September 2021.
I didn't want to lose all my links, still need a link database searchable by tags and don't want to be locked-in again in a similar service that might close in some years, so I wrote my own super-simple alternative to it. It's called bs, sort of bookmark search.
The usage can't be simpler, just add the tag you want to look for and it will print a list of links that have that tag:

$ bs webassembly
  title = Canvas filled three ways: JS, WebAssembly and WebGL | Compile
    url = https://compile.fi/canvas-filled-three-ways-js-webassembly-and-webgl/
   tags = canvas,graphics,html5,wasm,webassembly,webgl
   date = 2020-02-18 16:48:56
comment =  

  title = Compiling to WebAssembly: It's Happening! ★ Mozilla Hacks - the Web developer blog
    url = https://hacks.mozilla.org/2015/12/compiling-to-webassembly-its-happening/
   tags = asm.js,asmjs,emscripten,llvm,toolchain,web,webassembly
   date = 2015-12-18 09:14:35
comment = 

If you call the tools without parameters, it will prompt data to insert a new link or edit it if the entered url matches a preexisting one:

$ bs
url: https://compile.fi/canvas-filled-three-ways-js-webassembly-and-webgl/
title: Canvas filled three ways: JS, WebAssembly and WebGL | Compile
tags: canvas,graphics,html5,wasm,webassembly,webgl
comment:

The data is stored in an sqlite database and I've written some JavaScript snippets to import the Delicious exported bookmarks file and the Google Bookmarks exported bookmarks file. Those snippets are meant to be copypasted in the JavaScript console of your browser while you have the exported bookmarks html file open on it. They'll generate SQL sentences that will populate the database for the first time with your preexisting data.
By now the tool doesn't allow to delete bookmarks (I haven't had the need yet) and I still need to find a way to simplify its usage through the browser with a bookmarklet to ease adding new bookmarks automatically. But that's a task for other day. By now I have enough just by knowing that my bookmarks are now safe.
Enjoy!
[UPDATE: 2020-09-08]
I've now coded an alternate variant of the database client that can be hosted on any web server with PHP and SQLite3. The bookmarks can now be managed from a browser in a centralized way, in a similar fashion as you could before with Google Bookmarks and Delicious. As you can see in the screenshot, the style resembles Google Bookmarks in some way.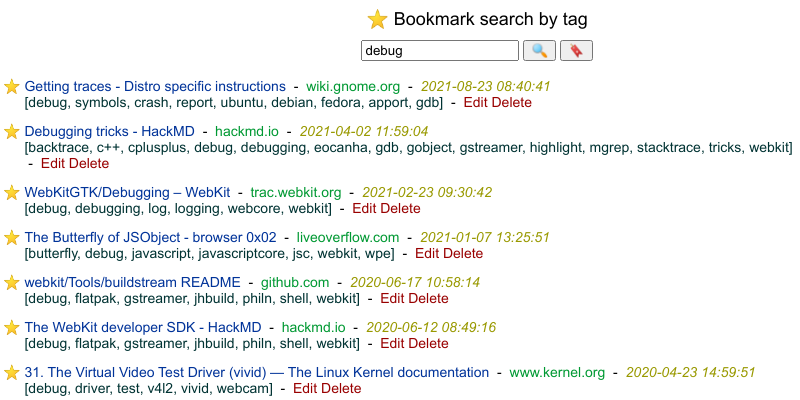 You can easily create a quick search / search engine link in Firefox and Chrome (I use "d" as keyword, a tradition from the Delicious days, so that if I type "d debug" in the browser search bar it will look for that tag in the bookmark search page). Also, the

0

07 Aug 2021 12:29pm GMT
01 Jul 2021
As part of a summer clean-up of the desk drawers, I pulled out the N800 and N9 and ported my game Loonies 8192 to these devices. Since those are "proper" Linux devices, one can compile things directly on-device (just install gcc from the SDK repos), and with SSH, it's easy to type on a real keyboard.
Anyway, you can install the game via the landing pages:
For the N800, make sure "maemo Extras" is enabled so it will find libsdl1.2 if it's not already installed. Head over to https://loonies.thp.io/n800/ on the device and download the deb, it will be installed by Application manager.
For the N9, make sure you have n9repomirror installed (again, so libsdl1.2 can be installed if necessary). Enable third party applications in Settings, Applications, Installations. Then head over to https://loonies.thp.io/n9/ on the device and download the deb, selecting after the download is finished will ask you to install it.
The N9 version is also available on openrepos.net.
And don't forget that the game is also available for DOS, various consoles and handheld consoles as well as on Windows. All of the builds are available on itch.io.
01 Jul 2021 10:05am GMT
12 Nov 2011
Shopping for 3D TV (again), few findings:

There are no non-LED 3D TVs for sale in this part of world anymore (in particular, my older favorite, LE40C750 is no longer available)
Samsung D6xxx series (the cheapest) were caught red-handed not providing FullHD resolution in 3D: via Samygo. (Note from myself: Samsung was caught because lots of people actually buy their stuff, what one can think about other vendors?)
LG goes out of line of vendors with 3D shutter glasses technology with their FPR ("Cinema 3D" in marketing speak) technology. It uses passive (no power needed) polarized glasses, like RealD cimenas. Announced April (on these longitudes), already in local shops at not-so-indecent prices. FPR is Film Patterned Retarder, and I hope the last word is spelled right, because I have high hopes for this tech. It shares the same issue as Samsung D6xxx: there won't FullHD here for sure, but at least it's official and there're other benefits.
12 Nov 2011 6:55pm GMT
I finally going to get Arduino, and while I'm choosing flavor and waiting for it, I can't help but disassembling all devices I have at home, each time speaking: "This must have Arduino inside!" (meaning of course that I expect it to be based on general-purpose MCU). Gosh, I usually get "blob chip" (uncased chip with blob of epoxy on top).

Well, I finally had my expectations fulfilled - Luxeon SP-1 voltage stabilizer/cutter features ATMEGA48V-10PU (Flash: 4k, EEPROM: 256, RAM:512). Not only that, it is installed in DIP socket! Buy from Luxeon, they're hacker-friendly ;-).

I bought the device actually for a wattmeter it features (which fact is hard to figure out from common specs found in the shops, I accidentally read somebody mentioning it on a forum). The wattmeter is of course not bright - for a lamp rated 100W it shows 88W, and for more powerful equipment (like perforator) understates wattage even more (maybe it's difference between real and apparent power factor).

Still, for $17 you get Arudino-alike with voltage/current sensor and hacking possibility. Woot!

BOM:
High-power board:

Relay: Coil: 24VDC, 5A/240VAC
7805
Coil transformer LR-019B
MCU board:

ATMEGA48V-10PU
2 buttons
2 LEDs (red & green)
3-digit 7-segment LED indicator
12 Nov 2011 5:58pm GMT
10 Nov 2011
Kindle:


Linux kernel module tricks:

(build module from a kernel source tarball using currently installed kernel config)
10 Nov 2011 3:21pm GMT
19 Oct 2011
In Debian Unstable the transition to Gnome 3 is taking place; when Gnome 3.0 firstly came out some unnamed geeky users complained loudly about the design decisions of the development team to push strongly towards gnome-shell as a new default UI; gnome-shell was designed focusing on usability (usability is a metric relative to a certain target audience BTW) and simplicity, hiding a lot of details from the users. Obviously you can never make everyone happy so some of us simply happened to be "out of target": you know us computer people (*cough cough*), we like to be in charge and control The Machine... I must admit I still don't have a definitive opinion about the gnome-shell concept, for now I just know that it does not suit me; I am going to try it eventually, maybe I'll get used to it, but in the mean time I need my desktop back just like I shaped it through the years; can this be done without loosing all the good Gnome technologies (Empathy over all of them)?
To be completely fair I have to say that there is little to complain about with Gnome developers, we can still get our good old GNOME desktop fully back by using the fall-back mode based on gnome-panel and live happily ever after, let's take a look at how this can be accomplished.
NOTE: GNOME people state that the fall-back mode is meant for systems with older graphic cards which cannot run gnome-shell, however it can very well be seen as a good opportunity for those who do not want to run gnome-shell just yet.
Getting back to the topic: some minor touches are needed to make the panel look more like what we are used to, maybe some of these settings could even become default for fall-back mode, we'll see.
First, enable fall-back mode (on Debian there is a dedicated session you can choose from the Log-in Manager for that) and change some desktop settings, in a terminal type:

$ gsettings set org.gnome.desktop.session session-name 'gnome-fallback'
$ gsettings set org.gnome.desktop.interface 'menus-have-icons' true
$ gsettings set org.gnome.desktop.interface 'buttons-have-icons' true
$ gsettings set org.gnome.desktop.background 'show-desktop-icons' true

gnome-tweak-tool can be used for some of these settings like shown in the attached images.
Then rearrange the applets on the panel as you please (use Alt-RightClick to access the panel properties), and fix the theming using this patch to have a light panel again (against gnome-themes-standard=3.0.2-1):

$ mkdir $HOME/.themes
$ cd $HOME/.themes
$ cp -r /usr/share/themes/Adwaita Adwaita-fallback
$ cd Adwaita-fallback
$ patch -p1 < $HOME/adwaita-fallback-panel-theme.patch
$ gsettings set org.gnome.desktop.interface 'gtk-theme' 'Adwaita-fallback'

Some final touches for the Metacity window manager and to the clock applet, and we are all set:

$ gconftool-2 --type string --set /apps/metacity/general/focus_mode mouse
$ gconftool-2 --type boolean --set /apps/metacity/general/compositing_manager true
$ gconftool-2 --type string --set /apps/panel3-applets/clock/custom_format '<span color="#333">%a %d %b</span> <b>%H:%M</b>'
$ gconftool-2 --type string --set /apps/panel3-applets/clock/format custom

Ah, in the new gnome-panel based on Gtk3 there are still some details to take care of, I hope issues like that will be addressed and that the panel will be supported for quite some time.
Attached files:

Adwaita theme patch for fall-back mode
19 Oct 2011 9:37pm GMT
09 Jun 2011
After letting us wait for a bit longer than scheduled (13 days), the hospital initiated the contractions. For the first couple of hours, everything went just perfect, but then the little one got stuck on the way and we had to resort to a cesarean section. Lara Marie Lauer was born 8th of June at 04:41 (AM) with 3460 gramms and 49 cm.
Mummy was still on intensive care and so they gave her to me. I can't express the feelings I had in this very moment. I'm still kind of overwhelmed every time I see her. Thanks for all of you who waited anxiously with me and those who prayed for us. The most important tasks for the near future is getting Mummy to recover and Lara Marie to become accustomed to us and the rest of the outside world.
Please bear with me if in the next time I'm not as responsive as usually
09 Jun 2011 4:06pm GMT
30 May 2011
And now for something completely different… while we are all waiting for my baby to arrive (who was scheduled for 25th of May), she just received her first greeting card - together with a personalized bib and a towel (with integrated hood - pretty fancy!) from my good friends at #openmoko-cdevel.
Guys, seeing this card was very heartwarming - it means a lot to me that you share my anticipation, thanks a lot! And I'm 100% sure she will appreciate her gifts… now let's cross fingers it won't take much longer… waiting is the hardest part of it
Yours,
Mickey.
30 May 2011 8:54am GMT