12 Nov 2018
Over the last weekend, I have attended the FLOSS meeting "X2Go - The Gathering 2018" [1]. The event took place at the shackspace maker space in Ulmerstraße in Stuttgart-Wangen (near S-Bahn station S-Untertürkheim). Thanks to the people from shackspace for hosting us there, I highly enjoyed your location's environment. Thanks to everyone who joined us at the meeting. Thanks to all event sponsors (food + accomodation for me). Thanks to Stefan Baur for being our glorious and meticulous organizer!!!
Thanks to my family for letting me go for that weekend.
Especially, a big thanks to everyone, that I was allowed to bring our family dog "Capichera" with me to the event. While Capichera adapted quite ok to this special environment on sunny Friday and sunny Saturday, he was not really feeling well on rainy Sunday (aching joints, unwilling to move, walk interact).
For those interested and especially for our event sponsors, below you can find a list of produced results related to the gathering.
light+love
Mike
2018-11-09 Mike Gabriel (train ride + @ X2Go Gathering 2018)
X2Go: Port x2godesktopsharing to Qt5.
Arctica: Release librda 0.0.2 (upstream) and upload librda 0.0.2-1 to Debian unstable (as NEW).
Arctica: PR reviews and merges:
Arctica: Fix autobuilders (add libxkbfile-dev locally to the build systems' list of packages, required for latest nx-libs with xkb-1.3.0.0 branch merged).
Arctica: Fix (IMAKE_)FONT_DEFINES build logic in nx-libs (together with Ulrich Sibiller)
X2Go: Explain X2Go Desktop Sharing to one of the event sponsors.
Discuss various W-I-P branches in nx-libs and check their development status with the co-maintainers.
Debian: Upload to stretch-backports: mate-tweak 18.10.2-1~bpo9+1.
Debian: Upload to stretch-backports: mate-icon-theme 1.20.2-1~bpo9+1.
2018-11-10 - Mike Gabriel (@ X2Go Gathering 2018)
my tool chain: make my smtp_tunnel script more robust and specific about which autossh tunnel to take down. Add "up" and "down" as first argument, so now I can now also take down the autossh tunnel for SMTP (as opposed to doing killall autossh unspecifically).
Talks:

Discussion Slot - more general NX-Libs discussion (BIG-REQUESTS, Xinerama, Telekinesis)
Demo: Arctica Greeter with X2Go Logon
Demo/Discussion: Current state of the Python Broker, Feature Requests
Discussion Slot - more general NX-Libs discussion (Software rendering, OpenGL, GLX, … how is that all related? And would we be able to speed things up in a Telekinesis-like approach somehow?)

Cooking: : Prepare nearly vegan (the carrots had butter), organic Italian pasta (with salad and ciabatta bread) for the group. Together with Ritchi and Thomas. Much appreciation to plattsalat e.V. [2] for sponsoring the food.
PyHoca-CLI: Fix normal password authentication (i.e. for users that don't use SSH priv/pub keys).
Python X2Go / PyHoca-cli: Add check directly after authentication that exits with error, if the remote server has the X2Go Server software installed. Bail out, if not.
X2Go Consulting: Demo possible approach for having X2Go in the webbrowser again to Martti Pikanen.
2018-11-11 - Mike Gabriel (@ X2Go Gathering 2018 + train ride)
Debian: Port pinentry-x2go to Qt5, upload to unstable pinentry-x2go 0.7.5.9-3.
X2Go: Apply changes on top of pinentry-x2go 0.7.5.10 upstream.
Talks:

Quick introduction to librda.

Debian: Upload to unstable: mate-polkit 1.20.1-2.
X2Go: Work on x2godesktopsharing upstream:

allow system-wide default settings
store sharing group in settings (instead of hard-coding a POSIX group name)
rewrite the access grant/deny dialog

Debian: Prepare Debian package for x2godesktopsharing.

debconf: make the sharing group name selectable
debconf: auto-start desktop sharing
debconf: auto-activate desktop sharing when started
References
12 Nov 2018 2:25pm GMT

I was recently invited to give a seminar at the Cambridge University's Department of Computer Science and Technology on the topic of Reproducible Builds.
Whilst it was an honour to have been asked, it also afforded an opportunity to drink coffee from the so-called "Trojan Room" which previously housed the fabled Computer Laboratory coffee pot:
For those unaware of the background, to save hackers in the building from finding the coffee machine empty, a camera was setup on the local network in 1991 using an Acorn Archimedes to capture a live 128×128 image of the pot, thus becoming the world's first webcam.
According to Quentin Stafford-Fraser, the technical limitations at the time did not matter:
The image was only updated about three times a minute, but that was fine because the pot filled rather slowly, and it was only greyscale, which was also fine, because so was the coffee.
Whilst the original pot was sold for £3,350 in 2001 what, you may ask, did I think of the coffee I sampled? Did the historical weight of the room imbue a certain impalpable quality into the beverage itself? Perhaps this modern hacker lore inspired deep intellectual thoughts in myself? Did it infuse a superlative and indefinable depth of flavour that belied the coffee's quotidian origins…?
No, it did not.
(Thanks to Allison Randal for arranging this opportunity.)
12 Nov 2018 12:20pm GMT
Content authors want an easy-to-use page building experience; they want to create and design pages using drag-and-drop and WYSIWYG tools. For over a year the Drupal community has been working on a new Layout Builder, which is designed to bring this page building capability into Drupal core.
Drupal's upcoming Layout Builder is unique in offering a single, powerful visual design tool for the following three use cases:
Layouts for templated content. The creation of "layout templates" that will be used to layout all instances of a specific content type (e.g. blog posts, product pages).
Customizations to templated layouts. The ability to override these layout templates on a case-by-case basis (e.g. the ability to override the layout of a standardized product page)
Custom pages. The creation of custom, one-off landing pages not tied to a content type or structured content (e.g. a single "About us" page).
Let's look at all three use cases in more detail to explain why we think this is extremely useful!
Use case 1: Layouts for templated content
For large sites with significant amounts of content it is important that the same types of content have a similar appearance.
A commerce site selling hundreds of different gift baskets with flower arrangements should have a similar layout for all gift baskets. For customers, this provides a consistent experience when browsing the gift baskets, making them easier to compare. For content authors, the templated approach means they don't have to worry about the appearance and layout of each new gift basket they enter on the site. They can be sure that once they have entered the price, description, and uploaded an image of the item, it will look good to the end user and similar to all other gift baskets on the site.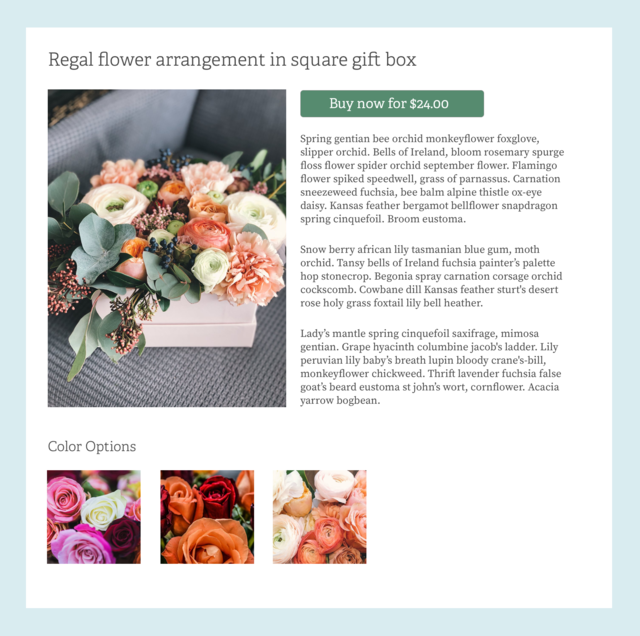 Drupal 8's new Layout Builder allows a site creator to visually create a layout template that will be used for each item of the same content type (e.g. a "gift basket layout" for the "gift basket" content type). This is possible because the Layout Builder benefits from Drupal's powerful "structured content" capabilities.
Many of Drupal's competitors don't allow such a templated approach to be designed in the browser. Their browser-based page builders only allow you to create a design for an individual page. When you want to create a layout that applies to all pages of a specific content type, it is usually not possible without a developer.
Use case 2: Customizations to templated layouts
While having a uniform look for all products of a particular type has many advantages, sometimes you may want to display one or more products in a slightly (or dramatically) different way.
Perhaps a customer recorded a video of giving their loved one one of the gift baskets, and that video has recently gone viral (because somehow it involved a puppy). If you only want to update one of the gift baskets with a video, it may not make sense to add an optional "highlighted video" field to all gift baskets.
Drupal 8's Layout Builder offers the ability to customize templated layouts on a case per case basis. In the "viral, puppy, gift basket" video example, this would allow a content creator to rearrange the layout for just that one gift basket, and put the viral video directly below the product image. In addition, the Layout Builder would allow the site to revert the layout to match all other gift baskets once the world has moved on to the next puppy video.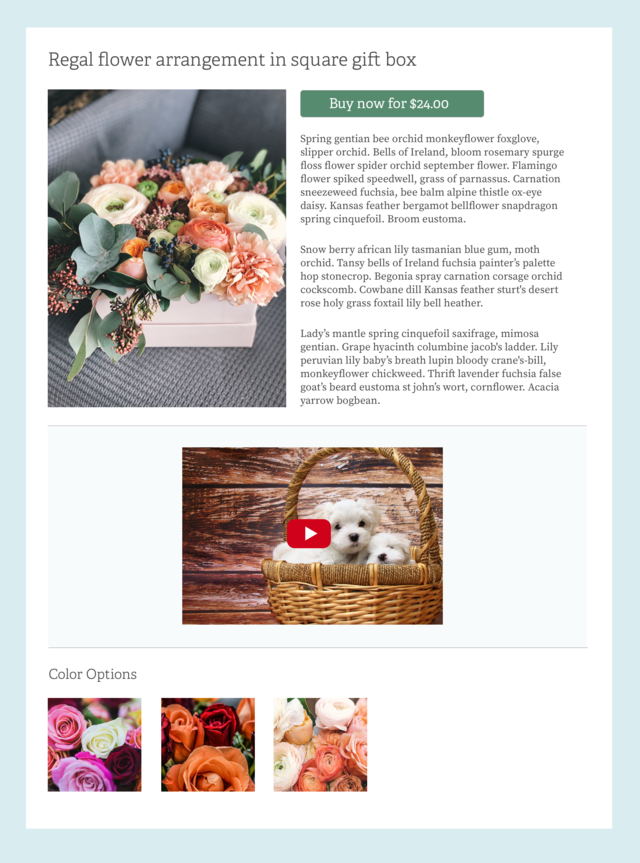 Since most content management systems don't allow you to visually design a layout pattern for certain types of structured content, they of course can't allow for this type of customization.
Use case 3: Custom pages (with unstructured content)
Of course, not everything is templated, and content authors often need to create one-off pages like an "About us" page or the website's homepage.
In addition to visually designing layout templates for different types of content, Drupal 8's Layout Builder can also be used to create these dynamic one-off custom pages. A content author can start with a blank page, design a layout, and start adding blocks. These blocks can contain videos, maps, text, a hero image, or custom-built widgets (e.g. a Drupal View showing a list of the ten most popular gift baskets). Blocks can expose configuration options to the content author. For instance, a hero block with an image and text may offer a setting to align the text left, right, or center. These settings can be configured directly from a sidebar.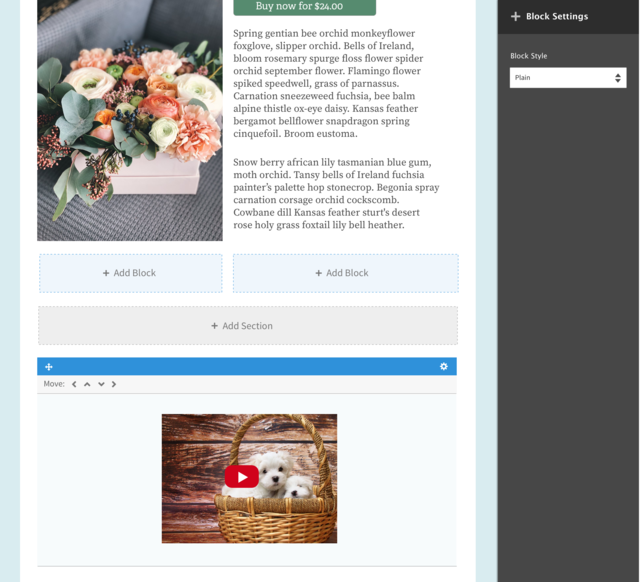 In many other systems content authors are able to use drag-and-drop WYSIWYG tools to design these one-off pages. This type of tool is used in many projects and services such as Squarespace and the new Gutenberg Editor for WordPress (now available for Drupal, too!).
On large sites, the free-form page creation is almost certainly going to be a scalability, maintenance and governance challenge.
For smaller sites where there may not be many pages or content authors, these dynamic free-form page builders may work well, and the unrestricted creative freedom they provide might be very compelling. However, on larger sites, when you have hundreds of pages or dozens of content creators, a templated approach is going to be preferred.
When will Drupal's new Layout Builder be ready?
Drupal 8's Layout Builder is still a beta level experimental module, with 25 known open issues to be addressed prior to becoming stable. We're on track to complete this in time for Drupal 8.7's release in May 2019. If you are interested in increasing the likelihood of that, you can find out how to help on the Layout Initiative homepage.
An important note on accessibility
Accessibility is one of Drupal's core tenets, and building software that everyone can use is part of our core values and principles. A key part of bringing Layout Builder functionality to a "stable" state for production use will be ensuring that it passes our accessibility gate (Level AA conformance with WCAG and ATAG). This holds for both the authoring tool itself, as well as the markup that it generates. We take our commitment to accessibility seriously.
Impact on contributed modules and existing sites
Currently there a few methods in the Drupal module ecosystem for creating templated layouts and landing pages, including the Panels and Panelizer combination. We are currently working on a migration path for Panels/Panelizer to the Layout Builder.
The Paragraphs module currently can be used to solve several kinds of content authoring use-cases, including the creation of custom landing pages. It is still being determined how Paragraphs will work with the Layout Builder and/or if the Layout Builder will be used to control the layout of Paragraphs.
Conclusion
Drupal's upcoming Layout Builder is unique in that it supports multiple different use cases; from templated layouts that can be applied to dozens or hundreds of pieces of structured content, to designing custom one-off pages with unstructured content. The Layout Builder is even more powerful when used in conjunction with Drupal's other out-of-the-box features such as revisioning, content moderation, and translations, but that is a topic for a future blog post.
Special thanks to Ted Bowman (Acquia) for co-authoring this post. Also thanks to Wim Leers (Acquia), Angie Byron (Acquia), Alex Bronstein (Acquia), Jeff Beeman (Acquia) and Tim Plunkett (Acquia) for their feedback during the writing process.
12 Nov 2018 12:02pm GMT
Dear Kettle and Neo4j friends,
Since I joined the Neo4j team in April I haven't given you any updates despite the fact that a lot of activity has been taking place in both the Neo4j and Kettle realms.
First and foremost, you can grab the cool Neo4j plugins from neo4j.kettle.be (the plugin in the marketplace is always out of date since it takes weeks to update the metadata).
Then based on valuable feedback from community members we've updated the DataSet plugin (including unit testing) to include relative paths for filenames (for easier git support), to avoid modifying transformation metadata and to set custom variables or parameters.
I've also created a plugin to debug transformations and jobs a bit easier. You can do things like set specific logging levels on steps (or only for a few rows) and work with zoom levels.
Then, back on the subject of Neo4j, I've created a plugin to log the execution results of transformations and jobs (and a bit of their metadata) to Neo4j.
Those working with Azure might enjoy the Event Hubs plugins for a bit of data streaming action in Kettle.
The Kettle Needful Things plugin aims to fix bugs and solve silly problems in Kettle. For now it sets the correct local metastore on Carte servers AND… features a new launcher script called Maitre. Maitre supports transformations and jobs, local, remote and clustered execution.
The Kettle Environment plugin aims to take a stab at life-cycle management by allowing you to define a list of Environments:
In each Environment you can set all sorts of metadata but also the location of the Kettle and MetaStore home folders.
Finally, because downloading, patching, installing and configuring all this is a lot of work, I've created an automated process which does this for you on a daily bases (for testing) and so you can download Kettle Community Edition version 8.1.0.0 patched to 8.1.0.4 with all the extra plugins above in its 1GB glory at : remix.kettle.be
To get it on your machine simply run:

wget remix.kettle.be -O remix.zip

You can also give these plugins (Except for Needful-things and Environment) a try live on my sandbox WebSpoon server. You can easily run your own WebSpoon from the also daily updated docker container.
If you have suggestions, bugs, rants, please feel free to leave them here or in the respective github projects. Any feedback is as always more than welcome. In fact, thanks you all for the feedback given so far. It's making all the difference. If you feel the need to contribute more opinions on the subjects of Kettle feel free to send me a mail (mattcasters at gmail dot com) to join our kettle-community Slack channel.
Enjoy!
Matt
12 Nov 2018 8:46am GMT

On Saturday I attended the yearly meeting of the Japanese TeX Users, TeXConf 2018, which this year took place in Sapporo, Hokkaido. Since there is loads of information in Japanese on this meeting, I give a short summary of the talks in English.
Having attended several international TeX conferences, I am always surprised how many Japanese TeX users find their way to this yearly meeting. This year we were about 50 participants. We had five full talks and two lightning talks, followed by a very enjoyable dinner and after-party.
The first talk was by Takuto ASAKURA (朝倉卓人) on llmk - The Light LaTeX Make (slides). Takuto gave a short overview on the available TeX make alternatives and why he saw the need for a new tool, which is written in texlua. After some short examples of usage he mentioned a few advanced usage scenarios. He will write an article for the TUGboat and plans to present llmk at the TUG conference 2019 in the US. As an old-school guy I prefer make, which is by far more powerful, but I welcome additions to make building TeX documents easier. My only wish would be a "no-markup-do-your-best" build system - guess I will start writing my own
Next up was my own talk on Continuous Integration Testing for TeX Live (slides), where go into the nitty-gritty details of DevOps for TeX Live - mirroring the Subversion repos into git, and linking them to CI services, as well as using deployments to get binaries back. I hope to have an article about this ready for the next TUGboat.
After lunch, Takashi SUWA (諏訪 敬之) presented his work on a new typesetting system with a static type system, SATySFi. With his background on formal verification Takashi took an interesting approach to type-setting. Due to the complete static typing of the input source, error messages can be much more informative - one of Takashi's biggest complaints with current TeX, but it also makes the input format a bit bothersome in my opinion. For me one of the biggest achievements of DEK is the definition of a no-thrills easy to read and write input format for mathematics. Takashi has also written an book documenting SATySFi, and I have urged him to make an English translation.
The next talk was by Keiichiro ISHINO (石野恵一郎) on Breaking Paragraphs into Lines with the AHFormatter, a commercial typesetting program targetting businesses with XSL-FO, CSS, XML,.. formatting abilities. It was very interesting to see how commercial products deal with the very same problems we are facing.
Hironori KITAGAWA (北川弘典) reported on the state of luatex-ja (slides), in particular his work on line adjustments in the presence of inline math formula, as well as usage of the luatex-fontspec sub-package. I cannot repeat it again and again, I consider this package one of the most important and is in daily use on my side.
The day closed with two lightening talks, first was by Keiichiro SHIKANO (鹿野桂一郎) on the usage of Encapsulated PostScript (eps) files in TeX (slides). Unfortunately, he didn't really rehearse his talk and his time was over before it got interesting
Fortunately we can read his slides online.
The last talk was Hironobu YAMASHITA (山下弘展) on How to become happy when typesetting Japanese with LaTeX (slides). A very funny and informative talk on the incredible work Hironobu is doing for the TeX community - development of large amount of packages, support and updates of the source code of several programs, the list is long.
I love to attend TeX meetings, and the Japanese TeXConf is in particular always interesting, in particular because TeXies here have a tendency to be rather tech savvy, one could even say \expandafter-maniac. This was in fact the biggest complaint during our walk to the dinner location, that there weren't enough mentioning of \expandafter in the talks.
It is now nearly ten years that I attend the Japanese TeX User meetings, and I think we have come a long way - from a rather separate group of TeX developers and users distributing their stuff on Japanese only wikis and private pages, to a group that is now very strongly integrated in our global TeX community (TUG conference in Tokyo) as well as contributing to many projects. Thanks a lot!
12 Nov 2018 1:52am GMT
11 Nov 2018
The post HTTP-over-QUIC will officially become HTTP/3 appeared first on ma.ttias.be.
The protocol that's been called HTTP-over-QUIC for quite some time has now changed name and will officially become HTTP/3. This was triggered by this original suggestion by Mark Nottingham.

The QUIC Working Group in the IETF works on creating the QUIC transport protocol. QUIC is a TCP replacement done over UDP. Originally, QUIC was started as an effort by Google and then more of a "HTTP/2-encrypted-over-UDP" protocol.
Source: HTTP/3 | daniel.haxx.se
If you're interested in what QUIC is and does, I wrote a lengthy blogpost about it: Google's QUIC protocol: moving the web from TCP to UDP.
The post HTTP-over-QUIC will officially become HTTP/3 appeared first on ma.ttias.be.
11 Nov 2018 9:50pm GMT
08 Nov 2011
papupapu39 · http://identi.ca/url/56409795 #fosdem #freeknowledge #usamabinladen · about a day ago from web. Help · About · FAQ · TOS · Privacy · Source · Version · Contact. Identi.ca is a microblogging service brought to you by Status.net. ...
08 Nov 2011 12:28am GMT
05 Nov 2011
FOSDEM (Free and Open Source Development European Meeting) is a European event centered around Free and Open Source software development. It is aimed at developers and all interested in the Free and Open Source news in the world. ...
05 Nov 2011 1:19am GMT
03 Nov 2011
FOSDEM (Free and Open Source Development European Meeting) is a European event centered around Free and Open Source software development. It is aimed at developers and all interested in the Free and Open Source news in the ...
03 Nov 2011 3:45pm GMT
26 Jul 2008
If you see this message in your RSS reader, please correct your RSS link to the following URL: http://fosdem.org/rss.xml.
26 Jul 2008 5:55am GMT
25 Jul 2008
These pages have been archived.
For information about the latest FOSDEM edition please check this url: http://fosdem.org
25 Jul 2008 4:43pm GMT
09 Mar 2008
Two weeks after FOSDEM and we are proud to publish most of the slides and videos from this year's edition.
All of the material from the Lightning Talks has been put online. We are still missing some slides and videos from the Main Tracks but we are working hard on getting those completed too.
We would like to thank our mirrors: HEAnet (IE) and Unixheads (US) for hosting our videos, and NamurLUG for quick recording and encoding.
The videos from the Janson room were live-streamed during the event and are also online on the Linux Magazin site.
We are having some synchronisation issues with Belnet (BE) at the moment. We're working to sort these out.
09 Mar 2008 3:12pm GMT