18 Sep 2018
Ever since I started blogging about my role in FSFE as Fellowship representative, I've been receiving communications and queries from various people, both in public and in private, about the relationship between FSF and FSFE. I've written this post to try and document my own experiences of the issue, maybe some people will find this helpful. These comments have also been shared on the LibrePlanet mailing list for discussion (subscribe here)
Being the elected Fellowship representative means I am both a member of FSFE e.V. and also possess a mandate to look out for the interests of the community of volunteers and donors (they are not members of FSFE e.V). In both capacities, I feel uncomfortable about the current situation due to the confusion it creates in the community and the risk that volunteers or donors may be confused.
The FSF has a well known name associated with a distinctive philosophy. Whether people agree with that philosophy or not, they usually know what FSF believes in. That is the power of a brand.
When people see the name FSFE, they often believe it is a subsidiary or group working within the FSF. The way that brands work, people associate the philosophy with the name, just as somebody buying a Ferrari in Berlin expects it to do the same things that a Ferrari does in Boston.
To give an example, when I refer to "our president" in any conversation, people not knowledgeable about the politics believe I am referring to RMS. More specifically, if I say to somebody "would you like me to see if our president can speak at your event?", some people think it is a reference to RMS. In fact, FSFE was set up as a completely independent organization with distinct membership and management and therefore a different president. When I try to explain this to people, they sometimes lose interest and the conversation can go cold very quickly.
FSFE leadership have sometimes diverged from FSF philosophy, for example, it is not hard to find some quotes about "open source" and one fellow recently expressed concern that some people behave like "FSF Light". But given that FSF's crown jewels are the philosophy, how can an "FSF Light" mean anything? What would "Ferrari Light" look like, a red lawnmower? Would it be a fair use of the name Ferrari?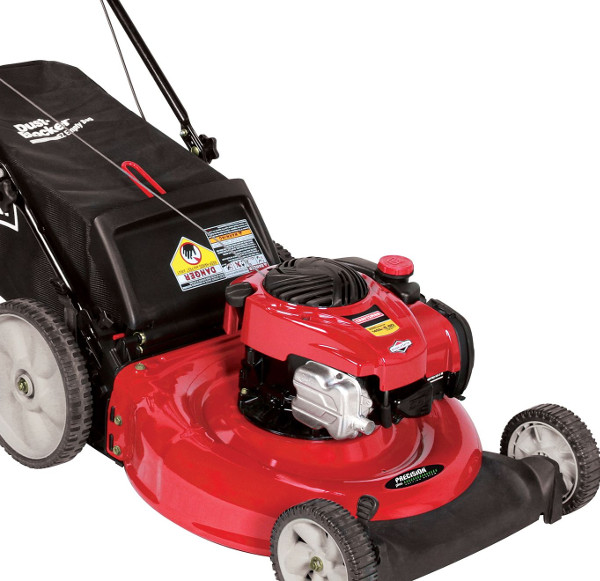 Some concerned fellows have recently gone as far as accusing the FSFE staff of effectively domain squatting or trolling the FSF (I can't link to that because of FSFE's censorship regime). When questions appear about the relationship in public, there is sometimes a violent response with no firm details. (I can't link to that either because of FSFE's censorship regime)
The FSFE constitution calls on FSFE to "join forces" with the FSF and sometimes this appears to happen but I feel this could be taken further.
FSF people have also produced vast amounts of code (the GNU Project) and some donors appear to be contributing funds to FSFE in gratitude for that or in the belief they are supporting that. However, it is not clear to me that funds given to FSFE support that work. As Fellowship representative, a big part of my role is to think about the best interests of those donors and so the possibility that they are being confused concerns me.
Given the vast amounts of money and goodwill contributed by the community to FSFE e.V., including a recent bequest of EUR 150,000 and the direct questions about this issue I feel it is becoming more important for both organizations to clarify the issue.
FSFE has a transparency page on the web site and this would be a good place to publish all documents about their relationship with FSF. For example, FSFE could publish the documents explaining their authorization to use a name derived from FSF and the extent to which they are committed to adhere to FSF's core philosophy and remain true to that in the long term. FSF could also publish some guidelines about the characteristics of a sister organization, especially when that organization is authorized to share the FSF's name.
In the specific case of sister organizations who benefit from the tremendous privilege of using the FSF's name, could it also remove ambiguity if FSF mandated the titles used by officers of sister organizations? For example, the "FSFE President" would be referred to as "FSFE European President", or maybe the word president could be avoided in all sister organizations.
People also raise the question of whether FSFE can speak for all Europeans given that it only has a large presence in Germany and other organizations are bigger in other European countries. Would it be fair for some of those other groups to aspire to sister organization status and name-sharing rights too? Could dozens of smaller FSF sister organizations dilute the impact of one or two who go off-script?
Even if FSFE was to distance itself from FSF or even start using a new name and philosophy, as a member, representative and also volunteer I would feel uncomfortable with that as there is a legacy of donations and volunteering that have brought FSFE to the position the organization is in today.
That said, I would like to emphasize that I regard RMS and the FSF, as the original FSF, as having the final authority over the use of the name and I fully respect FSF's right to act unilaterally, negotiate with sister organizations or simply leave things as they are.
If you have questions or concerns about this topic, I would invite you to raise them on the LibrePlanet-discuss mailing list or feel free to email me directly.
18 Sep 2018 11:21pm GMT
Google is moving the AMP project to an open governance model with a steering committee with representation from other organizations.
18 Sep 2018 7:33pm GMT

If you remember my first post about home automation I mentioned a desire to use some sort of presence detection as part of deciding when to turn the heat on. Home Assistant has a wide selection of presence detection modules available, but the easy ones didn't seem like the right solutions. I don't want something that has to run on my phone to say where I am, but using the phone as the proxy for presence seemed reasonable. It connects to the wifi when at home, so watching for that involves no overhead on the phone and should be reliable (as long as I haven't let my phone run down). I run OpenWRT on my main house router and there are a number of solutions which work by scraping the web interface. openwrt_hass_devicetracker is a bit better but it watches the hostapd logs and my wifi is actually handled by some UniFis.
So how to do it more efficiently? Learn how to watch for ARP requests via Netlink! That way I could have something sitting idle and only doing any work when it sees a new event, that could be small enough to run directly on the router. I could then tie it together with the Mosquitto client libraries and announce presence via MQTT, tying it into Home Assistant with the MQTT Device Tracker.
I'm going to go into a bit more detail about the Netlink side of things, because I found it hard to find simple documentation and ended up reading kernel source code to figure out what I wanted. If you're not interested in that you can find my mqtt-arp (I suck at naming simple things) tool locally or on GitHub. It ends up as an 8k binary for my MIPS based OpenWRT box and just needs fed a list of MAC addresses to watch for and details of the MQTT server. When it sees a device it cares about make an ARP request it reports the presence for that device as "home" (configurable), rate limiting it to at most once every 2 minutes. Once it hasn't seen anything from the device for 10 minutes it declares the location to be unknown. I have found Samsung phones are a little prone to disconnecting from the wifi when not in use so you might need to lengthen the timeout if all you have are Samsung devices.
Home Assistant configuration is easy:

device_tracker:
  - platform: mqtt
    devices:
      noodles: 'location/by-mac/0C:11:22:33:44:55'
      helen: 'location/by-mac/4C:11:22:33:44:55'


On to the Netlink stuff…
Firstly, you can watch the netlink messages we're interested in using iproute2 - just run ip monitor. Works as an unpriviledged user which is nice. This happens via an AF_NETLINK routing socket (rtnetlink(7)):

int sock;
sock = socket(AF_NETLINK, SOCK_RAW, NETLINK_ROUTE);


We then want to indicate we're listening for neighbour events:

struct sockaddr_nl group_addr;
bzero(&group_addr, sizeof(group_addr));
group_addr.nl_family = AF_NETLINK;
group_addr.nl_pid = getpid();
group_addr.nl_groups = RTMGRP_NEIGH;
bind(sock, (struct sockaddr *) &group_addr, sizeof(group_addr));


At this point we're good to go and can wait for an event message:

received = recv(sock, buf, sizeof(buf), 0);


This will be a struct nlmsghdr message and the nlmsg_type field will provide details of what type. In particular I look for RTM_NEWNEIGH, indicating a new neighbour has been seen. This is of type struct ndmsg and immediately follows the struct nlmsghdr in the received message. That has details of the address family type (IPv6 vs IPv4), the state and various flags (such as whether it's NUD_REACHABLE indicating presence). The only slightly tricky bit comes in working out the MAC address, which is one of potentially several struct nlattr attributes which follow the struct ndmsg. In particular I'm interested in an nla_type of NDA_LLADDR, in which case the attribute data is the MAC address. The main_loop function in mqtt-arp.c shows this - it's fairly simple stuff, and works nicely. It was just figuring out the relationship between it all and the exact messages I cared about that took me a little time to track down.
18 Sep 2018 7:18pm GMT

★ counterfeits in amazon pipeline

The 32 gb card I bought here at Amazon turned out to be fake. Within days I was getting read errors, even though the card was still mostly empty.

The logo is noticably blurry compared with a 32 gb card purchased elsewhere. Also, the color of the grey half of the card is subtly wrong, and the lettering is subtly wrong.

Amazon apparently has counterfiet stock in their pipeline, google "amazon counterfiet" for more.
You will not find this review on Sandisk Ultra 32GB Micro SDHC UHS-I Card with Adapter - 98MB/s U1 A1 - SDSQUAR-032G-GN6MA because it was rejected. As far as I can tell my review violates none of Amazon's posted guidelines. But it's specific about how to tell this card is counterfeit, and it mentions a real and ongoing issue that Amazon clearly wants to cover up.
18 Sep 2018 6:03pm GMT
17 Sep 2018
Ou bien écoutez-vous Facebook ?
Vous avez probablement entendu parler de cette rumeur : Facebook écouterait toutes nos conversations à travers le micro de nos téléphones et ses algorithmes de reconnaissance en profiterait pour nous afficher des publicités liées à nos récentes discussions.
Plusieurs témoignages abondent en ce sens, toujours selon la même structure : un utilisateur de Facebook voit apparaitre une publicité qui lui semble en rapport avec une discussion qu'il vient d'avoir. Ce qui le frappe c'est qu'à aucun moment il n'a eu un comportement en ligne susceptible d'informer les publicitaires (visite de sites sur le sujet, recherches, like de posts, etc).
Facebook a formellement nié utiliser le micro des téléphones pour enregistrer les conversations. La plupart des spécialistes considèrent d'ailleurs que le faire à une telle échelle n'est pas encore technologiquement réalisable ni rentable. Google, de son côté, reconnait enregistrer l'environnement de ses utilisateurs mais sans utiliser ces données de manière publicitaire (vous pouvez consulter les enregistrements faits par votre compte Google sur ce lien, c'est assez saisissant d'entendre des moments aléatoires de votre vie quotidienne).
Ce qui frappe dans ce débat, c'est tout d'abord la facilité avec laquelle le problème pourrait être résolu : désinstaller l'application Facebook du téléphone (et accéder à Facebook via son navigateur).
Ensuite, s'il n'est pas complètement impossible que Facebook enregistre nos conversations, il est amusant de constater que des millions de personnes paient pour installer chez eux un engin qui fait exactement cela : Amazon Alexa, Google Echo ou Apple Homepod enregistrent nos conversations et les transmettent à Amazon, Google et Apple. Ouf, comme ce n'est pas Facebook, alors ça va. Et votre position ? Les personnes avec qui vous êtes dans un endroit ? Les personnes dont vous regardez les photos ? Les personnes avec qui vous avez des échanges épistolaires ? Bon, ça, ça va, Facebook peut le savoir. De toutes façons Facebook saura tout même si vous faites attention. La développeur Laura Kalbag s'est ainsi vu proposé des publicités pour un service de funérailles à la mort de sa mère malgré un blocage Facebook complet. La faille ? Une de ses sœurs aurait informé une amie via Messenger.
Cependant, la rumeur des micros de téléphone persiste. L'hypothèse qui semble la plus probable est celle de la simple coincidence. Nous sommes frappés par la similitude d'une publicité avec une conversation que nous avons eue plus tôt mais, lorsque ce n'est pas le cas, nous ne remarquons pas consciemment la publicité et n'enregistrons pas l'événement.
Mais il existe une autre hypothèse. Encore plus effrayante. Effrayante de simplicité et de perversité. L'hypothèse toute simple que si nous avons une conversation sur un sujet particulier, c'est parce que l'un ou plusieurs d'entre nous avons vu une publicité sur ce sujet. Parfois sans s'en souvenir. Souvent sans le réaliser.
Du coup, la publicité nous paraitrait bien plus voyante par après. Nous refuserions d'admettre l'hypothèse que notre libre-arbitre soit à ce point manipulable. Et nous imaginerions que Facebook contrôle nos téléphones, contrôle nos micros.
Pour ne pas avouer qu'il contrôle déjà nos esprits. Qu'ils contrôle nos sujets de conversation car c'est son business model. Même si nous ne sommes pas sur Facebook : il suffit que nos amis y soient, eux.
Facebook n'a pas besoin d'écouter nos conversations. Ils décident déjà de quoi nous parlons, ce que nous pensons et pour qui nous allons voter.
Mais c'est plus facile de s'indigner à l'idée que Facebook puisse contrôler un simple microphone que de remettre en question ce qui fonde nos croyances et notre identité…
Photo by Nathaniel dahan on Unsplash
Vous avez aimé votre lecture ? Soutenez l'auteur sur Tipeee, Patreon, Paypal, Liberapay ou en millibitcoins 34pp7LupBF7rkz797ovgBTbqcLevuze7LF. Même un don symbolique fait toute la différence ! Retrouvons-nous ensuite sur Facebook, Twitter ou Mastodon.
Ce texte est publié sous la licence CC-By BE.
17 Sep 2018 1:30pm GMT
Last week, nearly 1,000 Drupalists gathered in Darmstadt, Germany for Drupal Europe. In good tradition, I presented my State of Drupal keynote. You can watch a recording of my keynote (starting at 4:38) or download a copy of my slides (37 MB).
Drupal 8 continues to mature
I started my keynote by highlighting this month's Drupal 8.6.0 release. Drupal 8.6 marks the sixth consecutive Drupal 8 release that has been delivered on time. Compared to one year ago, we have 46 percent more stable Drupal 8 modules. We also have 10 percent more contributors are working on Drupal 8 Core in comparison to last year. All of these milestones indicate that the Drupal 8 is healthy and growing.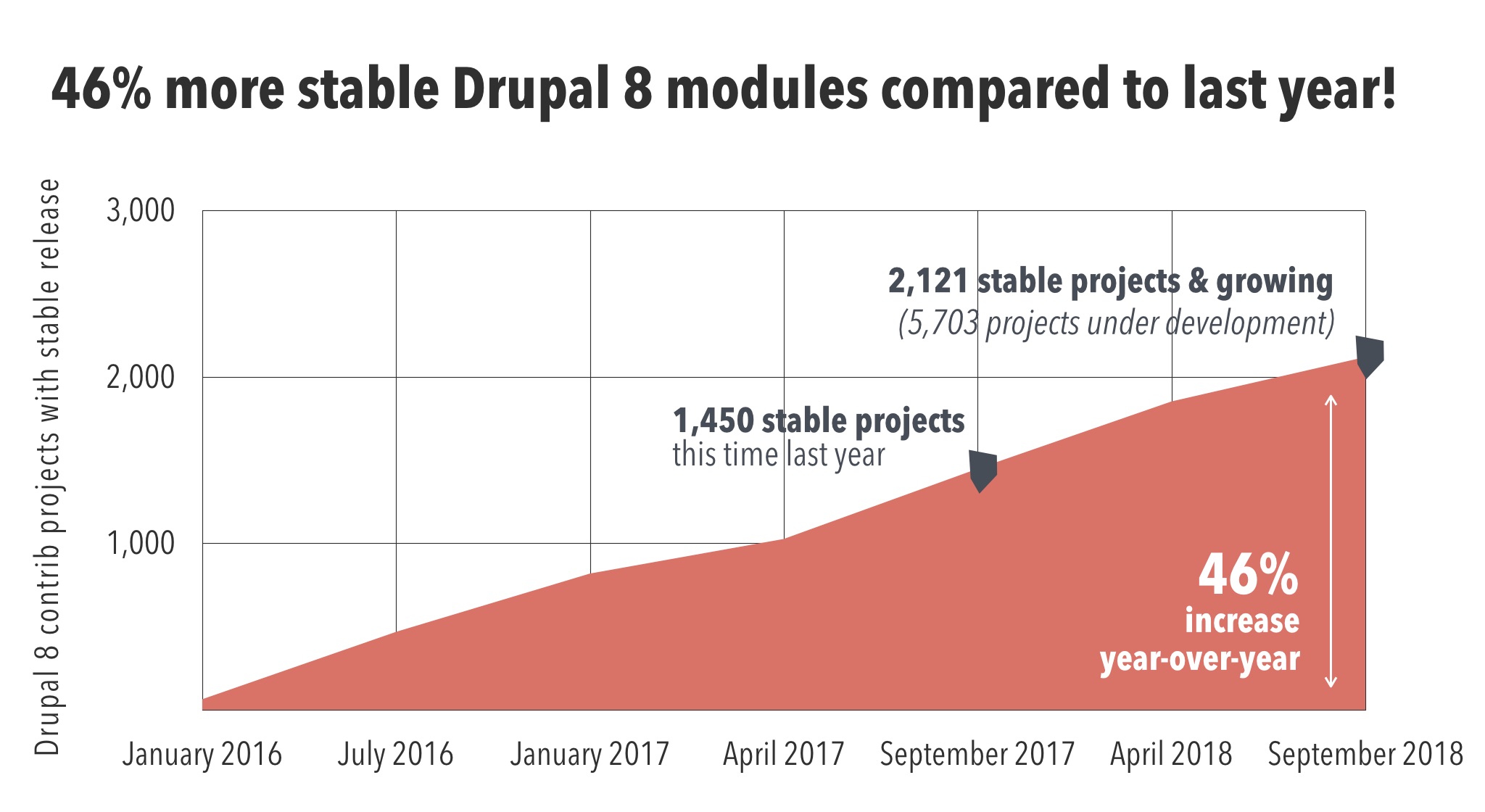 Next, I gave an update on our strategic initiatives: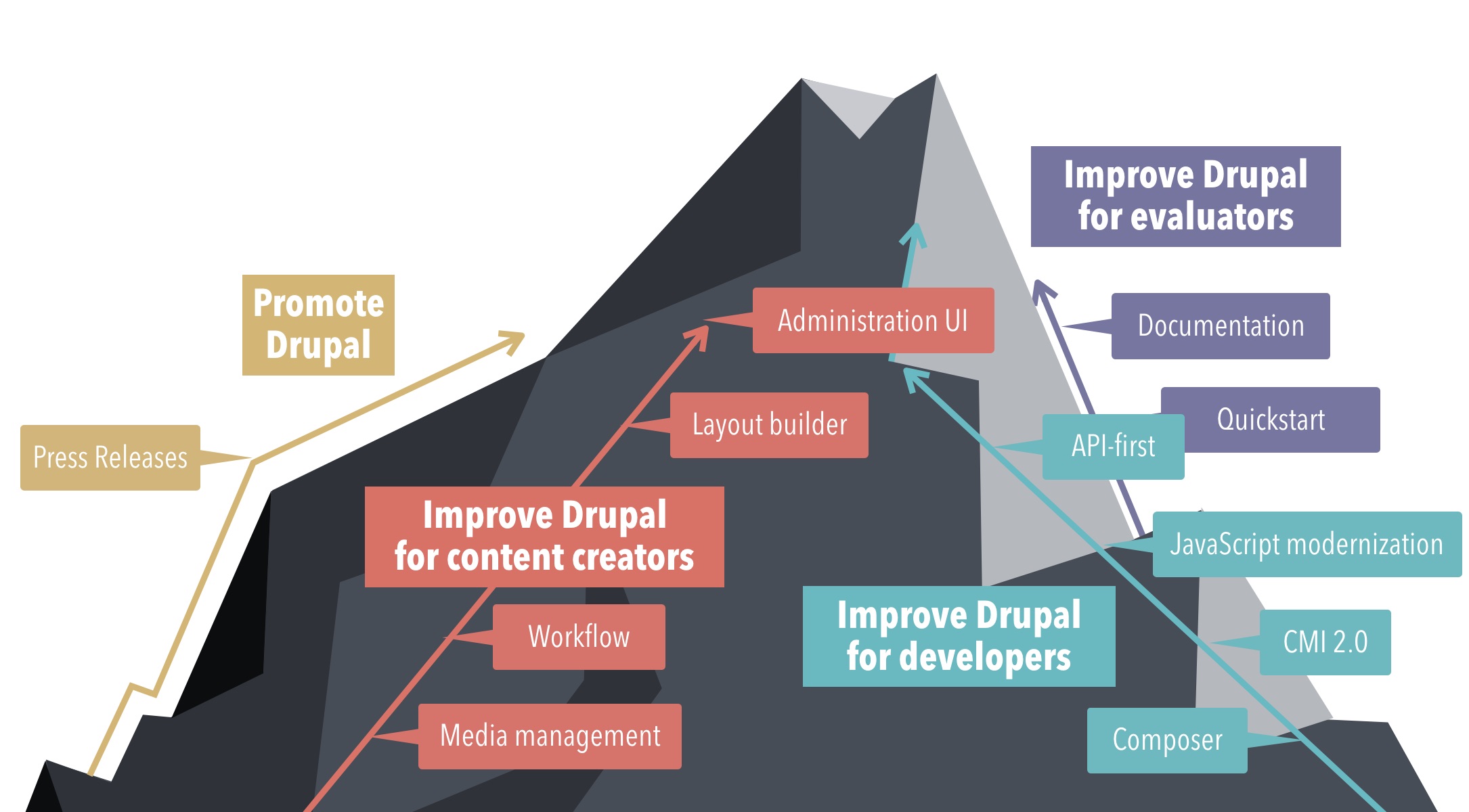 Make Drupal better for content creators
© Paul Johnson
The expectations of content creators are changing. For Drupal to be successful, we have to continue to deliver on their needs by providing more powerful content management tools, in addition to delivering simplicity though drag-and-drop functionality, WYSIWYG, and more.
With the release of Drupal 8.6, we have added new functionality for content creators by making improvements to the Media, Workflow, Layout and Out-of-the-Box initiatives. I showed a demo video to demonstrate how all of these new features not only make content authoring easier, but more powerful:
We also need to improve the content authoring experience through a modern administration user interface. We have been working on a new administration UI using React. I showed a video of our latest prototype:
Extended security coverage for Drupal 8 minor releases
I announced an update to Drupal 8's security policy. To date, site owners had one month after a new minor Drupal 8 release to upgrade their sites before losing their security updates. Going forward, Drupal 8 site owners have 6 months to upgrade between minor releases. This extra time should give site owners flexibility to plan, prepare and test minor security updates. For more information, check out my recent blog post.
Make Drupal better for evaluators
One of the most significant updates since DrupalCon Nashville is Drupal's improved evaluator experience. The time required to get a Drupal site up and running has decreased from more than 15 minutes to less than two minutes and from 20 clicks to 3. This is a big accomplishment. You can read more about it in my recent blog post.
Promote Drupal
After launching Promote Drupal at DrupalCon Nashville, we hit the ground running with this initiative and successfully published a community press release for the release of Drupal 8.6, which was also translated into multiple languages. Much more is underway, including building a brand book, marketing collaboration space on Drupal.org, and a Drupal pitch deck.
The Drupal 9 roadmap and a plan to end-of-life Drupal 7 and Drupal 8
To keep Drupal modern, maintainable, and performant, we need to stay on secure, supported versions of Drupal 8's third-party dependencies. This means we need to end-of-life Drupal 8 with Symfony 3's end-of-life. As a result, I announced that:
Drupal 8 will be end-of-life by November 2021.
Drupal 9 will be released in 2020, and it will be an easy upgrade.
Historically, our policy has been to only support two major versions of Drupal; Drupal 7 would ordinarily reach end of life when Drupal 9 is released. Because a large number of sites might still be using Drupal 7 by 2020, we have decided to extend support of Drupal 7 until November 2021.
For those interested, I published a blog post that further explains this.
Adopt GitLab on Drupal.org
Finally, the Drupal Association is working to integrate GitLab with Drupal.org. GitLab will provide support for "merge requests", which means contributing to Drupal will feel more familiar to the broader audience of open source contributors who learned their skills in the post-patch era. Some of GitLab's tools, such as inline editing and web-based code review, will also lower the barrier to contribution, and should help us grow both the number of contributions and contributors on Drupal.org.
To see an exciting preview of Drupal.org's gitlab integration, watch the video below:
Thank you
Our community has a lot to be proud of, and this progress is the result of thousands of people collaborating and working together. It's pretty amazing! The power of our community isn't just visible in minor releases or a number of stable modules. It was also felt at this very conference, as many volunteers gave their weekends and evenings to help organize Drupal Europe in the absence of a DrupalCon Europe organized by the Drupal Association. From code to community, the Drupal project is making an incredible impact. I look forward to celebrating our community's work and friendships at future Drupal conferences.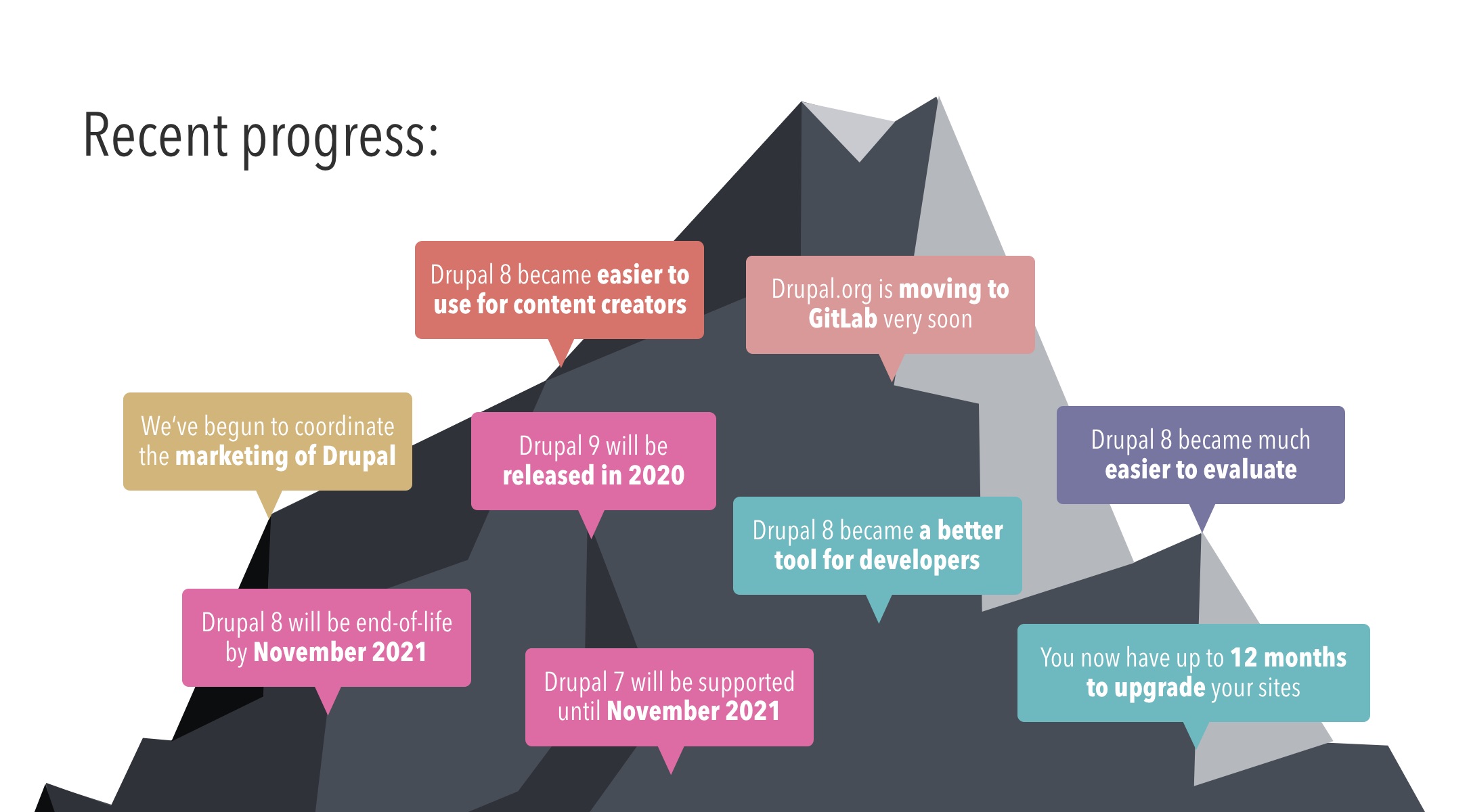 17 Sep 2018 8:08am GMT
08 Nov 2011
papupapu39 · http://identi.ca/url/56409795 #fosdem #freeknowledge #usamabinladen · about a day ago from web. Help · About · FAQ · TOS · Privacy · Source · Version · Contact. Identi.ca is a microblogging service brought to you by Status.net. ...
08 Nov 2011 12:28am GMT
05 Nov 2011
FOSDEM (Free and Open Source Development European Meeting) is a European event centered around Free and Open Source software development. It is aimed at developers and all interested in the Free and Open Source news in the world. ...
05 Nov 2011 1:19am GMT
03 Nov 2011
FOSDEM (Free and Open Source Development European Meeting) is a European event centered around Free and Open Source software development. It is aimed at developers and all interested in the Free and Open Source news in the ...
03 Nov 2011 3:45pm GMT
26 Jul 2008
If you see this message in your RSS reader, please correct your RSS link to the following URL: http://fosdem.org/rss.xml.
26 Jul 2008 5:55am GMT
25 Jul 2008
These pages have been archived.
For information about the latest FOSDEM edition please check this url: http://fosdem.org
25 Jul 2008 4:43pm GMT
09 Mar 2008
Two weeks after FOSDEM and we are proud to publish most of the slides and videos from this year's edition.
All of the material from the Lightning Talks has been put online. We are still missing some slides and videos from the Main Tracks but we are working hard on getting those completed too.
We would like to thank our mirrors: HEAnet (IE) and Unixheads (US) for hosting our videos, and NamurLUG for quick recording and encoding.
The videos from the Janson room were live-streamed during the event and are also online on the Linux Magazin site.
We are having some synchronisation issues with Belnet (BE) at the moment. We're working to sort these out.
09 Mar 2008 3:12pm GMT