09 Nov 2011
Another November, another Fedora. 16 came out, so it was time to update mach again.
And today I thought, is there any reason mach isn't 1.0 yet ? Am I going to do anything more to this piece of code before I want to call it that ?
And the answer is, no. It's the first Python application I've written, and I'm not particularly proud of the code, but I'm happy I've made good use of it for so long, and that it helped push packaging approaches forward and sparked ideas for the Fedora build system.
Since I didn't like the original code for mach2 (there was a version 1 which was Makefile-based), I started a rewrite with unit tests, better code layout, decent classes for abstracting distro-specific stuff, and so on.
The experience of how mock was created based off mach2 was a slightly sour one however, so I wasn't really motivated to finish the mach3 rewrite. Sometimes that's the drawback of open source - sure, forking is specifically allowed, so don't whine about it when it happens. But when it's done gratuitously, with no serious attempt at collaborating, it doesn't feel like it's in the spirit of open source.
Anyway, that was a long time ago. mach2 as it is today, is done. It really only needs updating for newer versions. As long as it works for me, it's unlikely I will continue mach3, but who knows?
Enjoy the release!
09 Nov 2011 10:56pm GMT

This is mostly for my own reference, but since it might be useful to others:

By "Properly booting" I mean "Integrating into the boot system as well as Mac OS X does". The device should be visible from the boot picker menu and should be selectable as a startup disk. For this to happen the boot should be in HFS+ format and have the following files:
/mach_kernel (can be empty)
/System/Library/CoreServices/boot.efi (may be booted, if so should be a symlink to the actual bootloader)
/System/Library/CoreServices/SystemVersion.plist which should look something like


<xml version="1.0" encoding="UTF-8"?>
<plist version="1.0">
<dict>
        <key>ProductBuildVersion</key>
        <string></string>
        <key>ProductName</key>
        <string>Linux</string>
        <key>ProductVersion</key>
        <string>Fedora 16</string>
</dict>
</plist>

That's enough to get it to appear in the startup disk boot pane. Getting it in the boot picker requires it to be blessed. You probably also want a .VolumeIcon.icns in / in order to get an appropriate icon.

Now all I need is an aesthetically appealing boot loader.


comments
09 Nov 2011 10:06pm GMT

From time to time i want to answer on mails on Debian mailinglists that i am not subcribed to. To have proper reply-headers set, i usually copied the archive mbox from master.debian.org to my local machine.
Now i found a much nicer way.

apt-get install fuse afuse sshfs
adduser zobel fuse
mkdir ~/fuse/
afuse -o mount_template="sshfs %r:/ %m" -o unmount_template="fusermount -u -z %m" -o timeout=60 ~/fuse
mutt -f /home/zobel/fuse/master.debian.org/home/debian/lists/debian-user/debian-user.201111

09 Nov 2011 10:04pm GMT

I recently started getting mails from no-reply@joindiaspora.com. Usually, a mail from no-reply@whatever is enough to make me believe that the admins of said whatever are clueless regarding what e-mail means and how should it work. And in this case, it really amazes me - If I get an invite to Diaspora*, right, I should not pester a hypothetical sysadmin@joindiaspora.com to get me off his list, but I should be able to reply to the person mailing me - Maybe requesting extra details on what he is inviting me to, or allowing me to tell him why I'm not interested. But yes, Diaspora* has fallen to the ease of requiring me to join their network to be able to communicate back with the "friend" who invited me.
Some of the (three?) readers of this site might not be familiar with the Diaspora* project. It is a free reimplementation (as far as I know) of something similar to Facebook - Free not only in the sense that it runs free software, but also because it is federated - Your data will not belong to a specific company (that is, you are not the value object they sell and make money with), but you can choose and switch (or become) the provider for your information. A very interesting proposal, socially and technically.
I find that a gross violation of netiquette. I should be able to reply to the mail - Even if in this case it were to (and sorry - As you are spreading my name/mail, you will excuse me if I spread your name ;-) ) fernando.estrada.invite1501335@joindiaspora.com. Such an (fictional FWIW) address would allow for mail to reach back the submitter by the same medium it was sent, without allowing open spamming into the network.
Now, what prompted me to write this mail (just before adding no-reply@joindiaspora.com to my blacklist) is the message I got (in an ugly HTML-only mail which erroneously promised to be text/plain, sigh...) is that Fernando sent me as the inviting message, «So, at least are you going to give Diaspora a chance?»
The answer is: No..
But not because of being a fundamentalist. Right, I am among what many people qualify as Free Software zealots, but many of my choices (as this one is) is in no way related to the software's freeness. I use non-free Web services, as much as many of you do. Yes, I tend to use them less, rather than more (as the tendency goes).
But the main reason I don't use Twitter is the same reason I don't use Identi.ca, its free counterpart - And the reason I'm not interested in Facebook is the same reason I will not join Diaspora* - Because I lack time for yet another stream of activity, of information, of things to do and think about.
Yes, even if I care about you and I want to follow what's going on in your life: The best way to do it is to sit over a cup of coffee, or have some dinner, or to meet once a year in the most amazing conference ever. Or we can be part of distributed projects together, and we will really interact lots. Or you can write a blog! I do follow the blogs of many of my friends (plus several planets), even if they have fallen out of fashion - A blog post pulls me to read it as it is a unit of information, not too much depending on context (a problem when I read somebody's Twitter/Identica lines: You have to hunt a lot of conversations to understand what's going on), gives a true dump of (at least one aspect of) your state of (mind|life|work), and is a referenceable unit I can forward to other people, or quote if needed.
So, yes, I might look old-fashioned, clinging to the tools of the last-decade for my Social Web presence. I will never be a Social Media Expert. I accept it - But please, don't think it is a Stallmanesque posture from me. It is just that of a person who can lose too much time, and needs to get some work done in the meantime.
(oh, of course: Blog posts also don't have to make much sense or be logically complete. But at least they allow me to post a full argument!)
09 Nov 2011 5:55pm GMT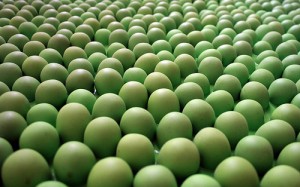 (Source: www.esa.org)
In biology, it is proven that consanguinity between members belonging to the same group (example: people living in the same closed area or animals from the same breed) may affect their resistance to certain diseases or reduce certain physical characteristics. It's important to keep some level of diversity. The latest Juniper story made me remember the talk about "monoculture" presented at BlackHat Europe 2011.
A few days ago, some parts of the Internet were affected by a bug in Juniper routers BGP update code. If you have a look at the market of the core-routers, it is dominated by two manufacturers: Cisco & Juniper. Routers operated by major ISPs are crucial to maintain the Internet reliable. If most of those devices are coming from a unique manufacturer (or a very limited number of them), you increase the risks to face big issues if they are affected by a bug or a security flaw.
Now, speaking about devices or applications in general (the core-routers were just an example) and from a business point of view, monoculture is positive:
You can negotiate better prices (more items you buy, more discount you receive),
You can easily negotiate with other resellers,
You find plenty of engineers with the enough knowledge or external consultants,
Your engineers don't need multiple skills and certifications,
Plenty of on-line resources may help you,
You get some nice goodies from the manufacturers.
But, putting the layer-8 (the "political layer") aside, monoculture has side effects:
Big players offer a very large attack surface to hackers (They will select the most deployed targets),
Manufacturers don't have time to re-invent the wheel and different products may re-use the same (vulnerable) piece of code,
Big players might be slower to react to vulnerabilities,
Big players might be less motivated for changes,
Your vision of the market is restricted.
Like in biology, monoculture can generate catastrophic situations in case of a successful attack or major bug. I don't say that big players do a bad job (otherwise they could never reach such part of the market). Just don't behave like a lemming. Choose the solution which match your requirements and not just because "it's a big name".
Do you remember the French movie "Les Rivières Pourpre" ("The Crimson Rivers") with the closed society of Guernon?
09 Nov 2011 1:44pm GMT
Flynn has to spend 10 days at the hospital due to a kidney & blood infection :_( (Taken with Instagram at AZ Sint-Lucas)
09 Nov 2011 12:18pm GMT
08 Nov 2011
papupapu39 · http://identi.ca/url/56409795 #fosdem #freeknowledge #usamabinladen · about a day ago from web. Help · About · FAQ · TOS · Privacy · Source · Version · Contact. Identi.ca is a microblogging service brought to you by Status.net. ...
08 Nov 2011 12:28am GMT
05 Nov 2011
FOSDEM (Free and Open Source Development European Meeting) is a European event centered around Free and Open Source software development. It is aimed at developers and all interested in the Free and Open Source news in the world. ...
05 Nov 2011 1:19am GMT
03 Nov 2011
FOSDEM (Free and Open Source Development European Meeting) is a European event centered around Free and Open Source software development. It is aimed at developers and all interested in the Free and Open Source news in the ...
03 Nov 2011 3:45pm GMT
26 Jul 2008
If you see this message in your RSS reader, please correct your RSS link to the following URL: http://fosdem.org/rss.xml.
26 Jul 2008 5:55am GMT
25 Jul 2008
These pages have been archived.
For information about the latest FOSDEM edition please check this url: http://fosdem.org
25 Jul 2008 4:43pm GMT
09 Mar 2008
Two weeks after FOSDEM and we are proud to publish most of the slides and videos from this year's edition.
All of the material from the Lightning Talks has been put online. We are still missing some slides and videos from the Main Tracks but we are working hard on getting those completed too.
We would like to thank our mirrors: HEAnet (IE) and Unixheads (US) for hosting our videos, and NamurLUG for quick recording and encoding.
The videos from the Janson room were live-streamed during the event and are also online on the Linux Magazin site.
We are having some synchronisation issues with Belnet (BE) at the moment. We're working to sort these out.
09 Mar 2008 3:12pm GMT