19 Sep 2018

GNOME.Asia 2018 was co-hosted with COSCUP and openSUSE Asia this year in Taipei, Taiwan. It was a good success and I enjoyed it a lot. Besides, meeting old friends and making new ones are always great.
Talks
Desktop applications: life inside a sandbox - David King
Flatpak, as you all know, is quite popular and useful these days. So it's good to know some implementation details from this talk.
Introducing Team Silverblue - Matthias Clasen
As Matthias mentioned in his talk, it's his first time to give this talk. And I think it was quite a success. It's a new variant of Fedora Workstation and it provides the excellent support to container-based workflows.
The future of the computer classrooms - GNOME inside - Eric Sun
I have to say I enjoyed this talk the most in the conference. Eric used ezgo Linux as an example and explained some interesting ideas, which blows my mind. When we were young and in the computer class, we were taught to use Microsoft Office, Photoshop, etc. All these are . And these software are gonna be the the top options when you are thinking about choosing a office/picture editing software.
There are more, but I can't include them all
Socials
The welcom party was held at a bar near Taipei 101. The bar has a open platform, where you have a great view, which is pretty good. You can find beer, food and of course friends there.
We had a one-day tour to Taipei Palace Museum and Taipei 101 the day after the conference. We had various dumplings and some delicious food for lunch at Din Tai Fung(A top restaurant at 101 where you need queue around 90 mins even at weekday). It was well organized. And a big thank you for Max
Finally
Thanks Max for all the effort making this conference happen. Thanks GNOME Foundation for Sponsorship my trip to the conference.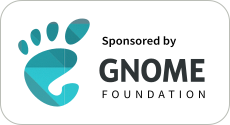 19 Sep 2018 6:23am GMT
18 Sep 2018

Wordpress
I have been using Wordpress for long. Basically since I joined GNOME because it was required for GSoC. Wordpress works, it's okay. There are themes, it has a wysiwyg editor and you can embed images and videos quite easily. It kinda does the job…
The bad
Now, one of the biggest problems are ads. Not that they exist, which is completely understandable, but rather that they are kinda crazy. I got reports that sometimes they were about guns in USA, or they lead to scam sites.
I also missed a way to link to my personal twitter/linkdin/gitlab. That's quite useful for people to check what other things I write about and how to get more info about what I do.
The ugly
More on the technical side, one of the issues was that I coulnd't create a draft post and share it in private with other people so I could get some review. This was specially required for Nautilus anouncements. And in case I could, how could we collaborate in editing the post itself? That was simply not there.
Most importantly, I couldn't give personality to the blog. In the same way I want the software I use being neutral because for it's just a tool, my personal blog should be more repsentative on how I am and how I express myself. With Wordpress this was not possible. Hell, I couldn't even put some colors here and there, or take the bloat out from some of the widgets provided by the Wordpress themes.
The enlightenment…
Once upon a time, on a stormy day, I wrote the blog post about the removal and future plans of the desktop icons as a guest writter on Didier's Roche blog. And here came the enligthening, he was using some magic PR workflow in GitHub where I could just fix stuff, request to merge those changes, review happens, then gets accepted and published all automatically with CI.
Finally you could review, share drafts, and collaborate much easily than with Wordpress!
Not only that, but also his blog was much more personalized, closer to how he wanted to express himself.
The decision
One thing I had have in the back of my mind for some time is that I need to improve my skills with non-GNOME stuff, specially web and cloud technologies. So what a better oportunity than trying to set up a static web generator for blogs (and other stuff) to mimic the features of Didier's blog?
And decided was it, got some free time this weekend and decided to learn this magic stuff.
The technology
I decided to go with Hugo, because back when I was experimenting with GitLab pages and a project page for Nautilus Hugo seemed to be the easiest and most convenient tech to create a static website that just works. Overall, it seems that Hugo is the most used static website generator for blogs.
I also decided that I would get a theme based in the well known and well maintained bootstrap. Most themes had some custom CSS, all delicately and manually crafted. But let's be honest, I don't want to maintain this, I wanted something simple I can go with.
So I chose the minimal theme wich is based in bootstrap and then applied my own changes such as a second accent (the red in the titles), support for centered images, the Ubuntu font (which I use it everywhere I can), some navbar changes, full content rss support, lot of spacing adjustments, softer main text coloring, etc.
Also, I could finally put a decent comment section by using DisQus, which is added to Hugo with a single line. Eventually I would like to go with a free software solution such as Talkyard, so far I didn't have luck to make it work.
The nicest thing of Hugo is that adding a new post is a matter of dropping a MarkDown file in the post folder. And that's it. That easy.
The result
So here's the result. I think it's quite an improvement versus what I had in Wordpress, although Antonio says that the page looks like Nautilus… I guess I cannot help myself. Let's see how it works in the future, specially since there is no wysiwyg editor. To be honest, using MarkDown is so easy that I don't see that as a problem so far.
I can even embed some code with highlighting for free:

def do_measure(self, orientation: Gtk.Orientation,
               for_size: int) -> Tuple[int, int, int, int]:
    child = self.get_child()
    if not child:
        return -1, -1, -1, -1

    minimum, natural, _x, _x = child.measure(orientation, for_size)
    if self._max_width is not None and orientation == Gtk.Orientation.HORIZONTAL:
        natural = min(self._max_width, natural)

    return minimum, natural, -1, -1


And use Builder with Vim emulation to write this. That is already a big win!
If you want to take a look at the code or do something similar, feel free to take a look and use anything from the code in GNOME's GitLab. I also added an example post in order to see all formats for headings, bullet lists, images, code blocks, etc. Any feedback about the looks, functionality, content, etc. is welcome; finally I would be able to do something about it 😏.
Hasta otra amigos 🍹
18 Sep 2018 11:53am GMT
17 Sep 2018

As I teased about last week I recently played around with WSL, which lets you run Linux applications on Windows. This isn't necessarily very useful, as there isn't really a lack of native applications on Windows, but it is still interesting from a technical viewpoint.
I created a wip/WSL branch of flatpak that has some workarounds needed for flatpak to work, and wrote some simple docs on how to build and test it.
There are some really big problems with this port. For example, WSL doesn't support seccomp or network namespaces which removes some of the utility of the sandbox. There is also a bad bug that makes read-only bind-mounts not work for flatpak, which is really unsafe as apps can modify themselves (or the runtime). There were also various other bugs that I reported. Additionally, some apps rely on things on the linux host that don't exist in the WSL environment (such as pulseaudio, or various dbus services).
Still, its amazing that it works as well as it does. I was able to run various games, gnome and kde apps, and even the linux versions of telegram. Massive kudos to the Microsoft developers who worked on this!
I know you crave more screenshots, so here is one: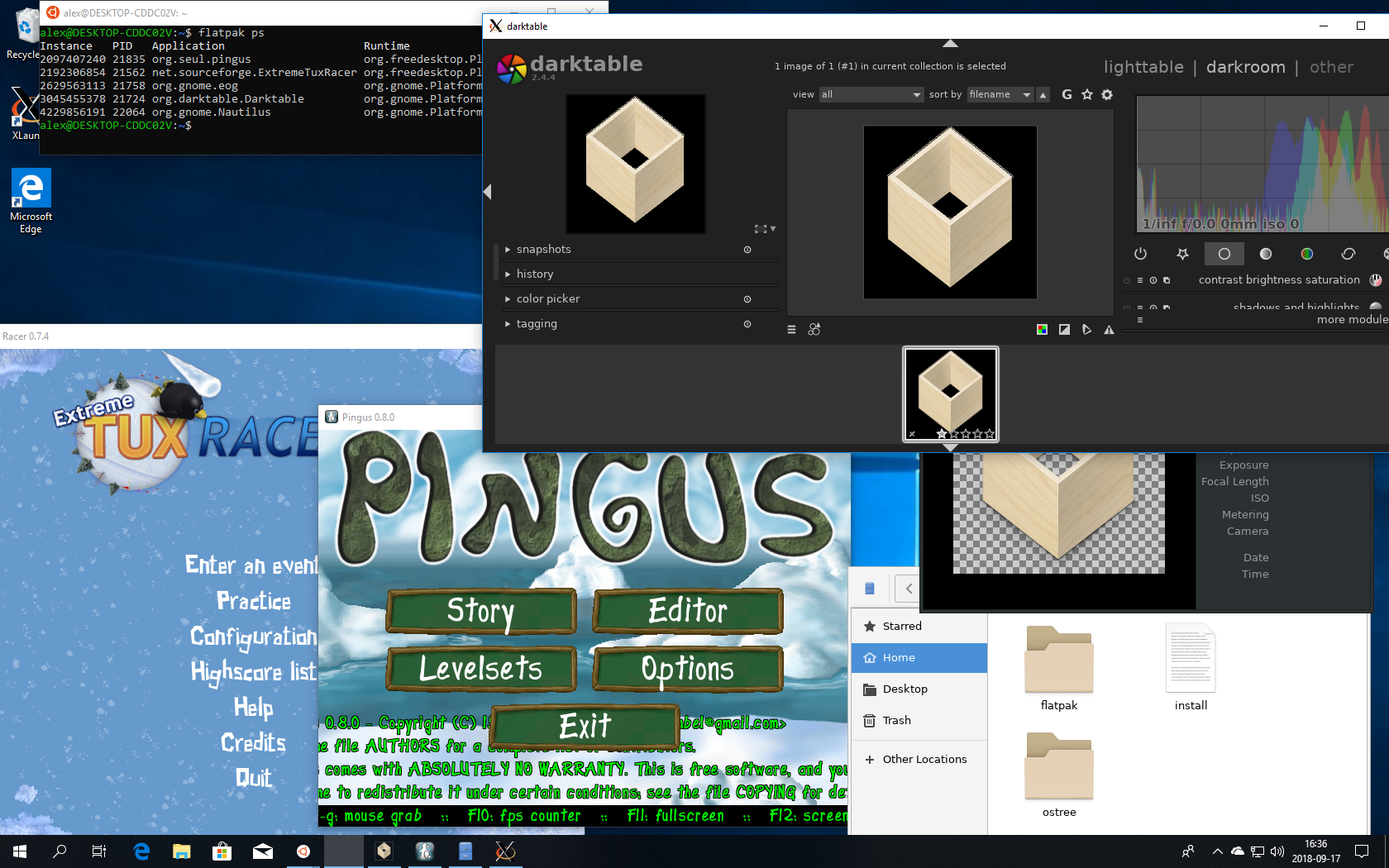 17 Sep 2018 2:50pm GMT
10 Sep 2018
All Systems Go! 2018 Tickets Selling Out Quickly!
Buy your tickets for All Systems Go! 2018 soon, they are quickly selling out! The conference takes place on September 28-30, in Berlin, Germany, in a bit over two weeks.
Why should you attend? If you are interested in low-level Linux userspace, then All Systems Go! is the right conference for you. It covers all topics relevant to foundational open-source Linux technologies. For details on the covered topics see our schedule for day #1 and for day #2.
For more information please visit our conference website!
See you in Berlin!
10 Sep 2018 10:00pm GMT
09 Sep 2018
Last month KDE Akademy was held in Vienna. It was the first Akademy I visited and there wasn't yet time to write a bit about the impression I got from it, judging what was nice and what could be improved from the point of view of someone new to it. Time to catch up on that.
Akademy came at a bad point in time for me. I was right in the middle of writing code for a larger feature in KWin's Wayland session: drag-and-drop support between Wayland native and Xwayland windows. When I began the work on this feature back in July I hoped that I could finish it until Akademy. Not being able to do so felt demotivating, but I have to admit my plan was way too optimistic anyways. Only now, several weeks after Akademy, I feel comfortable enough about my code to use it on my work system without constant anxiety for fatal session crashes. But anyway, I went to my first Akademy with a bit less enthusiasm, as I otherwise probably would have shown. On the other side this gives me maybe also a more neutral take on it.
Akademy is basically split into two phases: the talks at the beginning on Saturday and Sunday and the BoFs for the rest of the time from Monday till Friday.
The talks
This is basically what you expect from a conference. Talks by people involved in the community or friends from the outside about different topics related to KDE. And these topics were very different indeed, what shows how large the KDE community and its reach really is. Often KDE is identified with the desktop environment Plasma alone, but there is much more to it. Having this kind of diversity in topics is a great plus to Akademy.
Still one has to say that Plasma is KDE's flagship offering and by that deserves a central spot in the lineup. So judging from a Plasma dev point of view was this the case at this Akademy? That's difficult to judge. There were interesting longer talks by David and Nate about the core Plasma Desktop experience, David's talk technical, Nate's talk on a broader more visionary note they both presented a path forward for Plasma. There were also talks about Plasma in other contexts, for example by Bhushan about Plasma on Mobile.
So judging by quantity there were enough Plasma talks I would say. Also I can't really complain, since I personally did not contribute to increasing the quantity by submitting a talk proposal myself. The reason was just that on my first Akademy I wanted to be a listener only. So let us say quantity was fine and quality from what I can tell as a listener as well.
Still there was a distinct feel of too few, too disconnected, and I believe especially too disconnected describes it correctly, not only in regards to Plasma. The talks were spread out over two days in two different sized rooms somewhat randomly. There was no noticeable order to them or a grand arc connecting them besides being somewhat KDE related. One could argue this is a direct result of the KDE community being so diverse in interests and topics. But I believe with good planning by some key figures from the different parts of the community the talks could have been placed better and feel less disjointed. Also more relevant key notes would have helped. They could have provided for example an overarching focus point of the conference interconnecting the talks.
The BoFs
The second part of Akademy were the BoFs, what went for a full workweek. BoF means Birds of a feather and it denotes an informal discussion group about a specific topic. There were many BoFs, often in parallel, and I visited lots of them.
I won't go into detail for all of them, but a general impression I got was that there is no clear definition of what a BoF should be and what should happen. What is kind of the point of a BoF but somewhat still often disappointing. In an extreme case a BoF I visited was more an internal discussion of a team of half a dozen people working closely together and left everybody just interested in learning more about the project on the outside since they did not know enough about the project's internals yet. The BoF itself was not named as such and outsiders visiting out of interest were for sure disappointed. Other BoFs were more welcoming to newcomers, but still lacked a guiding structure or just someone moderating the discussion efficiently.
A plan to improve the BoF sessions could be the following: split them up into a mandatory common / introductory part and an optional team / current progress / special topic part, and advertise them as such to conference attendees. While both parts would still be open to anyone, the common part would be specifically suited for newcomers to the project while the team part can be used to discuss current topics in-depth. This at first sounds like it is double the work for project members, but the common part could be simply some reusable presentation slides explaining the core structure of the project together with a Q&A session. So I believe the additional amount of work is small. Also people would know what they get into and could plan their time efficiently. Besides one person from the team, which would probably most often be the maintainer or project lead, others could avoid the introductory part and newcomers could avoid the team part if they don't yet feel knowledgeable enough to follow the discussion.
The organisation
In general I felt the conference was well organized for being done by volunteers, who were by the way super friendly and keen on helping and solving problems. There were a few issues ranging from non-functional printers to a way too small social event site, but they were so minor to not be worth delving into them more.
But there is one large issue that can not be ignored, and this is the availability and quality of videos form the conference. The videos have just been published recently and I think this is too late. They should be online not later than one week after Akademy.
And watching these videos is no fun at all. The talk recordings have a low resolution, filmed from way back in the room, and the voice quality often is abysmal. In comparison to last Akademy the vidoes already have improved, but they still lack the quality you would expect from an open tech community having the web as the main communication channel.
As an example what a good recording looks like take a look at this talk out of the chamber of darkness. I personally would take some of the Pineapple money and pay a team of professionals at next Akademy to record the talks in HD and upload them timely if we can not do it on our own. Enabling people who can not travel to Akademy to watch the presentations pleasantly and the additional exposure are always worth it.
The social and unofficial program
Of course technical topics are not everything about Akademy. The conference exists also to connect like-minded people and let otherwise semi-anonymous contributors meet each other in person, what often enables them to work better together on KDE projects in the future. Overall for me personally this was fine. I know most of the Plasma devs already and we just had a meeting in Berlin a few months ago. So there was not really that much need to talk in person again, although it helped for some current hot topics of course.
But there were some members of the VDG I was really looking forward to meet in person and the discussions we had were very fruitful. Also it was great to get to know Carlos from the GNOME project. I hope we can improve the collaboration of our communities in term of Wayland in the future. What I missed was talking more with some of the KDE Apps and Frameworks devs. I am not sure why this was. Maybe my personal area of work just does not intersect that much with apps developers at the moment.
Conclusion
This article was in some parts quite critical to Akademy, but that does not mean the conference was bad. Quite the contrary, I enjoyed meeting all the members and friends of the KDE community and I can recommend going there to anyone from user to maintainer of KDE software. It doesn't matter what kind of KDE offering you use or contribute to, you will find sessions that interest you and people who share that same interest. Next Akademy is in less than a year and I look forward to meeting you there again or for the first time.
09 Sep 2018 11:00am GMT
07 Sep 2018
TWIV3D has been inactive for a bit, because I've been inactive for a bit. On August 15th, we added Moss Anholt to our family:
So most of my time has been spent laying around with them and keeping us fed instead of writing software.
Here and there I've managed to write some patches. I've been working on meeting the current GLES3 CTS's requirement for a 565 window system buffer being available. We don't expose those on X11 today, because why would you? Your screen is 8888, so all you could do with 565 is render to a pixmap or buffer. Rendering to a pixmap is useless, becasue EGL doesn't tell you whether R is in the top or bottom bits, so the X11 client doesn't know how to interpret the rendered contents other than glReadPixels() (at which point, just use an FBO). My solution for this bad requirement from the CTS has been to add support for 565 pbuffers, which is pointless but is the minimum. This led to a patch to the xserver and a fix to V3D for blending against RTs without alpha channels.
I'm particularly proud of a small series to create a default case handler function for gallium pipe caps. Previously, every addition of a PIPE_CAP (which happens probably at least 10 times a year) has to touch every single driver, or that driver will start failing. It's easy to forget a driver, particularly when rebasing a series across the addition of a new driver. And for driver authors, you're faced with this list of 100 values which you don't know the correct state of when starting to write a driver. The new helper lets CAP creators set a default value (usually whatever the hardcoded value was before their new CAP), and lets driver authors specify a much smaller set of required caps to get started.
Just before Moss arrived, I had landed some patches to VC4 to improve texture upload/download performance. Non-GL SDL apps on glamor were really slow, because the window wouldn't be aligned to tiles and we'd download the tile-aligned area from the framebuffer to a raster-order temporary, store our new contents into it, then reupload that to the screen. The download from write-combined memory is brutally slow. My new code (mostly a rebase of patches I wrote in January 2017!) got the following results:
Improves x11perf -putimage10 performance by 139.777% +/- 2.83464% (n=5)
Improves x11perf -putimage100 performance by 383.908% +/- 22.6297% (n=11)
Improves x11perf -getimage10 performance by 2.75731% +/- 0.585054% (n=145)
I also wrote a followup patch to avoid the copy from the user's buffer into the temporary in the driver for texture uploads, for another 12.1586% +/- 1.38155% (n=145)
Other things since my last post:
Fixed VCM cache size setup and the V3D driver's idea of the VPM size.
Fixed a leak of X11 pixmaps backing pbuffers on DRI3.
Fixed vc4_fence_server_sync() on pre-syncobj kernels.
Fixed vc4 uniform offsets after a sampler in a structure.
Improved vc4 uniform upload performance.
Fixed vc4 MSAA tile loads when both Z and color are needed.
Fixed vc4 rendering to cubemap EGL images.
Fixed vc4 leak of the no-vertex-elements workaround BO.
Fixed some v3d register spilling bugs.
07 Sep 2018 12:30am GMT