19 Jan 2021
How many times have you recorded a video of a special moment only to discover that it's a shaky mess when you play it back? A gimbal stabilizer is a great way to create a smooth and steady video but its size makes it somewhat cumbersome to carry around the whole time. This is where […]

Come comment on this article: [Deal] The Zhiyun Smooth-X Gimbal Stabilizer with a built-in selfie stick is down to just $42 on Amazon

19 Jan 2021 2:00pm GMT
Having launched running Android 10 in 2020, it seems that the Android 11 update is now rolling out to the TCL 10L, which is great to see on a $250 handset. We've got the changelog for you after the break. The Android 11 OTA was discovered by HDblog, coming in with a 2.8GB file size […]

Come comment on this article: Android 11 OTA is rolling out to the TCL 10L

19 Jan 2021 1:46pm GMT
18 Jan 2021
Samsung launched its brand new Galaxy S21 series on January 14th with pre-orders going live after the virtual Unpacked event finished. Those who pre-order one of the three Galaxy S21 handsets will also snag themselves a free Galaxy SmartTag, Galaxy Buds Live, or Galaxy Buds Pro depending on the model they purchase. But which Galaxy […]

Come comment on this article: Check out these Galaxy S21 pre-order deals in the US and the UK

18 Jan 2021 11:14pm GMT
Today, we celebrate the legacy of Dr. Martin Luther King, Jr. through reflecting on our history and volunteering our time to help our communities. At Google, we see his enormous contributions and his impact on the fight for equality as reflected in Americans' search interests. He's the most-searched civil rights movement leader to date, and search interest for his "I Have a Dream" speech spikes in the U.S. every January, the month of his birthday.
This year, in honor of Dr. King, we invite you to visit "Still Dreaming," a miniature gallery created by Tammie Knight, designer and owner of Small Matters Miniatures, with photography from Google Arts & Culture archives curated by mixed-media artist Adrian Octavius Walker.
The front door of the miniature gallery featuring an image of Dr. King.

Creating the front door of the miniature gallery. Photo by Nathaniel King.

An archival photo of Dr. King with President Lyndon B. Johnson.

President Lyndon B. Johnson and the Rev. Dr. Martin Luther King, Jr. Credit: Yoichi Okamoto, U.S. National Archives

A woman with short hair and glasses looking down while working.

Tammie Knight, Designer and Owner of Small Matters Miniatures. Photo by Nathaniel King.

Tammie Knight in her home creative studio. Photo by Nathaniel King.

Inside the miniature gallery, "Still Dreaming." Photo by Nathaniel King.

A woman, seen from behind, sitting at a desk near a window working.

Tammie Knight in her home creative studio. Photo by Nathaniel King.
The gallery takes viewers on a journey through Martin Luther King Jr.'s legacy. It features rare photos of him taken throughout his lifetime, and you can explore the gallery thanks to footage taken by Nathaniel King.
"Dr. King was determined to fulfill his dream of one day being treated as an equal. He continuously took action in service of that dream, even when the outcome was uncertain," Walker says. "These images capture his drive and passion that inspired others to dream of equality in the face of uncertainty, both then and now."
The miniature gallery also features today's annual Google Doodle, created by Pittsburgh-based guest artist Noa Denmon. With artwork depicting parallel scenes from the 1960s and modern times, the Doodle celebrates the civil rights activist who has inspired multiple generations to join in the pursuit of equality and social justice.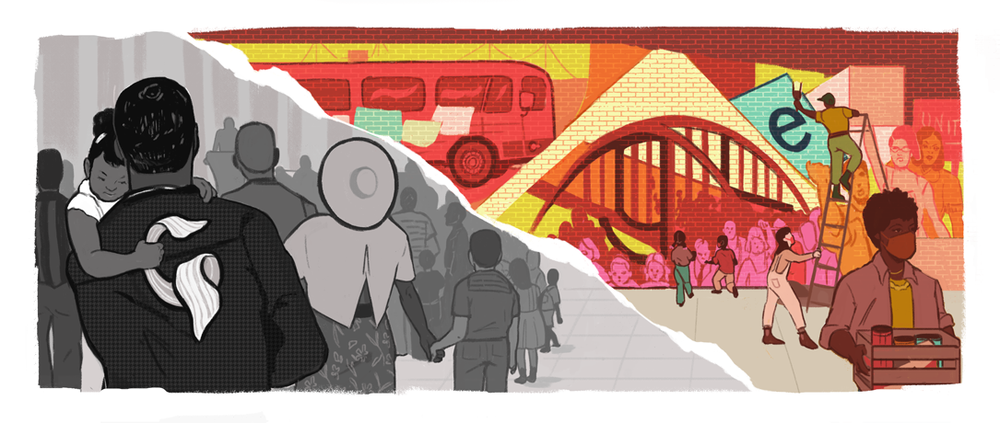 Since 2004, the most searched topic in the U.S. for quotations by Dr. King is "love," bringing to mind one of his most-remembered quotations, from his 1963 book, "Strength to Love:" "Darkness cannot drive out darkness; only light can do that. Hate cannot drive out hate; only love can do that."
Head to MLKDay.gov to learn about the MLK Day of Service and to find volunteer opportunities in your area.

18 Jan 2021 2:00pm GMT
17 Jan 2021
Today, I'm pleased to launch Google's 2020 Economic Impact Report - a look at our role in Australia which shows we're providing businesses and our users with a combined $53 billion in benefits every year.
Key findings:
1.3 million businesses receive $39 billion in benefits through increased revenues, millions of connections with customers and greater efficiencies, saving time and money

Consumers receive $14 billion in benefits via productivity, convenience and access to information

Search saves users almost 5 days a year, drivers save 5.6 hours per year using Google Maps

Australian app developers earned $639 million through Google Play reaching 1 billion users globally

60% go to small to medium businesses; 90% of benefits go to non-technology industries
Google's economic impact in Australia
Google started our first Australian office in a Sydney lounge room almost twenty years ago and in that time there's been incredible change. Our team in 2002 - just one person at the time - has now grown to be 1,800 strong and by enabling business expansion, our digital services like Google Ads and Google Play support an additional 116,200 jobs across the country. And many of our products, which were simply ideas back then, have grown to become an important part of the everyday lives of millions of Australians.
In all of that time, there's never been a year with so much change as we've just seen in 2020. The impacts of the pandemic and its effects on businesses has been overwhelming.
But at the same time, it's been inspiring to watch the way businesses across Australia have managed those challenges to cope. Our Economic Impact Report shows how businesses have increasingly moved online in this difficult year to provide vital services and succeed.
As our report demonstrates, there are now more than 1.3 million businesses in Australia using Google's free tools and services-to reach new customers, advertise effectively where they couldn't before and make use of new digital skills.
Helping businesses stay connected during the coronavirus pandemic
One of those companies using Google's tools is Bliss Gifts and Homewares, based on the South Coast of New South Wales. Early in 2020, the business was impacted by the devastating bushfire crisis before the coronavirus pandemic compounded the situation.
For a small business like Bliss located in a tourist town, the effects of the bushfires and COVID should have been devastating. But due to the fact they were already online and with the help of tools like Google Ads, owner Melissa Stone was remarkably able to not only grow the business but saw their revenue jump by 70% during COVID. Bliss' online presence is now 90 per cent of the business with the help of Google's tools.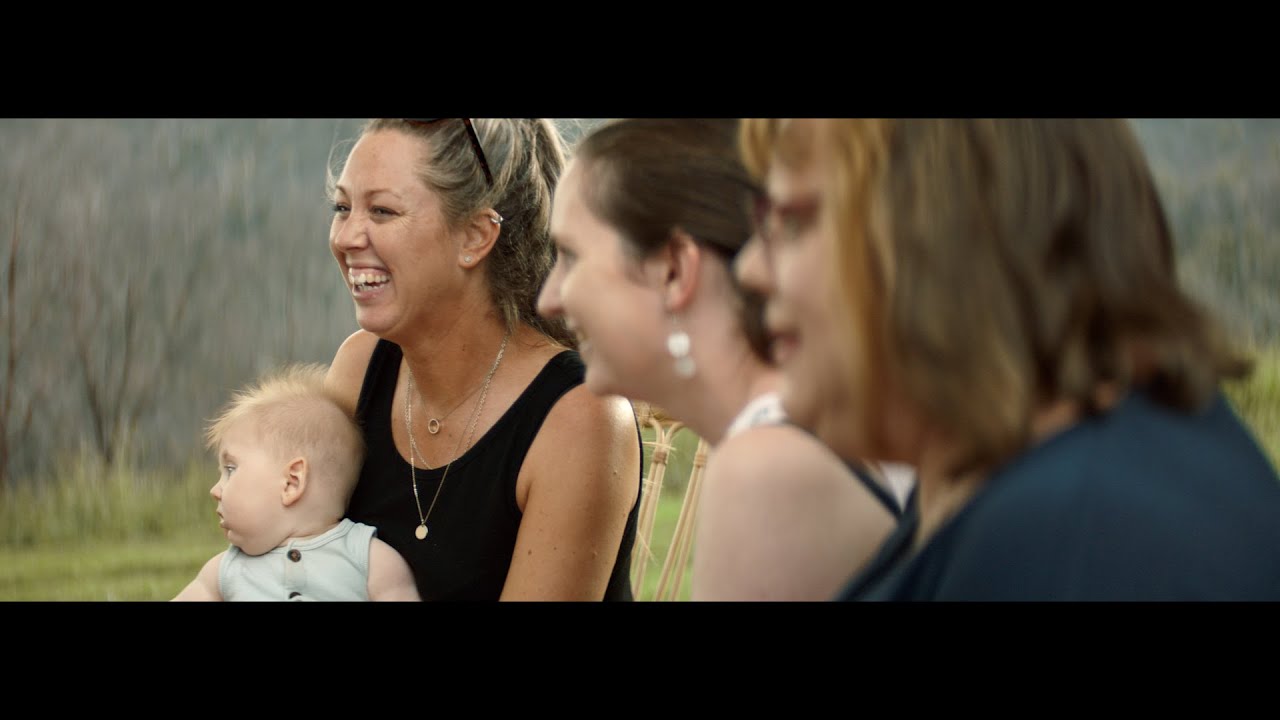 All over Australia, businesses like Melissa's shared a total of $39 billion in benefits through increased revenues, millions of connections with customers and greater efficiencies, saving time and money
90 per cent of those benefits went to industries outside of technology - like retail, construction and professional services. And 60 per cent were shared among small to medium businesses.
The report shows Australian app developers earned around $639 million through Google Play, reaching more than one billion users worldwide.
Helping our users save time and access important information
Google's products also provided $14 billion in annual benefits to consumers through increased productivity, convenience and improved access to information.
On average, Australians using Google Search save almost five days a year thanks to access to instantaneous information, while Australian drivers using Google Maps saved 5.6 hours on roads each year by optimising trips through our technology.
We're humbled by these findings and have been inspired by the resilience and spirit of the people in businesses across the country. Australia has ambitions to be a leading digital economy and we look forward to continuing to support that ambition.
You can read more about these benefits here.
17 Jan 2021 10:00pm GMT
17 Jan 2021 4:00pm GMT
15 Jan 2021
Posted by Florina Muntenescu, Developer Relations Engineer
We just wrapped up another series of MAD Skills videos and articles - this time on Kotlin and Jetpack. We covered different ways in which we made Android code more expressive and concise, safer, and easy to run asynchronous code with Kotlin.
Check out the episodes below to level up your Kotlin and Jetpack knowledge! Each episode covers a specific set of APIs, talking both about how to use the APIs but also showing how APIs work under the hood. All the episodes have accompanying blog posts and most of them link to either a sample or a codelab to make it easier to follow and dig deeper into the content. We also had a live Q&A featuring Jetpack and Kotlin engineers.
Episode 1 - Using KTX libraries
In this episode we looked at how you can make your Android and Jetpack coding easy, pleasant and Kotlin-idiomatic with Jetpack KTX extensions. Currently, more than 20 libraries have a KTX version. This episode covers some of the most important ones: core-ktx that provides idiomatic Kotlin functionality for APIs coming from the Android platform, plus a few Jetpack KTX libraries that allow us to have a better user experience when working with APIs like LiveData and ViewModel.
Check out the video or the article:
Episode 2 - Simplifying APIs with coroutines and Flow
Episode 2, covers how to simplify APIs using coroutines and Flow as well as how to build your own adapter using suspendCancellableCoroutine and callbackFlow APIs. To get hands-on with this topic, check out the Building a Kotlin extensions library codelab.
Watch the video or read the article:
Episode 3 - Using and testing Room Kotlin APIs
This episode opens the door to Room, peeking in to see how to create Room tables and databases in Kotlin and how to implement one-shot suspend operations like insert, and observable queries using Flow. When using coroutines and Flow, Room moves all the database operations onto the background thread for you. Check out the video or blog post to find out how to implement and test Room queries. For more hands-on work - check out the Room with a view codelab.
Episode 4 - Using WorkManager Kotlin APIs
Episode 4 makes your job easier with WorkManager, for scheduling asynchronous tasks for immediate or deferred execution that are expected to run even if the app is closed or the device restarts. In this episode we go over the basics of WorkManager and look a bit more in depth at the Kotlin APIs, like CoroutineWorker.
Find the video here and the article here, but nothing compares to practical experience so go through the WorkManager codelab.
Episode 5 - Community tip
Episode 5 is by Magda Miu - a Google Developer Expert on Android who shared her experience of leveraging foundational Kotlin APIs with CameraX. Check it out here:
Episode 6 - Live Q&A
In the final episode we launched into a live Q&A, hosted by Chet Haase, with guests Yigit Boyar - Architecture Components tech lead, David Winer - Kotlin product manager, and developer relations engineers Manuel Vivo and myself. We answered questions from you on YouTube, Twitter and elsewhere.
15 Jan 2021 2:08pm GMT
16 Dec 2020
Posted by Iliyan Malchev (Project Treble Architect), Amith Dsouza (Technical Account Manager) , and Veerendra Bhora (Strategic Partnerships Manager)
Extending Android updates on Qualcomm's Mobile Platforms
In the past few years, the latest Android OS has been adopted earlier by OEMs and deployed in larger numbers to our users. The growth in adoption has been driven by OEMs delivering faster OS updates, taking advantage of the architecture introduced by Project Treble.
At the time Android 11 launched there were 667M active users on Android 10, 82% of whom got their Android 10 build via an over the air (OTA) update. Despite the events throughout 2020, there is a continued momentum among our partners to either launch their devices on Android 11 or offer Android 11 OTAs on their devices earlier.
Our efforts till now have been focussed on making OS updates easier and faster to deploy. The other side of this coin is supporting updates for a longer period of time, and today we'd like to provide an overview of the changes we are making to help our partners achieve this.
Project Treble was an ambitious re-architecture of Android that created a split between the OS framework and device-specific low-level software (called the vendor implementation) through a well-defined, stable vendor interface. As a part of this split, the Android OS framework guarantees backward compatibility with the vendor implementation, which is checked through a standardized compliance test suite - VTS. With each Android release, Project Treble publishes Generic System Images (GSIs) that are built from AOSP sources, and are guaranteed to be backwards-compatible with the previous 3 versions of vendor implementations, in addition of course to the current release-for a total span of four years. Devices launching with the new Android release must have vendor implementations compatible with that GSI. This is the primary vehicle for reducing fragmentation within the OS framework. While we allow and encourage our partners to modify the framework itself, the modifications post-Treble must be done in a way that reduces upgrade costs from one version to the next.
Besides the reuse of a vendor implementation across OS updates, the Treble architecture also facilitates the re-use of the same OS framework code across different vendor implementations.
Another important change introduced by Project Treble is that new vendor-impacting requirements for Android devices are never retroactive. They apply only to devices launching on that Android version and not to devices upgrading from an older version. The term vendor-impacting here refers to requirements for new HALs, or for the shipping of a newer Linux kernel, to the device's vendor implementation. A good example might be a new revision of the camera HAL to support multiple rear camera sensors. Since the Android framework guarantees compatibility with the older HALs, we enable older vendor implementations to be reused by OEMs for upgrades without the considerable cost of updating them with new requirements.
This principle, combined with the backwards-compatibility guarantee, gives device manufacturers (OEMs) the flexibility to support upgrades both faster (since they have to upgrade just the framework, which would cover all of their devices, including those with older versions of the vendor implementation), as well as at a lower cost (since they do not have to touch the older vendor implementations).
However, seen from a System-on-Chip manufacturers' perspective, this design introduces additional complexity. For each SoC model, the SoC manufacturers now needed to create multiple combinations of vendor implementations to support OEMs who would use that chipset to launch new devices and deploy OS upgrades on previously launched devices.
The result is that three years beyond the launch of a chipset, the SoC vendor would have to support up to 6 combinations of OS framework software and vendor implementations. The engineering costs associated with this support limited the duration for which SoC vendors offered Android OS software support on a chipset. For every single chipset, the software support timeline would look like this:
Considering that SoC providers have dozens of SoC models at any point of time, the full picture looks closer to this:
The crux of the problem was that, while device requirements were never retroactive, the requirements for SoCs were. For example on Android Pie, SoCs had to support two versions of the Camera HAL API on a chipset if it was used to support new device launches and upgrades.
From this perspective, the solution was simple: we had to extend the no-retroactivity principle to the SoCs as well as to devices. With this change, the SoC provider would be able to support Android with the same vendor implementations on their SoCs for device launches as well as upgrades.
During the past year, we have been working hard to implement this solution. Building on our deep collaboration with our colleagues at Qualcomm, today we're announcing the results of this work. Going forward, all new Qualcomm mobile platforms that take advantage of the no-retroactivity principle for SoCs will support 4 Android OS versions and 4 years of security updates. All Qualcomm customers will be able to take advantage of this stability to further lower both the costs of upgrades as well as launches and can now support their devices for longer periods of time.
Going one step further, we're also reusing the same OS framework software across multiple Qualcomm chipsets. This dramatically lowers the number of OS framework and vendor implementation combinations that Qualcomm has to support across their mobile platforms and results in lowered engineering, development, and deployment costs. The diagram below indicates how significant the simplification is. From a software-support perspective, it's an altogether different situation:
This change is taking effect with all SoCs launching with Android 11 and later. By working closely with Qualcomm to offer an extended period of OS and security updates, we are looking forward to delivering the best of Android to our users faster, and with greater security for an extended period of time.
16 Dec 2020 6:03pm GMT
Posted by Eric Bahna, Product Manager
In October, we published the Android for Cars App Library to beta so you could start bringing your navigation, parking, and charging apps to Android Auto. Thanks for sending your feedback with our issue tracker, so we know where to improve and clarify things. Now we're ready to take the next step in delivering great in-car experiences.
Today, you can publish your apps to closed testing tracks in the Google Play Store. This is a great way to get feedback on how well your app meets the app quality guidelines, plus get your in-car experience in front of your first Android Auto users.
Three of our early access partners: T map, PlugShare,and 2GIS
We're preparing the Play Store for open testing tracks soon. You can get your app ready today by publishing to closed testing. We're eager to see what you've built!
16 Dec 2020 4:53pm GMT
21 Oct 2019
Fitbit has discontinued their Fitbit One step trackers, which seems like a good opportunity to step back and reflect on wearing one for the last decade or so. I've enjoyed using Fitbit trackers, but the One devices seemed like they broke down way too often. I'm pretty proud that I ended up earning all the […]
21 Oct 2019 3:06am GMT
04 Nov 2018
Do you need something to cheer you up? You got it: I should explain this costume a little bit. At the US Digital Service, we do a thing called "crab claws." Crab claws is like visual applause-you pinch your fingers up and down to say "great job" or "congratulations" or "way to go." We do […]
04 Nov 2018 8:02pm GMT
08 Mar 2018
Cindy Cutts, my wife and best friend, passed away earlier this week. While I was traveling for work recently, Cindy went to visit her family in Omaha, Nebraska. On Sunday, while enjoying time with family, Cindy started having trouble breathing. Her family quickly called 911 and paramedics took Cindy to the hospital, but Cindy lost […]
08 Mar 2018 12:17am GMT
01 Apr 2017
April Fools' Day should probably be called Google Fools' Day, since there are so many Google hoaxes.

Google Japan developed a "bubble wrap" version of the Japanese keyboard. "The Google Japanese input bubble wrap version is a keyboard that realizes 'I want to press in my mind, I want to keep pressing'," according to Google Translate.




Another product for your smart home? Meet Google Gnome, "a voice-activated, hands-free tool designed to make backyard living effortless. Need to know what animal is squeaking in your bushes? Stay still and ask Gnome what sound an opossum makes. Running low on birdseed? That's where Gnome comes in. You can even use Gnome's proprietary high-intensity lasers to trim your hedges into whatever shape your heart desires."




The Chrome OS team brings the most popular mobile accessories to the Chromebook, which already blurs the line between mobile and desktop. Chromebook Groupie Stick, Chromebook Cardboard, Chromebook Workout Armband will soon be available in the Google Store. "To take advantage of beautiful, high-resolution displays, as well as great photo editing apps, we've carefully engineered the first Chromebook-sized selfie stick. Never again will you miss the perfect groupie."



Haptic Helpers make VR even more immersive. "We're taking VR to the next level with Haptic Helpers. Using a modest set of everyday tools, these VR virtuosos can simulate more than 10,000 unique experiences, all from the comfort of your own home. Smell the roses. Listen to the ocean. Feel a fluffy dog!"


You can now play the classic arcade game MS. PAC-MAN in Google Maps. "Avoid Blinky, Pinky, Inky, and Sue as you swerve the streets of real places around the world. But eat the pac-dots fast, because this game will only be around for a little while." Just go to the Google Maps site or open the Google Maps app for Android or iOS and click or tap MS. PAC-MAN at the bottom.



Google Cloud Platform expands to Mars. "By opening a dedicated extraterrestrial cloud region, we're bringing the power of Google's compute, network, and storage to the rest of the solar system, unlocking a plethora of possibilities for astronomy research, exploration of Martian natural resources and interplanetary life sciences. This region will also serve as an important node in an extensive network throughout the solar system. Our first interplanetary data center - affectionately nicknamed 'Ziggy Stardust' - will open in 2018," mentions Google.



Google Netherlands came up with Google Wind, a machine learning technology that controls the weather. "The Netherlands has many windmills, some no longer in use, we can connect to Google Cloud Platform. So we use the existing Dutch infrastructure, machine learning, weather patterns to control the network of windmills when rain is approaching. The first test results are very promising: we seem to be able to provide sun and clear skies for everyone in the Netherlands," mentions Google Netherlands blog.




Google's search app for iOS is now optimized for cats and dogs. "On the Google app for iOS, you can now use 3D Touch on the app icon or head to settings and select I'm Feeling Woof or I'm Feeling Meow to let your dogs and cats get info on topics they care about-whether that means squeaky toys or a bowl of milk!"



Google also launched Google Play for Pets, a new category of Android games designed for cats, dogs and other pets.


Google Translate's Word Lens feature supports a new language: Heptapod B, the alien language from the movie "Arrival". "The challenge with understanding Heptapod B is its nonlinear orthography. Fortunately, Google's neural machine translation system employs an encoder/decoder system that internally represents sentences as high-dimensional vectors. These vectors map well to the non-linear orthography of the Heptapod language and they are really the enabling technical factor in translating Heptapod B."


01 Apr 2017 7:25am GMT
19 Feb 2017
If you try to send a JavaScript attachment using Gmail or if you want to download a .js attachment, you'll get a new anti-virus warning: "Blocked for security reasons", "1 attachment contains a virus or blocked file. Downloading this attachment is disabled".


.JS has been added to the long list of file types that are blocked by Gmail for security reasons. The full list: .ADE, .ADP, .BAT, .CHM, .CMD, .COM, .CPL, .EXE, .HTA, .INS, .ISP, .JAR, .JS (NEW), .JSE, .LIB, .LNK, .MDE, .MSC, .MSI, .MSP, .MST, .NSH .PIF, .SCR, .SCT, .SHB, .SYS, .VB, .VBE, .VBS, .VXD, .WSC, .WSF, .WSH. "To prevent against potential viruses, Gmail doesn't allow you to attach certain types of files, including: certain file types (listed above), including their compressed form (like .gz or .bz2 files) or when found within archives (like .zip or .tgz files), documents with malicious macros, archives whose listed file content is password protected, archives whose content includes a password protected archive."

The GSuite Blog informs that "for inbound mail, senders will get a bounce message explaining why the email was blocked. If you still need to send .js files for legitimate reasons, you can use Google Drive, Google Cloud Storage, or other storage solutions to share or send your files."

You can still send JavaScript files using Gmail if you change the extension. What about downloading old .js attachments? Try the workarounds from this post.
19 Feb 2017 10:39am GMT
25 Jan 2017
Google Image Search has a different way to display suggestions: it now shows a long list of colorful boxes with related searches. You can click one or more boxes to dynamically refine search results.



For example, when searching for [sportswear], Google shows suggestions like: [women basketball], [tennis], [badminton], [golf], [volleyball], [nike woman], [alexander wang], [adidas], [fashion], [performance], [vintage], [trendy], [urban], [school], [gym], [90's], [70's], [vogue], [luxe], [avant garde], [korean], [italian], [french] and more. It's interesting to notice that each category of suggestions has a different color.



Here's the old interface, which had fewer suggestions and displayed thumbnails next to suggestions:


25 Jan 2017 9:39pm GMT
10 Nov 2011
From the developer of Meganoid and Stardash comes a new action arcade game: INC! http://www.youtube.com/watch?v=9j5OEG-3RyM Get it from the...
10 Nov 2011 9:31am GMT
More than 1000 broadcast cameras for you online - the most incendiary models in Russia. 1000 girls, 1000, the temptations, 1000, full of desire - all...
10 Nov 2011 7:48am GMT
Hi Friends I decided to work with a tab layout application. Program consist of 3 tabs and a button. I like to place the button below the tab. ...
10 Nov 2011 5:20am GMT
26 Aug 2011
The Emperor instructed the gardener to set up the new court's garden. "I want you to plant five trees growing the Crataan fruit," the Emperor said, "Because we asked people what fruit they like best, and most named the Crataan fruit!" The gardener replied, "Emperor, that is excellent thinking! But let me make some suggestions: First, how about we make one of the five trees bear the Muran fruit. Only one out of ten citizens loves it, but those peculiar citizens tend to love multiple times as much!" "Second," the gardener continued, "How about we make one of the five trees bear the Dratean fruit. No one loves it, but that's because no one knows it yet!" "Third," the gardener said, "How about we leave one spot in the garden empty. Who knows what new type of tree we'll discover that we can put there in the fut ...
26 Aug 2011 12:12pm GMT
15 Aug 2011
For those of you who've been wondering whether I had turned to stone, fallen into a bottomless pit, or been climbing the Himalaya... no, none of that is true, even though you probably did notice I'm not actively blogging about Google here anymore*! Just now, a new iPad app I've been working on called Color Sound Machine went live, and this -- and all the other apps and games at Versus Pad** -- are actually what I am doing while not blogoscoping. *I've drafted unpublished posts explaining much more about past, present and future of Blogoscoped, and the history of Google news reporting, but ... oh, for now le ...
15 Aug 2011 4:00pm GMT
25 Feb 2011
One of the earliest specialist services provided by Google was reverse phone number lookup. If you used the "phonebook:" or "rphonebook:" operators together with a 10-digit US phone number, Google would show you the owner of that phone number, unless the number was unlisted. Google no longer provides that service. Not surprisingly, there was no press release marking the closure, but Google employee Daniel Russell has acknowledged the closure of the service in his blog. He hints at the possible pressures leading to the shuttering of the service: "As you can imagine, this was an endless source of hassles for people (who were surprised to see themselves searchable on Google) and for Google (who had to constantly de ...
25 Feb 2011 11:23am GMT