15 Dec 2017
Samsung and Apple have both struggled to integrate fingerprint sensors into smartphone displays, creating workarounds like iris scanners and Face ID instead. The latter technologies are still big advancements in the mobile space, but the Holy Grail has been an invisible fingerprint sensor within your screen. That illusive tech has finally become a reality, but […]

Come comment on this article: Synaptics will provide in-display fingerprint sensors for Vivo smartphones

15 Dec 2017 11:18pm GMT
It's that time again where accessories maker, Anker, offers a deep discount on a bunch of speakers, stands, headphones and even some decorative LED lights in time for Christmas. Intrigued? Well, join us after the break to find out how much you could save. Whether it's for yourself or for a loved one, Anker offers […]

Come comment on this article: [Deal] Check out these great stocking fillers from Anker

15 Dec 2017 10:00pm GMT
In the news and technology communities, the collective sense of urgency about the future of journalism reached new heights this year. Never before has the press been so important-or so under threat. Technology and platforms like the ones Google has built present extraordinary opportunities to strengthen journalism, but they require newsrooms and tech companies working closely together to get it right. That's why the Google News Lab exists.
In a Keyword series this week, we've shared the work the News Lab is doing
around the world
to
address industry challenges
and take advantage of
new technologies
. Today, in our final post in this series, we're stepping back to give a holistic view of 10 major developments in our work this last year. We're looking forward to an even bigger 2018 and would
love your feedback
on how we can partner with the industry to build a stronger future for news.
1. Combating misinformation in European elections
The spread of misinformation is a growing problem for open societies everywhere. So, helping news organizations confront that challenge-especially during elections-was a key focus for us. We helped the First Draft Coalition pioneer new collaborative reporting models to combat misinformation and verify news stories during the UK, French, and German elections.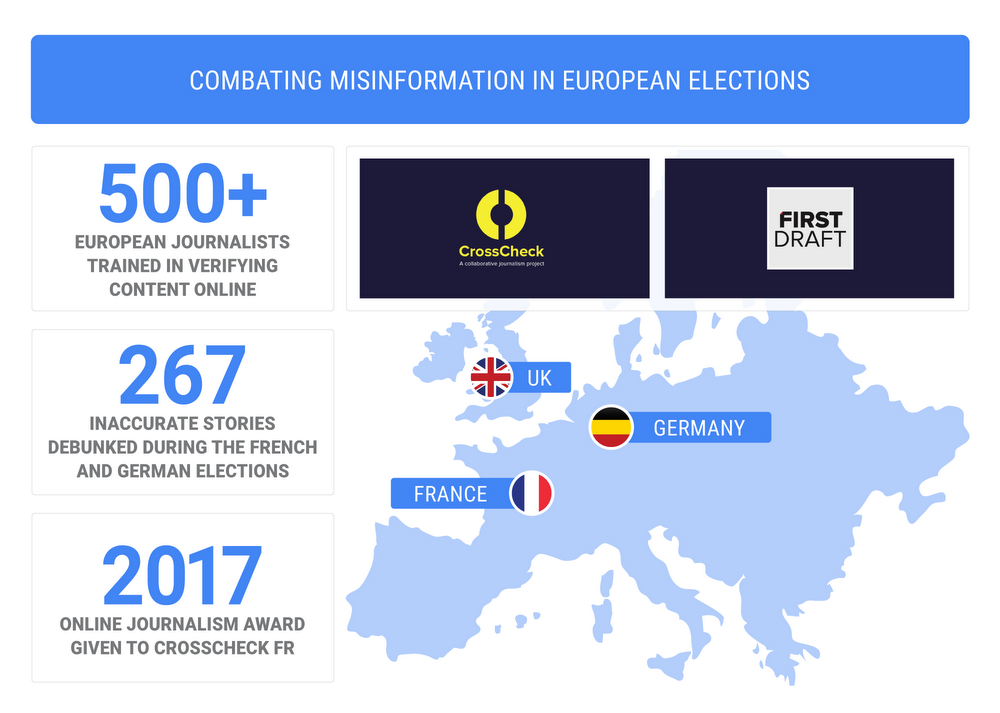 2. Helping users identify trustworthy news content on Google
We worked closely with the news industry to better highlight accurate, quality content on our platforms with new product features and partnerships. Along with the Trust Project, we produced eight indicators of trust that newsrooms can add to their content to help users distinguish between quality content and misinformation. We also partnered with the International Fact-Checking Network and The Poynter Institute to increase the number of verified fact checkers across the world.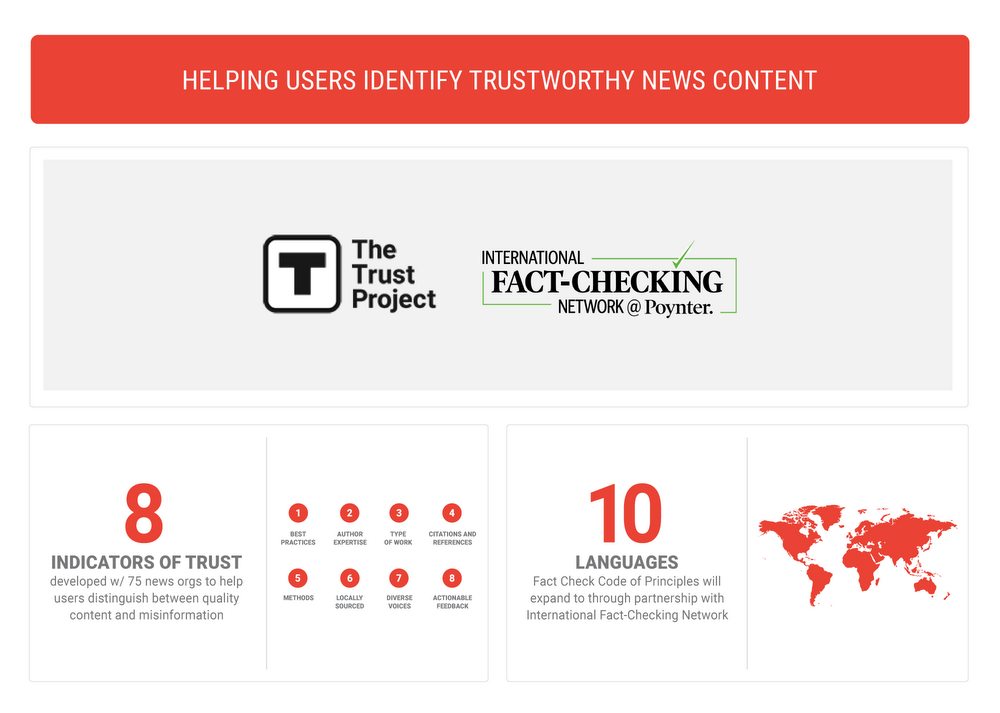 3. Empowering underrepresented voices
Bringing underrepresented voices into newsrooms can help uncover important stories that are left out of mainstream news coverage. We supported ASNE's survey to get a better sense of diversity in newsrooms across the U.S. We also partnered with organizations in the U.S., Brazil, France and Germany to provide journalists from diverse backgrounds with in-depth programs to develop their careers.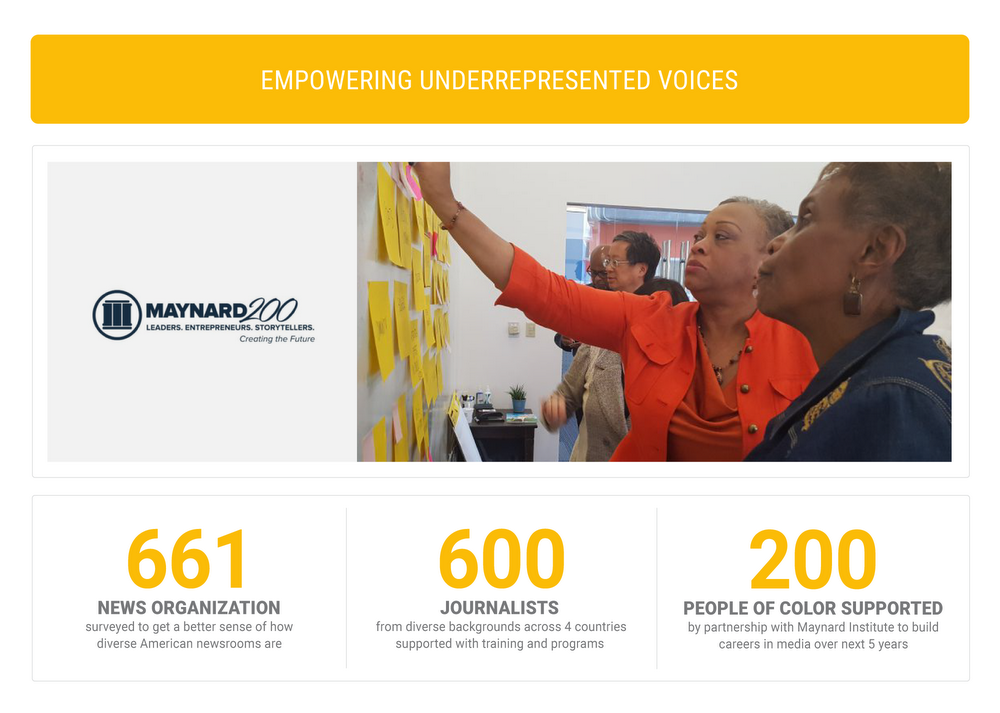 4. Strengthening local news
With revenue pressures challenging the creation of quality local news content, we began investing in projects to strengthen local newsrooms across the U.S. We partnered with the Society for Professional Journalists to train more than 9,000 local reporters in digital skills. We're also supporting Report for America, an initiative that will use a Teach for America model to place a thousand journalists in local newsrooms over the next five years.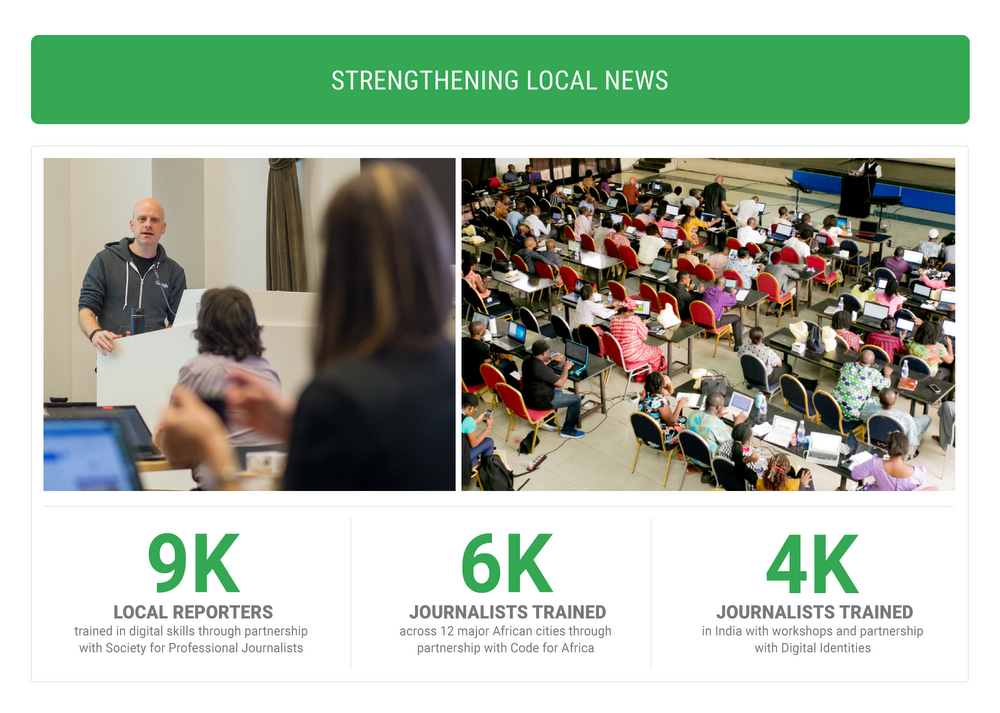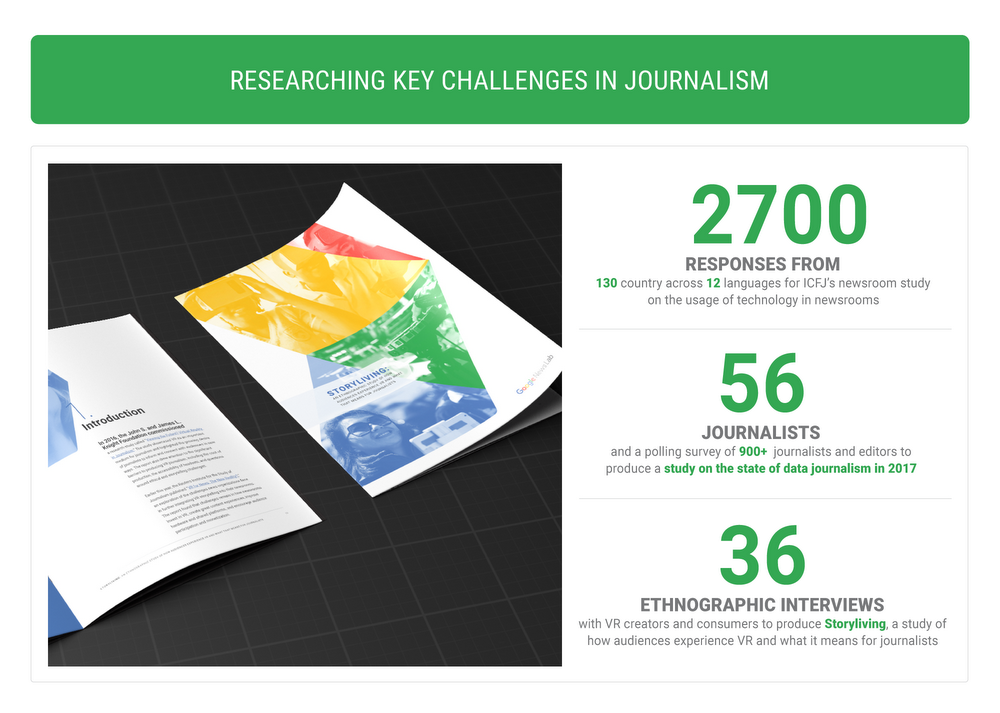 6. Working with newsrooms to experiment on new technology
From drones to virtual reality, we helped news organizations understand and use emerging technologies to shape their reporting and engage audiences in new ways. And we experimented with machine learning, too-we partnered with ProPublica to launch Documenting Hate, a project which uses AI to help build a national database for hate crime and bias incidents.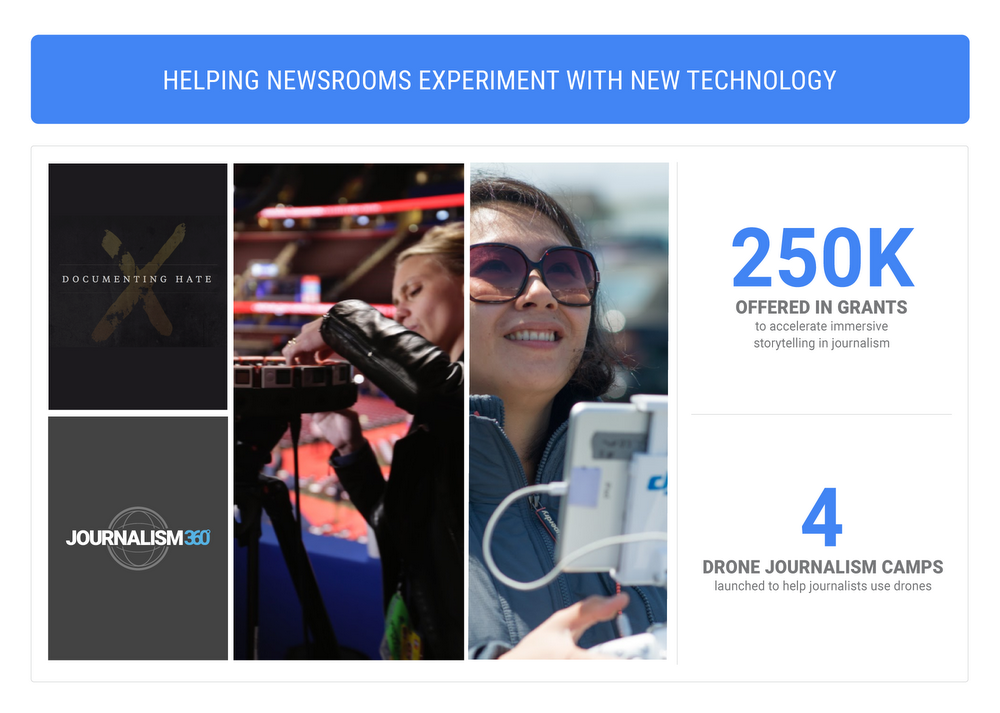 7. Building tools for data journalism
Our research into the state of data journalism found that while half of newsrooms have a dedicated data journalist, many lack the tools and resources to be successful. So we built a number of tools-Flourish, Tilegrams, Data Gif Maker, Election Databot- to make data journalism more accessible to newsrooms and journalists across the world.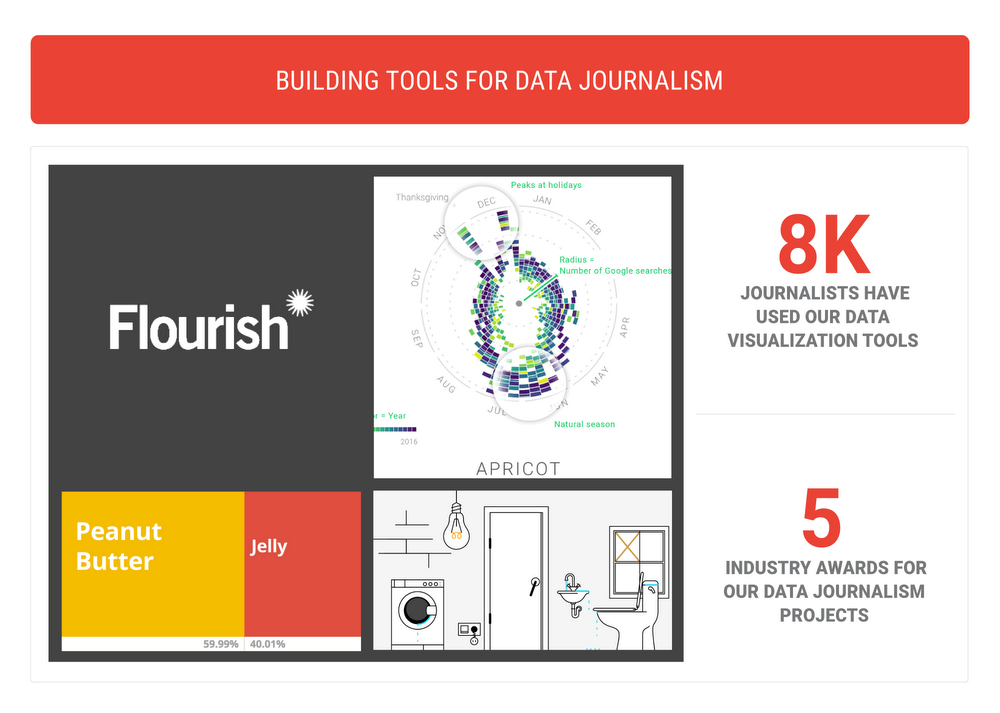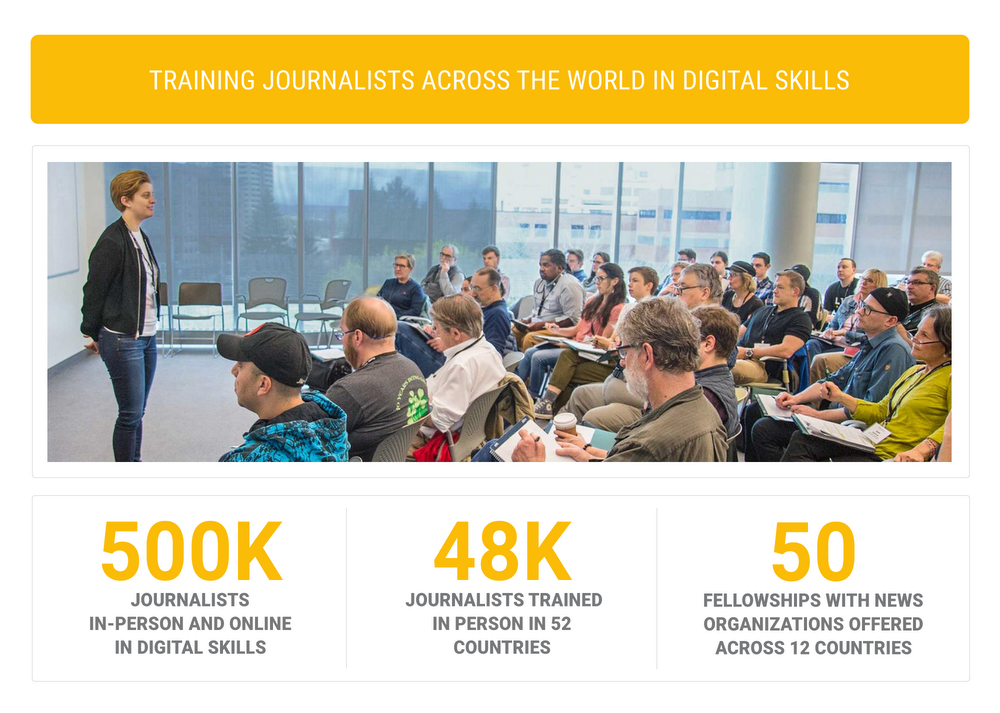 9. Helping newsrooms use Google Trends data to support elections coverage
Google Trends
data offers news organizations a look at the candidates and issues that voters are interested in during election season. In Germany, we created a
Google Trends Hub
to show users' search interest in key candidates and
built a visualization tool
to bring the data to life. In France, we launched a data driven
web app
that showed search interest in the candidates over time.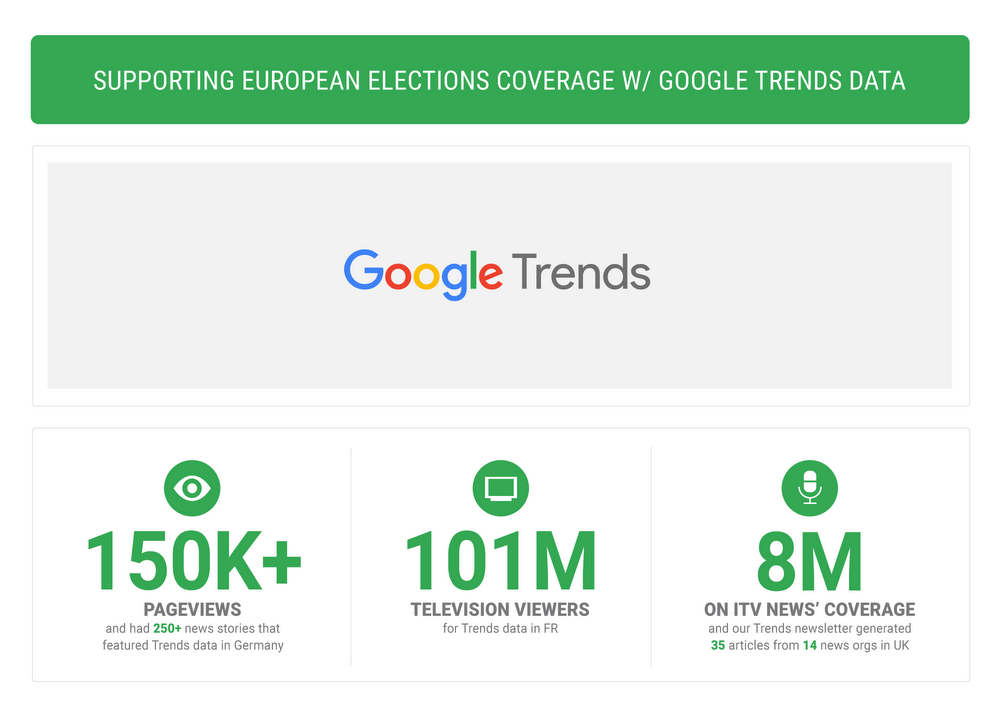 10. Expanding the News Lab to Brazil and Asia
This year we launched the News Lab in two new markets: Brazil and in Asia. To kick things off we held inaugural
News Lab Summits
in both regions-convening journalists from 15 states in Brazil and journalists from 15 countries in Singapore. Since then, we've trained more than 8,000 journalists in Brazil and 12,000 journalists in Asia.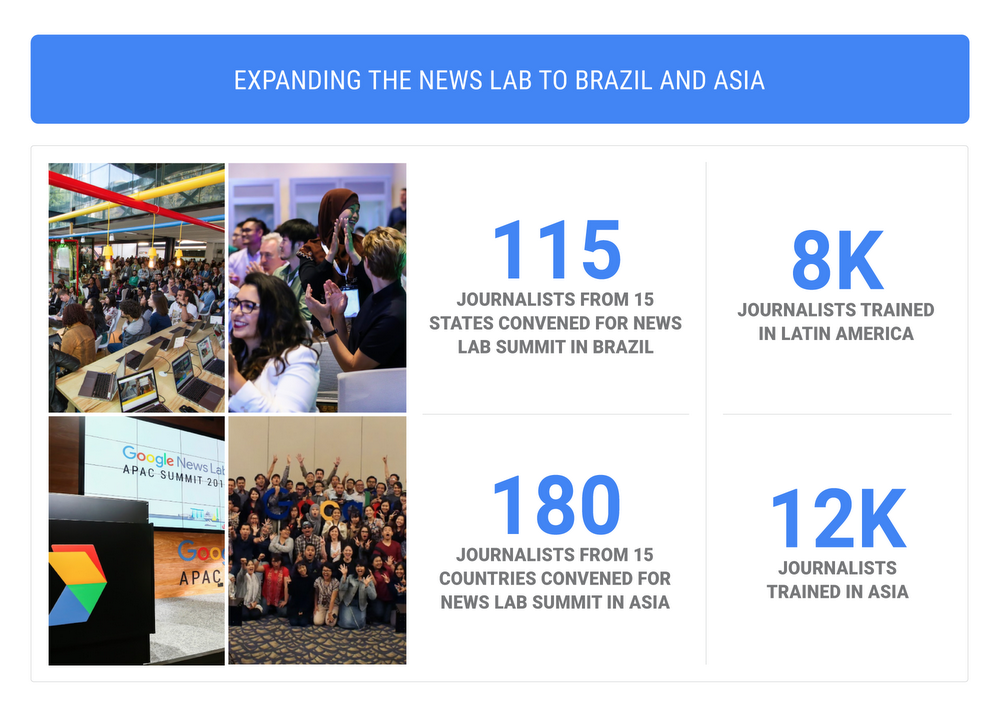 It's an exciting time for journalism. There are many challenges, but we are eager to work with the news industry to build a more informed world. Tell us where you think we should put our efforts-we'd love to hear feedback and new ideas.
15 Dec 2017 5:15pm GMT
Over the last few months, a rift between Google and Amazon started to expand. Caught in the crosshairs are owners of Echo Show and Fire TV devices who found themselves with no access to YouTube after Google cut off the service on those Amazon devices. Possibly underestimating consumer backlash, Amazon is moving to start selling Google […]

Come comment on this article: Amazon yields some ground in growing battle with Google

15 Dec 2017 5:13pm GMT
Maru Ahues Bouza, an Engineering Manager at Google, wouldn't be where she is today without her father's encouragement to learn computer science (CS). Growing up in Venezuela, there were no CS classes for children, so when Maru was just 10 years old, her father enrolled her and her sister in an adult CS class. At first, the girls showed little interest, but with steady support from their father, Maru and her sister became the top performers in the class. Maru continued with CS, graduating from Universidad Simón Bolívar with a Computer Engineering degree. Maru says that she couldn't have learned CS without her father's confidence: "if you're taught from a young age that you can definitely do it, you're going to grow up knowing you can be successful."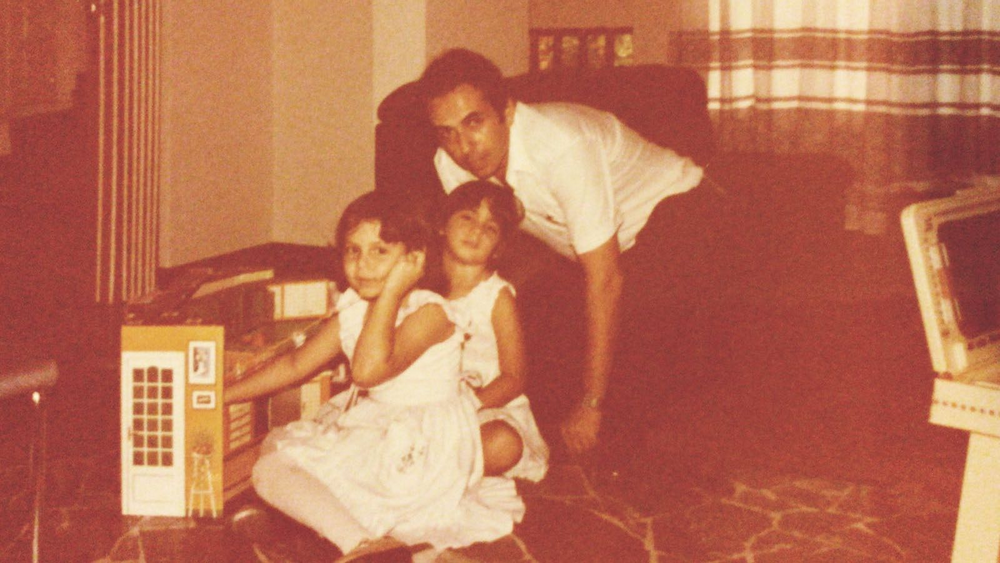 Maru, on the left, as a child with her sister and father.
Students who have been encouraged by a teacher or parent are three times more likely to be interested in learning CS.

Boys are nearly two times as likely as girls to report that a parent has told them they would be good at CS.

At age 12, there is no difference in interest in CS between boys and girls. However, the gap widens from age 12 to 14, when 47% of boys are very interested, but only 12% of girls express interest.

Across Black, Hispanic, and White students, girls are less likely to be interested in learning CS compared to boys, with the biggest gap between Black girls (15% interested) and Black boys (44% interested).

Students are more likely to learn CS in suburban areas (61%) than in rural areas (53%). Regionally, CS is most prevalent in the South or Northeast, where 57% of students are likely to learn CS.

Principals perceive mixed parent and school board support for CS, and top barriers to offering CS include minimal budget for teachers and lack of trained teachers, as well as competing priorities for standardized testing and college requirements.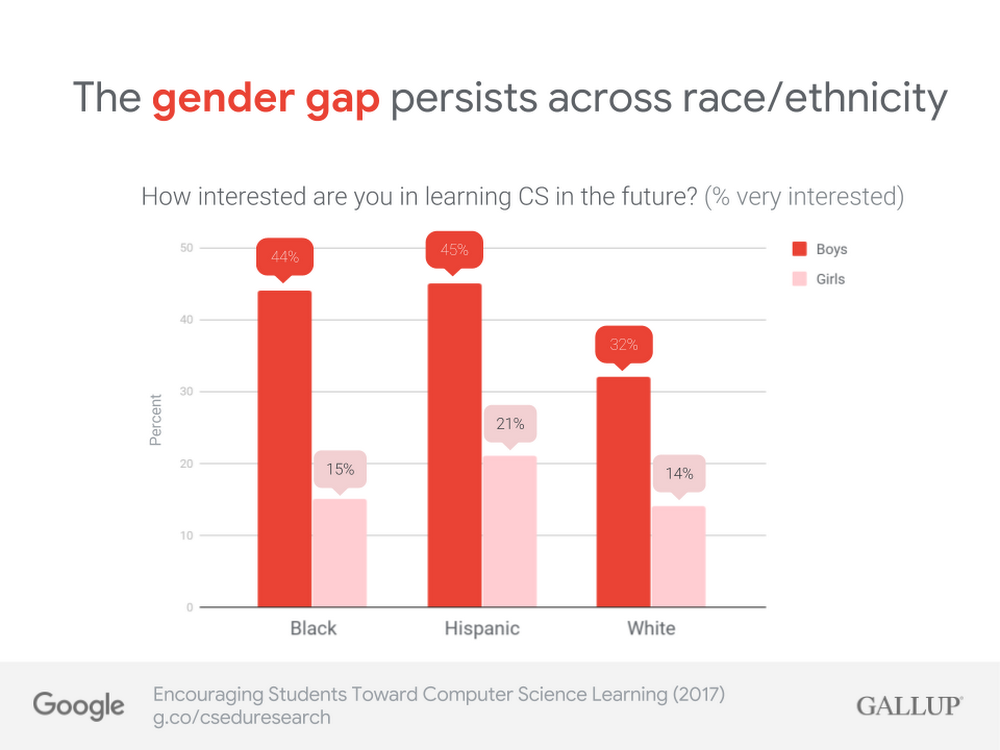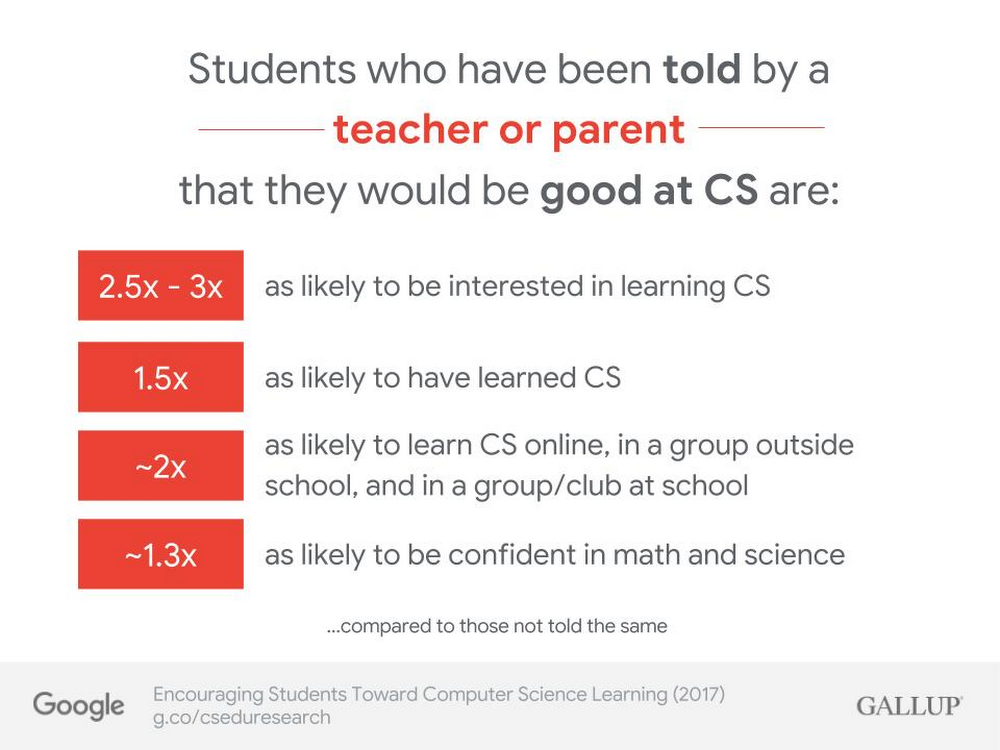 Simple words of support can help more kids like Maru learn CS, no matter who they are or where they live. It's not hard to encourage students, but we often don't do so unless a student shows explicit interest. So this winter break, read the research about CS education and take a few minutes to encourage a student to create something using computer science, like coding their own Google logo. This encouragement could spark a student's lifelong interest in computer science, just like it did for Maru.
15 Dec 2017 5:00pm GMT
Augmented reality is a powerful way to bring the physical and digital worlds together. AR places digital objects and useful information into the real world around us, which creates a huge opportunity to make our phones more intuitive, more helpful and a whole lot more fun.
We've been working on augmented reality since 2014, with our earliest investments in Project Tango. We've taken everything we learned from that to build ARCore, which launched in preview earlier this year. Whereas Tango required special hardware, ARCore is a fast, performant, Android-scale SDK that enables high-quality augmented reality across millions of qualified mobile devices.
Developers can experiment with ARCore now, and we've seen some amazing creations from the community. ARCore also powers AR Stickers on the Pixel camera, which launched earlier this week and lets you add interactive AR characters and playful emojis directly into photos and videos to bring your favorite stories to life.
Today, we're releasing an update to our ARCore Developer Preview with several technical improvements to the SDK, including:
A new C API for use with the Android NDK that complements our existing Java, Unity, and Unreal SDKs;

Functionality that lets AR apps pause and resume AR sessions, for example to let a user return to an AR app after taking a phone call;

Improved accuracy and runtime efficiency across our anchor, plane finding, and point cloud APIs.
To learn more about the SDK updates, check out the Android, Unity, and Unreal Github pages.
As we focus on bringing augmented reality to the entire Android ecosystem with ARCore, we're turning down support of Tango. Thank you to our incredible community of developers who made such progress with Tango over the last three years. We look forward to continuing the journey with you on ARCore.
If you're a developer interested in AR, now's the time to start experimenting. In the coming months, we'll launch ARCore v1.0, with support for over 100 million devices. And soon, many augmented reality experiences will be available in the Play Store. We can't wait to see what you create.
15 Dec 2017 5:00pm GMT
14 Dec 2017
Posted by Dave Smith, Developer Advocate for IoT
Creating robust connections between IoT devices can be difficult. WiFi and Bluetooth are ubiquitous and work well in many scenarios, but suffer limitations when power is constrained or large numbers of devices are required on a single network. In response to this, new communications technologies have arisen to address the power and scalability requirements for IoT.
Low-power Wireless Personal Area Network (LoWPAN) technologies are specifically designed for peer-to-peer usage on constrained battery-powered devices. Devices on the same LoWPAN can communicate with each other using familiar IP networking, allowing developers to use standard application protocols like HTTP and CoAP. The specific LoWPAN technology that we are most excited about is Thread: a secure, fault-tolerant, low-power mesh-networking technology that is quickly becoming an industry standard.
Today we are announcing API support for configuring and managing LoWPAN as a part of Android Things Developer Preview 6.1, including first-class networking support for Thread. By adding an 802.15.4 radio module to one of our developer kits, Android Things devices can communicate directly with other peer devices on a Thread network. These types of low-power connectivity solutions enable Android Things devices to perform edge computing tasks, aggregating data locally from nearby devices to make critical decisions without a constant connection to cloud services. See the LoWPAN API guide for more details on building apps to create and join local mesh networks.
Getting Started
OpenThread makes getting started with LoWPAN on Android Things easy. Choose a supported radio platform, such as the Nordic nRF52840, and download pre-built firmware to enable it as a Network Co-Processor (NCP). Integrate the radio into Android Things using the LoWPAN NCP user driver. You can also expand support to other radio hardware by building your own user drivers. See the LoWPAN user driver API guide for more details.
To get started with DP6.1, use the Android Things Console to download system images and flash existing devices. Then download the LoWPAN sample app to try it out for yourself! LoWPAN isn't the only exciting thing happening in the latest release. See the release notes for the full set of fixes and updates included in DP6.1.
Feedback
Please send us your feedback by filing bug reports and feature requests, as well as asking any questions on Stack Overflow. You can also join Google's IoT Developers Community on Google+, a great resource to get updates and discuss ideas. Also, we have our new hackster.io community, where everyone can share the amazing projects they have built. We look forward to seeing what you build with Android Things!
14 Dec 2017 6:00pm GMT
13 Dec 2017
Posted by Andrew Woloszyn, Software Engineer
Developing for 3D is complicated. Whether you're using a native graphics API or enlisting the help of your favorite game engine, there are thousands of graphics commands that have to come together perfectly to produce beautiful 3D images on your phone, desktop or VR headsets.
GAPID (Graphics API Debugger) is a new tool that helps developers diagnose rendering and performance issues with their applications. With GAPID, you can capture a trace of your application and step through each graphics command one-by-one. This lets you visualize how your final image is built and isolate problematic calls, so you spend less time debugging through trial-and-error.
GAPID supports OpenGL ES on Android, and Vulkan on Android, Windows and Linux.
Debugging in action, one draw call at a time
GAPID not only enables you to diagnose issues with your rendering commands, but also acts as a tool to run quick experiments and see immediately how these changes would affect the presented frame.
Here are a few examples where GAPID can help you isolate and fix issues with your application:
What's the GPU doing?
Why isn't my text appearing?!
Working with a graphics API can be frustrating when you get an unexpected result, whether it's a blank screen, an upside-down triangle, or a missing mesh. As an offline debugger, GAPID lets you take a trace of these applications, and then inspect the calls afterwards. You can track down exactly which command produced the incorrect result by looking at the framebuffer, and inspect the state at that point to help you diagnose the issue.
What happens if I do X?
Using GAPID to edit shader code
Even when a program is working as expected, sometimes you want to experiment. GAPID allows you to modify API calls and shaders at will, so you can test things like:
What if I used a different texture on this object?
What if I changed the calculation of bloom in this shader?
With GAPID, you can now iterate on the look and feel of your app without having to recompile your application or rebuild your assets.
Whether you're building a stunning new desktop game with Vulkan or a beautifully immersive VR experience on Android, we hope that GAPID will save you both time and frustration and help you get the most out of your GPU. To get started with GAPID and see just how powerful it is, download it, take your favorite application, and capture a trace!
13 Dec 2017 5:03pm GMT
05 Dec 2017
Posted by Dave Burke, VP of Engineering
At Google for India this Monday, we announced the final release of Android 8.1 Oreo. Android 8.1 Oreo is another exciting step toward bringing to life our vision of an AI-first mobile platform, for everyone, everywhere.
Android 8.1 introduces support for our new Android Oreo (Go edition) software experience for entry-level devices. Android Oreo (Go edition) brings the best of Android to the rapidly growing market for low-memory devices around the world, including your apps and games.
Android 8.1 also introduces the Neural Networks API, a hardware accelerated machine learning runtime to support ML capabilities in your apps. On supported devices, the Neural Networks API enables fast and efficient inference for a range of key use cases, starting with vision-based object classification.
You can get started with Android 8.1 Oreo (API level 27) today. We're pushing sources to Android Open Source Project now, and rolling out the update to supported Pixel and Nexus devices over the next week. We're also working with our device maker partners to bring Android 8.1 to more devices, including Android Oreo (Go edition) devices, in the months ahead.
Android Oreo (Go edition)
As announced at Google I/O 2017, the "Android Go" project is our initiative to optimize the Android experience for billions of people coming online around the world. Starting with Android 8.1, we're making Android a great platform for entry-level devices in the Android Oreo (Go edition) configuration:
Memory optimizations -- Improved memory usage across the platform to ensure that apps can run efficiently on devices with 1GB or less RAM.
Flexible targeting options -- New hardware feature constants to let you target the distribution of your apps to normal or low-RAM devices through Google Play.
Optimized Google apps: Rebuilt and optimized versions of Google apps, using less memory, storage space, and mobile data.
Google Play: While all apps will be available on Android Oreo (Go edition) devices, Google Play will give visibility to apps specifically optimized by developers to provide a great experience for billions of people with the building for billions guidelines.
We've updated the building for billions guidelines with additional guidance on how to optimize your app for Android Oreo (Go edition) devices. For most developers, optimizing your existing APK or using Google Play's Multiple APK feature to target a version of your APK to low-RAM devices is the best way to prepare for Android Oreo (Go edition) devices. Remember that making your app lighter and more efficient benefits your whole audience, regardless of device.
Neural Networks API
The Neural Networks API provides accelerated computation and inference for on-device machine learning frameworks like TensorFlow Lite -- Google's cross-platform ML library for mobile -- as well as Caffe2 and others. TensorFlow Lite is now available to developers, so visit the TensorFlow Lite open source repo for downloads and docs. TensorFlow Lite works with the Neural Networks API to run models like MobileNets, Inception v3, and Smart Reply efficiently on your mobile device.
Autofill enhancements and more
Android 8.1 includes select new features and developer APIs (API level 27), along with the latest optimizations, bug fixes, and security patches. Extend your app with Autofill enhancements, a SharedMemory API, and more. You can also add established Android Oreo features as well, see the Android Oreo site for details.
Test your apps on Android 8.1
If haven't already, take a few moments today to test your apps and make sure they offer the experience you want for users upgrading to Android 8.1 Oreo.
Just install your current app from Google Play onto a device or emulator running Android Oreo and test the user flows. The app should run and look great, and handle the Android Oreo behavior changes properly. In particular, pay attention to background location limits, notification channels, and changes in networking, security, and identifiers.
Speed your development with Android Studio
To build with Android 8.1, we recommend updating to Android Studio 3.0, which is now available from the stable channel. On top of the new app performance profiling tools, support for the Kotlin programming language, and Gradle build optimizations, Android Studio 3.0 makes it easier to develop for Android Oreo features like Instant Apps, XML Fonts, downloadable fonts, and adaptive icons.
With the final platform we're updating the SDK and build tools in Android Studio, as well as the API Level 27 emulator system images. We recommend updating to the Android Support Library 27.0.2, which is available from Google's Maven repository. See the version notes for details on what's new.
As always, we're providing downloadable factory and OTA images on the Nexus Images page to help you do final testing on your Pixel and Nexus devices.
Publish your updates to Google Play
When you're ready, you can publish your APK updates targeting API level 27 in your alpha, beta, or production channels. Make sure that your updated app runs well on Android Oreo as well as older versions. We recommend using beta testing to get early feedback from a small group of users and a pre-launch report to help you identify any issues, then do a staged rollout. Head over to the Android Developers site to find more info on launch best practices. We're looking forward to seeing your app updates!
What's next for Android Oreo?
We'll soon be closing the Developer Preview issue tracker, but please keep the feedback coming! If you still see an issue that you filed in the preview tracker, just file a new issue against Android 8.1 in the AOSP issue tracker. You can also continue to give us feedback or ask questions in the developer community.
05 Dec 2017 5:59pm GMT
01 Apr 2017
April Fools' Day should probably be called Google Fools' Day, since there are so many Google hoaxes.

Google Japan developed a "bubble wrap" version of the Japanese keyboard. "The Google Japanese input bubble wrap version is a keyboard that realizes 'I want to press in my mind, I want to keep pressing'," according to Google Translate.




Another product for your smart home? Meet Google Gnome, "a voice-activated, hands-free tool designed to make backyard living effortless. Need to know what animal is squeaking in your bushes? Stay still and ask Gnome what sound an opossum makes. Running low on birdseed? That's where Gnome comes in. You can even use Gnome's proprietary high-intensity lasers to trim your hedges into whatever shape your heart desires."




The Chrome OS team brings the most popular mobile accessories to the Chromebook, which already blurs the line between mobile and desktop. Chromebook Groupie Stick, Chromebook Cardboard, Chromebook Workout Armband will soon be available in the Google Store. "To take advantage of beautiful, high-resolution displays, as well as great photo editing apps, we've carefully engineered the first Chromebook-sized selfie stick. Never again will you miss the perfect groupie."



Haptic Helpers make VR even more immersive. "We're taking VR to the next level with Haptic Helpers. Using a modest set of everyday tools, these VR virtuosos can simulate more than 10,000 unique experiences, all from the comfort of your own home. Smell the roses. Listen to the ocean. Feel a fluffy dog!"


You can now play the classic arcade game MS. PAC-MAN in Google Maps. "Avoid Blinky, Pinky, Inky, and Sue as you swerve the streets of real places around the world. But eat the pac-dots fast, because this game will only be around for a little while." Just go to the Google Maps site or open the Google Maps app for Android or iOS and click or tap MS. PAC-MAN at the bottom.



Google Cloud Platform expands to Mars. "By opening a dedicated extraterrestrial cloud region, we're bringing the power of Google's compute, network, and storage to the rest of the solar system, unlocking a plethora of possibilities for astronomy research, exploration of Martian natural resources and interplanetary life sciences. This region will also serve as an important node in an extensive network throughout the solar system. Our first interplanetary data center - affectionately nicknamed 'Ziggy Stardust' - will open in 2018," mentions Google.



Google Netherlands came up with Google Wind, a machine learning technology that controls the weather. "The Netherlands has many windmills, some no longer in use, we can connect to Google Cloud Platform. So we use the existing Dutch infrastructure, machine learning, weather patterns to control the network of windmills when rain is approaching. The first test results are very promising: we seem to be able to provide sun and clear skies for everyone in the Netherlands," mentions Google Netherlands blog.




Google's search app for iOS is now optimized for cats and dogs. "On the Google app for iOS, you can now use 3D Touch on the app icon or head to settings and select I'm Feeling Woof or I'm Feeling Meow to let your dogs and cats get info on topics they care about-whether that means squeaky toys or a bowl of milk!"



Google also launched Google Play for Pets, a new category of Android games designed for cats, dogs and other pets.


Google Translate's Word Lens feature supports a new language: Heptapod B, the alien language from the movie "Arrival". "The challenge with understanding Heptapod B is its nonlinear orthography. Fortunately, Google's neural machine translation system employs an encoder/decoder system that internally represents sentences as high-dimensional vectors. These vectors map well to the non-linear orthography of the Heptapod language and they are really the enabling technical factor in translating Heptapod B."


01 Apr 2017 7:25am GMT
19 Feb 2017
If you try to send a JavaScript attachment using Gmail or if you want to download a .js attachment, you'll get a new anti-virus warning: "Blocked for security reasons", "1 attachment contains a virus or blocked file. Downloading this attachment is disabled".


.JS has been added to the long list of file types that are blocked by Gmail for security reasons. The full list: .ADE, .ADP, .BAT, .CHM, .CMD, .COM, .CPL, .EXE, .HTA, .INS, .ISP, .JAR, .JS (NEW), .JSE, .LIB, .LNK, .MDE, .MSC, .MSI, .MSP, .MST, .NSH .PIF, .SCR, .SCT, .SHB, .SYS, .VB, .VBE, .VBS, .VXD, .WSC, .WSF, .WSH. "To prevent against potential viruses, Gmail doesn't allow you to attach certain types of files, including: certain file types (listed above), including their compressed form (like .gz or .bz2 files) or when found within archives (like .zip or .tgz files), documents with malicious macros, archives whose listed file content is password protected, archives whose content includes a password protected archive."

The GSuite Blog informs that "for inbound mail, senders will get a bounce message explaining why the email was blocked. If you still need to send .js files for legitimate reasons, you can use Google Drive, Google Cloud Storage, or other storage solutions to share or send your files."

You can still send JavaScript files using Gmail if you change the extension. What about downloading old .js attachments? Try the workarounds from this post.
19 Feb 2017 10:39am GMT
25 Jan 2017
Google Image Search has a different way to display suggestions: it now shows a long list of colorful boxes with related searches. You can click one or more boxes to dynamically refine search results.



For example, when searching for [sportswear], Google shows suggestions like: [women basketball], [tennis], [badminton], [golf], [volleyball], [nike woman], [alexander wang], [adidas], [fashion], [performance], [vintage], [trendy], [urban], [school], [gym], [90's], [70's], [vogue], [luxe], [avant garde], [korean], [italian], [french] and more. It's interesting to notice that each category of suggestions has a different color.



Here's the old interface, which had fewer suggestions and displayed thumbnails next to suggestions:


25 Jan 2017 9:39pm GMT
19 Jan 2017
A few months ago, I took a leave of absence from Google to do a stint with the US Digital Service. A lot of people know about the US Digital Service because they helped rescue the healthcare.gov website. But you might not realize that the US Digital Service has helped veterans get their health benefits, […]
19 Jan 2017 3:47am GMT
18 Jun 2016
Over the last couple years, I've seen more and more people in technology trying to make government work better. They're idealists who are also making a large impact. These are people that I respect-some of them worked to fix healthcare.gov, for example. From talking to many of them, I can tell you that their energy […]
18 Jun 2016 1:57am GMT
03 Feb 2016
Amit Singhal just announced that he's retiring toward the end of the month. Amit has been a formative part of Google's search team, but he's also a good friend. Last year, after he marked 15 years with Google, I wrote this about Amit's contributions: Amit Singhal, one of the unsung heroes of Google, just celebrated […]
03 Feb 2016 7:49pm GMT
10 Nov 2011
From the developer of Meganoid and Stardash comes a new action arcade game: INC! http://www.youtube.com/watch?v=9j5OEG-3RyM Get it from the...
10 Nov 2011 9:31am GMT
More than 1000 broadcast cameras for you online - the most incendiary models in Russia. 1000 girls, 1000, the temptations, 1000, full of desire - all...
10 Nov 2011 7:48am GMT
Hi Friends I decided to work with a tab layout application. Program consist of 3 tabs and a button. I like to place the button below the tab. ...
10 Nov 2011 5:20am GMT
26 Aug 2011
The Emperor instructed the gardener to set up the new court's garden. "I want you to plant five trees growing the Crataan fruit," the Emperor said, "Because we asked people what fruit they like best, and most named the Crataan fruit!" The gardener replied, "Emperor, that is excellent thinking! But let me make some suggestions: First, how about we make one of the five trees bear the Muran fruit. Only one out of ten citizens loves it, but those peculiar citizens tend to love multiple times as much!" "Second," the gardener continued, "How about we make one of the five trees bear the Dratean fruit. No one loves it, but that's because no one knows it yet!" "Third," the gardener said, "How about we leave one spot in the garden empty. Who knows what new type of tree we'll discover that we can put there in the fut ...
26 Aug 2011 12:12pm GMT
15 Aug 2011
For those of you who've been wondering whether I had turned to stone, fallen into a bottomless pit, or been climbing the Himalaya... no, none of that is true, even though you probably did notice I'm not actively blogging about Google here anymore*! Just now, a new iPad app I've been working on called Color Sound Machine went live, and this -- and all the other apps and games at Versus Pad** -- are actually what I am doing while not blogoscoping. *I've drafted unpublished posts explaining much more about past, present and future of Blogoscoped, and the history of Google news reporting, but ... oh, for now le ...
15 Aug 2011 4:00pm GMT
25 Feb 2011
One of the earliest specialist services provided by Google was reverse phone number lookup. If you used the "phonebook:" or "rphonebook:" operators together with a 10-digit US phone number, Google would show you the owner of that phone number, unless the number was unlisted. Google no longer provides that service. Not surprisingly, there was no press release marking the closure, but Google employee Daniel Russell has acknowledged the closure of the service in his blog. He hints at the possible pressures leading to the shuttering of the service: "As you can imagine, this was an endless source of hassles for people (who were surprised to see themselves searchable on Google) and for Google (who had to constantly de ...
25 Feb 2011 11:23am GMT