21 Oct 2017
Google's pop-up stores made it easy for customers to walk in and buy up a Pixel 2 or Pixel 2 XL without having to go directly to a Verizon store. They employed a third-party Verizon retailer, Victra, to handle sales and activations for the Pixel. That's a great way to streamline the experience, but many […]

Come comment on this article: Google will refund you if you overpaid for a Pixel 2 at a pop-up store

21 Oct 2017 3:06pm GMT
Google's annual global Playtime series started yesterday with back-to-back events in Berlin and San Francisco. The series is designed to help developers find success with Android's growing portfolio of hardware, including phones, tablets, Wear devices, TV's, Chromebooks and Daydream. Every month around the globe, there are over 8 billion new Android app installs per month. […]

Come comment on this article: Google kicks off Playtime 2017 for app developers

21 Oct 2017 1:57am GMT
20 Oct 2017
With autumn in full swing, we're taking note of the warmer colors being whisked into our feeds. This week, #teampixel wonderfully captures fall's color palette, from burnt siennas to bright oranges. So grab a cup of tea, cozy up to the fire and flip through our favorite fall finds.
You can also join @verizon and #teampixel as we pass along a Google Pixel 2 from coast to coast on Instagram. Check out some of the stunning photos from the trip-in scenic Athens, NY, historic Paris, TX, and delicious Venice, CA.
Want to get featured on The Keyword and @google? Make sure to tag your photos with #teampixel and you might be next.
20 Oct 2017 6:30pm GMT
Editor's note: October is Cybersecurity Awareness Month, and we're celebrating with a series of security announcements this week. See our earlier posts on new security protections tailored for you, our new Advanced Protection Program, and our progress fighting phishing.

Security has always been one of Chrome's core principles-we constantly work to build the most secure web browser to protect our users. Two recent studies concluded that Chrome was the most secure web browser in multiple aspects of security, with high rates of catching dangerous and deceptive sites, lightning-fast patching of vulnerabilities, and multiple layers of defenses.
About a year ago, we announced that we would begin marking all sites that are not encrypted with HTTPS as "not secure" in Chrome. We wanted to help people understand when the site they're on is not secure, and at the same time, provide motivation to that site's owner to improve the security of their site. We knew this would take some time, and so we started by only marking pages without encryption that collect passwords and credit cards. In the next phase, we began showing the "not secure" warning in two additional situations: when people enter data on an HTTP page, and on all HTTP pages visited in Incognito mode.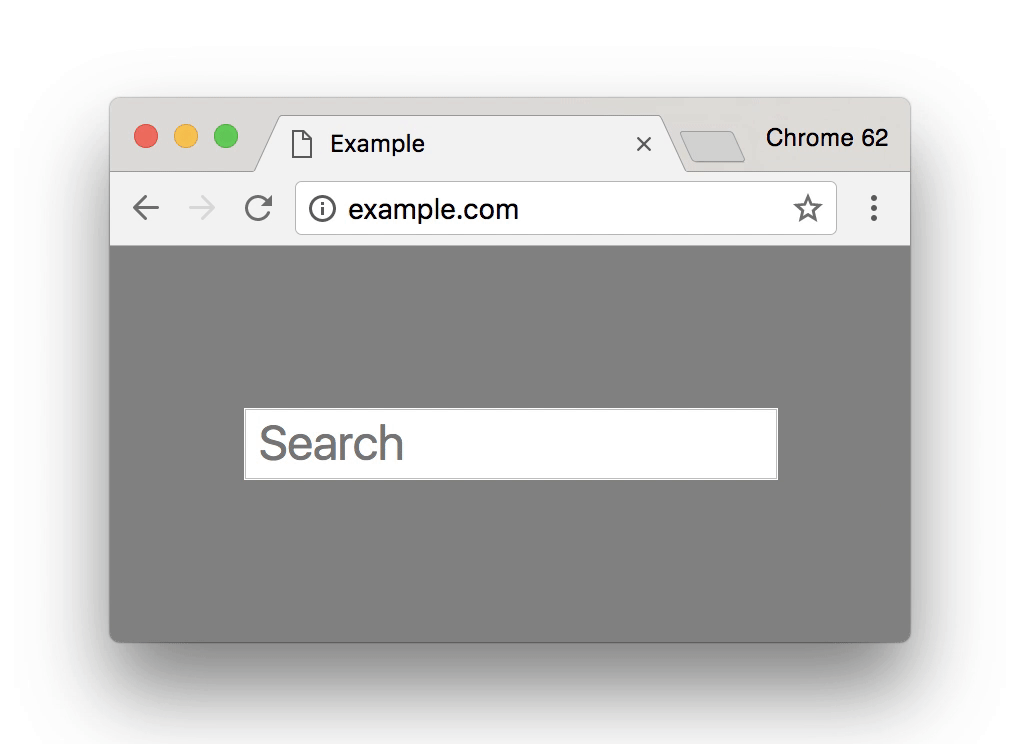 It's only been a year, but HTTPS usage has already made some incredible progress. You can see all of this in our public Transparency Report:
64 percent of Chrome traffic on Android is now protected, up from 42 percent a year ago.

Over 75 percent of Chrome traffic on both ChromeOS and Mac is now protected, up from 60 percent on Mac and 67 percent on Chrome OS a year ago

71 of the top 100 sites on the web use HTTPS by default, up from 37 a year ago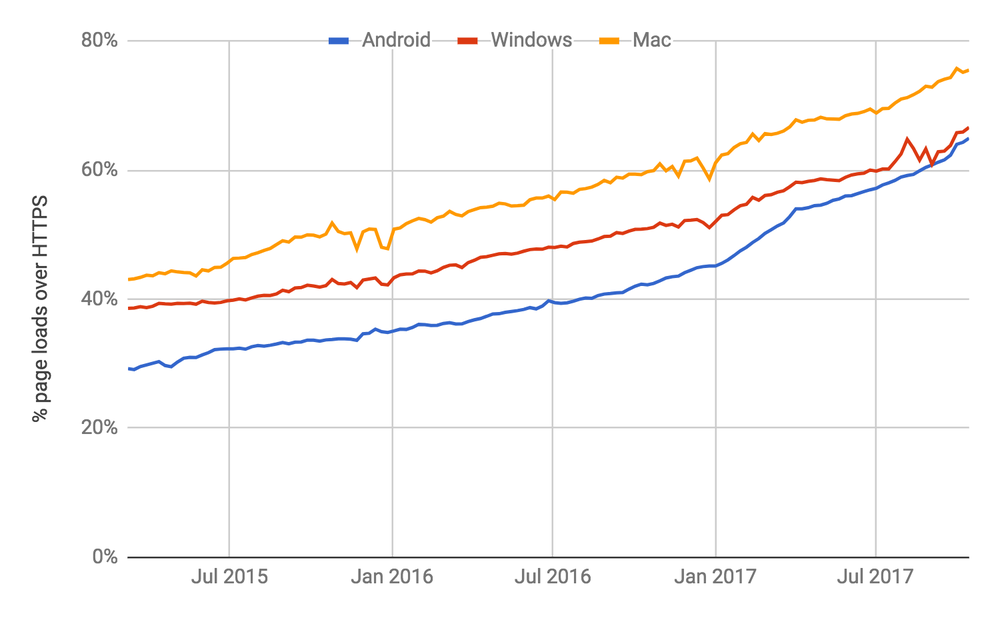 Percent of page loads over HTTPS in Chrome by platform
We're also excited to see HTTPS usage increasing around the world. For example, we've seen HTTPS usage surge recently in Japan; large sites like Rakuten, Cookpad, Ameblo, and Yahoo Japan all made major headway towards HTTPS in 2017. Because of this, we've seen HTTPS in Japan surge from 31 percent to 55 percent in the last year, measured via Chrome on Windows. We see similar upward trends in other regions-HTTPS is up from 50 percent to 66 percent in Brazil, and 59 percent to 73 percent in the U.S.!
Ongoing efforts to bring encryption to everyone
To help site owners migrate (or originally create!) their sites on HTTPS, we want to make sure the process is as simple and cheap as possible. Let's Encrypt is a free and automated certificate authority that makes securing your website cheap and easy. Google Chrome remains a Platinum sponsor of Let's Encrypt in 2017, and has committed to continue that support next year.
Google also recently announced managed SSL for Google App Engine, and has started securing entire top-level Google domains like .foo and .dev by default with HSTS. These advances help make HTTPS automatic and painless, to make sure we're moving towards a web that's secure by default.
HTTPS is
easier and cheaper
than ever before, and it enables both the best performance the web offers and powerful new features that are too sensitive for HTTP. There's never been a better time to migrate! Developers, check out our
set-up guides
to get started.
20 Oct 2017 6:00pm GMT
Earlier this year, we hosted an event in Brussels that brought business leaders, policy makers and civil society together to discuss ways to ensure EU renewable energy policy meets the changing needs of consumers. Last week, we were back in Brussels to continue the discussion at RE-Source, the largest gathering in the EU to-date of companies committed to buying renewable energy to cover their operations.
With 14 data centers on four continents and offices in 150 cities around the globe, Google consumes a lot of power. And combating climate change requires the world to transition to a clean energy economy. So we've made it a top priority not only to become more energy efficient but also to ensure that the energy we purchase comes from clean sources such as renewables. We have also found that purchasing energy from renewable resources also makes good business sense, for two key reasons:
The cost to produce and deploy renewable energy technologies like wind and solar has come down precipitously in recent years. In fact, in a growing number of areas, renewable energy is the cheapest form of energy available on the grid.
For those of us who manage a global power portfolio like many corporations, renewable energy contracts provide financial certainty and protection against fuel-price volatility.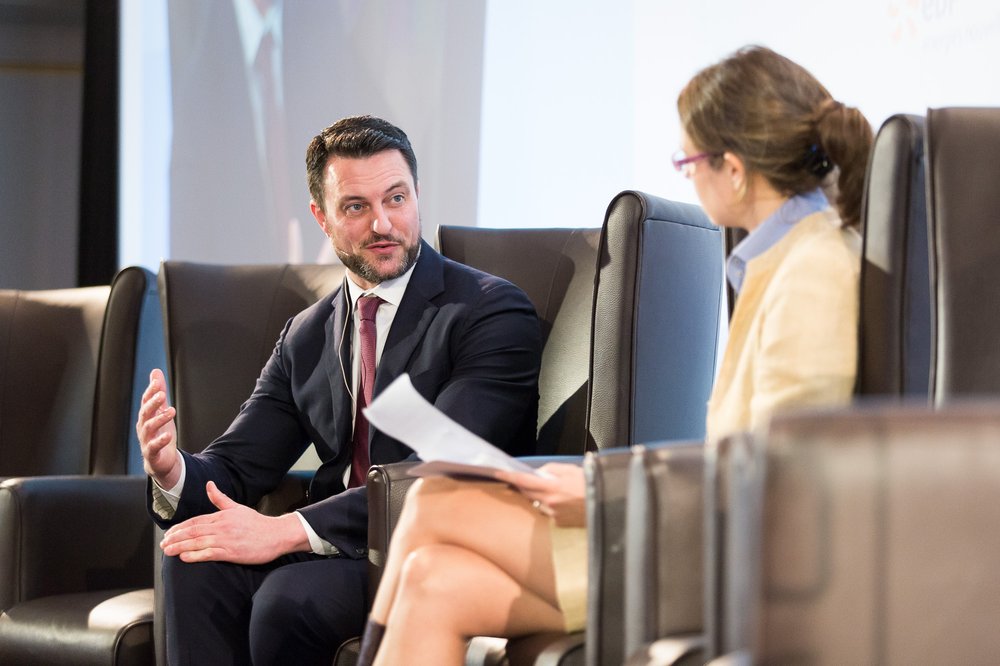 Gary Demasi, Global Director of Data Center Energy and Location Strategy, during a fireside chat with Sonja van Renssen, Co-founder, Energy Post, at RE-Source 2017
Google is the largest corporate purchaser of renewable energy in the world. To date, we've signed contracts to purchase 2.6 gigawatts (GW) of renewable energy. In the EU alone, we have signed 669 MW of deals across 8 projects in Sweden, Norway, and The Netherlands and we are on track to reach 100% renewable energy for our operations in 2017-a major milestone. You can read more about our global sustainability efforts in the 2017 progress update of Google's Environmental Report.
Despite this progress, many barriers to purchasing renewable energy still exist. The challenge ahead is to drive even more renewable purchasing and grow the size of the market. The EU is currently considering a series of directives on clean energy that provide opportunity to remove many of these barriers. We look forward to working with EU policymakers and other stakeholders to ensure these efforts maximize the opportunity to scale renewables across Europe. For us, reaching 100% renewable energy purchasing on a global and annual basis is an important milestone but we're just getting started. We want to help ensure that all energy consumers have a clear and easy path to choosing renewable sources.
20 Oct 2017 6:00pm GMT
Mobile game development can be tough to break into without any help, but luckily, you can score the 2017 Zero to Hero Game Developer bundle at a big discount right now. This bundle includes 9 courses with 413 lessons and over 80 hours of content. It covers a ton of different skills, including developing in […]

Come comment on this article: [TA Deals] Develop your own games with the 2017 Zero to Hero Game Developer bundle

20 Oct 2017 5:00pm GMT
19 Oct 2017
Posted by Vineet Buch, Director of Product Management, Google Play Apps & Games
Today we kicked off our annual global Playtime series with back-to-back events in Berlin and San Francisco. Over the next month, we'll be hearing from many app and game developers in cities around the world. It has been an amazing 2017 for developers on Google Play, there are now more than 8 billion new installs per month globally.
To help you continue to take advantage of this opportunity, we're announcing innovations on Google Play and new features in the Play Console.
Follow us on Medium
where presenters will be posting their strategies, best practices, and examples to help you achieve your business objectives. As Google Play continues to grow rapidly, we want to help people understand our business. That's why we're also publishing the
State of Play 2017
report that will be updated annually to help you stay informed about our progress and how we're helping developers succeed.


Recognizing the best
We're investing in curation and editorial to showcase the highest quality apps and games we love. The
revamped Editors' Choice
is now live in 17 countries and Android Excellence recently welcomed
new apps and games
. We also continue to celebrate and support indie games, recently announcing
winners of the Indie Games Festival in San Francisco
and opening the
second Indie Games Contest in Europe
for nominations.


Discovering great games
We've launched an
improved home for games
with trailers and screenshots of gameplay and two new browse destinations are coming soon, 'New' (for upcoming and trending games) and 'Premium' (for paid games).


Going beyond installs
We're showing reminders to try games you've recently installed and we're expanding our successful 'live operations' banners on the Play Store, telling you about major in-game events in popular games you've got on your device. We're also excited to integrate
Android Instant Apps
with a '
Try it Now
' button on store listings. With a single tap, people can jump right into the app experience without installing.
The new games experience on Google Play
The Google Play Console offers tools which help you and your team members at every step of an app's lifecycle. Use the Play Console to improve app quality, manage releases with confidence, and increase business performance.


Focus on quality
Android vitals were introduced at I/O 2017 and already 65% of top developers are using the dashboard to understand their app's performance. We're adding
five new Android vitals
and increasing device coverage to help you
address issues
relating to battery consumption, crashes, and render time. Better performing apps are favored by Google Play's search and discovery algorithms.
We're
improving pre-launch reports
and enabling them for all developers with no need to opt-in. When you upload an alpha or beta APK, we'll automatically install and test your app on physical, popular devices powered by Firebase Test Lab. The report will tell you about crashes, display issues, security vulnerabilities, and now, performance issues encountered.
When you install a new app, you expect it to open and perform normally. To ensure people installing apps and games from Google Play have a positive experience and developers benefit from being part of a trusted ecosystem, we are introducing a policy to disallow apps which consistently exhibit broken experiences on the majority of devices such as​ crashing,​ closing,​ ​freezing,​ ​or​ ​otherwise​ ​functioning​ ​abnormally.
Learn more in the policy center
.


Release with confidence
Beta testing lets trusted users try your app or game before it goes to production so you can iterate on your ideas and gather feedback. You can now target
alpha and beta tests
to specific countries. This allows you to, for example, beta test in a country you're about to launch in, while people in other countries receive your production app. We'll be bringing country-targeting to staged rollouts soon.
We've also made improvements to the
device catalog
. Over 66% of top developers are using the catalog to ensure they provide a great user experience on the widest range of devices. You can now save device searches and see why a specific device doesn't support your app. Navigate to the device catalog and review the terms of service to get started.


Grow your subscriptions business
At I/O 2017 we announced that both the number of subscribers on Play and the subscriptions business revenue doubled in the preceding year. We're making it easier to setup and manage your subscription service with the
Play Billing Library
and, soon,
new test instruments
to simplify testing your flows for successful and unsuccessful payments.
We're helping you acquire and retain more subscribers. You can offer shorter free trials, at a minimum of three days, and we will now enforce one free trial at the app level to reduce the potential for abuse. You can opt-in to receive notifications when someone cancels their subscription and we're making it easier for people to restore a canceled subscription. Account hold is now generally available, where you can block access to your service while we get a user to fix a renewal payment issue. Finally, from January 2018 we're also updating our
transaction fee
for subscribers who are retained for more than 12 months.
Announcing the Google Play Security Reward Program
At Google, we have long enjoyed a close relationship with the security research community. Today we're introducing the
Google Play Security Reward Program
to incentivize security research into popular Android apps, including Google's own apps. The program will help us find vulnerabilities and notify developers via security recommendations on how to fix them. We hope to bring the success we have with our
other reward programs
, and we invite developers and the research community to work together with us on proactively improving Google Play ecosystem's security.


Stay up to date with Google Play news and tips
How useful did you find this blogpost?
★
★
★
★
★
19 Oct 2017 5:00pm GMT
Posted by Adriana Puchianu, Developer Marketing Google Play

Following last year's success, today we're announcing the second annual Google Play Indie Games Contest in Europe, expanding to more countries and bigger prizes. The contest rewards your passion, creativity and innovation, and provides support to help bring your game to more people.
Prizes for the finalists and winners
A trip to London to showcase your game at the Saatchi Gallery

Paid digital marketing campaigns worth up to 100,000 EUR

Influencer campaigns worth up to 50,000 EUR

Premium placements on Google Play

Promotion on Android and Google Play marketing channels

Tickets to Google I/O 2018 and other top industry events

Latest Google hardware

Special prizes for the best Unity games



How to enter the contest
If you're based in one of the 28 eligible countries, have 30 or less full time employees, and published a new game on Google Play after 1 January 2017, you may now be eligible to enter the contest. If you're planning on publishing a new game soon, you can also enter by submitting a private beta. Check out all the details in the terms and conditions. Submissions close on 31 December 2017.
Up to 20 finalists will showcase their games at an open event at the Saatchi Gallery in London on the 13th February 2018. At the event, the top 10 will be selected by the event attendees and the Google Play team. The top 10 will then pitch to the jury of industry experts, from which the final winner and runners up will be selected.
Come along to the final event
Anyone can register to attend the final showcase event at the Saatchi Gallery in London on 13 February 2018. Play some great indie games and have fun with indie developers,industry experts, and the Google Play team.
Enter now
Visit the contest site to find out more and enter the Indie Games Contest now.
19 Oct 2017 8:30am GMT
16 Oct 2017
Editor's note: Cross-post from The Keyword. If you're a developer interested in supporting a fundraising cause within your title or if you have a social impact app, let us know


Posted by Maxim Mai, Partner Development Manager, Google Play
We grow enough food to feed everyone on the planet. Yet 815 million people-one in nine-still go to bed on an empty stomach every day.
On October 16, people from around the world come together for World Food Day, with the goal to promote awareness and action for those who suffer from hunger and to advocate for food security and nutritious diets for all.
To raise funds and awareness for this cause, Google Play has joined forces with 12 popular apps and games to create the Apps and Games Against Hunger collection available in North and Latin America.
From now until October 21, 100% of revenue from designated in-app purchases made in Google Play's Apps and Games Against Hunger collection will be donated to World Food Program USA.
World Food Program USA supports the mission of the UN World Food Programme, the leading agency fighting hunger, by mobilizing individuals, lawmakers and businesses in the U.S. to advance the global movement to end hunger, feeding families in need around the world.
These are the 12 global leading apps and games taking part in this special fundraising collection on Google Play:
My Cafe: Recipes & Stories - World Cooking Game
Rodeo Stampede: Sky Zoo Safari
Thank you to all our users and developers for supporting World Food Day.
16 Oct 2017 4:35pm GMT
01 Apr 2017
April Fools' Day should probably be called Google Fools' Day, since there are so many Google hoaxes.

Google Japan developed a "bubble wrap" version of the Japanese keyboard. "The Google Japanese input bubble wrap version is a keyboard that realizes 'I want to press in my mind, I want to keep pressing'," according to Google Translate.




Another product for your smart home? Meet Google Gnome, "a voice-activated, hands-free tool designed to make backyard living effortless. Need to know what animal is squeaking in your bushes? Stay still and ask Gnome what sound an opossum makes. Running low on birdseed? That's where Gnome comes in. You can even use Gnome's proprietary high-intensity lasers to trim your hedges into whatever shape your heart desires."




The Chrome OS team brings the most popular mobile accessories to the Chromebook, which already blurs the line between mobile and desktop. Chromebook Groupie Stick, Chromebook Cardboard, Chromebook Workout Armband will soon be available in the Google Store. "To take advantage of beautiful, high-resolution displays, as well as great photo editing apps, we've carefully engineered the first Chromebook-sized selfie stick. Never again will you miss the perfect groupie."



Haptic Helpers make VR even more immersive. "We're taking VR to the next level with Haptic Helpers. Using a modest set of everyday tools, these VR virtuosos can simulate more than 10,000 unique experiences, all from the comfort of your own home. Smell the roses. Listen to the ocean. Feel a fluffy dog!"


You can now play the classic arcade game MS. PAC-MAN in Google Maps. "Avoid Blinky, Pinky, Inky, and Sue as you swerve the streets of real places around the world. But eat the pac-dots fast, because this game will only be around for a little while." Just go to the Google Maps site or open the Google Maps app for Android or iOS and click or tap MS. PAC-MAN at the bottom.



Google Cloud Platform expands to Mars. "By opening a dedicated extraterrestrial cloud region, we're bringing the power of Google's compute, network, and storage to the rest of the solar system, unlocking a plethora of possibilities for astronomy research, exploration of Martian natural resources and interplanetary life sciences. This region will also serve as an important node in an extensive network throughout the solar system. Our first interplanetary data center - affectionately nicknamed 'Ziggy Stardust' - will open in 2018," mentions Google.



Google Netherlands came up with Google Wind, a machine learning technology that controls the weather. "The Netherlands has many windmills, some no longer in use, we can connect to Google Cloud Platform. So we use the existing Dutch infrastructure, machine learning, weather patterns to control the network of windmills when rain is approaching. The first test results are very promising: we seem to be able to provide sun and clear skies for everyone in the Netherlands," mentions Google Netherlands blog.




Google's search app for iOS is now optimized for cats and dogs. "On the Google app for iOS, you can now use 3D Touch on the app icon or head to settings and select I'm Feeling Woof or I'm Feeling Meow to let your dogs and cats get info on topics they care about-whether that means squeaky toys or a bowl of milk!"



Google also launched Google Play for Pets, a new category of Android games designed for cats, dogs and other pets.


Google Translate's Word Lens feature supports a new language: Heptapod B, the alien language from the movie "Arrival". "The challenge with understanding Heptapod B is its nonlinear orthography. Fortunately, Google's neural machine translation system employs an encoder/decoder system that internally represents sentences as high-dimensional vectors. These vectors map well to the non-linear orthography of the Heptapod language and they are really the enabling technical factor in translating Heptapod B."


01 Apr 2017 7:25am GMT
19 Feb 2017
If you try to send a JavaScript attachment using Gmail or if you want to download a .js attachment, you'll get a new anti-virus warning: "Blocked for security reasons", "1 attachment contains a virus or blocked file. Downloading this attachment is disabled".


.JS has been added to the long list of file types that are blocked by Gmail for security reasons. The full list: .ADE, .ADP, .BAT, .CHM, .CMD, .COM, .CPL, .EXE, .HTA, .INS, .ISP, .JAR, .JS (NEW), .JSE, .LIB, .LNK, .MDE, .MSC, .MSI, .MSP, .MST, .NSH .PIF, .SCR, .SCT, .SHB, .SYS, .VB, .VBE, .VBS, .VXD, .WSC, .WSF, .WSH. "To prevent against potential viruses, Gmail doesn't allow you to attach certain types of files, including: certain file types (listed above), including their compressed form (like .gz or .bz2 files) or when found within archives (like .zip or .tgz files), documents with malicious macros, archives whose listed file content is password protected, archives whose content includes a password protected archive."

The GSuite Blog informs that "for inbound mail, senders will get a bounce message explaining why the email was blocked. If you still need to send .js files for legitimate reasons, you can use Google Drive, Google Cloud Storage, or other storage solutions to share or send your files."

You can still send JavaScript files using Gmail if you change the extension. What about downloading old .js attachments? Try the workarounds from this post.
19 Feb 2017 10:39am GMT
25 Jan 2017
Google Image Search has a different way to display suggestions: it now shows a long list of colorful boxes with related searches. You can click one or more boxes to dynamically refine search results.



For example, when searching for [sportswear], Google shows suggestions like: [women basketball], [tennis], [badminton], [golf], [volleyball], [nike woman], [alexander wang], [adidas], [fashion], [performance], [vintage], [trendy], [urban], [school], [gym], [90's], [70's], [vogue], [luxe], [avant garde], [korean], [italian], [french] and more. It's interesting to notice that each category of suggestions has a different color.



Here's the old interface, which had fewer suggestions and displayed thumbnails next to suggestions:


25 Jan 2017 9:39pm GMT
19 Jan 2017
A few months ago, I took a leave of absence from Google to do a stint with the US Digital Service. A lot of people know about the US Digital Service because they helped rescue the healthcare.gov website. But you might not realize that the US Digital Service has helped veterans get their health benefits, […]
19 Jan 2017 3:47am GMT
18 Jun 2016
Over the last couple years, I've seen more and more people in technology trying to make government work better. They're idealists who are also making a large impact. These are people that I respect-some of them worked to fix healthcare.gov, for example. From talking to many of them, I can tell you that their energy […]
18 Jun 2016 1:57am GMT
03 Feb 2016
Amit Singhal just announced that he's retiring toward the end of the month. Amit has been a formative part of Google's search team, but he's also a good friend. Last year, after he marked 15 years with Google, I wrote this about Amit's contributions: Amit Singhal, one of the unsung heroes of Google, just celebrated […]
03 Feb 2016 7:49pm GMT
10 Nov 2011
From the developer of Meganoid and Stardash comes a new action arcade game: INC! http://www.youtube.com/watch?v=9j5OEG-3RyM Get it from the...
10 Nov 2011 9:31am GMT
More than 1000 broadcast cameras for you online - the most incendiary models in Russia. 1000 girls, 1000, the temptations, 1000, full of desire - all...
10 Nov 2011 7:48am GMT
Hi Friends I decided to work with a tab layout application. Program consist of 3 tabs and a button. I like to place the button below the tab. ...
10 Nov 2011 5:20am GMT
26 Aug 2011
The Emperor instructed the gardener to set up the new court's garden. "I want you to plant five trees growing the Crataan fruit," the Emperor said, "Because we asked people what fruit they like best, and most named the Crataan fruit!" The gardener replied, "Emperor, that is excellent thinking! But let me make some suggestions: First, how about we make one of the five trees bear the Muran fruit. Only one out of ten citizens loves it, but those peculiar citizens tend to love multiple times as much!" "Second," the gardener continued, "How about we make one of the five trees bear the Dratean fruit. No one loves it, but that's because no one knows it yet!" "Third," the gardener said, "How about we leave one spot in the garden empty. Who knows what new type of tree we'll discover that we can put there in the fut ...
26 Aug 2011 12:12pm GMT
15 Aug 2011
For those of you who've been wondering whether I had turned to stone, fallen into a bottomless pit, or been climbing the Himalaya... no, none of that is true, even though you probably did notice I'm not actively blogging about Google here anymore*! Just now, a new iPad app I've been working on called Color Sound Machine went live, and this -- and all the other apps and games at Versus Pad** -- are actually what I am doing while not blogoscoping. *I've drafted unpublished posts explaining much more about past, present and future of Blogoscoped, and the history of Google news reporting, but ... oh, for now le ...
15 Aug 2011 4:00pm GMT
25 Feb 2011
One of the earliest specialist services provided by Google was reverse phone number lookup. If you used the "phonebook:" or "rphonebook:" operators together with a 10-digit US phone number, Google would show you the owner of that phone number, unless the number was unlisted. Google no longer provides that service. Not surprisingly, there was no press release marking the closure, but Google employee Daniel Russell has acknowledged the closure of the service in his blog. He hints at the possible pressures leading to the shuttering of the service: "As you can imagine, this was an endless source of hassles for people (who were surprised to see themselves searchable on Google) and for Google (who had to constantly de ...
25 Feb 2011 11:23am GMT