22 Feb 2019
Whether or not you actually need 8GB of RAM in a smartphone is a conversation and a half on its own, but when Samsung said that the Galaxy S10 and Galaxy S10+ would all have at least 8GB of RAM, that's what buyers are expecting. Unfortunately, there seemed to be a ton of misinformation, software weirdness, and […]

Come comment on this article: Despite some confusion, Samsung confirms at least 8GB of RAM in all Galaxy S10 and S10+ models

22 Feb 2019 4:11pm GMT
Microsoft Office is a crucial piece of software whether you're working in a business, in education, or just handling things at a personal level. It's the most common office software on the planet, it's extremely powerful, and it looks great on a resume if you have legitimate certifications with it. The eLearnOffice Microsoft Office Certification […]

Come comment on this article: [TA Deals] Master Microsoft Office with this discounted eLearnOffice certification course (90% off)

22 Feb 2019 3:50pm GMT
Samsung's latest Galaxy S10 series of phones still have the frustrating Bixby hardware button that no one really asked for, but the newer devices will now allow users to change the function of the button to do other things, too. So while yes, it's still a Bixby button, it can also be a Google Assistant […]

Come comment on this article: Older Samsung Galaxy devices will get Bixby remapping in an update

22 Feb 2019 3:37pm GMT
Last November, Raymond Chan, a data scientist at Chope, attended one of our first ML bootcamps for developers and start-ups in Southeast Asia. Over four days, he gained a deeper understanding of how to use Google Cloud Platform to better structure data from approximately 775,000 records on Chope's real-time restaurant reservation booking platform every day. With this new knowledge, Chope has been able to use that data for more effective and timely decision-making, making it easier for customers to book restaurants.
Today in Singapore, we're opening the Developer Space @ Google Singapore-a space that brings together resources to help Southeast Asian developers, entrepreneurs and community groups grow, plus earn more with their businesses. This is the first physical space dedicated to developers that sits inside a Google office, so developers here can look forward to benefiting from insights, hands-on mentorship and networking opportunities with various teams working at our Asia Pacific headquarters.
Supporting startups and developers like Raymond, and helping them achieve their full potential is something we're passionate about. In addition to the ML bootcamps, we will run a range of workshops on the latest Google tools and technologies, as well as programs like LeadersLab and Indie Games Accelerator that fuel ecosystem growth. We will also support activities run by community groups like Google Developer Groups, Google Business Groups and Women Techmakers.
With developers and startups from Southeast Asia
rapidly driving growth
across the region, we can't think of a better place to open this new hub. Come join us throughout the year for an exciting roster of events and meet people who, like Raymond, are looking to build and scale great products. Check out our schedule of events
here
.
Minister Iswaran Google Developer Space Singapore

Minister S. Iswaran speaking at the opening of the Developer Space @ Google Singapore

Participants in the Machine Learning Bootcamp. This global series was piloted in Singapore, and we look forward to training another 800 developers here by the end of this year.

Developer Space Singapore 2

Val Yap, Founder and CEO, PolicyPal speaking at the Developer Space @ Google Singapore opening.
22 Feb 2019 5:30am GMT
21 Feb 2019
Posted by Edward Cunningham, Android Security & Privacy Team
In a previous blog we described how API behavior changes advance the security and privacy protections of Android, and include user experience improvements that prevent apps from accidentally overusing resources like battery and memory.
Since November 2018, all app updates on Google Play have been required to target API level 26 (Android 8.0) or higher. Thanks to the efforts of thousands of app developers, Android users now enjoy more apps using modern APIs than ever before, bringing significant security and privacy benefits. For example, during 2018 over 150,000 apps added support for runtime permissions, giving users granular control over the data they share.
Today we're providing more information about the Google Play requirements for 2019, and announcing some changes that affect apps distributed via other stores.
Google Play requirements for 2019
In order to provide users with the best Android experience possible, the Google Play Console will continue to require that apps target a recent API level:
August 2019: New apps are required to target API level 28 (Android 9) or higher.
November 2019: Updates to existing apps are required to target API level 28 or higher.
Existing apps that are not receiving updates are unaffected and can continue to be downloaded from the Play Store. Apps can still use any minSdkVersion, so there is no change to your ability to build apps for older Android versions.
For a list of changes introduced in Android 9 Pie, check out our page on behavior changes for apps targeting API level 28+.
Apps distributed via other stores
Targeting a recent API level is valuable regardless of how an app is distributed. In China, major app stores from Huawei, OPPO, Vivo, Xiaomi, Baidu, Alibaba, and Tencent will be requiring that apps target API level 26 (Android 8.0) or higher in 2019. We expect many others to introduce similar requirements - an important step to improve the security of the app ecosystem.
Over 95% of spyware we detect outside of the Play Store intentionally targets API level 22 or lower, avoiding runtime permissions even when installed on recent Android versions. To protect users from malware, and support this ecosystem initiative, Google Play Protect will warn users when they attempt to install APKs from any source that do not target a recent API level:
August 2019: New apps will receive warnings during installation if they do not target API level 26 or higher.
November 2019: New versions of existing apps will receive warnings during installation if they do not target API level 26 or higher.
2020 onwards: The target API level requirement will advance annually.
These Play Protect warnings will show only if the app's targetSdkVersion is lower than the device API level. For example, a user with a device running Android 6.0 (Marshmallow) will be warned when installing any new APK that targets API level 22 or lower. Users with devices running Android 8.0 (Oreo) or higher will be warned when installing any new APK that targets API level 25 or lower.
Prior to August, Play Protect will start showing these warnings on devices with Developer options enabled to give advance notice to developers of apps outside of the Play Store. To ensure compatibility across all Android versions, developers should make sure that new versions of any apps target API level 26+.
Existing apps that have been released (via any distribution channel) and are not receiving updates will be unaffected - users will not be warned when installing them.
Getting started
For advice on how to change your app's target API level, take a look at the migration guide and this talk from I/O 2018: Migrate your existing app to target Android Oreo and above.
We're extremely grateful to the Android developers worldwide who have already updated their apps to deliver security improvements for their users. We look forward to making great progress together in 2019.
21 Feb 2019 7:21pm GMT
In 2017, the Department of Health and Human Services (HHS) declared the opioid crisis a public health emergency, with over 130 Americans dying every day from opioid-related drug overdoses. Last month, we saw that search queries for "medication disposal near me" reached an all-time high on Google.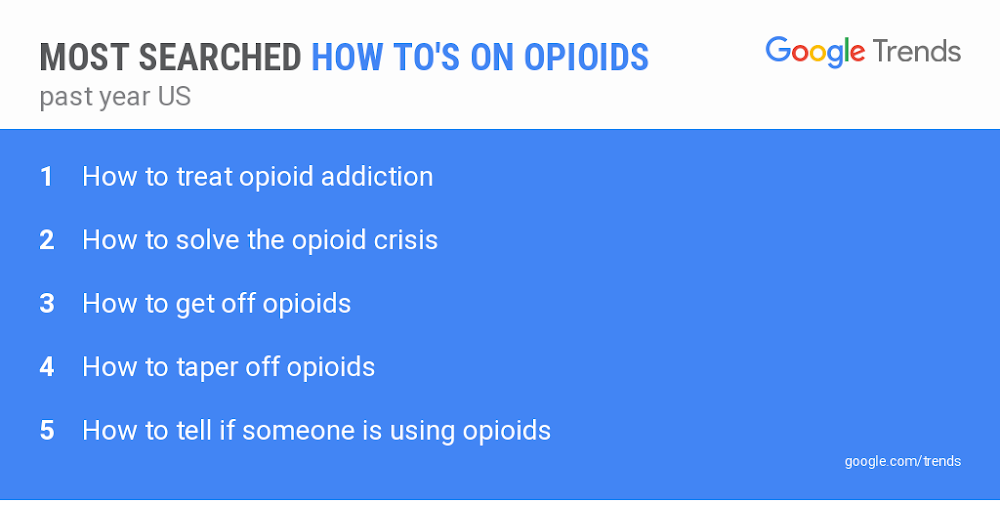 53 percent of prescription drug abuse starts with drugs obtained from family or friends, so we're working alongside government agencies and nonprofit organizations to help people safely remove excess or unused opioids from their medicine cabinets. Last year, we partnered with the U.S. Drug Enforcement Administration (DEA) for National Prescription Take Back Day by developing a Google Maps API locator tool to help people dispose of their prescription drugs at temporary locations twice a year. With the help of this tool, the DEA and its local partners collected a record 1.85 million pounds of unused prescription drugs in 2018.
Today, we're making it easier for Americans to quickly find disposal locations on Google Maps and Search all year round. A search for queries like "drug drop off near me" or "medication disposal near me" will display permanent disposal locations at your local pharmacy, hospital or government building so you can quickly and safely discard your unneeded medication.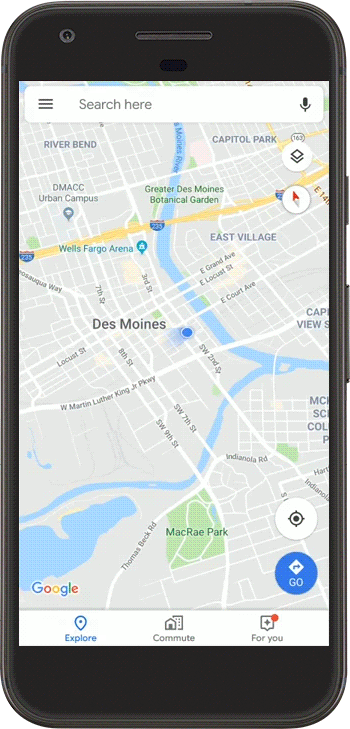 This pilot has been made possible thanks to the hard work of many federal agencies, states and pharmacies. Companies like Walgreens and CVS Health, along with state governments in Alabama, Arizona, Colorado, Iowa, Massachusetts, Michigan and Pennsylvania have been instrumental in this project, contributing data with extensive lists of public and private disposal locations. The DEA is already working with us to provide additional location data to expand the pilot.
For this pilot, we also looked to public health authorities-like HHS-for ideas on how technology can help communities respond to the opioid crisis. In fact, combining disposal location data from different sources was inspired by a winning entry at the HHS's Opioid Code-A-Thon held a year ago.
We'll be working to expand coverage and add more locations in the coming months. To learn more about how your state or business can bring more disposal locations to Google Maps and Search, contact RXdisposal-data@google.com today.
21 Feb 2019 5:00pm GMT
Editor's note: Today's post is by Harriet Ogilvie, a teacher at Lundavra Primary School in Fort William, Scotland. Harriet was one of the many teachers who recently joined us at BETT 2019 to share stories about using technology that engages students and transforms learning. Below, Harriet explains how she and other Lundavra teachers help students build communication skills and create online portfolios using G Suite for Education.
At Lundavra Primary School, students and teachers encourage parents and other local residents to visit our schools and learn about what's happening in our classrooms. It's important to us that we connect the Fort William community to the life of the school. To make this happen, we invite everyone in the area to "Community Cafes," once-a-month social events featuring student singing, homemade baked goods and a book exchange.
After the Community Cafes, students with Chromebooks in hand ask people if they enjoyed attending, and what they'd like to see at future Cafes. The students enter responses into Google Forms, which is helpful for us teachers as we plan our future community events-plus, it's much easier to keep track of than paper forms that wouldn't be returned. When students are getting this feedback using Google Forms, they can connect and communicate with fellow students, teachers and people in the community. Students learn language and communication skills as they formulate questions to ask attendees and start conversations with adults.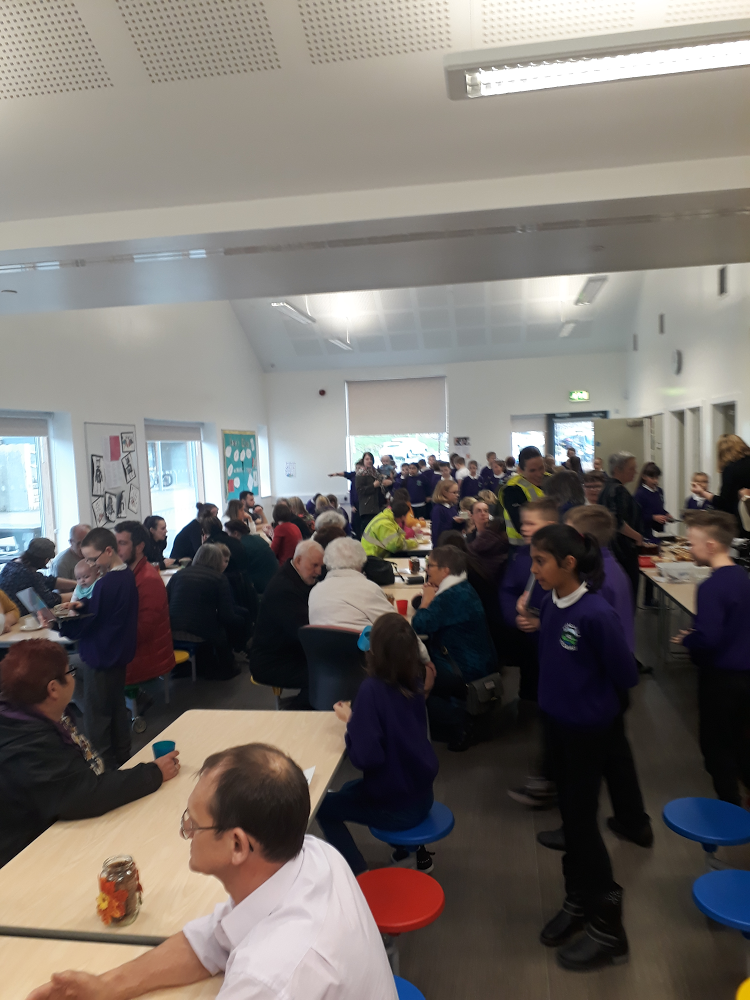 Check out the Community Cafe at Lundavra Primary School!
I like talking with my granny and her friends and helping her use the Chromebook. Neo
Primary 6 student about the Community Cafe
For students, gaining digital skills and building confidence often starts in the Community Cafes, but continues through students' development of learning portfolios, which are records of their classroom projects and their accomplishments. The portfolios help pupils take ownership of their learning and show what they've accomplished to peers and parents.
These portfolios used to be on paper. When we switched to online portfolios, students could be more creative in telling stories about their academic careers-for instance, by creating video book reports and adding photos of themselves and their classmates. They build portfolios using Google Sites-a much more flexible and engaging tool than paper portfolios that weren't easy to share and frequently misplaced. Students use the Padlet app with their Chromebooks to write regular reflections about their work, and embed the Padlet pages into their Google Sites. Using YouTube, students work with their peers to create vlogs about stories they write themselves. By the time students reach Year 7, they can teach their younger classmates how to build online portfolios-a confidence-building exercise for those about to move on to secondary school.
I am better at talking to people I don't know. I enjoyed looking at the data we collected from our Google Forms survey. I made it into bar graphs and pie charts to make it easier to understand. Kirsty
Primary 6 student
Teachers and students need tools that encourage students to leave their comfort zones. In our case, the tools in the background are from Google: Videos, portfolios, surveys, documents and online research that inspire students to choose how they want to learn and create. Every time students use Google tools, they learn skills that go beyond the lesson at hand. When they build their online portfolios, students learn how to organize content; when they teach younger students how to use Google Sites, they learn about leadership. And when teachers create assignments in Google Classroom and provide comments while students are working, students learn to give and receive feedback and collaborate with others. We're excited to find new ways to use Google to help our students become confident, engaged learners.
21 Feb 2019 4:00pm GMT
13 Feb 2019
Posted by Andrew Ahn, Product Manager, Google Play
Google Play is committed to providing a secure and safe platform for billions of Android users on their journey discovering and experiencing the apps they love and enjoy. To deliver against this commitment, we worked last year to improve our abuse detection technologies and systems, and significantly increased our team of product managers, engineers, policy experts, and operations leaders to fight against bad actors.
In 2018, we introduced a series of new policies to protect users from new abuse trends, detected and removed malicious developers faster, and stopped more malicious apps from entering the Google Play Store than ever before. The number of rejected app submissions increased by more than 55 percent, and we increased app suspensions by more than 66 percent. These increases can be attributed to our continued efforts to tighten policies to reduce the number of harmful apps on the Play Store, as well as our investments in automated protections and human review processes that play critical roles in identifying and enforcing on bad apps.
In addition to identifying and stopping bad apps from entering the Play Store, our Google Play Protect system now scans over 50 billion apps on users' devices each day to make sure apps installed on the device aren't behaving in harmful ways. With such protection, apps from Google Play are eight times less likely to harm a user's device than Android apps from other sources.
Here are some areas we've been focusing on in the last year and that will continue to be a priority for us in 2019:
Protecting User Privacy
Protecting users' data and privacy is a critical factor in building user trust. We've long required developers to limit their device permission requests to what's necessary to provide the features of an app. Also, to help users understand how their data is being used, we've required developers to provide prominent disclosures about the collection and use of sensitive user data. Last year, we rejected or removed tens of thousands of apps that weren't in compliance with Play's policies related to user data and privacy.
In October 2018, we announced a new policy restricting the use of the SMS and Call Log permissions to a limited number of cases, such as where an app has been selected as the user's default app for making calls or sending text messages. We've recently started to remove apps from Google Play that violate this policy. We plan to introduce additional policies for device permissions and user data throughout 2019.
Developer integrity
We find that over 80% of severe policy violations are conducted by repeat offenders and abusive developer networks. When malicious developers are banned, they often create new accounts or buy developer accounts on the black market in order to come back to Google Play. We've further enhanced our clustering and account matching technologies, and by combining these technologies with the expertise of our human reviewers, we've made it more difficult for spammy developer networks to gain installs by blocking their apps from being published in the first place.
Harmful app contents and behaviors
As mentioned in last year's blog post, we fought against hundreds of thousands of impersonators, apps with inappropriate content, and Potentially Harmful Applications (PHAs). In a continued fight against these types of apps, not only do we apply advanced machine learning models to spot suspicious apps, we also conduct static and dynamic analyses, intelligently use user engagement and feedback data, and leverage skilled human reviews, which have helped in finding more bad apps with higher accuracy and efficiency.
Despite our enhanced and added layers of defense against bad apps, we know bad actors will continue to try to evade our systems by changing their tactics and cloaking bad behaviors. We will continue to enhance our capabilities to counter such adversarial behavior, and work relentlessly to provide our users with a secure and safe app store.
How useful did you find this blog post?
13 Feb 2019 6:01pm GMT
12 Feb 2019
Posted by Dave Smith, Developer Advocate for IoT
Over the past year, Google has worked closely with partners to create consumer products powered by Android Things with the Google Assistant built-in. Given the successes we have seen with our partners in smart speakers and smart displays, we are refocusing Android Things as a platform for OEM partners to build devices in those categories moving forward. Therefore, support for production System on Modules (SoMs) based on NXP, Qualcomm, and MediaTek hardware will not be made available through the public developer platform at this time.
Android Things continues to be a platform for experimenting with and building smart, connected devices using the Android Things SDK on top of popular hardware like the NXP i.MX7D and Raspberry Pi 3B. System images for these boards will remain available through the Android Things console where developers can create new builds and push app updates for up to 100 devices for non-commercial use.
We remain dedicated to providing a managed platform for IoT devices, including turnkey hardware solutions. For developers looking to commercialize IoT products in 2019, check out Cloud IoT Core for secure device connectivity at scale and the upcoming Cloud IoT Edge runtime for a suite of managed edge computing services. For on-device machine learning applications, stay tuned for more details about our Edge TPU development boards.
12 Feb 2019 7:00pm GMT
04 Nov 2018
Do you need something to cheer you up? You got it: I should explain this costume a little bit. At the US Digital Service, we do a thing called "crab claws." Crab claws is like visual applause-you pinch your fingers up and down to say "great job" or "congratulations" or "way to go." We do […]
04 Nov 2018 8:02pm GMT
08 Mar 2018
Cindy Cutts, my wife and best friend, passed away earlier this week. While I was traveling for work recently, Cindy went to visit her family in Omaha, Nebraska. On Sunday, while enjoying time with family, Cindy started having trouble breathing. Her family quickly called 911 and paramedics took Cindy to the hospital, but Cindy lost […]
08 Mar 2018 12:17am GMT
22 Jan 2018
Last week, I passed my one year anniversary as head of the US Digital Service (USDS). So when Mr. Money Mustache asked for an interview, I was delighted to talk about some of the work that the USDS does. If you aren't familiar with Mr. Money Mustache, he writes about a philosophy of badassity in […]
22 Jan 2018 6:58pm GMT
01 Apr 2017
April Fools' Day should probably be called Google Fools' Day, since there are so many Google hoaxes.

Google Japan developed a "bubble wrap" version of the Japanese keyboard. "The Google Japanese input bubble wrap version is a keyboard that realizes 'I want to press in my mind, I want to keep pressing'," according to Google Translate.




Another product for your smart home? Meet Google Gnome, "a voice-activated, hands-free tool designed to make backyard living effortless. Need to know what animal is squeaking in your bushes? Stay still and ask Gnome what sound an opossum makes. Running low on birdseed? That's where Gnome comes in. You can even use Gnome's proprietary high-intensity lasers to trim your hedges into whatever shape your heart desires."




The Chrome OS team brings the most popular mobile accessories to the Chromebook, which already blurs the line between mobile and desktop. Chromebook Groupie Stick, Chromebook Cardboard, Chromebook Workout Armband will soon be available in the Google Store. "To take advantage of beautiful, high-resolution displays, as well as great photo editing apps, we've carefully engineered the first Chromebook-sized selfie stick. Never again will you miss the perfect groupie."



Haptic Helpers make VR even more immersive. "We're taking VR to the next level with Haptic Helpers. Using a modest set of everyday tools, these VR virtuosos can simulate more than 10,000 unique experiences, all from the comfort of your own home. Smell the roses. Listen to the ocean. Feel a fluffy dog!"


You can now play the classic arcade game MS. PAC-MAN in Google Maps. "Avoid Blinky, Pinky, Inky, and Sue as you swerve the streets of real places around the world. But eat the pac-dots fast, because this game will only be around for a little while." Just go to the Google Maps site or open the Google Maps app for Android or iOS and click or tap MS. PAC-MAN at the bottom.



Google Cloud Platform expands to Mars. "By opening a dedicated extraterrestrial cloud region, we're bringing the power of Google's compute, network, and storage to the rest of the solar system, unlocking a plethora of possibilities for astronomy research, exploration of Martian natural resources and interplanetary life sciences. This region will also serve as an important node in an extensive network throughout the solar system. Our first interplanetary data center - affectionately nicknamed 'Ziggy Stardust' - will open in 2018," mentions Google.



Google Netherlands came up with Google Wind, a machine learning technology that controls the weather. "The Netherlands has many windmills, some no longer in use, we can connect to Google Cloud Platform. So we use the existing Dutch infrastructure, machine learning, weather patterns to control the network of windmills when rain is approaching. The first test results are very promising: we seem to be able to provide sun and clear skies for everyone in the Netherlands," mentions Google Netherlands blog.




Google's search app for iOS is now optimized for cats and dogs. "On the Google app for iOS, you can now use 3D Touch on the app icon or head to settings and select I'm Feeling Woof or I'm Feeling Meow to let your dogs and cats get info on topics they care about-whether that means squeaky toys or a bowl of milk!"



Google also launched Google Play for Pets, a new category of Android games designed for cats, dogs and other pets.


Google Translate's Word Lens feature supports a new language: Heptapod B, the alien language from the movie "Arrival". "The challenge with understanding Heptapod B is its nonlinear orthography. Fortunately, Google's neural machine translation system employs an encoder/decoder system that internally represents sentences as high-dimensional vectors. These vectors map well to the non-linear orthography of the Heptapod language and they are really the enabling technical factor in translating Heptapod B."


01 Apr 2017 7:25am GMT
19 Feb 2017
If you try to send a JavaScript attachment using Gmail or if you want to download a .js attachment, you'll get a new anti-virus warning: "Blocked for security reasons", "1 attachment contains a virus or blocked file. Downloading this attachment is disabled".


.JS has been added to the long list of file types that are blocked by Gmail for security reasons. The full list: .ADE, .ADP, .BAT, .CHM, .CMD, .COM, .CPL, .EXE, .HTA, .INS, .ISP, .JAR, .JS (NEW), .JSE, .LIB, .LNK, .MDE, .MSC, .MSI, .MSP, .MST, .NSH .PIF, .SCR, .SCT, .SHB, .SYS, .VB, .VBE, .VBS, .VXD, .WSC, .WSF, .WSH. "To prevent against potential viruses, Gmail doesn't allow you to attach certain types of files, including: certain file types (listed above), including their compressed form (like .gz or .bz2 files) or when found within archives (like .zip or .tgz files), documents with malicious macros, archives whose listed file content is password protected, archives whose content includes a password protected archive."

The GSuite Blog informs that "for inbound mail, senders will get a bounce message explaining why the email was blocked. If you still need to send .js files for legitimate reasons, you can use Google Drive, Google Cloud Storage, or other storage solutions to share or send your files."

You can still send JavaScript files using Gmail if you change the extension. What about downloading old .js attachments? Try the workarounds from this post.
19 Feb 2017 10:39am GMT
25 Jan 2017
Google Image Search has a different way to display suggestions: it now shows a long list of colorful boxes with related searches. You can click one or more boxes to dynamically refine search results.



For example, when searching for [sportswear], Google shows suggestions like: [women basketball], [tennis], [badminton], [golf], [volleyball], [nike woman], [alexander wang], [adidas], [fashion], [performance], [vintage], [trendy], [urban], [school], [gym], [90's], [70's], [vogue], [luxe], [avant garde], [korean], [italian], [french] and more. It's interesting to notice that each category of suggestions has a different color.



Here's the old interface, which had fewer suggestions and displayed thumbnails next to suggestions:


25 Jan 2017 9:39pm GMT
10 Nov 2011
From the developer of Meganoid and Stardash comes a new action arcade game: INC! http://www.youtube.com/watch?v=9j5OEG-3RyM Get it from the...
10 Nov 2011 9:31am GMT
More than 1000 broadcast cameras for you online - the most incendiary models in Russia. 1000 girls, 1000, the temptations, 1000, full of desire - all...
10 Nov 2011 7:48am GMT
Hi Friends I decided to work with a tab layout application. Program consist of 3 tabs and a button. I like to place the button below the tab. ...
10 Nov 2011 5:20am GMT
26 Aug 2011
The Emperor instructed the gardener to set up the new court's garden. "I want you to plant five trees growing the Crataan fruit," the Emperor said, "Because we asked people what fruit they like best, and most named the Crataan fruit!" The gardener replied, "Emperor, that is excellent thinking! But let me make some suggestions: First, how about we make one of the five trees bear the Muran fruit. Only one out of ten citizens loves it, but those peculiar citizens tend to love multiple times as much!" "Second," the gardener continued, "How about we make one of the five trees bear the Dratean fruit. No one loves it, but that's because no one knows it yet!" "Third," the gardener said, "How about we leave one spot in the garden empty. Who knows what new type of tree we'll discover that we can put there in the fut ...
26 Aug 2011 12:12pm GMT
15 Aug 2011
For those of you who've been wondering whether I had turned to stone, fallen into a bottomless pit, or been climbing the Himalaya... no, none of that is true, even though you probably did notice I'm not actively blogging about Google here anymore*! Just now, a new iPad app I've been working on called Color Sound Machine went live, and this -- and all the other apps and games at Versus Pad** -- are actually what I am doing while not blogoscoping. *I've drafted unpublished posts explaining much more about past, present and future of Blogoscoped, and the history of Google news reporting, but ... oh, for now le ...
15 Aug 2011 4:00pm GMT
25 Feb 2011
One of the earliest specialist services provided by Google was reverse phone number lookup. If you used the "phonebook:" or "rphonebook:" operators together with a 10-digit US phone number, Google would show you the owner of that phone number, unless the number was unlisted. Google no longer provides that service. Not surprisingly, there was no press release marking the closure, but Google employee Daniel Russell has acknowledged the closure of the service in his blog. He hints at the possible pressures leading to the shuttering of the service: "As you can imagine, this was an endless source of hassles for people (who were surprised to see themselves searchable on Google) and for Google (who had to constantly de ...
25 Feb 2011 11:23am GMT