22 Aug 2017
Even though Google Home is branded as a speaker, it couldn't do some things that a basic Bluetooth speaker could, like play music from your device. Yes you could stream from music services like Google Play Music, but you couldn't play those that are stored on your phone. But now, an update to Google Home […]
22 Aug 2017 4:00am GMT
Telltale Games are the masters of the story-driven episodic adventure game genre in Android, already coming up with huge hits such as Tales from the Borderlands, Minecraft: Story Mode, and Batman: The Telltale Series. These are simple games where you point and tap, but the stories they tell draw you in much more than the […]
22 Aug 2017 3:00am GMT
Google has confirmed what we've suspected all along: they planned this solar eclipse just so they can launch Android O. Okay, not really. But they did officially unveil the latest Android major update: Android Oreo 8.0. This is the second time that they have partnered with an actual snack brand (previously it was KitKat for […]
22 Aug 2017 1:45am GMT
21 Aug 2017
Google is gearing up to drop the Pixel 2 later this year, but that's not all they're going to announce. A new rumor suggests a few other devices should be unveiled at a hardware event in the fall, including a miniature Google Home and a brand new Chromebook. The Chromebook is expected to replace the […]

Come comment on this article: Google plans to launch a new Chromebook Pixel and mini Google Home this year

21 Aug 2017 9:00pm GMT
A new Samsung wearable has leaked online, which may or may not be an accurate indicator that we're getting an upgraded Gear Fit 2. The image shows a device called the Gear Fit 2 Pro listed beside the current Gear Fit 2, but otherwise doesn't tell us much of anything about the tracker. The "pro" […]

Come comment on this article: Samsung Gear Fit 2 Pro may be on the horizon

21 Aug 2017 8:32pm GMT
You want Android 8.0 Oreo pretty bad, so Google is pushing its partners to get the latest version of its platform onto new and existing devices. It's typical for Google's in-house devices to get software updates first. That's why no one should be surprised that Oreo will be on the Pixel, Pixel C, Nexus 6P, […]

Come comment on this article: Google says its partners will have Android 8.0-flavored hardware by the end of 2017

21 Aug 2017 7:38pm GMT
Posted By: Dave Burke, VP of Engineering
After more than a year of development and months of testing by developers and early adopters (thank you!), we're now ready to officially launch Android 8.0 Oreo to the world. Android 8.0 brings a ton of great features such as picture-in-picture, autofill, integrated Instant Apps, Google Play Protect, faster boot time, and much more.
We're pushing the sources to Android Open Source Project (AOSP) for everyone to access today. Pixel and Nexus 5X/6P builds have entered carrier testing and we expect to start rolling out in phases over the next several weeks, alongside Pixel C and Nexus Player. Android Beta users will receive the update to the final version today and images are available to download and flash manually. We've been working closely with our partners over the last many months, and by the end of this year, hardware makers like Essential, Huawei, HTC, Kyocera, Motorola, HMD Global Home of Nokia Phones, Samsung, Sharp and Sony are scheduled to be launching or upgrading new devices to Android 8.0 Oreo.
What's in Android Oreo?
In Android 8.0 Oreo we focused on creating fluid experiences that make Android even more powerful and easy to use, such as:
We also invested in Android Vitals, a project focused on optimizing battery life, startup time, graphics rendering, and stability, while giving developers better visibility over the health of their apps:
In Android 8.0 your app can directly pin a specific app shortcut in the launcher to drive engagement (left). Notification dots keep users active in your app and let them jump directly to the app's core functions (right).
For developers, Android Oreo includes many new capabilities to help you build better, more efficient apps. Here are just a few:
Adaptive icons display in a variety of shapes across different device models.
Learn more about these and other new features by visiting the Android 8.0 Oreo site on developer.android.com. Also check out the What's New in Android Oreo? video for an overview of new features for developers.
Make sure your apps are ready
If haven't already, take a few moments today to test your apps and make sure they offer the experience you want for users upgrading to Android Oreo.
Just install your current app from Google Play onto a device or emulator running Android Oreo and test the user flows. The app should run and look great, and handle the Android Oreo behavior changes properly. In particular, pay attention to background location limits, notification channels, and changes in networking, security, and identifiers.
Once you've resolved any issues, publish your app updates to Google Play in your alpha, beta, or production channels so that they're available as users start to receive Android 8.0 Oreo.
Speed your development with Android Studio
When you're ready to build with new APIs in Android Oreo, we recommend updating to the latest version of Android Studio 3.0, available for download from the beta channel. Aside from improved app performance profiling tools, support for the Kotlin programming language, and Gradle build optimizations, Android Studio 3.0 makes it easier to develop with Instant Apps, XML Fonts, downloadable fonts, and adaptive icons.
Android Studio 3.0 includes tools for developing with Android Oreo features, such as previewing XML font resources in your app.
We also recommend updating to the Android Support Library 26.0.2, available now from Google's Maven repository, and to the latest SDK, tools, and emulator system images, available in the SDK Manager.
If you're just getting started building for Android Oreo, read the migration guide first. It gives you an overview of the process and the configuration changes you'll need to make.
To compile against the official Android 8.0 APIs, update your project's compileSdkVersion to API 26. We also recommend updating your app's targetSdkVersion to API 26 to opt-in and test your app with Android Oreo specific behavior changes. See the migration guide for details on how to set up your environment to build with Android Oreo.
Publish your updates to Google Play
Google Play is open for apps compiled against or targeting API 26. When you're ready, you can publish your APK updates in your alpha, beta, or production channels.
Make sure that your updated app runs well on Android Oreo as well as older versions. We recommend using Google Play's beta testing feature to get early feedback from a small group of users, then do a staged rollout. We're looking forward to seeing your app updates!
What's next for Android Oreo?
We'll soon be closing the Developer Preview issue tracker, but please keep the feedback coming! You can file a new issue against Android 8.0 in the AOSP issue tracker.
Thanks again to the many developers and early adopters who participated in the Android O Developer Preview and public beta. You gave us great feedback, and filed hundreds of issues that helped us to make the Android Oreo platform great for consumers and developers.
21 Aug 2017 7:27pm GMT
Today, we are officially introducing Android 8.0 Oreo, the latest release of the platform-and it's smarter, faster and more powerful than ever. It comes with new features like picture-in-picture and Autofill to help you navigate tasks seamlessly. Plus, it's got stronger security protections and speed improvements that keep you safe and moving at lightspeed. When you're on your next adventure, Android Oreo is the superhero to have by your side (or in your pocket!).
Android Oreo, to the rescue!
Ever try checking your schedule while staying on a video call? Android Oreo makes it easy with picture-in-picture, letting you see two apps at once: it's like having the power to be in two places at the same time! Overwhelmed by notifications, but missing the ones you care about the most? With Android Oreo, notification dots let you tap to see what's new in your apps -- like the important ones you put on your homescreen -- and then take action on those notifications quickly.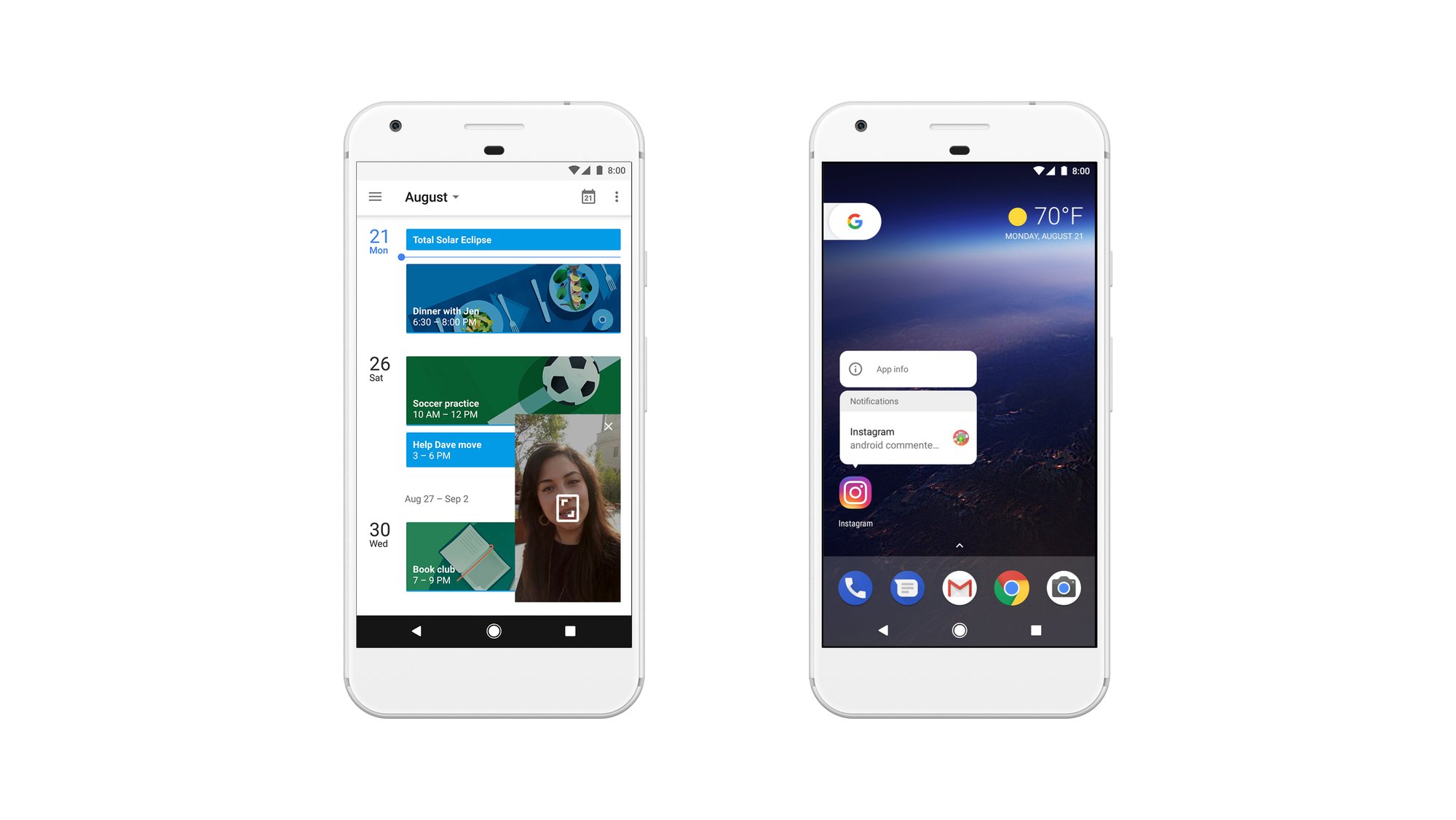 Android 8.0 Oreo: Picture-in-picture, Notification dots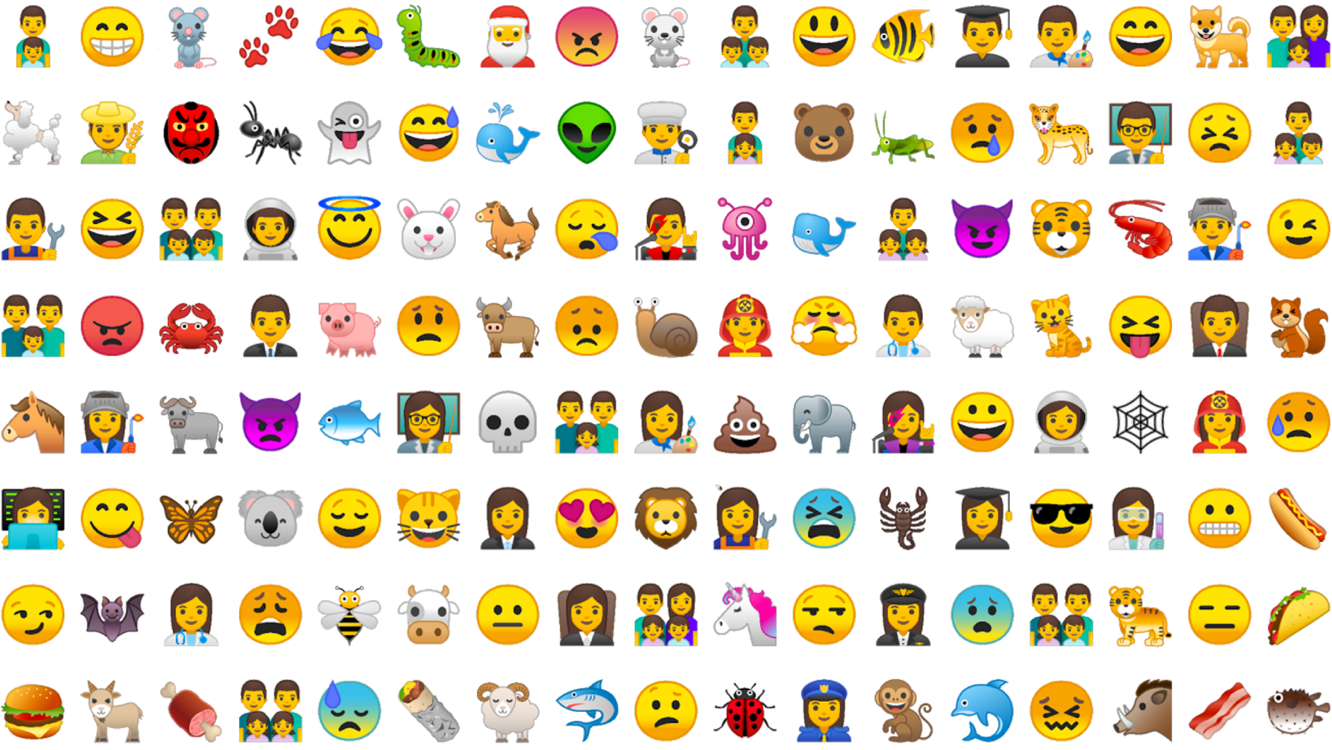 Emoji in Android Oreo: a fully redesigned emoji set, including over 60 new emoji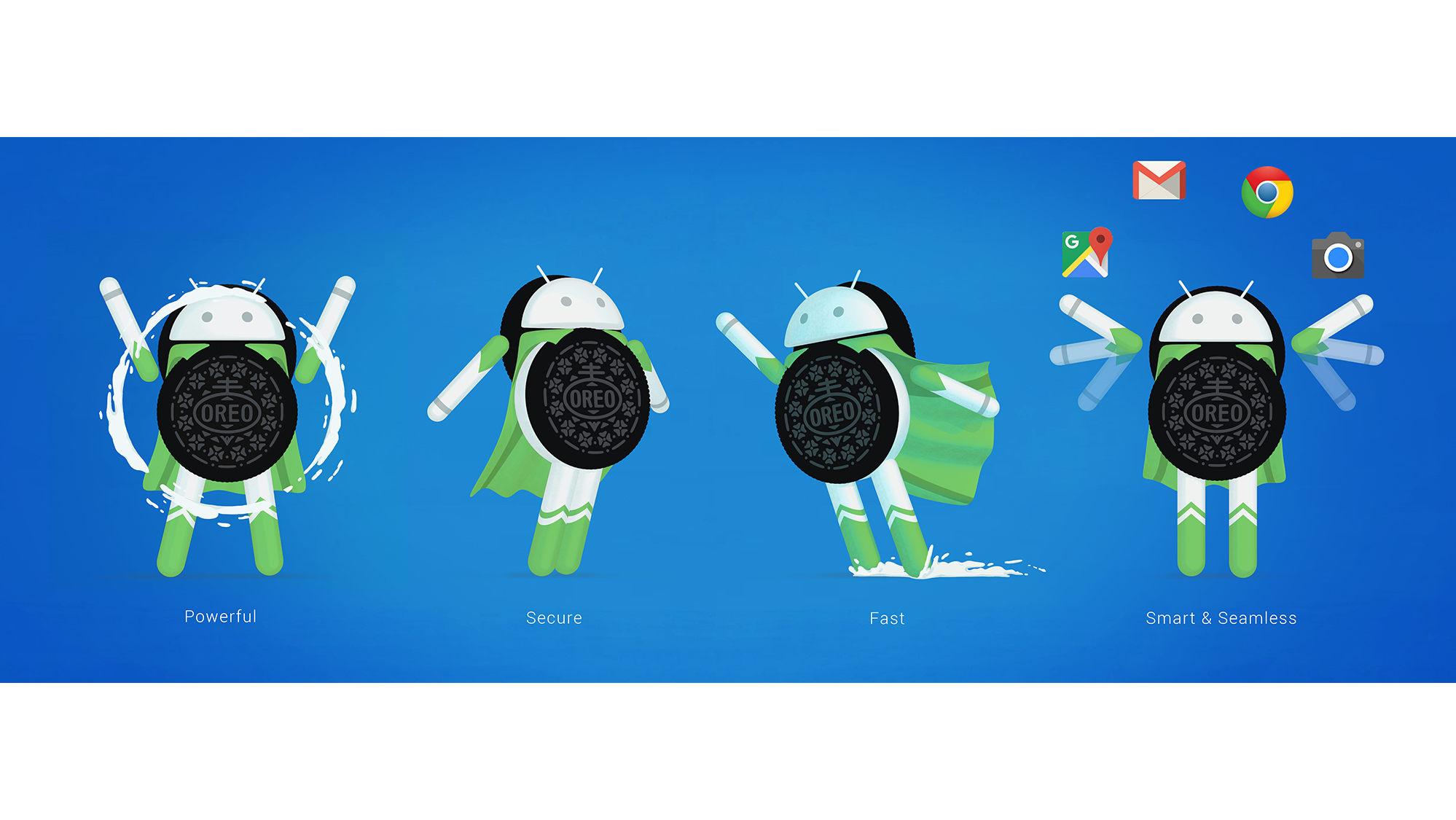 Four Android Oreo superpowers to the rescue: Powerful, Secure, Fast, Smart & Seamless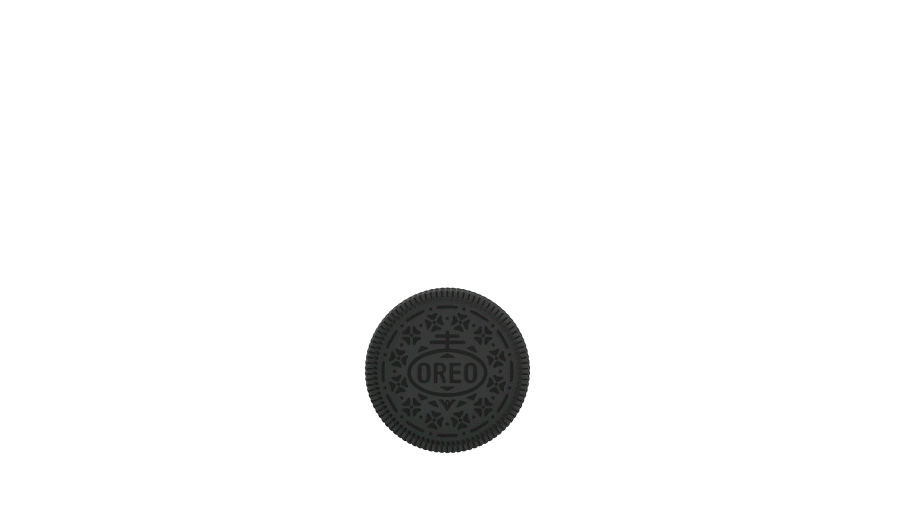 Android Oreo
Evildoers trying to get bad software onto your device? Android Oreo is more secure with Google Play Protect built in, security status front and center in settings, and tighter app install controls.
Battery depleted and still galaxies away from a charger? Been there, too. Android Oreo helps minimize unintentional overuse of battery from apps in the background; these limits keep your battery going longer.
Supersonic speed
When you're on the go, speed is perhaps the most important superpower. With Android Oreo, you can get started on tasks more quickly than ever with a faster boot speed (up to twice as fast on Pixel, in fact). Once you're powered up, Autofill on Android Oreo remembers things like logins (with your permission) to quickly get you into your favorite apps. Plus, support for Android Instant Apps means you can teleport directly into new apps, no installation needed.

League of extraordinary emojis
Even superheroes don't go it alone. Android Oreo brings along a team of fully-redesigned emojis, including new emoji to help save the day like:


Coming to a device near you
We're pushing the sources to Android Open Source Project (AOSP) for everyone to access today. Pixel and Nexus 5X/6P builds have entered carrier testing, and we expect to start rolling out in phases soon, alongside Pixel C and Nexus Player. We've also been working closely with our partners, and by the end of this year, hardware makers including Essential, General Mobile, HMD Global Home of Nokia Phones, Huawei, HTC, Kyocera, LG, Motorola, Samsung, Sharp and Sony are scheduled to launch or upgrade devices to Android 8.0 Oreo. Any devices enrolled in the Android Beta Program will also receive this final version. You can learn more at android.com/oreo.

21 Aug 2017 6:50pm GMT
Finding and listening to your favorite music is one of the most popular things to do with the Assistant on Google Home. It's always been a great speaker-and now it plays more tunes with new services from Deezer and Spotify, along with cool new ways to play and find your favorite music.

First on the mic is Spotify Free- rolling out this week in the US, UK, Canada, Australia, France and Germany you can add a Spotify Free account to your Google Home. It's easy to sign up and you can do it right in the Google Home app. With a simple "Ok Google, play Today's Top Hits" you're off to explore fresh jams and deep cuts.

Next up, your music. Do you have tons of songs on your phone? Don't fret, with Bluetooth® Audio you can now stream your favorite songs from your Android phone, iPhone or other Bluetooth-enabled devices. It's a great way to enjoy even more music on Google Home.

You can also get help from your Google Assistant when you're looking for just the right tune, and you can have fun doing it. Try this: describe your favorite album artwork, maybe the one with the baby in the water or the four guys walking across the street in London. Or maybe you only remember a few of the lyrics of a song. Just say "Ok Google" and then share what you do know. Either way, your Assistant can name that tune and start playing it.

And Google Home has a multi-room feature, letting you enjoy the same song in every room by grouping any combination of Google Homes, Chromecast Audio or Chromecast built-in speakers together.

Google Home users in Germany and France are already using Deezer, and pretty soon those of you in the US, UK and Canada will have that option too. In addition to Deezer and Spotify, you can stream music from Google Play Music, Pandora, YouTube Music and 100+ Google Cast-enabled audio apps.

So keep the songs pumping on your Google Home, and tune in for more new cool features from the Assistant on Google Home soon...

21 Aug 2017 4:00pm GMT
For the first time in 99 years, today people across the continental US will be able to see a total solar eclipse. The eclipse will be partially visible across a large swath of the United States, while those in the 70 mile wide "path of totality" stretching from Oregon to South Carolina will be able to see the moon completely cover the sun. Whether it's been on your calendar for years or you've been in the dark until now...we hope our special content (and tips!) give you a sliver of insight.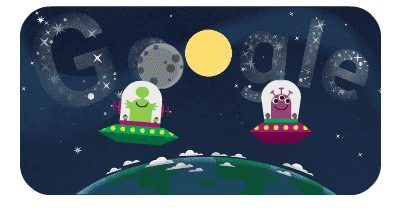 Today's Great American Eclipse Doodle introduces you to some very playful alien creatures who seem to be having quite a bit of fun today. Doodle artist Gerben Steenks considered many ideas-from anthropomorphic cameras to nocturnal bats and owls-to introduce our eclipse event to users. But he finally settled on an astronomy-loving space traveler who delights in guiding Earthlings in their understanding of stellar events.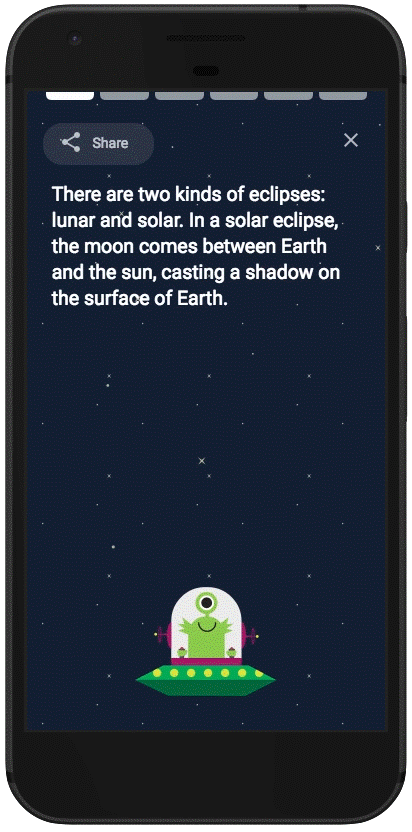 To learn more about solar eclipse science, click through the Doodle to Google Search and get some fun facts courtesy of our out-of-this-world friends. You can learn about a crowd-sourced photo project to capture images of the eclipse as it traverses North America, and even follow NASA's livestreaming video of the event - which, if you don't have eclipse glasses or a pinhole camera, is a good way to watch the magic and avoid damaging your eyes.
Before, during, and after the eclipse, NASA will be sharing information with posts right in Search results. So if your neck is tired staring up at the sky, just tilt it back down, take off your eclipse glasses, and pull out your phone for some updates.
21 Aug 2017 4:00am GMT
18 Aug 2017
Posted by Shailen Tuli
Today we're releasing the source code for the official Google I/O 2017 for Android app.
This year's app substantially modifies existing functionality and adds several new features. It also expands the tech stack to use Firebase. In this post, we'll highlight several notable changes to the app as well as their design considerations.
The most prominent new feature for 2017 is the event reservation system, designed to help save in-person attendees' time and provide a streamlined conference experience. Registered attendees could reserve sessions and join waitlists prior to and during the conference; a reservation provided expedited entry to sessions without having to wait in long lines. Reservation data was synced with attendees' conference badges, allowing event staff to verify reservations using NFC-enabled phones. Not only was the reservation feature incredibly popular, but the reservation data helped event staff change the size of session rooms both before and during I/O to adjust for actual demand for seats.
The reservation feature was implemented using Firebase Realtime Database (RTDB) and Cloud Functions for Firebase. RTDB provided easy sync across user devices - we just had to implement a listener in our code to receive database updates. RTDB also provided out-of-the-box offline support, allowing conference data to be available even in the face of intermittent network connectivity while traveling. A Cloud Function processed reservation requests in the background for the user, using transactions to ensure correctness of state (preventing mischievous users from grabbing too many seats!) and communicating with the event badging system.
As in previous years, we used a ContentProvider as an abstraction layer over all app data, which meant we had to figure out how to integrate RTDB data with the ContentProvider. We needed to negotiate between having two local caches for data: 1) the extant local SQLite database accessed via the ContentProvider, and 2) the local cache created by RTDB to facilitate offline access. We decided to integrate all app data under the ContentProvider: whenever reservation data for the user changed in RTDB, we updated the ContentProvider, making it the single source of truth for app data at all times. This meant that we needed to keep open connections to RTDB only on a single screen, the Session Detail Activity, where users might be actively managing their reservations. Reservation data displayed in other parts of the app was backed by the ContentProvider. In offline mode, or in case of a flaky or delayed connection to RTDB, we could just get the last known state of the user's reservations from the ContentProvider.
We also had to figure out good patterns for integrating RTDB into the overall sync logic of IOSched, especially since RTDB comes with a very different sync model than the ping-and-fetch approach we were using in the app. We decided to continue using Cloud Endpoints to synchronize user data across devices and with the web and iOS clients (the data itself was stored in Datastore). While RTDB provides out-of-the-box data syncing, we wanted to make sure that a user's reservation data was current across all devices, even when the app was not in the foreground. We used a Cloud Function to integrate RTDB reservation data into the sync flow: once reservation data for a user changed in RTDB, the function updated the endpoint, which triggered a Firebase Cloud Messaging downstream message to all the user's devices, which then scheduled data syncs.
This year's app also featured a Feed to apprise users about hour-by-hour developments at I/O (most of the app's users were remote, and the Feed was a window into the conference for them). The Feed was also powered by RTDB, with data pushed to the server using a simple CMS. We used a Cloud Function to monitor RTDB feed data; when feed data was updated on the server, the Function sent a Cloud Messaging downstream message to clients, which visually surfaced the presence of new feed items to the user.
In 2015 and 2016, we had adopted an MVP architecture for IOSched, and we continued using that this year. This architecture provides us with good separation of concerns, facilitates testing, and in general makes our code cleaner and easier to maintain. For the Feed feature, we decided to experiment with a more lightweight MVP implementation inspired by Android Architecture Blueprints, which provided the necessary modularity while being very easy to conceptualize. The goal here was both pedagogical and practical: we wanted to showcase an alternate MVP pattern for developers; we also wanted to showcase an architecture that was an appropriate fit for our needs for this feature.
For the first time, IOSched made heavy use of Firebase Remote Config. In the past, we had found ourselves unable to inform users when non-session data - wifi information, shuttle schedule, discount codes for ridesharing, etc. - changed just before or during the conference. Forcing an app update was not feasible; we just wanted in-app default values to be updatable. Using remote config easily solved this problem for us.
In the end, we ended up with a three-tier system of informing users about changes:
Conference data and user data changes were communicated via Cloud Messaging and data syncs (ping and fetch model).
Feed data changes were controlled via RTDB.
Changes to in-app constants were controlled via Remote Config.
Future plans
Even though we're releasing the 2017 code, we still have work ahead of us for the coming months. We'll be updating the code to follow modern patterns for background processing (and making our app "O" compliant), and in the future we'll be adopting Android's Architecture Components to simplify the overall design of the app. Developers can follow changes to the code on GitHub.
18 Aug 2017 4:20pm GMT
17 Aug 2017
Posted by Jonathan Karmel
Since our public launch at Google I/O this year, we've been hard at work expanding the number of supported devices and the availability of instant apps, so that users can run your apps instantly, without installation. We're excited to announce that 500 million Android users now have access to instant apps across countries where Google Play operates.
A number of Google Play apps and games businesses across a range of industries have already started building with instant apps. Following the launch of their instant apps, they have seen strong results in engagement, acquisition and retention.
Learn more best practices for managing your download size with Android Instant Apps, and also visit g.co/instantapps for more information on building instant apps and get started today!
How useful did you find this blogpost?
★
★
★
★
★
17 Aug 2017 8:00pm GMT
01 Apr 2017
April Fools' Day should probably be called Google Fools' Day, since there are so many Google hoaxes.

Google Japan developed a "bubble wrap" version of the Japanese keyboard. "The Google Japanese input bubble wrap version is a keyboard that realizes 'I want to press in my mind, I want to keep pressing'," according to Google Translate.




Another product for your smart home? Meet Google Gnome, "a voice-activated, hands-free tool designed to make backyard living effortless. Need to know what animal is squeaking in your bushes? Stay still and ask Gnome what sound an opossum makes. Running low on birdseed? That's where Gnome comes in. You can even use Gnome's proprietary high-intensity lasers to trim your hedges into whatever shape your heart desires."




The Chrome OS team brings the most popular mobile accessories to the Chromebook, which already blurs the line between mobile and desktop. Chromebook Groupie Stick, Chromebook Cardboard, Chromebook Workout Armband will soon be available in the Google Store. "To take advantage of beautiful, high-resolution displays, as well as great photo editing apps, we've carefully engineered the first Chromebook-sized selfie stick. Never again will you miss the perfect groupie."



Haptic Helpers make VR even more immersive. "We're taking VR to the next level with Haptic Helpers. Using a modest set of everyday tools, these VR virtuosos can simulate more than 10,000 unique experiences, all from the comfort of your own home. Smell the roses. Listen to the ocean. Feel a fluffy dog!"


You can now play the classic arcade game MS. PAC-MAN in Google Maps. "Avoid Blinky, Pinky, Inky, and Sue as you swerve the streets of real places around the world. But eat the pac-dots fast, because this game will only be around for a little while." Just go to the Google Maps site or open the Google Maps app for Android or iOS and click or tap MS. PAC-MAN at the bottom.



Google Cloud Platform expands to Mars. "By opening a dedicated extraterrestrial cloud region, we're bringing the power of Google's compute, network, and storage to the rest of the solar system, unlocking a plethora of possibilities for astronomy research, exploration of Martian natural resources and interplanetary life sciences. This region will also serve as an important node in an extensive network throughout the solar system. Our first interplanetary data center - affectionately nicknamed 'Ziggy Stardust' - will open in 2018," mentions Google.



Google Netherlands came up with Google Wind, a machine learning technology that controls the weather. "The Netherlands has many windmills, some no longer in use, we can connect to Google Cloud Platform. So we use the existing Dutch infrastructure, machine learning, weather patterns to control the network of windmills when rain is approaching. The first test results are very promising: we seem to be able to provide sun and clear skies for everyone in the Netherlands," mentions Google Netherlands blog.




Google's search app for iOS is now optimized for cats and dogs. "On the Google app for iOS, you can now use 3D Touch on the app icon or head to settings and select I'm Feeling Woof or I'm Feeling Meow to let your dogs and cats get info on topics they care about-whether that means squeaky toys or a bowl of milk!"



Google also launched Google Play for Pets, a new category of Android games designed for cats, dogs and other pets.


Google Translate's Word Lens feature supports a new language: Heptapod B, the alien language from the movie "Arrival". "The challenge with understanding Heptapod B is its nonlinear orthography. Fortunately, Google's neural machine translation system employs an encoder/decoder system that internally represents sentences as high-dimensional vectors. These vectors map well to the non-linear orthography of the Heptapod language and they are really the enabling technical factor in translating Heptapod B."


01 Apr 2017 7:25am GMT
19 Feb 2017
If you try to send a JavaScript attachment using Gmail or if you want to download a .js attachment, you'll get a new anti-virus warning: "Blocked for security reasons", "1 attachment contains a virus or blocked file. Downloading this attachment is disabled".


.JS has been added to the long list of file types that are blocked by Gmail for security reasons. The full list: .ADE, .ADP, .BAT, .CHM, .CMD, .COM, .CPL, .EXE, .HTA, .INS, .ISP, .JAR, .JS (NEW), .JSE, .LIB, .LNK, .MDE, .MSC, .MSI, .MSP, .MST, .NSH .PIF, .SCR, .SCT, .SHB, .SYS, .VB, .VBE, .VBS, .VXD, .WSC, .WSF, .WSH. "To prevent against potential viruses, Gmail doesn't allow you to attach certain types of files, including: certain file types (listed above), including their compressed form (like .gz or .bz2 files) or when found within archives (like .zip or .tgz files), documents with malicious macros, archives whose listed file content is password protected, archives whose content includes a password protected archive."

The GSuite Blog informs that "for inbound mail, senders will get a bounce message explaining why the email was blocked. If you still need to send .js files for legitimate reasons, you can use Google Drive, Google Cloud Storage, or other storage solutions to share or send your files."

You can still send JavaScript files using Gmail if you change the extension. What about downloading old .js attachments? Try the workarounds from this post.
19 Feb 2017 10:39am GMT
25 Jan 2017
Google Image Search has a different way to display suggestions: it now shows a long list of colorful boxes with related searches. You can click one or more boxes to dynamically refine search results.



For example, when searching for [sportswear], Google shows suggestions like: [women basketball], [tennis], [badminton], [golf], [volleyball], [nike woman], [alexander wang], [adidas], [fashion], [performance], [vintage], [trendy], [urban], [school], [gym], [90's], [70's], [vogue], [luxe], [avant garde], [korean], [italian], [french] and more. It's interesting to notice that each category of suggestions has a different color.



Here's the old interface, which had fewer suggestions and displayed thumbnails next to suggestions:


25 Jan 2017 9:39pm GMT
19 Jan 2017
A few months ago, I took a leave of absence from Google to do a stint with the US Digital Service. A lot of people know about the US Digital Service because they helped rescue the healthcare.gov website. But you might not realize that the US Digital Service has helped veterans get their health benefits, […]
19 Jan 2017 3:47am GMT
18 Jun 2016
Over the last couple years, I've seen more and more people in technology trying to make government work better. They're idealists who are also making a large impact. These are people that I respect-some of them worked to fix healthcare.gov, for example. From talking to many of them, I can tell you that their energy […]
18 Jun 2016 1:57am GMT
03 Feb 2016
Amit Singhal just announced that he's retiring toward the end of the month. Amit has been a formative part of Google's search team, but he's also a good friend. Last year, after he marked 15 years with Google, I wrote this about Amit's contributions: Amit Singhal, one of the unsung heroes of Google, just celebrated […]
03 Feb 2016 7:49pm GMT
26 Aug 2011
The Emperor instructed the gardener to set up the new court's garden. "I want you to plant five trees growing the Crataan fruit," the Emperor said, "Because we asked people what fruit they like best, and most named the Crataan fruit!" The gardener replied, "Emperor, that is excellent thinking! But let me make some suggestions: First, how about we make one of the five trees bear the Muran fruit. Only one out of ten citizens loves it, but those peculiar citizens tend to love multiple times as much!" "Second," the gardener continued, "How about we make one of the five trees bear the Dratean fruit. No one loves it, but that's because no one knows it yet!" "Third," the gardener said, "How about we leave one spot in the garden empty. Who knows what new type of tree we'll discover that we can put there in the fut ...
26 Aug 2011 12:12pm GMT
15 Aug 2011
For those of you who've been wondering whether I had turned to stone, fallen into a bottomless pit, or been climbing the Himalaya... no, none of that is true, even though you probably did notice I'm not actively blogging about Google here anymore*! Just now, a new iPad app I've been working on called Color Sound Machine went live, and this -- and all the other apps and games at Versus Pad** -- are actually what I am doing while not blogoscoping. *I've drafted unpublished posts explaining much more about past, present and future of Blogoscoped, and the history of Google news reporting, but ... oh, for now le ...
15 Aug 2011 4:00pm GMT
25 Feb 2011
One of the earliest specialist services provided by Google was reverse phone number lookup. If you used the "phonebook:" or "rphonebook:" operators together with a 10-digit US phone number, Google would show you the owner of that phone number, unless the number was unlisted. Google no longer provides that service. Not surprisingly, there was no press release marking the closure, but Google employee Daniel Russell has acknowledged the closure of the service in his blog. He hints at the possible pressures leading to the shuttering of the service: "As you can imagine, this was an endless source of hassles for people (who were surprised to see themselves searchable on Google) and for Google (who had to constantly de ...
25 Feb 2011 11:23am GMT