29 Sep 2016
A long time ago I wrote the OpenEmbedded User Manual and back then the obvious choice was to make it a docbook. In my community there were plenty of other examples that used docbook and it helped to get started. The great thing of docbook was with one XML input one could generate output in many different formats like HTML, XHTML, ePub or PDF. It separated the format from the presentation and was tailored for technical documents and articles with advanced features like generating a change history, appendix and many more. With XML entities it was possible to share chapters and parts between different manuals.
When creating Sysmocom and starting to write our usermanuals we have continued to use docbook. After all besides the many tags in XML it is a format that can be committed to git, allowing review and the publishing is just like a software build and can be triggered through git.
On the other hand writing XML by hand, indenting paragraphs to match the tree structure of the document is painful. In hindsight writing a docbook feels more like writing xml tags than writing content. I started to look for alternatives and heard about asciidoc, discarded it and then re-evaluated and started to use it as default. The ratio of content to formatting is really great. With a2x we continued to use docbook/dblatex to render the document. With some trial and error we could even continue to use the docbook docinfo (-a docinfo and a file manual-docinfo.xml). And finally asciidoc can be used on github as well. It works by adding .adoc to the filename and will be rendered nicely.
So with asciidoc, restructured text (rst), markdown (md) and many more (textile, pillar, …) we have great tools that make it easier to focus on the content and have an okay look. The downside is that there are so many of them now (and incompatible dialects). This leads to rendering tools having big differences, e.g. not being able to use a docinfo for PDF generation, being able to add raw PDF commands, etc.
I am currently exploring to publish documentation on readthedocs.org and my issue is that they are using Python sphinx which only works with markdown or restructure text. As github can't
In the attempt to pick-up users where they are I am exploring to use readthedocs.org as an additional channel for documents. The website can integrate with github to automatically rebuild the documentation. One issue is that they exclusively use Python sphinx to render the documentation and that means it needs to use rst or markdown (or both) as input.
I can go down the xkcd way and create a meta-format to rule them all. Try to use pandoc to convert these documents on the fly (but pandoc already had some issues with basic tables rst) or switch the format. I looked at rst2pdf but while powerful seems to be lacking the docinfo support and markdown. I am currently exploring to stay with asciidoc and then use asciidoc -> docbook -> markdown_github for readthedocs. Let's see how far this gets.
29 Sep 2016 12:28pm GMT
20 Sep 2016
Going from 2G/3G requires to learn a new set of abbreviations. The network is referred to as IP Multimedia Subsystem (IMS) and the HLR becomes Home subscriber server (HSS). ITU ASN1 to define the RPCs (request, response, potential errors), message structure and encoding in 2G/3G is replaced with a set of IETF RFCs. From my point of view names of messages, names of attributes change but the basic broken trust model remains.
Having worked on probably the best ASN1/TCAP/MAP stack in Free Software it is time to move to the future and apply the good parts and lessons learned to Diameter. The first RFC is to look at is RFC 6733 - Diameter Base Protocol. This defines the basic encoding of messages, the requests, responses and errors, a BNF grammar to define these messages, when and how to connect to remote systems, etc.
The core part of our ASN1/TCAP/MAP stack is that the 3GPP ASN1 files are parsed and instead of just generating structs for the types (like done with asn1c and many other compilers) we have a model that contains the complete relationship between application-context, contract, package, argument, result and errors. From what I know this is quite unique (at least in the FOSS world) and it has allowed rapid development of a HLR, SMSC, SCF, security research and more.
So getting a complete model is the first step. This will allow us to generate encoders/decoders for languages like C/C++, be the base of a stack in Smalltalk, allow to browse the model graphically, generate fancy pictures, …. The RFC defines a grammar of how messages and grouped Attribute-Value-Pairs (AVP) are formatted and then a list of base messages. The Erlang/OTP framework has then extended this grammar to define a module and relationships between modules.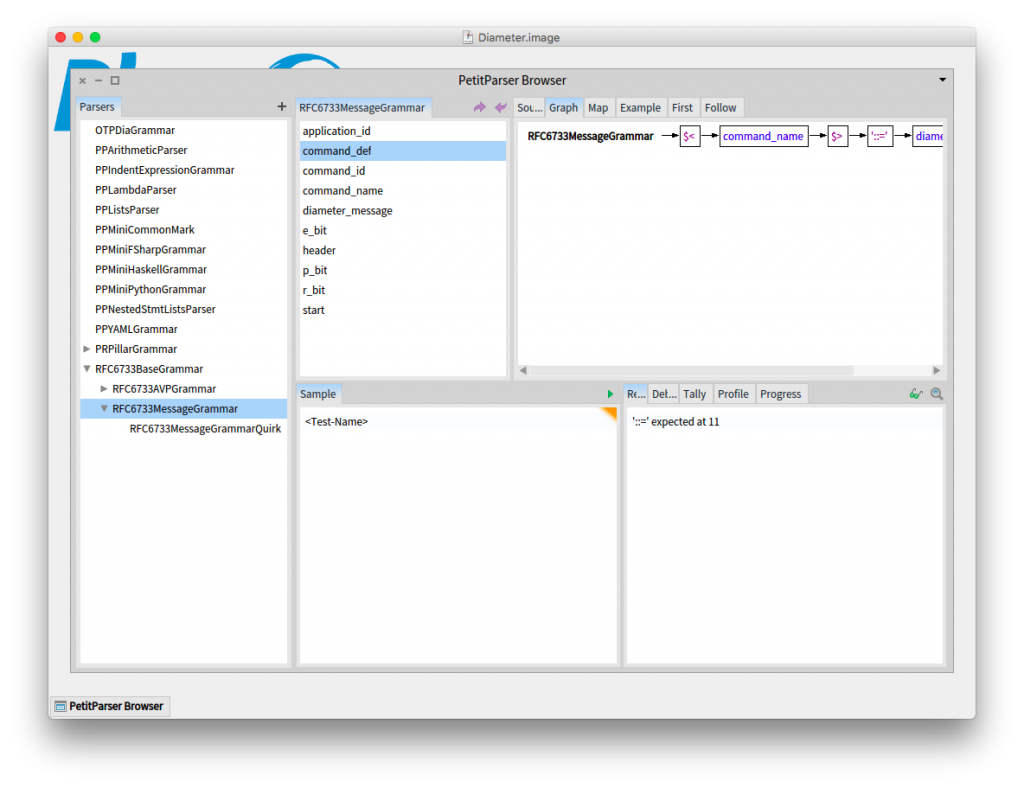 I started by converting the BNF into a PetitParser grammar. Which means each rule of the grammar becomes a method in the parser class, then one can create a unit test for this method and test the rule. To build a complete parser the rules are being combined (and, or, min, max, star, plus, etc.) with each other. One nice tool to help with debugging and testing the parser is the PetitParser Browser. It is pictured above and it can visualize the rule, show how rules are combined with each other, generate an example based on the grammar and can partially parse a message and provide debug hints (e.g. '::=' was expected as next token).
After having written the grammar I tried to parse the RFC example and it didn't work. The sad truth is that while the issue was known in RFC 3588, it has not been fixed. I created another errata item and let's see when and if it is being picked up in future revisions of the base protocol.
The next step is to convert the grammar into a module. I will progress as time permits and contributions are more than welcome.
20 Sep 2016 6:43am GMT
18 Sep 2016
Introduction
Previously I have written about connectivity options for IoT devices and today I assume that a cellular technology (e.g. names like GSM, 3G, UMTS, LTE, 4G) has been chosen. Unless you are a big vendor you will end up using a module (instead of a chipset) and either you are curious what the module is doing behind its AT command interface or you are trying to understand a real problem. The following is going to help you or at least be entertaining.
The xgoldmon project was a first to provide air interface traces and logging to the general public but it was limited to Infineon baseband (and some Gemalto devices), needed special commands to enable and didn't include all messages all the time.
In the last months I have intensively worked with modules of a vendor called Quectel. They are using Qualcomm chipsets and have built the GSM/UMTS Quectel UC20 and the GSM/UMTS/LTE Quectel EC20 modules. They are available as a variant to solder but for speeding up development they provide them as miniPCI express as well. I ended up putting them into a PCengines APU2, soldered an additional SIM card holder for the second SIM card, placed U.FL to SMA connectors and put it into one of their standard cases. While the UC20 and EC20 are pretty similar the software is not the same and some basic features are missing from the EC20, e.g. the SIM ToolKit support. The easiest way to acquire these modules in Europe seems to be through the above links.
The extremely nice feature is that both modules export Qualcomm's bi-directional DIAG debug interface by USB (without having to activate it through an undocumented AT command). It is a framed protocol with a simple checksum at the end of a frame and many general (e.g. logging and how regions are described) types of frames are known and used in projects like ModemManager to extract additional information. Some parts that include things like Tx-power are not well understood yet.
I have made a very simple utility available on github that will enable logging and then convert radio messages to the Osmocom GSMTAP protocol and send it to a remote host using UDP or write it to a pcap file. The result can be analyzed using wireshark.
Set-up
You will need a new enough Linux kernel (e.g. >= Linux 4.4) to have the modems be recognized and initialized properly. This will create four ttyUSB serial devices, a /dev/cdc-wdmX and a wwanX interface. The later two can be used to have data as a normal network interface instead of launching pppd. In short these modules are super convenient to add connectivity to a product.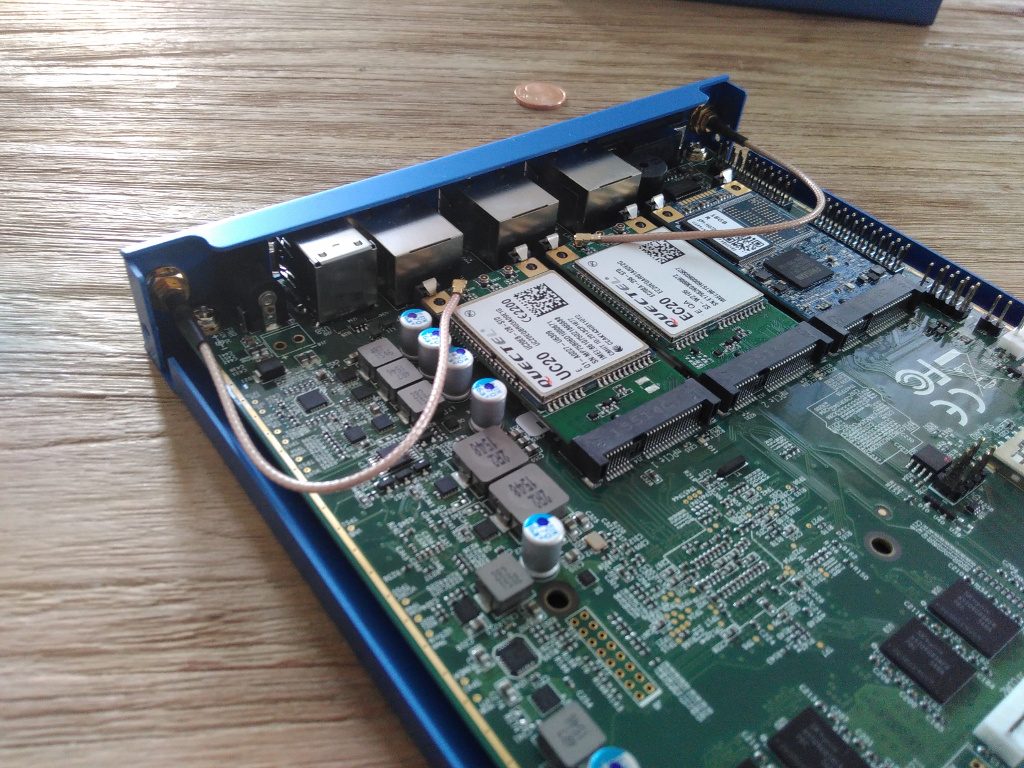 PCengines APU2 with Quectel EC20 and Quectel UC20
Building
The repository includes a shell script to build some dependencies and the main utility. You will need to install autoconf, automake, libtool, pkg-config, libtalloc, make, gcc on your Linux distribution.

git clone git://github.com/moiji-mobile/diag-parser
cd diag-parser
./build/build_local.sh

Running
Assuming that your modem has exposed the DIAG debug interface on /dev/ttyUSB0 and you have your wireshark running on a system with the internal IPv4 address of 10.23.42.7 you can run the following command.

./diag-parser -g 10.23.42.7 -i /dev/ttyUSB0

Exploring
Analyzing UMTS with wireshark. The below shows a UMTS capture taken with the Quectel module. It allows you to see the radio messages used to register to the network, when sending a SMS and when placing calls.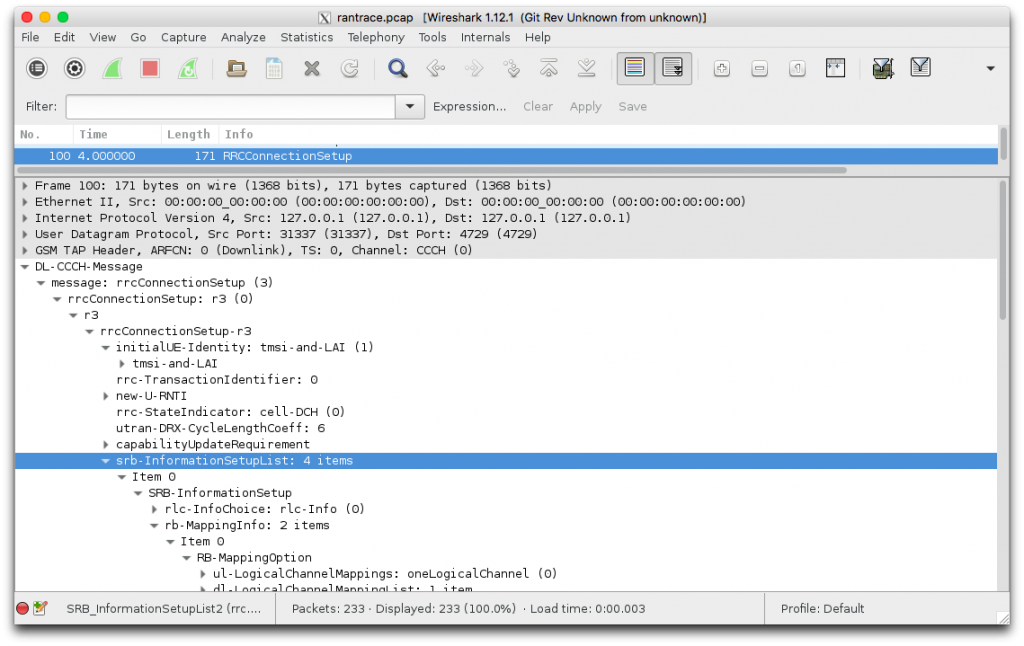 Wireshark dissecting UMTS
18 Sep 2016 7:50am GMT