17 Dec 2017
<!-- Google Tag Manager (noscript) --> <iframe src="https://www.googletagmanager.com/ns.html?id=GTM-PDSRGWC" height="0" width="0" style="display:none;visibility:hidden"></iframe>
Troubleshooting a problem on a remote server, especially in production, is not an easy task. Sometimes it involves debugging the application code directly on the server.
17 Dec 2017 6:01am GMT
16 Dec 2017
Caching is hard in various ways. Whenever you're caching things, you have to at least think of:
Memory consumption
Invalidation
In this article, I want to show a flaw that often sneaks into custom cache implementations, making them inefficient for some execution paths. I've encountered this flaw in Eclipse, recently.
16 Dec 2017 6:01am GMT
15 Dec 2017
When we develop web applications with Java, we have to restart the server to pick up all our changes. This kills productivity. Spring Boot Developers Tools provides solutions to automatically pick up changes without a complete server restart. Let's get productive with Spring Boot Developer Tools.
You Will Learn
How to use Spring Boot Developer Tools
What kind of changes Spring Boot Developer Tools picks up automatically
How you can use Live Reload to be more productive
The Problem With Server Restarts
When we develop our applications (web or RESTful API), we want to be able to test our changes quickly.
15 Dec 2017 9:01pm GMT
24 Jul 2017
The Lua Workshop 2017 will be held in San Francisco, CA, on Oct 16-17, cortesy of Mashape.
24 Jul 2017 4:34pm GMT
05 Jul 2017
The Lua web site now includes a page that highlights some products that use Lua.
05 Jul 2017 1:50pm GMT
08 Jun 2017
An article about Lua has appeared in The Hosting Blog: "Lua Founding Developer Shares the Scripting Language's Journey and Advantages for App Configuration and Data Management"
08 Jun 2017 2:39pm GMT
08 Nov 2011
Wally 2.4.3
(Qt Other Utility)
Wally is a Qt4 wallpaper changer, using multiple sources like files, folders, FTP remote folders, Flickr, Yahoo!, Panoramio, Ipernity, Photobucket, Buzznet, Picasa, Smugmug, Google, Vladstudio and deviantART images. It runs under Linux, Win32, MacOSX and OS/2, and it's available in many languages.

Supported Window Managers:
- Win32
- MacOSX (using OSA scripts)
- KDE3
- KDE4 (using WallyPlugin)
- Gnome
- GnomeShell
- XFCE4
- Fluxbox
- Blackbox
- FVWM (unstable)
- WindowMaker

If you are upgrading KDE4 to 4.4, you must rebuild from sources, cause WallyPlugin can crash Plasma. DEB files are available for Lucid.


NOTE FOR KUBUNTU!!!!
If you're upgrading to 10.04 Lucid, KDE4 will crash at boot. To recover your system, just do the following steps:

- Press Alt-F2, type "konsole"
- At prompt, type "sudo rm /usr/lib/kde4/plasma_wallpaper_wallyplugin.so"
- Restart your system.
- KDE4 should start normally. Please remove Wally, and download the specific package for Lucid, available below.


Note for Ubuntu users: if you're using KDE4, please use KDE4 ONLY packages!!!

Note for Mac OSX Snow Leopard:
You must disable "Change Picture" feature, that's in System preferences > Desktop & Screen Saver > Change picture.

Note for Windows 2000/XP: Active desktop must be disabled! Right-click on desktop -> Properties -> Customize desktop -> Web -> Uncheck all items you find there


changelog:
Version 2.4.3
- Fixed GnomeShell background change issue
- Added Swedish language
- Added Turkish language

Version 2.4.2
- Added GnomeShell support
- Added Hungarian language
- Added Danish language
- Removed Pikeo module, it is no longer active
- Removed Bing module, M$ didn't accept Wally's way of using Bing

Version 2.4.1
- Deprecated HTTP Qt classes have been replaced
- Wally can now terminate after first background change
- Splash screen can be disabled
- Mac OSX Settings GUI scrollbar issue fixed
- WallyPlugin now uses D-Bus
- BUG FIXED: CMake build script had an issue in compiling language resources


Version 2.4
- Added OS/2 support
- Added Snow Leopard support
- Added Google module
- Added deviantART module
- Added Vladstudio module
- Added Korean language
- Folder module now supports symbolic links
- More photo layouts on desktop have been added
- BUG FIXED: Panoramio no longer crashes when empty results are returned
- BUG FIXED: Disclaimer translation is now properly applied at boot
- BUG FIXED: Centered auto-fit was not always applied correctly
- BUG FIXED: HTTP engine rarely got stuck


Version 2.3.2
- Double-clicking icon in system tray advances on next photo
- Improved duplicated photo detection
- Added Catalan language
- Added Greek language
- Added disclaimer to be accepted on first start of Wally
- Removed QtScript dependency, JSON parser has been implemented internally (Qt 4.6 compatibility)
- Run-time folder change detection has been removed from "Folders" module, its use is too resource consuming
- BUG FIXED: search issues occurred when using multiple tags/keywords
- BUG FIXED: EXIF information are now showed correctly when non-Latin1 characters in filename path are used
- BUG FIXED: KDE 4.4 SC was not properly detected
- BUG FIXED: Panoramio was working only with "Original" sized images

Version 2.3.1
- Added Chinese language
- Added Polish language
- Active Desktop is now detected, and error is reported
- Photo filename is used when title is not available
- XFCE detection improved
- BUG FIXED: GUI bug in proxy selection form
- BUG FIXED: Panoramio coordinates are checked after input terminates
- BUG FIXED: buggy behaviour in MacOSX, Folders module, when too many files are present in specified directories

Version 2.3.0
- Added French language
- Added Czech language
- Wally can now display wallpapers behind toolbars and docks, using full screen space
- Time period can now be shortened up to 10 seconds
- Automatic border color feature has been added
- BUG FIXED: history data is not stored anymore when Cancel is pressed
- BUG FIXED: HTTP download does not get stuck anymore if HTTP response is wrong
- BUG FIXED: HTTP download in history window does not get stuck anymore at 99%, cause of a QProgressDialog conflict
- BUG FIXED: history viewer misbehaviours have been fixed
- BUG FIXED: Panoramio items save state correctly now
- BUG FIXED: map selection issues in Panoramio items have been fixed
- BUG FIXED: MacOSX Info.plist fixed
- BUG FIXED: regression bug about free disk space check has been fixed

Version 2.2.0
- Added selection on map for Panoramio items configuration
- History window has been improved, more informations for each item and filter by tags have been added
- Added Bing module
- EXIF support improved. Information window has been added, and EXIF is stored in history.
- BUG FIXED: wrong GUI behaviour in HTTP items when setting photos path, now fixed
- BUG FIXED: wrong GUI behaviour on proxy server selection, now fixed
- BUG FIXED: duplicated items are not accepted anymore
- BUG FIXED: now asks HTTP server first if download is recoverable
- BUG FIXED: segfault no longer happens when GIF/PNG/no-EXIF-compatible photo is downloaded
- BUG FIXED: consecutive downloads of the same photo are not allowed anymore
- BUG FIXED: X shortcuts for older WMs weren't updated to current features

Version 2.1.0
- Added system proxy support
- Added History feature
- Modules can be disabled/enabled
- Added Picasa module
- Added Smugmug module
- Added Buzznet module
- HTTP engine can now recover downloads
- More cosmetic changes
- Free disk space threshold can be configured
- Multiple items in HTTP engines can be selected
- BUG FIXED: state in Folders engine is now properly saved
- BUG FIXED: playlist is now reset correctly after wrap

Version 2.0.3
- BUG FIXED: MacOSX script for wallpaper change now works properly
- BUG FIXED: Color button is now showed correctly with all GUI styles
- BUG FIXED: "About" dialog now can be closed under MacOSX
- BUG FIXED: empty "Remote folder" items are now correctly rejected
- BUG FIXED: Wally's single instance in MacOSX is now properly detected
- BUG FIXED: annoying issues with KDE4 WallyPlugin have been solved (at the end!!!)
- Some cosmetic changes

Version 2.0.2
- BUG FIXED: empty items are now discarded
- BUG FIXED: single instance in Linux now is checked using file PID, thus avoiding false positives
- BUG FIXED: only available free space on desktop is used
- BUG FIXED: Pikeo now resets page count search after an empty result
- Free disk space (at least 20 megs) is checked for availability before saving photos
- EXIF tags are analyzed in every plugin, and corrections are applied where needed
- Photobucket has no throttle limit anymore, watermark on photo is applied
- More code restyling
- Fixed plural form in translations
- Added Portuguese (Brazil) translation
- Window manager can be forced at command line (Linux only)
- WallyPlugin: D-BUS is not used anymore
- WallyPlugin: KDE message will appear at end of installation, remembering of KDE4 Plasma restart
- Removed QCA dependency
- Application data folder is now more S.O. "friendly" under Win32 and MacOSX

Version 2.0.1
- WallyPlugin BUG FIXED: plugin is now compiled without debug information
- WallyPlugin BUG FIXED: D-BUS access rights are now setup correctly
- WallyPlugin BUG FIXED: installation paths are now detected properly

You don't need to upgrade to 2.0.1 if you're not using KDE4.

.DEB files now include Wally and WallyPlugin. No need to use sources for KDE4.


Version 2.0.0
- Wally's engine has been totally rewritten, for better stability and better coding structure in plugins' development
- UI partial restyling and improvement
- KDE4 support
- MacOSX support (experimental)
- FTP remote folders support
- Multilanguage support (English, Italian, Spanish and Russian)
- Wally now remembers its last state before termination
- Bugs fixed all around


Version 1.3.2
- Added configurable GUI style
- Flickr search pages count is now hard-limited, to avoid repeated results
- Pikeo plugin is now enabled
- Added "-debug" command line switch for better bugs tracing
- BUG FIXED: pictures in folder mode now change correctly
- BUG FIXED: multiple erroneous picture validations are no longer generated

Version 1.3.1
- BUG FIXED: regression bug about removing rows from configuration has been fixed

Version 1.3.0
- Added Pixeo plugin (still disabled, EXPERIMENTAL)
- Added Riya plugin (still disabled, EXPERIMENTAL)
- About dialog now shows supported images
- BUG FIXED: Gnome detection now should work

Version 1.2.0
- Added Panoramio plugin
- Flickr images are now rotated correctly, if needed
- BUG FIXED: sending quit immediately before background change doesn't generate a segfault now
- BUG FIXED: HTTP timeouts now if a transfer takes too long
- BUG FIXED: internal search is now limited by HTTP result count
- VERY IMPORTANT BUG FIXED: Play/Pause now works correctly

Version 1.1.0
- Added Fluxbox support
- Added Blackbox support
- Added FVWM support (unstable)
- Added WindowMaker support
- BUG FIXED: XFCE4 now works
- BUG FIXED: "Cancel" command now works when HTTP download is in progress

Version 1.0.0
- First release


[read more]

job recommendations:

08 Nov 2011 9:37pm GMT
QXmlEdit 0.5.4
(Qt Text Editor)
Simple XML editor.
Project hosted on Google Code.

0.5.4 is a bugfix release.

Main new feature is a XML file splitter.

* Configurable tag and attributes display
* Compact view of items
* Copy and paste of a whole subtree
* Fast expansion and compression
* Shortcuts for fast long trees navigation
* Search in any tree component
* Compact edit of elements
* Base 64 element text handling
* Powerful search filter and scopes
* User definable display styles
* XML snippets
* Flex code generation from Balsamiq source
* XML Schema files viewer
* Complete user manual
* XML files splitter


changelog:
0.5.4
Czech translation updated.
Improved fragments extraction dialog with tooltips.
Trimmed split files input values.
Handled unusual cases on XML fragments navigation.
Added some images.
Fixed issues:
* #12 http://code.google.com/p/qxmledit/issues/detail?id=12
* #13 http://code.google.com/p/qxmledit/issues/detail?id=13



[read more]

job recommendations:

08 Nov 2011 6:45pm GMT
PdfArticle 0.11
(Qt Scientific)
PdfArticle is a pdf viewer for mathematical articles. Its goal is to present for eah page the images of its references, such as bibliographies, theorems and equations.For now it is only available for Linux, due to the dependance of Poppler. A compile version for Windows and/or Mac would be greatly welcome, and also debian and redhat packages :)

You will need the libraries of QtSqlite and of Poppler. More precisely, I have installed :

* libpoppler-qt4-3
* libpoppler-glib4
* libpoppler5

and for compilation :

* libpoppler-qt4-dev
* libpoppler-dev

For sqlite :

* libqt4-sql-sqlite
* libsqlite0
* libsqlite3-0

and the devels :

* libsqlite0-dev
* libsqlite3-dev


changelog:
0.11 :
* UI improvement
* more ways to navigate among articles
* usual bug fixes

0.10 :
* Add a Mandriva package
* Usual Bug fixes
* Add a Debian package (if someone could try it :)
* Creation of several Database Tables, to be use in the future. The aim would be eventually to create a mathematical ontology.

0.9 :
* Several Bug fixes
* Add ToolTips
* Associate urls to authors

[read more]

job recommendations:

08 Nov 2011 1:57pm GMT
17 Aug 2011
+ option for multikey parser * error reporting routine ! w/o multikey inilazy rewrite values thanks Daniel Hertrich!
17 Aug 2011 12:56pm GMT
12 Jul 2011
I am pleased to announce a new release of lua-Spore. (the initial one was announced by http://lua-users.org/lists/lua-l/2010-11/msg00918.html) lua-Spore is an implementation of SPORE (Specification to a POrtable Rest Environment). So, lua-Spore is a generic ReST client, where the API is described by a JSON file. Major changes since the first release 0.1.0 : - refactor of the support of OAuth - add the support of the Amazon Web Service authentication (thanks to Alexander Gladysh & Vladimir Fedin) - add the support of Digest Authentication - and many others fixes The homepage is at http://fperrad.github.com/lua-Spore, and the sources are hosted at http://github.com/fperrad/lua-Spore. All feedback welcome. Thanks. François.
12 Jul 2011 12:01pm GMT
09 Jul 2011
A certain David Kolf brought to my attention several failings of my library under his test suite, and I have since fixed them and made some additional improvements to the code, re-writing large portions. Thank you to everyone interested in this library and, like Mr. Kolf, please contact me if you ever would like to show that interest! I am always interested in hearing how I can improve the library.
09 Jul 2011 12:58pm GMT
21 Mar 2011
Planet Perl is going dormant. This will be the last post there for a while.
Why? There are better ways to get your Perl blog fix these days.
You might enjoy some of the following:
Will Planet Perl awaken again in the future? It might! The universe is a big place, filled with interesting places, people and things. You never know what might happen, so keep your towel handy.
21 Mar 2011 2:04am GMT
A few years ago, I wrote about cheap wooden discs as D&D minis, and I've been using them ever since. They do a great job, and cost nearly nothing. For the most part, we've used a few for the PCs, marked with the characters' initials, and the rest for NPCs and enemies, usually marked with numbers.
With D&D 4E, we've tended to have combats with more and more varied enemies. (Minions are wonderful things.) Numbering has become insufficient. It's too hard to remember what numbers are what monster, and to keep initiative order separate from token numbers. In the past, I've colored a few tokens in with the red or green whiteboard markers, and that has been useful. So, this afternoon I found my old paints and painted six sets of five colors. (The black ones I'd already made with sharpies.)
I'm not sure what I'll want next: either I'll want five more of each color or I'll want five more colors. More colors will require that I pick up some white paint, while more of those colors will only require that I re-match the secondary colors when mixing. I think I'll wait to see which I end up wanting during real combats.
These colored tokens should work together well with my previous post about using a whiteboard for combat overview. Like-type monsters will get one color, and will all get grouped to one slot on initiative. Last night, for example, the two halfling warriors were red and acted in the same initiative slot. The three halfling minions were unpainted, and acted in another, later slot. Only PCs get their own initiative.
I think that it did a good amount to speed up combat, and that's even when I totally forgot to bring the combat whiteboard (and the character sheets!) with me. Next time, we'll see how it works when it's all brought together.
21 Mar 2011 12:47am GMT
20 Mar 2011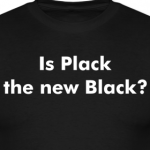 In Pisa I gave a lightning talk about Perl Vogue. People enjoyed it and for a while I thought that it might actually turn into a project.
I won't though. It would just take far too much effort. And, besides, a couple of people have pointed out to be that the real Vogue are rather protective of their brand.
So it's not going to happen, I'm afraid. But as a subtle reminder of the ideas behind Perl Vogue I've created some t-shirts containing the article titles from the talk. You can get them from my Spreadshirt shop.
20 Mar 2011 12:02pm GMT
19 Sep 2008
18 Sep 2008
28 Aug 2008