26 Jul 2017
Advertisers getting used to working in the new UI will find some bonus capabilities. The post [Updated] 7+ features you'll only find in the new AdWords interface appeared first on Search Engine Land.

Please visit Search Engine Land for the full article.
26 Jul 2017 8:21pm GMT
Below is what happened in search today, as reported on Search Engine Land and from other places across the web. The post SearchCap: Google Instant dies, AdWords call bids & Google legal issues appeared first on Search Engine Land.

Please visit Search Engine Land for the full article.
26 Jul 2017 8:00pm GMT
Not that Google wants you to take these steps, but if you really wanted to drop supporting AMP on your site, here is how to do that. The post Google has explained how you can remove your AMP content from Google search appeared first on Search Engine Land.

Please visit Search Engine Land for the full article.
26 Jul 2017 7:18pm GMT
25 Jul 2017
There's already a huge amount of innovation in virtual reality and immersive storytelling-with many newsrooms experimenting and succeeding in the field-but for some, the ability to create 360 content can still be limited.
Perhaps predicting the rise of 360 technology, in 2014 Australian creative agency Grumpy Sailor worked with Google's Creative Lab in Sydney on an experiment called Story Spheres, which stitches together photos and audio. It allows journalists, documentary makers and educators to tell powerful stories if they don't have access to video.
Working with the same team behind the first prototype, the Google News Lab is now supporting the next iteration of the project. Today new features will help publishers-from individual journalists to large newsrooms-create and brand their immersive audio experiences. A new website will help journalists brand their creations with their own logos, help them credit their work and embed it on their own website. It's now even simpler to upload a 360 image, edit the imagery, add an audio layer and navigate from one experience to another.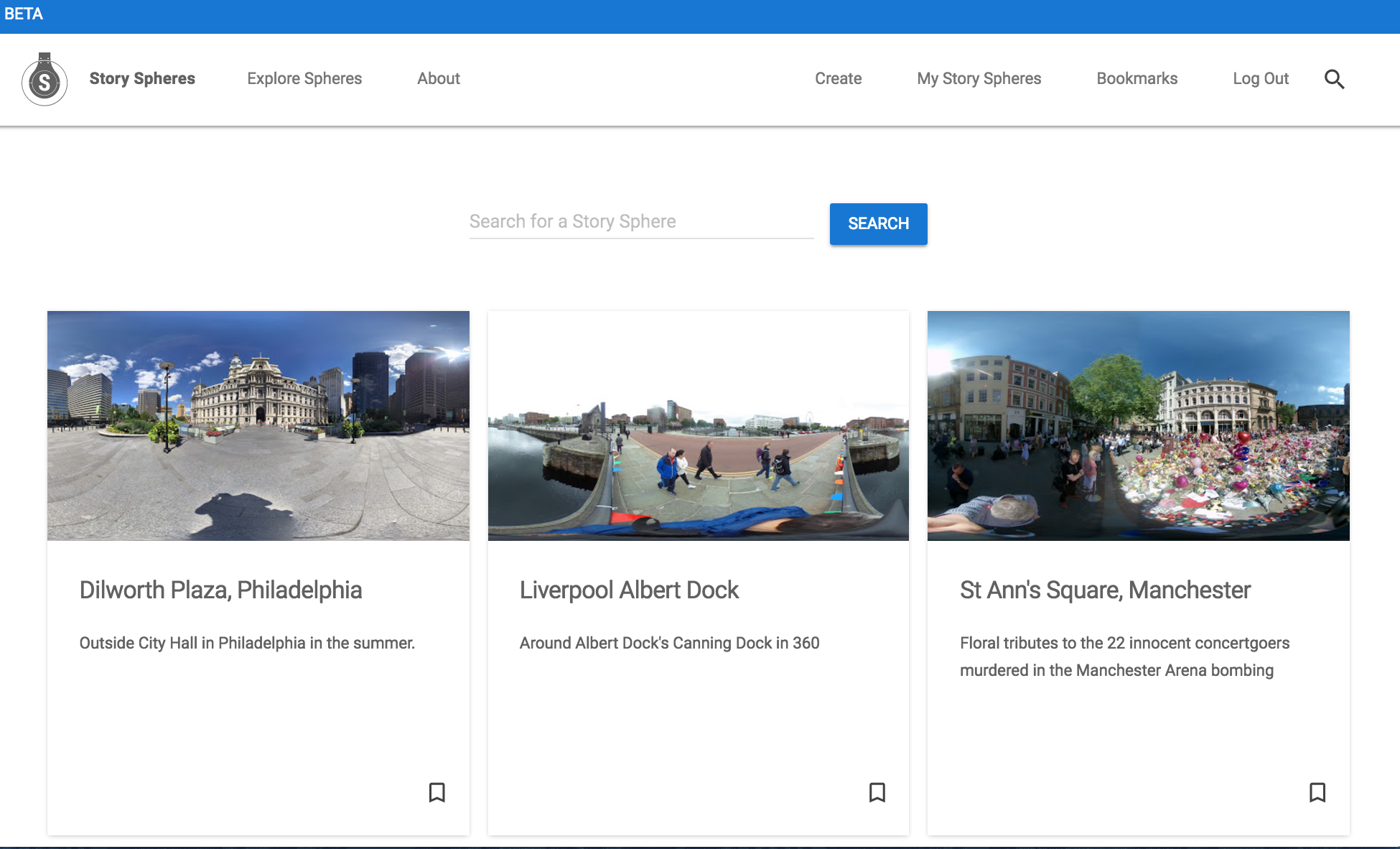 In the UK, Trinity Mirror has already experimented with the new tool: The Liverpool Echo took their readers through the famous dockyards of the city, and the Manchester Evening News provided a snapshot of the flowers and balloons placed in St Ann's Square as a tribute for the Manchester terrorist attacks. In Norway, Nettavisen has been experimenting with the tool by giving their readers a glimpse at the best podcasts for their readers this summer.
Emily McCartney, a coder and "techxplorer" at Grumpy Sailor, says the improved tool will help users, too: "There's so much news to consume, and people want to be able to jump between stories without losing any time, and Story Spheres help you do that."
Discover the tool for yourself, made by Grumpy Sailor with the support of Creative Lab in Sydney and the Google News Lab.
25 Jul 2017 1:00pm GMT
In times of crisis, access to timely, actionable information is crucial. Working alongside trained responders and volunteers on the ground, technology plays a vital role in providing information to help keep you and loved ones safe and informed. SOS alerts is a new set of features in Google Search and Maps to help you quickly understand what's going on and decide what to do during a crisis.
How SOS Alerts Work
During a crisis, you may see an SOS Alert at the top of search results when searching for the incident or location. You'll see maps, top stories and-when available-authoritative local information such as emergency phone numbers, websites, and translations of useful phrases. Depending on how close you are to the affected area, you may also get a notification on your mobile device that directs you to this information.
If you're outside of the affected area, you may still want information about the crisis. Searches for relevant terms (like the name of the event or the location) will also show an SOS Alert that provides a timely overview of the situation, in addition to features such as donation opportunities.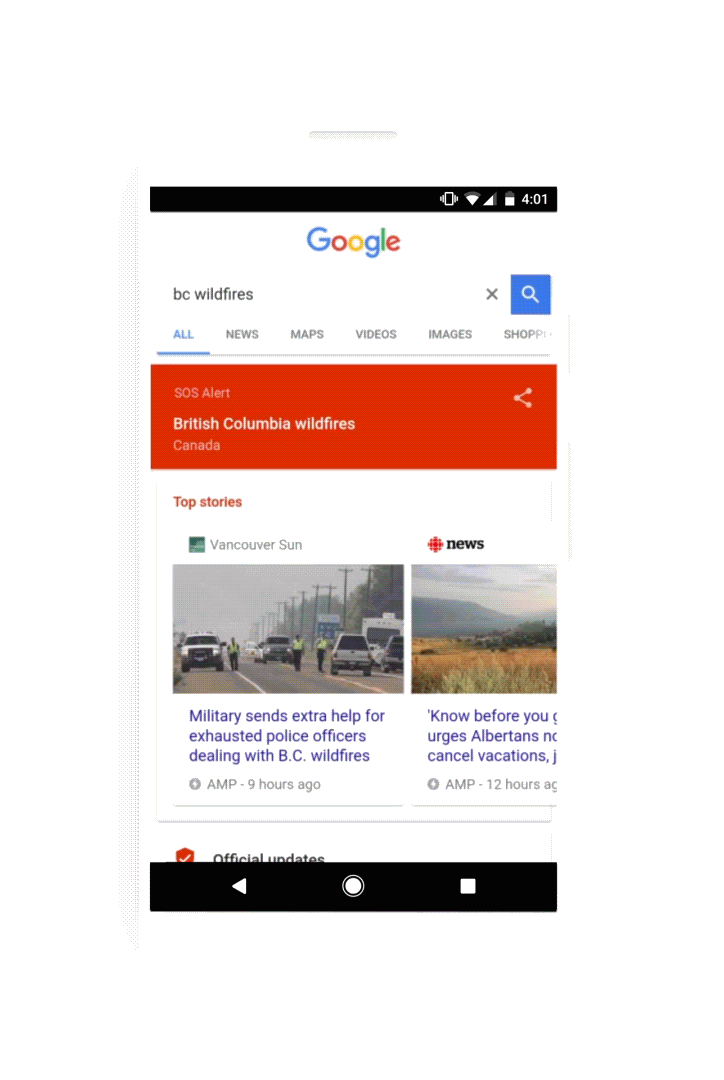 Google Maps on mobile can also show SOS Alerts. In Maps, you'll see a specific icon on the map and a tappable card with more information about the crisis, such as helpful phone numbers and websites. The map will also include real-time updates, like road closures and traffic and transit updates.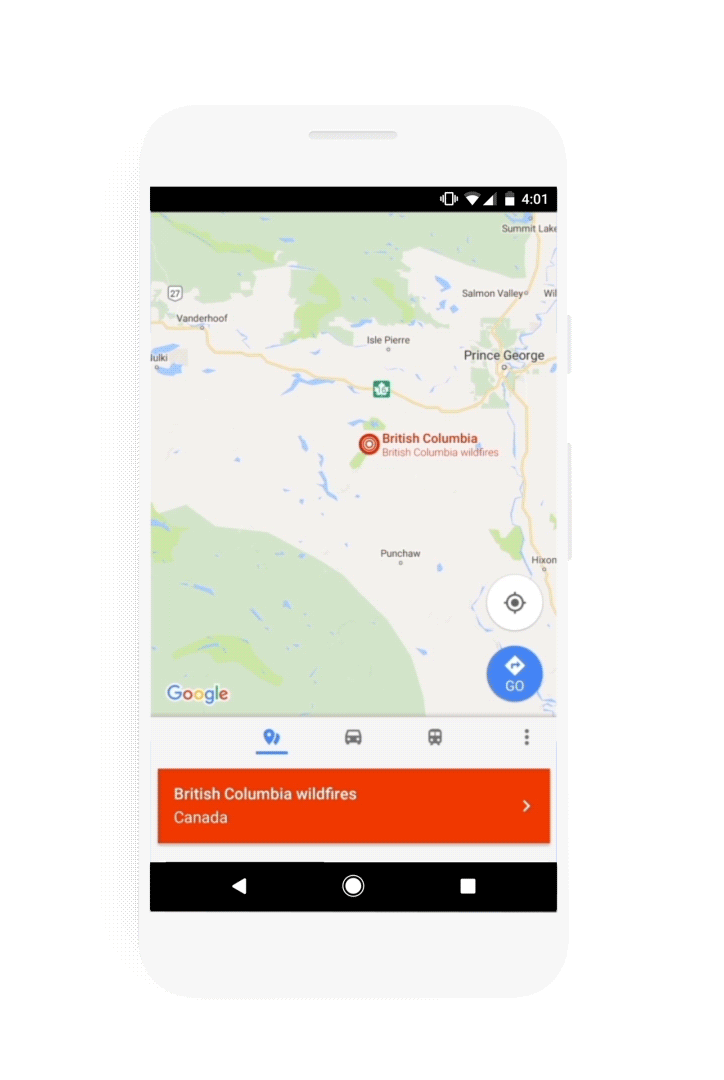 In addition to SOS Alerts and other crisis response features-including Google Person Finder, Google Crisis Map and Google Public Alerts-our philanthropic arm Google.org provides grants and volunteers for communities impacted by crises. We hope you never need to use crisis response features, but if you do, they're designed to help keep you, and those you love, safe and informed.
25 Jul 2017 10:00am GMT
24 Jul 2017
Every dollar and minute count to further your cause and focus on your mission. We're pleased to highlight nonprofits who were able to make greater impact with fewer resources by using Google tools-from G Suite to Google Ad Grants-made available through Google for Nonprofits (G4NP) at no charge.
Varying in size, scope, and timezones, these nonprofits from around the world share one thing in common: utilizing the G4NP suite of tools to help their specific needs. G4NP offers nonprofit organizations across 50 countries access to Google tools like Gmail, Google Calendar, Google Ad Grants and more at no cost. This week, we'll take a look at how the nonprofit Action Against Hunger utilizes these tools to increase productivity, visibility, and donations, in order to improve lives in the communities they serve.
Action Against Hunger
In 2016 alone, Action Against Hunger provided nourishment to over 1.5 million starving children(1). In order to save lives with nutritional programs, Action Against Hunger looked to Google for aid-not for food, but for technology. Action Against Hunger now utilizes five Google technologies that have drastically improved their ability to save lives around the globe.
Raising Awareness with Google Ad Grants & Analytics
For major international emergencies, like the Ebola outbreak or the South Sudan famine, Action Against Hunger needs a way to inform people and recommend ways to get involved. With Ad Grants, the nonprofit activates targeted keywords relating to the crises to drive people to their page and empower them to take action. Google Analytics then allows them to track their effectiveness and adjust accordingly to increase engagement and improve their fundraising techniques. With this data-driven strategy and the tools' ability to optimize campaigns, Action Against Hunger has nearly doubled funding year-over-year. In fact, Ad Grants brought 158,000 people to their website in the past year alone, raising $66,000 which is equal to treating 1,466 hungry children.
Ad Grants brought 158,000 people to their website in the past year alone, raising $66,000 which is equal to treating 1,466 hungry children.
Increasing Productivity with G Suite
When working with a global network and managing hundreds of programs abroad, collaboration and communication are key. After experiencing unnecessary latencies in their operations, Action Against Hunger has since adopted G Suite which streamlined their workflow. The nonprofit is especially fond of Gmail, Hangouts, and Drive where Action Against Hunger employees can message each other quickly, share files securely, and collaborate on Docs in real-time-avoiding duplication of efforts and saving time.
Fundraising with One Today & YouTube
To drive donations and expand awareness to broad audiences, Action Against Hunger uses One Today, a Google app that allows users to easily donate $1 or more towards causes they care about. Campaigning on One Today on World Food Day in 2016, Action Against Hunger raised more than $1,200 in support of their cause with each dollar going directly helping those in need-the equivalent of feeding 1,000 hungry children. Additionally, Action Against Hunger creates and shares content on YouTube to reach their global audience, and is beginning to use the YouTube donation cards to further increase donations. The large exposure and website referrals from both YouTube and Google+ helped Action Against Hunger raise over $20,000.
Using Google products Action Against Hunger gained extra time and energy to focus on what really matters: feeding the hungry.
To read more about Action Against Hunger's story and learn how they used Google tools so effectively, visit our Google for Nonprofits Community Stories page. Stay tuned in the coming weeks for more inspirational stories about nonprofits using technology to help their cause.
To see if your nonprofit is eligible to participate, review the Google for Nonprofits eligibility guidelines. Google for Nonprofits offers organizations like yours free access to Google tools like Gmail, Google Calendar, Google Drive, Google Ad Grants, YouTube for Nonprofits and more. These tools can help you reach new donors and volunteers, work more efficiently, and tell your nonprofit's story. Learn more and enroll here.

Footnote: Statements are provided by Nonprofits that received products as part of the Google for Nonprofits program, which offers products at no charge to qualified nonprofits.
24 Jul 2017 6:30pm GMT
01 Apr 2017
April Fools' Day should probably be called Google Fools' Day, since there are so many Google hoaxes.

Google Japan developed a "bubble wrap" version of the Japanese keyboard. "The Google Japanese input bubble wrap version is a keyboard that realizes 'I want to press in my mind, I want to keep pressing'," according to Google Translate.




Another product for your smart home? Meet Google Gnome, "a voice-activated, hands-free tool designed to make backyard living effortless. Need to know what animal is squeaking in your bushes? Stay still and ask Gnome what sound an opossum makes. Running low on birdseed? That's where Gnome comes in. You can even use Gnome's proprietary high-intensity lasers to trim your hedges into whatever shape your heart desires."




The Chrome OS team brings the most popular mobile accessories to the Chromebook, which already blurs the line between mobile and desktop. Chromebook Groupie Stick, Chromebook Cardboard, Chromebook Workout Armband will soon be available in the Google Store. "To take advantage of beautiful, high-resolution displays, as well as great photo editing apps, we've carefully engineered the first Chromebook-sized selfie stick. Never again will you miss the perfect groupie."



Haptic Helpers make VR even more immersive. "We're taking VR to the next level with Haptic Helpers. Using a modest set of everyday tools, these VR virtuosos can simulate more than 10,000 unique experiences, all from the comfort of your own home. Smell the roses. Listen to the ocean. Feel a fluffy dog!"


You can now play the classic arcade game MS. PAC-MAN in Google Maps. "Avoid Blinky, Pinky, Inky, and Sue as you swerve the streets of real places around the world. But eat the pac-dots fast, because this game will only be around for a little while." Just go to the Google Maps site or open the Google Maps app for Android or iOS and click or tap MS. PAC-MAN at the bottom.



Google Cloud Platform expands to Mars. "By opening a dedicated extraterrestrial cloud region, we're bringing the power of Google's compute, network, and storage to the rest of the solar system, unlocking a plethora of possibilities for astronomy research, exploration of Martian natural resources and interplanetary life sciences. This region will also serve as an important node in an extensive network throughout the solar system. Our first interplanetary data center - affectionately nicknamed 'Ziggy Stardust' - will open in 2018," mentions Google.



Google Netherlands came up with Google Wind, a machine learning technology that controls the weather. "The Netherlands has many windmills, some no longer in use, we can connect to Google Cloud Platform. So we use the existing Dutch infrastructure, machine learning, weather patterns to control the network of windmills when rain is approaching. The first test results are very promising: we seem to be able to provide sun and clear skies for everyone in the Netherlands," mentions Google Netherlands blog.




Google's search app for iOS is now optimized for cats and dogs. "On the Google app for iOS, you can now use 3D Touch on the app icon or head to settings and select I'm Feeling Woof or I'm Feeling Meow to let your dogs and cats get info on topics they care about-whether that means squeaky toys or a bowl of milk!"



Google also launched Google Play for Pets, a new category of Android games designed for cats, dogs and other pets.


Google Translate's Word Lens feature supports a new language: Heptapod B, the alien language from the movie "Arrival". "The challenge with understanding Heptapod B is its nonlinear orthography. Fortunately, Google's neural machine translation system employs an encoder/decoder system that internally represents sentences as high-dimensional vectors. These vectors map well to the non-linear orthography of the Heptapod language and they are really the enabling technical factor in translating Heptapod B."


01 Apr 2017 7:25am GMT
19 Feb 2017
If you try to send a JavaScript attachment using Gmail or if you want to download a .js attachment, you'll get a new anti-virus warning: "Blocked for security reasons", "1 attachment contains a virus or blocked file. Downloading this attachment is disabled".


.JS has been added to the long list of file types that are blocked by Gmail for security reasons. The full list: .ADE, .ADP, .BAT, .CHM, .CMD, .COM, .CPL, .EXE, .HTA, .INS, .ISP, .JAR, .JS (NEW), .JSE, .LIB, .LNK, .MDE, .MSC, .MSI, .MSP, .MST, .NSH .PIF, .SCR, .SCT, .SHB, .SYS, .VB, .VBE, .VBS, .VXD, .WSC, .WSF, .WSH. "To prevent against potential viruses, Gmail doesn't allow you to attach certain types of files, including: certain file types (listed above), including their compressed form (like .gz or .bz2 files) or when found within archives (like .zip or .tgz files), documents with malicious macros, archives whose listed file content is password protected, archives whose content includes a password protected archive."

The GSuite Blog informs that "for inbound mail, senders will get a bounce message explaining why the email was blocked. If you still need to send .js files for legitimate reasons, you can use Google Drive, Google Cloud Storage, or other storage solutions to share or send your files."

You can still send JavaScript files using Gmail if you change the extension. What about downloading old .js attachments? Try the workarounds from this post.
19 Feb 2017 10:39am GMT
25 Jan 2017
Google Image Search has a different way to display suggestions: it now shows a long list of colorful boxes with related searches. You can click one or more boxes to dynamically refine search results.



For example, when searching for [sportswear], Google shows suggestions like: [women basketball], [tennis], [badminton], [golf], [volleyball], [nike woman], [alexander wang], [adidas], [fashion], [performance], [vintage], [trendy], [urban], [school], [gym], [90's], [70's], [vogue], [luxe], [avant garde], [korean], [italian], [french] and more. It's interesting to notice that each category of suggestions has a different color.



Here's the old interface, which had fewer suggestions and displayed thumbnails next to suggestions:


25 Jan 2017 9:39pm GMT
19 Jan 2017
A few months ago, I took a leave of absence from Google to do a stint with the US Digital Service. A lot of people know about the US Digital Service because they helped rescue the healthcare.gov website. But you might not realize that the US Digital Service has helped veterans get their health benefits, […]
19 Jan 2017 3:47am GMT
18 Jun 2016
Over the last couple years, I've seen more and more people in technology trying to make government work better. They're idealists who are also making a large impact. These are people that I respect-some of them worked to fix healthcare.gov, for example. From talking to many of them, I can tell you that their energy […]
18 Jun 2016 1:57am GMT
03 Feb 2016
Amit Singhal just announced that he's retiring toward the end of the month. Amit has been a formative part of Google's search team, but he's also a good friend. Last year, after he marked 15 years with Google, I wrote this about Amit's contributions: Amit Singhal, one of the unsung heroes of Google, just celebrated […]
03 Feb 2016 7:49pm GMT
11 Nov 2011
As Google pushes fresh search results, a helpful Google search tool for historical searches quietly vanished earlier this month. Google has confirmed that Google's Timeline search option, which debuted in 2007, has been discontinued. By cl...
11 Nov 2011 9:35pm GMT
Google has graduated Think Insights from beta. This tool now compiles real-time data from Google search and other platforms, combining those facts with additional studies, infographics, and more. Users can find the site at ThinkwithGoogle.com, a...
11 Nov 2011 8:45pm GMT
Google has just acquired startup Katango, makers of a Facebook friends list generating iPhone app released this July. Shortly after its debut, however, Katango's autogenerator faced serious competition from Facebook itself, as it rolled out ...
11 Nov 2011 7:35pm GMT
26 Aug 2011
The Emperor instructed the gardener to set up the new court's garden. "I want you to plant five trees growing the Crataan fruit," the Emperor said, "Because we asked people what fruit they like best, and most named the Crataan fruit!" The gardener replied, "Emperor, that is excellent thinking! But let me make some suggestions: First, how about we make one of the five trees bear the Muran fruit. Only one out of ten citizens loves it, but those peculiar citizens tend to love multiple times as much!" "Second," the gardener continued, "How about we make one of the five trees bear the Dratean fruit. No one loves it, but that's because no one knows it yet!" "Third," the gardener said, "How about we leave one spot in the garden empty. Who knows what new type of tree we'll discover that we can put there in the fut ...
26 Aug 2011 12:12pm GMT
15 Aug 2011
For those of you who've been wondering whether I had turned to stone, fallen into a bottomless pit, or been climbing the Himalaya... no, none of that is true, even though you probably did notice I'm not actively blogging about Google here anymore*! Just now, a new iPad app I've been working on called Color Sound Machine went live, and this -- and all the other apps and games at Versus Pad** -- are actually what I am doing while not blogoscoping. *I've drafted unpublished posts explaining much more about past, present and future of Blogoscoped, and the history of Google news reporting, but ... oh, for now le ...
15 Aug 2011 4:00pm GMT
25 Feb 2011
One of the earliest specialist services provided by Google was reverse phone number lookup. If you used the "phonebook:" or "rphonebook:" operators together with a 10-digit US phone number, Google would show you the owner of that phone number, unless the number was unlisted. Google no longer provides that service. Not surprisingly, there was no press release marking the closure, but Google employee Daniel Russell has acknowledged the closure of the service in his blog. He hints at the possible pressures leading to the shuttering of the service: "As you can imagine, this was an endless source of hassles for people (who were surprised to see themselves searchable on Google) and for Google (who had to constantly de ...
25 Feb 2011 11:23am GMT