21 Feb 2017
As mobile continues to grow, consumers are conducting more searches with hyperlocal intent -- and Google is refining its results in response to this trend. Columnist Jim Yu explains how local businesses can optimize for this hyperlocal reality. The post Hyperlocal marketing will soar in 2017: 5...

Please visit Search Engine Land for the full article.
21 Feb 2017 3:51pm GMT
20 Feb 2017
Below is what happened in search today, as reported on Search Engine Land and from other places across the web. The post SearchCap: Google & Bing pirate agreement, local SEO & PPC tips appeared first on Search Engine Land.

Please visit Search Engine Land for the full article.
20 Feb 2017 9:00pm GMT
Does your business serve a local market? Columnist Pratik Dholakiya shares tips for six business types that can really benefit from local search engine optimization. The post 6 business types that reap the most reward from local SEO appeared first on Search Engine Land.

Please visit Search Engine Land for the full article.
20 Feb 2017 4:05pm GMT
19 Feb 2017
If you try to send a JavaScript attachment using Gmail or if you want to download a .js attachment, you'll get a new anti-virus warning: "Blocked for security reasons", "1 attachment contains a virus or blocked file. Downloading this attachment is disabled".


.JS has been added to the long list of file types that are blocked by Gmail for security reasons. The full list: .ADE, .ADP, .BAT, .CHM, .CMD, .COM, .CPL, .EXE, .HTA, .INS, .ISP, .JAR, .JS (NEW), .JSE, .LIB, .LNK, .MDE, .MSC, .MSI, .MSP, .MST, .NSH .PIF, .SCR, .SCT, .SHB, .SYS, .VB, .VBE, .VBS, .VXD, .WSC, .WSF, .WSH. "To prevent against potential viruses, Gmail doesn't allow you to attach certain types of files, including: certain file types (listed above), including their compressed form (like .gz or .bz2 files) or when found within archives (like .zip or .tgz files), documents with malicious macros, archives whose listed file content is password protected, archives whose content includes a password protected archive."

The GSuite Blog informs that "for inbound mail, senders will get a bounce message explaining why the email was blocked. If you still need to send .js files for legitimate reasons, you can use Google Drive, Google Cloud Storage, or other storage solutions to share or send your files."

You can still send JavaScript files using Gmail if you change the extension. What about downloading old .js attachments? Try the workarounds from this post.
19 Feb 2017 10:39am GMT
17 Feb 2017
At Google Cloud, we're working closely with the healthcare industry to provide the technology and tools that help create better patient experiences, empower care teams to work together and accelerate research. We're focused on supporting the digital transformation of our healthcare customers through data management at scale and advancements in machine learning for timely and actionable insights.
Next week at the HIMSS Health IT Conference, we're demonstrating the latest innovations in smart data, digital health, APIs, machine learning and real-time communications from Google Cloud, Research, Search, DeepMind and Verily. Together, we offer solutions that help enable hospital and health IT customers to tackle the rapidly evolving and long standing challenges facing the healthcare industry. Here's a preview of the Google Cloud customers and partners who are joining us at HIMSS.
For customers like the Colorado Center for Personalized Medicine (CCPM) at the University of Colorado Denver, trust and security are paramount. CCPM has worked closely with the Google Cloud Platform (GCP) team to securely manage and analyze a complicated data set to identify genetic patterns across a wide range of diseases and reveal new treatment options based on a patient's unique DNA.
And the Broad Institute of MIT and Harvard has used Google Genomics for years to combine the power, security features and scale of GCP with the Broad Institute's expertise in scientific analysis.
"At the Broad Institute we are committed to driving the pace of innovation through sharing and collaboration. Google Cloud Platform has profoundly transformed the way we build teams and conduct science and has accelerated our research," William Mayo, Chief Information Officer at Broad Institute told us.
To continue to offer these and other healthcare customers the tools they need, today we're announcing support for the HL7 FHIR Foundation to help the developer community advance data interoperability efforts. The FHIR open standard defines a modern, web API-based approach to communicating healthcare data, making it easier to securely communicate across the healthcare ecosystem including hospitals, labs, applications and research studies.
"Google Cloud Platform's commitment to support the ongoing activities of the FHIR community will help advance our goal of global health data interoperability. The future of health computing is clearly in the cloud, and our joint effort will serve to accelerate this transition," said Grahame Grieve, Principal at Health Intersections, FHIR Product Lead
Beyond open source, we're committed to supporting a thriving ecosystem of partners whose solutions enable customers to improve patient care across the industry.
We've seen great success for our customers in collaboration with Kinvey, which launched its HIPAA-compliant application backend as a service on GCP to leverage our cloud infrastructure and integrate its capabilities with our machine learning and analytics services.
"In the past year, we've seen numerous organizations in healthcare, from institutions like Thomas Jefferson University and Jefferson Health that are building apps to transform care, education and research, and startups like iTether and TempTraq that are driving innovative new solutions, turn to Kinvey on GCP to accelerate their journey to a new patient-centric world," said Sravish Sridhar, CEO of Kinvey.
We've also published a new guide for HIPAA compliance on GCP, which describes our approach to data security on GCP and provides best-practice guidance on how to securely bring healthcare workloads to the cloud.
Stop by our booth at HIMSS to hear more about how we're working with the healthcare industry across Google. We would love to learn how we can engage with you on your next big idea to positively transform healthcare.
17 Feb 2017 8:00pm GMT
Can't get enough dunks, three pointers, and last-second jumpers? Experience the NBA in a whole new way with the new NBA VR app, available on Daydream.
Catch up with highlights in your own virtual sports lounge or watch the NBA's first original VR series, "House of Legends," where NBA legends discuss everything from pop culture to the greatest moments of their career. The series tips off today with seven-time NBA Champion Robert Horry. New episodes featuring stars like Chauncey Billups and Baron Davis will debut regularly.
Daydream gives sports fans a new way to connect to the leagues, teams and players they care about most. The NBA VR app joins a lineup that already includes:
NFL VR: Get access to the NFL Immersed series featuring 360° behind-the-scenes looks into the lives of players, coaches, cheerleaders, and even fans themselves as they prepare for game day.
MLB.com Home Run Derby VR: Hit monster home runs with the Daydream controller in eight iconic MLB ballparks and bring home the ultimate Derby crown.
NextVR: From NBA games and the Kentucky Derby, to the NFL and the US Open, experience your favorite sporting events live or revisit them through highlights.
You're just a download away from being closer than ever to the sporting events and athletes you love!

17 Feb 2017 6:00pm GMT
Recently a group of Googlers visited Ogeum Middle School in Seoul, where they joined a junior high school class that had some fun trying out machine learning based experiments. The students got to see neural nets in action, with experiments that have trained computers to guess what someone's drawing, or that turn a picture taken with a smartphone into a song.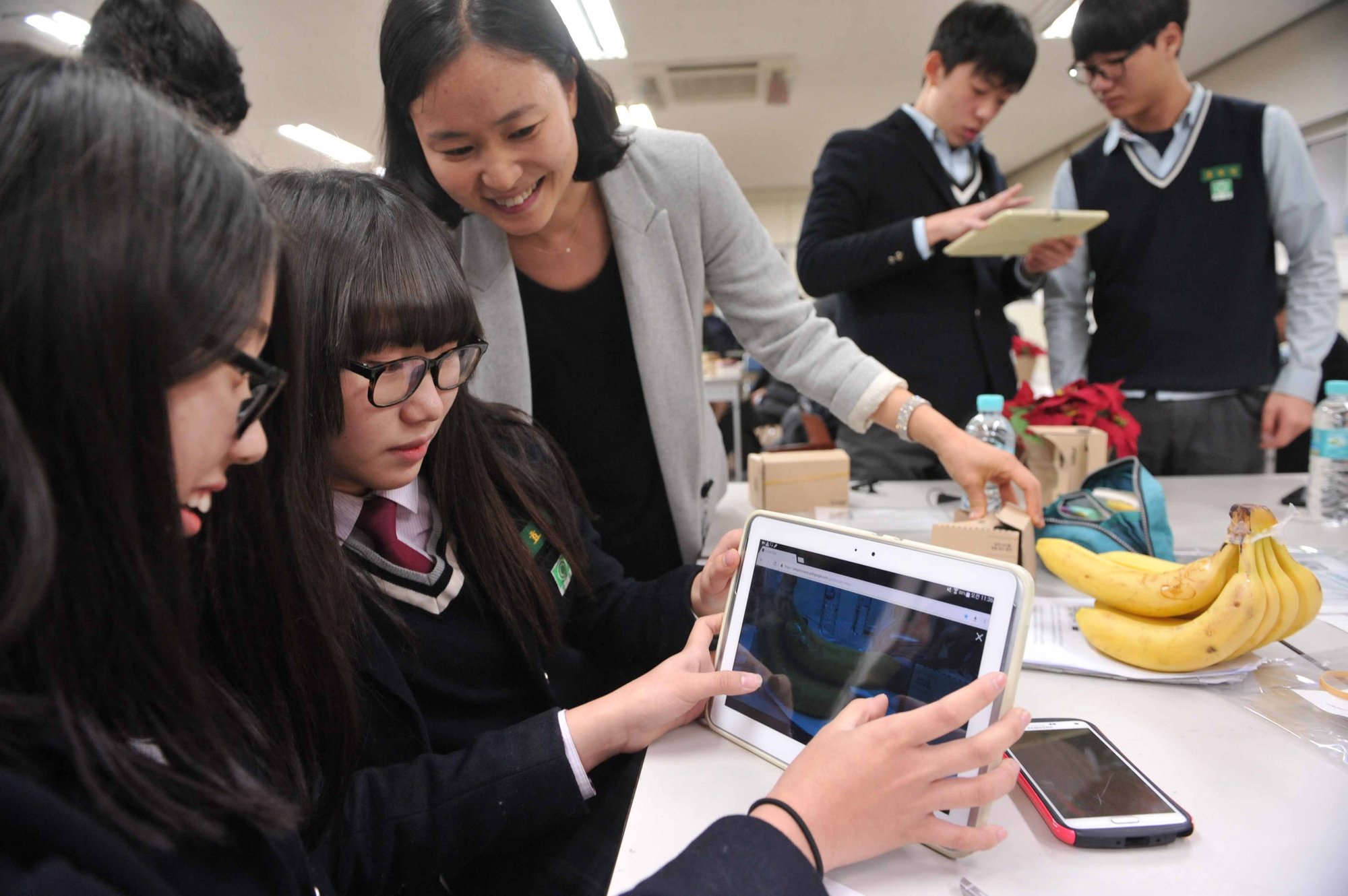 Students at Ogeum Middle School trying out
Giorgio Cam
, an experiment built with machine learning that lets you make music with the computer just by taking a picture. It uses image recognition to label what it sees, then it turns those labels into lyrics of a song.
We're always excited to see kids develop a passion for technology, because it seeds an interest in using technology to solve challenges later in life.
The students at Ogeum Middle School are among the first of over 3,000 kids across Korea we hope to reach through "Digital Media Campus" (or 디지털 미디어 캠퍼스 in Korean), a new digital literacy education program. Through a Google.org grant to the Korea Federation of Science Culture and Education Studies (KOSCE), we plan to reach junior high school students in 120 schools across the country this year. Students in their 'free semester'-a time when middle schoolers can take up electives to explore future career paths-will be able to enroll in this 32-hour course spanning 16 weeks beginning next month.
KOSCE-trained tutors will show kids how to better evaluate information online and assess the validity of online sources, teach them to use a range of digital tools so they can do things like edit videos and create infographics, and help them experience exciting technologies like AR and VR. By giving them a glimpse of how these technologies work, we hope to excite them about the endless possibilities offered by technology. Perhaps this will even encourage them to consider the world of careers that technology opens up to them.
Helping kids to recognize these opportunities often starts with dismantling false perceptions at home. This is why we're also offering a two-hour training session to 2,000 parents, who'll pick up tips to help their kids use digital media.
We ran a pilot of the program last year, and have been heartened by the positive feedback we've received so far. Teachers and parents have told us that they appreciate the skills it teaches kids to be competitive in a digital age. And the students are excited to discover new digital tools and resources that are useful to them in their students.
While we might not be able to reach every high school student with this program, we hope to play a small role in helping to inspire Korea's next generation of tech innovators.
17 Feb 2017 10:30am GMT
25 Jan 2017
Google Image Search has a different way to display suggestions: it now shows a long list of colorful boxes with related searches. You can click one or more boxes to dynamically refine search results.



For example, when searching for [sportswear], Google shows suggestions like: [women basketball], [tennis], [badminton], [golf], [volleyball], [nike woman], [alexander wang], [adidas], [fashion], [performance], [vintage], [trendy], [urban], [school], [gym], [90's], [70's], [vogue], [luxe], [avant garde], [korean], [italian], [french] and more. It's interesting to notice that each category of suggestions has a different color.



Here's the old interface, which had fewer suggestions and displayed thumbnails next to suggestions:


25 Jan 2017 9:39pm GMT
19 Jan 2017
A few months ago, I took a leave of absence from Google to do a stint with the US Digital Service. A lot of people know about the US Digital Service because they helped rescue the healthcare.gov website. But you might not realize that the US Digital Service has helped veterans get their health benefits, […]
19 Jan 2017 3:47am GMT
16 Jan 2017
Google Image Search's mobile interface tests a new feature that starts playing snippets from a YouTube video at the top of the search results page. It's not disclosed as an ad, there's no sound and you can't stop or hide the video, which continues to play on repeat.



Right now, the experiment seems to be limited to fashion-related queries like [men jackets], [lookbook], [winter outfit], which match videos from YouTube channels like New Look and River Island. "New Look is a South African-owned British global fashion retailer with a chain of high street shops. (...) The chain sells womenswear, menswear, and clothing for teens," according to Wikipedia.

Google only shows labels like: "New Look on YouTube", even though this looks like an experimental ad format. I hope it will never become a regular feature, as it's pretty annoying and it wastes Internet bandwidth.
16 Jan 2017 10:49am GMT
18 Jun 2016
Over the last couple years, I've seen more and more people in technology trying to make government work better. They're idealists who are also making a large impact. These are people that I respect-some of them worked to fix healthcare.gov, for example. From talking to many of them, I can tell you that their energy […]
18 Jun 2016 1:57am GMT
03 Feb 2016
Amit Singhal just announced that he's retiring toward the end of the month. Amit has been a formative part of Google's search team, but he's also a good friend. Last year, after he marked 15 years with Google, I wrote this about Amit's contributions: Amit Singhal, one of the unsung heroes of Google, just celebrated […]
03 Feb 2016 7:49pm GMT
11 Nov 2011
As Google pushes fresh search results, a helpful Google search tool for historical searches quietly vanished earlier this month. Google has confirmed that Google's Timeline search option, which debuted in 2007, has been discontinued. By cl...
11 Nov 2011 9:35pm GMT
Google has graduated Think Insights from beta. This tool now compiles real-time data from Google search and other platforms, combining those facts with additional studies, infographics, and more. Users can find the site at ThinkwithGoogle.com, a...
11 Nov 2011 8:45pm GMT
Google has just acquired startup Katango, makers of a Facebook friends list generating iPhone app released this July. Shortly after its debut, however, Katango's autogenerator faced serious competition from Facebook itself, as it rolled out ...
11 Nov 2011 7:35pm GMT
26 Aug 2011
The Emperor instructed the gardener to set up the new court's garden. "I want you to plant five trees growing the Crataan fruit," the Emperor said, "Because we asked people what fruit they like best, and most named the Crataan fruit!" The gardener replied, "Emperor, that is excellent thinking! But let me make some suggestions: First, how about we make one of the five trees bear the Muran fruit. Only one out of ten citizens loves it, but those peculiar citizens tend to love multiple times as much!" "Second," the gardener continued, "How about we make one of the five trees bear the Dratean fruit. No one loves it, but that's because no one knows it yet!" "Third," the gardener said, "How about we leave one spot in the garden empty. Who knows what new type of tree we'll discover that we can put there in the fut ...
26 Aug 2011 12:12pm GMT
15 Aug 2011
For those of you who've been wondering whether I had turned to stone, fallen into a bottomless pit, or been climbing the Himalaya... no, none of that is true, even though you probably did notice I'm not actively blogging about Google here anymore*! Just now, a new iPad app I've been working on called Color Sound Machine went live, and this -- and all the other apps and games at Versus Pad** -- are actually what I am doing while not blogoscoping. *I've drafted unpublished posts explaining much more about past, present and future of Blogoscoped, and the history of Google news reporting, but ... oh, for now le ...
15 Aug 2011 4:00pm GMT
25 Feb 2011
One of the earliest specialist services provided by Google was reverse phone number lookup. If you used the "phonebook:" or "rphonebook:" operators together with a 10-digit US phone number, Google would show you the owner of that phone number, unless the number was unlisted. Google no longer provides that service. Not surprisingly, there was no press release marking the closure, but Google employee Daniel Russell has acknowledged the closure of the service in his blog. He hints at the possible pressures leading to the shuttering of the service: "As you can imagine, this was an endless source of hassles for people (who were surprised to see themselves searchable on Google) and for Google (who had to constantly de ...
25 Feb 2011 11:23am GMT