21 Oct 2016
Columnist Sherry Bonelli explains how recent changes to the local search landscape point to an ever-changing discipline that requires increasingly complex strategies. The post How to dominate local SEO: more challenging in an evolving local search environment appeared first on Search Engine Land.

Please visit Search Engine Land for the full article.
21 Oct 2016 2:21pm GMT
In this week's Search In Pictures, here are the latest images culled from the web, showing what people eat at the search engine companies, how they play, who they meet, where they speak, what toys they have and more. Google coffee sleeve: Source: Instagram Google massage room: Source:...

Please visit Search Engine Land for the full article.
21 Oct 2016 1:30pm GMT
20 Oct 2016
The Bing-TuneIn partnership will bring more than 10,000 stations directly into Bing's search results for 'online radio stations' query. The post Bing's partnership with TuneIn lets users listen to radio stations directly in search appeared first on Search Engine Land.

Please visit Search Engine Land for the full article.
20 Oct 2016 9:08pm GMT
Editor's note: San Diego Unified School District has more than 132,000 students across 226 schools. They're about to embark on what will soon be one of the largest 1:1 Chromebook programs for a school district. Leading the charge is Cindy Marten, superintendent of San Diego Unified School District. We're proud to work with San Diego Unified School District on this journey and excited about what's to come.
At San Diego Unified School District it's our mission to prepare our students, who represent more than 180 countries and 60 spoken languages, for the competitive global economy, and we believe that integrating technology into the classroom is a core part of these efforts. To ensure students graduate with the skills, motivation and curiosity to thrive in the workplace of the future we've launched a over 47,000 Chromebooks and G Suite for Education, including Google Classroom, district-wide to give all students access to collaborative technology both in the classroom and at home.
A new way to evaluate classroom tech
The innovation technology team at San Diego Unified School District, lead by Dan Stoneman, our chief innovation officer, created a 178-point rubric for evaluating classroom technology. The team created the rubric with careful attention to the skills we believe will be important in the future workplace - namely, the skills to collaborate effectively and work in the cloud. It's crucial to reinforce these skills by providing access to technology in the classroom. Many of our students don't have computers or internet at home. We believe that this program will level the playing field and prepare all of our students for the future workplace. This is why a total of 43 of our schools will be 1:1 with Chromebooks by the end of the year, giving over 16,000 students the ability to use them at home and in the classroom.
Our district saved nearly $10 million by choosing Chromebooks for our 1:1 roll-out. Chromebooks are less expensive than other devices on the market, but they are much more reliable. This has made it possible for us to both save money on purchasing new devices as well as invest in devices that will last longer. The money we've spent goes much further now that we're using more affordable devices. This enables us to ensure that every student has a working device that's up to date with the latest software.
Our district saved nearly $10 million by choosing Chromebooks for our 1:1 roll-out.
Cindy Marten
Superintendent, San Diego Unified School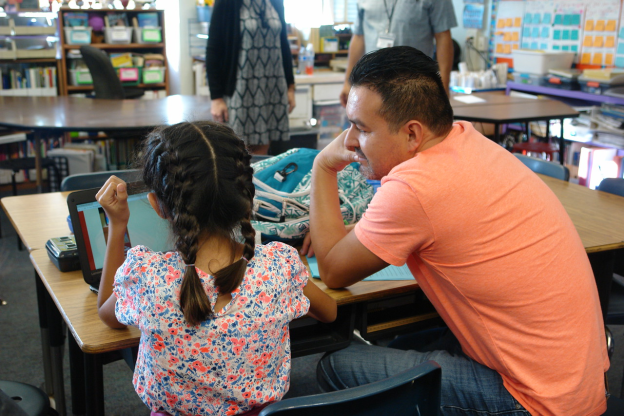 An elementary school student shows her father a class project on her Chromebook
Building skills for the future
We're seeing the impact of Chromebooks and G Suite for Education at schools like Jefferson Elementary, which launched 147 Chromebooks for use in the classroom at the start of this school year. We wanted to see students learning to collaborate in the cloud, socialize online and work simultaneously on projects in Google Docs. These tasks require a great amount of critical thinking and communication skills and even though we're only a month into the school year, we're starting to see positive results.
For example, in Lisa Martin's fourth grade class students are using Chromebooks to work together on projects that teach communication, collaboration and problem-solving skills. At the beginning of the school year, students interviewed their peers, wrote profiles in Docs, and worked in group settings to share and edit their drafts.
Lisa is now seeing students learn how to relate to others both personally and professionally. In her own words, "The students aren't just learning from me, they're learning from each other. I have been able to step back and become a better facilitator," she says.
Inspiring more confident, engaged students
Teachers report that students are showing more confidence in the classroom. This is especially true for students who struggle with reading and writing and those who speak English as a second language. "Many students struggle with handwriting assignments, but when you give them a computer, they can focus on the work and show their thinking," says Jon Kevorkian, a fourth grade teacher at Jefferson.
We're particularly thrilled by students' enthusiasm about using technology. "I run the after school Maker club, and the students often bring their Chromebooks to show me the work they're doing in class" says Dorothy Dunham, a fourth grade teacher at Jefferson. "I've never seen anything like it before. The students would rather work on Chromebooks than play with legos after school."
Our administrative team is excited about these early results and we're looking forward to seeing the overall impact across the district. Our Chromebook program is helping us achieve our mission: for all students in our diverse community to graduate with the skills, motivation and curiosity to thrive in the workplace of the future.
20 Oct 2016 4:30pm GMT
19 Oct 2016
Whether you're heading out to buy groceries, grabbing a cup of coffee, or picking up some egg tarts for your family and friends, now your Android phone is all you need as you walk out the door. Starting today, Android Pay is available in Hong Kong to help you speed through purchases in stores and in apps.
Hongkongers can now use Android Pay at over 5,000 locations in Hong Kong where contactless payments are accepted, including stores such as at 7-Eleven, Circle K, Fortress, Mannings, Maxim's Cakes, MX, McDonald's, Pacific Coffee, PARKnSHOP, SmarTone, Watsons, Wellcome and more. Android Pay also stores your gift cards, loyalty cards and special offers right on your phone.
To get started, download the app from Google Play. It's available on all Android devices that are NFC-enabled, supporting Google Play Services, and running on KitKat 4.4 or higher. Android Pay works with MasterCard and Visa cards from BEA, DBS, Dah Sing Bank, Hang Seng Bank, HSBC, and Standard Chartered Bank in Hong Kong. You can add multiple cards (there's no limit to how many you can add) and select which card you want to use before you pay, so you can always enjoy the best deals available.
Merchants, want to accept Android Pay?
As an open platform, Android Pay is available to merchants that want to push mobile payments forward. In-store merchants can access the Android Pay Merchant Help Centre or reach out to acquirer partners such as DBS, First Data and Hang Seng to learn more about accepting contactless payments.
For online merchants, just visit the
Android Pay API developer site
to learn how to accept Android Pay in your app. We're working with payment processors such as: Adyen, Braintree, First Data, Global Payments, Stripe and Worldpay to make enabling Android Pay in Hong Kong simple and easy.

19 Oct 2016 9:00pm GMT
G Suite for Education helps students move from collecting ideas to creating projects and papers as quickly and easily as possible. Google Docs achieves this by facilitating collaboration, making it easy to work on any device, and weaving in machine intelligence to handle the more mundane elements of getting work done.
Today we're introducing new time-saving features to Docs, Sheets and Slides designed to speed up and simplify the way teachers and students work, so they can focus on what's really important-teaching and learning. These apps still have all of the same functionality that students and teachers love, with the addition of these new features.
1. Less time spent organizing next steps with Action Items
When reviewing a student's assignment, it's helpful for teachers to give them clear guidance on the next step they should take, like which specific paragraphs need to be reworked in their essay. Now, when teachers type phrases like "AI: Ryan to show work on the answer to this problem," or "Todo: Andrea to fix punctuation in this paragraph" on desktop, Docs will intelligently suggest an Action Item to assign to the right person, thanks to natural language processing (NLP).
Teachers can also manually assign an action item to a student in the Docs, Sheets, and Slides desktop and mobile apps by mentioning them in a comment and checking the new action item box. To help the student stay on track, they will get an email notification and see the action item(s) clearly highlighted with a blue bar when they open the file.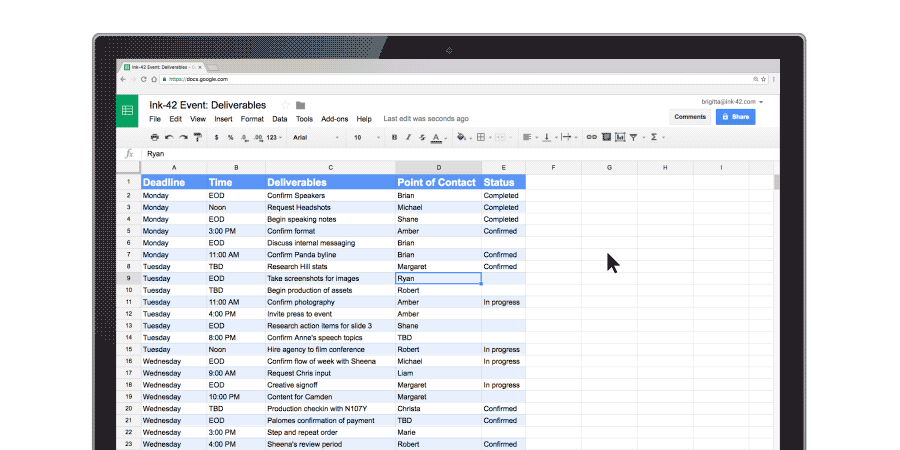 2. Less time spent searching for the files that need attention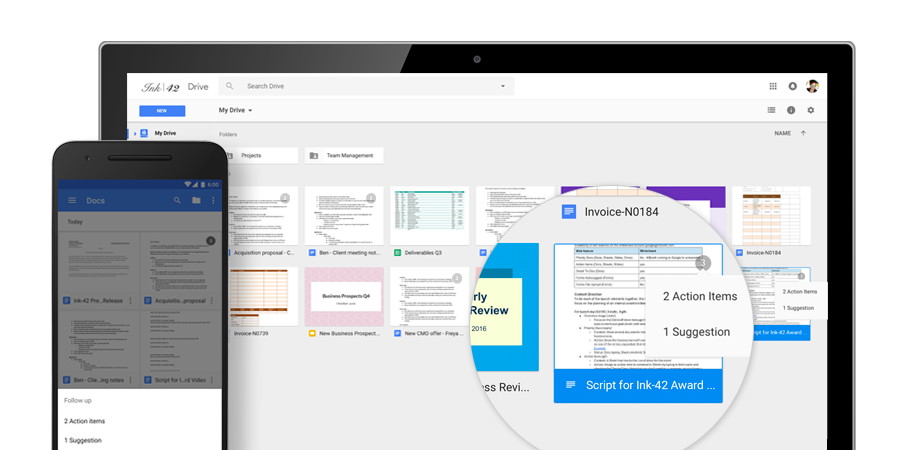 3. Less time spent building questions with smarter Forms
Since its launch in 2008, over a billion questions have been asked in Forms. With the help of neural networks, our tools reviewed anonymized data and identified many common patterns in Forms. As a result, Forms can now predict the type of question that is being asked and suggest response options based on what is typed, resulting in 25% faster form creation.
For example, a teacher can collect information for the marching band's upcoming trip. When she types "What day of the week are you and your parent/guardian available?", Forms will intelligently determine that "Checkbox" is the ideal question type, and generate the days of the week as the appropriate response options that can be added one by one or all together.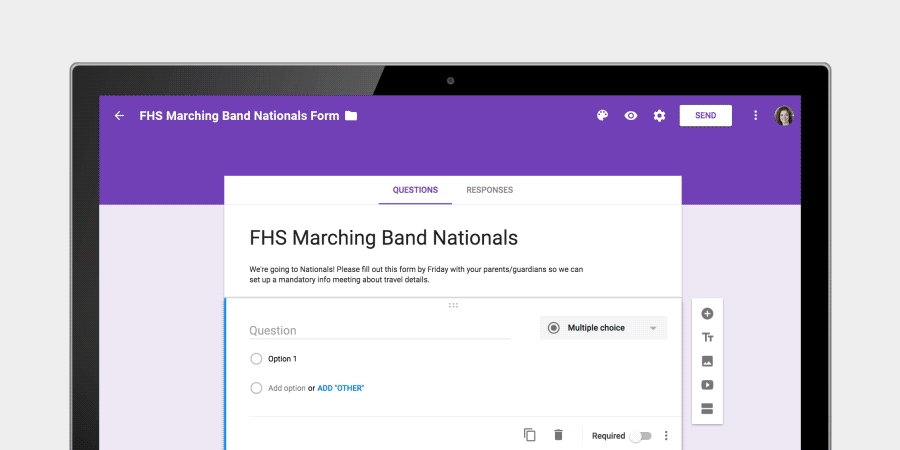 Also debuting today, is a top-requested feature from our education customers - the new "File upload" question type. Students can now upload files from their computer or Drive - all of which are neatly collected in a folder in the teacher's Drive. This means students can now add files-from a photo for the marching band program to videos of French dialogue practice-directly to Google Forms. Note: This feature is currently only available for intra-domain use.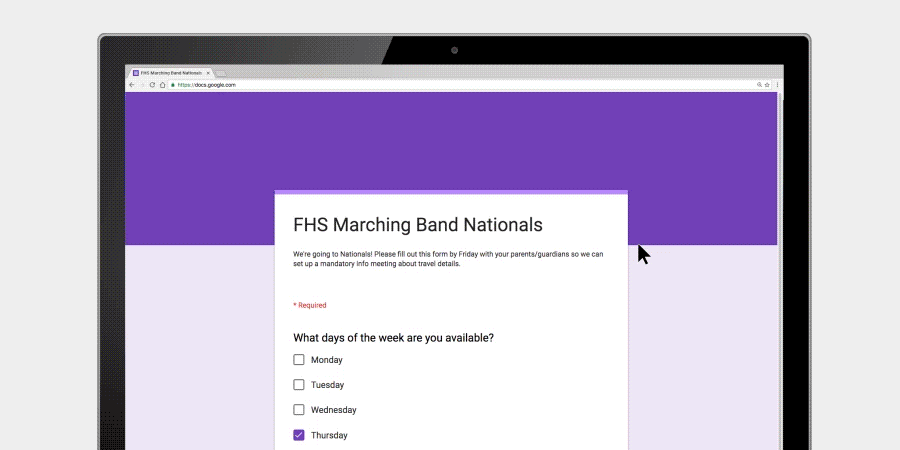 4. Less time spent typing with a set of new voice typing commands
Last year, we launched Voice typing in Docs on the web helping to capture ideas, big and small, without lifting a finger. Today, we're adding new ways for teachers and students to format and customize content with voice commands for changing text color, deleting words, inserting links and comments, plus a number of other ways to format, hands-free.
With the combination of today's updates and last month's Explore launch, we're channeling machine intelligence to help students stay on track with their assignments and give them time to focus on the things that will help them succeed.
19 Oct 2016 6:00pm GMT
17 Oct 2016
Did you know that "male lions defend the pride's territory while females do most of the hunting"? Did you know that "the name humpback whale describes the motion it makes as it arches its back out of the water in preparation for a dive"? What about this one: "ostriches have the largest eyes of any land living animal and they measure 50 mm (2 inches) in diameter"?

Google now shows random facts about animals in the "did you know" section of the Knowledge Graph card. They're extracted from various sites and Google actually links to the source.



Some example of queries that return random facts: [cat], [lion], [tiger], [alpaca], [giraffe], [ostrich], [duck], [elk], [raccoon], [shark]. It's worth pointing out that you can get another random fact by reloading the page or searching again for the same animal.
17 Oct 2016 9:00pm GMT
15 Oct 2016
Google Knowledge Graph has more than one billion entities and more than 70 billion facts about these entities (people, places, things). It's huge and it brings a different dimension to search: understanding concepts and the relation between them.

Mobile Google Search now has a section called "found in related search", which shows a few entities frequently mentioned in other related searches. For example, I searched for [ethanol molar mass] and Google showed 2 lists of organic and inorganic compounds: one of them was found in the related search [properties of alkanes] and the other was for [polar solvents]. Ethanol is a polar solvent which can be obtained from alkenes, while alkenes can be derived from alkanes, so Google's suggestions are somewhat useful.



This feature is not limited to chemistry, it also works for other topics. Here's a different query: [tour eiffel design], which shows other "towers of the world" and "tourist attractions in France".


15 Oct 2016 7:34am GMT
14 Oct 2016
I noticed an interesting Google Search experiment in the mobile/tablet interface. When searching for [alcohol with the highest boiling], Google converted my query into a question: "Which alcohol has the highest boiling point?", then it tried to answer the question using a snippet from a web page and then it added a "more results" link. Google's link sent to me to the search results page for the question inferred by Google.


14 Oct 2016 10:29pm GMT
18 Jun 2016
Over the last couple years, I've seen more and more people in technology trying to make government work better. They're idealists who are also making a large impact. These are people that I respect-some of them worked to fix healthcare.gov, for example. From talking to many of them, I can tell you that their energy […]
18 Jun 2016 1:57am GMT
03 Feb 2016
Amit Singhal just announced that he's retiring toward the end of the month. Amit has been a formative part of Google's search team, but he's also a good friend. Last year, after he marked 15 years with Google, I wrote this about Amit's contributions: Amit Singhal, one of the unsung heroes of Google, just celebrated […]
03 Feb 2016 7:49pm GMT
19 Jan 2016
I solved a problem today and figured that I'd document it for the rest of the world. Every time someone left me a voicemail on Verizon, I would get a cryptic text from Verizon at 900080006202 that looked like "//VZWVVM:SYNC:ev=NM;id=1;c=1;t=v;s=1XXXXXXXXXX;dt=18/01/2016 13:40-0900;l=13;dev_t=5" or "//VZWVVM:SYNC:ev=MBU;dev_t=5". Here's what happened. It turns out that Verizon has three kinds of […]
19 Jan 2016 2:00am GMT
11 Nov 2011
As Google pushes fresh search results, a helpful Google search tool for historical searches quietly vanished earlier this month. Google has confirmed that Google's Timeline search option, which debuted in 2007, has been discontinued. By cl...
11 Nov 2011 9:35pm GMT
Google has graduated Think Insights from beta. This tool now compiles real-time data from Google search and other platforms, combining those facts with additional studies, infographics, and more. Users can find the site at ThinkwithGoogle.com, a...
11 Nov 2011 8:45pm GMT
Google has just acquired startup Katango, makers of a Facebook friends list generating iPhone app released this July. Shortly after its debut, however, Katango's autogenerator faced serious competition from Facebook itself, as it rolled out ...
11 Nov 2011 7:35pm GMT
26 Aug 2011
The Emperor instructed the gardener to set up the new court's garden. "I want you to plant five trees growing the Crataan fruit," the Emperor said, "Because we asked people what fruit they like best, and most named the Crataan fruit!" The gardener replied, "Emperor, that is excellent thinking! But let me make some suggestions: First, how about we make one of the five trees bear the Muran fruit. Only one out of ten citizens loves it, but those peculiar citizens tend to love multiple times as much!" "Second," the gardener continued, "How about we make one of the five trees bear the Dratean fruit. No one loves it, but that's because no one knows it yet!" "Third," the gardener said, "How about we leave one spot in the garden empty. Who knows what new type of tree we'll discover that we can put there in the fut ...
26 Aug 2011 12:12pm GMT
15 Aug 2011
For those of you who've been wondering whether I had turned to stone, fallen into a bottomless pit, or been climbing the Himalaya... no, none of that is true, even though you probably did notice I'm not actively blogging about Google here anymore*! Just now, a new iPad app I've been working on called Color Sound Machine went live, and this -- and all the other apps and games at Versus Pad** -- are actually what I am doing while not blogoscoping. *I've drafted unpublished posts explaining much more about past, present and future of Blogoscoped, and the history of Google news reporting, but ... oh, for now le ...
15 Aug 2011 4:00pm GMT
25 Feb 2011
One of the earliest specialist services provided by Google was reverse phone number lookup. If you used the "phonebook:" or "rphonebook:" operators together with a 10-digit US phone number, Google would show you the owner of that phone number, unless the number was unlisted. Google no longer provides that service. Not surprisingly, there was no press release marking the closure, but Google employee Daniel Russell has acknowledged the closure of the service in his blog. He hints at the possible pressures leading to the shuttering of the service: "As you can imagine, this was an endless source of hassles for people (who were surprised to see themselves searchable on Google) and for Google (who had to constantly de ...
25 Feb 2011 11:23am GMT