11 Aug 2022
With thousands of highly-valued tech companies, a global-first market approach, and a strong economy dominated by entrepreneurship, it's clear why Israel's nickname is 'The Startup Nation.'
However, this thriving startup ecosystem isn't equally supportive of all aspiring founders. According to the latest Israeli Tech Gender Distribution Report, spearheaded by Google for Startups and IVC Data and Insights, only 2% of startups with a woman founder raised above $50 million between 2018 and 2021. While the number of entirely women-led companies has doubled in the past decade, they still only comprise 6.3% of Israeli startups - and only 13.9% of startups had at least one woman co-founder in a mixed-gender founding team.
I fall into the latter category. My cofounder Gal Benbeniste and I met during college, where we bonded over how outdated the investment world is. What started with trying to figure out a simple way to automate became FinityX, a deep-tech startup that helps investors implement AI tools as part of their investment process to save time and resources, and improve quality.
While I have been humbled byFinityX's rapid growth and recognition, as one of the very few women in the deep-tech space I've always wanted to be able to access the same capital, business networks, and mentorship readily available to my male cofounder.
So I was thrilled when Google for Startups launched a Growth Academy program tailored specifically for the needs of early-stage women founders. Based on the successful Startup Growth Lab curriculum, the program includes leadership workshops with Israeli VCs such as Entree Capital, Ibex and Viola, leadership sessions with top industry lecturers, and one-on-one Google product mentorship. "Ever since Google for Startups opened Campus Tel Aviv in 2012, diversity and inclusion has been an essential focus to our work," said Marta Mozes, marketing manager of Google for Startups in Israel. "When we discovered this data about female founders in Israel, we knew we had to be part of the change."
Meet the other Israeli entrepreneurs, representing industries from family vacation-planning to finance, who joined me at Google for Startups Growth Academy: Women Founders: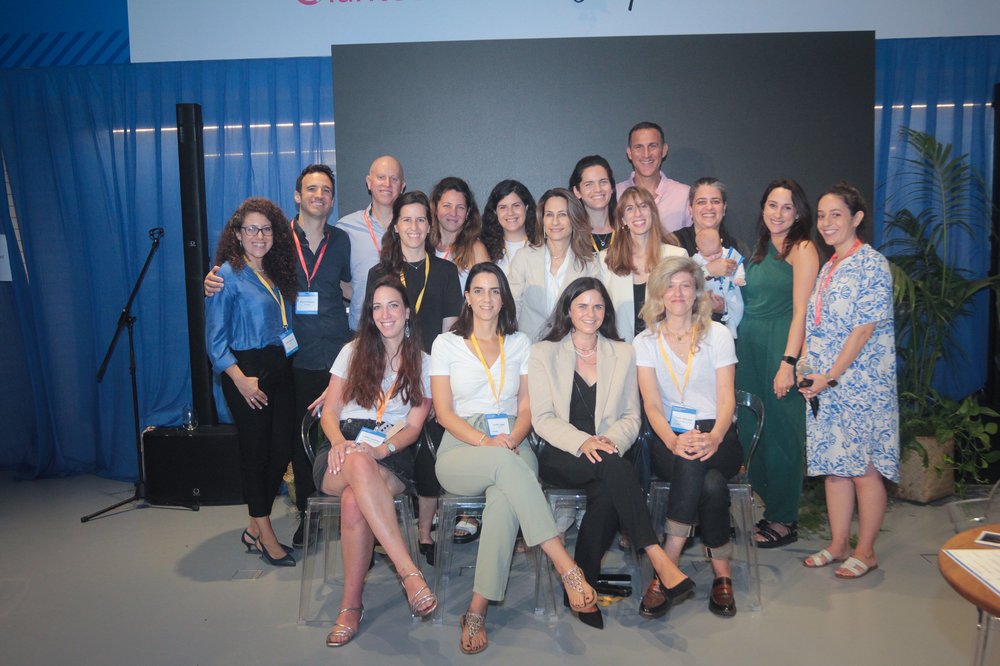 The Growth Academy: Women Founders cohort celebrating their accomplishments with the Google for Startups team and Israeli Minister of Innovation, Science and Technology, Orit Farkash HaCohen (center)
Google for Startups Growth Academy: Women Founders connected me to knowledge, tools and fields I needed to open my mind and increase my skill set. Googlers like Marta helped us with actionable skills such as how to nail our one-line pitch, how to navigate the cooling market, and the importance of a customer journey (hint: it starts at the very first meeting, and never ends). With help from Google mentors, I established FinityX's go-to-market strategy and secured our first paying customers, including large hedge funds and brokers.
Most importantly, Growth Academy: Women Founders created a tight-knit support system of women entrepreneurs (and male allies) to help push each other forward. We can be real with one another and talk about the shiny expectations versus reality of being a founder. And now that four members of my cohort are moving their offices to Campus Tel Aviv, I'll be able to visit any time!
Last week, three months of hard work wrapped up with a graduation ceremony, hosted by Israel's Minister of Innovation, Science and Technology, Orit Farkash HaCohen. In the spirit of the program, women were represented in every aspect of the event - from the caterers, to the speakers and the DJ.
I think Minister HaCohen summarized my feelings about Growth Academy: Women Founders best when she said, "I am invited to many events, but this is the kind that warms the heart. This is a prime example of business leadership that engages in social change."
11 Aug 2022 12:00pm GMT
Alex Mahadevan is director of MediaWiseat the Poynter Institute. He has taught digital media literacy to thousands of middle and high schoolers, and has trained hundreds of journalists from around the world in verification and digital investigative tools. We caught up with Alex to find out about a recent information literacy survey his organization conducted in partnership with YouGov, with support from Google. Learn moreabout how Google is working on information literacy and helping you spot misinformation online.
Why was this survey conducted?
Misinformation isn't a new problem, but it's becoming increasingly difficult to separate fact from fiction, especially on the internet. We wanted to learn more about how people across generational lines verify information and decide what to trust and share online. And we knew this research would help us expand on the educational resources MediaWise has to offer.
What were the parameters for the survey?
We surveyed more than 8,500 respondents of various ages in the United States, Brazil, the United Kingdom, Germany, Nigeria, India and Japan. We asked a wide range of questions aimed at assessing information literacy skills and verification habits. Those include queries about everything from the tools and techniques someone uses to investigate a post they see online, to the reasons why they may have shared misleading information in the past.
What are some of the biggest takeaways?
The survey found that 62% of respondents think they see false or misleading information on at least a weekly basis - that's a staggering number. And people are aware that it's a serious issue. Roughly 50% of all Gen X, Millennial and Gen Z respondents (these are people ages 18 to 57) said they're concerned about their family being exposed to it.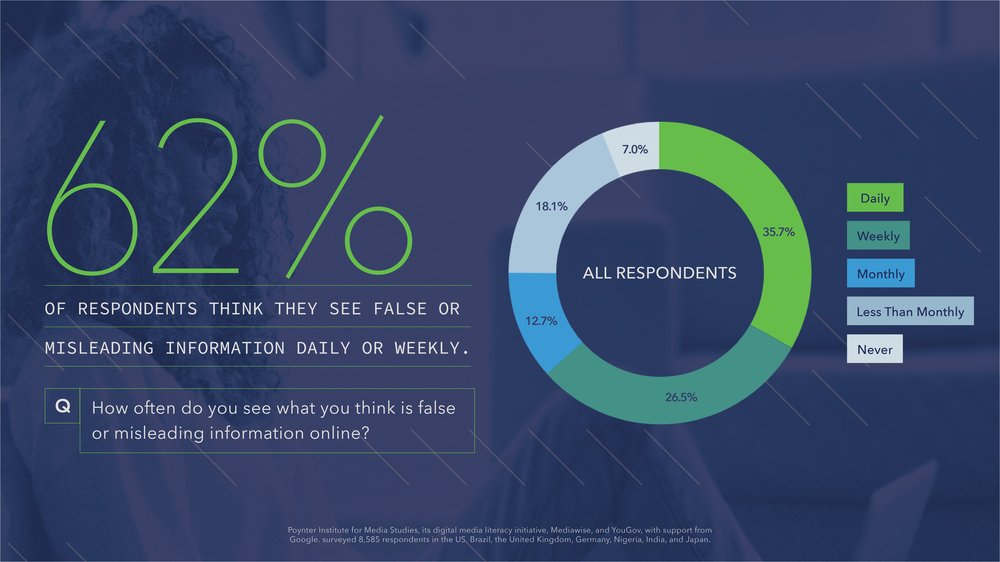 Sixty-two percent of respondents think they see false or misleading information daily or weekly.
What did the survey tell you about how people cross-check information they find online?
Gen Zers are two times more likely than the Silent Generation (people 68 or older) to use a search engine to verify information, and also two times more likely than Baby Boomers to check social media comments to verify something they've seen online. They're also more likely to use advanced search techniques, like reverse image search, or to engage in lateral reading - that's when you open multiple tabs and perform multiple searches at once - an effective technique studied by the Stanford History Education Group.
We also learned that, when deciding if something they've heard or read about is true, respondents across all generations agree that the most important thing is whether conclusions are supported by sources or facts. That was important for us to see: Facts matter.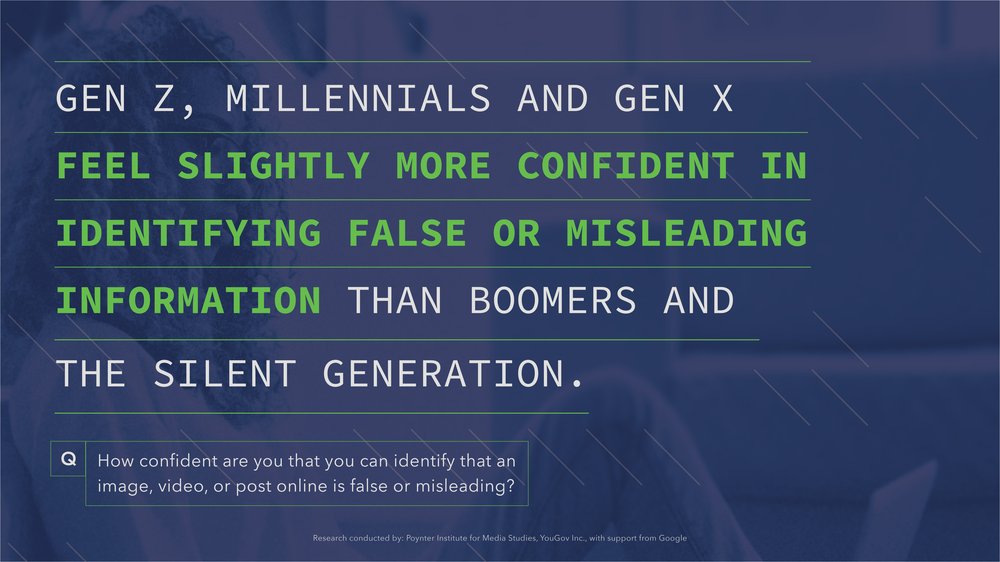 Gen Z, Millennials and Gen X feel slightly more confident in identifying false or misleading information than boomers and the Silent Generation.
Any final thoughts?
Our findings underscore how important it is to be able to trust the information you find online, and how taking the time to check multiple sources to verify what you see or to use resources like Google Search can be helpful in making sense of a complicated digital landscape. That's why we're working together to educate people about information literacy. We have a long running partnership with the Google News Initiative, which has provided support for projects like Find Facts Fast - our free microlearning course which anyone can take via text message or WhatsApp to improve their digital media literacy skills - and the Spanish version, MediaWise en Español.
Today we are also announcing a new partnership with Google, Poynter Institute for Media Studies, MediaWise and PBS NewsHour's Student Reporting Labs to develop weekly information literacy lesson plans for teachers of middle and high school students across the U.S. The lesson plans will be available for free to teachers using PBS LearningMedia and for download on Poynter's website. We're excited to build on our partnership to give people the skills they need to recognize misinformation when they see it and help stop its spread.
11 Aug 2022 4:01am GMT
People turn to Google every day for information in the moments that matter most. Sometimes that's to look for the best recipe for dinner, other times it's to check the facts about a claim they heard about from a friend.
No matter what you're searching for, we aim to connect you with high-quality information, and help you understand and evaluate that information. We have deeply invested in both information quality and information literacy on Google Search and News, and today we have a few new developments about this important work.
Our latest quality improvements to featured snippets
We design our ranking systems to surface relevant information from the most reliable sources available - sources that demonstrate expertise, authoritativeness and trustworthiness. We train our systems to identify and prioritize these signals of reliability. And we're constantly refining these systems - we make thousands of improvements every year to help people get high-quality information quickly.
Today we're announcing one such improvement: a significant innovation to improve the quality of featured snippets. Featured snippets are the descriptive box at the top of the page that prominently highlights a piece of information from a result and the source, in response to your query. They're helpful both for people searching on Google, and for web publishers, as featured snippets drive traffic to sites.
By using our latest AI model, Multitask Unified Model (MUM), our systems can now understand the notion of consensus, which is when multiple high-quality sources on the web all agree on the same fact. Our systems can check snippet callouts (the word or words called out above the featured snippet in a larger font) against other high-quality sources on the web, to see if there's a general consensus for that callout, even if sources use different words or concepts to describe the same thing. We've found that this consensus-based technique has meaningfully improved the quality and helpfulness of featured snippet callouts.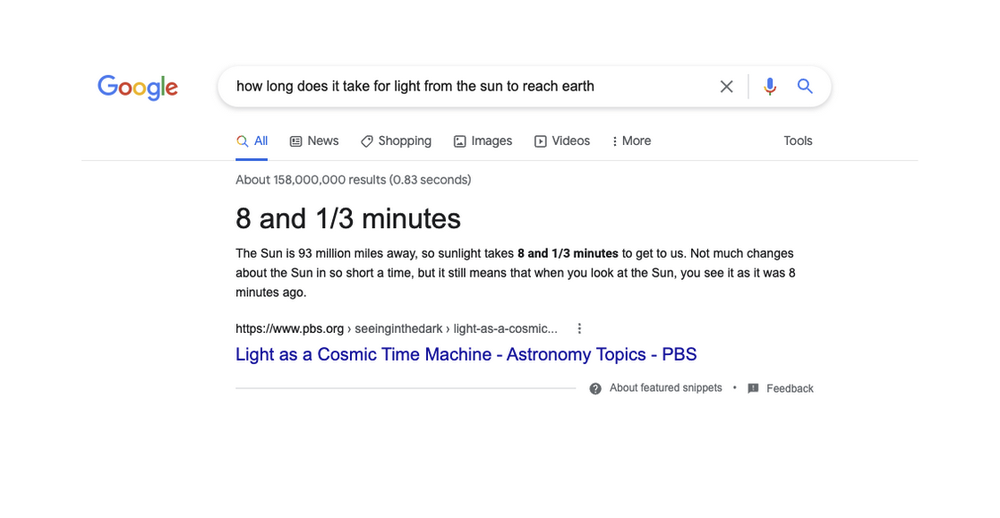 With a consensus-based technique, we're improving featured snippets.

AI models are also helping our systems understand when a featured snippet might not be the most helpful way to present information. This is particularly helpful for questions where there is no answer: for example, a recent search for "when did snoopy assassinate Abraham Lincoln" provided a snippet highlighting an accurate date and information about Lincoln's assassination, but this clearly isn't the most helpful way to display this result.
We've trained our systems to get better at detecting these sorts of false premises, which are not very common, but are cases where it's not helpful to show a featured snippet. We've reduced the triggering of featured snippets in these cases by 40% with this update.
Information literacy
Beyond designing our systems to return high-quality information, we also build information literacy features in Google Search that help people evaluate information, whether they found it on social media or in conversations with family or friends. In fact, in a study this year, researchers found that people regularly use Google as a tool to validate information encountered on other platforms. We've invested in building a growing range of information literacy features - including Fact Check Explorer, Reverse image search, and About this result - and today, we're announcing several updates to make these features even more helpful.
Expanding About this result to more places
About this result helps you see more context about any Search result before you ever visit a web page, just by tapping the three dots next to the result. Since launching last year, people have used About this result more than 2.4 billion times, and we're bringing it to even more people and places - with eight more languages including Portuguese (PT), French (FR), Italian (IT), German (DE), Dutch (NL), Spanish (ES), Japanese (JP) and Indonesian (ID), coming later this year.
This week, we're adding more context to About this result, such as how widely a source is circulated, online reviews about a source or company, whether a company is owned by another entity, or even when our systems can't find much info about a source - all pieces of information that can provide important context.
And we've now launched About this page in the Google app, so you can get helpful context about websites as you're browsing the web. Just swipe up from the navigation bar on any page to get more information about the source - helping you explore with confidence, no matter where you are online.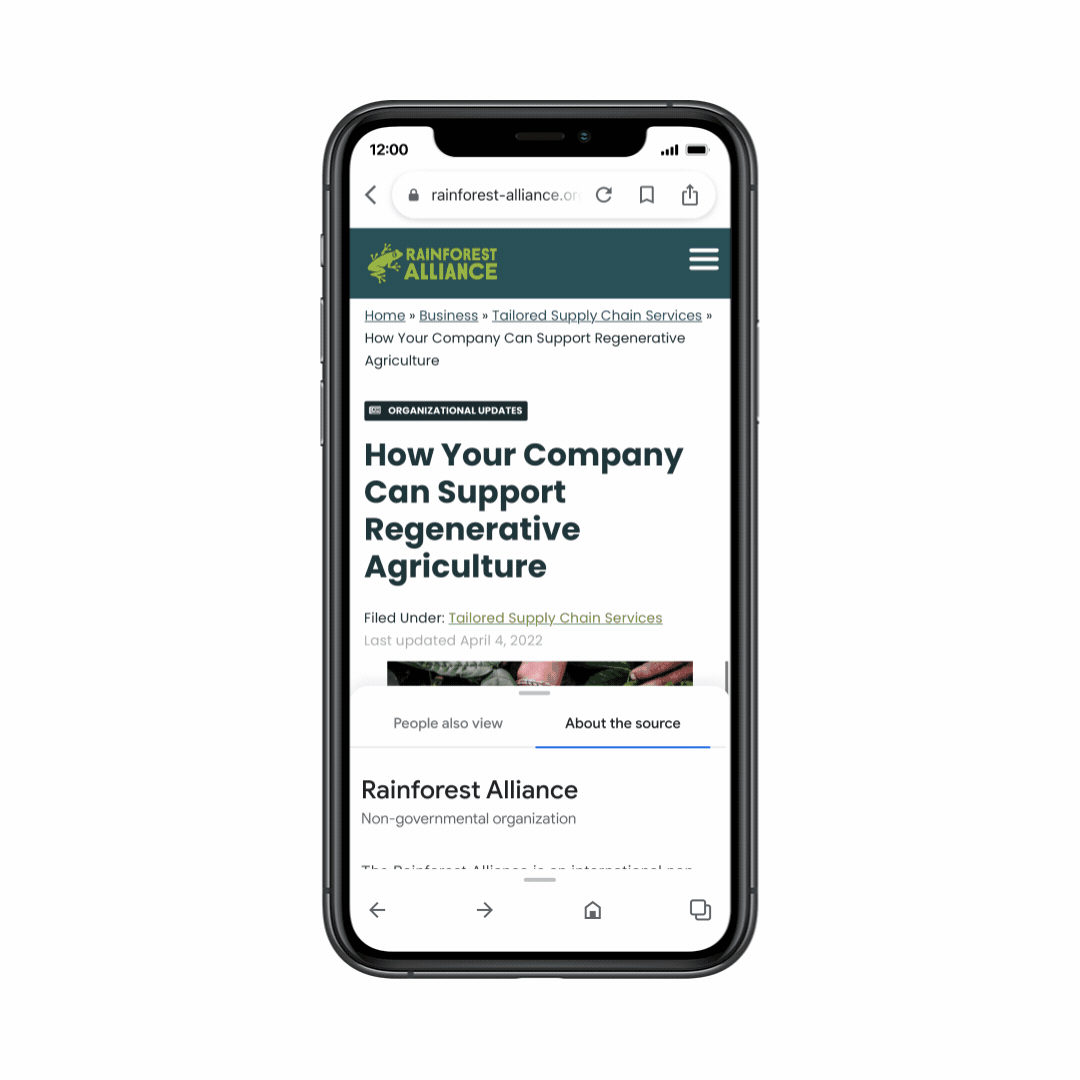 With About this page in the Google app, you can get helpful context on websites as you're browsing.
Expanding content advisories for information gaps
Sometimes interest in a breaking news topic travels faster than facts, or there isn't enough reliable information online about a given subject. Information literacy experts often refer to these situations as data voids. To address these, we show content advisories in situations when a topic is rapidly evolving, indicating that it might be best to check back later when more sources are available.
Now we're expanding content advisories to searches where our systems don't have high confidence in the overall quality of the results available for the search. This doesn't mean that no helpful information is available, or that a particular result is low-quality. These notices provide context about the whole set of results on the page, and you can always see the results for your query, even when the advisory is present.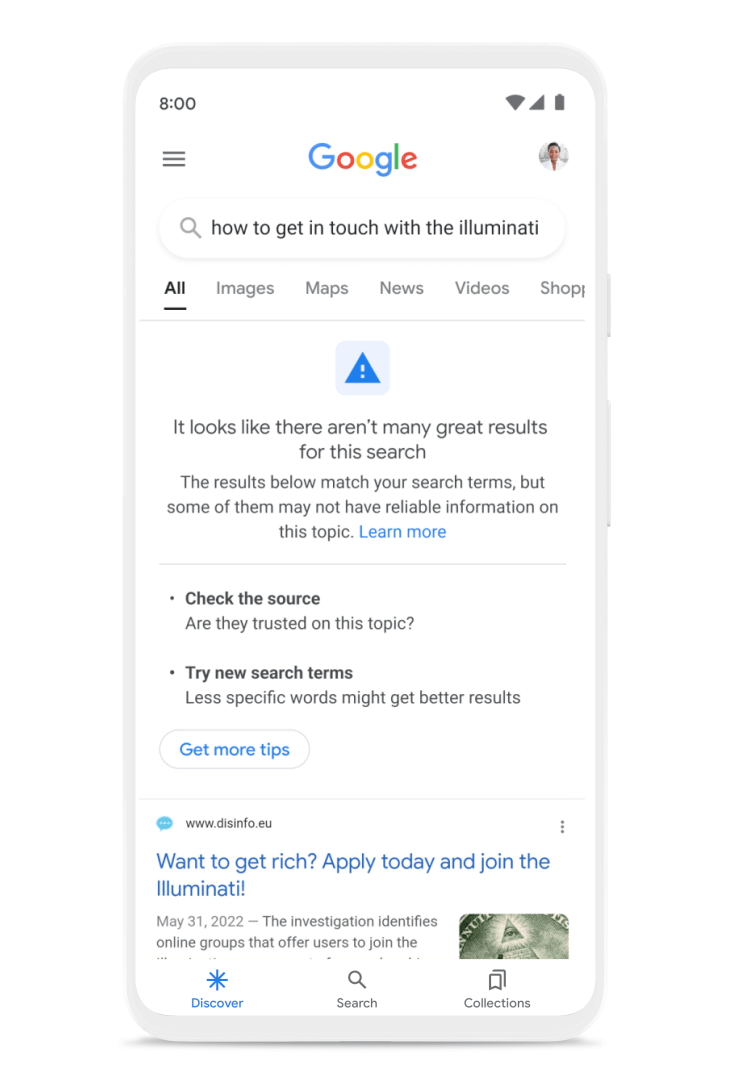 New content advisories on searches where our systems don't have high confidence in the overall quality of the results.
Educating people about misinformation
Beyond our products, we're making investments into programs and partnerships to help educate people about misinformation. Since 2018, the Google News Initiative (GNI) has invested nearly $75 million in projects and partnerships working to strengthen media literacy and combat misinformation around the world.
Today, we're announcing that Google is partnering with MediaWise at the Poynter Institute for Media Studies and PBS NewsHour Student Reporting Labs to develop information literacy lesson plans for teachers of middle and high school students. It will be available for free to teachers using PBS Learning Media and for download on Poynter's website. We've partnered with MediaWise since it was founded. And today's announcement builds on the GNI's support of its microlearning course through text and WhatsApp called Find Facts Fast.
We also announced today the results of a survey conducted by the Poynter Institute and YouGov, with support from Google, on the ways people across generational lines verify information. You can read more in our blog post.
Helping people everywhere find the information they need
Google was built on the premise that information can be a powerful thing for people around the world. We're determined to keep doing our part to help people everywhere find what they're looking for and give them the context they need to make informed decisions about what they see online.
11 Aug 2022 4:01am GMT
04 Jan 2022
YouTube has recently hidden the number of dislikes for YouTube videos. In a blog post from November, YouTube announced that this was done to "help better protect our creators from harassment, and reduce dislike attacks". The dislike button hasn't disappeared, but the dislike counts were made private, so that only video creators could see them.
If you install this Chrome extension, you can bring back the number of dislikes next to the "dislike" button. Unfortunately, YouTube removed the ability to obtain the number of dislikes from the API, so the extension uses archived data and the number of dislikes from the extension's users. The extension has "200+ million videos likes/dislikes data stored before December 13th, 2021". This means that the number of dislikes displayed by the extension may be inaccurate, but it's still better than no information.
04 Jan 2022 6:55pm GMT
01 Apr 2017
April Fools' Day should probably be called Google Fools' Day, since there are so many Google hoaxes.

Google Japan developed a "bubble wrap" version of the Japanese keyboard. "The Google Japanese input bubble wrap version is a keyboard that realizes 'I want to press in my mind, I want to keep pressing'," according to Google Translate.




Another product for your smart home? Meet Google Gnome, "a voice-activated, hands-free tool designed to make backyard living effortless. Need to know what animal is squeaking in your bushes? Stay still and ask Gnome what sound an opossum makes. Running low on birdseed? That's where Gnome comes in. You can even use Gnome's proprietary high-intensity lasers to trim your hedges into whatever shape your heart desires."




The Chrome OS team brings the most popular mobile accessories to the Chromebook, which already blurs the line between mobile and desktop. Chromebook Groupie Stick, Chromebook Cardboard, Chromebook Workout Armband will soon be available in the Google Store. "To take advantage of beautiful, high-resolution displays, as well as great photo editing apps, we've carefully engineered the first Chromebook-sized selfie stick. Never again will you miss the perfect groupie."



Haptic Helpers make VR even more immersive. "We're taking VR to the next level with Haptic Helpers. Using a modest set of everyday tools, these VR virtuosos can simulate more than 10,000 unique experiences, all from the comfort of your own home. Smell the roses. Listen to the ocean. Feel a fluffy dog!"


You can now play the classic arcade game MS. PAC-MAN in Google Maps. "Avoid Blinky, Pinky, Inky, and Sue as you swerve the streets of real places around the world. But eat the pac-dots fast, because this game will only be around for a little while." Just go to the Google Maps site or open the Google Maps app for Android or iOS and click or tap MS. PAC-MAN at the bottom.



Google Cloud Platform expands to Mars. "By opening a dedicated extraterrestrial cloud region, we're bringing the power of Google's compute, network, and storage to the rest of the solar system, unlocking a plethora of possibilities for astronomy research, exploration of Martian natural resources and interplanetary life sciences. This region will also serve as an important node in an extensive network throughout the solar system. Our first interplanetary data center - affectionately nicknamed 'Ziggy Stardust' - will open in 2018," mentions Google.



Google Netherlands came up with Google Wind, a machine learning technology that controls the weather. "The Netherlands has many windmills, some no longer in use, we can connect to Google Cloud Platform. So we use the existing Dutch infrastructure, machine learning, weather patterns to control the network of windmills when rain is approaching. The first test results are very promising: we seem to be able to provide sun and clear skies for everyone in the Netherlands," mentions Google Netherlands blog.




Google's search app for iOS is now optimized for cats and dogs. "On the Google app for iOS, you can now use 3D Touch on the app icon or head to settings and select I'm Feeling Woof or I'm Feeling Meow to let your dogs and cats get info on topics they care about-whether that means squeaky toys or a bowl of milk!"



Google also launched Google Play for Pets, a new category of Android games designed for cats, dogs and other pets.


Google Translate's Word Lens feature supports a new language: Heptapod B, the alien language from the movie "Arrival". "The challenge with understanding Heptapod B is its nonlinear orthography. Fortunately, Google's neural machine translation system employs an encoder/decoder system that internally represents sentences as high-dimensional vectors. These vectors map well to the non-linear orthography of the Heptapod language and they are really the enabling technical factor in translating Heptapod B."


01 Apr 2017 7:25am GMT
19 Feb 2017
If you try to send a JavaScript attachment using Gmail or if you want to download a .js attachment, you'll get a new anti-virus warning: "Blocked for security reasons", "1 attachment contains a virus or blocked file. Downloading this attachment is disabled".


.JS has been added to the long list of file types that are blocked by Gmail for security reasons. The full list: .ADE, .ADP, .BAT, .CHM, .CMD, .COM, .CPL, .EXE, .HTA, .INS, .ISP, .JAR, .JS (NEW), .JSE, .LIB, .LNK, .MDE, .MSC, .MSI, .MSP, .MST, .NSH .PIF, .SCR, .SCT, .SHB, .SYS, .VB, .VBE, .VBS, .VXD, .WSC, .WSF, .WSH. "To prevent against potential viruses, Gmail doesn't allow you to attach certain types of files, including: certain file types (listed above), including their compressed form (like .gz or .bz2 files) or when found within archives (like .zip or .tgz files), documents with malicious macros, archives whose listed file content is password protected, archives whose content includes a password protected archive."

The GSuite Blog informs that "for inbound mail, senders will get a bounce message explaining why the email was blocked. If you still need to send .js files for legitimate reasons, you can use Google Drive, Google Cloud Storage, or other storage solutions to share or send your files."

You can still send JavaScript files using Gmail if you change the extension. What about downloading old .js attachments? Try the workarounds from this post.
19 Feb 2017 10:39am GMT
11 Nov 2011
Below is what happened in search today, as reported on Search Engine Land and from other places across the web. From Search Engine Land: Google Leads In Search Engines' Efforts To Woo TV Viewers Google's "Dear Sophie" TV spot for Chrome, in which a father creates a Gmail...

Please visit Search Engine Land for the full article.
11 Nov 2011 9:57pm GMT
As Google pushes fresh search results, a helpful Google search tool for historical searches quietly vanished earlier this month. Google has confirmed that Google's Timeline search option, which debuted in 2007, has been discontinued. By cl...
11 Nov 2011 9:35pm GMT
Google has graduated Think Insights from beta. This tool now compiles real-time data from Google search and other platforms, combining those facts with additional studies, infographics, and more. Users can find the site at ThinkwithGoogle.com, a...
11 Nov 2011 8:45pm GMT
Google has just acquired startup Katango, makers of a Facebook friends list generating iPhone app released this July. Shortly after its debut, however, Katango's autogenerator faced serious competition from Facebook itself, as it rolled out ...
11 Nov 2011 7:35pm GMT
Google's "Dear Sophie" TV spot for Chrome, in which a father creates a Gmail account for his newborn daughter and sends her multi-media messages as she grows up, earned the top spot in Ace Metrix' rankings of websites' TV advertisements. Despite being a recent and...

Please visit Search Engine Land for the full article.
11 Nov 2011 5:23pm GMT
I'm happy to announce that next month, Search Engine Land will gain a new sister site: Marketing Land. Search Engine Land will continue to provide all the great coverage about search marketing and search engines that you love. Marketing Land will go beyond into other areas, including social media,...

Please visit Search Engine Land for the full article.
11 Nov 2011 5:17pm GMT
01 Nov 2011
For my next 30 day challenge, I'll be growing a mustache to raise awareness and money for men's health issues, and specifically prostate cancer research. Men of search and SEO, please join our team. You can raise awareness, or raise cash. And it's super simple: just don't shave your moustache for 30 days. The name [...]
01 Nov 2011 6:16pm GMT
31 Oct 2011
For Halloween this year I asked people on Google+ what I should be for Halloween, and someone suggested going as the blackhat stick man from xkcd. You know, this guy: That sounded like a good challenge. I finished the costume and taped a video, but unfortunately I didn't have enough time to get the video [...]
31 Oct 2011 5:16pm GMT
24 Oct 2011
I made a Portal turret for my Halloween pumpkin! I was trying to think of things to carve: vampire Android? R2-D2? Zoidberg? Then I thought: I could do a character from Portal 2! I was going to carve something like GLaDOS or Wheatley, but then I realized that a portal turret would be perfect: To [...]
24 Oct 2011 3:26pm GMT
26 Aug 2011
The Emperor instructed the gardener to set up the new court's garden. "I want you to plant five trees growing the Crataan fruit," the Emperor said, "Because we asked people what fruit they like best, and most named the Crataan fruit!" The gardener replied, "Emperor, that is excellent thinking! But let me make some suggestions: First, how about we make one of the five trees bear the Muran fruit. Only one out of ten citizens loves it, but those peculiar citizens tend to love multiple times as much!" "Second," the gardener continued, "How about we make one of the five trees bear the Dratean fruit. No one loves it, but that's because no one knows it yet!" "Third," the gardener said, "How about we leave one spot in the garden empty. Who knows what new type of tree we'll discover that we can put there in the fut ...
26 Aug 2011 12:12pm GMT
15 Aug 2011
For those of you who've been wondering whether I had turned to stone, fallen into a bottomless pit, or been climbing the Himalaya... no, none of that is true, even though you probably did notice I'm not actively blogging about Google here anymore*! Just now, a new iPad app I've been working on called Color Sound Machine went live, and this -- and all the other apps and games at Versus Pad** -- are actually what I am doing while not blogoscoping. *I've drafted unpublished posts explaining much more about past, present and future of Blogoscoped, and the history of Google news reporting, but ... oh, for now le ...
15 Aug 2011 4:00pm GMT
25 Feb 2011
One of the earliest specialist services provided by Google was reverse phone number lookup. If you used the "phonebook:" or "rphonebook:" operators together with a 10-digit US phone number, Google would show you the owner of that phone number, unless the number was unlisted. Google no longer provides that service. Not surprisingly, there was no press release marking the closure, but Google employee Daniel Russell has acknowledged the closure of the service in his blog. He hints at the possible pressures leading to the shuttering of the service: "As you can imagine, this was an endless source of hassles for people (who were surprised to see themselves searchable on Google) and for Google (who had to constantly de ...
25 Feb 2011 11:23am GMT