13 Dec 2019
On Saturday, the Army Black Knights and the Navy Midshipmen will take the field in Philadelphia for the Army-Navy Football Game, a tradition that goes back 129 years. Students from the U.S. Military Academy and U.S. Naval Academy, and fans from all over the U.S. turn out in droves each year to root for their teams and celebrate the military community.
We'll be there too, sharing our tools for veterans and military families, including our new resource hub for veteran-led businesses. These efforts are close to home for me, both as a service member and as the son of a small business owner. I watched my dad build his business and know it's never a straightforward process. But I also know that the mindset service members develop in the military gives us the ability to overcome any challenge. It's that determination that makes veterans such successful business owners.
We're not picking sides in this storied rivalry-after all, some do consider it "the greatest rivalry in sports." Instead we're highlighting 10 veteran-led businesses-five with Army roots, and five with Navy roots-through a Hall of Fame display at the game. These businesses are just a small sample of the thousands of outstanding veteran-owned businesses contributing to their communities all across the U.S.
Sisters Betsy Núñez and Emily Núñez Cavness grew up at West Point in a military family, and for five years, Emily served as an active-duty officer in the U.S. Army. While Emily was serving, the pair founded Sword & Plough, which uses surplus military materials to create tote bags, handbags, backpacks and other accessories.
When Emily was deployed in Afghanistan and the rest of the team worked remotely throughout the U.S., they used G Suite and Google Hangouts to stay connected and build their company. And to give back to the veteran community, Sword & Plough donates 10 percent of their profits to veteran-focused organizations.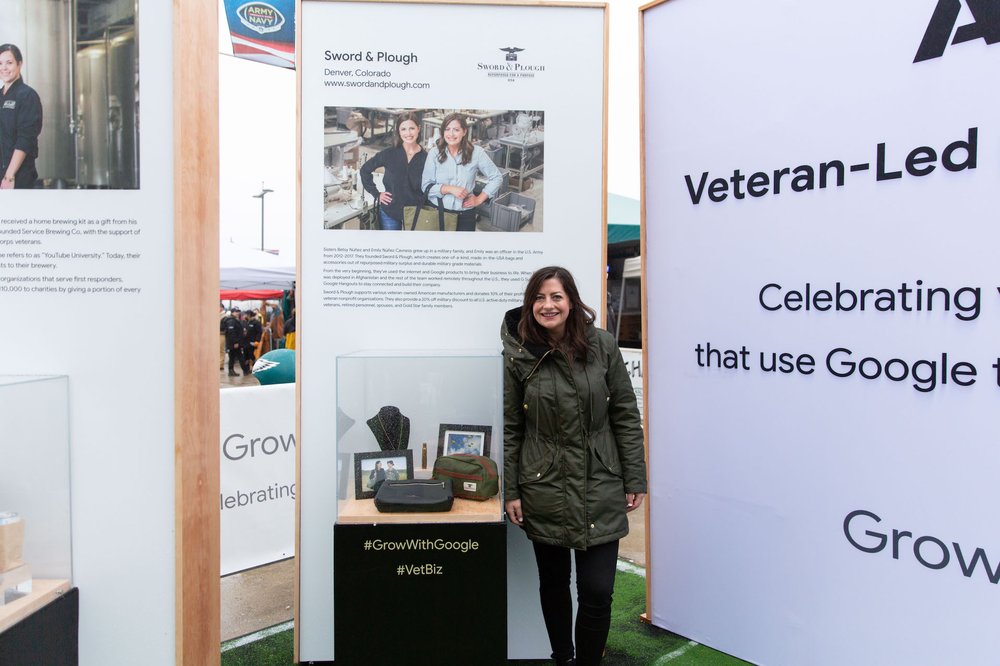 Betsy Núñez of Sword & Plough

Ernest Johnson was in the U.S. Marine Corps and served as a member of the USMC boxing team. After leaving the military, he found success as a professional boxer, until an eye injury forced him to retire early. Within a few years, he'd gone to college and landed an office job, but he longed to build a career around his passion for boxing.
He left his job and began coaching, which led him to open his own business, Old School Boxing. He uses his Business Profile on Google to share photos and information about the gym's location, hours, and services. And to show customers in his community that the gym is owned by a veteran, Ernest added the "Veteran-Led" attribute to his profile.
Over the years, Ernest has trained many professional boxers, but it's training local youth in his community that brings him the most satisfaction. He takes pride in teaching them the importance of discipline and hard work-lessons he brought back from his time in service.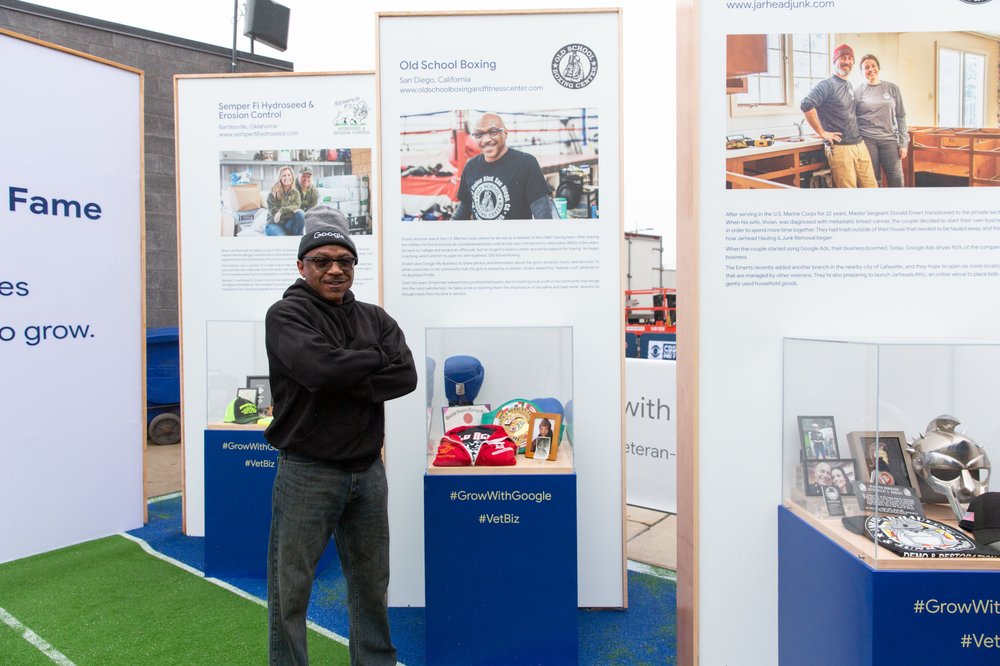 Ernest Johnson of Old School Boxing

GoRuck, Jacksonville Beach, Florida
Jason McCarthy is a decorated combat veteran who served in the Special Forces. While visiting his wife, Emily, a Foreign Service Officer working in Côte d'Ivoire, Jason assembled a "go-bag" with medical supplies and radios to keep in her truck, in case of emergency. Emily's colleagues began requesting bags of their own, and soon GoRuck was born.
With no business experience, Jason turned to YouTube to learn how to design backpacks from online tutorials. He also uses Google Ads to speak directly with customers, and today, Google Ads generates 15 percent of the company's sales revenue. In addition to selling packs, GoRuck hosts hundreds of events each year focused on building teamwork and camaraderie, and testing physical fitness, based on Special Forces training.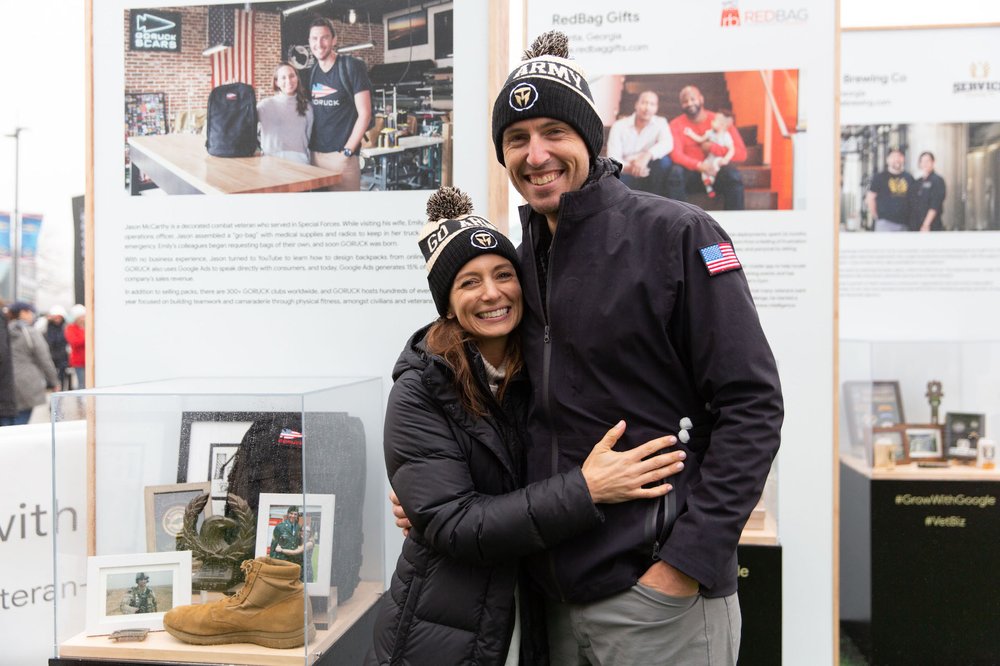 Jason and Emily McCarthy of GoRuck

Sword & Plough, Old School Boxing, and GoRuck are just three of the 10 businesses joining us at the game this weekend to talk about their accomplishments and cheer on their teams. (Maybe they'll even grab cheesesteaks!) Saturday's game will cap off our visit to Philly--earlier this week, we partnered with local tech space WorkMerk to host a workshop for veterans on using digital tools to start or grow a business. If you're looking to grow your own skills, check out Grow with Google to learn more about our free tools and resources for veterans and military families.
13 Dec 2019 8:00pm GMT
Within the Education Equity team at Google, three women are changing the education landscape for the next generation of black and Latinx engineers-and I'm lucky enough to call them coworkers.
April Alvarez, Peta-Gay Clarke and Bianca Okafor are part of my team at Google that's leading two education initiatives: Code Next is a free computer science education program for black and Latinx high schoolers, and Tech Exchange is a semester-long program for historically black colleges and universities (HBCUs) and Hispanic-Serving Institutions (HSIs) where computer science majors immerse themselves in coding instruction on the Google campus in Mountain View. Both of these programs are part of Code with Google, our commitment focused on ensuring every student has access to the collaborative, coding, and technical skills that unlock opportunities in the classroom and beyond-no matter what their future goals may be.
In the latest installment of The She Word, and in celebration of Computer Science Education Week (Dec. 9-15), we sat down with the ladies to discuss mentorship, the lack of diversity in tech and advice for young women of color looking to get into the coding space.
Why are the programs you work on described as "Education Equity"?
April:When we design and develop programs for the Education Equity team, we start by acknowledging that advantages and barriers to success in education do exist, and that not all students have the same starting point. For example, when designing the Code Next program, we realized that access is a big barrier for Black and Latinx students interested in computer science, so we designed lab spaces that are proximate to where students live; we brought the labs to them.
For Code Next and Tech Exchange, we focus on helping students cultivate their tech "social capital" (meaning their networks of connections) by bringing in folks who work in the tech industry and connecting them to one of our students through our mentorship programs.
What are Code Next and Tech Exchange doing differently compared to other coding education programs in the space?
Bianca: From the beginning, Tech Exchange has focused on providing an immersive and enriching experience both inside and outside of the classroom. The program takes a thoughtful approach to engaging the HBCU/HSI students with social and career development programming to further bolster and add meaning to their experience on Google's campus. We make an effort to expose students to a variety of community groups and product teams to broaden their perspective on opportunities available to them in the tech industry.
Peta:With Code Next, we work with students from 9th-12th grade in a physical lab close to their homes and communities. These labs were intentionally built by Google and architects experienced in designing inspirational learning spaces. Our goal is to expose youth traditionally underrepresented in the tech industry to the wonderful world of computer science and give them the agency to immerse themselves into the areas that most interest them. We met our first cohort of students when they were in middle school, and they're now applying to college!
When you look at a Code Next student's resume, you will see the impact of our program-they take computer science classes at a Code Next Lab, they work with a Google mentor, and they spend the last few years of high school immersing themselves in emerging tech like app development, artificial intelligence, virtual reality and more.
You all came from different industries to work in this space-April from K-12 schools, Peta from government and higher education, Bianca from her earlier years in Google's R&D departments. How does that affect the work that you do together?
April: First, it makes for a fun and interesting team to be a part of! Second, it allows us to make design decisions from multiple angles and perspectives. When I'm making decisions, I'm thinking about learning outcomes, the student experience and the educational pathway. Bianca and Peta do this as well, but they're also able to chime in and share industry knowledge and experience, and then work this into the design of the program.
The tech space is working to improve diversity among its ranks. In your experience, what is one thing that could address that situation?
Peta: There isn't one thing that will address the issue of underrepresentation in the tech industry. Instead, there are a number of ways industry leaders can have impact. For starters, we can increase focus on collaboration and partnership within and across industries. We can improve education and understanding of how to foster a diverse and inclusive culture and more importantly, what it looks like in practice. We can broaden our understanding of the internal and external systems that lead to heterogeneous workforces, and better communicate the interventions needed for changing or dismantling those systems, to produce more equitable outcomes. Lastly, we can increase investment in finding and supporting the next generation of talent from underrepresented communities.
It's Computer Science Education Week! What's one recommendation you have for young women of color who are interested in careers in coding?
Bianca: Mentorship is powerful. Seek out individuals who are doing the things you want to do. They can act as sounding boards and help support and motivate you.
Lastly, what gets you up in the morning? Why do you do what you do?
Peta:It comes down to empathy. Initiatives like Code Next and Tech Exchange are near and dear to my heart. I am an engineer. I am where I am today because I was exposed to tech at an early age. I come from the same communities that we are trying to uplift.
Bianca: For me, it's engaging with and supporting our students. I'm continually inspired and amazed by the level of talent, energy and enthusiasm our Tech Exchange students bring to the program and to Google. It's an honor to run a program that's preparing the next generation of Black and Latinx technologists.
April: Any time I get to see the direct impact of our programs, it motivates me to keep pushing and reassures me that all of this hard work is so worth it. In a lot of ways, I relate to our students and their educational experience, so it keeps me grounded in the work. I went to school with a lot of friends and family who hit barriers in their career paths, and being able to remove some of those barriers for a whole new generation of students will always keep me energized.
13 Dec 2019 5:00pm GMT
When Viviana Rivero set out to write her short story "Just do it!" she decided to experiment with her process. Instead of writing alone and revealing her work to readers later, she invited thousands of people to watch her write-and comment on her writing-in real-time with Google Docs.
More than 10,000 people watched the Argentinian writer's story come to life as she wrote it. We sat down with Rivero to learn more about how she incorporated technology into her creative process, and how it changed the final product.
Tell us about using Google Docs to publicly write your story.
Believe it or not, this was my first time using Google Docs. First, I created a new document and selected "comment-only" in the share permissions. Next, I hosted a few "live sessions" where I wrote a short story in the document and invited readers to watch and comment. To my surprise, thousands of people contributed! The short story from this session became a part of a printed book called "Zafiros en la Piel" ("Sapphires on the skin"). The book's back cover even has a QR code that takes the reader to the story on Google Docs, bringing these worlds together.
What was it like to write in front of other people?
It was a challenging thing to do. Usually, when a writer creates a story, they don't find out what the reader thinks until afterward, and even then, there's no way of gauging how people react the moment they read the words. It was different and exciting because it allowed me to see their reactions as they had them.
Did your story change as a result of readers' comments?
Yes! There's a character in the story who talks with his dog. People fell in love with the dog-they wrote so many comments about it. I decided to make the dog more important to the story and gave him and his owner more dialogue.
Did using Google Docs affect your creative process?
Reading and writing can be lonely activities. While my creative process wasn't necessarily altered (I already had the general idea for the story), the way in which we experienced the story changed. Docs helped bring the writer and reader together. These two things that are usually done in isolation were shared. It made the process much more enriching.
It also meant I showed everything that happens behind the scenes. For example, I don't use punctuation when I write at first, just to make it faster. I typically put accents, periods and commas in after the story is written. At first I felt vulnerable because I didn't want people to see unpolished work, but in the end, I think the readers appreciated seeing how a writer works.
Were there any interesting results from the experiment?
I was surprised by the amount of new readers who participated. I expected many people to be fans already, but there were many new readers who joined the live sessions by chance. Since writing the story, we've seen a 170 percent increase in sales of the paper book. It was also awarded a Bronze Lion at the Cannes Lions Film Festival.
Do you suggest other authors try using Google Docs and inviting readers to watch their process?
Many of my writer friends ask what it was like to write in front of thousands of people, something not many of them would dare to do. I tell them: Stories are something that will never die, and the way we tell them will continue to evolve. Before paper existed, people shared stories with their voices. And even if paper ceases to exist, the storyteller will remain, because people love stories.
Being able to interact with readers so closely motivated me; I hope to be able to do it again someday.
13 Dec 2019 5:00pm GMT
12 Dec 2019
Product management expert Adam Dorfman answers questions from SMX East about asking for, and responding to, reviews on Google and Facebook.

Please visit Search Engine Land for the full article.
12 Dec 2019 3:34pm GMT
The five-day stretch from Thanksgiving to Cyber Monday was record-breaking for e-commerce but brands still have more time for profitable sales on Amazon.

Please visit Search Engine Land for the full article.
12 Dec 2019 2:57pm GMT
The capability was introduced previously on Google Home and smart displays.

Please visit Search Engine Land for the full article.
12 Dec 2019 12:18pm GMT
21 Oct 2019
Fitbit has discontinued their Fitbit One step trackers, which seems like a good opportunity to step back and reflect on wearing one for the last decade or so. I've enjoyed using Fitbit trackers, but the One devices seemed like they broke down way too often. I'm pretty proud that I ended up earning all the […]
21 Oct 2019 3:06am GMT
04 Nov 2018
Do you need something to cheer you up? You got it: I should explain this costume a little bit. At the US Digital Service, we do a thing called "crab claws." Crab claws is like visual applause-you pinch your fingers up and down to say "great job" or "congratulations" or "way to go." We do […]
04 Nov 2018 8:02pm GMT
08 Mar 2018
Cindy Cutts, my wife and best friend, passed away earlier this week. While I was traveling for work recently, Cindy went to visit her family in Omaha, Nebraska. On Sunday, while enjoying time with family, Cindy started having trouble breathing. Her family quickly called 911 and paramedics took Cindy to the hospital, but Cindy lost […]
08 Mar 2018 12:17am GMT
01 Apr 2017
April Fools' Day should probably be called Google Fools' Day, since there are so many Google hoaxes.

Google Japan developed a "bubble wrap" version of the Japanese keyboard. "The Google Japanese input bubble wrap version is a keyboard that realizes 'I want to press in my mind, I want to keep pressing'," according to Google Translate.




Another product for your smart home? Meet Google Gnome, "a voice-activated, hands-free tool designed to make backyard living effortless. Need to know what animal is squeaking in your bushes? Stay still and ask Gnome what sound an opossum makes. Running low on birdseed? That's where Gnome comes in. You can even use Gnome's proprietary high-intensity lasers to trim your hedges into whatever shape your heart desires."




The Chrome OS team brings the most popular mobile accessories to the Chromebook, which already blurs the line between mobile and desktop. Chromebook Groupie Stick, Chromebook Cardboard, Chromebook Workout Armband will soon be available in the Google Store. "To take advantage of beautiful, high-resolution displays, as well as great photo editing apps, we've carefully engineered the first Chromebook-sized selfie stick. Never again will you miss the perfect groupie."



Haptic Helpers make VR even more immersive. "We're taking VR to the next level with Haptic Helpers. Using a modest set of everyday tools, these VR virtuosos can simulate more than 10,000 unique experiences, all from the comfort of your own home. Smell the roses. Listen to the ocean. Feel a fluffy dog!"


You can now play the classic arcade game MS. PAC-MAN in Google Maps. "Avoid Blinky, Pinky, Inky, and Sue as you swerve the streets of real places around the world. But eat the pac-dots fast, because this game will only be around for a little while." Just go to the Google Maps site or open the Google Maps app for Android or iOS and click or tap MS. PAC-MAN at the bottom.



Google Cloud Platform expands to Mars. "By opening a dedicated extraterrestrial cloud region, we're bringing the power of Google's compute, network, and storage to the rest of the solar system, unlocking a plethora of possibilities for astronomy research, exploration of Martian natural resources and interplanetary life sciences. This region will also serve as an important node in an extensive network throughout the solar system. Our first interplanetary data center - affectionately nicknamed 'Ziggy Stardust' - will open in 2018," mentions Google.



Google Netherlands came up with Google Wind, a machine learning technology that controls the weather. "The Netherlands has many windmills, some no longer in use, we can connect to Google Cloud Platform. So we use the existing Dutch infrastructure, machine learning, weather patterns to control the network of windmills when rain is approaching. The first test results are very promising: we seem to be able to provide sun and clear skies for everyone in the Netherlands," mentions Google Netherlands blog.




Google's search app for iOS is now optimized for cats and dogs. "On the Google app for iOS, you can now use 3D Touch on the app icon or head to settings and select I'm Feeling Woof or I'm Feeling Meow to let your dogs and cats get info on topics they care about-whether that means squeaky toys or a bowl of milk!"



Google also launched Google Play for Pets, a new category of Android games designed for cats, dogs and other pets.


Google Translate's Word Lens feature supports a new language: Heptapod B, the alien language from the movie "Arrival". "The challenge with understanding Heptapod B is its nonlinear orthography. Fortunately, Google's neural machine translation system employs an encoder/decoder system that internally represents sentences as high-dimensional vectors. These vectors map well to the non-linear orthography of the Heptapod language and they are really the enabling technical factor in translating Heptapod B."


01 Apr 2017 7:25am GMT
19 Feb 2017
If you try to send a JavaScript attachment using Gmail or if you want to download a .js attachment, you'll get a new anti-virus warning: "Blocked for security reasons", "1 attachment contains a virus or blocked file. Downloading this attachment is disabled".


.JS has been added to the long list of file types that are blocked by Gmail for security reasons. The full list: .ADE, .ADP, .BAT, .CHM, .CMD, .COM, .CPL, .EXE, .HTA, .INS, .ISP, .JAR, .JS (NEW), .JSE, .LIB, .LNK, .MDE, .MSC, .MSI, .MSP, .MST, .NSH .PIF, .SCR, .SCT, .SHB, .SYS, .VB, .VBE, .VBS, .VXD, .WSC, .WSF, .WSH. "To prevent against potential viruses, Gmail doesn't allow you to attach certain types of files, including: certain file types (listed above), including their compressed form (like .gz or .bz2 files) or when found within archives (like .zip or .tgz files), documents with malicious macros, archives whose listed file content is password protected, archives whose content includes a password protected archive."

The GSuite Blog informs that "for inbound mail, senders will get a bounce message explaining why the email was blocked. If you still need to send .js files for legitimate reasons, you can use Google Drive, Google Cloud Storage, or other storage solutions to share or send your files."

You can still send JavaScript files using Gmail if you change the extension. What about downloading old .js attachments? Try the workarounds from this post.
19 Feb 2017 10:39am GMT
25 Jan 2017
Google Image Search has a different way to display suggestions: it now shows a long list of colorful boxes with related searches. You can click one or more boxes to dynamically refine search results.



For example, when searching for [sportswear], Google shows suggestions like: [women basketball], [tennis], [badminton], [golf], [volleyball], [nike woman], [alexander wang], [adidas], [fashion], [performance], [vintage], [trendy], [urban], [school], [gym], [90's], [70's], [vogue], [luxe], [avant garde], [korean], [italian], [french] and more. It's interesting to notice that each category of suggestions has a different color.



Here's the old interface, which had fewer suggestions and displayed thumbnails next to suggestions:


25 Jan 2017 9:39pm GMT
11 Nov 2011
As Google pushes fresh search results, a helpful Google search tool for historical searches quietly vanished earlier this month. Google has confirmed that Google's Timeline search option, which debuted in 2007, has been discontinued. By cl...
11 Nov 2011 9:35pm GMT
Google has graduated Think Insights from beta. This tool now compiles real-time data from Google search and other platforms, combining those facts with additional studies, infographics, and more. Users can find the site at ThinkwithGoogle.com, a...
11 Nov 2011 8:45pm GMT
Google has just acquired startup Katango, makers of a Facebook friends list generating iPhone app released this July. Shortly after its debut, however, Katango's autogenerator faced serious competition from Facebook itself, as it rolled out ...
11 Nov 2011 7:35pm GMT
26 Aug 2011
The Emperor instructed the gardener to set up the new court's garden. "I want you to plant five trees growing the Crataan fruit," the Emperor said, "Because we asked people what fruit they like best, and most named the Crataan fruit!" The gardener replied, "Emperor, that is excellent thinking! But let me make some suggestions: First, how about we make one of the five trees bear the Muran fruit. Only one out of ten citizens loves it, but those peculiar citizens tend to love multiple times as much!" "Second," the gardener continued, "How about we make one of the five trees bear the Dratean fruit. No one loves it, but that's because no one knows it yet!" "Third," the gardener said, "How about we leave one spot in the garden empty. Who knows what new type of tree we'll discover that we can put there in the fut ...
26 Aug 2011 12:12pm GMT
15 Aug 2011
For those of you who've been wondering whether I had turned to stone, fallen into a bottomless pit, or been climbing the Himalaya... no, none of that is true, even though you probably did notice I'm not actively blogging about Google here anymore*! Just now, a new iPad app I've been working on called Color Sound Machine went live, and this -- and all the other apps and games at Versus Pad** -- are actually what I am doing while not blogoscoping. *I've drafted unpublished posts explaining much more about past, present and future of Blogoscoped, and the history of Google news reporting, but ... oh, for now le ...
15 Aug 2011 4:00pm GMT
25 Feb 2011
One of the earliest specialist services provided by Google was reverse phone number lookup. If you used the "phonebook:" or "rphonebook:" operators together with a 10-digit US phone number, Google would show you the owner of that phone number, unless the number was unlisted. Google no longer provides that service. Not surprisingly, there was no press release marking the closure, but Google employee Daniel Russell has acknowledged the closure of the service in his blog. He hints at the possible pressures leading to the shuttering of the service: "As you can imagine, this was an endless source of hassles for people (who were surprised to see themselves searchable on Google) and for Google (who had to constantly de ...
25 Feb 2011 11:23am GMT