27 Oct 2021
The need for reliable and credible journalism in Canada is greater today than perhaps it has ever been. Our mission here when it comes to news is simple: support Canadian journalism of all sizes.
Over the past 20 years, we have been working with the news industry and news publishers around the world to build a better future for news. We are committed to playing a role alongside other companies, governments and civil society groups in aiding the digital transformation of newsrooms and supporting quality journalism and reporting we all count on. As part of that commitment, today we're announcing that we're rolling out Google News Showcase, our new product experience and licensing program for news, across Canada in French and English.
We're also announcing three new partnerships with Les coops de l'Information, Le Devoir and Torstar, who join Black Press Media, Glacier Media, The Globe and Mail, Métro Média, Narcity Media, Saltwire Network, Village Media and Winnipeg Free Press as partners with Google News Showcase. Together, these partnerships include over 100 publications across the country in both official languages.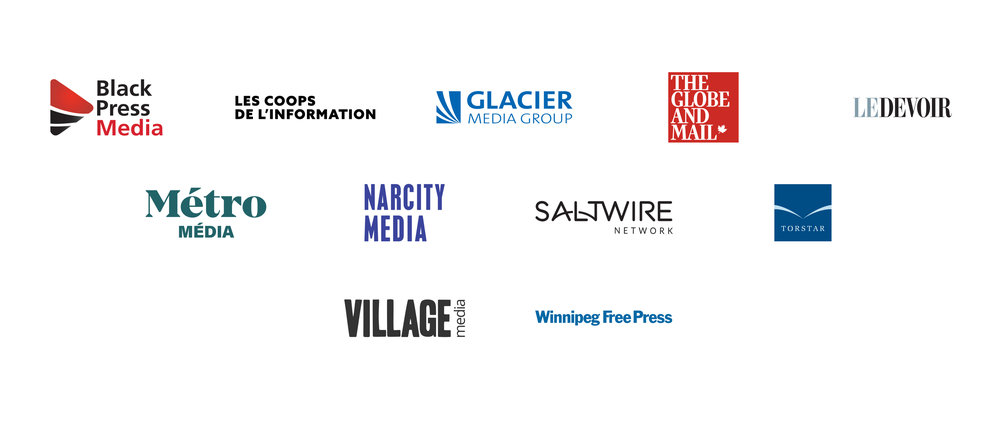 Logos of our News Showcase partners in Canada
These deals represent support for journalism of all sizes, from the Toronto Star, which reaches millions of Canadians each month, to more regional outlets like Le Soleil or the Peterborough Examiner. Over 90% of News Showcase participants globally are local or regional publications.
Driven by our recent $1 billion global investment, News Showcase supports news publishers that are invested in comprehensive current events journalism in the public interest by giving them a new way to curate their high-quality content on Google News and Discover - and all clicks on the articles go directly to the publisher's website. Through News Showcase, these publishers can help connect their readers with the news that matters to them.
As part of our licensing deals with publishers, we're also launching the ability for readers to access select paywalled content. This feature will give people the opportunity to read more of a publisher's content than they would otherwise have access to, while enabling publishers to incentivize more readers to become subscribers.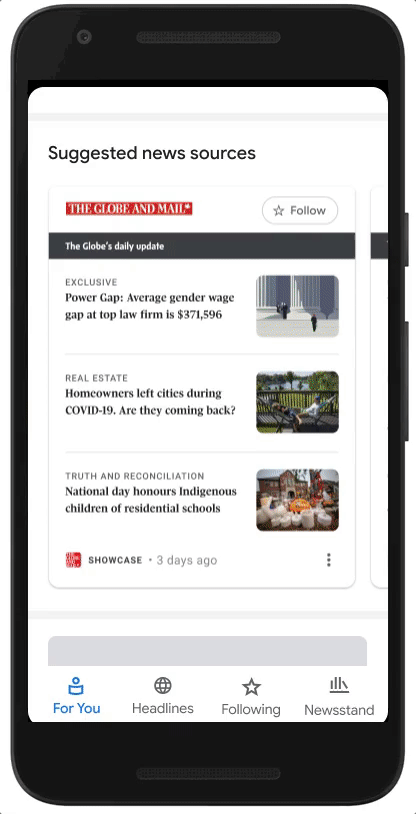 An example of how News Showcase panels will look with some of our partners in Canada
This launch builds on News Showcase deals signed with nearly 1,000 news publications in more than a dozen countries, including India, Japan, Germany, Brazil, France, the U.K., Australia, Czechia, Italy, Austria, Ireland, Colombia and Argentina.
"Quality, fact-checked journalism is a vital way to connect and inform people, and a crucial tool against misinformation. News Showcase will bring more of our award-winning local and national reporting to Canadians, and the world," says Jordan Bitove, Toronto Star publisher and Torstar co-owner. "It's an investment into the future of our newsrooms, our top-quality journalism and the future of news."
"Google News Showcase offers us new opportunities to bring the quality local journalism we produce to more readers," says Stéphane Lavallée, Managing Director of Les Coops de l'information. "Enabling more audiences to connect with content from our six publications is an essential step in our ongoing digital growth. Ultimately, this new partnership with Google will help us produce even more relevant and useful content to the benefit of our communities."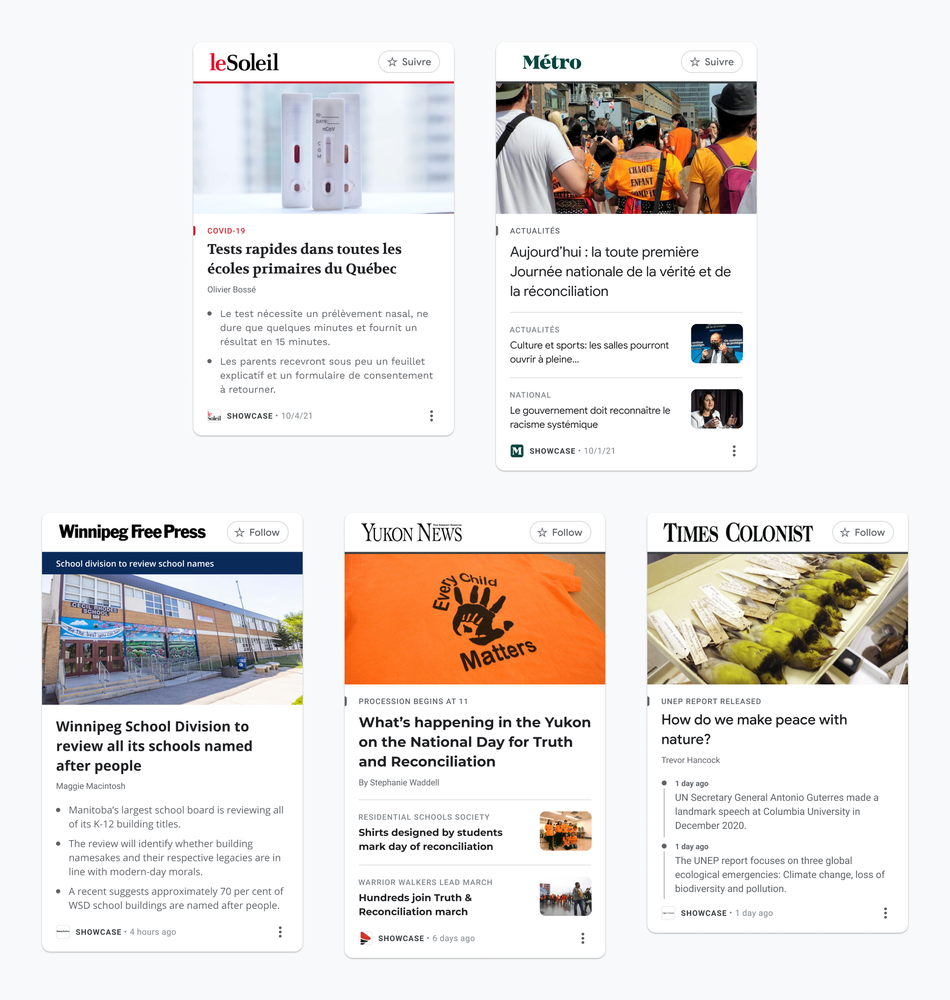 An example how different News Showcase panels look with some of our partners in Canada.
"Le Devoir is a proud partner of Google News Showcase. Today's announcement marks a new era in our relationship. It is based on trust and a mutual understanding of our shared responsibility to strengthen the digital media landscape," says Brian Myles, editor Le Devoir. "Google's assistance and tools are critical in Le Devoir's strategy to build a digital audience. We rely mainly on digital subscriptions and our business model is sustainable. In this regard, Google News Showcase fits perfectly with our current efforts to build a larger community of readers. This partnership will bring us a step forward in our digital transformation, while delivering our trusted and fact-based brand of independent journalism to a wider audience."
News Showcase is just one of the ways we are supporting the news industry in Canada. Through our Google News Initiative, we also provide tools and training to help journalism in Canada thrive in the digital age. In June, we announced that we're increasing our investments across a number of areas.
Over the next three years we'll train 5,000 Canadian journalists and journalism students on strengthening digital skills in newsrooms -in addition to the 1,000 journalists we've already trained to date.
We are expanding our business-oriented workshops for small and mid-sized news organizations on topics including audience development, reader revenue and advertising revenue. The 10 sessions will be delivered in French and English and will use our Digital Growth Program resources and our award winning News Consumer Insights tools.
We have also just launched our first Google News Initiative Startups Boot Camp Canada in partnership with LION Publishers, an eight-week program that supports a group of aspiring, independent journalism entrepreneurs who are launching sustainable news products. Applications are now open until November 14.
All these efforts represent a collaborative effort between Google and publishers in Canada to contribute to quality journalism in this country. We're here to support Canadian newsrooms, big and small, so that news can thrive in Canada for years to come.
27 Oct 2021 4:01am GMT
26 Oct 2021
For many creators, YouTube is a go-to learning resource. That's why we've created a series of entertaining and educational videos for the Google for Creators YouTube channel. Through interviews, hosted shows, tutorials and roundups, you'll hear from successful creators sharing useful tips, strategies and best practices for making and monetizing content.
Here's a little about each of our video series to help you get acquainted with the Google for Creators YouTube channel.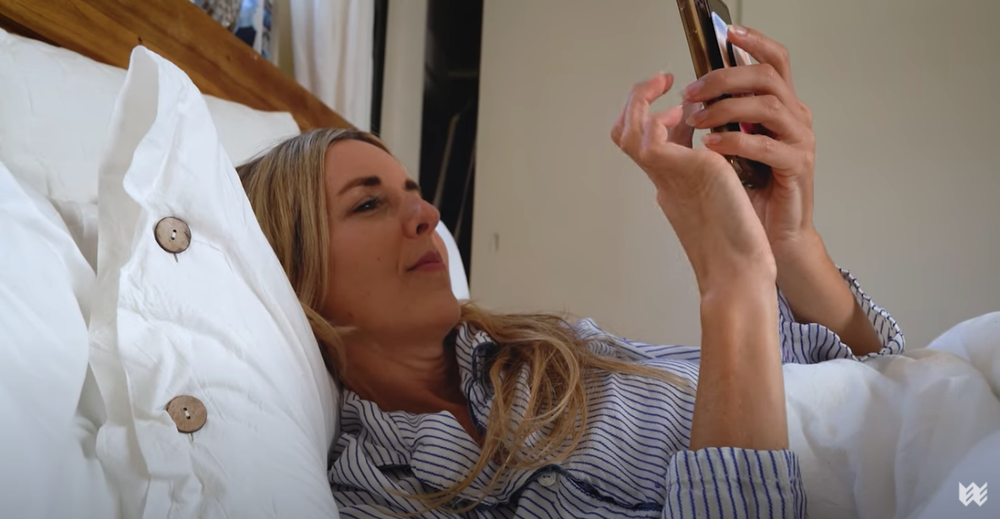 On an episode of "Creator Insights," holistic wellness blogger Andi Eaton stresses the importance of finding work-life balance.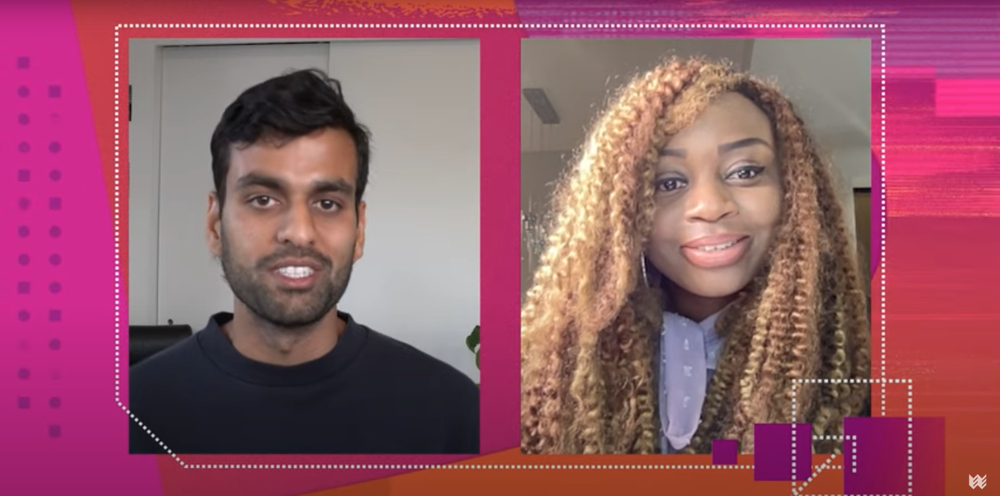 Google for Creators' Raunak Mahesh interviews fashion blogger Tokes on an episode of "Creator Spotlight."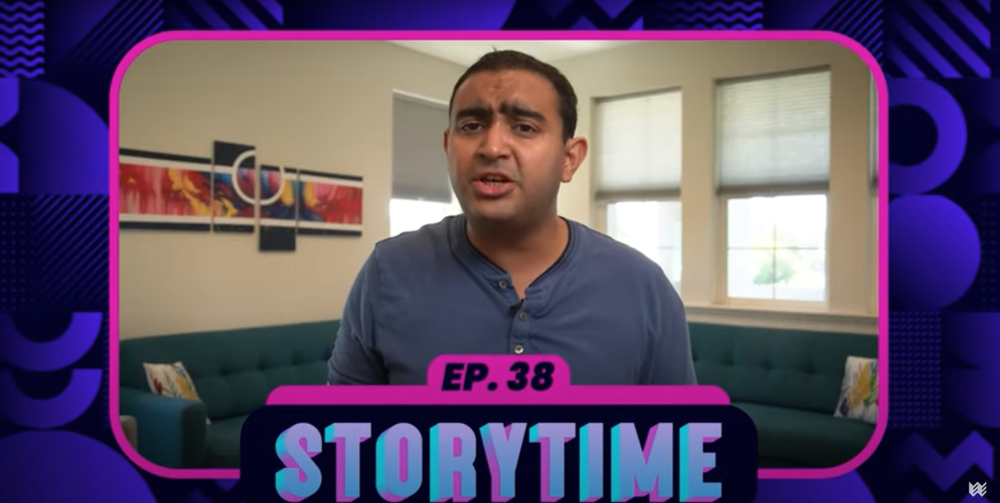 Shishir Malani hosts an episode of "Storytime" about using metrics to measure the impact of your Web Story.
Storytime
Follow along with Storytime, a weekly video series with guides for making and sharing compelling Web Stories - Google's tappable visual stories format. Storytime gives step-by-step tutorials on Web Stories tools and features, including layout, design and monetization, to help you become a Web Stories master.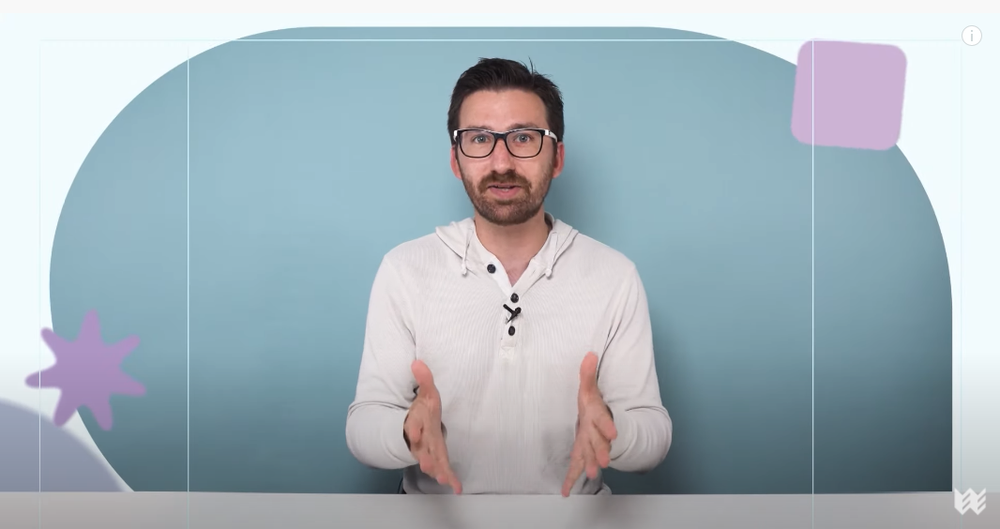 Google for Creators' Paul Bakaus hosts the debut episode of "The Creator Update," a rundown of the latest trends in the creator industry.
The Creator Update
If you're having trouble keeping up with the latest trends in the creator economy, you're not alone. Google for Creators recently launched its video series, The Creator Update, to help with just that. This hosted show shares trending topics in a bite-sized format, with a quick rundown of the latest tools, websites and people making a buzz in the creator community.
Check out all of these series by subscribing to the Google for Creators YouTube channel.
26 Oct 2021 4:00pm GMT
This November at COP26, global leaders will meet in Glasgow to discuss how to jointly address the challenge of climate change. Recent research has found that more than 70% of the global population is concerned or fearful about climate change. So we're focused on making this year's conference accessible to everyone. In partnership with the COP26 Presidency, we'll livestream the activities through YouTube and Google Arts and Culture, helping COP26 expand the reach of its digital channels. YouTube creators at the conference will create content to share with their global audiences, and we'll publish video, imagery and artworks from "the green zone" - the center of COP26 activity - via a new page on Google Arts and Culture, inviting people everywhere to learn about the discussions and activities taking place.
"I'm delighted COP26 is partnering with Google to help bring the Green Zone of COP26 to the world in a few days' time," COP President-Designate Alok Sharma said. "With more than 200 captivating and diverse events on offer we want everyone to have the opportunity to learn more about climate action and help protect our planet."
Our work at COP26 is part of our larger third decade of climate action strategy. We're not only committed to be more sustainable in how Google operates as a business, but we're also focused on building new technologies to make sure that partners, enterprise customers and the billions of people who use Google products every day can be more sustainable as well.
How we're leading at Google
At Google, our goal is to achieve net zero emissions across all of our operations and value chain by 2030. We aim to reduce the majority of our emissions (versus our 2019 baseline) before 2030, and plan to invest in nature-based and technology-based carbon removal solutions to neutralize our remaining emissions.
We were the first major company to operate as carbon neutral in 2007, and have matched our energy use with 100 percent renewable energy for four years in a row. Last year we set a moonshot goal to operate on 24/7 carbon-free energy by 2030 for all of our data centers and campuses. That means that by the end of the decade, we aim to deliver every search, every email, and every YouTube video without emitting carbon. We're making strong progress - in 2020 we achieved 67% carbon-free energy on an hourly basis across our data centers, up from 61% in 2019. Five of our data centers, including those in Denmark and Finland, are at or near 90% carbon-free energy.
On our campuses we're investing in sustainable energy innovations, like dragonscale solar and geothermal pilings, to get us closer to our goal to be carbon-free by 2030. We hope these new technologies will inspire similar projects from others that advance sustainability without compromising design and aesthetics.
How we're enabling our partners
Urban areas are currently responsible for 70% of the world's carbon emissions. Last year we pledged to help more than 500 cities reduce one gigaton of carbon emissions per year by 2030 via Google's Environmental Insights Explorer (EIE). EIE is helping major cities, including Amsterdam, Birmingham UK and Copenhagen, map their emissions data, solar potential, and air quality for their remediation plans.

Technology can also help cities decarbonize in more direct ways. We recently shared an early research project that is deploying AI to help cities make their traffic lights more efficient, and we have a pilot program in Israel accomplishing this. So far, we have seen a 10-20% reduction in fuel consumption and delay time at intersections. We're excited to expand this pilot to Rio de Janeiro and beyond.
Finally, we're helping business customers like Whirlpool, Etsy, HSBC, Unilever and Salesforce develop solutions for the specific climate change challenges they face. Unilever is working with the power of Google Cloud and satellite imagery through Google Earth Engine to help avoid deforestation in their supply chain. At Cloud Next, we launched Carbon Footprint, a tool that helps large and small businesses understand their gross carbon emissions associated with the electricity of their Google Cloud Platform usage. This new information will help companies track progress toward their own climate targets.
How we're aiming to empower everyone
In addition to businesses, increasingly individuals are focused on what more they can do to help the planet. That's why we committed to help 1 billion people make more sustainable choices by 2022 through Google's products and services. Recently, we shared several new ways people can use Google's products to make sustainable choices - from choosing eco-friendly routes and searching for greener flights, hotels, and appliances to supporting clean energy from home with Nest and surfacing authoritative information on climate change from sources like the United Nations.
Google's goal is to make the sustainable choice an easier choice - for governments, businesses, and individuals. We look forward to a carbon-free future and are excited to continue the conversation at COP26.
26 Oct 2021 1:00pm GMT
Plus, Facebook's aging user base and what it means for advertisers.

Please visit Search Engine Land for the full article.
26 Oct 2021 10:00am GMT
If your podcast does not have a knowledge panel yet, make sure your RSS feed adheres to Google's rules

Please visit Search Engine Land for the full article.
26 Oct 2021 7:00am GMT
25 Oct 2021
The new option can cut down on developer support requests and takes users to the app homepage.

Please visit Search Engine Land for the full article.
25 Oct 2021 5:09pm GMT
01 Apr 2017
April Fools' Day should probably be called Google Fools' Day, since there are so many Google hoaxes.

Google Japan developed a "bubble wrap" version of the Japanese keyboard. "The Google Japanese input bubble wrap version is a keyboard that realizes 'I want to press in my mind, I want to keep pressing'," according to Google Translate.




Another product for your smart home? Meet Google Gnome, "a voice-activated, hands-free tool designed to make backyard living effortless. Need to know what animal is squeaking in your bushes? Stay still and ask Gnome what sound an opossum makes. Running low on birdseed? That's where Gnome comes in. You can even use Gnome's proprietary high-intensity lasers to trim your hedges into whatever shape your heart desires."




The Chrome OS team brings the most popular mobile accessories to the Chromebook, which already blurs the line between mobile and desktop. Chromebook Groupie Stick, Chromebook Cardboard, Chromebook Workout Armband will soon be available in the Google Store. "To take advantage of beautiful, high-resolution displays, as well as great photo editing apps, we've carefully engineered the first Chromebook-sized selfie stick. Never again will you miss the perfect groupie."



Haptic Helpers make VR even more immersive. "We're taking VR to the next level with Haptic Helpers. Using a modest set of everyday tools, these VR virtuosos can simulate more than 10,000 unique experiences, all from the comfort of your own home. Smell the roses. Listen to the ocean. Feel a fluffy dog!"


You can now play the classic arcade game MS. PAC-MAN in Google Maps. "Avoid Blinky, Pinky, Inky, and Sue as you swerve the streets of real places around the world. But eat the pac-dots fast, because this game will only be around for a little while." Just go to the Google Maps site or open the Google Maps app for Android or iOS and click or tap MS. PAC-MAN at the bottom.



Google Cloud Platform expands to Mars. "By opening a dedicated extraterrestrial cloud region, we're bringing the power of Google's compute, network, and storage to the rest of the solar system, unlocking a plethora of possibilities for astronomy research, exploration of Martian natural resources and interplanetary life sciences. This region will also serve as an important node in an extensive network throughout the solar system. Our first interplanetary data center - affectionately nicknamed 'Ziggy Stardust' - will open in 2018," mentions Google.



Google Netherlands came up with Google Wind, a machine learning technology that controls the weather. "The Netherlands has many windmills, some no longer in use, we can connect to Google Cloud Platform. So we use the existing Dutch infrastructure, machine learning, weather patterns to control the network of windmills when rain is approaching. The first test results are very promising: we seem to be able to provide sun and clear skies for everyone in the Netherlands," mentions Google Netherlands blog.




Google's search app for iOS is now optimized for cats and dogs. "On the Google app for iOS, you can now use 3D Touch on the app icon or head to settings and select I'm Feeling Woof or I'm Feeling Meow to let your dogs and cats get info on topics they care about-whether that means squeaky toys or a bowl of milk!"



Google also launched Google Play for Pets, a new category of Android games designed for cats, dogs and other pets.


Google Translate's Word Lens feature supports a new language: Heptapod B, the alien language from the movie "Arrival". "The challenge with understanding Heptapod B is its nonlinear orthography. Fortunately, Google's neural machine translation system employs an encoder/decoder system that internally represents sentences as high-dimensional vectors. These vectors map well to the non-linear orthography of the Heptapod language and they are really the enabling technical factor in translating Heptapod B."


01 Apr 2017 7:25am GMT
19 Feb 2017
If you try to send a JavaScript attachment using Gmail or if you want to download a .js attachment, you'll get a new anti-virus warning: "Blocked for security reasons", "1 attachment contains a virus or blocked file. Downloading this attachment is disabled".


.JS has been added to the long list of file types that are blocked by Gmail for security reasons. The full list: .ADE, .ADP, .BAT, .CHM, .CMD, .COM, .CPL, .EXE, .HTA, .INS, .ISP, .JAR, .JS (NEW), .JSE, .LIB, .LNK, .MDE, .MSC, .MSI, .MSP, .MST, .NSH .PIF, .SCR, .SCT, .SHB, .SYS, .VB, .VBE, .VBS, .VXD, .WSC, .WSF, .WSH. "To prevent against potential viruses, Gmail doesn't allow you to attach certain types of files, including: certain file types (listed above), including their compressed form (like .gz or .bz2 files) or when found within archives (like .zip or .tgz files), documents with malicious macros, archives whose listed file content is password protected, archives whose content includes a password protected archive."

The GSuite Blog informs that "for inbound mail, senders will get a bounce message explaining why the email was blocked. If you still need to send .js files for legitimate reasons, you can use Google Drive, Google Cloud Storage, or other storage solutions to share or send your files."

You can still send JavaScript files using Gmail if you change the extension. What about downloading old .js attachments? Try the workarounds from this post.
19 Feb 2017 10:39am GMT
25 Jan 2017
Google Image Search has a different way to display suggestions: it now shows a long list of colorful boxes with related searches. You can click one or more boxes to dynamically refine search results.



For example, when searching for [sportswear], Google shows suggestions like: [women basketball], [tennis], [badminton], [golf], [volleyball], [nike woman], [alexander wang], [adidas], [fashion], [performance], [vintage], [trendy], [urban], [school], [gym], [90's], [70's], [vogue], [luxe], [avant garde], [korean], [italian], [french] and more. It's interesting to notice that each category of suggestions has a different color.



Here's the old interface, which had fewer suggestions and displayed thumbnails next to suggestions:


25 Jan 2017 9:39pm GMT
11 Nov 2011
As Google pushes fresh search results, a helpful Google search tool for historical searches quietly vanished earlier this month. Google has confirmed that Google's Timeline search option, which debuted in 2007, has been discontinued. By cl...
11 Nov 2011 9:35pm GMT
Google has graduated Think Insights from beta. This tool now compiles real-time data from Google search and other platforms, combining those facts with additional studies, infographics, and more. Users can find the site at ThinkwithGoogle.com, a...
11 Nov 2011 8:45pm GMT
Google has just acquired startup Katango, makers of a Facebook friends list generating iPhone app released this July. Shortly after its debut, however, Katango's autogenerator faced serious competition from Facebook itself, as it rolled out ...
11 Nov 2011 7:35pm GMT
01 Nov 2011
For my next 30 day challenge, I'll be growing a mustache to raise awareness and money for men's health issues, and specifically prostate cancer research. Men of search and SEO, please join our team. You can raise awareness, or raise cash. And it's super simple: just don't shave your moustache for 30 days. The name [...]
01 Nov 2011 6:16pm GMT
31 Oct 2011
For Halloween this year I asked people on Google+ what I should be for Halloween, and someone suggested going as the blackhat stick man from xkcd. You know, this guy: That sounded like a good challenge. I finished the costume and taped a video, but unfortunately I didn't have enough time to get the video [...]
31 Oct 2011 5:16pm GMT
24 Oct 2011
I made a Portal turret for my Halloween pumpkin! I was trying to think of things to carve: vampire Android? R2-D2? Zoidberg? Then I thought: I could do a character from Portal 2! I was going to carve something like GLaDOS or Wheatley, but then I realized that a portal turret would be perfect: To [...]
24 Oct 2011 3:26pm GMT
26 Aug 2011
The Emperor instructed the gardener to set up the new court's garden. "I want you to plant five trees growing the Crataan fruit," the Emperor said, "Because we asked people what fruit they like best, and most named the Crataan fruit!" The gardener replied, "Emperor, that is excellent thinking! But let me make some suggestions: First, how about we make one of the five trees bear the Muran fruit. Only one out of ten citizens loves it, but those peculiar citizens tend to love multiple times as much!" "Second," the gardener continued, "How about we make one of the five trees bear the Dratean fruit. No one loves it, but that's because no one knows it yet!" "Third," the gardener said, "How about we leave one spot in the garden empty. Who knows what new type of tree we'll discover that we can put there in the fut ...
26 Aug 2011 12:12pm GMT
15 Aug 2011
For those of you who've been wondering whether I had turned to stone, fallen into a bottomless pit, or been climbing the Himalaya... no, none of that is true, even though you probably did notice I'm not actively blogging about Google here anymore*! Just now, a new iPad app I've been working on called Color Sound Machine went live, and this -- and all the other apps and games at Versus Pad** -- are actually what I am doing while not blogoscoping. *I've drafted unpublished posts explaining much more about past, present and future of Blogoscoped, and the history of Google news reporting, but ... oh, for now le ...
15 Aug 2011 4:00pm GMT
25 Feb 2011
One of the earliest specialist services provided by Google was reverse phone number lookup. If you used the "phonebook:" or "rphonebook:" operators together with a 10-digit US phone number, Google would show you the owner of that phone number, unless the number was unlisted. Google no longer provides that service. Not surprisingly, there was no press release marking the closure, but Google employee Daniel Russell has acknowledged the closure of the service in his blog. He hints at the possible pressures leading to the shuttering of the service: "As you can imagine, this was an endless source of hassles for people (who were surprised to see themselves searchable on Google) and for Google (who had to constantly de ...
25 Feb 2011 11:23am GMT