23 Jan 2020
If you want to capitalize on this speciality search engine, make sure to add datasets schema where applicable.

Please visit Search Engine Land for the full article.
23 Jan 2020 5:29pm GMT
Across the web, there are millions of datasets about nearly any subject that interests you. If you're looking to buy a puppy, you could find datasets compiling complaints of puppy buyers or studies on puppy cognition. Or if you like skiing, you could find data on revenue of ski resorts or injury rates and participation numbers. Dataset Search has indexed almost 25 million of these datasets, giving you a single place to search for datasets and find links to where the data is. Over the past year, people have tried it out and provided feedback, and now Dataset Search is officially out of beta.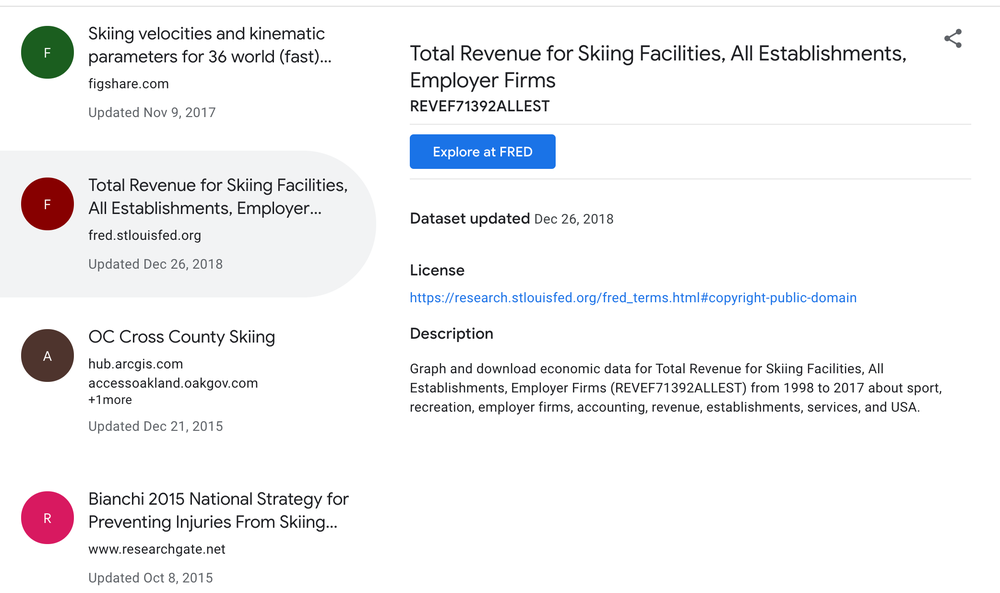 Some of the search results for the query "skiing," which include datasets ranging from speeds of the fastest skiers to revenues of ski resorts.
What's new in Dataset Search?
Based on what we've learned from the early adopters of Dataset Search, we've added new features. You can now filter the results based on the types of dataset that you want (e.g., tables, images, text), or whether the dataset is available for free from the provider. If a dataset is about a geographic area, you can see the map. Plus, the product is now available on mobile and we've significantly improved the quality of dataset descriptions. One thing hasn't changed however: anybody who publishes data can make their datasets discoverable in Dataset Search by using an open standard (schema.org) to describe the properties of their dataseton their own web page.
We have also learned how many different types of people look for data. There are academic researchers, finding data to develop their hypotheses (e.g., try oxytocin), students looking for free data in a tabular format, covering the topic of their senior thesis (e.g., try incarceration rates with the corresponding filters), business analysts and data scientists looking for information on mobile apps or fast food establishments, and so on. There is data on all of that! And what do our users ask? The most common queries include "education," "weather," "cancer," "crime," "soccer," and, yes, "dogs".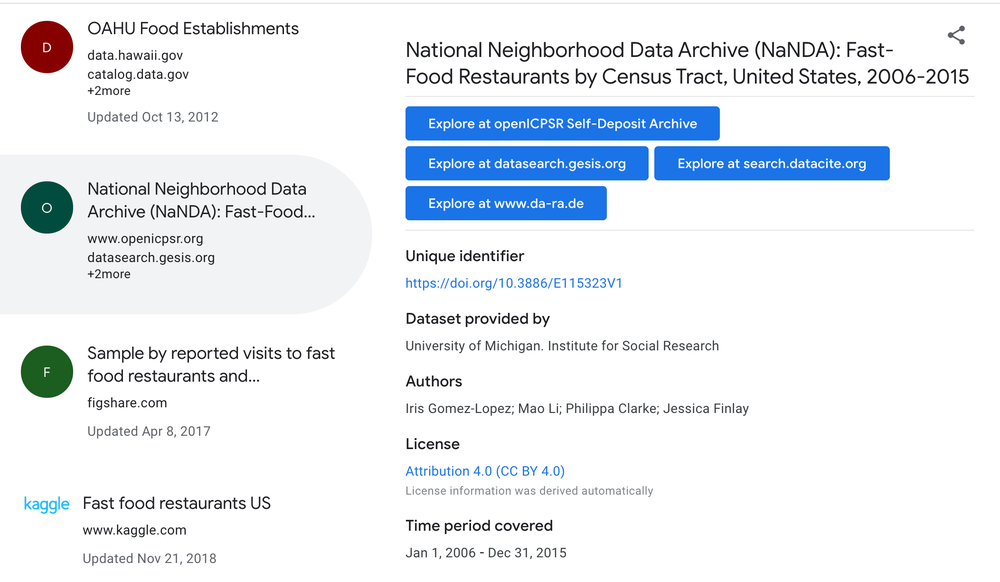 Some of the search results for the query "fast food establishment."
What datasets can you find in Dataset Search?
Dataset Search also gives us a snapshot of the data out there on the Web. Here are a few highlights. The largest topics that the datasets cover are geosciences, biology, and agriculture. The majority of governments in the world publish their data and describe it with schema.org. The United States leads in the number of open government datasets available, with more than 2 million. And the most popular data formats? Tables-you can find more than 6 million of them on Dataset Search.
The number of datasets that you can find in Dataset Search continues to grow. If you have a dataset on your site and you describe it using schema.org, an open standard, others can find it in Dataset Search. If you know that a dataset exists, but you can't find it in Dataset Search, ask the provider to add the schema.org descriptions and others will be able to learn about their dataset as well.
What's next?
Dataset Search is out of beta, but we will continue to improve the product, whether or not it has the "beta" next to it. If you haven't already, take Dataset Search for a spin, and tell us what you think.
23 Jan 2020 5:00pm GMT
Microsoft Office 365 ProPlus is bundling a payload that switches default search engine for Chrome and Firefox over to Bing.

Please visit Search Engine Land for the full article.
23 Jan 2020 4:28pm GMT
Grehan also settles the long-running dispute over who coined the term search engine optimization.

Please visit Search Engine Land for the full article.
23 Jan 2020 8:00am GMT
22 Jan 2020
Remember that chicken parmesan recipe you found online last week? Or that rain jacket you discovered when you were researching camping gear? Sometimes when you find something on Search, you're not quite ready to take the next step, like cooking a meal or making a purchase. And if you're like me, you might not save every page you want to revisit later.
Today, we're launching some changes to Collections in Search to make it easier to jump back into your task without digging through your search history. Last year, we created activity cards in Search to make your search history more useful, and to help you pick up where you left off. Using AI, Collections in the Google app and mobile web now groups similar pages you've visited from Search related to activities like cooking, shopping and hobbies. You can choose to save these suggested collections so you can come back to them later.
These suggestions can be accessed any time from the Collections tab in the Google app (new on Android!), or through the Google.com side menu on the mobile web. And if you don't want Google to suggest collections for you, you can control this in your settings, which you can visit right from Collections in the Google app.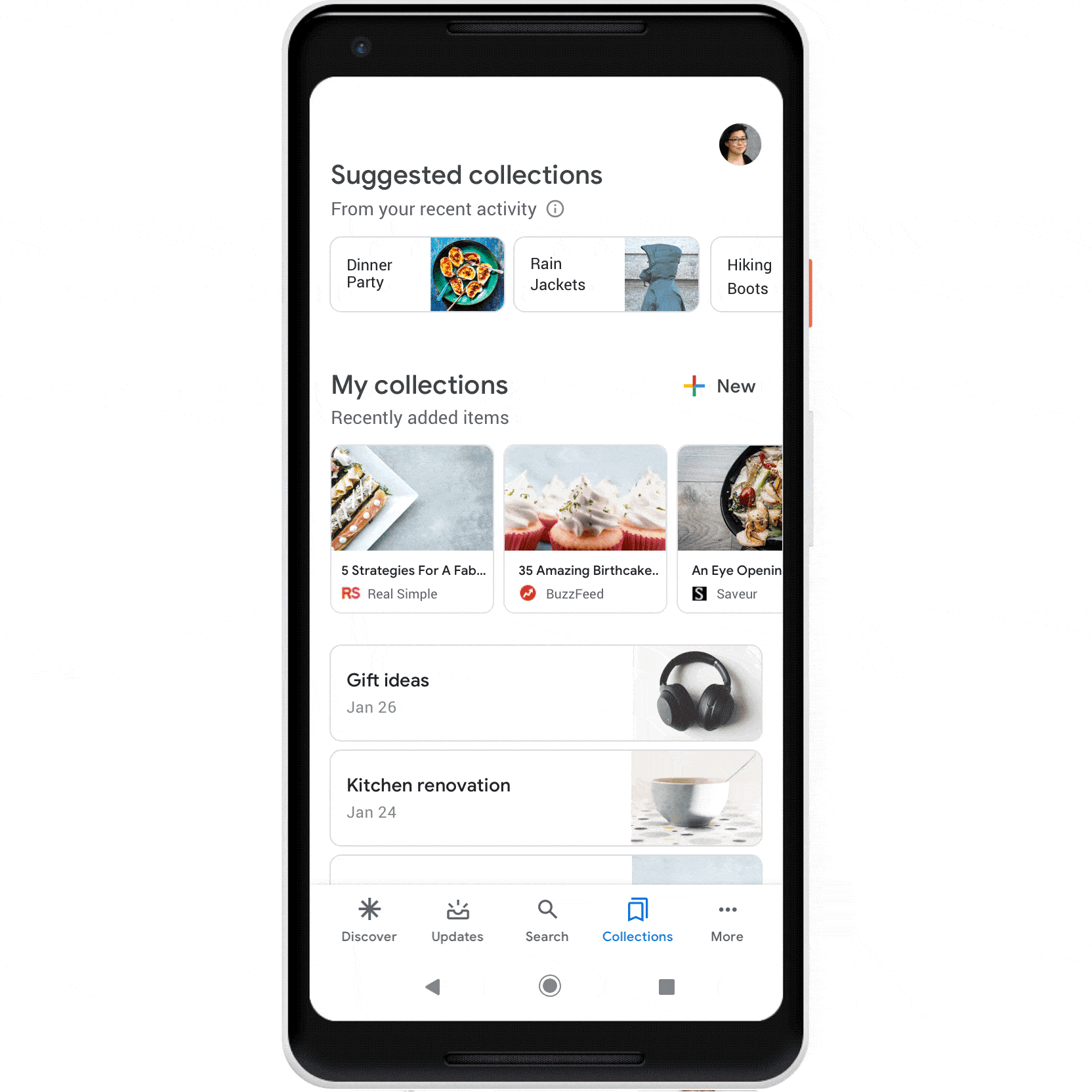 Once you have a collection, Google can help you make better, faster decisions by showing you what you might want to check out next. Based on what you've saved, you'll see related content behind the "Find More" button within a collection.

There's also a new collaboration feature that lets you share and work on a collection with others. For example, if you're planning a party with friends, you might want to share the recipes you're considering, or the decorations you want to use so you can make a decision together. When sharing a collection, you'll have the option to let others view it or to let others make changes. And you can always make it private again if you don't want to share it anymore.

The ability to share or collaborate on a collection is rolling out now globally; the ability to see related content will launch in the coming weeks. Suggested collections will start to appear for U.S. English users this week. We'll look to bring these features to more languages and regions over time.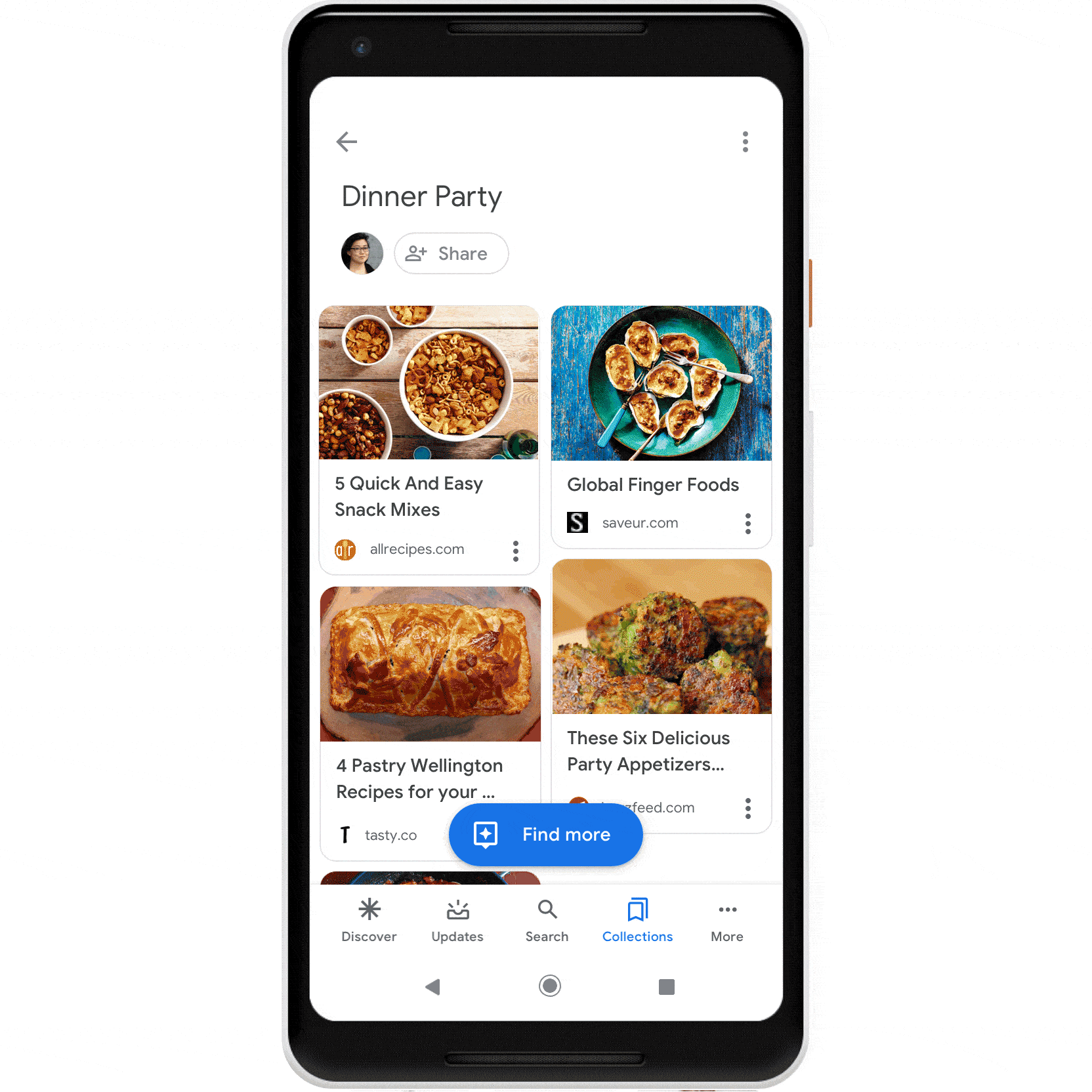 Whether you're planning an event, plotting a garden renovation or tracking down tips for tidying up, jump start your next project with Collections.
22 Jan 2020 6:00pm GMT
21 Jan 2020
Editor's note: This week, we're at BETT in London, where you can visit us at booth SE30. If you're #NotAtBett, follow along on Twitter and Facebook.
As students grow, their learning needs change. At Google, we're committed to supporting learners throughout their development with tools for student-directed learning and personalized feedback.
That's why today, we're making our latest Classroom tools, originality reports and rubrics, available to everyone who uses G Suite for Education.
Empowered learning and accelerated grading
Today's students have more information at their fingertips than ever before. As part of Google's mission, we are invested in making the world's information universally accessible and useful, especially for curious students. We want to make sure students have the tools to not only find information, but also learn from it and make it their own.
Educators also face a big challenge in helping students keep their work authentic, and they don't always have the tools to easily evaluate which passages are students' own. Often the best tool available to instructors is to manually copy and paste passages into Google Search to check if work is original. We're simplifying the process by integrating Search into our assignment and grading tools.
Originality reports are a new assignment feature that can help students improve their writing, while also providing instructors with a fast and easy way to verify academic integrity without leaving the grading interface. When instructors turn on originality reports for an assignment, students can check for missed citations or poor paraphrasing before they turn something in, and instructors automatically get an originality report to view while grading.
Over the next month, originality reports will roll out to all Classroom instructors whose language is set to English. With this launch, instructors can enable originality reports on three assignments per class for free. Instructors whose admins have purchased G Suite Enterprise for Education get unlimited access to originality reports, as well as other premium tools.
Upcoming features
We're also announcing two new betas to originality reports for the top-requested features from our instructors. With student-to-student matches, available toG Suite Enterprise for Educationinstitutions, we're expanding originality reports to include checks against previous student submissions. With this, instructors can receive originality reports with student-to-student matches within the same school along with the usual web matches. This allows schools to have their own database of student submissions-owned by your school, not Google. Once this feature is enabled for your school, student submissions on assignments that use originality reports will automatically be added to the school's repository and administrators will be able to add or delete files manually. There's also a beta for international languages to enable originality reports for those whose language is set to Spanish, Portuguese and French.
If you use another learning management system, originality reports are also available through our Assignments LTI tool which is currently in beta--stay tuned for availability updates later this year.
Teachers were buzzing [about originality reports], excited by the simplicity and ease of use, and even more so about the accessibility of the tool for students so that they could work alongside them and have meaningful learning conversations. Jonathan Wyeth
Assistant Principal at Green Bay High School, NZ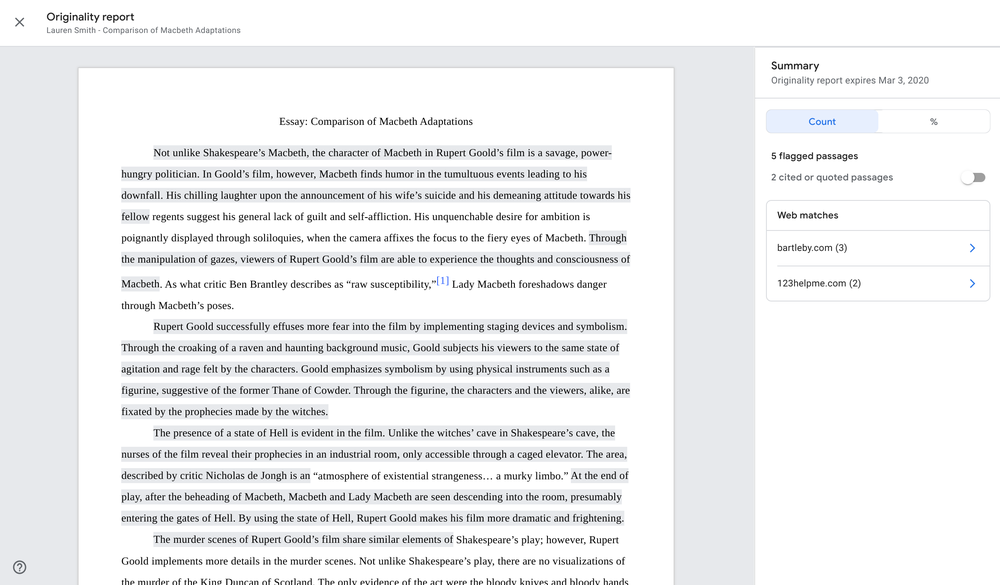 Enhanced student feedback
Educators often spend a lot of time grading assignments and providing constructive comments to help students grow. They often use rubrics as scoring frameworks to make it easier to evaluate student assignments, set clear expectations and provide actionable feedback.

That's why we launched a beta for rubrics in Google Classroom last June. This streamlined how rubrics are created in Classroom to help educators provide additional transparency around students' grades. Tom Mullaney is a high school Digital Learning Coach in North Carolina who's enrolled in the beta program, and he knows how helpful rubrics can be. "[Rubrics enable] teachers to give much more detailed feedback than just a text comment. Students can now see both what is expected of them and how they did in meeting expectations," Mullaney says. "Rubrics save teachers times in two ways: You can reuse rubrics and you can also duplicate criterion."
Thanks to all of the feedback and feature requests from our beta, today we're making rubrics available to everyone who's using Classroom and Assignments.
With the new rubrics feature, educators can now create a rubric while they create an assignment, reuse rubrics from a previous assignment rather than having to create one from scratch. They can also export and import Classroom rubrics to share them with other instructors, as well as grade student work with a rubric from both the student listing page and Classroom's grading view, where instructors can select rating levels as they review the assignment.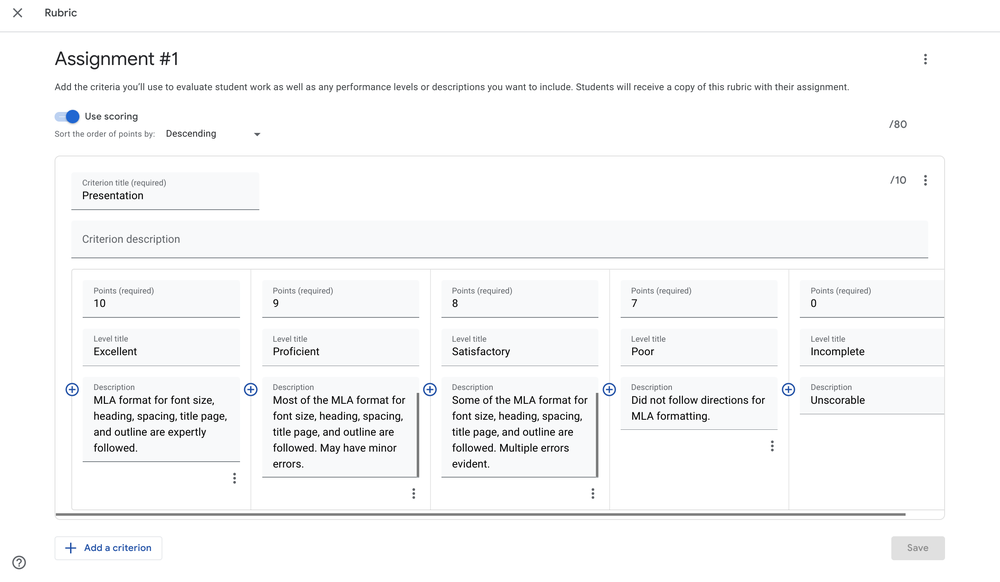 Sync grades across systems
Since Google Classroom launched, administrators and instructors have frequently requested a way to keep student data in sync with their SIS. We listened, and now G Suite administrators can
sign up
for the beta to sync grades from Google Classroom and select SIS. We're expanding the beta to include schools that use Capita SIMS, Infinite Campus and Skyward SMS 2.0, with more SIS integrations to come.
21 Jan 2020 4:00pm GMT
21 Oct 2019
Fitbit has discontinued their Fitbit One step trackers, which seems like a good opportunity to step back and reflect on wearing one for the last decade or so. I've enjoyed using Fitbit trackers, but the One devices seemed like they broke down way too often. I'm pretty proud that I ended up earning all the […]
21 Oct 2019 3:06am GMT
04 Nov 2018
Do you need something to cheer you up? You got it: I should explain this costume a little bit. At the US Digital Service, we do a thing called "crab claws." Crab claws is like visual applause-you pinch your fingers up and down to say "great job" or "congratulations" or "way to go." We do […]
04 Nov 2018 8:02pm GMT
08 Mar 2018
Cindy Cutts, my wife and best friend, passed away earlier this week. While I was traveling for work recently, Cindy went to visit her family in Omaha, Nebraska. On Sunday, while enjoying time with family, Cindy started having trouble breathing. Her family quickly called 911 and paramedics took Cindy to the hospital, but Cindy lost […]
08 Mar 2018 12:17am GMT
01 Apr 2017
April Fools' Day should probably be called Google Fools' Day, since there are so many Google hoaxes.

Google Japan developed a "bubble wrap" version of the Japanese keyboard. "The Google Japanese input bubble wrap version is a keyboard that realizes 'I want to press in my mind, I want to keep pressing'," according to Google Translate.




Another product for your smart home? Meet Google Gnome, "a voice-activated, hands-free tool designed to make backyard living effortless. Need to know what animal is squeaking in your bushes? Stay still and ask Gnome what sound an opossum makes. Running low on birdseed? That's where Gnome comes in. You can even use Gnome's proprietary high-intensity lasers to trim your hedges into whatever shape your heart desires."




The Chrome OS team brings the most popular mobile accessories to the Chromebook, which already blurs the line between mobile and desktop. Chromebook Groupie Stick, Chromebook Cardboard, Chromebook Workout Armband will soon be available in the Google Store. "To take advantage of beautiful, high-resolution displays, as well as great photo editing apps, we've carefully engineered the first Chromebook-sized selfie stick. Never again will you miss the perfect groupie."



Haptic Helpers make VR even more immersive. "We're taking VR to the next level with Haptic Helpers. Using a modest set of everyday tools, these VR virtuosos can simulate more than 10,000 unique experiences, all from the comfort of your own home. Smell the roses. Listen to the ocean. Feel a fluffy dog!"


You can now play the classic arcade game MS. PAC-MAN in Google Maps. "Avoid Blinky, Pinky, Inky, and Sue as you swerve the streets of real places around the world. But eat the pac-dots fast, because this game will only be around for a little while." Just go to the Google Maps site or open the Google Maps app for Android or iOS and click or tap MS. PAC-MAN at the bottom.



Google Cloud Platform expands to Mars. "By opening a dedicated extraterrestrial cloud region, we're bringing the power of Google's compute, network, and storage to the rest of the solar system, unlocking a plethora of possibilities for astronomy research, exploration of Martian natural resources and interplanetary life sciences. This region will also serve as an important node in an extensive network throughout the solar system. Our first interplanetary data center - affectionately nicknamed 'Ziggy Stardust' - will open in 2018," mentions Google.



Google Netherlands came up with Google Wind, a machine learning technology that controls the weather. "The Netherlands has many windmills, some no longer in use, we can connect to Google Cloud Platform. So we use the existing Dutch infrastructure, machine learning, weather patterns to control the network of windmills when rain is approaching. The first test results are very promising: we seem to be able to provide sun and clear skies for everyone in the Netherlands," mentions Google Netherlands blog.




Google's search app for iOS is now optimized for cats and dogs. "On the Google app for iOS, you can now use 3D Touch on the app icon or head to settings and select I'm Feeling Woof or I'm Feeling Meow to let your dogs and cats get info on topics they care about-whether that means squeaky toys or a bowl of milk!"



Google also launched Google Play for Pets, a new category of Android games designed for cats, dogs and other pets.


Google Translate's Word Lens feature supports a new language: Heptapod B, the alien language from the movie "Arrival". "The challenge with understanding Heptapod B is its nonlinear orthography. Fortunately, Google's neural machine translation system employs an encoder/decoder system that internally represents sentences as high-dimensional vectors. These vectors map well to the non-linear orthography of the Heptapod language and they are really the enabling technical factor in translating Heptapod B."


01 Apr 2017 7:25am GMT
19 Feb 2017
If you try to send a JavaScript attachment using Gmail or if you want to download a .js attachment, you'll get a new anti-virus warning: "Blocked for security reasons", "1 attachment contains a virus or blocked file. Downloading this attachment is disabled".


.JS has been added to the long list of file types that are blocked by Gmail for security reasons. The full list: .ADE, .ADP, .BAT, .CHM, .CMD, .COM, .CPL, .EXE, .HTA, .INS, .ISP, .JAR, .JS (NEW), .JSE, .LIB, .LNK, .MDE, .MSC, .MSI, .MSP, .MST, .NSH .PIF, .SCR, .SCT, .SHB, .SYS, .VB, .VBE, .VBS, .VXD, .WSC, .WSF, .WSH. "To prevent against potential viruses, Gmail doesn't allow you to attach certain types of files, including: certain file types (listed above), including their compressed form (like .gz or .bz2 files) or when found within archives (like .zip or .tgz files), documents with malicious macros, archives whose listed file content is password protected, archives whose content includes a password protected archive."

The GSuite Blog informs that "for inbound mail, senders will get a bounce message explaining why the email was blocked. If you still need to send .js files for legitimate reasons, you can use Google Drive, Google Cloud Storage, or other storage solutions to share or send your files."

You can still send JavaScript files using Gmail if you change the extension. What about downloading old .js attachments? Try the workarounds from this post.
19 Feb 2017 10:39am GMT
25 Jan 2017
Google Image Search has a different way to display suggestions: it now shows a long list of colorful boxes with related searches. You can click one or more boxes to dynamically refine search results.



For example, when searching for [sportswear], Google shows suggestions like: [women basketball], [tennis], [badminton], [golf], [volleyball], [nike woman], [alexander wang], [adidas], [fashion], [performance], [vintage], [trendy], [urban], [school], [gym], [90's], [70's], [vogue], [luxe], [avant garde], [korean], [italian], [french] and more. It's interesting to notice that each category of suggestions has a different color.



Here's the old interface, which had fewer suggestions and displayed thumbnails next to suggestions:


25 Jan 2017 9:39pm GMT
11 Nov 2011
As Google pushes fresh search results, a helpful Google search tool for historical searches quietly vanished earlier this month. Google has confirmed that Google's Timeline search option, which debuted in 2007, has been discontinued. By cl...
11 Nov 2011 9:35pm GMT
Google has graduated Think Insights from beta. This tool now compiles real-time data from Google search and other platforms, combining those facts with additional studies, infographics, and more. Users can find the site at ThinkwithGoogle.com, a...
11 Nov 2011 8:45pm GMT
Google has just acquired startup Katango, makers of a Facebook friends list generating iPhone app released this July. Shortly after its debut, however, Katango's autogenerator faced serious competition from Facebook itself, as it rolled out ...
11 Nov 2011 7:35pm GMT
26 Aug 2011
The Emperor instructed the gardener to set up the new court's garden. "I want you to plant five trees growing the Crataan fruit," the Emperor said, "Because we asked people what fruit they like best, and most named the Crataan fruit!" The gardener replied, "Emperor, that is excellent thinking! But let me make some suggestions: First, how about we make one of the five trees bear the Muran fruit. Only one out of ten citizens loves it, but those peculiar citizens tend to love multiple times as much!" "Second," the gardener continued, "How about we make one of the five trees bear the Dratean fruit. No one loves it, but that's because no one knows it yet!" "Third," the gardener said, "How about we leave one spot in the garden empty. Who knows what new type of tree we'll discover that we can put there in the fut ...
26 Aug 2011 12:12pm GMT
15 Aug 2011
For those of you who've been wondering whether I had turned to stone, fallen into a bottomless pit, or been climbing the Himalaya... no, none of that is true, even though you probably did notice I'm not actively blogging about Google here anymore*! Just now, a new iPad app I've been working on called Color Sound Machine went live, and this -- and all the other apps and games at Versus Pad** -- are actually what I am doing while not blogoscoping. *I've drafted unpublished posts explaining much more about past, present and future of Blogoscoped, and the history of Google news reporting, but ... oh, for now le ...
15 Aug 2011 4:00pm GMT
25 Feb 2011
One of the earliest specialist services provided by Google was reverse phone number lookup. If you used the "phonebook:" or "rphonebook:" operators together with a 10-digit US phone number, Google would show you the owner of that phone number, unless the number was unlisted. Google no longer provides that service. Not surprisingly, there was no press release marking the closure, but Google employee Daniel Russell has acknowledged the closure of the service in his blog. He hints at the possible pressures leading to the shuttering of the service: "As you can imagine, this was an endless source of hassles for people (who were surprised to see themselves searchable on Google) and for Google (who had to constantly de ...
25 Feb 2011 11:23am GMT