24 Nov 2020
Google confirms web stories as featured snippets are not a great experience for searchers.

Please visit Search Engine Land for the full article.
24 Nov 2020 5:20pm GMT
Since Google launched a new home for Web Stories on Discover, we have seen a diverse group of content creators using the format to tell engaging stories, everything from product reviews to a history of the U.S. postal service. Thanks to new and improved creation tools, it's easier than ever to create a high-quality and interactive story.
Web Stories are a web-based version of the popular "Stories" format that blend video, audio, images, animation and text to create a whole new way to learn something new. We have seen publishers recut, reuse, or reinvent their brands using Web Stories. If you are new to Web Stories, check out our new YouTube series, Storytime. And if you want to create some yourself, follow these tips to make them as interesting and beautiful as possible.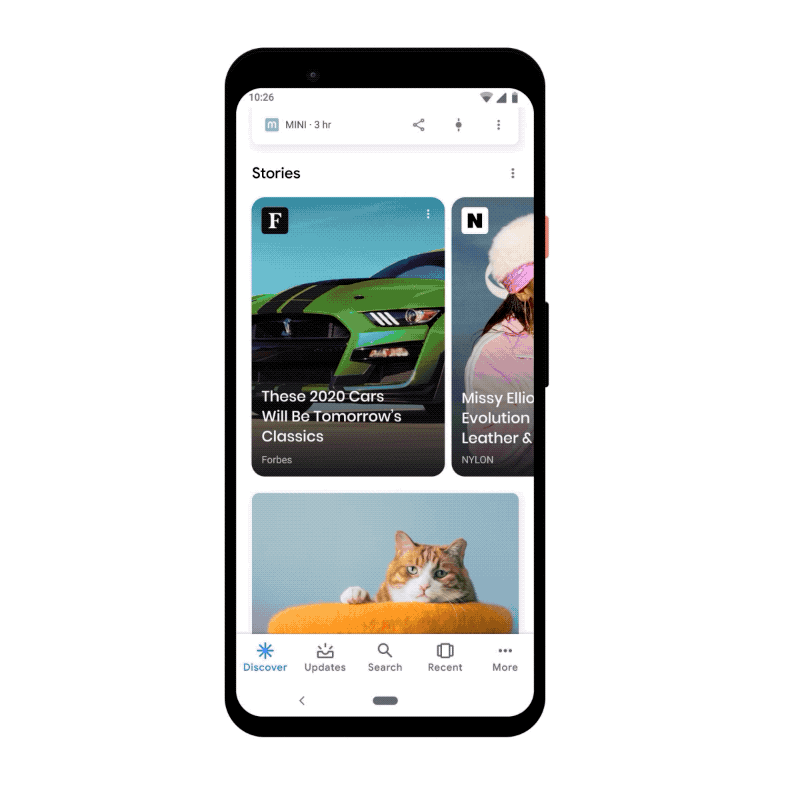 1. Use video.
Video is a great way to engage users. Optimize your landscape videos by converting them into videos in portrait ratio (9:16) to take advantage of the mobile screen. Making the video full bleed helps readers focus on a single key subject. And if you have video with audio, use closed captions. Here is a great example from VICE. Without captions, your audience needs to be able to listen to audio to follow your story. If you only have horizontal video, try using a conversion tool, like Kapwing to make them vertical.
2. Try first-person storytelling.
Be the protagonist of your own story. Stories are the first mobile-native medium. It's perfectly possible and expected to capture the assets for your story using your mobile device's front-facing camera. Since most consumption happens and continues to grow on mobile devices, the creator is able to deliver a full-screen portrait experience to the viewer in the same way they captured it. First person allows you to give a personal touch by adding in additional commentary and perspective.
3. Take advantage of your brand identity.
A brand identity is the face of your brand. That can include your visual style, the colors you use and your logo; these visible elements identify and distinguish your brand in consumers' minds. People should know at a moment's glance that this Web Story is from your brand. For many readers, consistency in branding leads to comfort and loyalty.
Be sure to import your color palette and logo into your favorite Web Story creation tool. Use your brand's typography, and if you don't use specific typography, select a font that complements your colors and style. Fonts can be very powerful, so keep it simple and legible. Here are some general rules to follow. Avoid having a story that contains text that blends into the background image or video, which may make some pages difficult to read. Be sure to provide contrast between the text and background images on the page.
4. Display infographics and dynamic visuals.
Web Stories blend video, audio, images, animation and text to create an easy to consume narrative. One great way to engage readers is by using dynamic visuals and infographics. Graphs and charts make it easy to understand a topic while using minimal text. This can be a great way to inform your reader quickly and clearly. We commonly see great graphics and visuals in recipes, explainers and investigative journalism.
5. Get a boost from illustrations.
Sometimes stock images and videos won't cut it. If you have the ability, try to work in some illustrations into your story. Animations and illustrations can bring your story to life. This could be anything from funny comics to hand-drawn cartoons. You can create illustrations in other popular design tools, optimize them and import them into your creation tool as a PNG file.
6. Post quizzes and polls.
Web Stories are getting more interactive with quizzes and polls, or what the Stories team calls Interactive Components. Several visual editors are working on supporting these new features so you can use them without any coding necessary on your end. Quizzes and polls can increase engagement and make your stories more compelling. You can also use the quizzes and polls to gather feedback and educate your audience about your brand.
7. Build excitement through animations.
Animating objects separately makes visuals more interesting and enjoyable, helping each item stand out. Timing and style add to the tone and message of your story. Choose an animation style that suits your aesthetic, then be mindful of how quickly things move. Here is a great example from USAT. Your story may automatically advance to the next page before some users are able to fully read the text. Consider slowing down auto advance to allow users ample time to read the text on each page.
24 Nov 2020 2:00pm GMT
After all the preparation, here's what paid search and social marketers will be doing this week to manage their holiday campaigns and promotions.

Please visit Search Engine Land for the full article.
24 Nov 2020 1:17pm GMT
Google is using newish language understanding models specific to leveraging conversational context for these search features.

Please visit Search Engine Land for the full article.
24 Nov 2020 11:43am GMT
I love Thanksgiving. It's a time to be with those you love, eating fabulous food and sharing memories. In my family, my mother always made the holiday a time when we welcomed people into our home who had nowhere else to go that day. And then we'd take long afternoon walks after our big meal.
With COVID-19 infections rising to record levels across the U.S, families are changing how they celebrate Thanksgiving this year. Like much else in 2020, we'll need to develop new and creative traditions to replace the ones that put those we love at risk for COVID.
This year, please follow the tips from the Centers for Disease Control and Prevention, and avoid large family gatherings.
This disease is highly contagious and getting together physically with extended family is a real risk. Every event that brings people together creates yet another chance for transmission. I'm often asked, "Can't I just get a COVID test and then see my family?" Unfortunately, the answer I give my friends and family is an unequivocal "No." Tests are often negative early in the course of disease, which means you can test negative today but be highly infectious tomorrow. So even if you have a negative test, still practice these measures. The best way to show your love is to not have a big family gathering.
There are many ways to celebrate from a distance. You can video call friends and family from the Thanksgiving table. You could spend in-person time outdoors at a distance, wearing masks and avoiding shared dishes. I have even heard of some families even getting creative offering "curbside pickup" of their signature pumpkin pie, green bean casserole or oyster dressing for loved ones to pick up and enjoy in the safety of their own homes.
---
Tips for celebrating Thanksgiving safely
The Centers for Disease Control and Prevention have shared some tips on how you could celebrate Thanksgiving this year and limit the spread of COVID-19:


Wear a mask

Rethink traveling

Keep gatherings small

Celebrate virtually if you can
---
This year, my immediate family is planning a small meal with just our household followed by a brief, outdoor visit with our grandmother. We will also have a virtual Friendsgiving with friends across the country, which is actually allowing us to share memories with more people than we usually do. I will miss the meals, hugs and in-person laughter, but am willing to sacrifice that for this one year so we can have many more memories together in years to come.
Though this has been a difficult year for so many around the world, I find I have much to be grateful for this holiday. I am thankful for my medical colleagues-the doctors, nurses, respiratory techs and other responders who are going to work on Thanksgiving to care for COVID-19 patients. I am thankful for my public health colleagues who have worked tirelessly for nearly a year to keep us safe, as they do even when pandemics aren't raging.
Related Article
Support for public health workers fighting COVID-19
Our support for public health workers who are playing an important role in responding to the COVID-19 pandemic.
I am thankful for the many unsung first responders working to see that we have safe water to drink, food to eat and electricity to light and heat our homes. I am particularly thankful for the committed scientists who have advanced sound research so we have efficacious and safe treatments, and yes, COVID vaccines in sight. They are giving us so much optimism about the potential for robust countermeasures to bring this pandemic to an end.

Related Article
A Q&A on coronavirus vaccines
A Q&A with Dr. Karen DeSalvo, Google's Chief Health Officer, on coronavirus vaccines.
And I am thankful for everyone who is putting the public's health as a priority, and doing all they can to not be a link in the chain of COVID transmission. I know everyone is weary and wants to go back to normal, or at least a new normal. But I encourage everyone to be patient and dig deep inside for the stamina to carry us through these next few months. Now is not the time to let up-it is a time to double down. If scientific progress continues, then by this time next year we might be able to have family gatherings with those we love.
This Thanksgiving, I see staying home as the ultimate form of giving thanks and showing love to your family.
This Thanksgiving, I see staying home as the ultimate form of giving thanks and showing love to your family. So I hope you will join me in following the
tips
from the Centers for Disease Control and Prevention. They are what I am recommending to family and friends, what I would recommend to my patients and what I am asking of our community. This year, let's give thanks. Not COVID.
24 Nov 2020 2:30am GMT
Read this post in English // Blog en inglés aquí.
Amo el Día de Acción de Gracias. Es un momento para estar con tus seres queridos, comer comida fabulosa y compartir recuerdos. En mi familia, mi madre siempre hizo del día festivo un momento en el que recibíamos en nuestra casa a personas que no tenían ningún otro lugar adónde ir ese día. Y luego dábamos largas caminatas por la tarde después de nuestra gran cena.
Con las infecciones por COVID-19 aumentando a niveles récord en los Estados Unidos, las familias están cambiando la forma en que celebran el Día de Acción de Gracias este año. Como muchas otras cosas en 2020, tendremos que desarrollar tradiciones nuevas y creativas para reemplazar las que ponen a quienes amamos en riesgo de COVID.
Este año, sigue los consejos de los Centros para el Control y la Prevención de Enfermedades y evita las grandes reuniones familiares.
Esta enfermedad es muy contagiosa y reunirse físicamente con la familia extendida es un riesgo real. Cada evento que reúne a personas crea una nueva oportunidad de transmisión. A menudo me preguntan: "¿No puedo hacerme una prueba de COVID y luego ver a mi familia?" Desafortunadamente, la respuesta que le doy a mis amigos y familiares es un "No" inequívoco. Las pruebas suelen ser negativas en las primeras etapas del curso de la enfermedad, lo que significa que puede dar negativo hoy pero ser muy infeccioso mañana. Entonces, incluso si tienes una prueba negativa, practica aún estas medidas. La mejor manera de demostrar tu amor es no tener una gran reunión familiar.
Hay muchas formas de celebrar a distancia. Puedes realizar videollamadas con amigos y familiares desde la mesa de Acción de Gracias. Podrías pasar tiempo en persona al aire libre a distancia, usando máscaras y evitando compartir platillos. Incluso he oído hablar de algunas familias que se han vuelto creativas al ofrecer "recoger en la acera" su emblemático pastel de calabaza, cazuela de ejotes o aderezo de ostras para que los seres queridos lo recojan y disfruten en la seguridad de sus propios hogares.
---
Consejos para celebrar el Día de Acción de Gracias de forma segura
Los Centros para el Control y la Prevención de Enfermedades han compartido algunos consejos sobre cómo celebrar el Día de Acción de Gracias este año y limitar la propagación del COVID-19.
Usa mascarilla

Reconsidera viajes

Mantén las reuniones pequeñas

Celebra virtualmente si puedes
---
Este año, mi familia inmediata está planeando una pequeña comida en nuestro hogar seguida de una breve visita al aire libre a nuestra abuela. También tendremos un Friendsgiving virtual con amigos de todo el país, que en realidad nos permite compartir recuerdos con más personas de las que solemos compartir. Extrañaré las comidas, los abrazos y las risas en persona, pero estoy dispuesta a sacrificar eso por este año para que podamos tener muchos más recuerdos juntos en los próximos años.
Aunque este ha sido un año difícil para muchos en todo el mundo, se que tengo mucho que agradecer por estos días festivos. Estoy agradecida por mis colegas médicos: los médicos, enfermeras, técnicos en terapia pulmonar y otros socorristas que trabajarán en el Día de Acción de Gracias para atender a los pacientes con COVID-19. Estoy agradecida por mis colegas de salud pública que han trabajado incansablemente durante casi un año para mantenernos a salvo, como lo hacen incluso cuando las pandemias no están en auge.
Estoy agradecida por los muchos socorristas no reconocidos que trabajan para asegurarse de que tengamos agua potable para beber, alimentos y electricidad para iluminar y calentar nuestros hogares. Estoy particularmente agradecido por los científicos comprometidos que han avanzado en investigaciones sólidas para que tengamos tratamientos eficaces y seguros, y sí, vacunas contra COVID a la vista. Nos están dando tanto optimismo sobre el potencial de contramedidas sólidas para poner fin a esta pandemia.
Y estoy agradecida por todos los que ponen la salud pública como una prioridad y hacen todo lo posible para NO ser un eslabón en la cadena de transmisión del COVID. Sé que todos están cansados ​​y quieren volver a la normalidad, o al menos a una nueva normalidad. Pero animo a todos a que sean pacientes y busquen dentro de sí la resistencia que nos ayude a superar estos próximos meses. Ahora no es el momento de ceder, es el momento de redoblar. Si el progreso científico continúa, entonces para esta temporada el próximo año podríamos tener reuniones familiares con aquellos a quienes amamos.

Este Día de Acción de Gracias, veo que quedarse en casa es la mejor forma de agradecer y mostrar amor a tu familia.
Este Día de Acción de Gracias, veo que quedarse en casa es la mejor forma de agradecer y mostrar amor a tu familia. Así que espero que te unas a mí para seguir los
consejos
de los Centros para el Control y la Prevención de Enfermedades. Son lo que recomiendo a familiares y amigos, lo que recomendaría a mis pacientes y lo que le estoy pidiendo a nuestra comunidad. Este año, demos gracias. No COVID.
24 Nov 2020 2:30am GMT
21 Oct 2019
Fitbit has discontinued their Fitbit One step trackers, which seems like a good opportunity to step back and reflect on wearing one for the last decade or so. I've enjoyed using Fitbit trackers, but the One devices seemed like they broke down way too often. I'm pretty proud that I ended up earning all the […]
21 Oct 2019 3:06am GMT
04 Nov 2018
Do you need something to cheer you up? You got it: I should explain this costume a little bit. At the US Digital Service, we do a thing called "crab claws." Crab claws is like visual applause-you pinch your fingers up and down to say "great job" or "congratulations" or "way to go." We do […]
04 Nov 2018 8:02pm GMT
08 Mar 2018
Cindy Cutts, my wife and best friend, passed away earlier this week. While I was traveling for work recently, Cindy went to visit her family in Omaha, Nebraska. On Sunday, while enjoying time with family, Cindy started having trouble breathing. Her family quickly called 911 and paramedics took Cindy to the hospital, but Cindy lost […]
08 Mar 2018 12:17am GMT
01 Apr 2017
April Fools' Day should probably be called Google Fools' Day, since there are so many Google hoaxes.

Google Japan developed a "bubble wrap" version of the Japanese keyboard. "The Google Japanese input bubble wrap version is a keyboard that realizes 'I want to press in my mind, I want to keep pressing'," according to Google Translate.




Another product for your smart home? Meet Google Gnome, "a voice-activated, hands-free tool designed to make backyard living effortless. Need to know what animal is squeaking in your bushes? Stay still and ask Gnome what sound an opossum makes. Running low on birdseed? That's where Gnome comes in. You can even use Gnome's proprietary high-intensity lasers to trim your hedges into whatever shape your heart desires."




The Chrome OS team brings the most popular mobile accessories to the Chromebook, which already blurs the line between mobile and desktop. Chromebook Groupie Stick, Chromebook Cardboard, Chromebook Workout Armband will soon be available in the Google Store. "To take advantage of beautiful, high-resolution displays, as well as great photo editing apps, we've carefully engineered the first Chromebook-sized selfie stick. Never again will you miss the perfect groupie."



Haptic Helpers make VR even more immersive. "We're taking VR to the next level with Haptic Helpers. Using a modest set of everyday tools, these VR virtuosos can simulate more than 10,000 unique experiences, all from the comfort of your own home. Smell the roses. Listen to the ocean. Feel a fluffy dog!"


You can now play the classic arcade game MS. PAC-MAN in Google Maps. "Avoid Blinky, Pinky, Inky, and Sue as you swerve the streets of real places around the world. But eat the pac-dots fast, because this game will only be around for a little while." Just go to the Google Maps site or open the Google Maps app for Android or iOS and click or tap MS. PAC-MAN at the bottom.



Google Cloud Platform expands to Mars. "By opening a dedicated extraterrestrial cloud region, we're bringing the power of Google's compute, network, and storage to the rest of the solar system, unlocking a plethora of possibilities for astronomy research, exploration of Martian natural resources and interplanetary life sciences. This region will also serve as an important node in an extensive network throughout the solar system. Our first interplanetary data center - affectionately nicknamed 'Ziggy Stardust' - will open in 2018," mentions Google.



Google Netherlands came up with Google Wind, a machine learning technology that controls the weather. "The Netherlands has many windmills, some no longer in use, we can connect to Google Cloud Platform. So we use the existing Dutch infrastructure, machine learning, weather patterns to control the network of windmills when rain is approaching. The first test results are very promising: we seem to be able to provide sun and clear skies for everyone in the Netherlands," mentions Google Netherlands blog.




Google's search app for iOS is now optimized for cats and dogs. "On the Google app for iOS, you can now use 3D Touch on the app icon or head to settings and select I'm Feeling Woof or I'm Feeling Meow to let your dogs and cats get info on topics they care about-whether that means squeaky toys or a bowl of milk!"



Google also launched Google Play for Pets, a new category of Android games designed for cats, dogs and other pets.


Google Translate's Word Lens feature supports a new language: Heptapod B, the alien language from the movie "Arrival". "The challenge with understanding Heptapod B is its nonlinear orthography. Fortunately, Google's neural machine translation system employs an encoder/decoder system that internally represents sentences as high-dimensional vectors. These vectors map well to the non-linear orthography of the Heptapod language and they are really the enabling technical factor in translating Heptapod B."


01 Apr 2017 7:25am GMT
19 Feb 2017
If you try to send a JavaScript attachment using Gmail or if you want to download a .js attachment, you'll get a new anti-virus warning: "Blocked for security reasons", "1 attachment contains a virus or blocked file. Downloading this attachment is disabled".


.JS has been added to the long list of file types that are blocked by Gmail for security reasons. The full list: .ADE, .ADP, .BAT, .CHM, .CMD, .COM, .CPL, .EXE, .HTA, .INS, .ISP, .JAR, .JS (NEW), .JSE, .LIB, .LNK, .MDE, .MSC, .MSI, .MSP, .MST, .NSH .PIF, .SCR, .SCT, .SHB, .SYS, .VB, .VBE, .VBS, .VXD, .WSC, .WSF, .WSH. "To prevent against potential viruses, Gmail doesn't allow you to attach certain types of files, including: certain file types (listed above), including their compressed form (like .gz or .bz2 files) or when found within archives (like .zip or .tgz files), documents with malicious macros, archives whose listed file content is password protected, archives whose content includes a password protected archive."

The GSuite Blog informs that "for inbound mail, senders will get a bounce message explaining why the email was blocked. If you still need to send .js files for legitimate reasons, you can use Google Drive, Google Cloud Storage, or other storage solutions to share or send your files."

You can still send JavaScript files using Gmail if you change the extension. What about downloading old .js attachments? Try the workarounds from this post.
19 Feb 2017 10:39am GMT
25 Jan 2017
Google Image Search has a different way to display suggestions: it now shows a long list of colorful boxes with related searches. You can click one or more boxes to dynamically refine search results.



For example, when searching for [sportswear], Google shows suggestions like: [women basketball], [tennis], [badminton], [golf], [volleyball], [nike woman], [alexander wang], [adidas], [fashion], [performance], [vintage], [trendy], [urban], [school], [gym], [90's], [70's], [vogue], [luxe], [avant garde], [korean], [italian], [french] and more. It's interesting to notice that each category of suggestions has a different color.



Here's the old interface, which had fewer suggestions and displayed thumbnails next to suggestions:


25 Jan 2017 9:39pm GMT
11 Nov 2011
As Google pushes fresh search results, a helpful Google search tool for historical searches quietly vanished earlier this month. Google has confirmed that Google's Timeline search option, which debuted in 2007, has been discontinued. By cl...
11 Nov 2011 9:35pm GMT
Google has graduated Think Insights from beta. This tool now compiles real-time data from Google search and other platforms, combining those facts with additional studies, infographics, and more. Users can find the site at ThinkwithGoogle.com, a...
11 Nov 2011 8:45pm GMT
Google has just acquired startup Katango, makers of a Facebook friends list generating iPhone app released this July. Shortly after its debut, however, Katango's autogenerator faced serious competition from Facebook itself, as it rolled out ...
11 Nov 2011 7:35pm GMT
26 Aug 2011
The Emperor instructed the gardener to set up the new court's garden. "I want you to plant five trees growing the Crataan fruit," the Emperor said, "Because we asked people what fruit they like best, and most named the Crataan fruit!" The gardener replied, "Emperor, that is excellent thinking! But let me make some suggestions: First, how about we make one of the five trees bear the Muran fruit. Only one out of ten citizens loves it, but those peculiar citizens tend to love multiple times as much!" "Second," the gardener continued, "How about we make one of the five trees bear the Dratean fruit. No one loves it, but that's because no one knows it yet!" "Third," the gardener said, "How about we leave one spot in the garden empty. Who knows what new type of tree we'll discover that we can put there in the fut ...
26 Aug 2011 12:12pm GMT
15 Aug 2011
For those of you who've been wondering whether I had turned to stone, fallen into a bottomless pit, or been climbing the Himalaya... no, none of that is true, even though you probably did notice I'm not actively blogging about Google here anymore*! Just now, a new iPad app I've been working on called Color Sound Machine went live, and this -- and all the other apps and games at Versus Pad** -- are actually what I am doing while not blogoscoping. *I've drafted unpublished posts explaining much more about past, present and future of Blogoscoped, and the history of Google news reporting, but ... oh, for now le ...
15 Aug 2011 4:00pm GMT
25 Feb 2011
One of the earliest specialist services provided by Google was reverse phone number lookup. If you used the "phonebook:" or "rphonebook:" operators together with a 10-digit US phone number, Google would show you the owner of that phone number, unless the number was unlisted. Google no longer provides that service. Not surprisingly, there was no press release marking the closure, but Google employee Daniel Russell has acknowledged the closure of the service in his blog. He hints at the possible pressures leading to the shuttering of the service: "As you can imagine, this was an endless source of hassles for people (who were surprised to see themselves searchable on Google) and for Google (who had to constantly de ...
25 Feb 2011 11:23am GMT