21 Oct 2019
With fall around the corner here in the U.S., our thoughts at Google Cloud are turning to … baking. Apple pies, applesauce, apple crisps-we've got it all covered.
Because, for us, when we think of apples, what comes to mind is virtualization, which is the way computer servers are divided up to be more efficient. No, really. Bear with us while we explain why. Most of the computers running the applications you use, like email and web browsing, are not just one computer. They're a set of computers, divided up into virtual computers, also called virtual machines. (There are millions upon millions of VMs in the world, so you have an idea of the scale.)
When this concept first arrived, it changed computing entirely. Instead of one computer in one physical box (remember those desktop towers we all used to have at work?), that one physical box could now hold multiple computers that members of the IT team managed through software (called a hypervisor). So the one computer that held all of the HR department's applications and files, for example, could now also hold the finance team's applications and files too, without having to buy another computer. Here's where the apples come in: If you think of a single, non-virtualized computer as a single apple, virtualization is that apple, but sliced up.
But what about virtualization in the cloud?
In the years since virtualization was invented, it's come a long way, especially as the cloud has come into the picture. Now, each of those virtual computers (known as virtual machines, or VMs) don't need to be managed by that special software on-premises, but can actually be moved to the cloud and managed there. So there are different ways a company might choose to move their VMs-usually containing most or all of the applications and data that actually run their companies-into the cloud. They might just move those apple slices as is from their grocery store package (on-prem) to a plate (the cloud).
But they might want to update those servers to work better in the cloud and be more efficient, so people get the information they need easily and quickly. In that case, they may modernize the servers-so those apple slices might now be mixed with some cinnamon and baked into a pie. You can still make out the actual slices, but they're different from raw slices and have different pros and cons. Or, the IT teams moving the virtual servers might go even further with changing and modernizing them, so now they're applesauce. You can't make out the individual servers, or slices, anymore. But they maintain the same data and information they had before, but that data can be used and accessed more easily and by more computers and users than before.
What we find at Google Cloud is that moving those sliced apples into the cloud as they are is a good place to start. They're familiar, and look like they did before, so it's a successful first step in the overall move to cloud. From an IT perspective, it's easier to keep managing those apple slices because you're already familiar with them.
But, eventually, your business might yearn for something beyond apple slices. And that's when you have to start cooking a little bit. A logical step might be to turn those virtual machines into containers instead, which is somewhat akin to baking an apple pie. There are clearly similarities you can see between the virtual machines and your new containers, but it's still different-and tastier. And, from IT's perspective, easier to manage, since there aren't as many separate tools to keep track of. Plus, containers let you pack even more applications in because you can use fewer computing resources for each container vs. those virtual servers you started with.
We see lots of different journeys to cloud and those are just two examples. For us, though, we like to help customers plan how they'll get all those servers to the cloud. So no matter what you want to do with your "apple slices," we'll figure out the best recipe for you based on your goals, requirements and constraints.
Learn more about
cloud migration
.
21 Oct 2019 4:00pm GMT
Growing up, I loved everything about Halloween: the candy, staying up past my bedtime and my small suburban town that came to life at night. But I always struggled with finding the right costume. I'd ask my friends and roam party stores for hours to no avail. One time, I even dressed up as "binary code"-I wore head-to-toe silver and wrote "Happy Halloween" in binary on my costume-in a moment of last-minute desperation.
Had I worked at Google then, I'm sure this idea would have been more popular with my peers, but it didn't quite land at the time. But thanks to the tech available today, it's much easier to come up with a great costume idea. Now, a simple search or voice command can lead me to thousands of ideas instantly, and show me step-by-step how to recreate them myself.
Come to think of it, technology has made so many things about Halloween easier. In celebration of that, we're sharing 13 tips and tricks from Google Nest for Halloween-whether you're trick-or-treating, hosting a party or staying in with a scary movie.
1. New! Enable spooky ringtones on Nest Hello.Starting today through early November, all Nest Hello users in the U.S. will have the ability to transform their doorbell chime into a cackling witch, a ghost, a vampire or a scary monster to make your front door a neighborhood destination on Halloween night. And the festive features don't stop there: Winter ringtones are coming in late November.
2. Get costume and makeup inspiration. With Nest Hub and Nest Hub Max, you can watch YouTube videos with a simple command. For costume inspiration and DIY tips, just say "Hey Google, show me DIY Halloween costume videos," or "show me Halloween makeup videos on YouTube," and scroll through the list.
3. "Hey Google, get spooky."Say this command to one of your Google Nest speakers or displays and your device will start an hour-long playlist of "spooktacular" sounds and music to greet your trick-or-treaters or party guests.
4. Enjoy your favorite scary movie.Use Chromecast to cast your favorite scary movie to your TV (media content subscriptions may be required). To take your experience up a notch, you can create a speaker group for cast-enabled speakers around your entertainment center for room-filling sound effects, too.
5. Get the family involved. If Grandma or Grandpa can't see your trick-or-treaters all dressed up, simply give them a quick video call using Nest Hub Max and Duo: "Hey Google, video call Grandma."
6. Conquer your to-do list.Busy families have lots to prep for in the lead-up to Hallow's Eve. As you remember things you have to do, just add them to a running list of reminders: "Hey Google, remind me to pick up cupcakes for school," and when you head out for the day, you'll have the reminder on your phone.
7. Add candy to your shopping list with ease.Just say, "Hey Google, create a list," which you can then name "Candy Shopping," and your Google Assistant will ask what you want to add.
8. Learn a festive new recipe.Say "Hey Google, show me recipes for pan de muerto" to your Nest Hub display and see a list of traditional Day of the Dead bread recipes to choose from and follow along, completely hands-free.
9. Protect your home from Mischief Night.Nest cameras like Nest Cam Outdoor and Nest Hello notify you when activity is detected around your house, and you can talk and listen through the Nest app to deter trespassers and TP'ers.
10. Find one-stop shopping near you.Just say, "Hey Google, show me Halloween stores nearby" to one of your smart displays to see options near you. Once you tap on one, you can say "Hey Google, call this store" to give them a ring (in the U.S., U.K., and Canada only).
11. Hear your favorite Halloween playlist in a heartbeat.Google Home Max is our smart speaker made for music lovers. Use it to blast your favorite playlist-whether your ideal Halloween tunes involve "The Monster Mash" or indie rock.
12. Set up a ghostly guest network for your party.Using Google Wifi, you can create a separate network for your party guests and give it a fun name and password, like "Hocus Pocus."
13. A party to remember, with help from our partners. Google Nest products work with over 30,000 partners in the U.S.-everything from smart lights to Wi-Fi plugs for smoke machines-so you can throw the ultimate Halloween party with a little help from tech.
21 Oct 2019 2:00pm GMT
In today's mobile-first world, people use a wide range of device types. As a result, app publishers who use banner ads must now serve them across a greater variety of screen sizes and layouts. While some responsive banner ad formats exist, they often produce ads that are too small and not sufficiently tailored to the height and aspect ratio of each device.
To address this, we've created a new banner type called adaptive anchor banners. These ads dynamically adjust banner sizes to deliver a creative that is ideally sized across your user's devices without the need for any custom code.
The adaptive anchor banner advantage
Adaptive anchor banners are designed to be a drop-in replacement for the industry standard 320x50 banner size and the smart banner format. Standard sized banners return the same sized creative across every screen, which often results in ads that appear too small or too large. Smart banners only support fixed heights, so they often return creative that appears too small on high-res devices.
Unlike other banner APIs on the market, adaptive anchor banners consider the device in use, the ad width you're comfortable using, and the aspect ratios and performance of all available demand. Adaptive anchor banners return creatives with the best height and aspect ratio for each device, with hard limits to prevent the wrong sizes from being served.
Your banners will look better than ever in your app, and writing custom code to handle different devices will be a task of the past. Using this format in place of standard and/or smart banners can help you maximize revenue while also making managing your ads less complex and more efficient.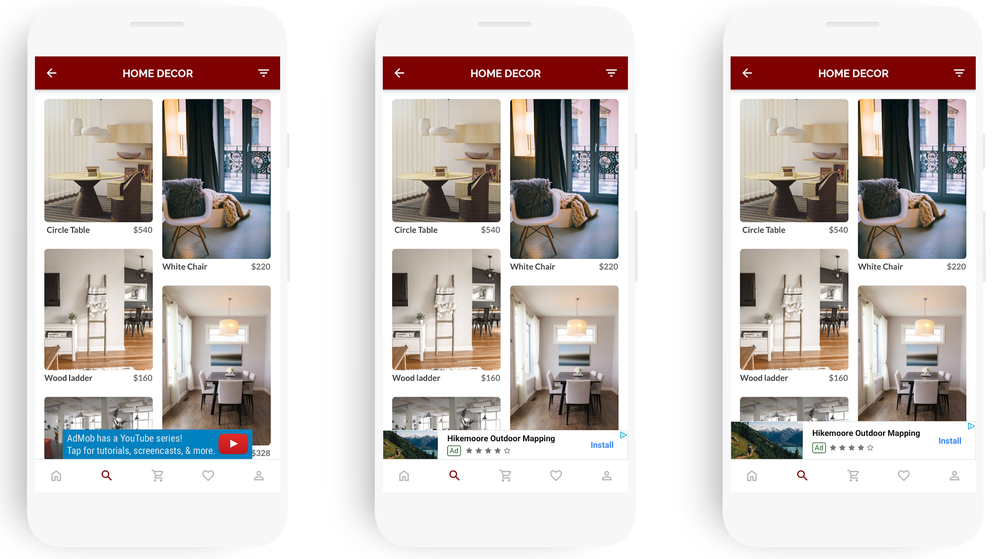 Standard banner vs. smart banner vs. AdMob's adaptive anchor banner
Getting started with adaptive anchor banners
Adaptive anchor banners are a great option for AdMob publishers who want the simplest solution to getting the best banner ad returned across any device. This format is still in beta on Google Ad Manager, so publishers who want to try it out on that platform should reach out to their account managers or contact our support team.
Adaptive anchor banners are currently only available for anchored placements-banners locked to the top or bottom of the screen. However, AdMob is actively developing another adaptive algorithm for in-line banners placed in scroll views or within content.
To get started with adaptive anchor banners for AdMob, check out our implementation guides (iOS, Android). We walk you through when it's appropriate to use adaptive banners, implementation notes, and code examples.
We recommend testing adaptive banners against some of your existing banner ads to understand how they can help you maximize fill rates, engagement, and revenue.
21 Oct 2019 1:00pm GMT
Misconceptions about disavowing links can have detrimental impacts on your website's visibility and should be handled very carefully.

Please visit Search Engine Land for the full article.
21 Oct 2019 10:39am GMT
See average cart size, cost of goods sold, gross profit and more for your campaigns.

Please visit Search Engine Land for the full article.
21 Oct 2019 10:30am GMT
Behold: The Big SMX Preview Is Here!

Please visit Search Engine Land for the full article.
21 Oct 2019 10:00am GMT
Fitbit has discontinued their Fitbit One step trackers, which seems like a good opportunity to step back and reflect on wearing one for the last decade or so. I've enjoyed using Fitbit trackers, but the One devices seemed like they broke down way too often. I'm pretty proud that I ended up earning all the […]
21 Oct 2019 3:06am GMT
04 Nov 2018
Do you need something to cheer you up? You got it: I should explain this costume a little bit. At the US Digital Service, we do a thing called "crab claws." Crab claws is like visual applause-you pinch your fingers up and down to say "great job" or "congratulations" or "way to go." We do […]
04 Nov 2018 8:02pm GMT
08 Mar 2018
Cindy Cutts, my wife and best friend, passed away earlier this week. While I was traveling for work recently, Cindy went to visit her family in Omaha, Nebraska. On Sunday, while enjoying time with family, Cindy started having trouble breathing. Her family quickly called 911 and paramedics took Cindy to the hospital, but Cindy lost […]
08 Mar 2018 12:17am GMT
01 Apr 2017
April Fools' Day should probably be called Google Fools' Day, since there are so many Google hoaxes.

Google Japan developed a "bubble wrap" version of the Japanese keyboard. "The Google Japanese input bubble wrap version is a keyboard that realizes 'I want to press in my mind, I want to keep pressing'," according to Google Translate.




Another product for your smart home? Meet Google Gnome, "a voice-activated, hands-free tool designed to make backyard living effortless. Need to know what animal is squeaking in your bushes? Stay still and ask Gnome what sound an opossum makes. Running low on birdseed? That's where Gnome comes in. You can even use Gnome's proprietary high-intensity lasers to trim your hedges into whatever shape your heart desires."




The Chrome OS team brings the most popular mobile accessories to the Chromebook, which already blurs the line between mobile and desktop. Chromebook Groupie Stick, Chromebook Cardboard, Chromebook Workout Armband will soon be available in the Google Store. "To take advantage of beautiful, high-resolution displays, as well as great photo editing apps, we've carefully engineered the first Chromebook-sized selfie stick. Never again will you miss the perfect groupie."



Haptic Helpers make VR even more immersive. "We're taking VR to the next level with Haptic Helpers. Using a modest set of everyday tools, these VR virtuosos can simulate more than 10,000 unique experiences, all from the comfort of your own home. Smell the roses. Listen to the ocean. Feel a fluffy dog!"


You can now play the classic arcade game MS. PAC-MAN in Google Maps. "Avoid Blinky, Pinky, Inky, and Sue as you swerve the streets of real places around the world. But eat the pac-dots fast, because this game will only be around for a little while." Just go to the Google Maps site or open the Google Maps app for Android or iOS and click or tap MS. PAC-MAN at the bottom.



Google Cloud Platform expands to Mars. "By opening a dedicated extraterrestrial cloud region, we're bringing the power of Google's compute, network, and storage to the rest of the solar system, unlocking a plethora of possibilities for astronomy research, exploration of Martian natural resources and interplanetary life sciences. This region will also serve as an important node in an extensive network throughout the solar system. Our first interplanetary data center - affectionately nicknamed 'Ziggy Stardust' - will open in 2018," mentions Google.



Google Netherlands came up with Google Wind, a machine learning technology that controls the weather. "The Netherlands has many windmills, some no longer in use, we can connect to Google Cloud Platform. So we use the existing Dutch infrastructure, machine learning, weather patterns to control the network of windmills when rain is approaching. The first test results are very promising: we seem to be able to provide sun and clear skies for everyone in the Netherlands," mentions Google Netherlands blog.




Google's search app for iOS is now optimized for cats and dogs. "On the Google app for iOS, you can now use 3D Touch on the app icon or head to settings and select I'm Feeling Woof or I'm Feeling Meow to let your dogs and cats get info on topics they care about-whether that means squeaky toys or a bowl of milk!"



Google also launched Google Play for Pets, a new category of Android games designed for cats, dogs and other pets.


Google Translate's Word Lens feature supports a new language: Heptapod B, the alien language from the movie "Arrival". "The challenge with understanding Heptapod B is its nonlinear orthography. Fortunately, Google's neural machine translation system employs an encoder/decoder system that internally represents sentences as high-dimensional vectors. These vectors map well to the non-linear orthography of the Heptapod language and they are really the enabling technical factor in translating Heptapod B."


01 Apr 2017 7:25am GMT
19 Feb 2017
If you try to send a JavaScript attachment using Gmail or if you want to download a .js attachment, you'll get a new anti-virus warning: "Blocked for security reasons", "1 attachment contains a virus or blocked file. Downloading this attachment is disabled".


.JS has been added to the long list of file types that are blocked by Gmail for security reasons. The full list: .ADE, .ADP, .BAT, .CHM, .CMD, .COM, .CPL, .EXE, .HTA, .INS, .ISP, .JAR, .JS (NEW), .JSE, .LIB, .LNK, .MDE, .MSC, .MSI, .MSP, .MST, .NSH .PIF, .SCR, .SCT, .SHB, .SYS, .VB, .VBE, .VBS, .VXD, .WSC, .WSF, .WSH. "To prevent against potential viruses, Gmail doesn't allow you to attach certain types of files, including: certain file types (listed above), including their compressed form (like .gz or .bz2 files) or when found within archives (like .zip or .tgz files), documents with malicious macros, archives whose listed file content is password protected, archives whose content includes a password protected archive."

The GSuite Blog informs that "for inbound mail, senders will get a bounce message explaining why the email was blocked. If you still need to send .js files for legitimate reasons, you can use Google Drive, Google Cloud Storage, or other storage solutions to share or send your files."

You can still send JavaScript files using Gmail if you change the extension. What about downloading old .js attachments? Try the workarounds from this post.
19 Feb 2017 10:39am GMT
25 Jan 2017
Google Image Search has a different way to display suggestions: it now shows a long list of colorful boxes with related searches. You can click one or more boxes to dynamically refine search results.



For example, when searching for [sportswear], Google shows suggestions like: [women basketball], [tennis], [badminton], [golf], [volleyball], [nike woman], [alexander wang], [adidas], [fashion], [performance], [vintage], [trendy], [urban], [school], [gym], [90's], [70's], [vogue], [luxe], [avant garde], [korean], [italian], [french] and more. It's interesting to notice that each category of suggestions has a different color.



Here's the old interface, which had fewer suggestions and displayed thumbnails next to suggestions:


25 Jan 2017 9:39pm GMT
11 Nov 2011
As Google pushes fresh search results, a helpful Google search tool for historical searches quietly vanished earlier this month. Google has confirmed that Google's Timeline search option, which debuted in 2007, has been discontinued. By cl...
11 Nov 2011 9:35pm GMT
Google has graduated Think Insights from beta. This tool now compiles real-time data from Google search and other platforms, combining those facts with additional studies, infographics, and more. Users can find the site at ThinkwithGoogle.com, a...
11 Nov 2011 8:45pm GMT
Google has just acquired startup Katango, makers of a Facebook friends list generating iPhone app released this July. Shortly after its debut, however, Katango's autogenerator faced serious competition from Facebook itself, as it rolled out ...
11 Nov 2011 7:35pm GMT
26 Aug 2011
The Emperor instructed the gardener to set up the new court's garden. "I want you to plant five trees growing the Crataan fruit," the Emperor said, "Because we asked people what fruit they like best, and most named the Crataan fruit!" The gardener replied, "Emperor, that is excellent thinking! But let me make some suggestions: First, how about we make one of the five trees bear the Muran fruit. Only one out of ten citizens loves it, but those peculiar citizens tend to love multiple times as much!" "Second," the gardener continued, "How about we make one of the five trees bear the Dratean fruit. No one loves it, but that's because no one knows it yet!" "Third," the gardener said, "How about we leave one spot in the garden empty. Who knows what new type of tree we'll discover that we can put there in the fut ...
26 Aug 2011 12:12pm GMT
15 Aug 2011
For those of you who've been wondering whether I had turned to stone, fallen into a bottomless pit, or been climbing the Himalaya... no, none of that is true, even though you probably did notice I'm not actively blogging about Google here anymore*! Just now, a new iPad app I've been working on called Color Sound Machine went live, and this -- and all the other apps and games at Versus Pad** -- are actually what I am doing while not blogoscoping. *I've drafted unpublished posts explaining much more about past, present and future of Blogoscoped, and the history of Google news reporting, but ... oh, for now le ...
15 Aug 2011 4:00pm GMT
25 Feb 2011
One of the earliest specialist services provided by Google was reverse phone number lookup. If you used the "phonebook:" or "rphonebook:" operators together with a 10-digit US phone number, Google would show you the owner of that phone number, unless the number was unlisted. Google no longer provides that service. Not surprisingly, there was no press release marking the closure, but Google employee Daniel Russell has acknowledged the closure of the service in his blog. He hints at the possible pressures leading to the shuttering of the service: "As you can imagine, this was an endless source of hassles for people (who were surprised to see themselves searchable on Google) and for Google (who had to constantly de ...
25 Feb 2011 11:23am GMT