17 Aug 2018
Daydreaming and I'm thinking of Trends. This week, with a little help from the Google News Lab we honor the Queen of Soul, celebrate birthdays, shine some light on the left-handed among us and much more. Here's a look at this week's top trends.
Paying respect to a legend
On Thursday, we said goodbye to Aretha "Queen of Soul" Franklin who lost her battle with pancreatic cancer at 76. This musical legend gave the world iconic hits like "Respect," "Natural Woman," "Think," "I Say A Little Prayer," and "Chain of Fools," all of which came in as the most-searched Aretha Franklin songs this week. She never shied away from the opportunity to flaunt her dramatic furs and show-stopping hats, all while reaching octaves and bravados that could make anyone drown in their own tears. Celebrities, world leaders and fans alike took time to pay their respects with folks in D.C., Michigan, Maryland, Georgia and Mississippi continuing to Rock Steady and search for details on the Queen of Soul. May we forever ride the midnight train of soul and take a drive down the Freeway of Love because that's what Aretha would want us to do.
Dodging traffic in Los Angeles
Traffic is a way of life in Los Angeles and Elon Musk's Boring Company is looking to make life a little bit easier, at least if you're going to Dodger Stadium. The company is proposing a 3.6-mile underground tunnel in an effort to curb congestion on L.A. roads and people are intrigued. So much so that search interest in "boring company tunnel" spiked more than 60 percent over the past week in the U.S. Some people had tunnel vision, also searching for the North River Tunnels, Twin Peaks tunnel and Hezekiah's Tunnel.
Sixty going on thirty
Madonna and Angela Bassett celebrated their sixtieth birthdays this week and people were in utter disbelief. Questions like "How old was Madonna when she had her daughter?" and "How does Angela Bassett stay looking so young?" were trending, as the mystery behind their fountain of youth glow remains unsolved. Washington D.C. was one of the top regions searching for both Madonna and Angela Bassett and the top search question on turning 60 was "What to say to someone turning 60?" Uhhh … Happy Birthday?
Righty tighty, lefty loosey
Left-handers day was this past Monday and to celebrate, Oreo created a special left handers package and even sent a free package of cookies to all the residents of Left Hand, West Virginia. Lefties and righties alike took to Search to find out, "What percentage of people are left handed," "Is there a left handers day club," and "Is LeBron James left handed." They also wanted to know if there were products and perks made especially for lefties such as "Best pens for lefties" and "Scholarships for lefties." Looks like this week was the right week to be a left-handed.
Representation matters
Crazy Rich Asians, the first major studio production in 25 years to star an all-Asian cast, opened in theaters this week and is on track to net $30 million dollars by the end of the weekend. The top five states searching for the film include D.C., California, Hawaii, New York and Washington, and people searching for Crazy Rich Asians also searched for Geetha Govindam, Mile 22, and BlacKkKlansman over the past week in the U.S. Double-feature weekend at the theater anyone?
17 Aug 2018 5:20pm GMT
Below is what happened in search today, as reported on Search Engine Land and from other places across the web.

Please visit Search Engine Land for the full article.
17 Aug 2018 4:00pm GMT
Building landing pages? Contributor Jacob Baadsgaard has compiled a tried-and-true list of 15 questions to help guide you in creating and evaluating new landing pages.

Please visit Search Engine Land for the full article.
17 Aug 2018 3:46pm GMT
Many of society's most pressing problems have grown increasingly complex, so the search for solutions can feel overwhelming. At DeepMind and Google, we believe that if we can use AI as a tool to discover new knowledge, solutions will be easier to reach.
In 2016, we jointly developed an AI-powered recommendation system to improve the energy efficiency of Google's already highly-optimized data centers. Our thinking was simple: Even minor improvements would provide significant energy savings and reduce CO2 emissions to help combat climate change.
Now we're taking this system to the next level: instead of human-implemented recommendations, our AI system is directly controlling data center cooling, while remaining under the expert supervision of our data center operators. This first-of-its-kind cloud-based control system is now safely delivering energy savings in multiple Google data centers.
How it works
Every five minutes, our cloud-based AI pulls a snapshot of the data center cooling system from thousands of sensors and feeds it into our deep neural networks, which predict how different combinations of potential actions will affect future energy consumption. The AI system then identifies which actions will minimize the energy consumption while satisfying a robust set of safety constraints. Those actions are sent back to the data center, where the actions are verified by the local control system and then implemented.
The idea evolved out of feedback from our data center operators who had been using our AI recommendation system. They told us that although the system had taught them some new best practices-such as spreading the cooling load across more, rather than less, equipment-implementing the recommendations required too much operator effort and supervision. Naturally, they wanted to know whether we could achieve similar energy savings without manual implementation.
We're pleased to say the answer was yes!
We wanted to achieve energy savings with less operator overhead. Automating the system enabled us to implement more granular actions at greater frequency, while making fewer mistakes.

Dan Fuenffinger
Data Center Operator, Google
Designed for safety and reliability
Google's data centers contain thousands of servers that power popular services including Google Search, Gmail and YouTube. Ensuring that they run reliably and efficiently is mission-critical. We've designed our AI agents and the underlying control infrastructure from the ground up with safety and reliability in mind, and use eight different mechanisms to ensure the system will behave as intended at all times.
One simple method we've implemented is to estimate uncertainty. For every potential action-and there are billions-our AI agent calculates its confidence that this is a good action. Actions with low confidence are eliminated from consideration.
Another method is two-layer verification. Optimal actions computed by the AI are vetted against an internal list of safety constraints defined by our data center operators. Once the instructions are sent from the cloud to the physical data center, the local control system verifies the instructions against its own set of constraints. This redundant check ensures that the system remains within local constraints and operators retain full control of the operating boundaries.
Most importantly, our data center operators are always in control and can choose to exit AI control mode at any time. In these scenarios, the control system will transfer seamlessly from AI control to the on-site rules and heuristics that define the automation industry today.
Find out about the other safety mechanisms we've developed below: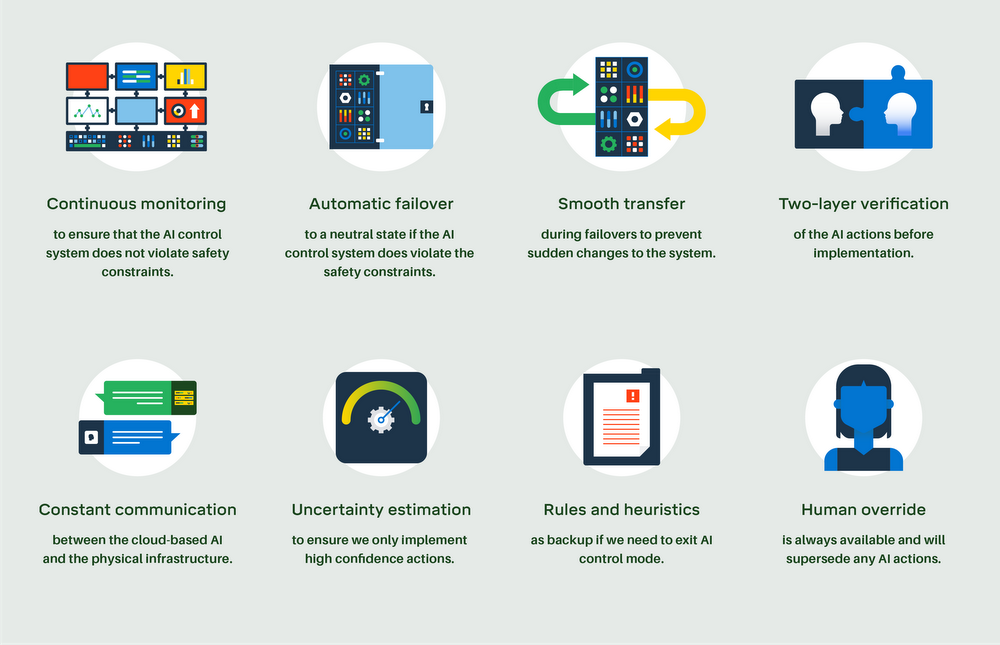 Increasing energy savings over time
Whereas our original recommendation system had operators vetting and implementing actions, our new AI control system directly implements the actions. We've purposefully constrained the system's optimization boundaries to a narrower operating regime to prioritize safety and reliability, meaning there is a risk/reward trade off in terms of energy reductions.
Despite being in place for only a matter of months, the system is already delivering consistent energy savings of around 30 percent on average, with further expected improvements. That's because these systems get better over time with more data, as the graph below demonstrates. Our optimization boundaries will also be expanded as the technology matures, for even greater reductions.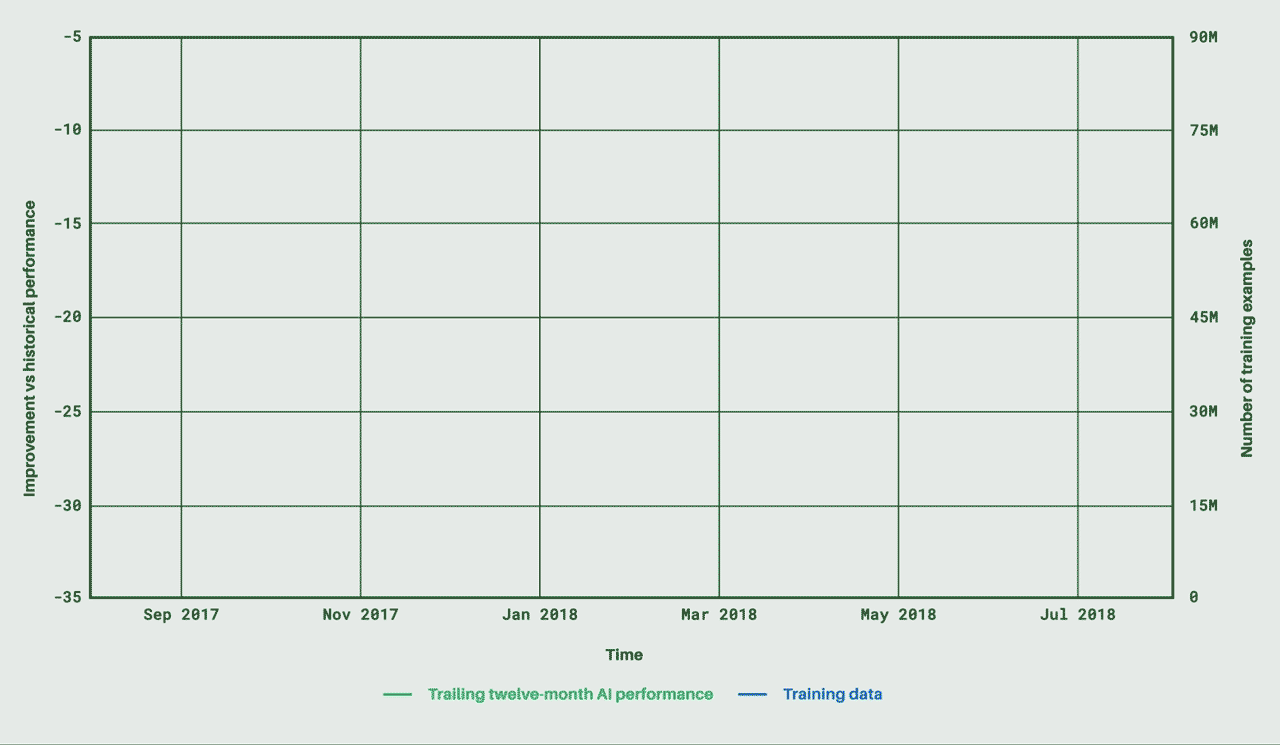 This graph plots AI performance over time relative to the historical baseline before AI control. Performance is measured by a common industry metric for cooling energy efficiency, kW/ton (or energy input per ton of cooling achieved). Over nine months, our AI control system performance increases from a 12 percent improvement (the initial launch of autonomous control) to around a 30 percent improvement.
Our direct AI control system is finding yet more novel ways to manage cooling that have surprised even the data center operators. Dan Fuenffinger, one of Google's data center operators who has worked extensively alongside the system, remarked: "It was amazing to see the AI learn to take advantage of winter conditions and produce colder than normal water, which reduces the energy required for cooling within the data center. Rules don't get better over time, but AI does."
We're excited that our direct AI control system is operating safely and dependably, while consistently delivering energy savings. However, data centers are just the beginning. In the long term, we think there's potential to apply this technology in other industrial settings, and help tackle climate change on an even grander scale.

17 Aug 2018 1:00pm GMT
Is your site getting a lot of traffic? If yes, great! But your work is not over. Contributor Stephanie LeVonne says it's time to implement a conversion rate optimization campaign. Here are four tools to help.

Please visit Search Engine Land for the full article.
17 Aug 2018 10:10am GMT
16 Aug 2018
Today we are introducing two new features to make sharing your Data Studio visualizations easier, including enhanced support for embedding your reports across the web, and rich snippets of your reports when you share them on social networks.
Embed with Embed.ly
Data Studio now supports embedding interactive reports on Medium, Reddit and hundreds of other sites that use Embed.ly. To embed your report, simply paste the report URL in your article. Simply embed your report and it will sync in real time, making it possible for you to distribute your interactive reports. Learn more.
Here are some examples of embedded reports: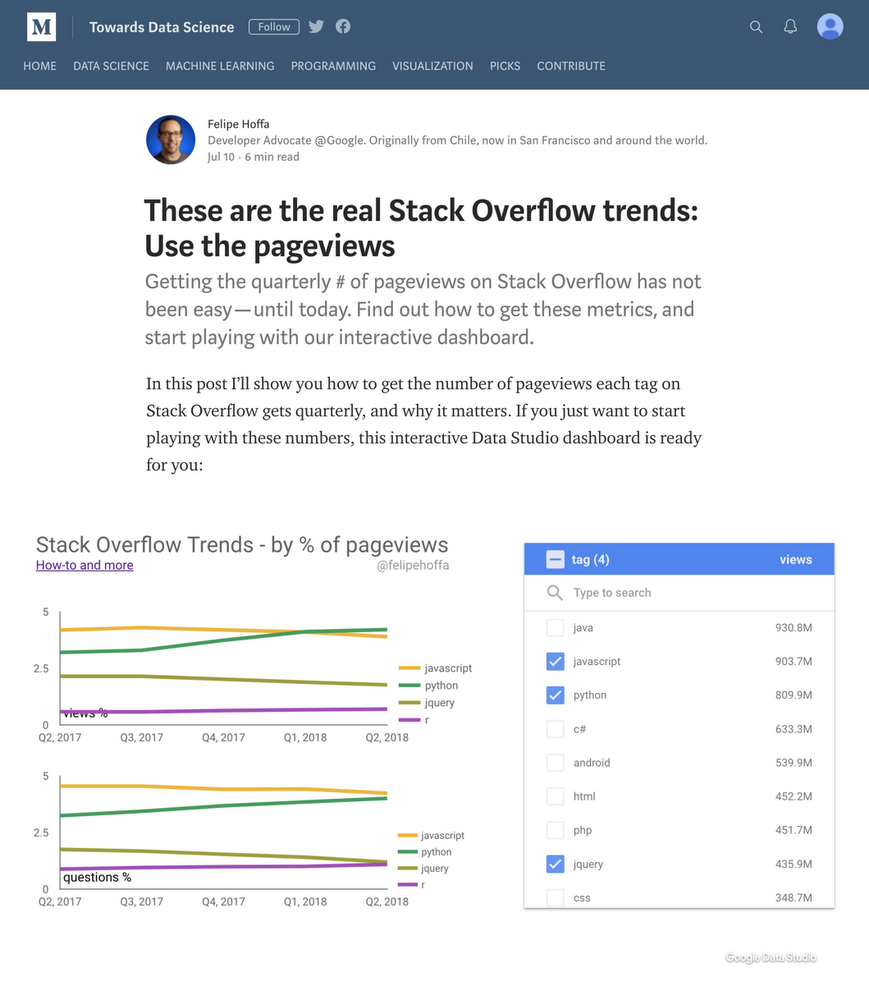 Medium article showing Stack Overflow trends. Link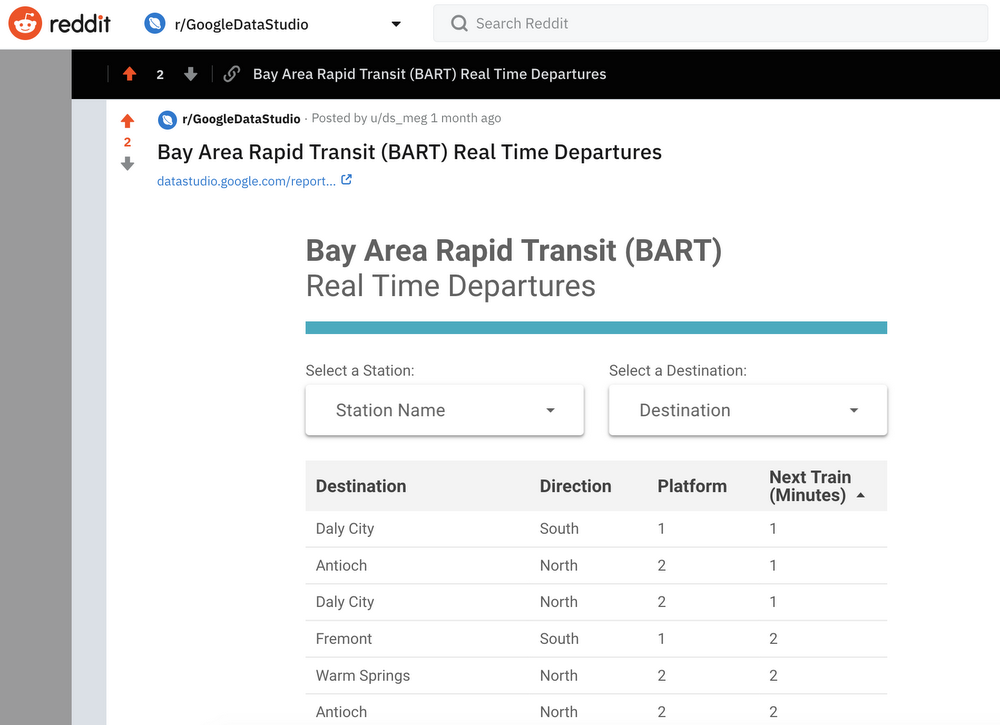 Reddit post showing real time departures for BART (Bay Area Rapid Transit). Link
Share rich snippets on social

When you share your report link on social platforms or messaging apps, you will now see a rich snippet including the title, thumbnail and description of the report. Your audience will know what to expect from the link and have better visibility to your reports. Rich snippets also help make your content more searchable on social networks.
To generate rich snippets, post the report URL you intend to share.
Here's an example of a rich snippet: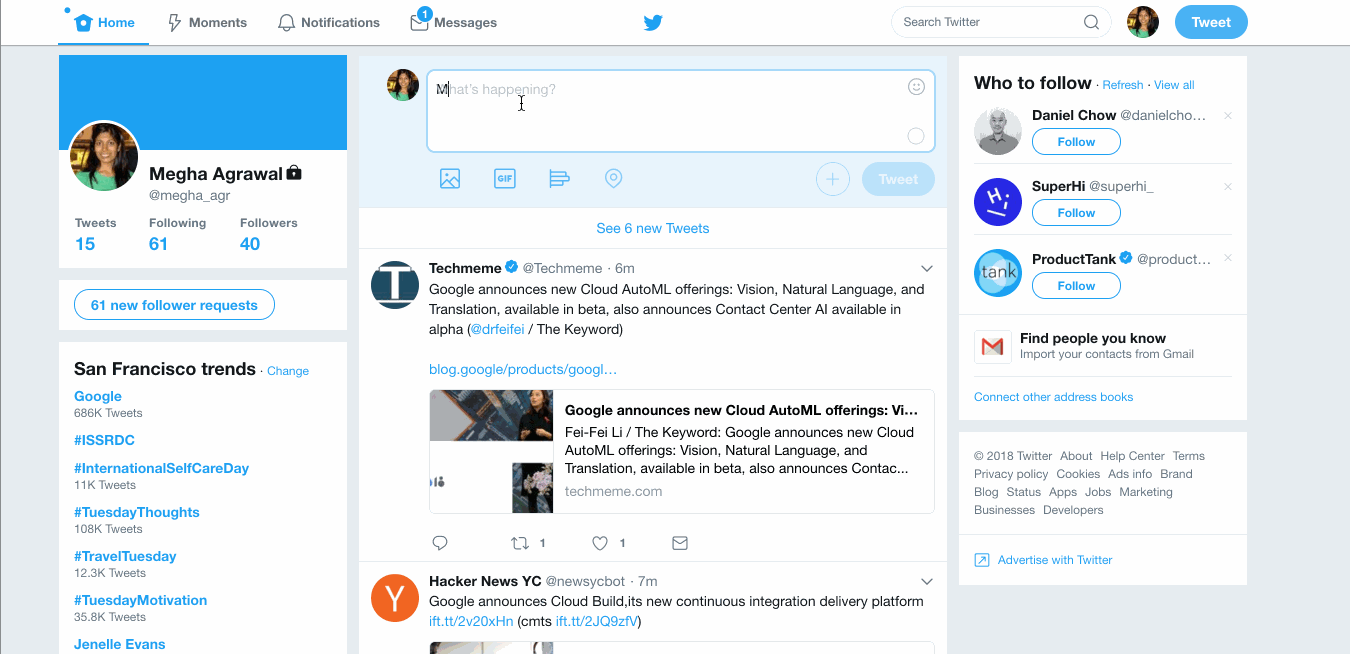 Rich snippets work on any social platform or messaging app that supports Open Graph Protocol including Google+, Facebook, Twitter, LinkedIn, Reddit and apps like Hangouts, iMessage and Slack.
16 Aug 2018 7:00pm GMT
08 Mar 2018
Cindy Cutts, my wife and best friend, passed away earlier this week. While I was traveling for work recently, Cindy went to visit her family in Omaha, Nebraska. On Sunday, while enjoying time with family, Cindy started having trouble breathing. Her family quickly called 911 and paramedics took Cindy to the hospital, but Cindy lost […]
08 Mar 2018 12:17am GMT
22 Jan 2018
Last week, I passed my one year anniversary as head of the US Digital Service (USDS). So when Mr. Money Mustache asked for an interview, I was delighted to talk about some of the work that the USDS does. If you aren't familiar with Mr. Money Mustache, he writes about a philosophy of badassity in […]
22 Jan 2018 6:58pm GMT
01 Apr 2017
April Fools' Day should probably be called Google Fools' Day, since there are so many Google hoaxes.

Google Japan developed a "bubble wrap" version of the Japanese keyboard. "The Google Japanese input bubble wrap version is a keyboard that realizes 'I want to press in my mind, I want to keep pressing'," according to Google Translate.




Another product for your smart home? Meet Google Gnome, "a voice-activated, hands-free tool designed to make backyard living effortless. Need to know what animal is squeaking in your bushes? Stay still and ask Gnome what sound an opossum makes. Running low on birdseed? That's where Gnome comes in. You can even use Gnome's proprietary high-intensity lasers to trim your hedges into whatever shape your heart desires."




The Chrome OS team brings the most popular mobile accessories to the Chromebook, which already blurs the line between mobile and desktop. Chromebook Groupie Stick, Chromebook Cardboard, Chromebook Workout Armband will soon be available in the Google Store. "To take advantage of beautiful, high-resolution displays, as well as great photo editing apps, we've carefully engineered the first Chromebook-sized selfie stick. Never again will you miss the perfect groupie."



Haptic Helpers make VR even more immersive. "We're taking VR to the next level with Haptic Helpers. Using a modest set of everyday tools, these VR virtuosos can simulate more than 10,000 unique experiences, all from the comfort of your own home. Smell the roses. Listen to the ocean. Feel a fluffy dog!"


You can now play the classic arcade game MS. PAC-MAN in Google Maps. "Avoid Blinky, Pinky, Inky, and Sue as you swerve the streets of real places around the world. But eat the pac-dots fast, because this game will only be around for a little while." Just go to the Google Maps site or open the Google Maps app for Android or iOS and click or tap MS. PAC-MAN at the bottom.



Google Cloud Platform expands to Mars. "By opening a dedicated extraterrestrial cloud region, we're bringing the power of Google's compute, network, and storage to the rest of the solar system, unlocking a plethora of possibilities for astronomy research, exploration of Martian natural resources and interplanetary life sciences. This region will also serve as an important node in an extensive network throughout the solar system. Our first interplanetary data center - affectionately nicknamed 'Ziggy Stardust' - will open in 2018," mentions Google.



Google Netherlands came up with Google Wind, a machine learning technology that controls the weather. "The Netherlands has many windmills, some no longer in use, we can connect to Google Cloud Platform. So we use the existing Dutch infrastructure, machine learning, weather patterns to control the network of windmills when rain is approaching. The first test results are very promising: we seem to be able to provide sun and clear skies for everyone in the Netherlands," mentions Google Netherlands blog.




Google's search app for iOS is now optimized for cats and dogs. "On the Google app for iOS, you can now use 3D Touch on the app icon or head to settings and select I'm Feeling Woof or I'm Feeling Meow to let your dogs and cats get info on topics they care about-whether that means squeaky toys or a bowl of milk!"



Google also launched Google Play for Pets, a new category of Android games designed for cats, dogs and other pets.


Google Translate's Word Lens feature supports a new language: Heptapod B, the alien language from the movie "Arrival". "The challenge with understanding Heptapod B is its nonlinear orthography. Fortunately, Google's neural machine translation system employs an encoder/decoder system that internally represents sentences as high-dimensional vectors. These vectors map well to the non-linear orthography of the Heptapod language and they are really the enabling technical factor in translating Heptapod B."


01 Apr 2017 7:25am GMT
19 Feb 2017
If you try to send a JavaScript attachment using Gmail or if you want to download a .js attachment, you'll get a new anti-virus warning: "Blocked for security reasons", "1 attachment contains a virus or blocked file. Downloading this attachment is disabled".


.JS has been added to the long list of file types that are blocked by Gmail for security reasons. The full list: .ADE, .ADP, .BAT, .CHM, .CMD, .COM, .CPL, .EXE, .HTA, .INS, .ISP, .JAR, .JS (NEW), .JSE, .LIB, .LNK, .MDE, .MSC, .MSI, .MSP, .MST, .NSH .PIF, .SCR, .SCT, .SHB, .SYS, .VB, .VBE, .VBS, .VXD, .WSC, .WSF, .WSH. "To prevent against potential viruses, Gmail doesn't allow you to attach certain types of files, including: certain file types (listed above), including their compressed form (like .gz or .bz2 files) or when found within archives (like .zip or .tgz files), documents with malicious macros, archives whose listed file content is password protected, archives whose content includes a password protected archive."

The GSuite Blog informs that "for inbound mail, senders will get a bounce message explaining why the email was blocked. If you still need to send .js files for legitimate reasons, you can use Google Drive, Google Cloud Storage, or other storage solutions to share or send your files."

You can still send JavaScript files using Gmail if you change the extension. What about downloading old .js attachments? Try the workarounds from this post.
19 Feb 2017 10:39am GMT
25 Jan 2017
Google Image Search has a different way to display suggestions: it now shows a long list of colorful boxes with related searches. You can click one or more boxes to dynamically refine search results.



For example, when searching for [sportswear], Google shows suggestions like: [women basketball], [tennis], [badminton], [golf], [volleyball], [nike woman], [alexander wang], [adidas], [fashion], [performance], [vintage], [trendy], [urban], [school], [gym], [90's], [70's], [vogue], [luxe], [avant garde], [korean], [italian], [french] and more. It's interesting to notice that each category of suggestions has a different color.



Here's the old interface, which had fewer suggestions and displayed thumbnails next to suggestions:


25 Jan 2017 9:39pm GMT
19 Jan 2017
A few months ago, I took a leave of absence from Google to do a stint with the US Digital Service. A lot of people know about the US Digital Service because they helped rescue the healthcare.gov website. But you might not realize that the US Digital Service has helped veterans get their health benefits, […]
19 Jan 2017 3:47am GMT
11 Nov 2011
As Google pushes fresh search results, a helpful Google search tool for historical searches quietly vanished earlier this month. Google has confirmed that Google's Timeline search option, which debuted in 2007, has been discontinued. By cl...
11 Nov 2011 9:35pm GMT
Google has graduated Think Insights from beta. This tool now compiles real-time data from Google search and other platforms, combining those facts with additional studies, infographics, and more. Users can find the site at ThinkwithGoogle.com, a...
11 Nov 2011 8:45pm GMT
Google has just acquired startup Katango, makers of a Facebook friends list generating iPhone app released this July. Shortly after its debut, however, Katango's autogenerator faced serious competition from Facebook itself, as it rolled out ...
11 Nov 2011 7:35pm GMT
26 Aug 2011
The Emperor instructed the gardener to set up the new court's garden. "I want you to plant five trees growing the Crataan fruit," the Emperor said, "Because we asked people what fruit they like best, and most named the Crataan fruit!" The gardener replied, "Emperor, that is excellent thinking! But let me make some suggestions: First, how about we make one of the five trees bear the Muran fruit. Only one out of ten citizens loves it, but those peculiar citizens tend to love multiple times as much!" "Second," the gardener continued, "How about we make one of the five trees bear the Dratean fruit. No one loves it, but that's because no one knows it yet!" "Third," the gardener said, "How about we leave one spot in the garden empty. Who knows what new type of tree we'll discover that we can put there in the fut ...
26 Aug 2011 12:12pm GMT
15 Aug 2011
For those of you who've been wondering whether I had turned to stone, fallen into a bottomless pit, or been climbing the Himalaya... no, none of that is true, even though you probably did notice I'm not actively blogging about Google here anymore*! Just now, a new iPad app I've been working on called Color Sound Machine went live, and this -- and all the other apps and games at Versus Pad** -- are actually what I am doing while not blogoscoping. *I've drafted unpublished posts explaining much more about past, present and future of Blogoscoped, and the history of Google news reporting, but ... oh, for now le ...
15 Aug 2011 4:00pm GMT
25 Feb 2011
One of the earliest specialist services provided by Google was reverse phone number lookup. If you used the "phonebook:" or "rphonebook:" operators together with a 10-digit US phone number, Google would show you the owner of that phone number, unless the number was unlisted. Google no longer provides that service. Not surprisingly, there was no press release marking the closure, but Google employee Daniel Russell has acknowledged the closure of the service in his blog. He hints at the possible pressures leading to the shuttering of the service: "As you can imagine, this was an endless source of hassles for people (who were surprised to see themselves searchable on Google) and for Google (who had to constantly de ...
25 Feb 2011 11:23am GMT