17 Oct 2018
As a scientist, educator and businesswoman, my goal is to engage as many young minds as possible to get them excited about science and technology. That's why the explosion in affordable technology over the last few years has been so exciting for STEM evangelists like me. Technology is no longer available only to the affluent and the privileged; instead, computers, tablets and smartphones are in the hands of individuals across all income levels. Reaching such a diverse audience is critical to our society's ability to design the next generation of digital technologies and train the workforce of the future.
As a professor and the founder and Chief Technology Officer atZyrobotics, a company that develops interactive STEM games and learning tools for children, I want our company's educational programs to be available to the greatest number of people in order to have the greatest level of impact. In order to be successful, companies like mine need to reach kids where they spend their time-on their tablets, phones and other electronic learning devices. That means we want our apps to be compatible with as many devices as possible, and it's why we've chosen to use Android's open platform for our development. I've been able to reach far more people by building upon open platforms like Android than I ever could by teaching in a classroom.
As an app developer, I've benefited from Android's ease of use, open coding platform, and popularity within diverse segments of the population. We've been able to expand our reach to all audiences, particularly those in disadvantaged communities. Many lower-income people (and many in developing countries) rely on more affordable or older Android devices, and because Android lets us update apps on older-model phones, we can ensure we're providing the best experience to these users. Open platforms are also the main reason why most of our apps, including those that teach young children to code, are free.
Zyrobotics would be far less successful without the app stores housed on Android and Apple and the number of users we are able to reach through those platforms. Both Google and Apple's app stores have been especially useful in helping us maximize our apps' exposure to the children and parents with whom we want to connect, and helped us introduce important STEM concepts to children as early as five and six years old through30 STEM-focused apps and games, such as our award-winning Turtle "Learn to Code" app.
The United Statescontinues to lag behind other industrialized nations when it comes to preparing our children for STEM careers, and thattechnology workforce gap is partly a result of a lack of early engagement in STEM. Reaching children when their interests are just beginning to take shape is vital to building a more vibrant, diverse and successful STEM workforce for the future. Android helps us do that. I support smart regulation of technology companies that helps ensure that today's technology be made even more widely available, accessible and unbiased.
The benefits of technology to educate and empower the next generation are immeasurable. Open platforms create opportunities-for companies like mine, and the people we serve. Let's keep it that way.
Ayanna Howard, Ph.D., is Chief Technology Officer (CTO) at Zyrobotics, an educational technology company, and the Linda J. and Mark C. Smith Professor at the Georgia Institute of Technology. Her artificial intelligence (AI), robotics and assistive technology research has resulted in more than 250 peer-reviewed publications and a number of commercialized products.
17 Oct 2018 9:45pm GMT
Editor's note: This guest post comes from Conrad Anker, a rock climber and adventurer who used Google Earth to aid his quest to explore Antarctica's remote Queen Maud Land with other athletes from The North Face team.
Nearly twenty-two years ago, my late friend Alex Lowe, Jon Krakauer and I huddled over a stack of tattered Norwegian maps from the"International Geophysical Year, 1957 - 58." These were the first maps of Antarctica's remote Queen Maud Land, a stark glacial landscape dotted with impossibly jagged granite spires protruding from thousands of feet of ice. As we scanned the only detailed account of this faraway land, the complex and cryptic landscape made it blatantly obvious why these were some of the last unclimbed peaks on earth.
Back in '98, our paper maps were a static window into this dynamic land. We peeked in with trepidation, knowing that once we arrived on the ice cap, our lives would depend on rough estimations and ballpark figures, which still left a lot to chance. How many days would it take to reach the towers from our base camp? What if a storm pinned us down? What if we were unable to cross a dangerously crevassed part of the glacier?
Two decades later, the same thirst for pushing limits in the face of the unknown is calling me back to Queen Maud Land. This time the adventure began with my family in the comfort of our living room in Bozeman, Montana-our paper maps are replaced with smartphones and laptops. With Google Earth, my family was able to explore Queen Maud Land with me before my boots ever touched the ground. Together, we flew over snow covered glaciers and found our way up the massive granite walls I hoped to scale with my fellow teammates who are climbing with me as a part of an expedition put together by The North Face. We understood the complexity and enormity of the expedition together.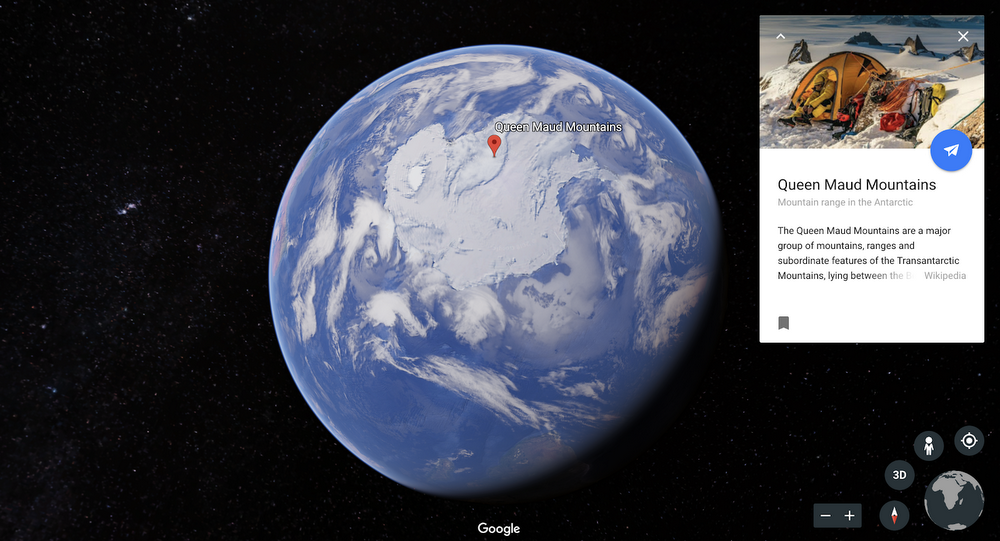 I always tell my family that the most important part of the mission is coming home-a goal that requires obsessive preparation, planning and training. Google Earth allowed us to drop pins on potential landing zones suitable for the fixed wing aircraft we were going to travel in. With the ability to visually assess the landscape in 3D, we could better see hazards and challenges before embarking on the expedition. Climate change has dramatically altered the landscape of the Antarctica I explored in the nineties and looking at up-to-date satellite imagery helped me come up with a new approach to navigating the terrain.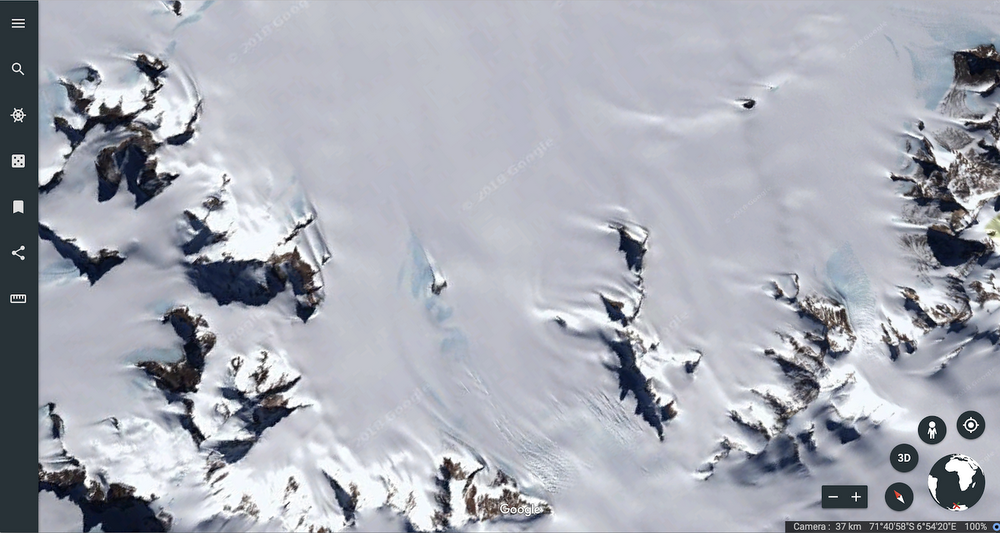 When we finally touched down on the ice, my fellow climber Cedar Wright aptly mentioned that "it was pretty surreal to recognize a place you had never physically been by your time spent exploring it remotely using Google Earth." And he was right. After we got our bearings, we were able to confidently and strategically explore dozens of never-before-climbed peaks in this lunar landscape. The challenges of climbing in the frozen landscape were ever present, but the gift of being able to successfully put up so many stunning new climbs with a team of this caliber was an unforgettable privilege.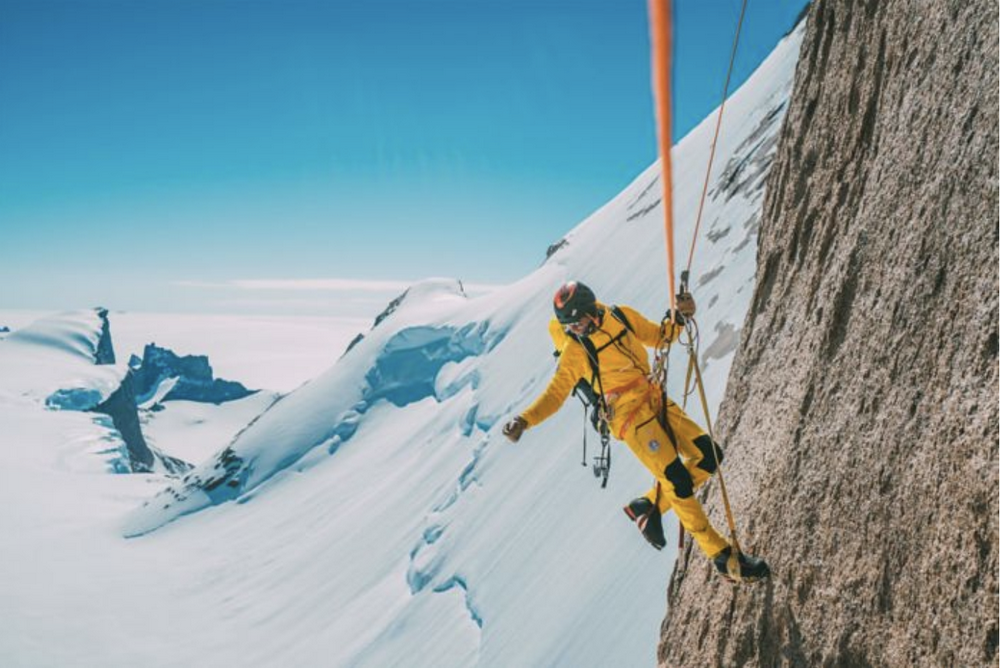 Conrad Anker working his way up Ulvetanna, "The Wolf's Tooth," in the Drygalski Mountain Range, in Antarctica. Photo by Savannah Cummins.
On expeditions like these we are reminded of why we explore. They're a physical and mental challenge that demonstrate how we are capable of succeeding in places we never before thought possible. The spirit of exploration is alive and well across our society-and technology like Google Earth opens up even more possibilities to explore ... so, what will your next adventure be?
Learn more about the expedition and check out all of the photos and videos from The North Face expedition to Antarctica.
17 Oct 2018 5:00pm GMT
Below is what happened in search today, as reported on Search Engine Land and from other places across the web.

Please visit Search Engine Land for the full article.
17 Oct 2018 4:16pm GMT


Security has always been a top priority for Pixel, spanning both the hardware and software of our devices. This includes monthly security updates and yearly OS updates, so Pixel always has the most secure version of Android, as well as Google Play Protect to help safeguard your phone from malware. Last year on Pixel 2, we also included a dedicated tamper-resistant hardware security module to protect your lock screen and strengthen disk encryption.
This year, with Pixel 3, we're advancing our investment in secure hardware with Titan M, an enterprise-grade security chip custom built for Pixel 3 to secure your most sensitive on-device data and operating system. With Titan M, we took the best features from the Titan chip used in Google Cloud data centers and tailored it for mobile.

Here are a few ways Titan M protects your phone.
Security in the Bootloader

First, to protect Android from outside tampering, we've integrated Titan M into Verified Boot, our secure boot process.
Titan M helps the bootloader-the program that validates and loads Android when the phone turns on-make sure that you're running the right version of Android. Specifically, Titan M stores the last known safe Android version and prevents "bad actors" from moving your device back to run on an older, potentially vulnerable, version of Android behind your back. Titan M also prevents attackers running in Android attempting to unlock the bootloader.

Lock Screen Protection & Disk Encryption On-Device

Pixel 3 also uses Titan M to verify your lock screen passcode. It makes the process of guessing multiple password combinations harder by limiting the amount of logon attempts, making it difficult for bad actors to unlock your phone. Only upon successful verification of your passcode will Titan M allow for decryption.
In addition, the secure flash and fully independent computation of Titan M makes it harder for an attacker to tamper with this process to gain the secrets to decrypt your data.

Secure Transactions in Third-Party Apps

Third, Titan M is used not only to protect Android and its functionality, but also to protect third-party apps and secure sensitive transactions. With Android 9, apps can now take advantage of StrongBox KeyStore APIs to generate and store their private keys in Titan M. The Google Pay team is actively testing out these new APIs to secure transactions.
For apps that rely on user interaction to confirm a transaction, Titan M also enables Android 9 Protected Confirmation, an API for protecting the most security-critical operations. As more processes come online and go mobile-like e-voting, and P2P money transfers-these APIs can help to ensure that the user (not malware) has confirmed the transaction. Pixel 3 is the first device to ship with this protection.

Insider Attack Resistance

Last, but not least, to prevent tampering, Titan M is built with insider attack resistance. The firmware on Titan M will never be updated unless you have entered your passcode, meaning bad actors cannot bypass your lock screen to update the firmware to a malicious version.
With the Pixel 3, we've increased our investment in security and put industry-leading hardware features into the device, so you can rest assured that your security and privacy are well protected. In the coming months, the security community will be able to audit Titan through its open-source firmware. In the meantime, you can test out Titan M and all of the smarts Pixel 3 brings, when it goes on sale on Thursday, October 18 in the U.S.

17 Oct 2018 4:00pm GMT
[Reminder] Live Webinar: Thursday, October 18, at 1:00 PM ET (10:00 AM PT)

Please visit Search Engine Land for the full article.
17 Oct 2018 1:56pm GMT
Bing is working on making sure its crawler doesn't miss new content and at the same time overload your web servers.

Please visit Search Engine Land for the full article.
17 Oct 2018 9:19am GMT
08 Mar 2018
Cindy Cutts, my wife and best friend, passed away earlier this week. While I was traveling for work recently, Cindy went to visit her family in Omaha, Nebraska. On Sunday, while enjoying time with family, Cindy started having trouble breathing. Her family quickly called 911 and paramedics took Cindy to the hospital, but Cindy lost […]
08 Mar 2018 12:17am GMT
22 Jan 2018
Last week, I passed my one year anniversary as head of the US Digital Service (USDS). So when Mr. Money Mustache asked for an interview, I was delighted to talk about some of the work that the USDS does. If you aren't familiar with Mr. Money Mustache, he writes about a philosophy of badassity in […]
22 Jan 2018 6:58pm GMT
01 Apr 2017
April Fools' Day should probably be called Google Fools' Day, since there are so many Google hoaxes.

Google Japan developed a "bubble wrap" version of the Japanese keyboard. "The Google Japanese input bubble wrap version is a keyboard that realizes 'I want to press in my mind, I want to keep pressing'," according to Google Translate.




Another product for your smart home? Meet Google Gnome, "a voice-activated, hands-free tool designed to make backyard living effortless. Need to know what animal is squeaking in your bushes? Stay still and ask Gnome what sound an opossum makes. Running low on birdseed? That's where Gnome comes in. You can even use Gnome's proprietary high-intensity lasers to trim your hedges into whatever shape your heart desires."




The Chrome OS team brings the most popular mobile accessories to the Chromebook, which already blurs the line between mobile and desktop. Chromebook Groupie Stick, Chromebook Cardboard, Chromebook Workout Armband will soon be available in the Google Store. "To take advantage of beautiful, high-resolution displays, as well as great photo editing apps, we've carefully engineered the first Chromebook-sized selfie stick. Never again will you miss the perfect groupie."



Haptic Helpers make VR even more immersive. "We're taking VR to the next level with Haptic Helpers. Using a modest set of everyday tools, these VR virtuosos can simulate more than 10,000 unique experiences, all from the comfort of your own home. Smell the roses. Listen to the ocean. Feel a fluffy dog!"


You can now play the classic arcade game MS. PAC-MAN in Google Maps. "Avoid Blinky, Pinky, Inky, and Sue as you swerve the streets of real places around the world. But eat the pac-dots fast, because this game will only be around for a little while." Just go to the Google Maps site or open the Google Maps app for Android or iOS and click or tap MS. PAC-MAN at the bottom.



Google Cloud Platform expands to Mars. "By opening a dedicated extraterrestrial cloud region, we're bringing the power of Google's compute, network, and storage to the rest of the solar system, unlocking a plethora of possibilities for astronomy research, exploration of Martian natural resources and interplanetary life sciences. This region will also serve as an important node in an extensive network throughout the solar system. Our first interplanetary data center - affectionately nicknamed 'Ziggy Stardust' - will open in 2018," mentions Google.



Google Netherlands came up with Google Wind, a machine learning technology that controls the weather. "The Netherlands has many windmills, some no longer in use, we can connect to Google Cloud Platform. So we use the existing Dutch infrastructure, machine learning, weather patterns to control the network of windmills when rain is approaching. The first test results are very promising: we seem to be able to provide sun and clear skies for everyone in the Netherlands," mentions Google Netherlands blog.




Google's search app for iOS is now optimized for cats and dogs. "On the Google app for iOS, you can now use 3D Touch on the app icon or head to settings and select I'm Feeling Woof or I'm Feeling Meow to let your dogs and cats get info on topics they care about-whether that means squeaky toys or a bowl of milk!"



Google also launched Google Play for Pets, a new category of Android games designed for cats, dogs and other pets.


Google Translate's Word Lens feature supports a new language: Heptapod B, the alien language from the movie "Arrival". "The challenge with understanding Heptapod B is its nonlinear orthography. Fortunately, Google's neural machine translation system employs an encoder/decoder system that internally represents sentences as high-dimensional vectors. These vectors map well to the non-linear orthography of the Heptapod language and they are really the enabling technical factor in translating Heptapod B."


01 Apr 2017 7:25am GMT
19 Feb 2017
If you try to send a JavaScript attachment using Gmail or if you want to download a .js attachment, you'll get a new anti-virus warning: "Blocked for security reasons", "1 attachment contains a virus or blocked file. Downloading this attachment is disabled".


.JS has been added to the long list of file types that are blocked by Gmail for security reasons. The full list: .ADE, .ADP, .BAT, .CHM, .CMD, .COM, .CPL, .EXE, .HTA, .INS, .ISP, .JAR, .JS (NEW), .JSE, .LIB, .LNK, .MDE, .MSC, .MSI, .MSP, .MST, .NSH .PIF, .SCR, .SCT, .SHB, .SYS, .VB, .VBE, .VBS, .VXD, .WSC, .WSF, .WSH. "To prevent against potential viruses, Gmail doesn't allow you to attach certain types of files, including: certain file types (listed above), including their compressed form (like .gz or .bz2 files) or when found within archives (like .zip or .tgz files), documents with malicious macros, archives whose listed file content is password protected, archives whose content includes a password protected archive."

The GSuite Blog informs that "for inbound mail, senders will get a bounce message explaining why the email was blocked. If you still need to send .js files for legitimate reasons, you can use Google Drive, Google Cloud Storage, or other storage solutions to share or send your files."

You can still send JavaScript files using Gmail if you change the extension. What about downloading old .js attachments? Try the workarounds from this post.
19 Feb 2017 10:39am GMT
25 Jan 2017
Google Image Search has a different way to display suggestions: it now shows a long list of colorful boxes with related searches. You can click one or more boxes to dynamically refine search results.



For example, when searching for [sportswear], Google shows suggestions like: [women basketball], [tennis], [badminton], [golf], [volleyball], [nike woman], [alexander wang], [adidas], [fashion], [performance], [vintage], [trendy], [urban], [school], [gym], [90's], [70's], [vogue], [luxe], [avant garde], [korean], [italian], [french] and more. It's interesting to notice that each category of suggestions has a different color.



Here's the old interface, which had fewer suggestions and displayed thumbnails next to suggestions:


25 Jan 2017 9:39pm GMT
19 Jan 2017
A few months ago, I took a leave of absence from Google to do a stint with the US Digital Service. A lot of people know about the US Digital Service because they helped rescue the healthcare.gov website. But you might not realize that the US Digital Service has helped veterans get their health benefits, […]
19 Jan 2017 3:47am GMT
11 Nov 2011
As Google pushes fresh search results, a helpful Google search tool for historical searches quietly vanished earlier this month. Google has confirmed that Google's Timeline search option, which debuted in 2007, has been discontinued. By cl...
11 Nov 2011 9:35pm GMT
Google has graduated Think Insights from beta. This tool now compiles real-time data from Google search and other platforms, combining those facts with additional studies, infographics, and more. Users can find the site at ThinkwithGoogle.com, a...
11 Nov 2011 8:45pm GMT
Google has just acquired startup Katango, makers of a Facebook friends list generating iPhone app released this July. Shortly after its debut, however, Katango's autogenerator faced serious competition from Facebook itself, as it rolled out ...
11 Nov 2011 7:35pm GMT
26 Aug 2011
The Emperor instructed the gardener to set up the new court's garden. "I want you to plant five trees growing the Crataan fruit," the Emperor said, "Because we asked people what fruit they like best, and most named the Crataan fruit!" The gardener replied, "Emperor, that is excellent thinking! But let me make some suggestions: First, how about we make one of the five trees bear the Muran fruit. Only one out of ten citizens loves it, but those peculiar citizens tend to love multiple times as much!" "Second," the gardener continued, "How about we make one of the five trees bear the Dratean fruit. No one loves it, but that's because no one knows it yet!" "Third," the gardener said, "How about we leave one spot in the garden empty. Who knows what new type of tree we'll discover that we can put there in the fut ...
26 Aug 2011 12:12pm GMT
15 Aug 2011
For those of you who've been wondering whether I had turned to stone, fallen into a bottomless pit, or been climbing the Himalaya... no, none of that is true, even though you probably did notice I'm not actively blogging about Google here anymore*! Just now, a new iPad app I've been working on called Color Sound Machine went live, and this -- and all the other apps and games at Versus Pad** -- are actually what I am doing while not blogoscoping. *I've drafted unpublished posts explaining much more about past, present and future of Blogoscoped, and the history of Google news reporting, but ... oh, for now le ...
15 Aug 2011 4:00pm GMT
25 Feb 2011
One of the earliest specialist services provided by Google was reverse phone number lookup. If you used the "phonebook:" or "rphonebook:" operators together with a 10-digit US phone number, Google would show you the owner of that phone number, unless the number was unlisted. Google no longer provides that service. Not surprisingly, there was no press release marking the closure, but Google employee Daniel Russell has acknowledged the closure of the service in his blog. He hints at the possible pressures leading to the shuttering of the service: "As you can imagine, this was an endless source of hassles for people (who were surprised to see themselves searchable on Google) and for Google (who had to constantly de ...
25 Feb 2011 11:23am GMT