23 Apr 2019
Time is running out to wrap up your submissions for the 4th annual Search Engine Land Awards! That's right - the final entry deadline is just a little more than a week away, Friday, April 13th at 11:59PM PST.

Please visit Search Engine Land for the full article.
23 Apr 2019 4:23pm GMT
Spring is in the air, which also means it's the season to freshen up your home. If you're like me, cleaning your house doesn't top your list of favorite things to do-but it still needs to get done. This year, get a little help from your Google Assistant on your phone, speaker or Smart Display-so you spend less time cleaning, and more time enjoying the outdoors.
As we bid adieu to winter layers and welcome longer, warmer days, here are six ways your Assistant can help with spring cleaning:
You can't get something done if you don't remember to do it. Set a friendly reminder to tackle your cleaning projects around the house. Just say, "Hey Google, remind me to clean my closet" or "Hey Google, remind me to store my winter clothes."

Kickstart your cleaning session by setting up a custom routine so your Assistant automatically gets things done for you-like playing your cleaning playlist (because music makes even the most mundane chores better!), turning on your Whirlpool or Samsung dishwasher, and starting a load of laundry with Whirlpool, LG, GE or Samsung connected appliances. It's easy to get this set up in your Assistant app for Android or iOS and link smart devices: Just add a custom command like "let's start cleaning" and then add each action you want your Assistant to take (e.g. start the washer). Once complete, say, "Hey Google, let's start cleaning," and watch each action start at the same time.

Who said cleaning was a one-person job? Broadcast a message via the Assistant on your phone or voice-activated speaker (like Google Home) to get some help from your family. Say, "Hey Google, broadcast 'it's time to clean!'" to rally your family. They can even reply back to let you know they're on their way.

Delegate tasks by telling your Assistant exactly which room to clean. If you have an iRobot i7 Roomba, simply say, "Hey Google, vacuum the kitchen" or "Hey Google, vacuum the living room."

In the middle of a cleaning session and almost out of cleaning supplies? Just ask the Assistant to get more. Give it a go by saying, "Hey Google, order more disinfecting wipes" or "Hey Google, order more paper towels."

With all of this cleaning, chances are you'll have clothes or other household items that you want to give away. To find the nearest drop-off, just ask, "Hey Google, where is the nearest donation drop-off?"
While the Assistant can't do all of the cleaning for you, it can help you streamline the process and make organizing your home more enjoyable.

23 Apr 2019 2:00pm GMT
Google appears to be trying to prevent a formal local search antitrust complaint.

Please visit Search Engine Land for the full article.
23 Apr 2019 11:49am GMT
One more thing to look at if you need to optimize your crawl budget for the most efficient Googlebot crawl of your pages.

Please visit Search Engine Land for the full article.
23 Apr 2019 11:05am GMT
If you've ever driven to an electric vehicle (EV) charging station only to find that all ports are occupied, you know that you could end up waiting in line for anywhere between minutes to hours-which can really put a damper on your day when you have places to go and things to do.
Starting today, you can see the real time availability of charging ports in the U.S. and U.K, right from Google Maps-so you can know if chargers are available before you head to a station. Simply search for "ev charging stations" to see up to date information from networks like Chargemaster, EVgo, SemaConnect and soon, Chargepoint. You'll then see how many ports are currently available, along with other helpful details, like the business where the station is located, port types and charging speeds. You'll also see information about the station from other drivers, including photos, ratings, reviews and questions.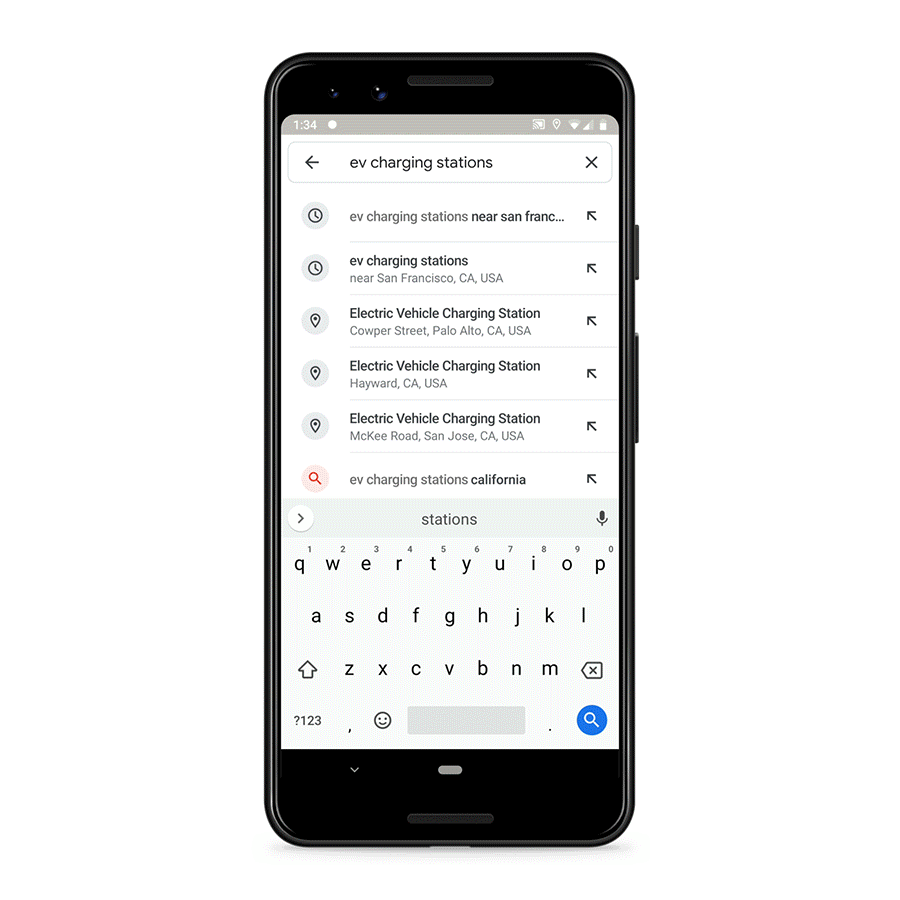 You can search for real time EV charging information on Google Maps on desktop, Android, iOS and on Google Maps for Android Auto. To get started, update your Google Maps app from the App Store or Play Store.
23 Apr 2019 10:00am GMT
22 Apr 2019
22 Apr 2019 10:00pm GMT
04 Nov 2018
Do you need something to cheer you up? You got it: I should explain this costume a little bit. At the US Digital Service, we do a thing called "crab claws." Crab claws is like visual applause-you pinch your fingers up and down to say "great job" or "congratulations" or "way to go." We do […]
04 Nov 2018 8:02pm GMT
08 Mar 2018
Cindy Cutts, my wife and best friend, passed away earlier this week. While I was traveling for work recently, Cindy went to visit her family in Omaha, Nebraska. On Sunday, while enjoying time with family, Cindy started having trouble breathing. Her family quickly called 911 and paramedics took Cindy to the hospital, but Cindy lost […]
08 Mar 2018 12:17am GMT
22 Jan 2018
Last week, I passed my one year anniversary as head of the US Digital Service (USDS). So when Mr. Money Mustache asked for an interview, I was delighted to talk about some of the work that the USDS does. If you aren't familiar with Mr. Money Mustache, he writes about a philosophy of badassity in […]
22 Jan 2018 6:58pm GMT
01 Apr 2017
April Fools' Day should probably be called Google Fools' Day, since there are so many Google hoaxes.

Google Japan developed a "bubble wrap" version of the Japanese keyboard. "The Google Japanese input bubble wrap version is a keyboard that realizes 'I want to press in my mind, I want to keep pressing'," according to Google Translate.




Another product for your smart home? Meet Google Gnome, "a voice-activated, hands-free tool designed to make backyard living effortless. Need to know what animal is squeaking in your bushes? Stay still and ask Gnome what sound an opossum makes. Running low on birdseed? That's where Gnome comes in. You can even use Gnome's proprietary high-intensity lasers to trim your hedges into whatever shape your heart desires."




The Chrome OS team brings the most popular mobile accessories to the Chromebook, which already blurs the line between mobile and desktop. Chromebook Groupie Stick, Chromebook Cardboard, Chromebook Workout Armband will soon be available in the Google Store. "To take advantage of beautiful, high-resolution displays, as well as great photo editing apps, we've carefully engineered the first Chromebook-sized selfie stick. Never again will you miss the perfect groupie."



Haptic Helpers make VR even more immersive. "We're taking VR to the next level with Haptic Helpers. Using a modest set of everyday tools, these VR virtuosos can simulate more than 10,000 unique experiences, all from the comfort of your own home. Smell the roses. Listen to the ocean. Feel a fluffy dog!"


You can now play the classic arcade game MS. PAC-MAN in Google Maps. "Avoid Blinky, Pinky, Inky, and Sue as you swerve the streets of real places around the world. But eat the pac-dots fast, because this game will only be around for a little while." Just go to the Google Maps site or open the Google Maps app for Android or iOS and click or tap MS. PAC-MAN at the bottom.



Google Cloud Platform expands to Mars. "By opening a dedicated extraterrestrial cloud region, we're bringing the power of Google's compute, network, and storage to the rest of the solar system, unlocking a plethora of possibilities for astronomy research, exploration of Martian natural resources and interplanetary life sciences. This region will also serve as an important node in an extensive network throughout the solar system. Our first interplanetary data center - affectionately nicknamed 'Ziggy Stardust' - will open in 2018," mentions Google.



Google Netherlands came up with Google Wind, a machine learning technology that controls the weather. "The Netherlands has many windmills, some no longer in use, we can connect to Google Cloud Platform. So we use the existing Dutch infrastructure, machine learning, weather patterns to control the network of windmills when rain is approaching. The first test results are very promising: we seem to be able to provide sun and clear skies for everyone in the Netherlands," mentions Google Netherlands blog.




Google's search app for iOS is now optimized for cats and dogs. "On the Google app for iOS, you can now use 3D Touch on the app icon or head to settings and select I'm Feeling Woof or I'm Feeling Meow to let your dogs and cats get info on topics they care about-whether that means squeaky toys or a bowl of milk!"



Google also launched Google Play for Pets, a new category of Android games designed for cats, dogs and other pets.


Google Translate's Word Lens feature supports a new language: Heptapod B, the alien language from the movie "Arrival". "The challenge with understanding Heptapod B is its nonlinear orthography. Fortunately, Google's neural machine translation system employs an encoder/decoder system that internally represents sentences as high-dimensional vectors. These vectors map well to the non-linear orthography of the Heptapod language and they are really the enabling technical factor in translating Heptapod B."


01 Apr 2017 7:25am GMT
19 Feb 2017
If you try to send a JavaScript attachment using Gmail or if you want to download a .js attachment, you'll get a new anti-virus warning: "Blocked for security reasons", "1 attachment contains a virus or blocked file. Downloading this attachment is disabled".


.JS has been added to the long list of file types that are blocked by Gmail for security reasons. The full list: .ADE, .ADP, .BAT, .CHM, .CMD, .COM, .CPL, .EXE, .HTA, .INS, .ISP, .JAR, .JS (NEW), .JSE, .LIB, .LNK, .MDE, .MSC, .MSI, .MSP, .MST, .NSH .PIF, .SCR, .SCT, .SHB, .SYS, .VB, .VBE, .VBS, .VXD, .WSC, .WSF, .WSH. "To prevent against potential viruses, Gmail doesn't allow you to attach certain types of files, including: certain file types (listed above), including their compressed form (like .gz or .bz2 files) or when found within archives (like .zip or .tgz files), documents with malicious macros, archives whose listed file content is password protected, archives whose content includes a password protected archive."

The GSuite Blog informs that "for inbound mail, senders will get a bounce message explaining why the email was blocked. If you still need to send .js files for legitimate reasons, you can use Google Drive, Google Cloud Storage, or other storage solutions to share or send your files."

You can still send JavaScript files using Gmail if you change the extension. What about downloading old .js attachments? Try the workarounds from this post.
19 Feb 2017 10:39am GMT
25 Jan 2017
Google Image Search has a different way to display suggestions: it now shows a long list of colorful boxes with related searches. You can click one or more boxes to dynamically refine search results.



For example, when searching for [sportswear], Google shows suggestions like: [women basketball], [tennis], [badminton], [golf], [volleyball], [nike woman], [alexander wang], [adidas], [fashion], [performance], [vintage], [trendy], [urban], [school], [gym], [90's], [70's], [vogue], [luxe], [avant garde], [korean], [italian], [french] and more. It's interesting to notice that each category of suggestions has a different color.



Here's the old interface, which had fewer suggestions and displayed thumbnails next to suggestions:


25 Jan 2017 9:39pm GMT
11 Nov 2011
As Google pushes fresh search results, a helpful Google search tool for historical searches quietly vanished earlier this month. Google has confirmed that Google's Timeline search option, which debuted in 2007, has been discontinued. By cl...
11 Nov 2011 9:35pm GMT
Google has graduated Think Insights from beta. This tool now compiles real-time data from Google search and other platforms, combining those facts with additional studies, infographics, and more. Users can find the site at ThinkwithGoogle.com, a...
11 Nov 2011 8:45pm GMT
Google has just acquired startup Katango, makers of a Facebook friends list generating iPhone app released this July. Shortly after its debut, however, Katango's autogenerator faced serious competition from Facebook itself, as it rolled out ...
11 Nov 2011 7:35pm GMT
26 Aug 2011
The Emperor instructed the gardener to set up the new court's garden. "I want you to plant five trees growing the Crataan fruit," the Emperor said, "Because we asked people what fruit they like best, and most named the Crataan fruit!" The gardener replied, "Emperor, that is excellent thinking! But let me make some suggestions: First, how about we make one of the five trees bear the Muran fruit. Only one out of ten citizens loves it, but those peculiar citizens tend to love multiple times as much!" "Second," the gardener continued, "How about we make one of the five trees bear the Dratean fruit. No one loves it, but that's because no one knows it yet!" "Third," the gardener said, "How about we leave one spot in the garden empty. Who knows what new type of tree we'll discover that we can put there in the fut ...
26 Aug 2011 12:12pm GMT
15 Aug 2011
For those of you who've been wondering whether I had turned to stone, fallen into a bottomless pit, or been climbing the Himalaya... no, none of that is true, even though you probably did notice I'm not actively blogging about Google here anymore*! Just now, a new iPad app I've been working on called Color Sound Machine went live, and this -- and all the other apps and games at Versus Pad** -- are actually what I am doing while not blogoscoping. *I've drafted unpublished posts explaining much more about past, present and future of Blogoscoped, and the history of Google news reporting, but ... oh, for now le ...
15 Aug 2011 4:00pm GMT
25 Feb 2011
One of the earliest specialist services provided by Google was reverse phone number lookup. If you used the "phonebook:" or "rphonebook:" operators together with a 10-digit US phone number, Google would show you the owner of that phone number, unless the number was unlisted. Google no longer provides that service. Not surprisingly, there was no press release marking the closure, but Google employee Daniel Russell has acknowledged the closure of the service in his blog. He hints at the possible pressures leading to the shuttering of the service: "As you can imagine, this was an endless source of hassles for people (who were surprised to see themselves searchable on Google) and for Google (who had to constantly de ...
25 Feb 2011 11:23am GMT