28 May 2020
For the past several years, Pop-Up Magazine has resurrected extinct flowers, analyzed dreams, ventured into the Darien Gap, rowed across the Atlantic Ocean and shared ancient songs from Istanbul's Hagia Sofia-all from the comfort of theaters throughout the United States. Three times a year, the "live magazine" hits the road, featuring storytelling performed onstage by journalists, filmmakers, comedians, photographers and musicians, selling out every venue along the way. At every show, the hosts tell the audience the same thing: "After tonight, the show will disappear. You won't find anything online. We made it just for you."
But in recent months, the team behind the experience has had to rethink what it means to go on tour-and how they might bring their offline show online. Last night, in collaboration with Google, Pop-Up Magazine debuted its first digital show on its YouTube channel, free of charge and available around the world. We caught up with Chas Edwards, Pop-Up Magazine's president and cofounder, to hear about how the team made such an extraordinary pivot.

What happened for your team when the world went on lockdown?
It was a little like telling your soccer team they'd made the Olympics, only they'd be competing in water polo. But the day after CDC guidelines changed our plans to go on tour, our producers filled up a 20-page Google Doc with ideas on how we could show up for our audience while sheltering in place. And because Pop-Up Magazine has always been multimedia-we've paired filmmakers with dancers, radio producers with opera singers, tech journalists with shadow puppets-we are highly adaptable.
Tell us about some of the highlights from this week's show.
We took you inside the COVID ward with a newly minted doctor who skipped her residency to help fight the pandemic and go on tour with a varsity mariachi band from Texas. There's also a transporting moment where scientist Rose Bear Don't Walk enacts a Native American dance, first performed during the pandemic of 1918. Plus tips on taking care of your houseplants, of course.
What was the hardest part about pulling it off?
The quarantine didn't just cancel our tour. It prevents us from getting together in one room to rehearse and collaborate. Our band members, for example, are each playing their parts alone in the respective homes, and we had to figure out how to make them feel like a band in the final product.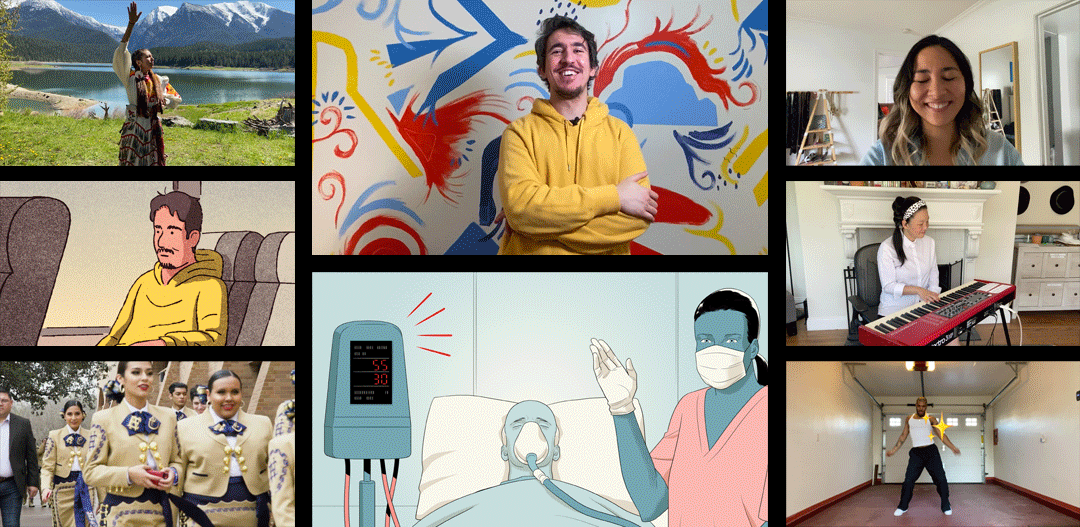 Some of the Spring Issue contributors
You have a loyal following. How else have you kept them engaged during quarantine?
In addition to the big spring show, we've been delivering stories to our fans by email, social media and at our YouTube channel. One new project is a weekly series called "Here's How," in which Pop-Up Magazine contributors share their skills. We've had magician and crossword puzzle master David Kwong teaching us how to win at board games and poet Hanif Abdurraqib giving us a new approach to creative writing. We've also been adapting favorite stories from the stage to our new video format, like "Mimi & Brownie," the tale of two 100-year-old best friends who met as nurses during World War II.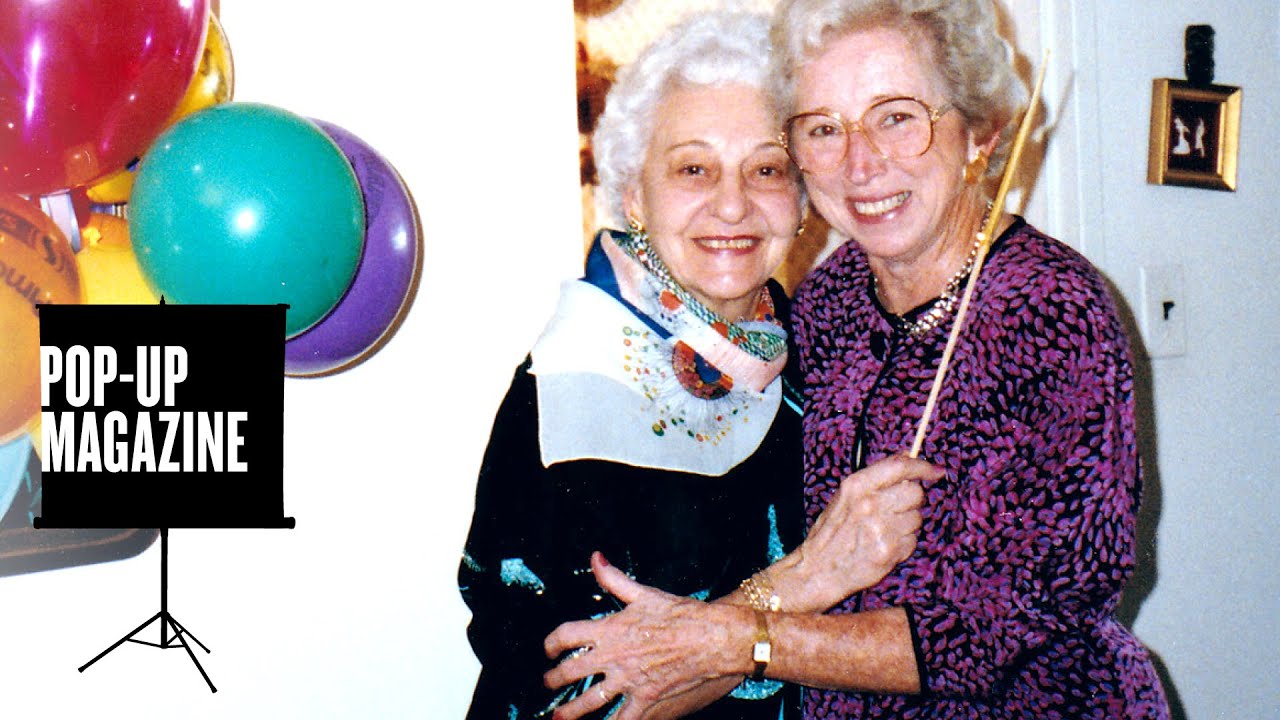 "Mimi & Brownie," the tale of two 100-year-old best friends who met as nurses during World War II, has been adapted from the stage to a new video format.
How has the pandemic changed how we engage with storytelling?
On the one hand, it robs us of being together: the collective experience of laughing and crying in a dark room with 3,000 other people. And we're eager to get back to that, when the time is right. At the same time, this moment highlights our interconnectedness with people halfway around the world, or who have different jobs from ours, or who live in different circumstances. For many people, the pandemic is creating new and deeper empathy, and a greater curiosity to hear the stories of fellow humans they've never met.
And Pop-Up Magazine is adapting to those changes accordingly, it seems.
Our job, as we see it, is to find amazing stories you've never heard, craft them in ways you'll never forget, and hopefully change how we all see the world. Media formats and delivery channels evolve to fit the times, but our fundamental work remains the same.
What did Pop-Up Magazine do to collaborate with Google?
Google and Pop-Up Magazine have been working together for several years. For this show, Google wanted to celebrate parents and teachers who are trying to keep education moving forward while traditional classrooms have been shut down. One part of the collaboration features Tabatha Rosproy, 2020's National Teacher of the Year, who shared some encouraging words for all us beleaguered parents attempting to teach our kids this semester. We also used Google Meet to recreate the experience that normally happens after Pop-Up Magazine shows in the theater lobbies: a chance to meet the contributors and producers and learn how their stories came to be.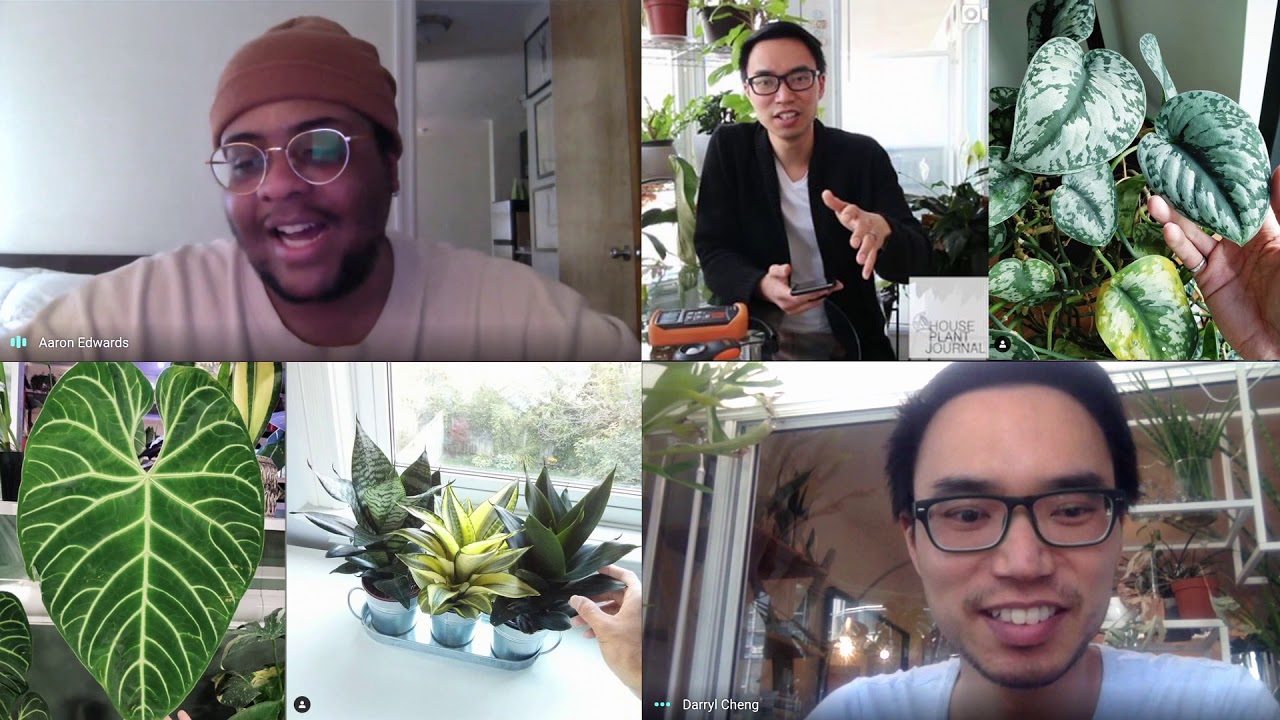 Pop-Up used Google Meet for The Spring Issue: At Home After Party, a chance to meet the contributors and producers and learn how their stories came to be.
Why is supporting teachers like Tabatha Rosproy important to the Pop-Up Magazine community?
In the past few months, many of us have gained a new appreciation for the work of teachers, as we all try pinch hitting for them. They make it look easy, especially when compared to us amateurs! We're overwhelmed with gratitude and delighted that we can be a part of celebrating the essential workers at the frontlines of education.
Can you tell us about your own favorite teacher?
Mr. Chemerka, my tenth grade history teacher, used to dress up in period garb a few times a year. Never as presidents or generals or famous activists, just as common people from earlier eras. He never took sick days, but he missed school a few times to play extras in Civil War movies.
Lastly, we have to know. What's your favorite Pop-Up Magazine story that has ever been told?
That's like asking me which of my daughters is my favorite!
28 May 2020 5:00pm GMT
In January, our CEO Sundar Pichai visited Brussels to talk about artificial intelligence and how Google could help people and businesses succeed in the digital age through partnership. Much has changed since then due to COVID-19, but one thing hasn't-our commitment to the potential of partnership with Europe on AI, especially to tackle the pandemic and help people and the economy recover.
As part of that effort, we earlier today filed our response to the European Commission's Consultation on Artificial Intelligence, giving our feedback on the Commission's initial proposal for how to regulate and accelerate the adoption of AI.
Excellence, skills, trust
Our filing applauds the Commission's focus on building out the European "ecosystem of excellence." European universities already boast renowned leaders in dozens of areas of AI research-Google partners with some of them via our machine learning research hubs in Zurich, Amsterdam, Berlin, Paris and London-and many of their students go on to make important contributions to European businesses.
We support the Commission's plans to help businesses develop the AI skills they need to thrive in the new digital economy. Next month, we'll contribute to those efforts by extending our machine learning check-up tool to 11 European countries to help small businesses implement AI and grow their businesses. Google Cloud already works closely with scores of businesses across Europe to help them innovate using AI.
We also support the Commission's goal of building a framework for AI innovation that will create trust and guide ethical development and use of this widely applicable technology. We appreciate the Commission's proportionate, risk-based approach. It's important that AI applications in sensitive fields-such as medicine or transportation-are held to the appropriate standards.
Based on our experience working with AI, we also offered a couple of suggestions for making future regulation more effective. We want to be a helpful and engaged partner to policymakers, and we have provided more details in our formal response to the consultation.
Definition of high-risk AI applications
AI has a broad range of current and future applications, including some that involve significant benefits and risks. We think any future regulation would benefit from a more carefully nuanced definition of "high-risk" applications of AI. We agree that some uses warrant extra scrutiny and safeguards to address genuine and complex challenges around safety, fairness, explainability, accountability, and human interactions.
Assessment of AI applications
When thinking about how to assess high-risk AI applications, it's important to strike a balance. While AI won't always be perfect, it has great potential to help us improve over the performance of existing systems and processes. But the development process for AI must give people confidence that the AI system they're using is reliable and safe. That's especially true for applications like new medical diagnostic techniques, which potentially allow skilled medical practitioners to offer more accurate diagnoses, earlier interventions, and better patient outcomes. But the requirements need to be proportionate to the risk, and shouldn't unduly limit innovation, adoption, and impact.
This is not an easy needle to thread. The Commission's proposal suggests "ex ante" assessment of AI applications (i.e., upfront assessment, based on forecasted rather than actual use cases). Our contribution recommends having established due diligence and regulatory review processes expand to include the assessment of AI applications. This would avoid unnecessary duplication of efforts and likely speed up implementation.
For the (probably) rare instances when high-risk applications of AI are not obviously covered by existing regulations, we would encourage clear guidance on the "due diligence" criteria companies should use in their development processes. This would enable robust upfront self-assessment and documentation of any risks and their mitigations, and could also include further scrutiny after launch.
This approach would give European citizens confidence about the trustworthiness of AI applications, while also fostering innovation across the region. And it would encourage companies-especially smaller ones-to launch a range of valuable new services.
Principles and process
Responsible development of AI presents new challenges and critical questions for all of us. In 2018 we published our own AI Principles to help guide our ethical development and use of AI, and also established internal review processes to help us avoid bias, test rigorously for safety, design with privacy top of mind. Our principles also specify areas where we will not design or deploy AI, such as to support mass surveillance or violate human rights. Look out for an update on our work around these principles in the coming weeks.
AI is an important part of Google's business and our aspirations for the future. We share a common goal with policymakers-a desire to build trust in AI through responsible innovation and thoughtful regulation, so that European citizens can safely enjoy the full social and economic benefits of AI. We hope that our contribution to the consultation is useful, and we look forward to participating in the discussion in coming months.
28 May 2020 4:00pm GMT
For many of us, it's easy to take addresses for granted. We order products online, and they show up at our doorstep. In an emergency, we give our address to an ambulance or fire truck, and they quickly get to us. But what happens when you don't have an address and you need to direct someone to your current location?
More than 2 billion people on the planet-about 25 percent of us or more -either don't have an address or have an address that isn't easy to locate. To tackle this challenge, we launched Plus Codes in 2015. Plus Codes are simple, easy to use digital addresses derived from latitude and longitude coordinates. They can be used to uniquely identify any location, from a rural home out on a prairie to a small shop stall on a nameless street.
Today we've made it easier for anyone with an Android device to share their location using Plus Codes in Google Maps. People who use Google Maps might be familiar with the blue dot that represents their current location. Simply tap the blue dot to get a Plus Code for your current location that can be shared with others as easily as giving them a phone number.

Plus Codes: free, digital address for anywhere
A Plus Code is a simple alphanumeric code which can be combined with a locality (for example: FWM8+V9, Ibadan, Nigeria). They look like a regular address, but with a short code where a street name or number would be. Beyond using the blue dot, you can also find the Plus Code for a location by tapping and holding the map to drop a pin at a location you want a Plus Code for.
Plus Codes are searchable on Google Maps and even Google Search, meaning everywhere on the planet can now be uniquely identified.
These digital location identifiers are free to use, available offline and can be printed on paper, posters and signs. The technology to generate Plus Codes is also open source, which means the technology is easy and free to use, so anyone can see how the technology works and develop their own applications for any use case.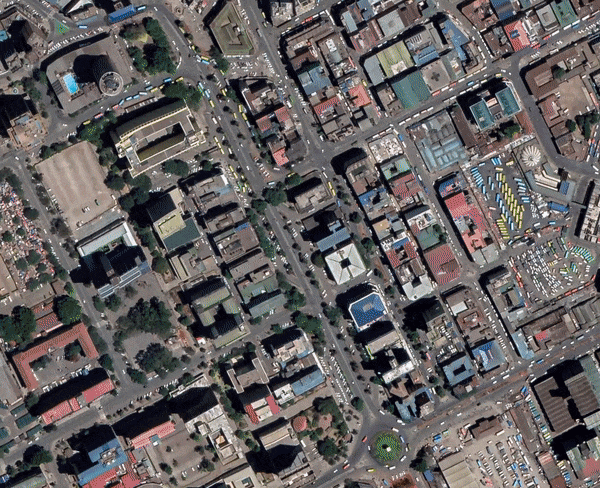 A helpful tool for emergency and crisis situations
Plus Codes can be especially helpful for people and organizations in emergency and crisis response scenarios. If you've ever been in an emergency, you know that being able to share your location for help to easily find you is critical. Yet in many places in the world, organizations struggle with this challenge on a daily basis.
With Plus Codes, not only can people share their location quickly even without an address, but they can now do so by simply opening up Google Maps and tapping on the blue dot to view, copy and share their Plus Code location. A Plus Code can then be entered into Google Maps to help locate and navigate to that location.
Digital locations through Plus Codes means that everywhere now has an easily identifiable location, saving time and getting resources there when it really matters. Not having an address should no longer be a barrier to easily sharing your location with service providers, guiding them to you when you most need them.
Download the latest version of the Google Maps Android app over the coming weeks to try out the new update.
28 May 2020 4:00pm GMT
Though they're ticking back up, decreased CPMs are still a buying opportunity.

Please visit Search Engine Land for the full article.
28 May 2020 3:45pm GMT
About 70% of ads appeared on mobile devices and 82% were programmatic.

Please visit Search Engine Land for the full article.
28 May 2020 2:27pm GMT
When Google's Page Experience Update goes live in 2021, AMP will stop being a requirement for the top stories section.

Please visit Search Engine Land for the full article.
28 May 2020 12:01pm GMT
21 Oct 2019
Fitbit has discontinued their Fitbit One step trackers, which seems like a good opportunity to step back and reflect on wearing one for the last decade or so. I've enjoyed using Fitbit trackers, but the One devices seemed like they broke down way too often. I'm pretty proud that I ended up earning all the […]
21 Oct 2019 3:06am GMT
04 Nov 2018
Do you need something to cheer you up? You got it: I should explain this costume a little bit. At the US Digital Service, we do a thing called "crab claws." Crab claws is like visual applause-you pinch your fingers up and down to say "great job" or "congratulations" or "way to go." We do […]
04 Nov 2018 8:02pm GMT
08 Mar 2018
Cindy Cutts, my wife and best friend, passed away earlier this week. While I was traveling for work recently, Cindy went to visit her family in Omaha, Nebraska. On Sunday, while enjoying time with family, Cindy started having trouble breathing. Her family quickly called 911 and paramedics took Cindy to the hospital, but Cindy lost […]
08 Mar 2018 12:17am GMT
01 Apr 2017
April Fools' Day should probably be called Google Fools' Day, since there are so many Google hoaxes.

Google Japan developed a "bubble wrap" version of the Japanese keyboard. "The Google Japanese input bubble wrap version is a keyboard that realizes 'I want to press in my mind, I want to keep pressing'," according to Google Translate.




Another product for your smart home? Meet Google Gnome, "a voice-activated, hands-free tool designed to make backyard living effortless. Need to know what animal is squeaking in your bushes? Stay still and ask Gnome what sound an opossum makes. Running low on birdseed? That's where Gnome comes in. You can even use Gnome's proprietary high-intensity lasers to trim your hedges into whatever shape your heart desires."




The Chrome OS team brings the most popular mobile accessories to the Chromebook, which already blurs the line between mobile and desktop. Chromebook Groupie Stick, Chromebook Cardboard, Chromebook Workout Armband will soon be available in the Google Store. "To take advantage of beautiful, high-resolution displays, as well as great photo editing apps, we've carefully engineered the first Chromebook-sized selfie stick. Never again will you miss the perfect groupie."



Haptic Helpers make VR even more immersive. "We're taking VR to the next level with Haptic Helpers. Using a modest set of everyday tools, these VR virtuosos can simulate more than 10,000 unique experiences, all from the comfort of your own home. Smell the roses. Listen to the ocean. Feel a fluffy dog!"


You can now play the classic arcade game MS. PAC-MAN in Google Maps. "Avoid Blinky, Pinky, Inky, and Sue as you swerve the streets of real places around the world. But eat the pac-dots fast, because this game will only be around for a little while." Just go to the Google Maps site or open the Google Maps app for Android or iOS and click or tap MS. PAC-MAN at the bottom.



Google Cloud Platform expands to Mars. "By opening a dedicated extraterrestrial cloud region, we're bringing the power of Google's compute, network, and storage to the rest of the solar system, unlocking a plethora of possibilities for astronomy research, exploration of Martian natural resources and interplanetary life sciences. This region will also serve as an important node in an extensive network throughout the solar system. Our first interplanetary data center - affectionately nicknamed 'Ziggy Stardust' - will open in 2018," mentions Google.



Google Netherlands came up with Google Wind, a machine learning technology that controls the weather. "The Netherlands has many windmills, some no longer in use, we can connect to Google Cloud Platform. So we use the existing Dutch infrastructure, machine learning, weather patterns to control the network of windmills when rain is approaching. The first test results are very promising: we seem to be able to provide sun and clear skies for everyone in the Netherlands," mentions Google Netherlands blog.




Google's search app for iOS is now optimized for cats and dogs. "On the Google app for iOS, you can now use 3D Touch on the app icon or head to settings and select I'm Feeling Woof or I'm Feeling Meow to let your dogs and cats get info on topics they care about-whether that means squeaky toys or a bowl of milk!"



Google also launched Google Play for Pets, a new category of Android games designed for cats, dogs and other pets.


Google Translate's Word Lens feature supports a new language: Heptapod B, the alien language from the movie "Arrival". "The challenge with understanding Heptapod B is its nonlinear orthography. Fortunately, Google's neural machine translation system employs an encoder/decoder system that internally represents sentences as high-dimensional vectors. These vectors map well to the non-linear orthography of the Heptapod language and they are really the enabling technical factor in translating Heptapod B."


01 Apr 2017 7:25am GMT
19 Feb 2017
If you try to send a JavaScript attachment using Gmail or if you want to download a .js attachment, you'll get a new anti-virus warning: "Blocked for security reasons", "1 attachment contains a virus or blocked file. Downloading this attachment is disabled".


.JS has been added to the long list of file types that are blocked by Gmail for security reasons. The full list: .ADE, .ADP, .BAT, .CHM, .CMD, .COM, .CPL, .EXE, .HTA, .INS, .ISP, .JAR, .JS (NEW), .JSE, .LIB, .LNK, .MDE, .MSC, .MSI, .MSP, .MST, .NSH .PIF, .SCR, .SCT, .SHB, .SYS, .VB, .VBE, .VBS, .VXD, .WSC, .WSF, .WSH. "To prevent against potential viruses, Gmail doesn't allow you to attach certain types of files, including: certain file types (listed above), including their compressed form (like .gz or .bz2 files) or when found within archives (like .zip or .tgz files), documents with malicious macros, archives whose listed file content is password protected, archives whose content includes a password protected archive."

The GSuite Blog informs that "for inbound mail, senders will get a bounce message explaining why the email was blocked. If you still need to send .js files for legitimate reasons, you can use Google Drive, Google Cloud Storage, or other storage solutions to share or send your files."

You can still send JavaScript files using Gmail if you change the extension. What about downloading old .js attachments? Try the workarounds from this post.
19 Feb 2017 10:39am GMT
25 Jan 2017
Google Image Search has a different way to display suggestions: it now shows a long list of colorful boxes with related searches. You can click one or more boxes to dynamically refine search results.



For example, when searching for [sportswear], Google shows suggestions like: [women basketball], [tennis], [badminton], [golf], [volleyball], [nike woman], [alexander wang], [adidas], [fashion], [performance], [vintage], [trendy], [urban], [school], [gym], [90's], [70's], [vogue], [luxe], [avant garde], [korean], [italian], [french] and more. It's interesting to notice that each category of suggestions has a different color.



Here's the old interface, which had fewer suggestions and displayed thumbnails next to suggestions:


25 Jan 2017 9:39pm GMT
11 Nov 2011
As Google pushes fresh search results, a helpful Google search tool for historical searches quietly vanished earlier this month. Google has confirmed that Google's Timeline search option, which debuted in 2007, has been discontinued. By cl...
11 Nov 2011 9:35pm GMT
Google has graduated Think Insights from beta. This tool now compiles real-time data from Google search and other platforms, combining those facts with additional studies, infographics, and more. Users can find the site at ThinkwithGoogle.com, a...
11 Nov 2011 8:45pm GMT
Google has just acquired startup Katango, makers of a Facebook friends list generating iPhone app released this July. Shortly after its debut, however, Katango's autogenerator faced serious competition from Facebook itself, as it rolled out ...
11 Nov 2011 7:35pm GMT
26 Aug 2011
The Emperor instructed the gardener to set up the new court's garden. "I want you to plant five trees growing the Crataan fruit," the Emperor said, "Because we asked people what fruit they like best, and most named the Crataan fruit!" The gardener replied, "Emperor, that is excellent thinking! But let me make some suggestions: First, how about we make one of the five trees bear the Muran fruit. Only one out of ten citizens loves it, but those peculiar citizens tend to love multiple times as much!" "Second," the gardener continued, "How about we make one of the five trees bear the Dratean fruit. No one loves it, but that's because no one knows it yet!" "Third," the gardener said, "How about we leave one spot in the garden empty. Who knows what new type of tree we'll discover that we can put there in the fut ...
26 Aug 2011 12:12pm GMT
15 Aug 2011
For those of you who've been wondering whether I had turned to stone, fallen into a bottomless pit, or been climbing the Himalaya... no, none of that is true, even though you probably did notice I'm not actively blogging about Google here anymore*! Just now, a new iPad app I've been working on called Color Sound Machine went live, and this -- and all the other apps and games at Versus Pad** -- are actually what I am doing while not blogoscoping. *I've drafted unpublished posts explaining much more about past, present and future of Blogoscoped, and the history of Google news reporting, but ... oh, for now le ...
15 Aug 2011 4:00pm GMT
25 Feb 2011
One of the earliest specialist services provided by Google was reverse phone number lookup. If you used the "phonebook:" or "rphonebook:" operators together with a 10-digit US phone number, Google would show you the owner of that phone number, unless the number was unlisted. Google no longer provides that service. Not surprisingly, there was no press release marking the closure, but Google employee Daniel Russell has acknowledged the closure of the service in his blog. He hints at the possible pressures leading to the shuttering of the service: "As you can imagine, this was an endless source of hassles for people (who were surprised to see themselves searchable on Google) and for Google (who had to constantly de ...
25 Feb 2011 11:23am GMT