18 Sep 2020
How to optimize the work you've been doing year-round and what to avoid ahead of the most profitable time of the year.

Please visit Search Engine Land for the full article.
18 Sep 2020 5:01pm GMT
Marketing technology continues to rapidly evolve. Experts weigh in on marketing automation technology and where it fits within your overall martech stack.

Please visit Search Engine Land for the full article.
18 Sep 2020 2:36pm GMT
iOS 14 has launched, and with it comes new features that make it easier to access some of the Google apps you use most often. Starting today, you can add a Google Search Widget to your Home Screen to let you find information even faster. You can also set Chrome as your default browser app on your iPhone or iPad, and in the coming days, you'll be able to set Gmail as your default email app.
Find it even faster with new iOS Home Screen Widget for the Google app
In iOS 14, you can add Widgets to your Home Screen so you can access apps more quickly or get information at a glance. Starting today, we're giving you lightning-fast access to Search with a Widget in two sizes: one with just Search, and one with shortcuts to three additional ways to search, depending on your preference.
The Google app is a great way to find relevant and helpful information on your iPhone or iPad-- from web pages and quick answers to images, products, news, even life-size AR animals. And you can choose from several different ways to search, including typing, talking, or using your camera with Lens.
With the Quick Search Widget, you can search for anything, right from your Home Screen. The Shortcuts Widget includes a quick Search bar and additional search modes: Lens, which lets you search what you see through your camera; Voice Search if you don't feel like typing; and Incognito mode for an extra layer of privacy.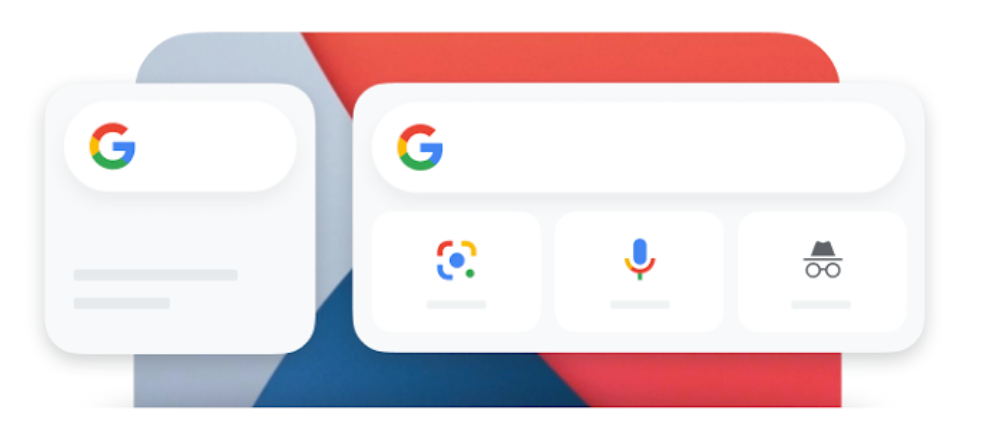 To set up Search as a Home Screen Widget, first make sure you have the Google app downloaded from the App Store. Then follow these steps:
Press and hold on the home screen of your iPhone or iPad

Tap the plus icon on the upper left corner to open the widget gallery

Search for & tap the Google app

Swipe right/left to select the widget size

Tap "Add Widget"

Place the widget and tap "Done" at the upper right corner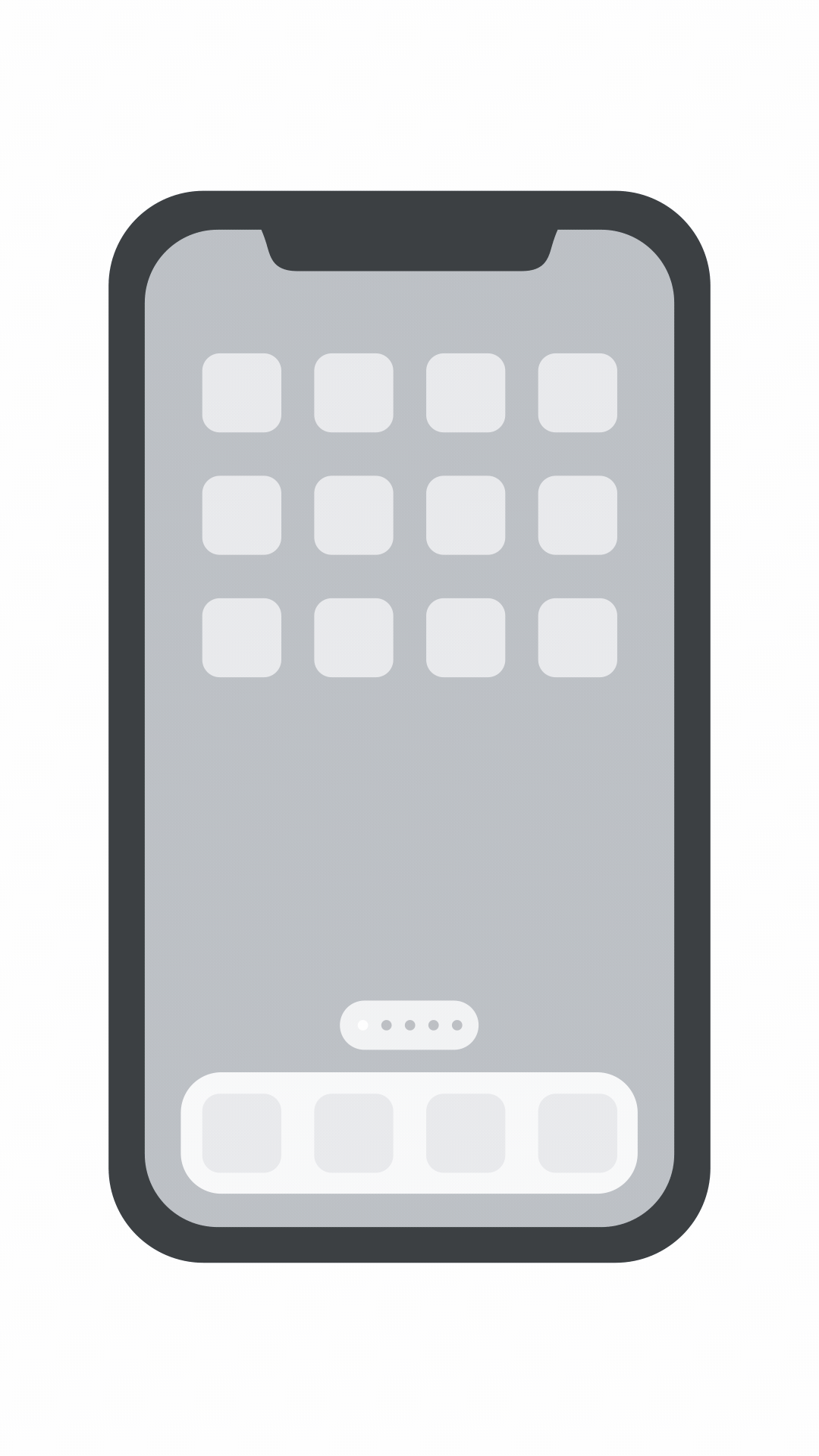 Set Chrome and Gmail as your default browser and email app
If you set Chrome as your default browser, when you open a link from another app, it will open in Chrome. Similarly, if you set Gmail as your default email app, any time you tap on an email icon on the web, it will open the Gmail app.
With Chrome and Gmail, you can:
Chrome
Sync Chrome on your computer or tablet to automatically access your bookmarks, saved passwords and payment methods, settings, and recently opened tabs

Get answers quickly with personalized search results from Google that instantly appear as you type

Browse safely with advanced protection from threats like phishing and dangerous websites

Easily view and open your tabs with an uncluttered tab grid design
Gmail
Easily retract an email right after you send it with undo send

Write emails faster with Smart Compose or respond to emails quickly with Smart Reply

Schedule emails to send at a later time or date with schedule send

Protect sensitive information from unauthorized access, set an expiration date for messages or remove options to forward, copy, print, and download with confidential mode
To set Chrome and Gmail as your default browser and email apps, first, make sure you have both Chrome and Gmail downloaded from the App Store. Then follow these steps:
1. Open the Settings app on your iPhone or iPad, scroll down until you see "Chrome" and tap on it
2. Tap on "Default Browser App"
3. Choose "Chrome"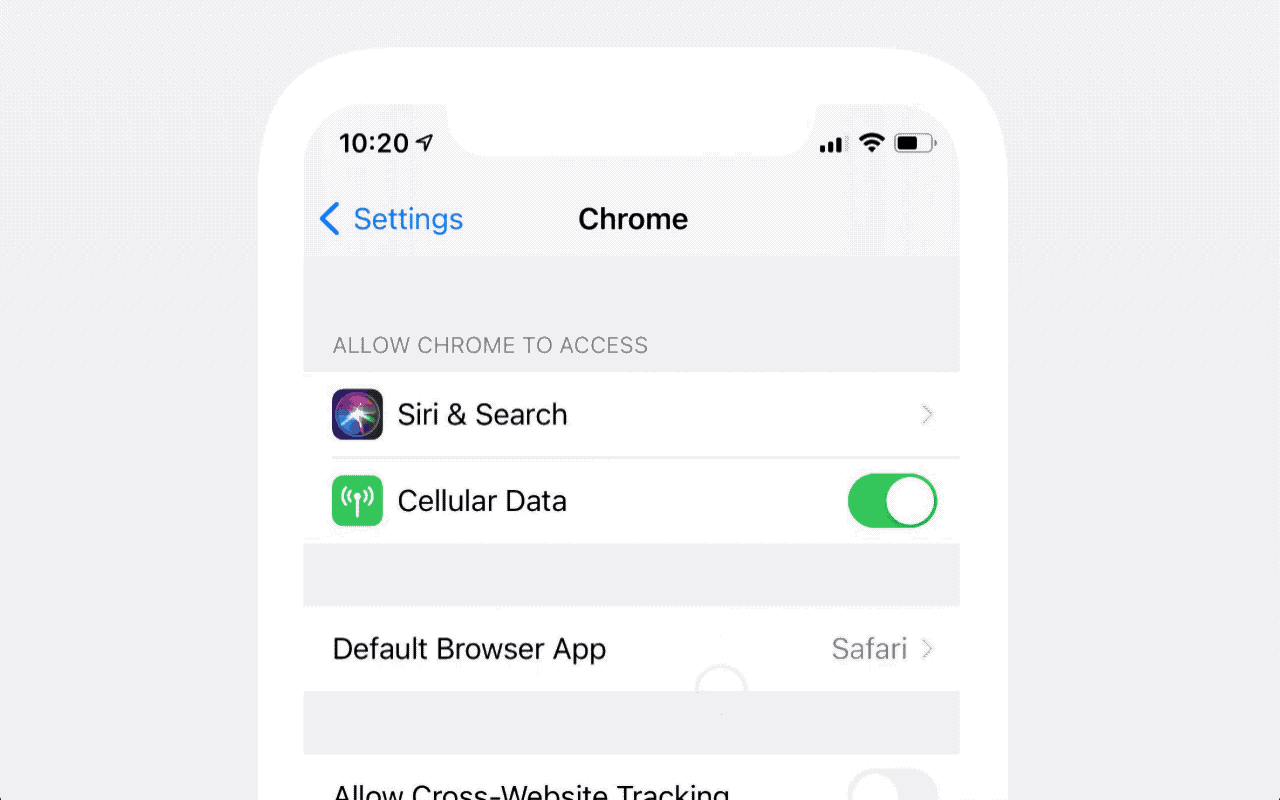 1. Open the Settings app on your iPhone or iPad, scroll down until you see "Gmail" and tap on it
2. Tap on "Default Mail App"
3. Choose "Gmail"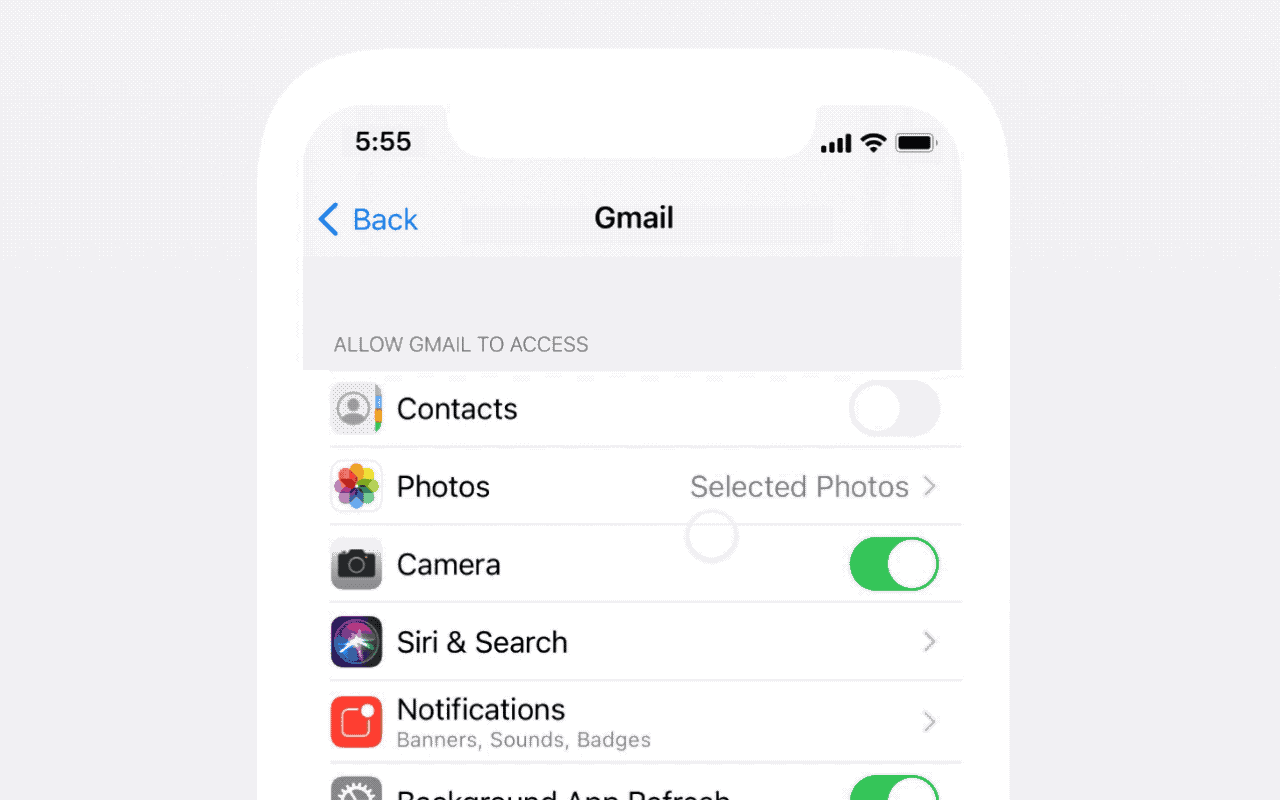 Now that you're set up with Google on iOS 14, take it for a spin! And stay tuned for more Google Widgets in the coming weeks to make your iPhone even more helpful.
18 Sep 2020 2:00pm GMT
The variables that drive performance for LSA extend beyond the prominence, relevance and proximity factors we have built strategies for.

Please visit Search Engine Land for the full article.
18 Sep 2020 8:45am GMT
17 Sep 2020
Researchers around the world have used modelling techniques to find patterns in data and map the spread of COVID-19, in order to combat the disease. Modelling a complex global event is challenging, particularly when there are many variables-human behavior, evolving science and policy, and socio-economic issues-as well as unknowns about the virus itself. Teams across Google are contributing tools and resources to the broader scientific community of epidemiologists, analysts and researchers who are working to address the health and economic impacts of the virus.
Organizing the world's data for epidemiological researchers
Lack of access to useful high-quality data has posed a significant challenge, and much of the publicly available data is scattered, incomplete, or compiled in many different formats. To help researchers spend more of their time understanding the disease instead of wrangling data, we've developed a set of tools and processes to make it simpler for researchers to discover and work with normalized high-quality public datasets.
With the help of Google Cloud, we developed a COVID-19 Open Data repository-a comprehensive, open-source resource of COVID-19 epidemiological data and related variables like economic indicators or population statistics from over 50 countries. Each data source contains information on its origin, and how it's processed so that researchers can confirm its validity and reliability. It can also be used with Data Commons, BigQuery datasets, as well as other initiatives which aggregate regional datasets.
This repository also includes two Google datasets developed to help researchers study the impact of the disease in a privacy-preserving manner. In April, we began publishing the COVID-19 Community Mobility Reports, which provide anonymized insights into movement trends to understand the impact of policies like shelter in place. These reports have been downloaded over 16 million times and are now updated three times a week in 64 languages, with localized insights covering 12,000 regions, cities and counties for 135 countries. Groups including the OECD, World Bank and Bruegel have used these reports in their research, and the insights inform strategies like how public health could safely unwind social distancing policies.
The latest addition to the repository is the
Search Trends symptoms dataset
, which aggregates anonymized search trends for over 400 symptoms. This will help researchers better understand the spread of COVID-19 and its potential secondary health impacts.
Tools for managing complex prediction modeling
The data that models rely upon may be imperfect due a range of factors, including a lack of widespread testing or inconsistent reporting. That's why COVID-19 models need to account for uncertainty in order for their predictions to be reliable and useful. To help address this challenge, we're providing researchers examples of how to implement bespoke epidemiological models using TensorFlow Probability (TFP), a library for building probabilistic models that can measure confidence in their own predictions. With TFP, researchers can use a range of data sources with different granularities, properties, or confidence levels, and factor that uncertainty into the overall prediction models. This could be particularly useful in fine-tuning the increasingly complex models that epidemiologists are using to understand the spread of COVID-19, particularly in gaining city or county-level insights when only state or national-level datasets exist.
While models can help predict what happens next, researchers and policymakers are also turning to simulations to better understand the potential impact of their interventions. Simulating these "what if" scenarios involve calculating highly variable social interactions at a massive scale. Simulators can help trial different social distancing techniques and gauge how changes to the movement of people may impact the spread of disease.
Google researchers have developed an open-source agent-based simulator that utilizes real-world data to simulate populations to help public health organizations fine tune their exposure notification parameters. For example, the simulator can consider different disease and transmission characteristics, the number of places people visit, as well as the time spent in those locations. We also contributed to Oxford's agent-based simulator by factoring in real world mobility and representative models of interactions within different workplace sectors to understand the effect of an exposure notification app on the COVID-19 pandemic.
The scientific and developer community are working on important work to understand and manage the pandemic. Whether it's by contributing to open source initiatives or funding data science projects and providing Google.org Fellows, we're committed to collaborating with researchers on efforts to build a more equitable and resilient future.
17 Sep 2020 4:00pm GMT
In the last few months, we've seen the amount of time people use gaming apps on their Chromebooks nearly triple. So, we've worked with our partners to expand our gaming offerings. We're increasing the breadth of high quality games on the Google Play Store and are also enhancing Chromebooks' gaming credentials with support for hugely popular titles on Stadia and through GeForce NOW.


A new premium gaming section on Google Play
The Google Play Store on Chromebooks now has a Premium gaming section that makes it easier for you to discover exciting games designed for Chromebook. These include favorites like Incredibox, Gamedev Tycoon and Bridge Constructor Portal.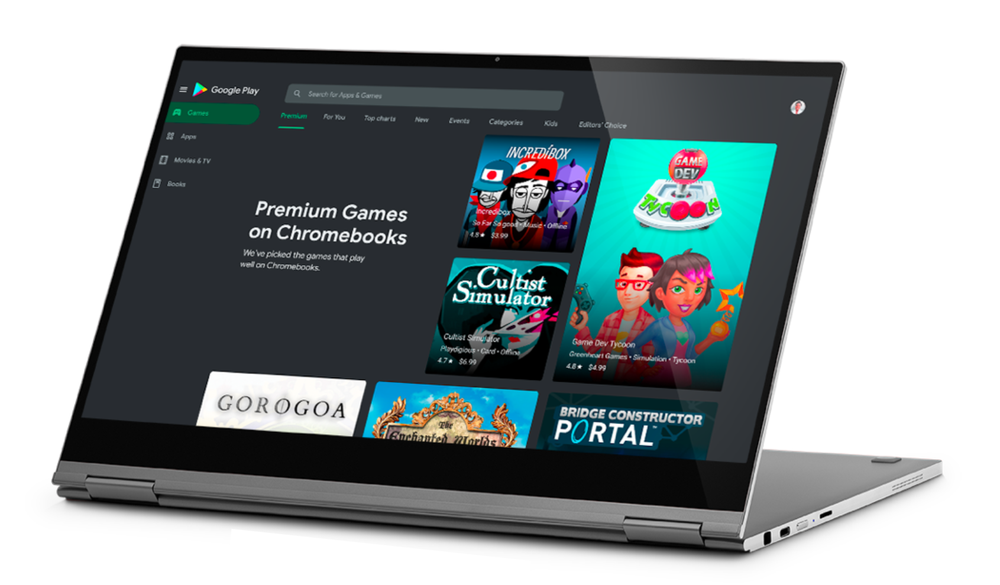 Score special perks on popular hits
With special gaming perks that come with your Chromebook, you can be a winner even before you play. Enjoy hits like House of Da Vinci and Project Highrise on us or try out special bundles on favorites like Fallout Shelter. Visit chromebook.com/perks from your Chromebook to find and redeem these offers and more.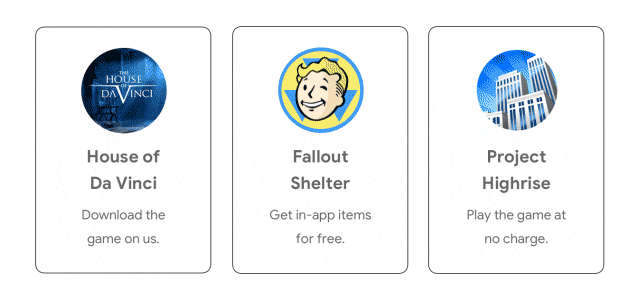 Instantly play your favorite games with Stadia and GeForce NOW
Playing high quality video games on your Chromebook is now easier than ever. With Stadia, you can instantly stream and play games like PUBG, Destiny 2 and more on your Chromebook1 without waiting for installation, downloads or updates. Chromebook users also get three months of Stadia Pro free2, giving you access to more than 20 popular titles to play. Visit chromebook.com/perks to redeem the offer and get playing.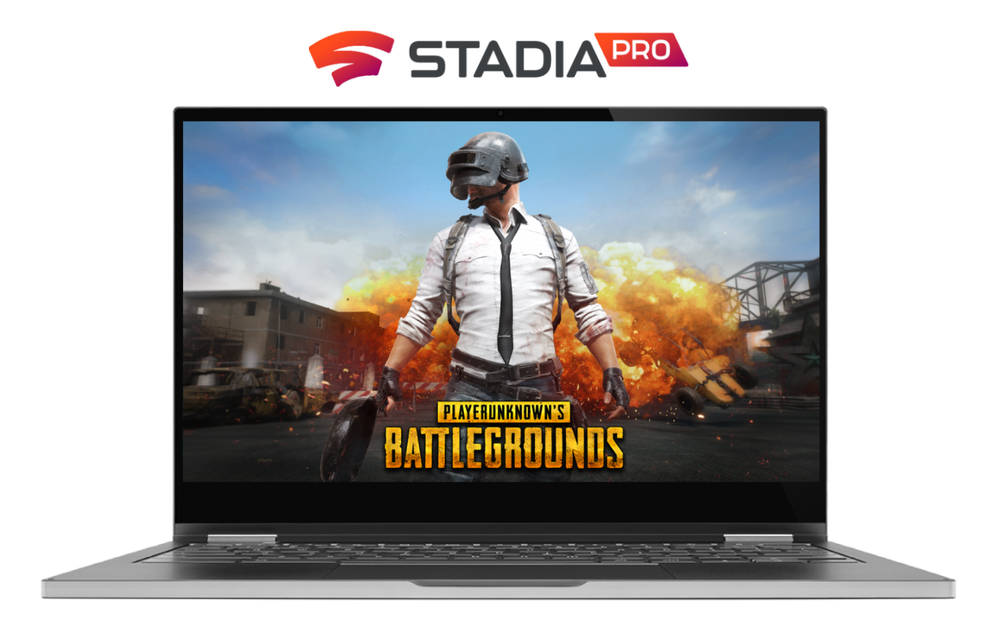 NVIDIA GeForce NOW, which launched on Chromebooks last month, makes it easy to instantly play your favorite PC games across different game libraries including Steam, Uplay store and more. Visit play.geforcenow.com to subscribe to the service and enjoy favorites like Fortnite, Apex LegendsTM, Counter-Strike: Global Offensive, DOTA 2 and more.
Controllers to enhance your gaming experience
Pick up your perfect teammate for gaming on Chromebooks from our Works with Chromebook-certified controllers. Take control of Stadia gameplay with the Stadia controller or try out Logitech F710 and F310 wireless gamepads to play games from the Play Store on your Chromebook.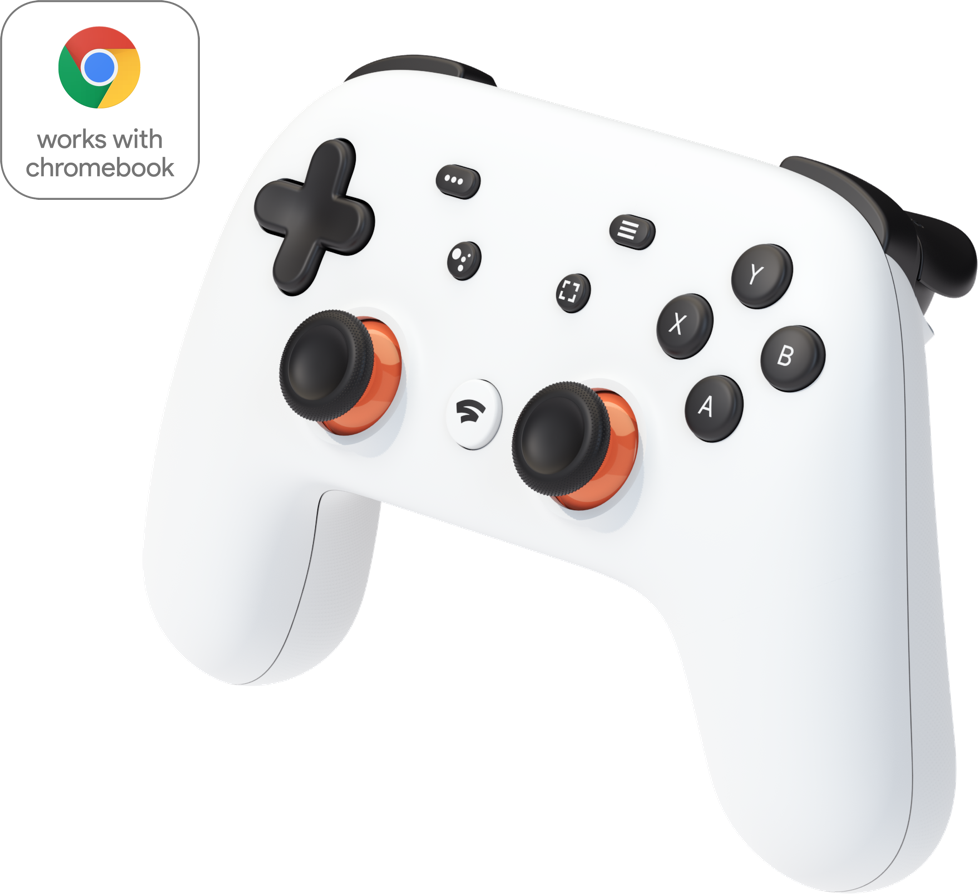 We're working to bring more updates in the coming months to make Chromebooks even better for work and play-watch this space for more. In the meantime, check out our app showcase on chromebook.com, where you just might find your new favorite game.
1Chromebooks launched before June 2017 may not provide an optimal gameplay experience. Find here a list of devices launched before then.
2This offer is only available to Chromebooks launched June 2017 onwards. Please see here for a list of devices launched before June 2017. Stadia Pro is $9.99/mo after trial, cancel anytime. Terms apply.
17 Sep 2020 3:00pm GMT
21 Oct 2019
Fitbit has discontinued their Fitbit One step trackers, which seems like a good opportunity to step back and reflect on wearing one for the last decade or so. I've enjoyed using Fitbit trackers, but the One devices seemed like they broke down way too often. I'm pretty proud that I ended up earning all the […]
21 Oct 2019 3:06am GMT
04 Nov 2018
Do you need something to cheer you up? You got it: I should explain this costume a little bit. At the US Digital Service, we do a thing called "crab claws." Crab claws is like visual applause-you pinch your fingers up and down to say "great job" or "congratulations" or "way to go." We do […]
04 Nov 2018 8:02pm GMT
08 Mar 2018
Cindy Cutts, my wife and best friend, passed away earlier this week. While I was traveling for work recently, Cindy went to visit her family in Omaha, Nebraska. On Sunday, while enjoying time with family, Cindy started having trouble breathing. Her family quickly called 911 and paramedics took Cindy to the hospital, but Cindy lost […]
08 Mar 2018 12:17am GMT
01 Apr 2017
April Fools' Day should probably be called Google Fools' Day, since there are so many Google hoaxes.

Google Japan developed a "bubble wrap" version of the Japanese keyboard. "The Google Japanese input bubble wrap version is a keyboard that realizes 'I want to press in my mind, I want to keep pressing'," according to Google Translate.




Another product for your smart home? Meet Google Gnome, "a voice-activated, hands-free tool designed to make backyard living effortless. Need to know what animal is squeaking in your bushes? Stay still and ask Gnome what sound an opossum makes. Running low on birdseed? That's where Gnome comes in. You can even use Gnome's proprietary high-intensity lasers to trim your hedges into whatever shape your heart desires."




The Chrome OS team brings the most popular mobile accessories to the Chromebook, which already blurs the line between mobile and desktop. Chromebook Groupie Stick, Chromebook Cardboard, Chromebook Workout Armband will soon be available in the Google Store. "To take advantage of beautiful, high-resolution displays, as well as great photo editing apps, we've carefully engineered the first Chromebook-sized selfie stick. Never again will you miss the perfect groupie."



Haptic Helpers make VR even more immersive. "We're taking VR to the next level with Haptic Helpers. Using a modest set of everyday tools, these VR virtuosos can simulate more than 10,000 unique experiences, all from the comfort of your own home. Smell the roses. Listen to the ocean. Feel a fluffy dog!"


You can now play the classic arcade game MS. PAC-MAN in Google Maps. "Avoid Blinky, Pinky, Inky, and Sue as you swerve the streets of real places around the world. But eat the pac-dots fast, because this game will only be around for a little while." Just go to the Google Maps site or open the Google Maps app for Android or iOS and click or tap MS. PAC-MAN at the bottom.



Google Cloud Platform expands to Mars. "By opening a dedicated extraterrestrial cloud region, we're bringing the power of Google's compute, network, and storage to the rest of the solar system, unlocking a plethora of possibilities for astronomy research, exploration of Martian natural resources and interplanetary life sciences. This region will also serve as an important node in an extensive network throughout the solar system. Our first interplanetary data center - affectionately nicknamed 'Ziggy Stardust' - will open in 2018," mentions Google.



Google Netherlands came up with Google Wind, a machine learning technology that controls the weather. "The Netherlands has many windmills, some no longer in use, we can connect to Google Cloud Platform. So we use the existing Dutch infrastructure, machine learning, weather patterns to control the network of windmills when rain is approaching. The first test results are very promising: we seem to be able to provide sun and clear skies for everyone in the Netherlands," mentions Google Netherlands blog.




Google's search app for iOS is now optimized for cats and dogs. "On the Google app for iOS, you can now use 3D Touch on the app icon or head to settings and select I'm Feeling Woof or I'm Feeling Meow to let your dogs and cats get info on topics they care about-whether that means squeaky toys or a bowl of milk!"



Google also launched Google Play for Pets, a new category of Android games designed for cats, dogs and other pets.


Google Translate's Word Lens feature supports a new language: Heptapod B, the alien language from the movie "Arrival". "The challenge with understanding Heptapod B is its nonlinear orthography. Fortunately, Google's neural machine translation system employs an encoder/decoder system that internally represents sentences as high-dimensional vectors. These vectors map well to the non-linear orthography of the Heptapod language and they are really the enabling technical factor in translating Heptapod B."


01 Apr 2017 7:25am GMT
19 Feb 2017
If you try to send a JavaScript attachment using Gmail or if you want to download a .js attachment, you'll get a new anti-virus warning: "Blocked for security reasons", "1 attachment contains a virus or blocked file. Downloading this attachment is disabled".


.JS has been added to the long list of file types that are blocked by Gmail for security reasons. The full list: .ADE, .ADP, .BAT, .CHM, .CMD, .COM, .CPL, .EXE, .HTA, .INS, .ISP, .JAR, .JS (NEW), .JSE, .LIB, .LNK, .MDE, .MSC, .MSI, .MSP, .MST, .NSH .PIF, .SCR, .SCT, .SHB, .SYS, .VB, .VBE, .VBS, .VXD, .WSC, .WSF, .WSH. "To prevent against potential viruses, Gmail doesn't allow you to attach certain types of files, including: certain file types (listed above), including their compressed form (like .gz or .bz2 files) or when found within archives (like .zip or .tgz files), documents with malicious macros, archives whose listed file content is password protected, archives whose content includes a password protected archive."

The GSuite Blog informs that "for inbound mail, senders will get a bounce message explaining why the email was blocked. If you still need to send .js files for legitimate reasons, you can use Google Drive, Google Cloud Storage, or other storage solutions to share or send your files."

You can still send JavaScript files using Gmail if you change the extension. What about downloading old .js attachments? Try the workarounds from this post.
19 Feb 2017 10:39am GMT
25 Jan 2017
Google Image Search has a different way to display suggestions: it now shows a long list of colorful boxes with related searches. You can click one or more boxes to dynamically refine search results.



For example, when searching for [sportswear], Google shows suggestions like: [women basketball], [tennis], [badminton], [golf], [volleyball], [nike woman], [alexander wang], [adidas], [fashion], [performance], [vintage], [trendy], [urban], [school], [gym], [90's], [70's], [vogue], [luxe], [avant garde], [korean], [italian], [french] and more. It's interesting to notice that each category of suggestions has a different color.



Here's the old interface, which had fewer suggestions and displayed thumbnails next to suggestions:


25 Jan 2017 9:39pm GMT
11 Nov 2011
As Google pushes fresh search results, a helpful Google search tool for historical searches quietly vanished earlier this month. Google has confirmed that Google's Timeline search option, which debuted in 2007, has been discontinued. By cl...
11 Nov 2011 9:35pm GMT
Google has graduated Think Insights from beta. This tool now compiles real-time data from Google search and other platforms, combining those facts with additional studies, infographics, and more. Users can find the site at ThinkwithGoogle.com, a...
11 Nov 2011 8:45pm GMT
Google has just acquired startup Katango, makers of a Facebook friends list generating iPhone app released this July. Shortly after its debut, however, Katango's autogenerator faced serious competition from Facebook itself, as it rolled out ...
11 Nov 2011 7:35pm GMT
26 Aug 2011
The Emperor instructed the gardener to set up the new court's garden. "I want you to plant five trees growing the Crataan fruit," the Emperor said, "Because we asked people what fruit they like best, and most named the Crataan fruit!" The gardener replied, "Emperor, that is excellent thinking! But let me make some suggestions: First, how about we make one of the five trees bear the Muran fruit. Only one out of ten citizens loves it, but those peculiar citizens tend to love multiple times as much!" "Second," the gardener continued, "How about we make one of the five trees bear the Dratean fruit. No one loves it, but that's because no one knows it yet!" "Third," the gardener said, "How about we leave one spot in the garden empty. Who knows what new type of tree we'll discover that we can put there in the fut ...
26 Aug 2011 12:12pm GMT
15 Aug 2011
For those of you who've been wondering whether I had turned to stone, fallen into a bottomless pit, or been climbing the Himalaya... no, none of that is true, even though you probably did notice I'm not actively blogging about Google here anymore*! Just now, a new iPad app I've been working on called Color Sound Machine went live, and this -- and all the other apps and games at Versus Pad** -- are actually what I am doing while not blogoscoping. *I've drafted unpublished posts explaining much more about past, present and future of Blogoscoped, and the history of Google news reporting, but ... oh, for now le ...
15 Aug 2011 4:00pm GMT
25 Feb 2011
One of the earliest specialist services provided by Google was reverse phone number lookup. If you used the "phonebook:" or "rphonebook:" operators together with a 10-digit US phone number, Google would show you the owner of that phone number, unless the number was unlisted. Google no longer provides that service. Not surprisingly, there was no press release marking the closure, but Google employee Daniel Russell has acknowledged the closure of the service in his blog. He hints at the possible pressures leading to the shuttering of the service: "As you can imagine, this was an endless source of hassles for people (who were surprised to see themselves searchable on Google) and for Google (who had to constantly de ...
25 Feb 2011 11:23am GMT