19 Jan 2017
In April 2016, the Android Security team described how the Google Play App Security Improvement (ASI) program has helped developers fix security issues in 100,000 applications. Since then, we have detected and notified developers of 11 new security issues and provided developers with resources and guidance to update their apps. Because of this, over 90,000 developers have updated over 275,000 apps!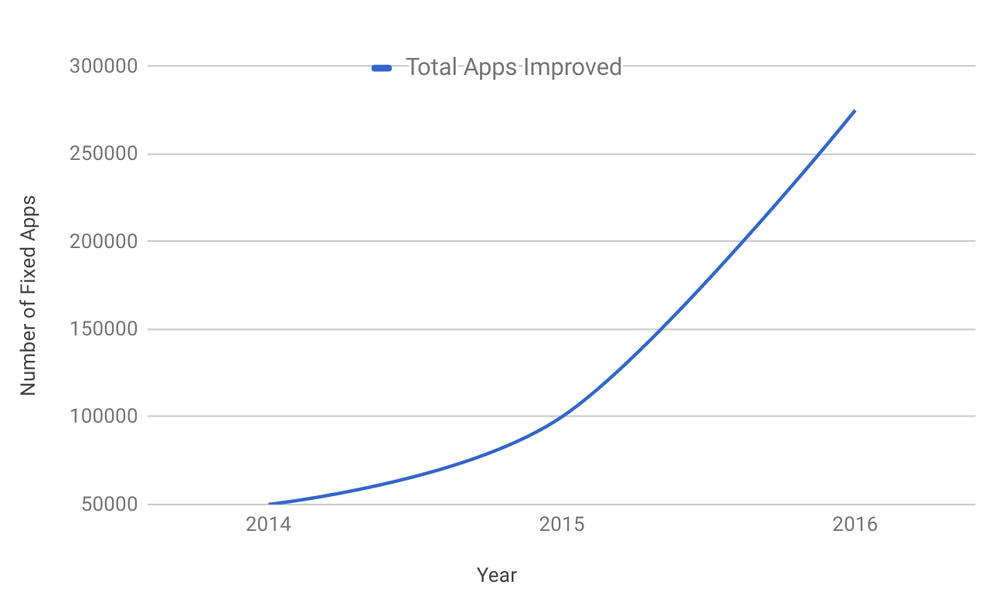 ASI now notifies developers of 26 potential security issues. To make this process more transparent, we introduced a new page where developers can find information about all these security issues in one place. This page includes links to help center articles containing instructions and additional support contacts. Developers can use this page as a resource to learn about new issues and keep track of all past issues.
Developers can also refer to our security best practices documents and security checklist, which are aimed at improving the understanding of general security concepts and providing examples that can help tackle app-specific issues.
How you can help:
For feedback or questions, please reach out to us through the Google Play Developer Help Center. To report potential security issues in apps, email us at security+asi@android.com.
19 Jan 2017 10:00pm GMT
Below is what happened in search today, as reported on Search Engine Land and from other places across the web. The post SearchCap: Cutts resigns, DuckDuckGo surges & clickthrough rates appeared first on Search Engine Land.

Please visit Search Engine Land for the full article.
19 Jan 2017 9:00pm GMT
G Suite helps teams cut through clutter and get right down to business: accomplishing more with less rigmarole. In November, we welcomed DocuSign to the Recommended for G Suite Program to trim time businesses spend on e-signatures and approvals. This G Suite integration makes it easy to fast-track signatures with multiple signers, which is especially valuable for our customers in the real estate industry.
Sereno Group, a real estate brokerage firm in California, uses DocuSign and G Suite to schedule signings, maintain communication between agents and clients, and easily exchange paperwork. By using less complicated tools, agents can build their business and clientele faster.
"When our tools are easier to use, agents can spend less time managing paperwork and devote more time to their clients," said Tim Proschold, VP of Group Strategy & Success at Sereno Group.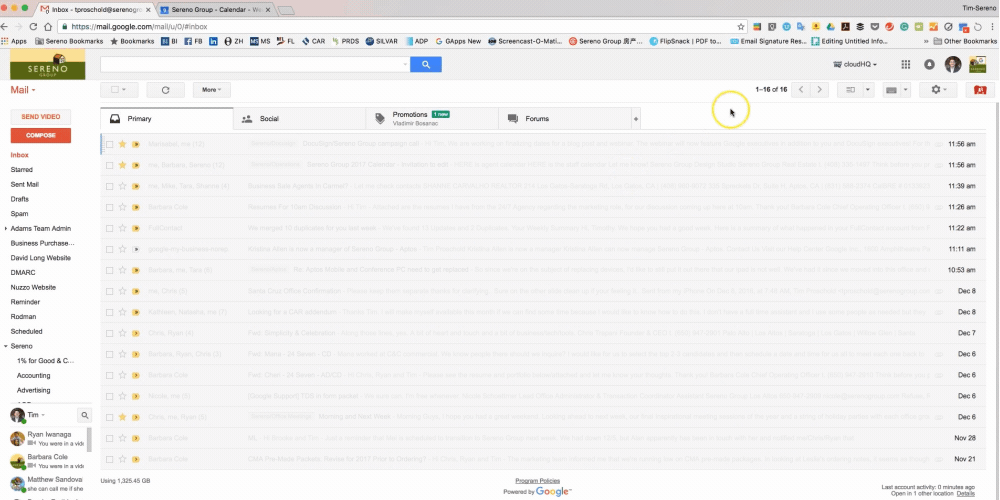 Sereno Group agents save time by using other G Suite integrations, like DocuSign for Google Drive and the DocuSign Gmail extension. Agents use Zipforms, online forms used by real estate agents, to store important deal information. Then others can go into these Zipforms, assemble important real estate, add in files or documents stored in Google Drive with the DocuSign for Google Drive integration and send materials to clients for them to sign. Tracking the status of signatures is easy with the DocuSign Gmail extension. Sereno Group agents can see the status of signatures directly in Gmail to know what's pending and what's complete.
Other brokers are catching on too. Chris Lopez, broker with World Class Properties, is saving time with DocuSign and G Suite: "I sign between five and 10 documents every day and I save up to 10 minutes on each document. That frees up nearly eight hours a week for me to focus on what's important for my clients."
These real estate agents are clearly on to something. According to DocuSign, Sereno Group real estate agents are using DocuSign tools more and more - last year they used 18,000 envelope signatures up from 5,500 the year before. To learn more about how to use G Suite and DocuSign for your business,
sign up for this webinar
on February 7, 2017 at 10am PST / 1pm EST.
19 Jan 2017 9:00pm GMT
A new study uncovers a slew of search terms that aren't earning their fair share of clicks in the search engine results pages. The post Study shows search terms with the very worst (and best) click-through rates appeared first on Search Engine Land.

Please visit Search Engine Land for the full article.
19 Jan 2017 8:33pm GMT
The privacy search engine says it had its biggest day already this year, with 14M searches on January 10. The post DuckDuckGo surpasses 10 billion searches, with 4 billion happening in 2016 alone appeared first on Search Engine Land.

Please visit Search Engine Land for the full article.
19 Jan 2017 6:05pm GMT
Editor's note: Leading up to Bett, one of the largest education technology conferences in the world, we're highlighting teachers, students and administrators who are using educational technology to make learning more interactive and impactful for their students. From our Impact Portraits series, Ben Forte shares how Devonport is creating a more collaborative, entrepreneurial environment for its 1,200 students using technology. Check out @GoogleForEdu and #BETT2017 to learn what we're talking about at Bett. To hear more from Ben, visit Google's teaching theater at Bett on Thursday Jan. 26 at 1:30 p.m.
When you walk into a startup or big tech office, it's not out of the ordinary to see ping pong tables, vending machines for gadgets or open spaces without walls or cubicles. But these environments aren't standard in the education system. In fact, most schools think that this type of modern, open space would create chaos and limit the ability to learn.
When I joined Devonport Boys High School, I set out to prove the opposite. I believed that by creating open spaces and giving students the technology and tools they need to think like entrepreneurs, they'd learn far more than in a rule-bound, confined environment. To support this idea, we created the Learning Commons: a dedicated space including a big room with an artificial lawn and bean bags, a separate room with whiteboard-ready desks, and small meeting rooms, custom built for collaboration and group discussions.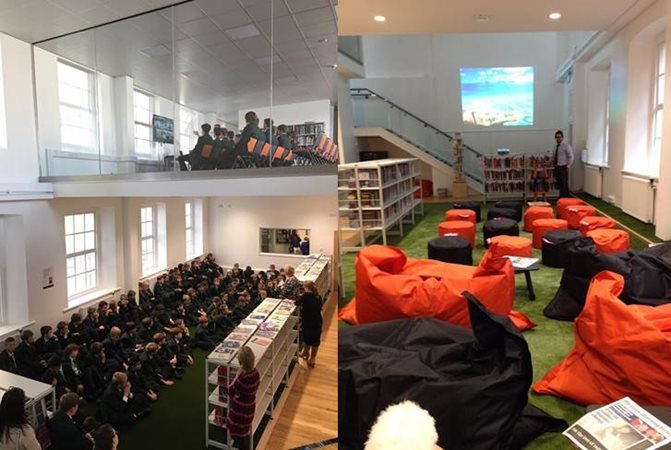 At the same time, we overhauled our technology. Chromebooks and G Suite for Education were so affordable that each student was allotted a device, letting us distribute technology to more students and teachers than ever before. We replaced outdated systems with Google tools to personalize learning and encourage greater collaboration. The result was a measurable increase in student participation, including a 60 percent increase in students accessing their accounts outside of school.

Empowering students to be digital ambassadors
Often when schools adopt new learning technology, teachers and administrators take responsibility for introducing the required resources and processes. At Devonport, we asked students to participate in the roll-out, and they embraced the opportunity. They created department- and subject-specific websites using Google Sites, and set up others for clubs and extracurriculars like Biology Society, Chess Club, Astronomy Club and Debate Club. This student-led project helped foster an entrepreneurial mindset and reorganize the departments and clubs. And now students, teachers and administrators can easily access shared event calendars, photos and resources with Google Drive.
Students also use Hangouts and Chromebooks outside of the classroom to hold meetings for student-run clubs and extracurricular activities. During the meetings, they take notes in Google Docs for everyone to view, and to help those who missed the meeting get up to speed. The portability of Chromebooks allows students to collaborate regardless of their physical location.

Meeting students where they are with personalized resources and parent involvement
With G Suite for Education, teachers can create a customized learning path by sharing videos, articles and additional assignments with each student based on their areas of improvement. By tracking their progress and giving every student one-on-one feedback during and after class, teachers are meeting students where they are, and challenging students to push themselves.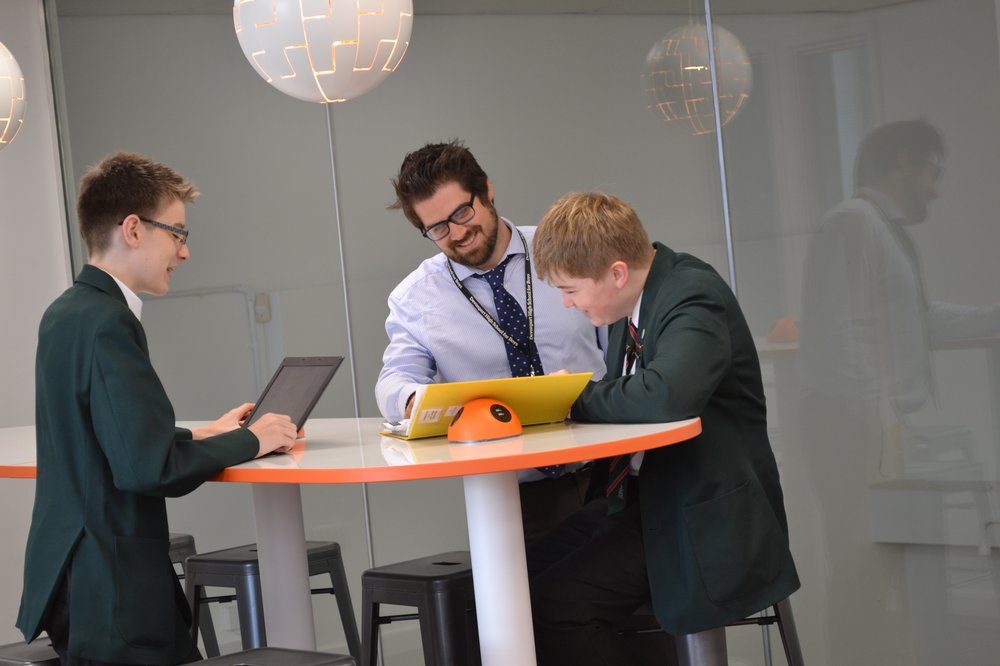 Collaborative spaces and tools allow students and teachers to work closely together.
Parents are a big part of students' education, and we wanted to create a better communication channel between parents and teachers. We created a Parent Portal on Google Sites, which lets teachers share updates and feedback with parents about their child's learning. This not only creates a positive relationship for the school and parents, but also helps parents identify how they can help their children at home and outside of the classroom.

Teachers are also making learning content more dynamic by incorporating videos and online activities. Our psychology department truly adopted the digital mindset and replaced the textbook with Google Sites, including online videos, links to articles and recorded lesson plans.
We want our students to be inspired to think creatively, to become the next generation of digital entrepreneurs, inventing ways to improve our schools, their lives and the world through technology. With the help of G Suite and Chromebooks, we're on our way.

Read the full Devonport Impact Portrait and check out g.co/EduImpact for stories of impact from around the world.

19 Jan 2017 5:00pm GMT
A few months ago, I took a leave of absence from Google to do a stint with the US Digital Service. A lot of people know about the US Digital Service because they helped rescue the healthcare.gov website. But you might not realize that the US Digital Service has helped veterans get their health benefits, […]
19 Jan 2017 3:47am GMT
16 Jan 2017
Google Image Search's mobile interface tests a new feature that starts playing snippets from a YouTube video at the top of the search results page. It's not disclosed as an ad, there's no sound and you can't stop or hide the video, which continues to play on repeat.



Right now, the experiment seems to be limited to fashion-related queries like [men jackets], [lookbook], [winter outfit], which match videos from YouTube channels like New Look and River Island. "New Look is a South African-owned British global fashion retailer with a chain of high street shops. (...) The chain sells womenswear, menswear, and clothing for teens," according to Wikipedia.

Google only shows labels like: "New Look on YouTube", even though this looks like an experimental ad format. I hope it will never become a regular feature, as it's pretty annoying and it wastes Internet bandwidth.
16 Jan 2017 10:49am GMT
13 Jan 2017
It looks like YouTube's notification experiment is now a regular feature and you can no longer disable it by clearing cookies. When sign in to your Google account, YouTube's desktop site no longer shows Google+ notifications in the navigation bar: it replaces them with YouTube notifications.

"Your notifications live here. Subscribe to your favorite channels to get notified about their latest videos," informs the new notification box.


13 Jan 2017 2:08pm GMT
29 Dec 2016
YouTube has recently started to experiment with replacing Google+ notifications in the navigation bar with YouTube notifications. You get notifications for recently uploaded videos from your subscribed channels, but only if you've enabled notifications for those channels. For example, you can go to the subscription manager and click the bell icon next to a channel to enable or disable notifications.

The settings button sends you to the Notifications section from YouTube's Settings page and the 3-dot icon next to each notification lets you turn off notifications from the corresponding channel.



If you don't like this experiment, you can always clear cookies for youtube.com in your browser's settings and opt out.
29 Dec 2016 12:24pm GMT
18 Jun 2016
Over the last couple years, I've seen more and more people in technology trying to make government work better. They're idealists who are also making a large impact. These are people that I respect-some of them worked to fix healthcare.gov, for example. From talking to many of them, I can tell you that their energy […]
18 Jun 2016 1:57am GMT
03 Feb 2016
Amit Singhal just announced that he's retiring toward the end of the month. Amit has been a formative part of Google's search team, but he's also a good friend. Last year, after he marked 15 years with Google, I wrote this about Amit's contributions: Amit Singhal, one of the unsung heroes of Google, just celebrated […]
03 Feb 2016 7:49pm GMT
11 Nov 2011
As Google pushes fresh search results, a helpful Google search tool for historical searches quietly vanished earlier this month. Google has confirmed that Google's Timeline search option, which debuted in 2007, has been discontinued. By cl...
11 Nov 2011 9:35pm GMT
Google has graduated Think Insights from beta. This tool now compiles real-time data from Google search and other platforms, combining those facts with additional studies, infographics, and more. Users can find the site at ThinkwithGoogle.com, a...
11 Nov 2011 8:45pm GMT
Google has just acquired startup Katango, makers of a Facebook friends list generating iPhone app released this July. Shortly after its debut, however, Katango's autogenerator faced serious competition from Facebook itself, as it rolled out ...
11 Nov 2011 7:35pm GMT
26 Aug 2011
The Emperor instructed the gardener to set up the new court's garden. "I want you to plant five trees growing the Crataan fruit," the Emperor said, "Because we asked people what fruit they like best, and most named the Crataan fruit!" The gardener replied, "Emperor, that is excellent thinking! But let me make some suggestions: First, how about we make one of the five trees bear the Muran fruit. Only one out of ten citizens loves it, but those peculiar citizens tend to love multiple times as much!" "Second," the gardener continued, "How about we make one of the five trees bear the Dratean fruit. No one loves it, but that's because no one knows it yet!" "Third," the gardener said, "How about we leave one spot in the garden empty. Who knows what new type of tree we'll discover that we can put there in the fut ...
26 Aug 2011 12:12pm GMT
15 Aug 2011
For those of you who've been wondering whether I had turned to stone, fallen into a bottomless pit, or been climbing the Himalaya... no, none of that is true, even though you probably did notice I'm not actively blogging about Google here anymore*! Just now, a new iPad app I've been working on called Color Sound Machine went live, and this -- and all the other apps and games at Versus Pad** -- are actually what I am doing while not blogoscoping. *I've drafted unpublished posts explaining much more about past, present and future of Blogoscoped, and the history of Google news reporting, but ... oh, for now le ...
15 Aug 2011 4:00pm GMT
25 Feb 2011
One of the earliest specialist services provided by Google was reverse phone number lookup. If you used the "phonebook:" or "rphonebook:" operators together with a 10-digit US phone number, Google would show you the owner of that phone number, unless the number was unlisted. Google no longer provides that service. Not surprisingly, there was no press release marking the closure, but Google employee Daniel Russell has acknowledged the closure of the service in his blog. He hints at the possible pressures leading to the shuttering of the service: "As you can imagine, this was an endless source of hassles for people (who were surprised to see themselves searchable on Google) and for Google (who had to constantly de ...
25 Feb 2011 11:23am GMT