26 Oct 2021
Posted by The Android Team
We're less than 24 hours away from kicking off the 2021 Android Dev Summit, broadcasting live online on October 27 & 28. The summit kicks off on October 27 at 10AM PDT with a 50-minute technical keynote, The Android Show. You can tune in at developer.android.com/dev-summit, or watch on YouTube.
After the show, we'll be posting 30+ technical sessions to the site as well as YouTube for you to watch at your own pace, from Material You in Jetpack Compose to Kotlin Flows in practice.
Two days of live, technical Android content
Over the two day event, we have a number of ways for you to tune in and hear your favorite Android development topics discussed live from the team who built Android. Got questions about Modern Android Development, Large Screens, or Material You? Ask them on Twitter now using #AskAndroid to get them answered live on the air. We'll also host live Android Code-Alongs. Tune in to watch Android experts as they code, tackle programming challenges, and answer your questions live across Jetpack Compose and Compose for Wear OS.
For the full agenda with timings, check out the Android Dev Summit page. And of course, don't forget: if you run into the bugs of chaos before then, let them know that together with Team Jetpack, we're coming for them at Android Dev Summit…
26 Oct 2021 5:10pm GMT
21 Oct 2021
Posted by Sameer Samat, Vice President, Product Management
When we started Android and Google Play more than a decade ago, we made a bet that a free and open mobile ecosystem could compete with the proprietary walled gardens that dominated the industry. It wasn't yet clear what kinds of businesses would move to mobile or what apps would be successful. To keep things simple, we went with an easy-to-understand business model: The vast majority of developers could distribute their apps on Google Play for free (currently 97% do so at no charge). For the developers who offered a paid app or sold in-app digital goods (currently just 3% of developers), the flat service fee was 30%. This model helped apps to become one of the fastest-growing software segments. And instead of charging licensing fees for our OS, our service fee allowed us to continually invest in Android and Play while making them available for free to device makers all over the world.
The creativity and innovation from developers around the world spurred amazing new app experiences we could have never imagined when we first introduced Android. As the ecosystem evolved, a wider range of business models emerged to support these different types of apps. We've made important changes along the way, including moving beyond a "one size fits all" service fee model to ensure all types of businesses can be successful. Instead of a single service fee, we now have multiple programs designed to support and encourage our diverse app ecosystem.
The result is that 99% of developers qualify for a service fee of 15% or less. And after learning from and listening to developers across many industries and regions, including developers like Anghami, AWA, Bumble, Calm, Duolingo, KADOKAWA, KKBOX, Picsart, and Smule, we're announcing additional changes to further support our ecosystem of partners and help them build sustainable businesses, and ensure Play continues to lead in the mobile app ecosystem.
Decreasing service fees on subscriptions to 15%
Digital subscriptions have become one of the fastest growing models for developers but we know that subscription businesses face specific challenges in customer acquisition and retention. We've worked with our partners in dating, fitness, education and other sectors to understand the nuances of their businesses. Our current service fee drops from 30% to 15% after 12 months of a recurring subscription. But we've heard that customer churn makes it challenging for subscription businesses to benefit from that reduced rate. So, we're simplifying things to ensure they can.
To help support the specific needs of developers offering subscriptions, starting on January 1, 2022, we're decreasing the service fee for all subscriptions on Google Play from 30% to 15%, starting from day one.
For developers offering subscriptions, this means that first-year subscription fees will be cut in half. We've already gotten positive feedback from our developer partners on this change:
"Our partnership with Google has been a powerful one for our business, helping us to scale and ultimately playing a key role in advancing our mission to empower women globally. The pricing change they've announced will allow us to better invest in our products and further empower users to confidently connect online."
- Whitney Wolfe Herd, Founder and CEO, Bumble Inc.
"Just as every person learns in different ways, every developer is different as well. We're excited to see Google continuing to collaborate with the ecosystem to find models that work for both the developer and platform. This reduction in subscription fees will help Duolingo accelerate our mission of universally available language learning."
- Luis von Ahn, Co-Founder and CEO of Duolingo.
Going further with cross platform experiences
While apps remain incredibly important for mobile phones, great services must now also span TVs, cars, watches, tablets and more. And we recognize that developers need to invest in building for those platforms now more than ever.
Earlier this year we launched the Play Media Experience program to encourage video, audio and book developers alike to help grow the Android platform by building amazing cross-device experiences. This helped developers invest in these multi-screen experiences with a service fee as low as 15%.
Today, we're also making changes to the service fee in the Media Experience program, to better accommodate differences in these categories. Ebooks and on-demand music streaming services, where content costs account for the majority of sales, will now be eligible for a service fee as low as 10%. The new rates recognize industry economics of media content verticals and make Google Play work better for developers and the communities of artists, musicians and authors they represent. You can go here for more information.
We will continue to engage with developers to understand their challenges and opportunities - and how we can best support them in building sustainable businesses. It's a theme that will be front and center at the Android Developer Summit on October 27-28, where you'll hear more about our latest tools, application programming interfaces (APIs) and technologies designed to help developers be more productive and create better apps.
If you're looking for more information about Google Play and its service fees, we've answered some common questions here.
21 Oct 2021 4:01pm GMT
20 Oct 2021
Posted by The Android Team
Excited for Android Dev Summit on October 27-28? Us too! But, before we get there, we need your help. Team Jetpack is in a brutal fight against the bugs of chaos… they are outnumbered and they need you to join their forces, defeat the bugs, and help Android restore order to the universe. Will you answer the call?
Create your own Team Jetpack superhero, with a custom look and feel, and add your own mix of Android coding power boosts to unlock magical superpowers. Once you're done, you'll get a digital trading card for your superhero to share on Twitter, and you'll be all set to join us at #AndroidDevSummit and help restore order to the universe. Go to goo.gle/ads21 to make yours!
#AndroidDevSummit agenda + sessions announced!
We just posted the livestream agenda, released the full technical talk details, and added additional speakers to the lineup for Android Dev Summit. Take a look and start planning your days. Android Dev Summit kicks off with a 50-minute technical keynote, The Android Show. After the show, we'll be posting 30+ technical sessions for you to watch at your own pace, from Material You in Jetpack Compose to Kotlin Flows in practice.
Over the two day event, we have a number of ways for you to tune in and hear your favorite Android development topics discussed live from the team who built Android. Got questions about Modern Android Development, Large Screens, or Material You? Ask them on Twitter now using #AskAndroid to get them answered live on the air. We'll also host live Android Code-Alongs. Tune in to watch Android experts as they code, tackle programming challenges, and answer your questions live across Jetpack Compose and Compose for Wear OS.
We can't wait to connect with you in just over a week! For the full agenda with timings, check out the Android Dev Summit page. And of course, don't forget: if you run into the bugs of chaos before then, let them know that together with Team Jetpack, we're coming for them at Android Dev Summit…
20 Oct 2021 11:45pm GMT
10 Oct 2021
As some of you may know, I've been starting to collect "vintage" telecommunications equipment starting from analog modems to ISDN adapters, but also PBXs and even SDH equipment. The goal is to keep this equipment (and related software) alive for demonstration and practical exploration.
Some [incomplete] information can be found at https://osmocom.org/projects/retro-bbs/wiki/
Working with PBXs to simulate the PSTN (ISDN/POTS) network is fine to some extent, but it's of course not the real deal. You only get S0-buses and no actual Uk0 like actual ISDN lines of the late 80ies and 90ies. You have problems with modems not liking the PBX dialtone, etc.
Hence, I've always wanted to get my hand on some more real-world central-office telephone network equipment, and I finally have a source for so-called V5.1/V5.2 access multiplexers. Those are like remote extension boxes for the central office switch (like EWSD or System 12). They aggregate/multiplex a number of analog or ISDN BRI subscriber lines into E1 lines, while not implementing any of the actual call control or ISDN signalling logic. All of that is provided by the actual telephone switch/exchange.
So in order to integrate such access multiplexers in my retronetworking setup, I will have to implement the LE (local exchange) side of the V5.1 and/or V5.2 protocols, as specified in ITU-T G.964 and G.965.
In the limited spare time I have next to my dayjob and various FOSS projects, progress will likely be slow. Nonetheless I started with an implementation now, and I already had a lot of fun learning about more details of those interfaces and their related protocols.
One of the unresolved questions is to what kind of software I would want to integrate once the V5.x part is resolved.
lcr would probably be the most ISDN-native approach, but it is mostly unused and quite EOL.

Asterisk or FreeSWITCH would of course be obvious candidates, but they are all relatively alien to ISDN, and hence not very transparent once you start to do anything but voice calls (e.g. dialup ISDN data calls in various forms).

yate is another potential candidate. It already supports classic SS7 including ISUP, so it would be a good candidate to build an actual ISDN exchange with V5.2 access multiplexers on the customer-facing side (Q.921+Q.931 on it) and SS7/ISUP towards other exchanges.
For now I think yate would be the most promising approach. Time will tell.
The final goal would then be to have a setup [e.g. at a future CCC congress] where we would have SDH add/drop multiplexers in several halls, and V5.x access multiplexers attached to that, connecting analog and ISDN BRI lines from individual participants to a software-defined central exchange. Ideally actually multiple exchanges, so we can show the signaling on the V5.x side, the Q.921/Q.931 side and the SS7/ISUP between the exchanges.
Given that the next CCC congress is not before December 2022, there is a chance to actually implement this before then ;)
10 Oct 2021 10:00pm GMT
While developing MiTubo I've recently felt the need of parsing HTML pages: the first problem I wanted to solve was implementing proper RSS feed detection when the user entered a website URL into MiTubo's search box, so that MiTubo would parse the site's HTML, look for <link rel="alternate"...> URLs in the HEAD section, and let the user subscribe to any video feeds found there.
A quick search in the internet did not provide a clear answer: I found a Qt HTML parser in (stalled) development, and a few other C++ or C parsers (among the latters, lexbor is the most inspiring), but all of them seem to take the approach of parsing the HTML file into a DOM tree, while I was hoping to find a lightweight SAX-like parser. Pretty much like Python's html.parser.
Anyway, I don't remember how it happened, but at a certain point I found myself looking at html.parser source code, and I was surprised to see how compact it was (apart, of course, for the long list of character references for the HTML entities!). Upon a closer look, it also appeared that the code was not making much use of Python's dynamic typing, so, I thought, maybe I could give it a try to rewrite that into a Qt class. And a few hours later QHtmlParser was born.
As this post's title suggests, the process of rewriting html.parser with Qt was quite straightforward, and the nice thing about it is that I didn't have to spend any time reading the HTML standard or trying to figure out how to implement the parser: I just had to translate Python code into C++ code, and thanks to the nice API of QString (which in many ways resembles Python's - or vice versa) this was not too hard. I even left most of the original code comments untouched, and reused quite a few tests from the test suite.
It was time well spent. :-)
If you think you might need an HTML parser for your Qt application, you are welcome to give it a try. It's not a library, just a set of files that you can import into your project; for the time being I only have a build file for QBS, but I'll happily accept contributions to make it easier to use QHtmlParser with projects built using other build systems. You can see here the changes I made in MiTubo to start using it and detect RSS feed in a webpage's HEAD.
That's all for now. And in case you missed the link before, you can find QHtmlParser here.
10 Oct 2021 7:57pm GMT
07 Aug 2021
I was a happy user of Del.icio.us for many years until the service closed. Then I moved my links to Google Bookmarks, which offered basically the same functionality (at least for my needs): link storage with title, tags and comments. I've carefully tagged and filed more than 2500 links since I started, and I've learnt to appreciate the usefulness of searching by tag to find again some precious information that was valuable to me in the past.
Google Bookmarks is a very old and simple service that "just works". Sometimes it looked as if Google had just forgotten about it and let it run for years without anybody noticing… until now. It's closing on September 2021.
I didn't want to lose all my links, still need a link database searchable by tags and don't want to be locked-in again in a similar service that might close in some years, so I wrote my own super-simple alternative to it. It's called bs, sort of bookmark search.
The usage can't be simpler, just add the tag you want to look for and it will print a list of links that have that tag:

$ bs webassembly
  title = Canvas filled three ways: JS, WebAssembly and WebGL | Compile
    url = https://compile.fi/canvas-filled-three-ways-js-webassembly-and-webgl/
   tags = canvas,graphics,html5,wasm,webassembly,webgl
   date = 2020-02-18 16:48:56
comment =  

  title = Compiling to WebAssembly: It's Happening! ★ Mozilla Hacks - the Web developer blog
    url = https://hacks.mozilla.org/2015/12/compiling-to-webassembly-its-happening/
   tags = asm.js,asmjs,emscripten,llvm,toolchain,web,webassembly
   date = 2015-12-18 09:14:35
comment = 

If you call the tools without parameters, it will prompt data to insert a new link or edit it if the entered url matches a preexisting one:

$ bs
url: https://compile.fi/canvas-filled-three-ways-js-webassembly-and-webgl/
title: Canvas filled three ways: JS, WebAssembly and WebGL | Compile
tags: canvas,graphics,html5,wasm,webassembly,webgl
comment:

The data is stored in an sqlite database and I've written some JavaScript snippets to import the Delicious exported bookmarks file and the Google Bookmarks exported bookmarks file. Those snippets are meant to be copypasted in the JavaScript console of your browser while you have the exported bookmarks html file open on it. They'll generate SQL sentences that will populate the database for the first time with your preexisting data.
By now the tool doesn't allow to delete bookmarks (I haven't had the need yet) and I still need to find a way to simplify its usage through the browser with a bookmarklet to ease adding new bookmarks automatically. But that's a task for other day. By now I have enough just by knowing that my bookmarks are now safe.
Enjoy!
[UPDATE: 2020-09-08]
I've now coded an alternate variant of the database client that can be hosted on any web server with PHP and SQLite3. The bookmarks can now be managed from a browser in a centralized way, in a similar fashion as you could before with Google Bookmarks and Delicious. As you can see in the screenshot, the style resembles Google Bookmarks in some way.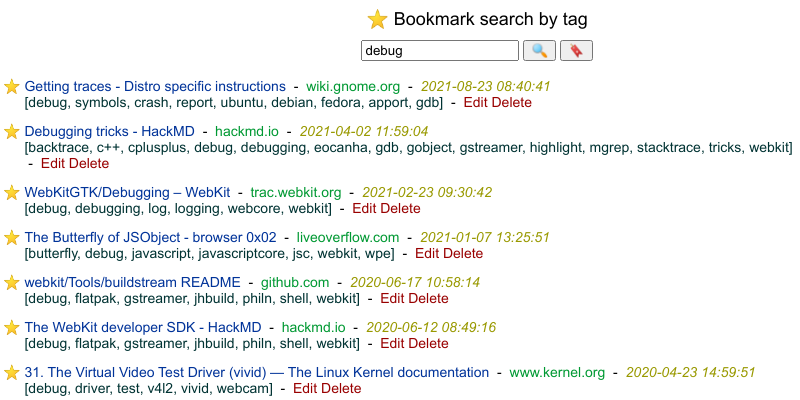 You can easily create a quick search / search engine link in Firefox and Chrome (I use "d" as keyword, a tradition from the Delicious days, so that if I type "d debug" in the browser search bar it will look for that tag in the bookmark search page). Also, the

0

07 Aug 2021 12:29pm GMT
19 Jul 2021
[excuse this German-language post, this is targeted at the current German public discourse]
Ein paar Ergänzungen zu meinem blog-post gestern.
Ich benutzt den generischen Begriff PWS statt SMSCB, weil SMSCB strikt genommen nur im 2G-System existiert, und nur ein Layer ist, der dort für Notfallalarmierung verwendet wird.
Zu Notfallwarn-Apps
Natürlich sind spezielle, nationale Deutsche Katastrophenschutz-Apps auch nützlich! Aber diese sollten allenfalls zusätzlich angeboten werden, nachdem man erstmal die grundlegende Alarmierung konform der relevanten internationalen (und auch EU-)Standards via Cell Broadcast / PWS realisiert. Man sagt ja auch nicht: Nachrichtensendungen braucht man im Radio nicht mehr, weil man die bereits im Fernsehen hat. Man will auf allen verfügbaren Kanälen senden, und zunächst jene mit möglichst universeller Reichweite und klaren technischen Vorteilen benutzen, bevor man dann zusätzlich auch auf anderen Kanälen alarmiert.
Wie sieht PWS für mich als Anwender aus
Hier scheint es größere Missverständnisse zu geben, wie das auf dem Telefon letztlich aussieht. Ist ja auch verständlich, hierzulande sieht man das nie, ausser man ist zufällig in einem Labor/Basttel-Netz z.B. auf einer CCC-Veranstaltung unterwegs, in der das Osmocom-Projekt mal solche Nachrichten versendet hat.
Die PWS (ETWS, CMAS, WEA, KPAS, EU-ALERT, ...) nachrichten werden vom Telefon empfangen, und dann je nach Konfiguration und Priorität behandelt. Für die USA ist im WEA vorgeschrieben, dass Alarme einer bestimmten Prioritatsklasse (z.B. der Presidential Level Alert) immer zwangsweise zur Anzeige gebracht werden und immer mit einem lauten sirenenartigen Alarmton einhergehen. Es ist sogar explizit verboten, dass der Anwender diese Alarme irgendwo ausstellen, stumm schalten o.ä. kann. Insofern spielt es keine Rolle, ob das Telefon gerade Lautlos gestellt ist, oder es nicht gerade unmittelbar bei mir ist.
Bei manchen Geräten werden die Warnungen sogar mittels einer text2speech-Engine laut über den Lautsprecher vorgelesen, nachdem der Alarmton erscheint. Ob das eine regulatorische Anforderung eines der nationalen System ist, weiss ich nicht - ich habe es jedenfalls bereits in manchen Fällen gesehen, als ich mittels Osmocom-Software solche Alarme in privaten Labornetzen versandt habe.
Noch ein paar technische Details
PWS-Nachrichten werden auch dann noch ausgestrahlt, wenn die Zelle ihre Netzanbindung verloren hat. Wenn also z.B. das Glasfaserkabel zum Kernnetz bereits weg ist, aber noch Strom da ist, werden bereits vorher vom CBC (Cell Broadcast Centre) an die Mobilfunkzelle übermittelte Warnungen entsprechend ihrer Gültigkeitsdauer weiter autonom von der Zelle ausgesendet Das ist wieder ein inhärenter technischer Vorteil, der niemals mit einer App erreichbar ist, weil diese erfordert dass das komplette Mobilfunknetz mit allen internen Verbindungen und dem Kernnetz sowie die Internetverbindung vom Netzbetreiber zum Server des App-Anbieters durchgehend funktioniert.

PWS-Nachrichten können zumindest technisch auch von Telefonen empfangen werden, die garnicht im Netz eingebucht sind, oder die keine SIM eingelegt haben. Ob dies in den Standards gefordert wird, und/oder ob dies die jeweilige Telefonsoftware das so umsetzt, weiss ich nicht und müsste man prüfen. Technisch liegt es nahe, ähnlich wie das Absetzen von Notrufen, das ja auch technisch in diesen Fällen möglich ist.
Zu den Kosten
Wenn - wie in der idealen Welt - das Vorhalten von Notfallalarmierung eine Vorgabe bereits zum Zeitpunkt der Lizenzvergabe für Funkfrequenzen gewesen wäre, wäre das alles einfach ganz lautlos von Anfang an immer unterstützt gewesen. Keiner hätte extra Geld investieren müssen, weil diese minimale technische Vorgabe dann ja bereits Teil der Ausschreibungen der Betreiber für den Einkauf ihres Equipments gewesen wäre. Zudem hatten wir ja bereits in der Vergangenheit Cell Brodacast in allen drei Deutschen Netzen, d.h. die Technik war mal [aus ganz andern Gründen] vorhanden aber wurde irgendwann weggespart.
Das jetzt nachträglich einzuführen heisst natürlich, dass es niemand eingeplant hat, und dass jeder beteiligte am Markt sich das vergolden lassen will. Die Hersteller freuen sich in etwa wie "Oh, Ihr wollt jetzt mehr als ihr damals beim Einkauf spezifiziert habt? Schön, dann schreiben wir mal ein Angebot".
Technisch ist das alles ein Klacks. Die komplette Entwicklung aller Bestandteile für PWS in 2G/3G/4G/5G würde ich auf einen niedrigen einmaligen sechsstelligen Betrag schätzen. Und das ist die einmalige Investition in der Entwicklung, welche dann über alle Geräte/Länder/Netze umgebrochen wird. Bei den Milliarden, die in Entwicklung und Anschaffung von Mobilfunktechnik investiert wird, ist das ein Witz.
Die Geräte wie Basisstationen aller relevanten Hersteller unterstützen natürlich von Haus aus PWS. Die bauen für Deutschland ja nicht andere Geräte, als jene, die in UK, NL, RO, US, ... verbaut werden. Der Markt ist international, die gleiche Technik steht überall.
Weil man jetzt zu spät ist, wird das natürlich von allen Seiten ausgenutzt. Jeder Basisstationshersteller wird die Hand aufhalten und sagen, das kostet jetzt pro Zelle X EUR im Jahr zusätzliche Lizenzgebühren. Und die Anbieter der zentralen Komponente CBC werden auch branchenüblich die Hand aufhalten, mit satten jährlichen Lizenzgebühren. Und die Consultants werden auch alle die Hand aufhalten, weil es gibt wieder etwas zu Integrieren, zu testen, ... Das CBC ist keine komplexe Technik. Wenn man das einmalig als Open Source entwickeln lässt, und in allen Netzen einsetzt, bekommt man es quasi zum Nulltarif. Aber das würde ja Voraussetzen, dass man sich wirklich mit der Technik befasst, versteht um welch simple Software es hier geht, und dass man mal andere Wege in der Beschaffung geht, als nur mal eben bei seinen existierenden 3 Lieferanten anzurufen, die sich dann eine goldene Nase verdienen wollen.
In der öffentlichen Diskussion wird von 20-40 Millionen EUR gesprochen. Das sind überzogene Forderungen der Marktteilnehmer, nichts sonst. Aber selbst wenn man der Meinung ist, dass man lieber das Geld zum Fenster hinauswerfen will, statt Open Source Alternativen zu [ver]suchen, dann ist auch diese Größenordnung etwas, dass im Vergleich zu den sonstigen Anschaffungs- und Betriebskosten eines Mobilfunknetzes verschwindend gering ist. Ganz zu schweigen von den Folgekosten im Bereich Bergung/Rettung, Personenschäden, etc. die sich dadurch mittelfristig bei Katastrophen einsparen lassen.
Oder anders betrachtet: Wenn sogar das wirtschaftlich viel schwächere Rumänien sich sowas leisten kann, dann wird es wohl auch die Bundesrepublik Deutschland stemmen können.
19 Jul 2021 10:00pm GMT
18 Jul 2021
[excuse this German-language post, this is targeted at the current German public discourse]
In mehrerern Gegenden Deutschlands gab es verheerende Hochwasser, und die Öffentlichkeit diskutiert deshalb mal wieder die gute alte Frage nach dem adäquaten Mittel der Alarmierung der Bevölkerung.
Es ist einfach nur ein gigantisches Trauerspiel, wie sehr die Deutsche Politik und Verwaltung in diesem Punkt inzwischen seit Jahrzehnten sämtliche relevanten Standards verpennt, und dann immer wieder öffentlich durch fachlich falsche und völlig uninformierte Aussagen auffällt.
Das Thema wurde vor dem aktuellen Hochwasser bereits letztes Jahr im Rahmen des sog. WarnTag öffentlich diskutiert. Auch hier von Seiten der öffentlichen Hand ausschliesslich mit falschen Aussagen, wie z.B. dass es bei Cell Broadcast Datenschutzprobleme gibt. Dabei ist Cell Broadcast die einzige Technologie, wo keine Rückmeldung des einzelnen Netzteilnehmers erfolgt, und das Netz nichtmal weiss, wer die Nachricht empfangen hat, und wo dieser Empfang stattgefunden hat. Ganz wie beim UKW-Radio.
Fakt ist, dass alle digitalen Mobilfunkstandards seit GSM/2G, d.h. seit 1991 die Möglichkeit mitbringen, effizient, schnell und datensparsam alle Nutzer (einer bestimmten geographischen Region) mit sogenannten broadcast Nachrichten zu informieren. Diese Technik, in GSM/2G genannt Cell Broacast (oder auch _SMSCB_), unterscheidet sich Grundlegend von allen anderen Kommunikationsformen im Mobilfunknetz, wie Anrufe und herkömmliche SMS (offiziell SMS-PP). Anrufe, SMS und auch mobile Paketdaten (Internet) werden immer für jeden Teilnehmer individuell auf ihm zugewiesenen Funkressourcen übermittelt. Diese Ressourcen sind beschränkt. Es können in keinem Mobilfunknetz der Welt alle Teilnehmer gleichzeitig telefonieren, oder gleichzeitig SMS empfangen.
Stattdessen benutzt Cell Broadcast - wie der Name bereits unmissverständlich klar macht - Einen broadcast, d.h. Rundsendemechanismus. Eine Nachricht wird einmal gesendet, benötigt also nur eine geteilte Ressource auf der Luftschnittstelle, und wird dann von allen Geräten im Empfangsbereich zeitgleich empfangen und dekodiert. Das ist wie UKW-Radio oder klassisches terrestrisches Fernsehen.
Cell Broadcast wurde bereits in den 1990er Jahren von Deutschen Netzbetreibern benutzt. Und zwar nicht für etwas lebensnotwendiges wie die Notfallsignalisierung, sondern für so banale Dinge wie die Liste jener Vorwahlen, zu denen gerade ein vergünstigter "wandernder Ortstarif" Besteht. Ja, sowas gab es mal bei Vodafone. Oder bei O2 wurden über lange Zeit (aus unbekannten Gründen) die GPS-Koordinaten der jeweiligen Basisstation als Cell Broadcast versendet.
In der folgenden (nun fast abgeschalteten) Mobilfunkgeneration 3G wurde Cell Broadcast leicht umbenannt als Service Area Broadcast beibehalten. Schliesslich gibt es ja Länder mit - anders als in Deutschland - funktionierender und kompetenter Regulierung des Telekommunikationsmarktes, und die langjährig bestehenden gesetzlichen Anforderungen solcher Länder zwingen die Netzbetreiber und auch die Ausrüster der Neztbetreiber, neue Mobilfunkstandards so zu entwickeln, dass die gesetzlichen Vorgaben bzgl. der Alarmierung der Bevölkerung im Notfall funktioniert.
Im Rahmen dieser Standardisierung haben eine Reihe von Ländern innerhalb der 3GPP-Standardisierung (zuständig für 2G, 3G, 4G, 5G) sogenannte Public Warning Systems (PWS) standardisiert. Zu diesen gehören z.B. das Japanische ETWAS (Earthquake and Tsunami Warning System), das Koreanische KPAS (Korean Public Alerting System), das US-Amerikanische WEA (Wireless Emergency Alerts, früher bekannt als CMAS) und auch das EU-ALERT mit den nationalen Implementationen NL-ALERT (Niederlande) und UK-ALERT (Großbritannien) sowie RO-ALERT (Rumänien).
Die zahlreichen Studien und Untersuchungen, die zur Gestaltung obiger Systeme und der internationalen Standards im Mobilfunk geführt haben, weisen auch nochmal nach, was sowieso vorher jedem Techniker offensichtlich erscheint: Eine schelle Alarmierung aller Teilnehmer (einer Region) kann nur über einen Broadcast-Mechanismus erfolgen. In Japan war die Zielvorgabe, die Alarmierung in Erdbebenfällen innerhalb von weniger als 4 Sekunden an die gesamte betroffene Bevölkerung zu übertragen. Und das ist mit PWS möglich!
Die relevanten PWS-Standards in 2G/3G/4G/5G bieten jede Menge nützliche Funktionen:
Benachrichtigung in bestimmten geographischen Regionen

Interoperable Schnittstellen, so dass Netzwerkelemente unterschiedlicher Hersteller miteinander kommunizieren

Konfigurierbare Benachrichtigungstexte, nicht nur in der primären Landessprache, sondern auch in mehreren anderen Sprachen, die dann automatisch je nach Spracheinstellung des Telefons wiedergegeben werden

Unterschiedliche Schweregrade von Alarmierungen

Übermittlung nicht nur im Broadcast, sondern auch im Unicast an jeden Teilnehmer, der gerade in einem Telefongespräch ist, und dessen Telefon gerade währenddessen aus technischen Gründen den Broadcast nicht empfangen würde

Unterschied zwischen Wiederholung einer Übertragung ohne Änderung des Inhalts und einer übertragung mit geändertem Inhalt
Es gibt also seit vielen Jahren internationale Standards, wie sämtliche heute eingesetzten Mobilfunktechniken zur schnellen, effizienten und datensparsamen Alarmierung der Bevölkerung eingesetzt werden können.
Es gibt zahlreiche Länder, die diese Systeme seit langem einsetzen. Das US-Amerikanische WEA wurde nach eigenen Angaben seit 2012 bereits mehr als 61.000 Mal benutzt, um Menschen vor Unwetter oder anderen Katastrophen zu warnen.
Sogar innerhalb der EU hat man das EU-ALERT System spezifiziert, welches weitgehend mit dem amerikanischen WEA identisch ist, und auf die gleichen Techniken aufbaut.
Und dann gibt es Länder wie Deutschland, die es seit genauso vielen Jahren vermissen lassen, durch Gesetze oder Vorschriften
die Netzbetreiber zum Betrieb dieser Broadcast-Technologien in ihrem Netz verpflichtet

die Netzbetreiber zur Bereitstellung von standardisierten Schnittstellen gegenüber den Behörden wie Zivilschutz / Katastrophenschutz zu verpflichten, so das diese selbständig über alle Netzbetreiber Warnungen versenden können

die Gerätehersteller z.B. über Vorschriften des FTEG (Gesetz über Funkanlagen und Telekommunikationsendeinrichtungen) zu Verpflichten, die PWS-Nachrichten anzuzeigen
In den USA, dem vermeintlich viel mehr dem Freien Markt und dem Kapitalismus anhängenden System ist all dies der Regulierungsbehörde FCC möglich. In Deutschland mit seiner sozialen Marktwirtschaft ist es anscheinend unmöglich, den Markt entsprechend zu regulieren. Eine solche Regulierung schafft man in Deutschland nur für wirklich wichtige Themen wie zur Durchsetzung der Bereitstellung von Schnittstellen für die Telekommunikationsüberwachung. Bei so irrelevanten Themen wie dem Katastrophenschutz und der Alarmierung der Bevölkerung braucht man den Markt nicht zu regulieren. Wenn die Netzbetreiber kein PWS anbieten wollen, dann ist das einfach so Gottgegeben, und man kann da ja nichts machen.
Falls jemand sich SMSCB und PWS technisch näher ansehen will: In 2019 haben wir im Osmocom-Projekt eine Open Source Implementation des kompletten Systems von BTS über BSC bis zum CBC, sowie der dazwischen befindlichen Protokolle wie CBSP vorgenommen. Dies wurde freundlicherweise durch den Prototype Fund mit EUR 35k finanziert. Ja, so günstig kann man die nötige Technik zumindest für eine einzelne Mobilfunkgeneration entwickeln...
Man kann also in einem selbst betriebenen Labor-Mobilfunknetz, welches auf Open Source Software basiert mehr in Punkt standardkonformer Notfallalarmierung, als die Deutsche Politik, Verwaltung und Netzbetreiber zusammen hinbekommen.
Wir haben in Deutschland Leute, die diese Standards in und auswendig kennen, sogar daran mitgearbeitet haben. Wir haben Entwickler, die diese Standards implementiert haben. Aber wir schaffen es nicht, das auch mal selbst praktisch zu benutzen - das überlassen wir lieber den anderen Ländern. Wir lassen lieber zuerst die ganze Katastrophenalarmierung mittels Sirenen vergammeln, machen den Netzbetreibern keine Vorgaben, entwicklen komische Apps, die Anwender extra installieren müssen, die prinzipbedingt nicht skalieren und beim Test (WarnTag) nicht funktionieren.
Was für eine Glanzleistung für den hochentwickelten Techhologie-Standort Deutschland.
18 Jul 2021 10:00pm GMT
01 Jul 2021
As part of a summer clean-up of the desk drawers, I pulled out the N800 and N9 and ported my game Loonies 8192 to these devices. Since those are "proper" Linux devices, one can compile things directly on-device (just install gcc from the SDK repos), and with SSH, it's easy to type on a real keyboard.
Anyway, you can install the game via the landing pages:
For the N800, make sure "maemo Extras" is enabled so it will find libsdl1.2 if it's not already installed. Head over to https://loonies.thp.io/n800/ on the device and download the deb, it will be installed by Application manager.
For the N9, make sure you have n9repomirror installed (again, so libsdl1.2 can be installed if necessary). Enable third party applications in Settings, Applications, Installations. Then head over to https://loonies.thp.io/n9/ on the device and download the deb, selecting after the download is finished will ask you to install it.
The N9 version is also available on openrepos.net.
And don't forget that the game is also available for DOS, various consoles and handheld consoles as well as on Windows. All of the builds are available on itch.io.
01 Jul 2021 10:05am GMT
12 Nov 2011
Shopping for 3D TV (again), few findings:

There are no non-LED 3D TVs for sale in this part of world anymore (in particular, my older favorite, LE40C750 is no longer available)
Samsung D6xxx series (the cheapest) were caught red-handed not providing FullHD resolution in 3D: via Samygo. (Note from myself: Samsung was caught because lots of people actually buy their stuff, what one can think about other vendors?)
LG goes out of line of vendors with 3D shutter glasses technology with their FPR ("Cinema 3D" in marketing speak) technology. It uses passive (no power needed) polarized glasses, like RealD cimenas. Announced April (on these longitudes), already in local shops at not-so-indecent prices. FPR is Film Patterned Retarder, and I hope the last word is spelled right, because I have high hopes for this tech. It shares the same issue as Samsung D6xxx: there won't FullHD here for sure, but at least it's official and there're other benefits.
12 Nov 2011 6:55pm GMT
I finally going to get Arduino, and while I'm choosing flavor and waiting for it, I can't help but disassembling all devices I have at home, each time speaking: "This must have Arduino inside!" (meaning of course that I expect it to be based on general-purpose MCU). Gosh, I usually get "blob chip" (uncased chip with blob of epoxy on top).

Well, I finally had my expectations fulfilled - Luxeon SP-1 voltage stabilizer/cutter features ATMEGA48V-10PU (Flash: 4k, EEPROM: 256, RAM:512). Not only that, it is installed in DIP socket! Buy from Luxeon, they're hacker-friendly ;-).

I bought the device actually for a wattmeter it features (which fact is hard to figure out from common specs found in the shops, I accidentally read somebody mentioning it on a forum). The wattmeter is of course not bright - for a lamp rated 100W it shows 88W, and for more powerful equipment (like perforator) understates wattage even more (maybe it's difference between real and apparent power factor).

Still, for $17 you get Arudino-alike with voltage/current sensor and hacking possibility. Woot!

BOM:
High-power board:

Relay: Coil: 24VDC, 5A/240VAC
7805
Coil transformer LR-019B
MCU board:

ATMEGA48V-10PU
2 buttons
2 LEDs (red & green)
3-digit 7-segment LED indicator
12 Nov 2011 5:58pm GMT
10 Nov 2011
Kindle:


Linux kernel module tricks:

(build module from a kernel source tarball using currently installed kernel config)
10 Nov 2011 3:21pm GMT
19 Oct 2011
In Debian Unstable the transition to Gnome 3 is taking place; when Gnome 3.0 firstly came out some unnamed geeky users complained loudly about the design decisions of the development team to push strongly towards gnome-shell as a new default UI; gnome-shell was designed focusing on usability (usability is a metric relative to a certain target audience BTW) and simplicity, hiding a lot of details from the users. Obviously you can never make everyone happy so some of us simply happened to be "out of target": you know us computer people (*cough cough*), we like to be in charge and control The Machine... I must admit I still don't have a definitive opinion about the gnome-shell concept, for now I just know that it does not suit me; I am going to try it eventually, maybe I'll get used to it, but in the mean time I need my desktop back just like I shaped it through the years; can this be done without loosing all the good Gnome technologies (Empathy over all of them)?
To be completely fair I have to say that there is little to complain about with Gnome developers, we can still get our good old GNOME desktop fully back by using the fall-back mode based on gnome-panel and live happily ever after, let's take a look at how this can be accomplished.
NOTE: GNOME people state that the fall-back mode is meant for systems with older graphic cards which cannot run gnome-shell, however it can very well be seen as a good opportunity for those who do not want to run gnome-shell just yet.
Getting back to the topic: some minor touches are needed to make the panel look more like what we are used to, maybe some of these settings could even become default for fall-back mode, we'll see.
First, enable fall-back mode (on Debian there is a dedicated session you can choose from the Log-in Manager for that) and change some desktop settings, in a terminal type:

$ gsettings set org.gnome.desktop.session session-name 'gnome-fallback'
$ gsettings set org.gnome.desktop.interface 'menus-have-icons' true
$ gsettings set org.gnome.desktop.interface 'buttons-have-icons' true
$ gsettings set org.gnome.desktop.background 'show-desktop-icons' true

gnome-tweak-tool can be used for some of these settings like shown in the attached images.
Then rearrange the applets on the panel as you please (use Alt-RightClick to access the panel properties), and fix the theming using this patch to have a light panel again (against gnome-themes-standard=3.0.2-1):

$ mkdir $HOME/.themes
$ cd $HOME/.themes
$ cp -r /usr/share/themes/Adwaita Adwaita-fallback
$ cd Adwaita-fallback
$ patch -p1 < $HOME/adwaita-fallback-panel-theme.patch
$ gsettings set org.gnome.desktop.interface 'gtk-theme' 'Adwaita-fallback'

Some final touches for the Metacity window manager and to the clock applet, and we are all set:

$ gconftool-2 --type string --set /apps/metacity/general/focus_mode mouse
$ gconftool-2 --type boolean --set /apps/metacity/general/compositing_manager true
$ gconftool-2 --type string --set /apps/panel3-applets/clock/custom_format '<span color="#333">%a %d %b</span> <b>%H:%M</b>'
$ gconftool-2 --type string --set /apps/panel3-applets/clock/format custom

Ah, in the new gnome-panel based on Gtk3 there are still some details to take care of, I hope issues like that will be addressed and that the panel will be supported for quite some time.
Attached files:

Adwaita theme patch for fall-back mode
19 Oct 2011 9:37pm GMT
09 Jun 2011
After letting us wait for a bit longer than scheduled (13 days), the hospital initiated the contractions. For the first couple of hours, everything went just perfect, but then the little one got stuck on the way and we had to resort to a cesarean section. Lara Marie Lauer was born 8th of June at 04:41 (AM) with 3460 gramms and 49 cm.
Mummy was still on intensive care and so they gave her to me. I can't express the feelings I had in this very moment. I'm still kind of overwhelmed every time I see her. Thanks for all of you who waited anxiously with me and those who prayed for us. The most important tasks for the near future is getting Mummy to recover and Lara Marie to become accustomed to us and the rest of the outside world.
Please bear with me if in the next time I'm not as responsive as usually
09 Jun 2011 4:06pm GMT
30 May 2011
And now for something completely different… while we are all waiting for my baby to arrive (who was scheduled for 25th of May), she just received her first greeting card - together with a personalized bib and a towel (with integrated hood - pretty fancy!) from my good friends at #openmoko-cdevel.
Guys, seeing this card was very heartwarming - it means a lot to me that you share my anticipation, thanks a lot! And I'm 100% sure she will appreciate her gifts… now let's cross fingers it won't take much longer… waiting is the hardest part of it
Yours,
Mickey.
30 May 2011 8:54am GMT