19 Jan 2020
This week, Symfony's development activity focused on fixing bugs and minor issues. Meanwhile, the upcoming Symfony 5.1 version added a feature to support scalar denormalization in the Serializer component. Finally, there were some updates about the Symfony 5 book.
Symfony development highlights
This week, 33 pull requests were merged (13 in code and 20 in docs) and 38 issues were closed (31 in code and 7 in docs). Excluding merges, 2 authors made 316 additions and 118 deletions. See details for code and docs.
ec0333c: [HttpClient] fixed strict parsing of response status codes
6b95ea6: [FrameworkBundle] removed messenger cache if not enabled
477e843: [DependencyInjection] suggest typed argument when binding fails with untyped argument
be84687: [FrameworkBundle] set booted flag to false when test kernel is unset
Symfony Local Server
Symfony Local Server, the best way to run Symfony applications on your local machine, released its new 4.12.4 version with the following changes:
Fix reading extra.public-dir from composer.json
Fix running composer create-project in symfony new on Windows
Fix console hyperlinks breaks output formatting on Windows
Fix unmarshal error when runtime options is not an array
Newest issues and pull requests
They talked about us
Upcoming Symfony Events
Call to Action
---
19 Jan 2020 9:11am GMT
15 Jan 2020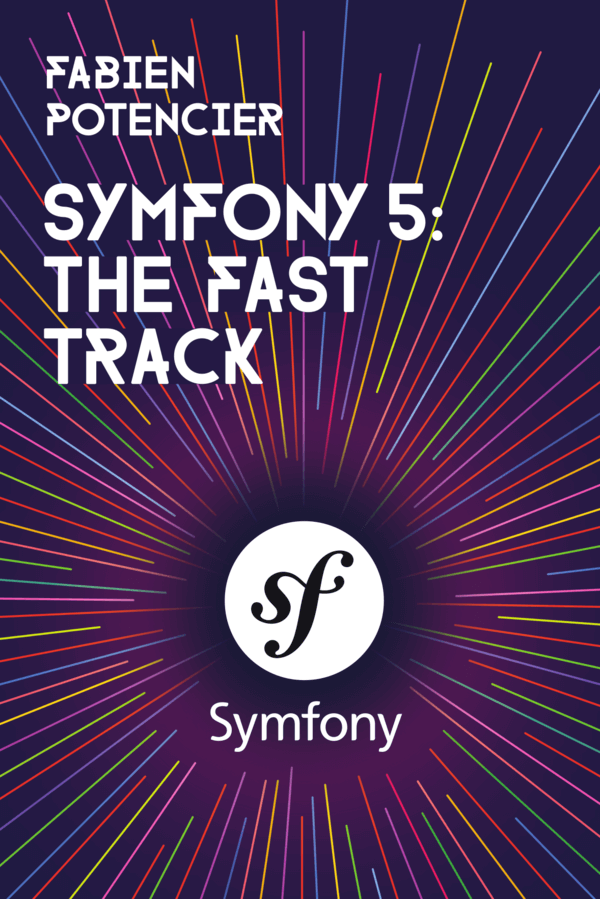 As announced in October, I wrote a book about Symfony 5 at the end of last year. If you were not aware, the book is titled "Symfony5: The Fast Track". You can find more details about the content of the book and in some updates I have posted during the Kickstarter campaign.
Now that the first batch of paper books (more than 650) have been sent to the Kickstarter backers, we have been hard at work to prepare the next steps.
If you missed the Kickstarter campaign, don't worry. You will soon be able to buy the paper book online. If you want to receive a notification by email when it becomes available, fill-in the pre-order form.
One of the goals with the new book was to have some stable content that we could translate into many languages. This is happening as we speak.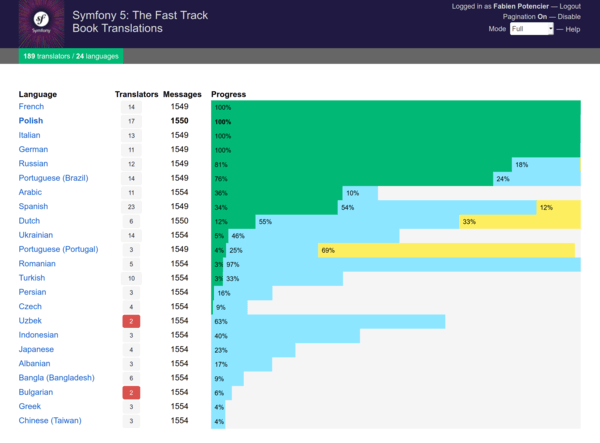 As of today, more than 180 translators are working on translating the book in 24 languages. If you want to join the effort, send me an email and tell me which language team you want to join (it can be an existing language or a new one).
The first translation teams are almost ready. It means that the book will be soon available in French, Polish, German, and Italian. Again, fill-in the pre-order form if you want to be notified when your favorite language is available.
I am also working on open-sourcing the book. There is still a lot of work to do as we don't have translations enabled anymore on symfony.com. The idea is to have a dedicated section/website for the book. The first chapters should be available (in English and in some other languages) sometimes in February if everything goes according to the plan.
---
15 Jan 2020 6:18am GMT
14 Jan 2020
We're super pleased to announce the second edition of the SymfonyLive Lille, a French conference about Symfony organized in the North of France.
---
L'an dernier s'est tenu avec succès la première édition du SymfonyLive Lille avec la communauté locale de Symfony. Nous avons le plaisir de vous retrouver le mois prochain pour la deuxième édition de la conférence. Vous faites partie de la communauté Symfony et vous êtes dans la région lilloise le 28 février ? Alors rejoignez-nous pour la conférence SymfonyLive Lille 2020 à l'Auberge Stéphane Hessel.
Le Call for Papers est ouvert jusqu'au 20 janvier 2020. Si vous n'avez pas encore soumis de proposition de sujet, il vous reste quelques jours pour proposer vos idées. Et si vous n'avez jamais pris la parole sur scène, notre programme de mentoring pour speakers est là pour vous aider. Nous pouvons vous aider à élaborer vos slides et vous faire répéter votre conférence avant le grand jour. Soumettez vos idées de sujets et devenez speaker de la conférence !
Une journée de formations pré-conférence est organisée le jeudi 27 février. Plusieurs formations sont proposées :
Développement d'API avec API Platform par Kévin Dunglas - Les-Tilleuls.coop
Maîtriser la POO & les Design Patterns par Titouan Galopin - SymfonyInsight lead
Analyser les performances des applications Symfony par Alexandre Salomé - Ingénieur Blackfire
Retrouvez le détail des formations sur le site de la conférence.
Le nombre de places à la conférence et aux formations est limité, prenez vite votre billet avant que l'événement ne soit complet. Inscrivez-vous dès maintenant !
---
14 Jan 2020 10:18am GMT