18 Aug 2017
This week I have been solving more issues to make sure that Piper offers a pleasent user experience, doesn't crash and runs smoothly. My mentor and cvuchener from the libratbag project have been testing Piper the last week, and together with a handful of users attracted to Piper they have opened a bunch of issues for me to solve. Let's run through the most visible ones! Solving global warming Probably the most fun issue to resolve this week was the one reported by my mentor: Piper contributes to global warming (you won't believe what happened next!
18 Aug 2017 5:47pm GMT
16 Aug 2017
The indoor garden at Collège de Maisonneuve, the DebConf 17 venue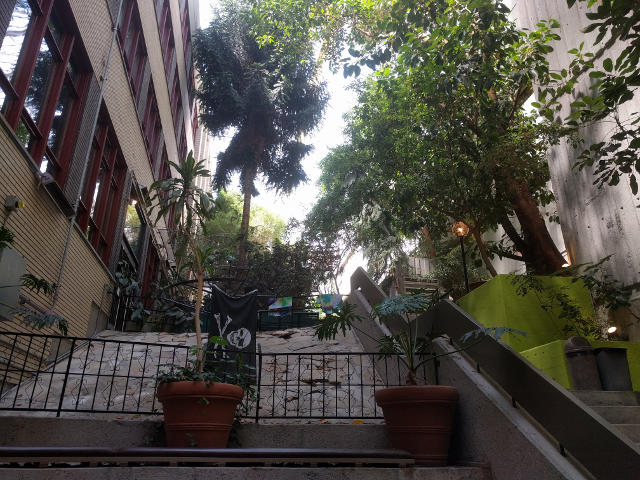 I'm currently at DebConf 17 in Montréal, back at DebConf for the first time in 10 years (last time was DebConf 7 in Edinburgh). It's great to put names to faces and meet more of my co-developers in person!
On Monday I gave a talk entitled "A Debian maintainer's guide to Flatpak", aiming to introduce Debian developers to Flatpak, and show how Flatpak and Debian (and Debian derivatives like SteamOS) can help each other. It seems to have been quite well received, with people generally positive about the idea of using Flatpak to deliver backports and faster-moving leaf packages (games!) onto the stable base platform that Debian is so good at providing.
A video of the talk is available from the Debian Meetings Archive. I've also put up my slides in the DebConf git-annex repository, with some small edits to link to more source code: A Debian maintainer's guide to Flatpak. Source code for the slides is also available from Collabora's git server.
The next step is to take my proof-of-concept for building Flatpak runtimes and apps from Debian and SteamOS packages, flatdeb, get it a bit more production-ready, and perhaps start publishing some sample runtimes from a cron job on a Debian or Collabora server. (By the way, if you downloaded that source right after my talk, please update - I've now pushed some late changes that were necessary to fix the 3D drivers for my OpenArena demo.)
I don't think Debian will be going quite as far as Endless any time soon: as Cosimo outlined in the talk right before mine, they deploy their Debian derivative as an immutable base OS with libOSTree, with all the user-installable modules above that coming from Flatpak. That model is certainly an interesting thing to think about for Debian derivatives, though: at Collabora we work on a lot of appliance-like embedded Debian derivatives, with a lot of flexibility during development but very limited state on deployed systems, and Endless' approach seems a perfect fit for those situations.
[Edited 2017-08-16 to fix the link for the slides, and add links for the video]
16 Aug 2017 8:50pm GMT
14 Aug 2017
I recently acquired an r7 360 (BONAIRE) and spent some time getting radv stable and passing the same set of conformance tests that VI and Polaris pass.

The main missing thing was 10-bit integer format clamping for a bug in the SI/CIK fragment shader output hardware, where it truncates instead of clamps. The other missing piece was code for handling f16->f32 conversions according to the vulkan spec that I'd previously fixed for VI.

I also looked at a trace from amdgpu-pro and noticed it was using a ds_swizzle for the derivative calculations which avoided accessing LDS memory. I wrote support to use this path for radv/radeonsi since LLVM supported the intrinsic for a while now.

With these fixed CIK is pretty much in the same place as VI/Polaris.

I then plugged in my SI (Tahiti), and got lots of GPU hangs and crashes. I fixed a number of SI specific bugs (tiling and MSAA handling, stencil tiling). However even with those fixed I was getting random hangs, and a bunch of people on a bugzilla had noticed the same thing. I eventually discovered adding a shader pipeline and cache flush at the end of every command buffer (this took a few days to narrow down exactly). We aren't 100% sure why this is required on SI only, it may be a kernel bug, or a command processor bug, but it does mean radv on SI now can run games without hanging.

There are still a few CTS tests outstanding on SI only, and I'll probably get to them eventually, however I also got an RX Vega and once I get a newer BIOS for it from AMD I shall be spending some time fixing the radv support for it.


14 Aug 2017 3:16am GMT