23 May 2013
For a while now, I've been plagued with this ridiculous problem of the keyboard becoming "stuck" in my Fedora 17 VM running under VirtualBox. Keys would stop working until you held them down for several seconds, making typing close to impossible.
Of course, my first thought was to blame VirtualBox, since it has a lot to do with the keyboard. I found out some interesting things, like you can send scan-codes directly to virtual-machines with something like

$ VBoxManage controlvm UUID keyboardputscancode aa

(get the UUID via VBoxManage list vms; figuring out scan-codes is left to the reader!).
I noticed the problem primarily happening while emacs was in the foreground, meaning I was working on code or an email ... my theory was when I typed too fast some race got hit and put the keyboard into a weird state that a reboot fixed.
Well it turns out the problem is almost the exact opposite. Luckily, today I noticed "slow keys enabled" warning that sprung-up and went away quickly just before the keyboard stopped. Once I saw that the game was up; turns out this is a well-known bug that is easily fixed with xkbset -sl. It happens because I was typing too slowly; holding down the shift-key while I thought about something probably.
Hopefully this saves someone else a few hours!
23 May 2013 4:57am GMT
22 May 2013
It is with huge pleasure that the Debian GNU/Hurd team announces the release of Debian GNU/Hurd 2013. This is a snapshot of Debian "sid" at the time of the Debian "wheezy" release (May 2013), so it is mostly based on the same sources. It is not an official Debian release, but it is an official Debian GNU/Hurd port release.
The installation ISO images can be downloaded from Debian Ports in the usual three Debian flavors: NETINST, CD, DVD. Besides the friendly Debian installer, a pre-installed disk image is also available, making it even easier to try Debian GNU/Hurd.
Debian GNU/Hurd is currently available for the i386 architecture with more than 10.000 software packages available (more than 75% of the Debian archive, and more to come!).
Please make sure to read the configuration information, the FAQ, and the translator primer to get a grasp of the great features of GNU/Hurd.
Due to the very small number of developers, our progress of the project has not been as fast as other successful operating systems, but we believe to have reached a very decent state, even with our limited resources.
We would like to thank all the people who have worked on GNU/Hurd over the past decades. There were not many people at any given time (and still not many people today, please join!), but in the end a lot of people have contributed one way or another. Thanks everybody!
This article appeared originally at GNU Hurd news and it's under the GNU Free Documentation License, Version 1.2 or any later version.
22 May 2013 8:50pm GMT

Not so long ago I read Dmitrijs' blog post on how to configure apt-cacher-ng to advertise it's service using avahi. As I normally use my laptop in my home and at work, and both networks have apt-cacher-ng running, I decided to give it a try.

I have been administering apt-cacher-ng for three networks so far, and I really find it a useful tool. Then, thanks to the aforementioned blog post, I discovered squid-deb-proxy. I don't use squid, so it's not for my normal use case, but some people will surely find it interesting.

But I found it's client package to be really interesting. It will discover any service providing _apt_proxy._tcp through avahi and let apt use it. But then the package wasn't available in Debian. So, I contacted Michael Vogt to see if he was interested in putting at least the client in Debian's archive. He took the opportunity to upload the full squid-deb-proxy, so thanks a lot Michael :-)

I then filled a wishlist bug against apt-cacher-ng to provide the avahi configuration for publishing the service, which Eduard included in the last version of it. So thanks a lot Eduard too!


tl;dr

You know only need apt-cacher-ng >= 0.7.13-1 and avahi-daemon installed on your server and your mobile users just need squid-deb-proxy-client. Then the proxy autoconfiguration for apt will just work.

One again, thanks a lot to the respective maintainers for allowing this into Jessie :-)


Gotchas

Yes, there are still some rough edges. On one of the networks I'm behind a proxy. While configuring my machine to use apt-cacher-ng's service as a proxy trough apt.conf, apt-listbugs would just work. But now, using the service as discovered by squid-deb-proxy-client, apt-listbugs just times out. Maybe I need to fill some other bug yet...
22 May 2013 5:31pm GMT
cowbuilder can call lintian via hook script, but piuparts needs to be run under privilege, then failed. umm...
22 May 2013 1:44pm GMT
Finally arrived at LinuxTag after an extended flight delay.
Turns out that speakers get 5 free tickets and I have no idea what to do with them. If you want to visit my talk or just need a free ticket, please poke me on IRC or by email. First come, first served.
22 May 2013 9:13am GMT
Sometimes it happens that for one reason or another there's a need to use a proprietary application (read: can not be modified due to its licence) that contains bashisms. Since the application can not be modified and it might not be desirable to change the default /bin/sh, dealing with such applications can be a pain. Or not.

The switchsh program (available in Debian) by Marco d'Itri can be used to execute said application under a namespace where bash is bind-mounted on /bin/sh. The result:



$ sh --help
sh: Illegal option --
$ switchsh sh --help | head -n1
GNU bash, version 4.1.5(1)-release-(i486-pc-linux-gnu)



Simple, yet handy.
22 May 2013 7:30am GMT

Thanks to the release team ACK, I've started uploading Xfce 4.10 to unstable yesterday. For now, I've only pushed Xfce 4.10.1 desktop components, which means people using xfce4 + xfce4-goodies in unstable won't be able to upload at once.
That's because panel plugins have a quite hard dependency on the running xfce4-panel, and the communication protocol has changed between Xfce 4.8 and 4.10. So all panel plugins need to be rebuild against the new xfce4-panel. I'll start uploading new releases or packages revisions this evening, and binNMUs will be scheduled for the rest, but it'll take some days.
In the meantime, you can safely wait before upgrading xfce4. If you don't use external panel plugins, then you can accept to remove xfce4-goodies and the various xfce4-*-plugins and upgrade to xfce4 4.10.
There's no need to report a bug about that situation, we're already aware of it and it's somehow intended, things will settle in a few days.
22 May 2013 5:26am GMT

AltOS 1.2.1 - TeleBT support, bug fixes and new AltosUI features
Bdale and I are pleased to announce the release of AltOS version 1.2.1.
AltOS is the core of the software for all of the Altus Metrum products. It consists of cc1111-based micro-controller firmware and Java-based ground station software.
The biggest new feature for AltOS is the addition of support for TeleBT, our ground station designed to operate with Android phones and tablets. In addition, there's a change in the TeleDongle radio configuration that should improve range, some other minor bug fixes and new features in AltosUI
AltOS Firmware - Features and fixes
There are bug fixes in both ground station and flight software, so you should plan on re-flashing both units at some point. However, there aren't any incompatible changes, so you don't have to do it all at once.
New features:
TeleBT support.

Improved radio sensitivity. The TeleDongle receiver parameters have been tweaked to provide better reception.

TeleMini now completely resets all radio parameters in recovery mode (with the two outer debug pins connected) - 434.550MHz, N0CALL, factory radio cal.
Bug fixes:
USB device fixes. This improves operation with Windows, avoiding hangs and errors in many cases.

Correct the Kalman filter error covariance matrix; the old parameters were built assuming continuous measurements.
AltosUI - Easier to use
AltosUI has also seen quite a bit of work for the 1.2.1 release. It's got several fun new features and a few bug fixes.
New Graph UI features:
Show tool-tips with the value near the cursor.

Make the set of displayed values configurable. Add all of the available data values just in case you want to see them.

Added a Map tab showing the ground track of the whole flight.

The flight summary tab now includes the final GPS position. This lets you figure out where your rocket landed without replaying the whole flight.
Other new AltosUI features:
TeleBT support, including Bluetooth connections (Linux-only, at present).

Shows the callsign in the Monitor Idle and other command-mode windows so that you can tell what callsign is being used.

Show the block number when downloading flight data. This lets you see something happen even for longer flights.

Make the initial position of the AltosUI configurable so that you can position it out of the way of the rest of you desktop.

Distribute Mac OS X in .dmg format (Mac OS Disk Image); this means you don't need to explicitly unpack the bits.
Bug fixes:
Deal with broken networking while downloading map tiles. Tiles are now always downloaded asynchronously so that the UI doesn't freeze when the network is slow.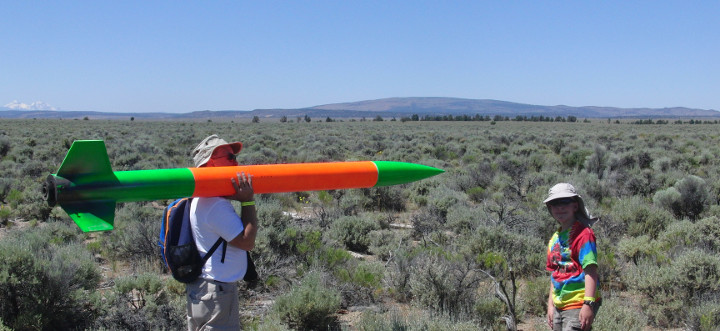 22 May 2013 12:47am GMT
21 May 2013

Keith and I are pleased to announce the immediate availability of TeleBT, a new Altus Metrum ground station product providing the equivalent of TeleDongle plus Bluetooth.
TeleBT working with AltosDroid on an Android device provides everything needed to monitor a rocket in flight, record telemetry, and know how to walk right to the airframe after it's back on the ground.
The Bluetooth capability of TeleBT is also supported by AltosUI on Linux, and with a micro USB cable TeleBT works just like TeleDongle on Windows, Mac, and Linux systems running AltOS version 1.2.1 or later.
21 May 2013 7:55pm GMT

It's been
all over the internet
, so you probably heard it already: Google Hangouts no longer receives messages from XMPP users. Before, you could easily chat with "federated" users from other Jabber servers.
While of course the various open-source people are not amused -- for me, most of my contacts disappeared, so I then uninstalled Hangouts to get back Google Talk (apparently this works if Talk was preinstalled in your phones firmware) -- this bears some larger risks for Google:
Reputation: Google used to have the reputation of being open. XMPP support was open, the current "Hangups" protocol is not. This continuing trend of abandoning open standards and moving to "walled garden" solutions will likely harm the companies reputation in the open source community
Legal risk of an antitrust action: Before, other competitors could interface with Google using an indepentend and widely accepted standard. An example is United Internet in Germany, which operates for example the Web.de and GMX platforms, mail.com, the 1&1 internet provider. By effectively locking out its competitors - without an obvious technical reason, as XMPP was working fine just before, and apparently continues to be used at Google for example in AppEngine - bears a high risk of running into an antitrust action in Europe. If I were 1&1, I would try to get my lawyers started... or if I were Microsoft, who apparently just wanted to add XMPP messaging to Hotmail?
Users: Google+ is not that big yet. Especially in Germany. Since 90% of my contacts were XMPP contacts, where am I likely going to move to: Hangouts or another XMPP server? Or back to Skype? I still use Skype for more Voice calls than Google (which I used like twice), because there are some people that prefer Skype. One of these calls probably was not using the Google plugin, but an open source phone. Because with XMPP and Jingle, my regular chat client would interoperate. An in fact, the reason I started using Google Talk the first place was because it would interoperate with other networks, too, and I assumed they would be good at operating a Jabber server.
In my opinion, Google needs to quickly restore a functioning XMPP bridge. It is okay if they offer add-on functionality only for Hangout users (XMPP was always designed to allow for add-on functionality); it is also okay if they propose an entirely new open protocol to migrate to on the long run, if they can show good reasons such as scalability issues. But the way they approached the Hangup rollout looks like a big #fail to me.
Oh, and there are other issues, too. For example
Linus Torvalds complains about the fonts being screwed up (not hinted properly) in the new Google+
, others complain about
broken presence indicators
(but then you might as well just send an email, if you can't tell whether the recepient will be able to receive and answer right away), but using Hangouts will apparently also (for now -- rumor has it that Voice will also be replaced by Hangups entirely) lose you
Google Voice
support. The only thing that seems to give positive press are the easter eggs...
All in all, I'm not surprised to see over 20% of users giving the lowest rating in the Google Play Store, and less than 45% giving the highest rating - for a Google product, this must be really low.
21 May 2013 2:37pm GMT
If you're running an Android device with GNU userland Linux in a chroot and need a full network access over USB cable (so that you can use your laptop/desktop machine's network connection from the device), here's a quick primer on how it can be set up.

When doing Openmoko hacking, one always first plugged in the USB cable and forwarded network, or like I did later forwarded network over Bluetooth. It was mostly because the WiFi was quite unstable with many of the kernels.

I recently found out myself using a chroot on a Nexus 4 without working WiFi, so instead of my usual WiFi usage I needed network over USB... trivial, of course, except that there's Android on the way and I'm a Android newbie. Thanks to ZDmitry on Freenode, I got the bits for the Android part so I got it working.

On device, have eg. data/usb.sh with the following contents.


#!/system/xbin/sh
CHROOT="/data/chroot"

ip addr add 192.168.137.2/30 dev usb0
ip link set usb0 up
ip route delete default
ip route add default via 192.168.137.1;
setprop net.dns1 8.8.8.8
echo 'nameserver 8.8.8.8' >> $CHROOT/run/resolvconf/resolv.conf


On the host, execute the following:


adb shell setprop sys.usb.config rndis,adb
adb shell data/usb.sh
sudo ifconfig usb0 192.168.137.1
sudo iptables -A POSTROUTING -t nat -j MASQUERADE -s 192.168.137.0/24
echo 1 | sudo tee /proc/sys/net/ipv4/ip_forward 
sudo iptables -P FORWARD ACCEPT

This works at least with Ubuntu saucy chroot. The main difference in some other distro might be whether the resolv.conf has moved to /run or not. You should be now all set up to browse / apt-get stuff from the device again.

Update: Clarified that this is to forward the desktop/laptop's network connection to the device so that network is accessible from the device over USB.
21 May 2013 12:20pm GMT
Some years ago I was working on a project that involved a database cluster of two Sun E6500 servers that were fairly well loaded. I believe that the overall price was several million pounds. It's the type of expensive system where it would make sense to spend adequately to do things properly in all ways.
The first interesting thing was the data center where it was running. The front door had a uniformed security guard and a sign threatening immediate dismissal for anyone who left the security door open. The back door was wide open for the benefit of the electricians who were working there. Presumably anyone who had wanted to steal some servers could have gone to the back door and asked the electricians for assistance in removing them.
The system was poorly tested. My colleagues thought that with big important servers you shouldn't risk damage by rebooting them. My opinion has always been that rebooting a cluster should be part of standard testing and that it's especially important with clusters which have more interesting boot sequences. But I lost the vote and there was no testing of rebooting.
Along the way there were a number of WTFs in that project. One of which was when the web developers decided to force all users to install the latest beta release of Internet Explorer, a decision that was only revoked when the IE install process broke MS-Office on the PC of a senior manager. Another was putting systems with a default Solaris installation live on the Internet with all default services running, there's never a reason for a database server to be directly accessible over the Internet.
No Backups At All
But I think that the most significant failing was the decision not to make any backups. This wasn't merely forgetting to make backups, when I raised the issue I received a negative reaction from almost everyone. As an aside I find it particularly annoying when someone implies that I want backups because I am likely to stuff things up.
There are many ways of proving that there's a general lack of competence in the computer industry. But I think that one of the best is the number of projects where the person who wants backups has their competence questioned instead of all the people who don't want backups.
A decision to make no backups relies on one of two conditions, either the service has to be entirely unimportant or you need to have no bugs in the OS or hardware defects that can corrupt data, no application bugs, and a team of sysadmins who never make mistakes. The former condition raises the question of why the service is being run and the latter is impossible.
As I'm more persistent than most people I kept raising the issue via email and adding more people to the CC list until I got a positive reaction. Eventually I CC'd someone who responded with "What the fuck" which I consider to be a reasonable response to a huge and expensive project with no backups. However the managers on the CC list regarded the use of profanity in email to be a much more serious problem. To the best of my knowledge there were never any backups of that system but the policy on email was strongly enforced.
This is only a partial list of WTF incidents that assisted in my decision to leave the UK and migrate to the Netherlands.
Not Doing Much
About a year after leaving I returned to London for a holiday and had dinner with a former colleague. When I asked what he was working on he said "Not much". It turned out that proximity to the nearest manager determined the amount of work that was assigned. As his desk was a long way from the nearest manager he had spent about 6 months getting paid to read Usenet. That wasn't really a surprise given my observations of the company in question.
21 May 2013 9:43am GMT
A common topic of discussion on computer users' group mailing lists is advice on buying a PC. I think that most of the offered advice isn't particularly useful with an excessive focus on building or upgrading PCs and on getting the latest and greatest. So I'll blog about it instead of getting involved in more mailing-list debates.
A Historical Perspective - the PC as an Investment
In the late 80′s a reasonably high-end white-box PC cost a bit over $5,000 in Australia (or about $4,000 without a monitor). That was cheaper than name-brand PCs which cost upwards of $7,000 but was still a lot of money. $5,000 in 1988 would be comparable to $10,000 in today's money. That made a PC a rather expensive item which needed to be preserved. There weren't a lot of people who could just discard such an investment so a lot of thought was given to upgrading a PC.
Now a quite powerful desktop PC can be purchased for a bit under $400 (maybe $550 if you include a good monitor) and a nice laptop is about the same price as a desktop PC and monitor. Laptops are almost impossible to upgrade apart from adding more RAM or storage but hardly anyone cares because they are so cheap. Desktop PCs can be upgraded in some ways but most people don't bother apart from RAM, storage, and sometimes a new video card.
If you have the skill required to successfully replace a CPU or motherboard then your time is probably worth enough that getting more value out of a PC that was worth $400 when new and is worth maybe $100 when it's a couple of years old probably isn't a good investment.
Times have changed and PCs just aren't worth enough to be bothered upgrading. A PC is a disposable item not an investment.
Buying Something Expensive?
There are a range of things that you can buy. You can spend $200 on a second-hand PC that's a couple of years old, $400 on a new PC that's OK but not really fast, or you can spend $1000 or more on a very high end PC. The $1000 PC will probably perform poorly when compared to a PC that sells for $400 next year. The $400 PC will probably perform poorly when compared to the second-hand systems that are available next year.
If you spend more money to get a faster PC then you are only getting a faster PC for a year until newer cheaper systems enter the market.
As newer and better hardware is continually being released at low enough prices that make upgrades a bad deal I recommend just not buying expensive systems. For my own use I find that e-waste is a good source of hardware. If I couldn't do that then I'd buy from an auction site that specialises in corporate sales, they have some nice name-brand systems in good condition at low prices.
One thing to note is that this is more difficult for Windows users due to "anti-piracy" features. With recent versions of Windows you can't just put an old hard drive in a new PC and have it work. So the case for buying faster hardware is stronger for Windows than for Linux.
That said, $1,000 isn't a lot of money. So spending more money for a high-end system isn't necessarily a big deal. But we should keep in mind that it's just a matter of getting a certain level of performance a year before it is available in cheaper systems. Getting a $1,000 high-end system instead of a $400 cheap system means getting that level of performance maybe a year earlier and therefore at a price premium of maybe $2 per day. I'm sure that most people spend more than $2 per day on more frivolous things than a faster PC.
Understanding How a Computer Works
As so many things are run by computers I believe that everyone should have some basic knowledge about how computers work. But a basic knowledge of computer architecture isn't required when selecting parts to assemble to make a system, one can know all about selecting a CPU and motherboard to match without understanding what a CPU does (apart from a vague idea that it's something to do with calculations). Also one can have a good knowledge of how computers work without knowing anything about the part numbers that could be assembled to make a working system.
If someone wants to learn about the various parts on sale then sites such as Tom's Hardware [1] provide a lot of good information that allows people to learn without the risk of damaging expensive parts. In fact the people who work for Tom's Hardware frequently test parts to destruction for the education and entertainment of readers.
But anyone who wants to understand computers would be better off spending their time using any old PC to read Wikipedia pages on the topic instead of spending their time and money assembling one PC. To learn about the basics of computer operation the Wikipedia page for "CPU" is a good place to start. Then the Wikipedia page for "hard drive" is a good start for learning about storage and the Wikipedia page for Graphics Processing Unit to learn about graphics processing. Anyone who reads those three pages as well as a selection of pages that they link to will learn a lot more than they could ever learn by assembling a PC. Of course there's lots of other things to learn about computers but Wikipedia has pages for every topic you can imagine.
I think that the argument that people should assemble PCs to understand how they work was not well supported in 1990 and ceased to be accurate once Wikipedia became popular and well populated.
Getting a Quality System
There are a lot of arguments about quality and reliability, most without any supporting data. I believe that a system designed and manufactured by a company such as HP, Lenovo, NEC, Dell, etc is likely to be more reliable than a collection of parts uniquely assembled by a home user - but I admit to a lack of data to support this belief.
One thing that is clear however is the fact that ECC RAM can make a significant difference to system reliability as many types of error (including power problems) show up as corrupted memory. The cheapest Dell PowerEdge server (which has ECC RAM) is advertised at $699 so it's not a feature that's out of reach of regular users.
I think that anyone who makes claims about PC reliability and fails to mention the benefits of ECC RAM (as used in Dell PowerEdge tower systems, Dell Precision workstations, and HP XW workstations among others) hasn't properly considered their advice.
Also when discussing overall reliability the use of RAID storage and a good backup scheme should be considered. Good backups can do more to save your data than anything else.
Conclusion
I think it's best to use a system with ECC RAM as a file server. Make good backups. Use ZFS (in future BTRFS) for file storage so that data doesn't get corrupted on disk. Use reasonably cheap systems as workstations and replace them when they become too old.
Update: I find it rather ironic when a discussion about advice on buying a PC gets significant input from people who are well paid for computer work. It doesn't take long for such a discussion to take enough time that the people involved could spent their time working instead, put enough money in a hat to buy a new PC for the user in question, and still had money left over.
21 May 2013 4:58am GMT
I'm newbie for library transition, so sorry to violate to
"

Please do not upload the package to unstable without approval from
the release team" term for transition from libsnmp15 to libsnmp30.
Now you can track it via tracker, thanks to release team to file it.
21 May 2013 2:02am GMT
20 May 2013
In the past, we have had multiple heated discussions involving systemd. We (the pkg-systemd-maintainers team) would like to better understand why some people dislike systemd.
Therefore, we have created a survey, which you can find at http://survey.zekjur.net/index.php/391182
Please only submit your feedback to the survey and not this thread, we are not particularly interested in yet another systemd discussion at this point.
The deadline for participating in that survey is 7 days from now, that is 2013-05-26 23:59:00 UTC.
Please participate only if you consider yourself an active member of the Debian community (for example participating in the debian-devel mailing list, maintaining packages, etc.).
Of course, we will publish the results after the survey ends.
Thanks!
Best regards,
the Debian systemd maintainers
20 May 2013 4:52pm GMT
Apparently (hi Zhenech, found on Plänet Debian), a Man does not only need to fork a child, plant a tree, etc. in their life but also write a DynDNS service. Perfect for opening a new tag in the wlog called archæology (pagetable.com - Some Assembly Required is also a nice example for these).
Once upon a time, I used SixXS' heartbeat protocol client for updating the Legacy IP (known as "IPv4" earlier) endpoint address of my tunnel at home (My ISP offers static v4 for some payment now, luckily). Their client sucked, so I wrote on in ksh, naturally.
And because mksh(1) is such nice a language to program in (although, I only really begun becoming proficient in Korn Shell in 2005-2006 or so, thus please take those scripts with a grain of salt, I'd do them much differently nowadays) I also wrote a heartbeat server implementation. In Shell.
The heartbeat server supports different backends (per client), and to date I've run backends providing DynDNS (automatically disabling the RR if the client goes offline), an IP (IPv6) tunnel of my own (basically the same setup SixXS has, without knowing theirs), rdate(8) based time offset monitoring for ntpd(8), and an eMail forwarding service (as one must not run an MTA on dynamic IP) with it; some of these even in parallel.
Not all of it is documented, but I've written up most things in CVS. There also were some issues (mostly to do with killing sleep(1)ing subprocesses not working right), so it occasionally hung, but very rarely. Running it under the supervise of DJB dæmontools was nice, as I was already using djbdns, since I do not understand the BIND zone file format and do not consider MySQL a database (and did not even like databases at all, back then). For DynDNS, the heartbeat server's backend simply updated the zone file (by either adding or updating or deleting the line for the client) then running tinydns-data, then rsync'ing it to the djbdns server primary and secondaries, then running zonenotify so the BIND secondaries get a NOTIFY to update their zones (so I never had to bother much with the SOA values, only allow AXFR). That's a really KISS setup ☺
Anyway. This is archæology. The scripts are there, feel free to use them, hack on them, take them as examples… even submit back patches if you want. I'll even answer questions, to some degree, in IRC. But that's it. I urge people to go use a decent ISP, even if the bandwidth is smaller. To paraphrase a coworker after he cancelled his cable based internet access (I think at Un*tym*dia) before the 2-week trial period was even over: rather have slow but reliable internet at Netc*logne than "that". People, vote with your purse!
20 May 2013 3:27pm GMT