26 Aug 2016
A squeeze page is a type of opt-in email landing page designed to do one single thing: "squeeze" email addresses and other information from prospective subscribers.
26 Aug 2016 10:45pm GMT
Previously in our blog, we discussed the five basics of content marketing. The first of these five basics of content marketing is understanding your audience. You can create all of the killer content you can, but if you don't know who your audience is, what problems your business can solve for them, and where and how they're consuming your content, then you risk it missing the mark entirely and falling into the internet's ether.
26 Aug 2016 6:07pm GMT
So What Is Content Marketing?
Traditional marketing methods of the past have become outdated as audiences have lost interest and become more savvy in tuning them out. From browser-based ad blockers to streaming content online, ads have been relegated to the periphery at best, leading to low conversion rates, decreased traffic, and a lower return on investment.
26 Aug 2016 5:43pm GMT
Saying a modern nonprofit or business needs a website is like saying the tires on your car need air. Deny it and you're going to have a bad time. Given the significant tasks required of your website, from fundraising and ecommerce to PR and campaigning, the tools you use to power it and the interface through which your team will interact with the site should be given important consideration.
Lucky for you, one of the most widely used content management systems (CMS), just got a major update. Drupal 8 brings too many new features to discuss fully here, but you'll be happy to know the end product is one that's worth the investment.
Here's why:
One - The content authoring experience is more efficient
Drupal's admin interface has evolved over the years, and we're happy to see it continue here. For starters, the new interface is streamlined, mobile-friendly, and by emphasizing simplicity, it makes the process of creating content and managing your site more efficient. Then comes Quick Edit, a tool which allows you to edit content directly on the page, without having to switch to the admin panel. Lastly, some under-the-hood improvements to how Drupal 8 caches portions of your site, means that logged-in users - whether they login just to access a community or special resources, or it's your staff managing the site and adding content - will likely see a significant boost to performance. These improvements just underscore how the experience for content authors and editors means your team takes less time, and less clicks, to update content on Drupal 8.
Two - The improvements for developers means easier maintenance
A number of new features in Drupal 8 are developer focused. There's Twig, a new templating engine, some commonly used modules are now included by default in Drupal 8, and there's better support for things like accessibility and multilingual support. Unless you're a developer, you're not likely to ever see these changes first hand, but you will experience them.
These improvements for developers mean maintenance tasks will largely be much easier (and occasionally faster) for developers to complete. This saves you money on regular support, and allows you to devote that time and resources into other areas, like digital strategy or building new features.
Three - Migrating is easier than it's ever been
If you've been through a redesign of a website, you know that one of the most daunting tasks is getting all of the content you want to keep migrated and configured properly inside your new website. In this area, Drupal 8 has seen a major leap forward.
Drupal 8 can read the database from a Drupal 6 or 7 site, and pull in configurations and other settings in addition to the actual content. Practically speaking, this removes what was previously a major task for content migrations: writing all of the code that retrieves and assembles the existing site's content. Now, Drupal 8 assembles it for you. In some cases, this could cut the time to do a content migration in half.
We've been enjoying building new projects in Drupal 8, some of which we will be able to share with you soon. Until then, if you have questions about Drupal 8 that you'd like us to touch upon, or if you're wondering if Drupal 8 can work for you, get in touch.
26 Aug 2016 3:42pm GMT
It's great to see how websites are getting faster, more reliable and easier to use with the help of new Drupal technologies, as we have described in our posts.
Read more
26 Aug 2016 12:24pm GMT
25 Aug 2016
Matt and Mike are joined by Andrew Berry, Juampy NR, Mateu Bosch, and Dave Reid to deep dive into Drupal 8 development. We talk best practices, IDE Plugins, tips, tricks and lots more.
25 Aug 2016 8:00pm GMT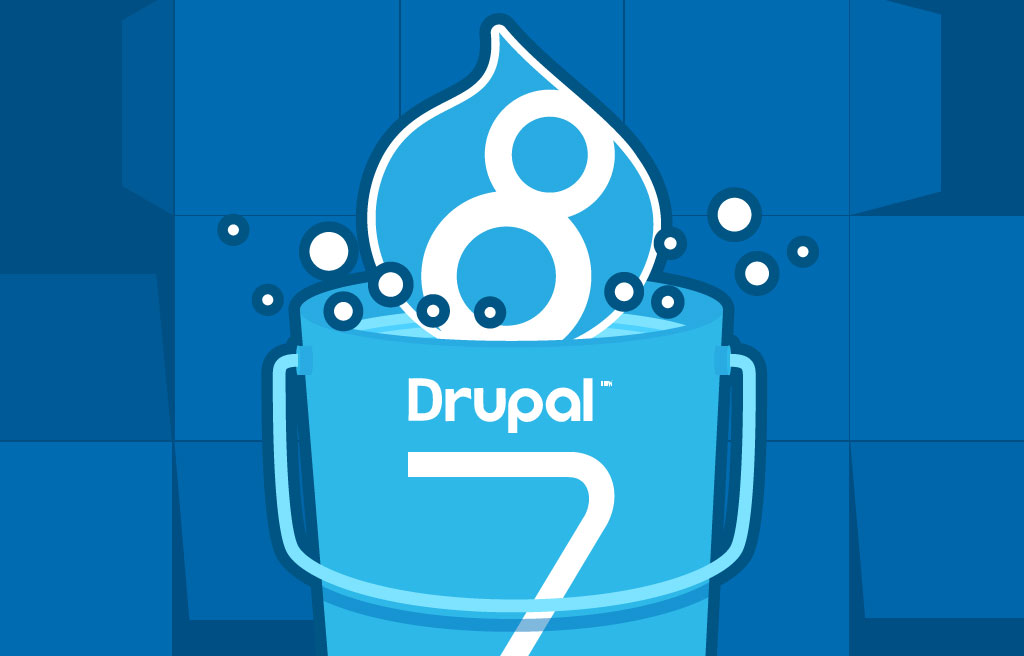 In our last video we answered the question should I build on Drupal 7 or Drupal 8? We mentioned that we have a site currently in production on both Drupal 7 and Drupal 8. To the end-user browsing the site, it is completely transparent, they have no idea they are hitting two different Drupal instances. Today, we are going to show you how to pull this off.
25 Aug 2016 3:01pm GMT
Lots of people think that template engines like Twig cannot be interactively debugged. I heard this several times as an argument against template engine, and for using legacy php processing like phptemplate (standard in Drupal 7).
Well, it's not entirely true.
25 Aug 2016 1:57pm GMT
About Me
With 15 years of experience in the Information Technology field, and 10 of those years focused on leadership, I've learned first hand the value of investing in people and setting them up for success. Before joining Mediacurrent, I started a QA department from scratch and grew it to its current size. Prior to that, I built an IT team. If you're an incoming leader, here's how to start building your own QA/IT department.
25 Aug 2016 1:50pm GMT
One of the "late to the party" features of Drupal 8 is the ability to assign the same block to multiple locations in the theme. Drupal 7 still lacks this feature in the core, but it's easy to achieve it by using a contributed module such as MultiBlock.
25 Aug 2016 11:55am GMT
Drupal 8.2.0 will see a bunch of new experimental modules. Once of these is Content Moderation. This...
25 Aug 2016 8:23am GMT
How Zoomdata employees share insights into company life
Xeno Media is pleased to announce our latest Drupal 7 contrib module, Slack to Drupal. This module imports pictures uploaded to Slack to Drupal 7 systems--thereby allowing a community of users to add content to a site while managing their daily business collaboration through the Slack app.
Zoomdata--who makes visual analytics software for big data--tasked us with coming up with a solution that allows their employees to submit images for the public website to share the company's unique, engaging culture to aid in marketing and recruiting.
Various source platforms, including Instagram, Flickr, and Twitter, were originally considered. As we surveyed Zoomdata employees, though, we realized that Slack was the ideal source. Slack is fundamental to Zoomdata's work culture; Its 200 employees and contractors throughout North America and Europe actively collaborating on Slack on an ongoing basis. Leveraging Slack as the source platform would allow employees to submit images in real-time without breaking their typical work/collaboration workflows and methods.
With that settled, we started researching how to integrate. Our developers researched Slack's API and proposed two approaches: 1) Create a Slack "bot"--a virtual user that our human users could interface with. Or: 2) Integrate with a specific Slack channel. We elected the later as we could more efficiently access the files in a specific channel and Zoomdata appreciated having a single destination channel for users to come to rather than clogging other channels with off-topic bot chatter.
With the Slack-side figured out, we worked on the Drupal development. We are supporters of the Drupal Media initiative, and decided to integrate the the Drupal Media 7.x-2.0 File Entity as we do on many of our client sites. The File Entity module creates an entity like a node for each file in the system. This allows us to add fields, like Caption, Approval, Date, and Uploader. It also allows us to use, and reuse the entities in the site on other pieces of content and create views of the entities. We called this new entity Slack Image.
We also created an administration screen where an administrator can approve or disapprove images. If images are disapproved, they are removed from the system and not imported again. If approved, they are available where all the other File Entities are available.
For the Zoomdata public site, we created a view of the new Slack images that appears on their Careers page in a beautiful, modern, and responsive layout using Masonry Views, Colorbox, and GD infinite scroll plugin modules.
Our employees are always posting photos in Slack. I really wanted to share those photos with our customers, partners, prospective employees and vendors so they could get a view inside Zoomdata and know what a great team of people they're partnering with. Jim, and the team at Xeno Media, made it possible by creating a fantastic Drupal website for us, and by developing Slack to Drupal.
Robyn Forman, Zoomdata's VP of Digital Marketing.
Results so far have been very positive--with more than half of the company joining the channel and submissions coming from every office and department. Through Slack to Drupal, employees from throughout the organization have shown what an engaged, fun, and cutting edge culture Zoomdata really is.
25 Aug 2016 2:01am GMT
24 Aug 2016
We're probably misusing the term MVP when we try to frame what we would like to see make it into core. But the actual mode of working we use there is quite an achievement. We used to grind it out endlessly, where proposed changes could be discussed endlessly, with a high risk of not committing anything at all in the end. What we're doing now is: agree up front that it's a good idea to improve feature X or rework interface Y. And then focus on keeping the scope as small as possible.
Yes, I, J and K are also good ideas, but we're trying to do X here and while these are all related ideas and together would like make for a nicer whole, we should really focus on shipping X, and X alone, before turning our attention to I, J and K. If at all, because while shiny, interface Y actually presents people with more problems, so maybe we should focus on that. Though it's never that strongly a case of either/or, and we should definately not stop iterating after the initial commit.
This is a very new and different way of working. Deliberately lowering our standards for the goal of introducing change. This is uncomfortable at times, but even that is good, because it means we're stretching ourselves, which means we're doing and learning new things. I'm excited and proud to see this happen. More like this.
Doing it like this means that Drupal 8.2:
Has content moderation tools (draft! review! publish! etc.)
Provides a new way to add new elements (blocks) to the page you're on, without having to go to some far away corner in the admin section
Those elements (blocks! menus! logo & site name! etc.) can then also be configured in the context of the user facing page. A side tray will show up and expose the relevant settings.
Looking forward to learn how these additions will be received and how we can improve them. In the mean time, lets add more useful and usable things to 8.3 (sample content! media handling! better dates! etc).
Sub title:
This is a pretty radical change
24 Aug 2016 11:40pm GMT
The digital point of contact, the electronic business card, the online meet up for fans: A Facebook business page serves many functions. For this reason it's important to know how to use it correctly. Here are 10 tips on how to work it.
24 Aug 2016 10:00pm GMT
Thinking of coming to DrupalCon Dublin this year? Why not extend your trip by a few days and stay a bit longer to take in some of the fabulous things you can go do and see in Dublin?
Here's our recommended list of things to do and see while here:
1. Guinness Storehouse
24 Aug 2016 9:54pm GMT
The TWG coding standards committee is announcing two coding standards changes for final discussion. These appear to have reached a point close enough to consensus for final completion. The new process for proposing and ratifying changes is documented on the coding standards project page.
Official coding standards updates now ratified:
Issues awaiting core approval:
Issues that just need a little TLC (you can help!):
These proposals will be re-evaluated during the next coding standards meeting currently scheduled for August 30th. At that point the discussion may be extended, or if clear consensus has been reached one or more policies may be dismissed or ratified and moved to the next step in the process.
24 Aug 2016 8:29pm GMT